Can I get healthy skin care products for less price? Amazon just launched a new skincare brand called Belei that has amazing skin care products that are totally worth trying.
Can you Belei' that?
When it comes to buying stuff online, anything,  especially beauty and skin care products like these amazing face wash for oily skin, what online marketplace does your mind go straight to? Amazon? Yes, that's right.
If a brand like Amazon should release a skincare brand then it really ought to be a considered option. Amazon has a viable interest in giving the best of beauty products hence the creation of this new skincare brand.
Are you on a budget within $30 or more to try one or more of Amazon's new skincare products? Then this post is for you.
Interesting read: Amazon launched another beauty skin care brand called WorksBeauty.
Need Reasons to Lay Your Hands On Em?
Getting the right skin care products can be a source concern, It is easy to get these products but the more varied concern is getting the one that actually works and gives you a total run for your money.
There is some basic stuff you should check out before purchasing any of these products.
1. Dermatologist Approved
It is very vital to ensure if any of these products you are purchasing has passed its test and has been approved for public usage by the dermatologist. Amazon is renowned in its ability to provide the best and therefore you should not worry about their products not being certified by dermatologists.
2. Promise Of A Refund
Ability to guarantee a refund to buyers if they are not satisfied with the product should be something to look out for when buying skin care products. These will go a long way in showing how much they value the efficiency of there products.
3. Free Of Parabens, phthalates, and sulfates
These ingredients are known to mimic estrogen in the body system making it a dangerous element to the hormones but it is interesting to know that dermatologists have proven Amazon skin care products not formulated with any of these harmful substances.
4. Costs Less Than $40
Exciting when you can get an amazing product at an affordable price. Is this within your budget range? If yes then we think these products are perfect for you.
Best Skin Care From Amazon New Launched Brand Belei
Beauty is one of the most important things that matter to a lady, prior to this knowledge we have carefully selected some of the best in Amazon's new skincare brand for you.
1. Belei Charcoal Balancing Mask
This Balancing mask absorbs excess oil from the skin and in the process leaving your skin feeling balanced and clean from within, this product is created for all skin types and you do not have to worry about your skin reaction to it.
Belei charcoal balancing mask contains hyaluronic acid that retains moisture on the skin and you do not have to worry about it leaving your skin patched and dry.
2. Belei Oil-Free Face Moisturizer
This product has been designed to help ladies with oily skin get a lasting solution, this also helps get rid of blemishes. It contains an effective sunscreen that offers you all-day protection from the sun. Oil-free face moisturizer gives a lasting moisturizing treatment.
Basically formulated to help oily skin combat clogged pores and can also be used as a shield against sun, giving your skin the nourishment and maintenance it needs to avoid it becoming easy to access to clogged pores that could eventually lead to acne or uneven skin tone.
3. Belei Retinol Refining Moisturizer
If you are looking for an amazing moisturizer that will help refine and refresh your skin then this belei retinol refining moisturizer is the one you should go for. This moisturizer is free from any harmful ingredient that might cause damages to your skin.
The sole purpose of this moisturizer is to help refine your skin, It contains vitamin A which encourages healthy skin cell production which keeps your skin firm and glowing.
4. Belei Vitamin C Moisturizer
We think this might be an interesting choice to purchase considering how beneficial and enhancing vitamin C is to your skin.  This vitamin c moisturizer is created for all skin types and helps smoothen the skin naturally.
This product helps even skin tone and it is highly recommended for sensitive skins. This product is ideal for people who tend to wake up in the morning with unsightly puffiness around the eyes or other areas of the skin/face. A little bit of vitamin C serum can go a long way here.
5. Belei Bio-Complex Moisturizer for Dry Skin
Major concerns usually directed in regards to oily skin but dry skins can also be worried about as too dry skins can get itchy when absorbed of moisturizer. Belei bio-complex can be the moisturizer your skin needs.
This moisturizer helps keep the skin hydrated especially when exposed to the constant sun. Bio complex helps give your dry skin the nutrient it needs to glow. This moisturizer contains squalene and glycerine that locks in moisture that leaves the skin looking silky and lightweight
6. Belei Hydrating Hyaluronic Acid Serum
If you are having premature aging and these are leaving unlikable wrinkles on your skin then you should try these hydrating hyaluronic serum, this serum helps get rid of wrinkles and smoothen out the skin. Hydrating hyaluronic acid serum.
7. Belei Blemish Control Spot Treatment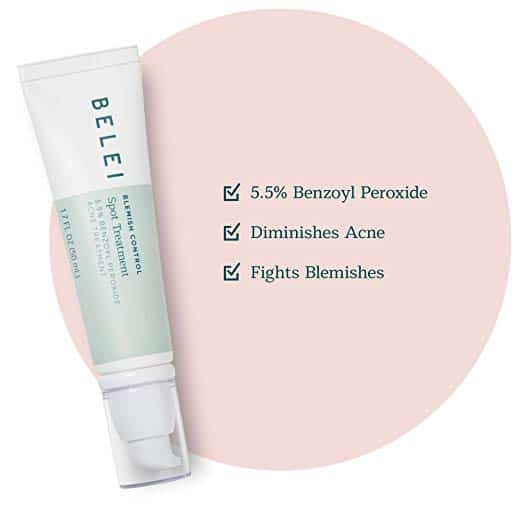 If you are prone to skin blemishes and spots, you should try belei blemish control spot treatment. This blemish spot control treatment helps prevent skin break out and gets rid of acne. This one is not recommended for sensitive skin types so tread carefully.
---
These products contain vitamins and specialized hyaluronic acids that will help refresh and revitalize any damages to the skin as this skin care product does not have any harsh ingredients that might be damaging to the skin.
Leave us a comment on how we can further get you the best skin care products that work for you.