So, another week is here, and you get a chance to view all your stylish celebrities in one place.
Fashion should gee credit than it has already, it's exciting how a nice cloth or makeup can warm you from the inside out. Research also shows that the right style can elevate one's mood and even change how you view colors and combinations.
The concept of styles is not to impress alone but also get to embrace your personality. So, while you can still have your comfort styles, you can also have fun with some of the latest designs.
Celebsthatrock is always here to keep your taste is in styles updated and in check. No exception this week, we have got amazing styles that made a splash last week and will do so all season.
1. Tolu Bally- Exquisite Style Combo
We must agree that Tolu Bally should be on the list of everyone excited about fashion. She is a designer who knows how to make colors work and when it comes to combining, she is quite good at it as well. She sets unforgettable trends.
2. Adeola Adeyemi- Stunning And In-Trend Owambe Style
Designer skin: @hushd.ng
Accessories: @bozjewelry
Gele by: @larrygele
Makeup: @ibiyemiglamour
Outfit: @emaginebybukola
Asooke: @sisi_onigele1
Shoe and purse: @accessorize_by_rea
We have always talked about how a style can help you do all the talking you want, if you don't believe that yet then this outfit should have you convinced. Diiadem is one with the celebrities who keep the fashion line lit on all occasions.
3. Toke Makinwa- Classy Style For Weekend Cocktail
Toke Makinwa's taste in fashion should have you following her on Instagram asap. She is not called the fashion babe for nothing, she keeps all the fashion boxes checked. Her Haute looks do blow the roof off its hinge as well.
4. Kie-Kie- Keeping It Fancy In Ankara
Outfit: @accostcollection
Hair: @Jsluxestrands
Looking fascinating and reserved? This is just the style to inspire your outfit to the office this Friday. Combinations of Ankara is the new you ought to be styling your Ankara.
5. Bonang Matheba- Keeping It Blue And Gorgeous
Bonang's two-piece blue outfit should have you loving blue if you don't already. So, now you should know how to rock those white boots of yours.
6. Mercy Eke- Diva And Sassy Combo For The Weekend
Mua: @ibiyemiglamour_
Fabrics: @maxipearl_fabrics
Dress: @amyaghomi
Head wrap: @ennygelecraft
Jewelry: @Leolishartistry
Shoes&clutch: @maronyworld
It's really exciting when you see a style that can set a trend and how gorgeous some outfits can be. Mercy Eke is not leaving any unchecked in this owanbe style. If you have been wondering what to do with that expensive lace fabric, you have the right inspiration here.
7. Diane Russet – Rocking Elegant And Dynamic Gown Style
Dress: @ann.usmann
Makeup: @karenonyou
One thing about gowns is how you can add one or two features, and it can alter the look completely. While there are so many gown styles out there, here is one that looks super comfy and will surely be around for a long while.
8. Christina Kayode- Stunning Black Dress To Get The Week Started
Skin: @beautifulbody.ng
Hair: @hair_byjennysglow
Waist: @berbiebeauty
Here is just what they call the perfect black dress. Biebiedoll is not one to leave any stone unturned so here is that black dress your wardrobe needs.
9. Mercy Aigbe- Chic And Effortlessly Fancy
Mercy Aigbe is another celebrity you want on your list of best dressed. Her styles are incredible, and this style is no exception.
10. Mrs Savannahrj- Keeping It Lit And Savvy
Yellow is one of the notable fashion colors. Combining it is also not as complex as it sounds but if you are not so sure, here is a style to inspire you.
11. Mimi Onalaja- Recreating The Cape Vibe In Colour
Cape: @sisiano x #AustrianLace
Mimi Onalaja has another revamped outfit for you and that is the cape. The cape is really cute and the whole combination is nothing but beautiful.
12. Onyiialexx – Making Bold And Glittering Fashion Statement
Outfit: @veekeejames_official
Makeup: @bare2beauty
Hair: @kukushair
Hairstylist: @marieghold
Earrings: @fabjewels_official
This is hat seasonal outfit that goes for all kinds of occasions, your birthday party, weddings, or any elaborate event you need to look glittering and fancy.
13. Lerato Kgamanyane- Checking The Cool Vibe Box
Cool and chic styles are everywhere and here is one that completely stands out.
14. Tacha- Looking All Fabulous And Adorable In Ghana Ankara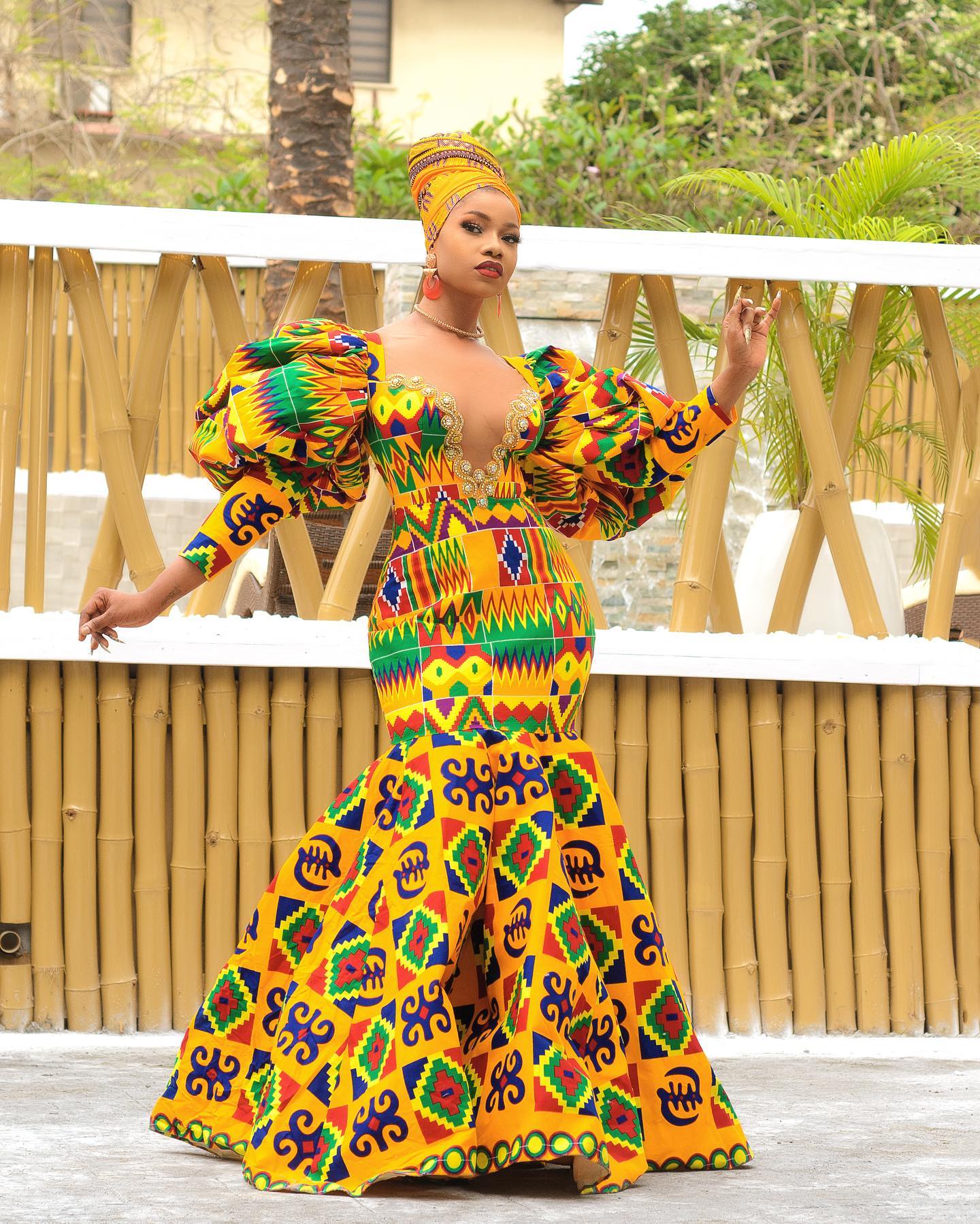 Outfit: @tolubally@2207bytbally
Tacha's fashion gallery is something we will all like to take a look at for inspiration. Here is another exquisite style for you to replicate.
15. Chilla Macame- Red, Sassy And Haute
Red is not meant to be a boring color, so you can understand why it pops no matter the styling or combination. So, this is another combo you do not want to miss out on.
16. Ariyike Dimples- Super Cute And Classy
Ariyike Dimple is not only known as the media sweetheart but fashion diva as well. Here is a babe who knows how to keep the fashion vibe going no matter the occasion.
In Conclusion
When it comes to styles, it doesn't matter if you can't figure out your go-to outfits on any day, you mainly need to understand how to combine.
Learning how to make any color work is another skill celebrities and fashion influencers had to master.
Some styles above show they are doing a great job of that. So, we are sure you have picked your favorite, let us know why it stood out to you in the comment box below.