What does your ideal daily style compose of? Your ideal go-to style helps determine what exactly inspires you. However, no reason to worry about this as celebrities always have something for you no matter what.
Fashion allows you to express yourself, and it's even more interesting when you find what you love most.
Every week celebrities seem to e coming up with something new. There are so many fashion trends that it can be confusing to find one you love. But you can learn how to combine to make it a lot easier for you.
Everyone has a favorite celebrity when it comes to fashion and the more you have, the more styles you learn about. So, the week on CelebsThatRock, we feature fashion trends that took all over Instagram last week.
1. Toke Makinwa- Rocking Highly Approved Chic Outfit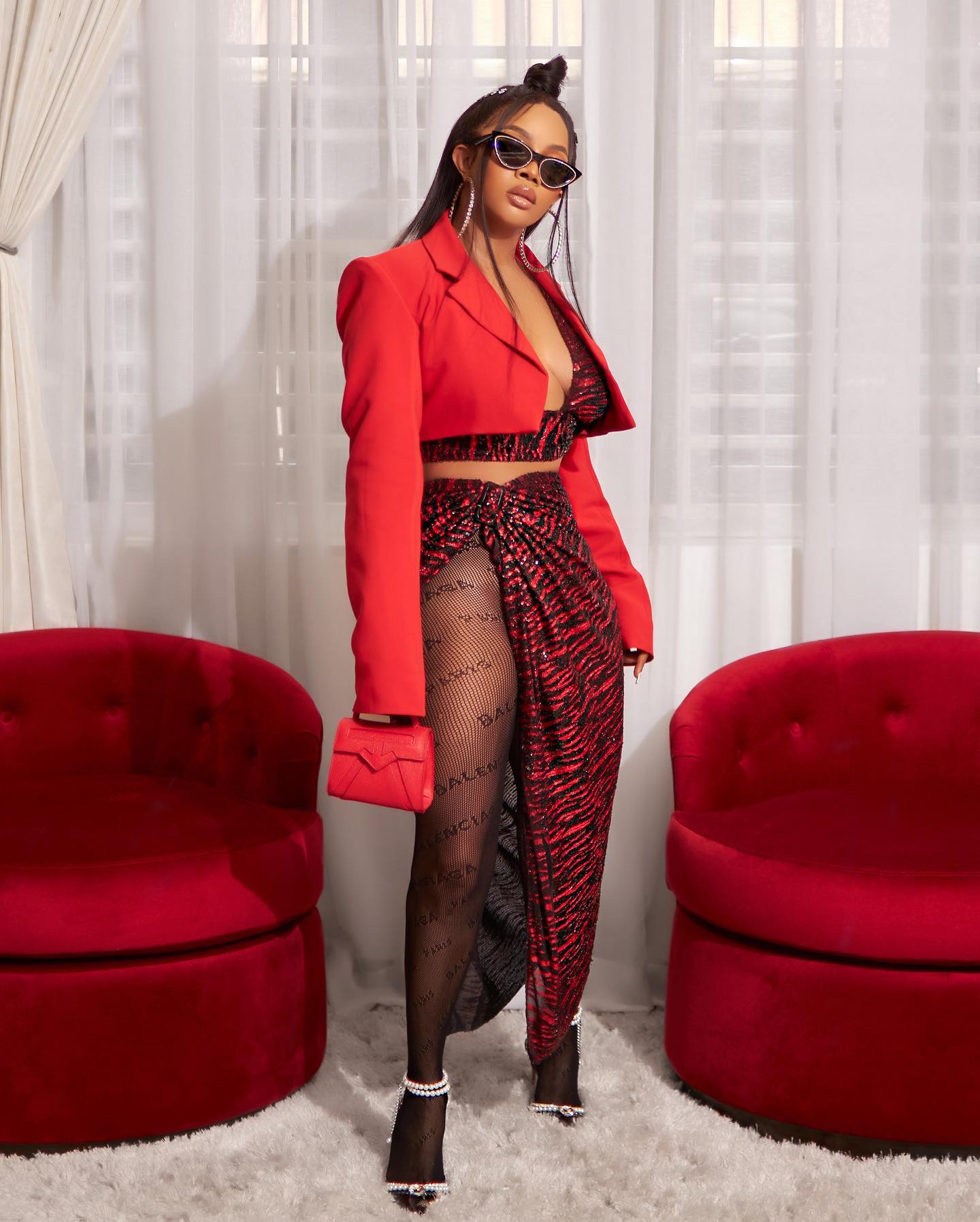 Toke Makinwa is one of the best-dressed celebrities in the fashion world. Something about her style always keeps fashion enthusiasts on their toes. So, if you are looking to get started on the latest fashion trends, the style above might be a good place to start.
2. Tolu Bally- Classic Silver Look For The Weekend
Outfit @2207bytbally
Styled by @wendieeva
Tolu Bally is a fashion designer who keeps its fashion trendy on all occasions. Color combinations are another one of her fashion superpowers, hence you can't go wrong adding her to your list of favorites.
3. Lily Afe- Keeping It Haute And Simple
Looking for something simple and classy? Lily Afe style for the week is another fashion trend you wouldn't want to miss out on. This is a clear definition of simple yet glamorous.
4. Maria Chike- Glamorous Look That Stays In Trend
Dress: @veekeeejames_official
Makeup: @bibyonce
Hairstyling: @pimpmyhair.ng
Creative director: @giftama__
Maria has done nothing but replicates gorgeous outfits from day one. Her style can be defined as a perfect cocktail outfit or for an elaborate event.
5. Yemi Alade- Keeping It Sleek In Pink
Yemi Alade is leaving no stone unturned this week either and if you are up for something pink and stunning, here is one you should consider replicating.
6. Christiana Kayode- Neutral And Gorgeous
Outfit from @fashionnova
Bag: @telfarglobal
Shopped by @rdluxus
It's important to learn how to combine no matter how neutral the colors are. However, neutral colors seem to be the easiest ones to pair, and with an outfit like this, you really can't go wrong.
7. Chika Ike- Setting Interesting Jumpsuit Trend
Standing out no matter the occasion can be achieved by paying attention to details. Here is another style on the list to inspire you.
8. Serwaa Amihere- Keeping African Style Lit
Fabrics designed by: @sima_brew
Hair: @oh_my_hairr
Serwaa Ahmihere is no leaving fashion to chance in this African fabric. The style is another exquisite style you can set trends with.
9. Chloe Kitembo- Looking Iconic In A Black Gown
Looking iconic doesn't have to be dramatic. Go for classy and bold just like this style above.
10. Dorcas Fapson- Leaving No Stone Unturned
DSF is giving us all the vibe needed to check any fashion box. This outfit sure works for any occasion.
11. Rita Dominic- Rocking Pattern Outfit Effortlessly
Styling: @s.b.youme
Dress: @thestudiobysbym
Makeup: @looksbybettie
If you are looking to take over the pattern world effortlessly, here is one stunning style to inspire you.
12. Selorm Galley- Taking Over The Season In Glamour
Glamour seems to be the new word for fashion enthusiasts and best-dressed celebrities as well. This is another stylish outfit you need in your closet.
13. Ariyike Dimple- Looking Chic And Fancy In Ankara
Outfit: @afrikayla
Make up by: @ceeyonceemua
The list of best dressed will not be complete without adding Ariyike to it. Her styles can come from any fabric, and she does have a way of making any style work.
14. Cynthia Nwadiora- Combining Simplicity With Fancy
Ceec has us greening with envy in that playsuit. If you are into playsuits then this sexy one should be on the top of your list.
15. Akia Shaw- Looking Cute In Green And White Boot Heels To Match
Green can be quite an interesting color especially if you know how to work it. This is another classy style you shouldn't think twice about recreating. Akia styles are the ideal go-to if you need something beautiful and conservative.
In Conclusion
Learning the right way to combine will save you from rocking boring outfits. Trends will sure come and go, but you can always find another way to combine it, hence making it stay for a while longer. Bringing you what's new each season is also another way to ensure you stay in trend.
<
Read more on celebsthatrock: