It's only proper to kick-start the year with some iconic styles. Fashion can only get better, and a new year seems to be the proper time to introduce something new which is exactly what your favorite celebrities and fashion influencers did.
There were so many classy and iconic styles during the holiday and it was pretty hard to choose favorites.
Creating a go-to style is not as complex as it sounds. Basic outfits are important in every woman's wardrobe and all you need to work on them is to learn how to combine them.
We are sure this year 2022 is going to be filled with lots of amazing new styles and to have you prepped for this, we have rounded some really beautiful seasonal styles you shouldn't miss out on.
1. Symply Tacha- Keeping All The Glamour And Class Checked
One way to ensure your outfit sets trend is to keep combining basic with luxurious. Symply Tacha sure knows how to keep it fascinating and even dramatic but it's always what the season needs.
2. Nancy Isime- Gorgeous Look For All Season
Dress: @xtrabrideslagos
Styled by: @medlinboss
Makeup: @bibyonce
Nancy Isime needs no introduction. You should check her out if you are in search of classy styles to inspire you. This is another gorgeous style you need to replicate to kickstart the year.
3. Toke Makinwa- Serving It Lit In A Black Gown
Toke Makinwa enjoys serving hot looks and since the year is just starting, here is an outfit that proves it's going to be a new awakening in the world of fashion.
4. Chioma Goodhair- Mermaid Gown Style That Can't Go Wrong
Dress: @weizdhurmfranklyn
Jewelry: @thepoloavenue
We guess being a fashion mogul herself, Chioma can't help but replicate really beautiful outfits. This is a style that can grace any occasion.
5. Linda Osifo- Looking Exquisite In A Trendy Jumpsuit Style
Outfit: @suemanuell
Mua: @shuga_beaute
Looking for something more unique? Linda Osifo has the perfect jumpsuit style for you if you are tired of the usual plain jumpsuit styles. The Material used specifically used is one with glitters which enhances the beauty even more.
6. Mimi Onalaja- Chic Aso Ebi Style To Elevate Your Wedding Look
If you are looking forward to attending lots of owambe this season then this is the perfect time to start adding trendy owambe styles like this one above to your fashion archive.
7. Ciara-Keeping It Classy In A Two-Piece Outfit
Ciara's style can be described as always on point. This is cool and fashion-worthy.
8. Zynnell Zuh- Rocking A Formal Timeless Outfit
Outfit: @zyellegant/@zyellegantrtw
Hair: @senakhaircollections
Zynnell Zuh is another celebrity who always replicates jaw-dropping styles. This week is all about keeping it formal and if you are planning to resume work in style then here is one to get you prepped.
9. Bonang Matheba- Looking Cute In A Seasonal Style
Bonang Matheba is not one to leave any stone unturned when it comes to styles and this is a clear example of that. Everyone needs a go-to short white gown in their wardrobe.
10. Adeola Adeyemi- Keeping Fancy And Glitter Box Checked
Diiadem wrap dress can make you change your mind about a dramatic outfit. The glitters give it all the drama it needs while still making it look cool and interesting.
11. Mercy Aigbe- Making Unforgettable Fashion Statement
Outfit: @ericamoorebrand
Face beat: @beautifixx
Mercy Aigbe is another celebrity who enjoys making unforgettable fashion statements. 2021 did feature lots of gorgeous styles from her and we are expecting even better in 2022.
12. Ariyike Dimple- Gorgeous Butterfly Sleeve Ankara Gown
Here is another style that is sure going to be in trend this year. Ariyike Dimple is another fashion enthusiast to keep on your fashion list.
13. Kie Kie- Spicing Up The Holiday Spirit In This Elegant Style
Kie Kie knows how to spice things up without making it look too dramatic or less fun. If you have ever wondered how to rock this then here you have it.
14. Beverly Naya- Keeping It Sleek In Black
Beverly Naya can be your go-to if you need some styling tips. Her combination game has always been on point. This is a pretty cool two-piece outfit.
15. Bimbo Ademoye- Looking Casual And Beautiful
Bimbo Ademoye is another celebrity we can't get enough of. From her casual styles to her elaborate event gowns, she gets jaw-dropping every time.
<
16. Didi Stone – Keeping It Shiny And Fancy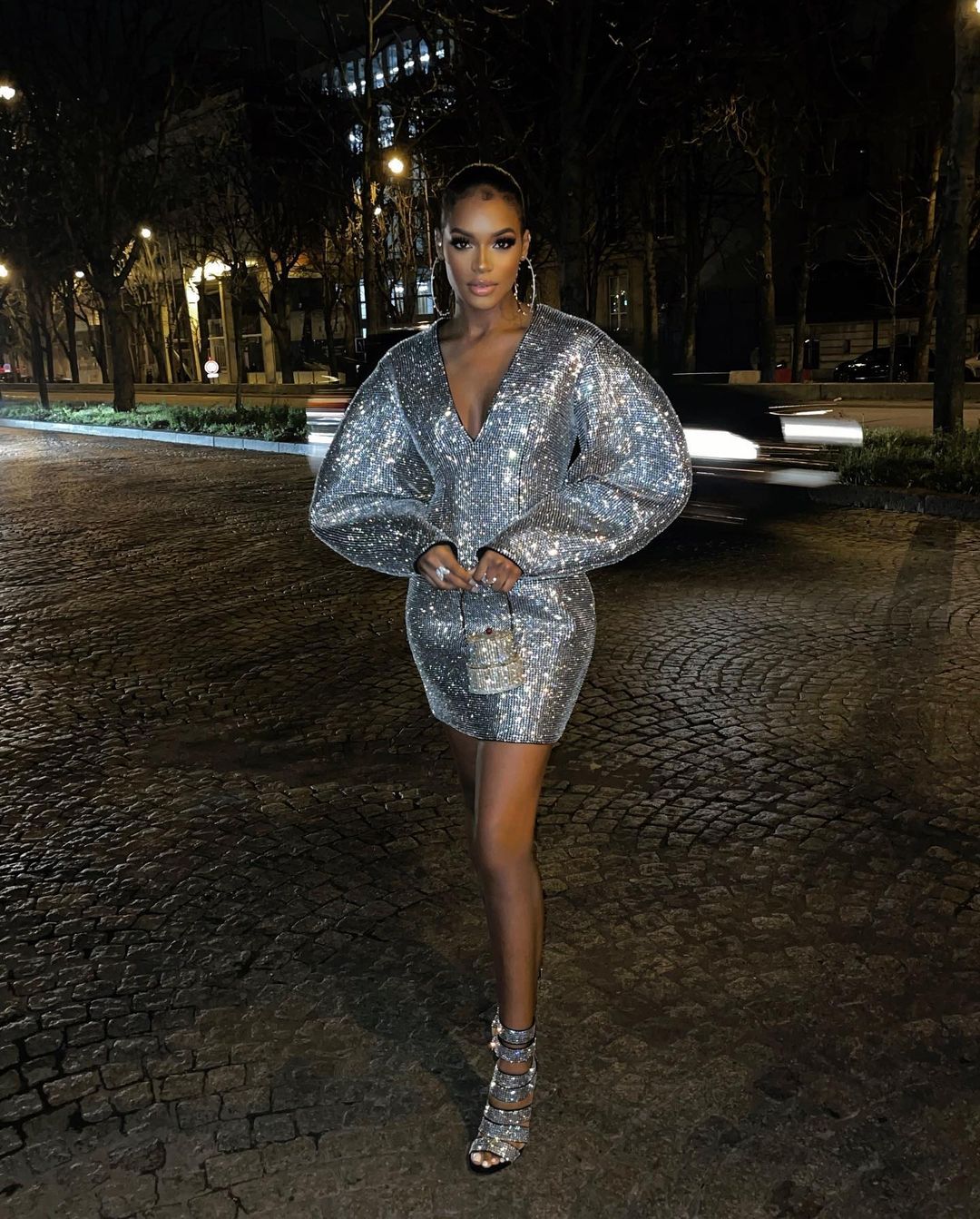 Glitters can do no wrong, especially on silver. Since silver itself glitters then it can be more fun to have it all shiny and cool. This is another style you need to prep for 2022.
17. Chic Ama- Chic Style To Inspire Weekend Outings
Chic Ama styles have a way of sneaking into one's heart and they are often seasonal essentials. This impeccably gorgeous gown would be needed for cocktails, fancy events, and even red carpets.
Wrapping Up
The common question everyone asks is where to find the latest celebrity fashion looks. While the answer to that will be Instagram, it can be pretty time-consuming searching for one that rocks your boat. So, this week on celebsthatrock, we have rounded up outfits that should get you ready for a wonderful fashion-filled year.
Read more on celebsthatrock: