When it comes to top fashion, the details are very essential and as life seems to return to semi-normal, events are springing up every weekend, giving celebrities and fashion influencers reasons to look their best. While sleek event gowns and corporate outfits are the norms, it was interesting to see female celebrities step out in edgy outfits last week.
An edgy outfit is all about combining your clothing apparel with accessories in a way that reflects unconventional and different. This accessory includes jewelry, shoes, and bags. The idea of dressing edgy is self expressional and very easy to recreate as well.
Celebrities and fashion influencers last week were all about creating unexpected outfit combinations and we must admit they are just as fun as elegant gowns. If you are looking to up your fashion game, here are 20 edgy styles to add to the list.
1. Nancy Isime Stylish Edgy Look For The Headies Was Stunning
Nancy Isime has always been known to make a difference with any outfit she picks and there is no exception with this edgy outfit. This is an outstanding outfit she wore as a host at the 14th Headies award and it happens to be one outfit that won't be forgotten in a hurry.
2. JNEL Keep It Cool In Purple And Yellow
Yellow and purple might not seem like the kind of color combinations for an edgy look but JNELV has definitely found a way to make this look simple and exciting.
3. Tiffany Haddish Stuns In Fringe Skirt
Tiffany Haddish is known to have impeccable taste in styles and it comes as no surprise that she can make the edgy look work for her without trying too hard.
4. Mary J Blige Keep It Sassy With In Fur
Mary J Blige is sure the glamour queen of all time. She looks simply stunning in this denim and fur winter outfit. From the pose to the outfit, everything is beautiful and worth recreating.
5. Iamcolour keep It Lit In Colours As Always
A unique color combination has a way of making any style stand out and when it comes to edgy styles, yellow and purple are worth considering
6. Bettinah Tianah Sets Enviable Trend
Bettinah Tianah is all about setting enviable trend and we love it.
7. Tracee Ellis Ross Shows Off In Modern Outfit
Tracee Ellis can be tagged as the queen of edgy styles, She loves keeping it modern and traditional and we must say not everyone can rock this trend as she does.
8. Lorettahove Keep It Classy In Monochrome Outfit
If you are all about keeping monochrome outfit cool and classy, here is the perfect look to inspire you.
9. Peakmill Go All Out In Neutral Shade Outfit
Fashion influencers are all about keeping chic and edgy looks. Peakmill is that fashion influencer with impeccable taste in styles. She looks really fascinating in neutral colour
10. Toke Makinwa Took The Edgy Look To A Formal Level
Toke Makinwa is on the list of the fashion boss every week and we can understand why. She has decided to go for sassy as always but with a bit of street, vibes to give it a simple but exotic look.
11. Marii Pazz Keeps It Sexy As Always
There are top influencers that come to mind when talking about putting some edge to an outfit and Marii Pazz is not one to miss. This is an outfit that is sure going to make a statement anywhere.
12. Bonang Matheba Keep It Cool And Classy
Bonang Matheba needs no introduction, she is one to keep it classy and interesting for any occasion.
13. Beverly Naya Elegant Look Wraps Up The Weekend
Beverly Naya is all about dauntless, bold, and daring outfits. Her sense of poise is often reflected in her choice of outfit and this is a vintage look we would be adding to our list of dashing styles.
14. Lisa Folawiyo Opted For An Edgy Street Style
Creating an edgy street style can be a bit too much to pull off but with the right combination then it's definitely not an issue. This denim combination is definitely something worth trying.
15. Gabriel Union Keeps It Chic And Glamorous
Gabriel Union is all up for conservative and fun. When it comes to pushing boundaries around fashion. Gabunion is the go-to celebrity.
16. Blue Mbombo Enviable Style Get's Attention
Blue Mbombo is another fashion icon that needs no introduction. Her styles are top-notched and gorgeous as always.
17. Claire Sulmers Makes A Fashion Statement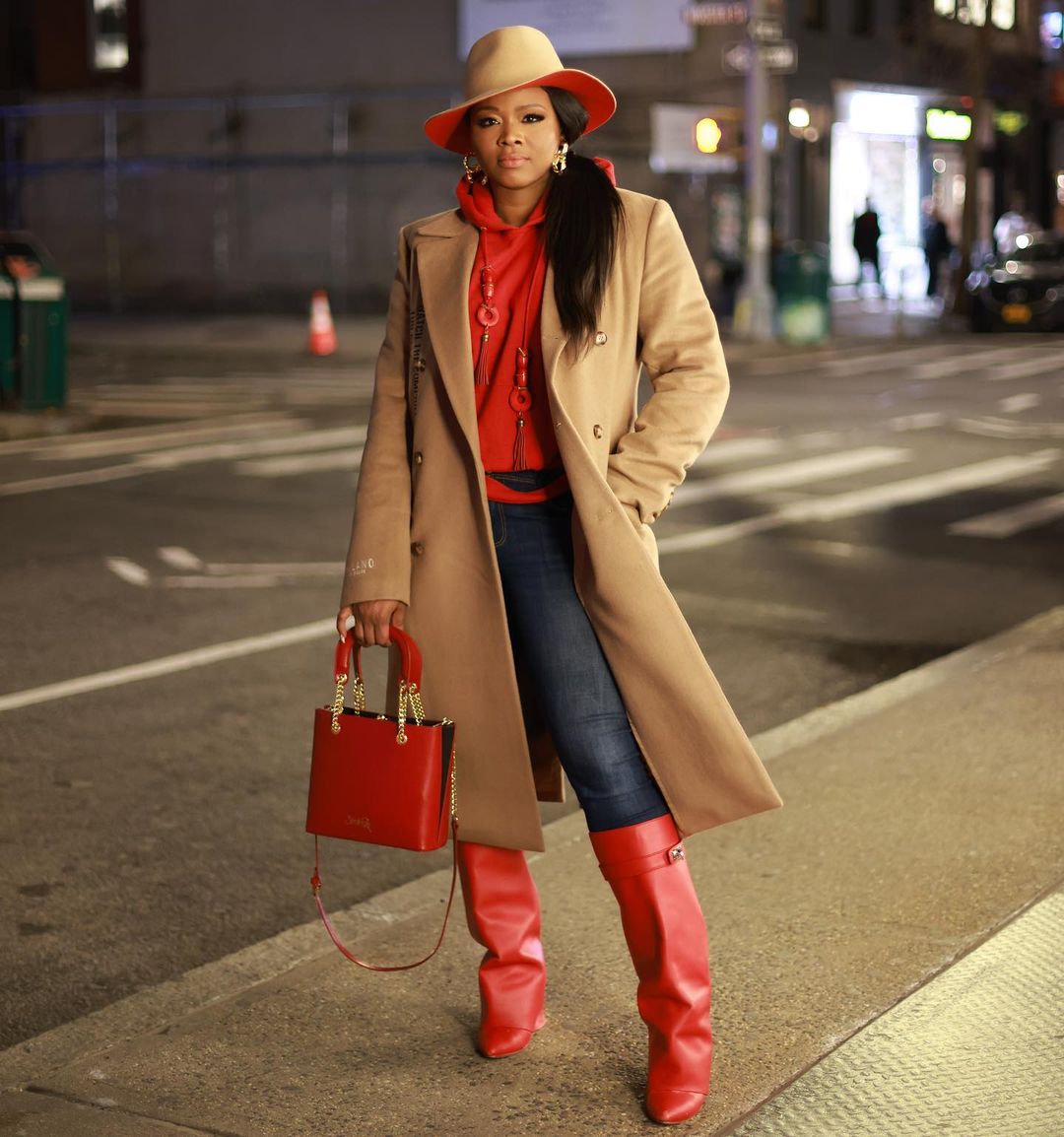 If you are up for some winter outfit then here is the perfect one to recreate.
18. Jennifer Oseh In Really Lit Fancy Outfit
Jennifer oseh is that fashion influencer who has the ability to transform casual into alluring by simply going for a different combination of styles.
19. Tolu Bally Keep It Cool In Baggy Jeans
It's no surprise that Tolu Bally can pull off any outfit. She is a designer with impeccable taste in styles and whether she is rocking a full-color block or just cool denim and shirt, her confidence and elegance tend to shin through.
20. Idia Aisien Pulls Off The Chic Look With Ease
Idia Aisien can be described as the epitome of class. Whatever outfit she chooses to go for, she always makes it stand out. The innocent edgy look with her simple makeup and fringe hairstyle all come together to create an astonishing style that will be around for a while.
Conclusion
Fashion can only get more interesting. Every woman has a fashion formula that makes her feel sophisticated and one way to get even more creative is to watch out for your favorite celebrity and fashion influencer. And with events springing up every day, celebrities and fashion influencers have more opportunities to shine.
Read more on celebsthatrock: