Celebrities have always impressed us with leather outfits and this seems to have gotten more interesting this year. One of the most interesting things about leather is how versatile it can be. This apparel is a definite show stopper especially leather pants when paired correctly. Leather dresses are also a way of compliment and style preference.
Leather is not only great for layering purposes but it can come in quite handy if you need to create a street vibe or high fashion appeal on a budget.
Enviable personal style is something we all love to achieve and this can easily become reality with leather. Leather is fast becoming the sensational outfit in a fashionista's wardrobe as it definitely stands out no matter how you choose to rock it.
The Celebrity-Approved Way To Wear Leather In 2021
The leather outfit is no longer restricted to just jackets, now you can have a jacket dress, pants, or even a biker skirt. It is considered to be the ideal season outfit alternative to denim. In the past week, celebrities have been spotted wearing leather pieces on many occasions. So, we have rounded up some of the best leather looks from last week.
1. Sade Akinosho Keep It Stunning In Leather And Camo
Sade Akinosho is that fashion influencer we can't help but love. She has a unique taste in styles and is well known for keeping things classy at all times. Her simple combination of leather pants and camo is an interesting style combination for all occasions.
2. Chioma Goodhair In Cool Leather Dress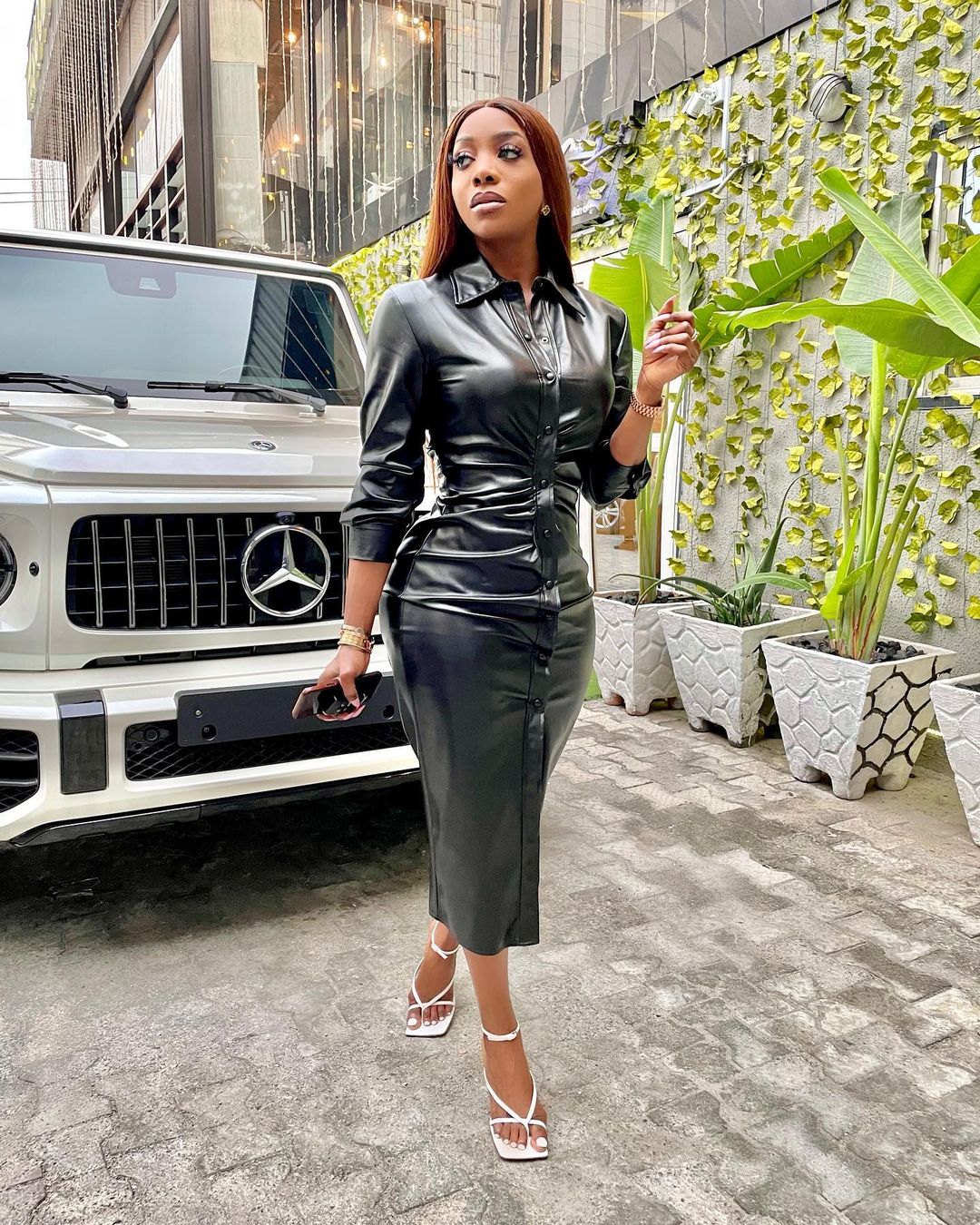 Chioma Goodhair is another fashion influencer with impeccable good taste in styles. She keeps it classy and sassy at the same time, this is really fascinating and easy to pair with heels of your choice.
3. Toke Makinwa Creates Enviable Style In Black
Toke Makinwa is all about keeping it interesting and fancy. Black overall is not any color to pull off but she does make it look enviable and interesting.
4. Funsun Lindner Blazer Jacket Can Do No Wrong
If you are in for some comfortable blazer jacket then Funsun Lindner has just the way you want to rock it. This helps keep things cool in winter.
5. Toni Tone Look Gorgeous In Leather Overall
While the leather overall combination might not work for everyone, Toni Tone did find a way to make it look and it looks really gorgeous.
6. Nicole Williams Sets A Sassy Leather Trend
Nicole Williams outfit is just what you need to keep it casual and fun. This leather gown is perfect for date night out.
7. Micah Gianneli Keep It Simple And Lit
Micah Ginneli might have to be referred to as the queen of leather outfits. A couple of her leather styles were spotted in previously and they are lit and classy styles you did like to rock.
8. Alice Joy Keep It Pretty In Monochrome
We admit this is a style worth setting trend. Not only is this eye-catching but looks really classy and cool.
9. Tia Maria Nelson Look Astonishing
Tia Maria is definitely a fashion influencer worth taking a peek at. Her styles are far too interesting to ignore and if you have always wondered how to pair brown leather pants then here is the look you need.
10. Juliette Fox Keeps It Fun As Always
Juliette Fox is always keeping the fun in no matter what she is wearing and we must say it's something we quite enjoy. Leather does not have to be boring and with a style like the one, you can look forward to having fun with it.
11. Keyshia Ka'oir Davis Keep It Hot And Sleek
Hot, sleek and sassy is the new fascinating trend and we can't help but love this fascinating look is the perfect summer look to go for.
12. Olomide Didi Makes A Fashion Statement In Leather Dress
Here is another fashion influencer that likes to keep it enviable and interesting. Her styles are classy which is perfect for winter.
Conclusion
Leathers are often worn in neutral tones of black and brown and it's why it's often believed to be more of a winter outfit. Styling leather doesn't have to be dramatic or boring, all you need is a style to inspire hence why we have it all from leather pants to leather dress.
Read more on CelebsThatRock: