It's the last Monday of the month already, we know most of us are excited about this and as well looking out for outfits for the week or coming month. Having the best look daily has somethings that it passes across to people around, it obviously tells them who we are and tells them how important we love to look good, irrespective of the day in the week.
Over time we've got to realize that having what to wear is not always the only issue, but some don't know how to combine what they have in their closet, and that alone can be disturbing and time-consuming times, especially when you need to rush out to get some contacts signed or go for a job interview. It can indeed be frustrating.
For some that know the right combination, they just might be lost for what to wear on some days of the week. Well, no rule says you can rock Ankara on a Monday, but you wouldn't be going for a job interview, and rock that, you will want to have that corporate look. More reason why we've selected few exceptional outfits for you, we hope this helps you.
1. Cynthia Nwadiora: Micro Leather Gown
Outfit: @3ambyalex
Hair: @vannitudeshair
Makeup: @didysignature
Ceec is knowing for her outstanding look and classy choice of outfit. This micro gown definitely looks amazing on her, you just might love to try it out.
2. Nancy Isime: Ravishing Short And Shirt
Styled By: @medlinboss
Hair: @mizwanneka
Makeup: @seun_williams
It's the color for me though, these two pieces definitely look gorgeous and would definitely fit in on all body shape.
3. Lily Afe: All White Two Pieces Outfit With Camisole
Some people love white as their favorite color, there's a statement that comes with rocking white because white is known to be exceptional amidst other colors. This outfit indeed looks amazing and can't just be ignored.
4. Zynnell Zuh: Slitted Outfit In A Classy Way
You can always be your own muse with your goddess outfit and gorgeous look. This Slitted dress with a tightened belt looks beautiful.
5. Rita Dominic: Eviable Laced Dress
Outfit- @lanredasilvaajayi
Styling- @yolandaokereke
Make up- @radiezbyeve
This lace dress is obviously not the regular lace and the style giving a queenship statement. You don't have to always go all casual, something stylish of this nature will do once in a while.
6. Sade Akinosho: An Eye Catching Look
Everything about this outfit looks perfect, the two pieces, the hat, the bag, the transparent heels. You can't go wrong with this outfit, a button-down shirt with an invisible zip pant trouser looks great.
7. Toke Makinwa: Classy As Always
Toke Makinwa with her impeccable taste in styles. She keeps it classy and outstanding, you can't go wrong with any of her style.
8. Julitha Kabete: A Bold Look Black Dress
Julitha Kabete with the bold look. This dress looks more amazing with the zip down and zip up, making you feel all comfortable while walking,
9. Chioma Goodhair: Color Combination Looks Perfect
Dress- @sheisdeluxe
Hair- @goodhairltd
This color combination is one amazing thing I love about the whole outfit, it gives the styles another volume, making it look all classy.
10. Diiadem: Breathtaking Pink Dress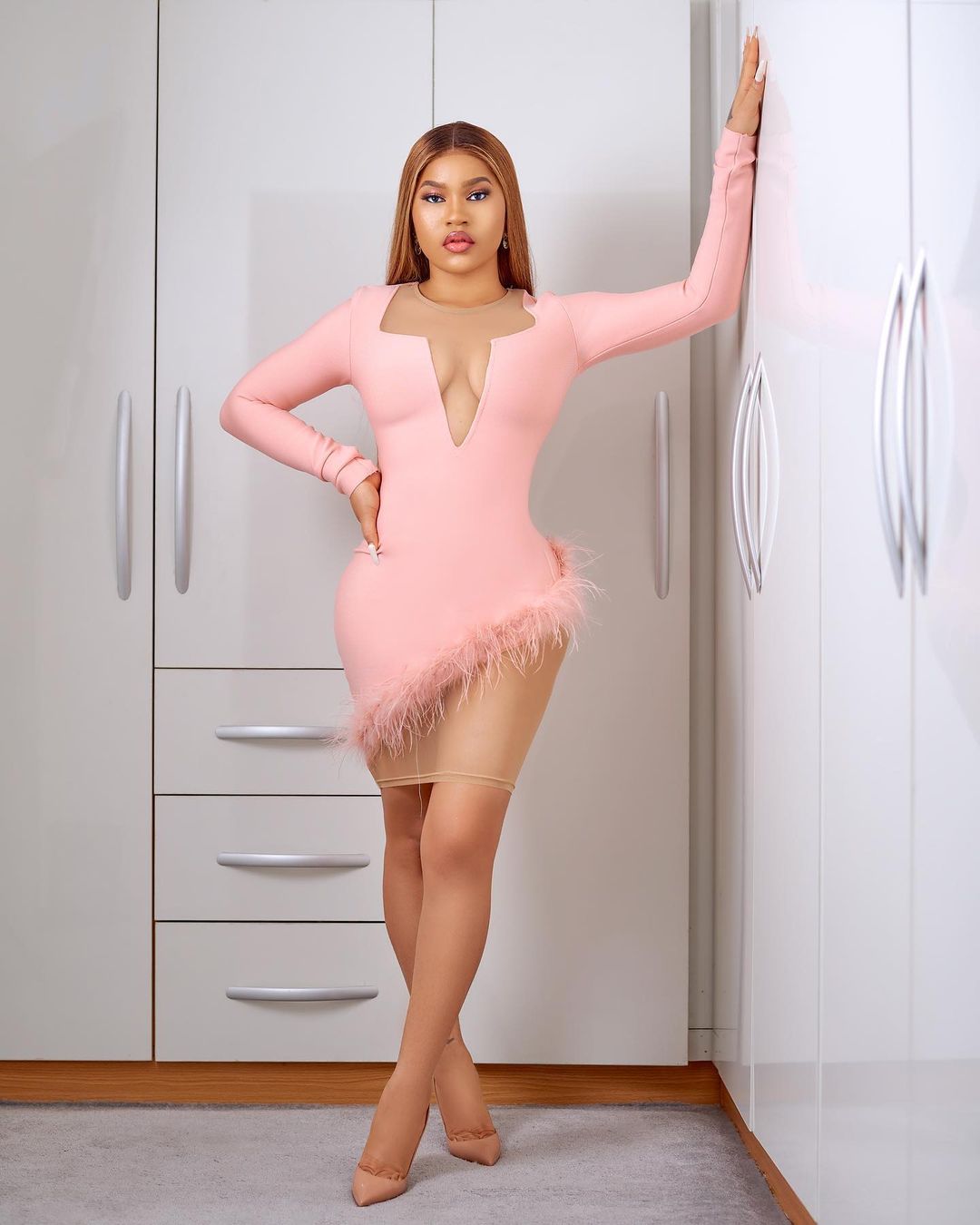 Dress- @shopkyluxury
Makeup: @tobie_peters
Styled by: @__lola___o
This gorgeous bandage dress with skin net looks lovely with the feathers giving it more stunning awareness.
11. Chic Ama: Keeps It Simple On A Short Gown
Chic Ama is known to be a design, she obviously design her wears. This button-down short gown with three puff step sleeve looks great.
12. Julitha Kabete: Looking Gorgeous In All Shades Of White
An Offshoulder dress with a puffy sleeve gives so much statement. You sure can't go wrong on white outfits.
13. Powede Awujo: Orange Blue Sleeveless Dress
This sleeveless dress look casual and classy, it a perfect one to rock especially during this heat period.
14. Sharon Ooja: Sassy Long Dress With Long Sleeveless
Dress from @tularoo
Makeup @makeupkwin
This elegant dress can't go wrong at any occasion.
15. Ini Edo: Keeps It Casual And Eye Catching
Pant- @secretsofaprilofficial
Want to keep it simple and exotic with pants and top? Here is the perfect style from Ini Edo and that's a look we won't forget so fast.
In Conclusion
Having the right set of outfits for every occasion will depict what your fashion taste is to people out there, you sure want to look your best always. We have been able to help you fulfill that part of looking great, we hope you find the best and make use of it. Looking great is definitely hard work but it a must-do. Do enjoy while you look all glamorous.
<
Read more on our celebsthatrock: