What does fashion means to you? Your definition of fashion is what determines your own go-to style and we say it is easy to create a personal enviable style as long as you are updated on the latest trend and one of the fastest ways to get the latest fashion trend is from celebrities and fashion influencers, they come up with styles that are easy to replicate and all you have to do is add your own creativity to it and there you can set a new trend or get your own go-to style.
When it comes to securing the bag, celebrities and influencers put their best foot forward and this week on celebsthatrock, the shirt dress seems to be making all the fashion rave, this is quite an exciting style trend and if you have always wondered how you can rock a dress without looking cliche, your favourite celebrities might help with that.
When it comes to the perfect outfit for an event and a casual occasion, a dress is going to be one the top list of styles to consider, it is simple and there are lot's of fascinating ways to style a shirt dress, you just need to figure out which one suits the occasion.
A mini dress is an effortless outfit that you can't help but love and it does not have to be plain or boring, you can simply have it paired with heels or sneakers and you can strut into any cocktail party with confidence.
17 Amazing Ways To Stun With A Dress
A dress has been included as part of fashion for a very long time and we think it is one of the most comfortable outfits out there and there have been more creative ways to style a dress, and all you need to complete it is some accessories and confidence to slay with it. Below are dresses that are here to stay.
1. Iyabo Ojo Steps Out In A Chic Dress
Iyabo Ojo can be perfectly described as the queen of fashion, she keeps it practical most of the time but interesting enough to get a second and a third look, this is a great style that is easy to recreate and its simplicity makes it even more fashion worthy.
2. Serwa Amihere Creates A Fashion Trend in Simple Sundress
Serwa Amihere is the best go-to if you are looking for simple dress styles to inspire you and above is a fashionable sundress you can't help but love, this can be worn for all kinds of occasion, it is stylish and all you have to pair with it is a fancy heel. This is quite comfortable and convenient as well.
3. Linda Osifo Keeps It Stylish With A Cocktail Dress
Image: @lindaosifo // InstagramLinda Osifo is another fashionable celebrity with an impeccable taste in style and she keeps it interesting as always with an elegant short dress which can be worn for all kinds of occasion.
4. Ebube Nwagbo Astonishing Way To Pair Yellow
Ebube Nwagbo is not just an African celebrity we love watching on the big screen alone but her styles are interesting enough to look out for on Instagram. If you love the yellow colour then here is a perfect way to have it included in your shirt dress.
5. Chica Ama Steps Out In A Classy Mini Gown
This is one of the trendiest dress styles from Chic Ama and always, she makes it look even more unique and fashion worthy. This simple mini dress is suitable for all kinds of events and all you need is a pair of heels.
6. Alex Asogwa Looks Stunning In A Shirt Dress
Alen Unusual needs no introduction, her styles are great for days when you want to feel comfortable and bold at the same time.
7. Yewande Biala Keeps It Exotic As Always
Yewande Biala keeps it exotic and we can't help but love the sexy appeal that comes with this mini gown.
8. Loretta P Hove Keeps It Less Elaborate But Beautiful
Loretta Hove shirt dress is one style you want in your wardrobe on days you can't make up your mind on what to wear and still need to look stunning, it's quite perfect for all kinds of occasion.
9. Juliet Ibrahim Leaves It Classy And Interesting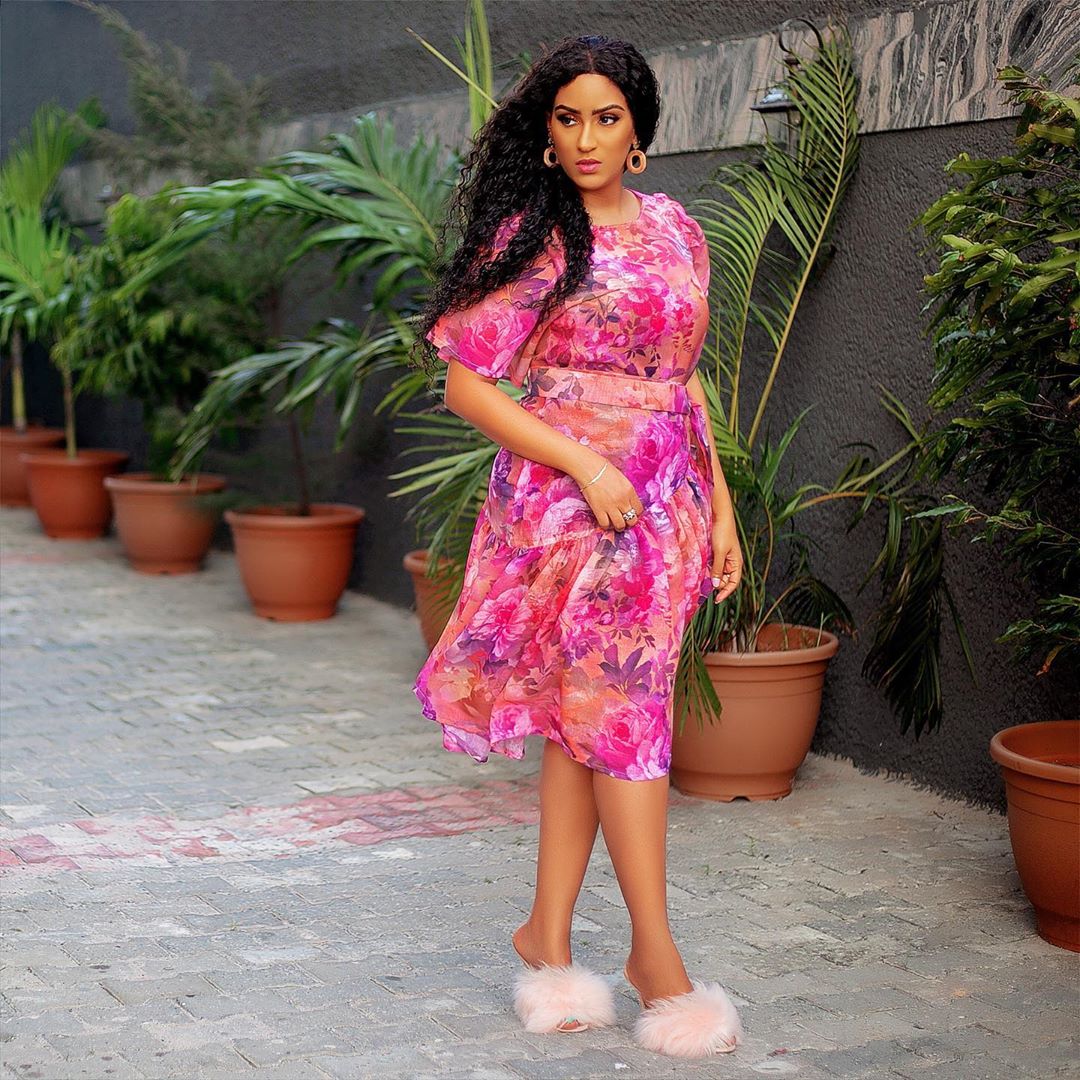 A sundress can't go wrong at any time of the day, either for a casual day out or to a party, all that makes the difference is a pair of heels, sneakers or flip flops.
10. Idia Aisien Chic Dress Leaves More To Imagination
Idia Aisien shirt dress is one outfit every lady must have in their closet, either for casual Friday or for work either, this is also great for winter and all you need is a demic jean to go with it.
11. Jennifer Oseh Makes A Fashion Statement
The list of fashionistas with incredible taste won't be complete without having Jennifer Oseh, who is well known as the lady vhodka on it, her styles are not just awesome but are easy to replicate as well. This is one dress that is far from plain.
12. Stephanie Coker Keep It, Fancy, With The Obi Belt Trend
Stephanie Coker keeps her dress in trend with the Obi belt trend and we must admit, this is beautiful.
13. Cynthia Nwadiora long Sleeves Shirt Dress Keeps The Sass In Check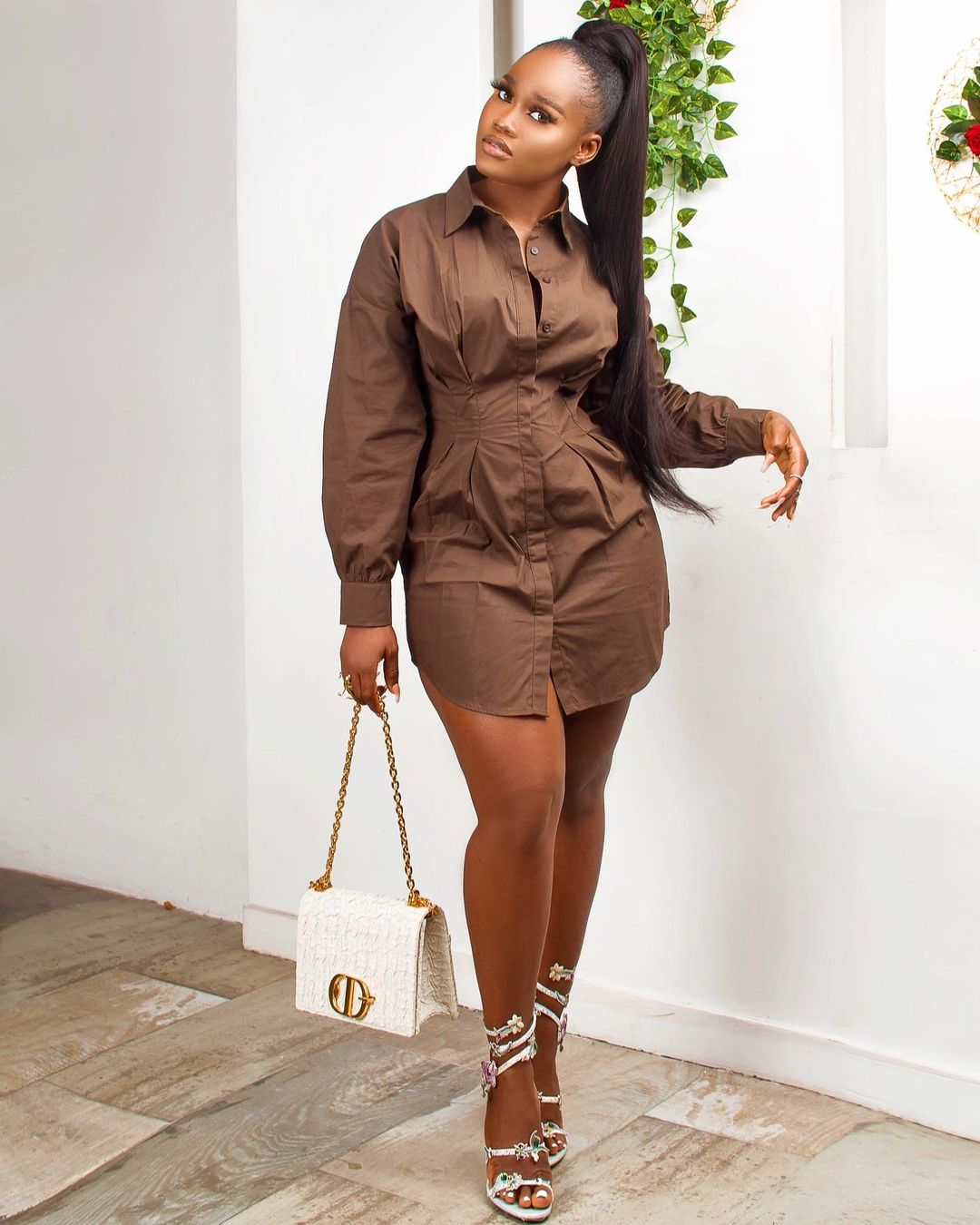 Cynthia Nwadiora casual outfit is definitely going to garner attention without trying too hard.
14. Serra Bellum Combines Sexy And Comfy
Serra Bellum has the ideal dress to inspire you when you need to keep it comfortable and classy, this is a bold dress but can pass as conservative s well.
15. Stella Micheal Effortless Style Wraps The Weekend Up
Your personal enviable style does not have to be bold and elaborate to set a trend and above is one dress style that has always been in trend and won;t be going anywhere for a very long time.
16. Esther Biade Keeps It Casual And Confident
One of the notable ways to look stylish is to keep it as simple as possible and here is a dress in all its simplicity and yet, it tends to stand out, it is an outfit for all kinds of occasion and all that needs to change is your accessories, this can be styled with a belt to give it a chic look and with any footwear of your choice and you are good to go.
Conclusion
A mini dress is not just fun but there are so many beautiful ways they can be styled and you did never get bored while at it, you also get to create your own enviable style with any dress that inspires you. A mini dress allows you to level up your look and keep your game style strong effortlessly and all you need is a mini dress that is going to be in trend for a very long while and the list of simple celebrity mini dresses above should inspire you.
Read more on styling tips and celebsthatrock: