Influencers and celebrities keep the fashion world interesting every day and with their easy to replicate styles which makes it easy to follow the trend and stick to only the most fashionable outfits.
As life seem to return to normal after the pandemic, fashionistas and designers have gone ahead to create more astonishing styles to instil more confidence and you can resume a normal lifestyle looking like the fashion babe you are. Sexy and confident are two words that can't go out of style and last week did show lots of influencers and celebrities stepping out in class and glamour.
Black and white seem to be the fashion colour for the week and celebrities are seen stepping out in this two colours, everyone has their enviable style, and as we continuously preached the safety gospel and ask that you continue to keep all the safety rules while we bring to you all the fashion tips you need.
If you are looking for your go-to type or simply need something to inspire a black or a white-coloured outfit, then this week's celebsthatrock might just be all the inspiration you need as we have rounded up cool styles to elevate your fashion game.
15 Ways To Rock Black Or White In Elevated Styles
Fashion is part of the fun of being a celebrity and so far this year they have only replicated interesting looks that you can't help but love and this week there is no exception, we have rounded 15 interesting styles from your favourite celebrities.
1. Nancy Isime Style Sets A New Trend In A Sleeveless Black Gown
A stylish black gown might have been in trend for a very long time but making it stand out like an A-line gown is something and Nancy Isime puts a twist on this style which makes it not just fashionable but very interesting and in terms of hot and fancy, it is sure going to be on the top list.
2. Toke Makinwa Steps Out In A Classy Street Style
Toke Makinwa styles are not just interesting but quite perfect when you need to achieve a diva look and stand out at any kind of event. She keeps it simple this time but worth setting a trend with and we must admit, she makes black look fascinating.
3. Ini Edo Keeps It Casual And Fashionable With Flower Print Outfit
Flower print material is the new stylish way to get your fashion groove on. This simple two-piece outfit is surely going to stand out on any occasion and you can go ahead and pair it whichever way you want.
4. Mimi Onalaja Keep It Free And Flowing
Mimi Onalaja looks gorgeous in that flowing gown and if you are looking for a style that stands out at the beach, we have just the right inspiration for you.
5. Kefilwe Mabote Keep It Sassy And Fancy
Another sultry look from Kefilwe Mabote that needs to get a second and a third look. This is classy and suitable for fancy cocktails.
6. Ini Dima Okojie Slays In Conservative Micro Gown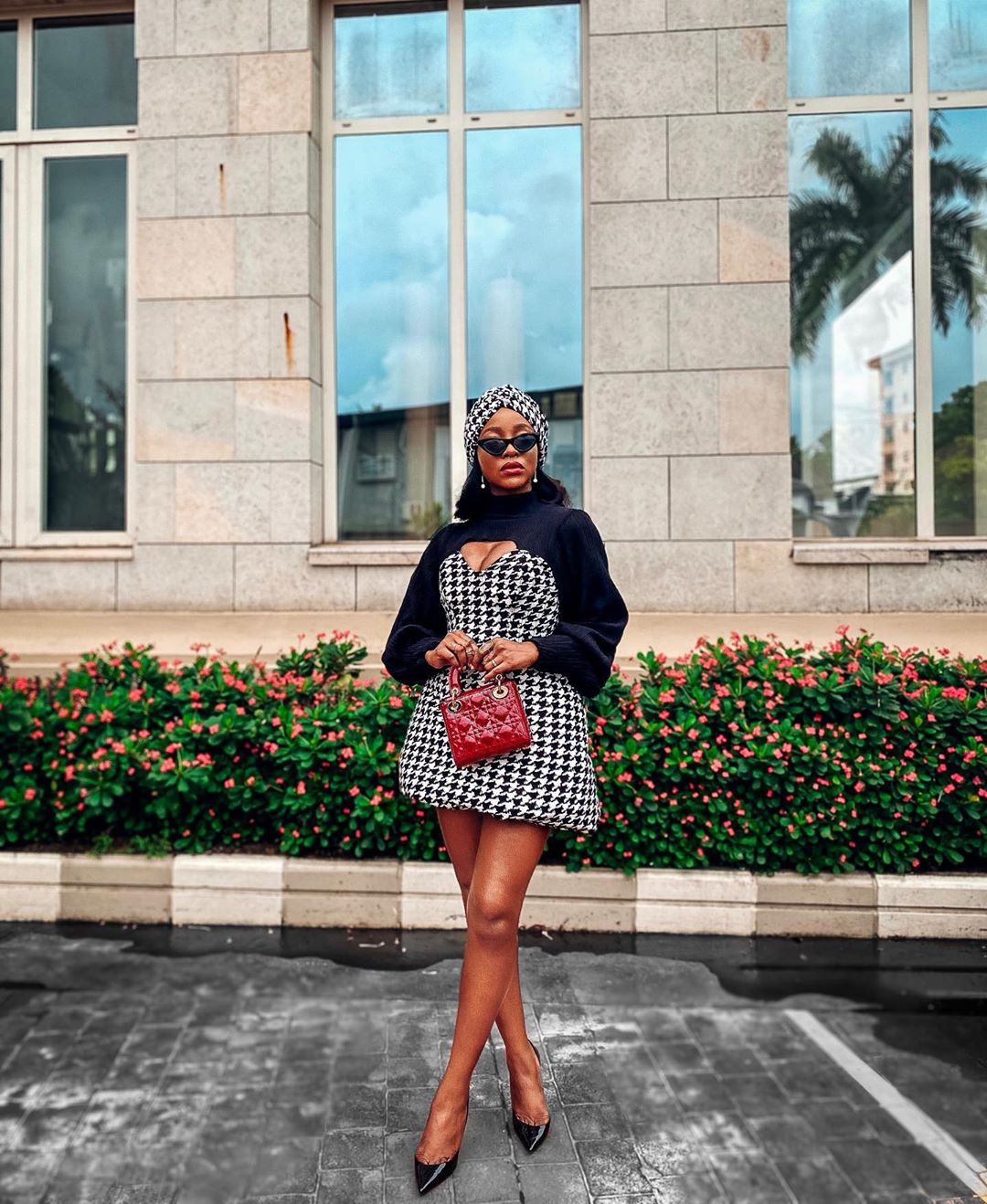 Ini Dima Okojie has got just the right pose with you and paired with that amazing outfit, you can't help but love it.
7. Bettinah Tihanah Has Just The Right Modern Style For You
If you want to keep it as modern as it can be then this interesting combination from Betinah Tianah might just be a suitable style to inspire you and all you need is a pose to complete it.
8. Powede Awujo Stylish Outfit Keeps It Casual
Powede Awujo stylish look is one way to keep it casual for practically any kind of occasion.
9. Nana Adjoa Walker Sets An Enviable Style With Black
Black is an amazing color when styled the right way and Nana Adjoa proved that to be true with this exotic gown, this is just what you need to replicate for a dinner party or cocktail.
10. Olomide Didi Stuns With The Perfect Weekend Style
The weekend is that time of the week you step away from work and step out in style either for a party or casual getaway and if you can't make your mind on any outfit for the coming weekend then this style from Olomide Dide might be worth checking again.
11. Sino Booi Keep It Interesting As Always
Sino Booi has a way with styles and this might have you loving the black color, even more, a casual street style to keep it on the low while having fun.
12. Chica Ama Creates A Unique Bell Sleeve We Love
There are so many amazing ways to style bell sleeves these days and if you are into bell sleeves then Chica Ama has the trendy bell sleeve style for you.
13. Juliette Fox Approved Style For The Week
Juliette fox is a fashion influencer with a unique taste in styles, she keeps it fun and exciting at all times, and this week, this style is one the list of styles we approve of. The black boot stands out and adds more glam to the look which is one of the reasons it has made it's way to our list.
14. Marii PazzNG Keep It Bold And Adorable
Marii Pazzng is a fashion influencer that needs no introduction, she creates a personal enviable style and this is one white gown that is going to be setting a personal enviable style for a long while.
15. Stella Adewunmi Diva Look Can't Be Missed
The none cliche look won't be complete without having Stella Adewunmi stylish white shirt dress on it, if you are looking to style your shirt dress uniquely, this is just the combination you need.
Conclusion
Black and white remain the eternal chic combination and the color itself is as old as the fashion trend itself and with new styles coming up every day, celebrities have found a modern way to continue to rock black and white, either as a monochrome combination or on its own. The majority of celebrities and fashion influencers outfits are sure to appear classic however you can easily have your piece added to it to create your style and ensure to go bold and daring with it.
See more #CelebsThatRock picks: