Every week on ThriveNaija we celebrate by sharing the most beautiful celeb styles from the past week in a series we call #CelebsThatRock and this post is this week's edition, African celebrities do have a way of making the best with their look and designs in everyday style, special occasion, and elaborate events which makes it easy to turn to them for fashion inspiration.
Celebrities have a way of capturing our hearts with what they wear and no week hardly passes by without seeing something fascinating from our favorite style icons. Last week, African celebrities were all about statement-making with jaw-dropping styles that are aimed at setting a fashion trend anywhere in the world.
Every celebrity does have something to offer when it comes to styles, however, we did curate 17 celebrity look that we found to offer a combination of classy and casual.
1. Bolanle Olukanmi
Bolanle Olukanmi have always been noted for simple gowns you can easily dorn to attend parties or just a nice time outdoor, her look is just what you need for an evening date, not too elaborate and more interestingly is the simple cornrow that added some glamour to the look.
2. Sarah Langa
If you ever get bored of your normal street style, you should definitely look Sarah Langa up for some street style look that are in trend and are absolutely making wave on gram, we are loving the I am invisible look she has going on with that outfit.
3. Selley Galley
This is a combination of classy and street style, it's definitely what you need to garner attention at practically any event, the red and white dot from the material tends to highlight the look and not a bad day to have a drape coat wrapped around you to look more fabulous right.
4. Toke Makinwa
Toke Makinwa is one OAP queen we always love to look at, her look and styles are always considered unique and every week, she never hesitates to serve it hots, the gorgeous lady needs no further introduction on her looks or style, she is surely one celebrity that rocks.
 5. Thando Thabethe
This won't be complete without featuring Thando Thabete in her street jam look, it's simple but you can easily rock it for casual outings or official look with no stress.
6. Ebube Nwagbo
This can be referred to as a street style but we can say nothing stops you from wearing a look like this to a party, you did have everyone gazing in awe at the overly confident show you are putting on, Ebube Nwagbo sure did some justice to that outfit.
7. Shade Akinosho
Another fashionista that knows her style and does not hesitate to strut in is Shade Akinosho known as s4de_u on Instagram, there is something unique and trendy always going on with those styles of hers.
8. Blue Mbombo
For less dramatic styles, look like Blue Mbombo is the go-to babe, she has got it together in those amazing women suit.
9. K Naomi
We are loving this look, effortless and not dramatic which makes it just suitable for parties.
10. Julitha Kabete
Julitha Kabete always find a way to warm our heart with her pose and her choice of styles, this is no exception, we love the I have got it together pose she pulled in this one.
11. Nomzamo Mbatha
Nomzamo Mbatha is one celebrity that always has something fresh and awesome for her fans every week, her look can go from casual to elaborate in minutes and we just love how she is unapologetic about her styles.
12. Ini Edo
Another celebrity you can trust to deliver when it comes to owambe outfits is Ini Edo, the Nigerian actress has definitely got it together in everything she wears.
13. Yemi Alade
Yemi Alade is a music queen and likes to show that in what she wears and we must admit, yellow does look good on her.
14. Mercy Eke
Mercy Eke is obviously just joining the celebrity trend but we must say, her styles are worth taking a peg or two from.
15. Mercy Aigbe
Mercy Aigbe is one of the rare actress with an interesting eye for fashion, do not hesitate to go to her page if you are looking for a fresh styles in all categories.
16. Oyebade Adebimpe
Oyebade Adebimpe, popularly known as mo bimbe or adembimpe omooba has just the right look for you if you want to look just like the queen you are, she seems to be a lover of beads and cutural wears and don't we just love it.
<
17. Tolu Bally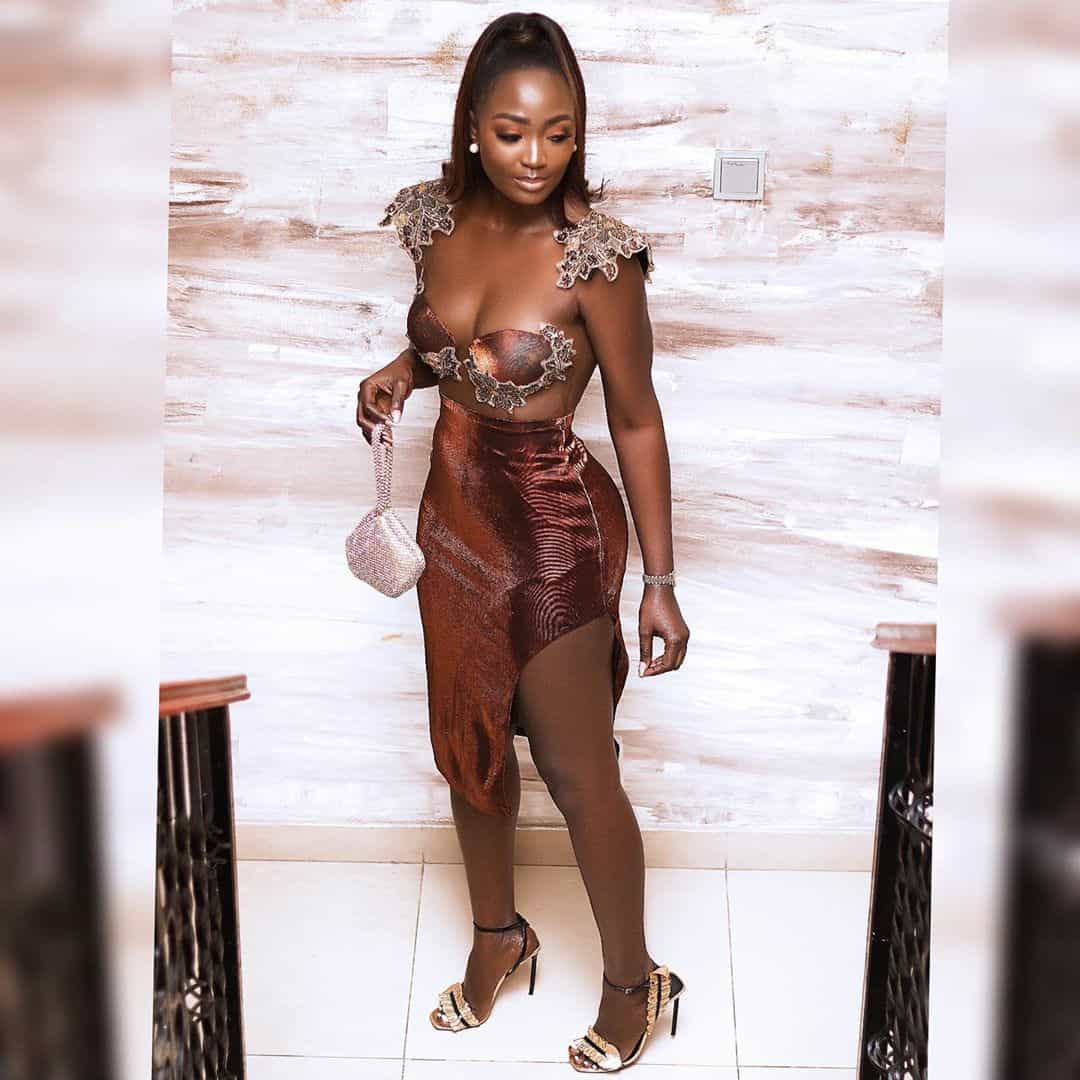 Tolu Bally is a fashion designer with an impeccable taste in designs, she has styled a lot's of celebrities and we are not surprised when she herself turns up with this glamorous look, she is looking all fine and chocolateee.
Fashion could only get better and you do not want to be lagging behind, the latest and trendiest should definitely be in your closet already and not to worry, we would always deliver the best of this styles to you and all you need do is follow us on Instagram @thrivenaija to get updated. Do you think our selected celebrity did rock the fashion world last week? We would expect your opinion in the comment box below
Read more on celebsthatrock and fashionistas with styles: