It's another beautiful week and that means beautiful celebrities to showcase, fashion indeed have become more interesting this year and at ThriveNaija we always make sure we are here to serve you with the latest and hottest hence why we have our weekly celebrity look to inspire your choice of style for the beautiful week, it's time to explore more fashion looks in order to refresh your style and trend.
We tagged it #CelebsThatRock, read our first edition to fully understand our mission on this one.
If you are an avid fashionista then you would agree with us that celebrities with gorgeous looks are never found boring and always manage to spark some interesting notion for the week.
20 Stylish Celebrity Looks From Last Week
We have compiled a list of some of the best celebrities with beauty, powerful taste in fashion and also manages to rock their look with impeccable glam.
1. Oyebade Adebimpe
Mo_bimpe did some justice to that outfit, the look is just right if you want to recreate a princess look, simple and elegant which makes it even more stunning, the look is also traditional, not too dramatic either and easily sparks some inspiration.
2. Sharon Ooja
Sharon Ooja is one beautiful actress that garners attention with her look every time, can be casual and elaborate at the same time, she is also among the top beauties in the fashion industry that Instagram loves.
3. Idia Aisien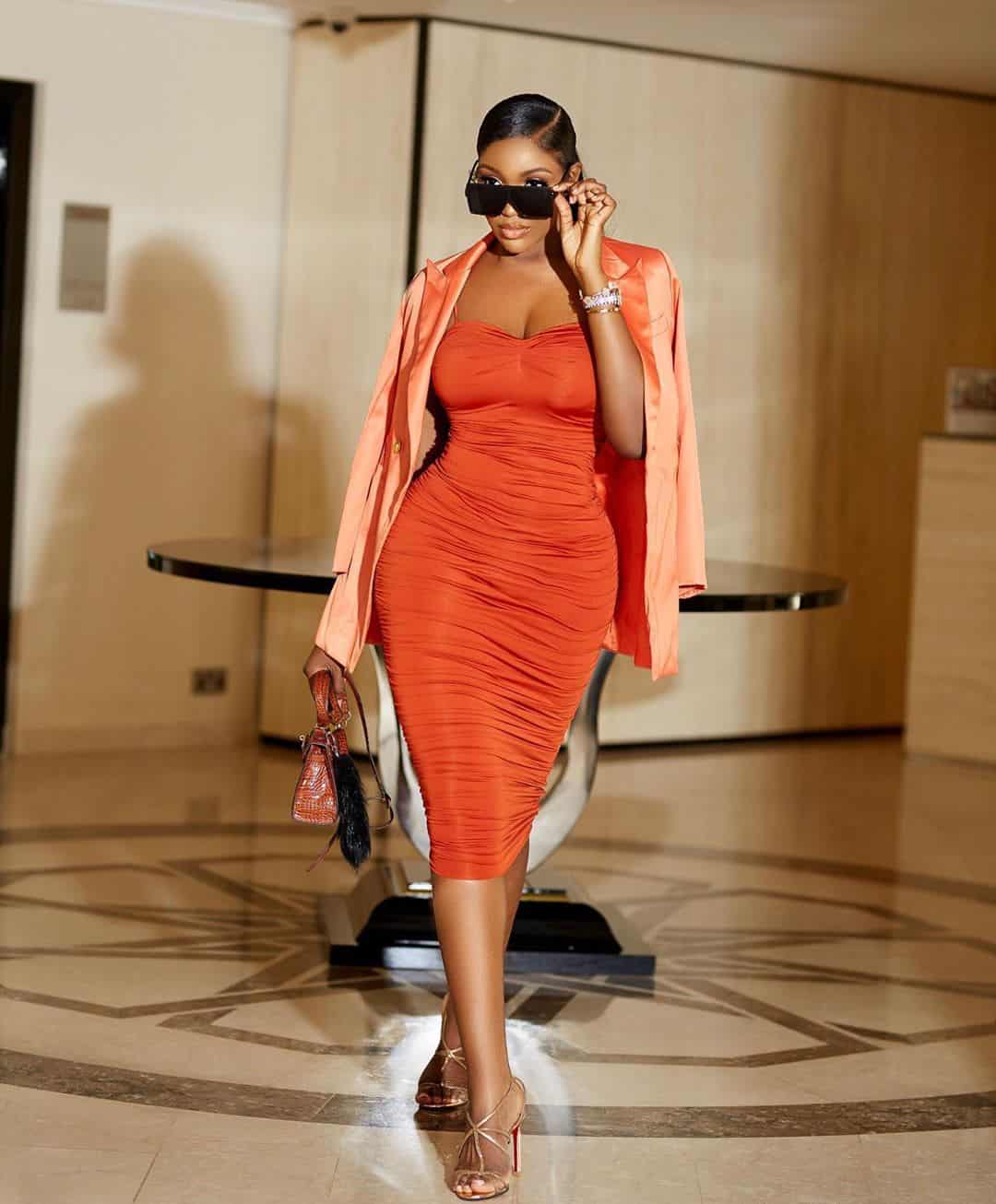 Looking for simple elegant styles and look you can rock to any occasion, you should check out Idia Aisien, she is gorgeous and knows how to impress with her choice if outfits.
4. Toke Makinwa
The OAP celebrity always wins the heart of her fans with her choice of design, we really must admit her fashion taste is impeccable, she makes every look count, from casual to something elaborate, she's your girl.
5. Thando Thabethe
Planning on stunning an event with a bold daring look then Thando Thabethe styles are definitely worth taking a look at, she struts her outfits with confidence and always looks splendid without trying too hard which is one of the reasons we love her styles.
6. Beverly Osu
The aura emitting from this look might be why we couldn't take our eyes off this style, it's exotic and simple which is perfect for creating a stylish look.
7. Bolanle Olukanmi
Yellow does look good on Bolanle Olukanmi, being a tv host might be why her styles are always on point, her look is simple and fascinating, the makeup is just on point and we give kudos to her stylist, that bun braid definitely look gorgeous.
8. Lillian Afegba
Another style icon with a gorgeous design is Lilian Afegba, she is a fashion enthusiast and her look has always been talked about on and off Instagram.
9. Tolu Bally
There is no reason not to love this angelic look, the serene and calm attitude of the pose to is interesting and we are not surprised as Tolu Bally is a fashion icon with superb taste in designs.
10. Blue Mbombo
You have got to admit the South African model and creative producer knows how to rock white, the style looks smart and sleek on her, the look can be worn for all kinds of elaborate event.
11. Julitha Kabete
Bold looks are making the wave in the fashion world and Julitha Kabete is one fashion icon that knows how to rock a bold and daring look, she knows how to make any style look spectacular and we did have to give kudos to her stylist and designer.
12. Og Styletemple
Being a creative director sure has its advantages and one of them is looking splendid and making every style worth taking a second look, just as the case is with Og Okonkwo who is popularly known as Og Styletemple.
13. Beverly Naya
Beverly Naya did make our celebthatrock weekly not for that mini gown but the simple makeup and dramatic pose which stands out as a fashion icon with class and trend, she definitely looks jaw-dropping in those min flower gown too.
14. Lillian Esoroo
You can always trust Lillian Esoroo to deliver on casual look, she looks superb in her simple English print style, she always manages to set her own trend with simple styles.
15. Selorm Galley
Selorm Galley is well known for her street styles, she does deserves some credits, a simple Jean on Jean with glitters looks stunning on her.
<
16. Naomi Campbell
Naomi Campbell is the perfect definition of stylish, her styles are always unique and different which makes them always perfect for anew fashion trend. You can always refresh your look with any of her styles and designs.
17. Tiwa Savage
Always watch out for Tiwa Savage, she has got the right styles to inspire your look practically every week, not everyone can rock a style like that with confidence but the beautiful musician did that in a classy way.
18. Sarah Langa
Time to tune up your idea of suit styles, ladies can also look astonishing in suits and Sarah Langa did prove that, now this is one suit styles every lady should have for days you want jaws to drop at your work place or formal events.
19. Toni Tones
Toni Tones is one beautiful fashionista that definitely had to be on this list, her makeup game is always on point and that micro gown is not bad either.
20. Nina Ivy
White does look good on Nina Ivy and more importantly, her makeup is top-notch and a short dress like that can't go wrong at an event.
Being a fashion icon does go beyond cloths, it has more to do with confidence and charisma and our selected celebrity and influencer did have a lot of that. Did any of our selected styles spark some inspiration? Leave us a comment In the box below and ensure to follow us on Instagram @thrivenaija to get more updates on styles and celebrities with impeccable fashion sense.
Read more on celebrities style and fashion icons: