As celebrities and fashion influencers continue to set fashion trends to prove that a global pandemic doesn't mean an end to the things we love and as life gradually returns to semi-normal, there are so many parties to show up for.
Setting a fashionable trend is more about confidence and loving what you are rocking. Last week, celebrities and fashion influencers prove yet again that details matter in every outfit.
Blazer dresses have a very powerful effect on the fashion world, not only is it perfect for setting an enviable style but its innate boldness allows you make a classy fashion statement and this is one stunning way to elevate your styles.
There are many ways blazer dress can be styled, from oversized blazer dress to a more casual approach. Embracing the trend in chic culture means keeping a tab on what your favourite fashion influencer and celebrities are up to hence this week on CelebsThatRock, we have some of the most stylish blazer dress styles for you.
13 Approved Ways To Wear A Blazer Dress
Can you wear a blazer over a dress? Yes, blazer looks stunning over a dress and this helps to add warmth and style to your outfit. Opt for a blazer that blends perfectly with your dress and there is also gorgeous blazer dress that is suitable for all kinds of occasion. There is always a blazer dress for every fashion enthusiasts, from classic options to oversized outlines. Here are some of the best celebrity-approved blazer dress to rock this season.
1. Blue Mbombo Micro Blazer Dress Keeps It Fun And Fancy
Blue Mbombo blazer dress can be defined as bold and classy. The blazer dress is about keeping it classy and simple for all occasions. This can be paired with a pant trouser for a more conservative look and on days you need to look more formal.
2. Toke Makinwa Keeps It Bold
Toke Makinwa is all about keeping a blazer dress comfortable and bold. This is a casual style for all occasion and not to worry if you are not a heel, person, it can be paired with sneakers or sandals for a more casual and confident look.
3. Micah Gianneli Maxi Length Blazer Keeps It Casual
Maxi length blazer dress and white boot can never go wrong, this is an interesting style trend you are definitely going to love. Micah Gianneli is a fashionista with a unique enviable style. This is a blazer dress worth having and it can work for the red carpet or even a nice day out.
4. Tia Mariane Nelson Stylish White Boot Is The New Style Rave
The blazer dress is all about feeling confident and loving the outfit you are rocking and that can be seen in this gorgeous blazer above. Tia Mariane Nelson has even the perfect pose to pair with it.
5. Ini Edo Sets A Personal Style Trend With Blazer
Ini Edo is a fashion diva with an interesting taste in style, there ain't any style trend she isn't on top of. This is a blazer dress style that is obviously going to stand out.
6. Cynthia Nwadiora Micro Blazer Is Sure To Stand Out
Cynthia Nwadiora is an astonishing fashion influencer we always look out for every weekend as she has impeccable taste in styles. Here exotic taste in styles extends to blazer styles and if you are looking for the perfect micro dress for formal occasions then this is worth a second look.
7. Amra Olevic Reyes Blazer Shirt Is Worth A Second Look
A collar shirt dress is one of the trendiest blazer dress and this is one fun outfit. With a style like this and not to forget backing it up with confidence, then you can be sure to arrive at any event looking like a fashion diva.
8. Jennifer Oseh Oversized Blazer Dress Makes A Great Business Wear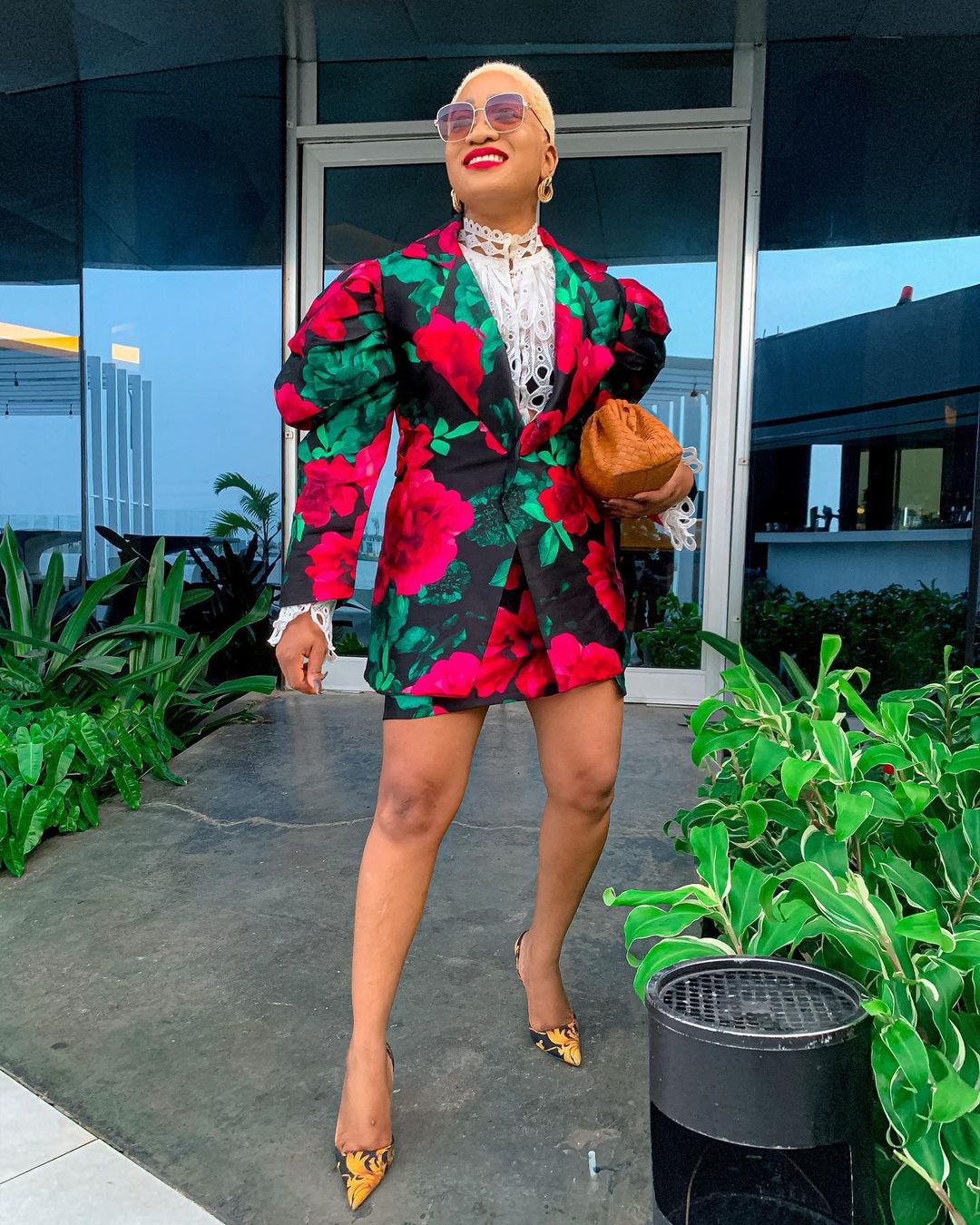 A blazer jacket has always been a business outfit and designers have found a creative way to make it stand out. Jenifer Oseh is another fashionista with an African root and above is a version of blazer you can rock for business meetings.
9. Siddyinthesity Floral Print Blazer Keeps The Chic Look Intact
Here is the perfect classy look. A printed blazer dress can never go wrong.
10. Micah Gianneli Keeps It Cool And Comfy
Classy is the first that comes to mind when you look at this interesting outfit and we must say Micah Gianneli look stunning rocking this combination. This is a double-breasted blazer dress and it's fashionable for all kinds of occasion.
11. Marii Pazz Keeps It Bold And With Less Drama
Marii Pazz has always been loved for her unique outstanding taste in styles and just s always she keeps it bold and sassy. This is a micro blazer gown for all fancy occasion.
12. Olomi Didi Blazer Dress Is One To Stand Out
Olomi Didi maxi blazer wrap dress is a unique blazer style that has been around for a while and continues to get more interesting. This blazer dress is quite easy to pair which makes it a favourite for many during the winter season.
13. Janice Joostema Blazer Is Sure Jaw-Dropping
Confident and sexy is the right word for this beautiful blazer style. This can go for formal and casual at the same time. You can have it styled with a pant trouser or a dress to make it look conservative. This blazer style is perfect for you if you like to go for the sexy chic look and not to forget, it is all about being confident.
---
Celebrities and fashion influencers have found a way to embrace the blazer trend. The blazer dress is the perfect way to sass up your work outfit and it doesn't have to be worn casually, it can be paired with pant trousers, skirts or worn over a dress. Nothing stays on the fashion game like a smoking blazer dress, you can either suit up and have it look all business-like or have it styles like a dress to give you that ultra chill look.
<
Read more on styling tips and #CelebsThatRock:
Follow us on Instagram @thrivenaija