What is your idea of a stylish outfit? We can't help but love the idea of looking stylish but everyone has her own go-to styles in the world of fashion, this can be an elaborate one-piece outfit, modern, traditional or combination of it all and let's not forget street styles which is the new fashion trend for many celebrities and fashion influencers.
If you are looking to step out in style basically every day, the list of your fashion celebrities should not be limited, rather filled with different categories of celebrities that bring their fashion game on every week.
This week on CelebsThatRock, you will be seeing lot's of hots and celeb worthy styles and selecting a favorite this week has been a tad bit difficult hence we will be leaving the decision to you and we have got just the styles to keep your fashion game for the week top notch.
It is important that you continue to stay safe during this period and while you are at it, show off the fashionista in you by replicating styles from your favorite celebrity and also feel confident while you are rocking it as this is one of the essences of fashion.
20 Outstanding Styles From Celebrity Last Week
Celebrities and fashion icons are well known to give their best enviable style every week and showcase this fabulous outfit on the gram for their followers and as they keep making a fashion statement that we love, we can be assured that our fashion game is going nowhere anytime soon.
1. Thameenah Saint Looks Dashing With This Personal Enviable Style
Thameena Saint looks stunning in this amazing outfit, this is the exact example of a stylish outfit, and most interesting is that you can have this paired in a different way to suit your taste and make you more comfortable. A style like this is perfect for winter.
2. Toke Makinwa Keeps It Stunning With A Blue Jumpsuit
Toke Makinwa is one beautiful AOP that always has her fashion game on point, we must admit she is an amazing fashionista and we did give kudos to her designer for always replicating it even better.
3. Cardi B Goes For The Casual And Classy As Always
Cardi B needs no introduction if you are in search of something bold and fascinating and above is a great example of that, this a simple crop top and micro skirt but with a unique appeal to it.
4. Lerato Kgamanyane Denim And Shirt Is Just The Right Casual Style
If you want to keep it simple and casual with your work outfit then this is just the right way to pair it, this is simple and gorgeous.
5. Nancy Isime Micro Gown For Dinner Parties
Party style can be bold and conservative at the same time and here is just the perfect style for cocktail or dinner parties. Nancy Isime looks just as stunning as always and that is one look you should look out for.
6. Mercy Aigbe Baby Pink Dress Is Setting Quite A Fancy Trend
Another Nollywood actress with an impeccable taste in style is Mercy Aigbe, she keeps it to notched and interesting att all time.
7. Cynthia Nwadiora Gives A New Fashion Statement
A new fashion statement with crop top and with a long penciled skirt is something we find really worth the trend and this is just the look we are getting from Cynthia Nwadiora and we love it.
8. Danielle Bernstein Street Style From Last Week Definitely Stands Out
Image: @weworewhat // InstagramLooki9ng for a street style that stands out? Danielle Bernstein stylish street style is just fascinating and simple for a casual day out and  being the fashion goddess behind weworewhat, we just love her style.
9. Zynnell Zuh Strapless Long Gown Is Just The Classy Look You Need
Zynnell Zuh looks astonishing in this outfit and just what you need for a classy and fancy party.
10. Julitha Kabete Jumpsuit Look Astonishing
Another astonishing look that we are sure to have on this list is from Julitha Kabete, she keeps it beautiful and fancy s all times.
11. Blair Eadie Boogie Pants And Top Is Setting Another Interest Trend
Another new trend yous should look out for is that of fancy boogie pants from Blair Eadie above and you get a chance to pair them the way you want.
12. Olivia Palermo Looks Gorgeous On Simple Gown And Mask
Olivia Palermo looks simply beautiful with her straight gown and face mask if you are looking for a gorgeous outfit that you can pair with your mask and look really dasing with it then above is the perfect style inspiration.
13. Juliette Fox Outstanding Style Leaves Jaw-Dropping
A jaw-dropping style that you need for this week is Juliette Fox street look and you will be glad you are rocking this look.
14. Nimi Nwofor Look Absolutely Ready For The Week
Another exotic jaw-dropping style to make you strut into this new week with confidence is Nimi Nwofor's gorgeous dress and makeup.
15. Mary Orton Keeps It Less Dramatic
Mary Orton flowy dress is all you need to spice up the week.
16. Iyabo Ojo Lits The Mood With This Week's Style
There are just so many ways to wear a jumpsuit and if you are looking for a more interesting way then this fantastic Jumpsuit from Iyabo Ojo is just what you need.
17. Symply Tacha Casual Outfit Wraps The Week Up Perfectly
Another fashion icon that needs no introduction is Tacha, she keeps it simple and beautiful as always.
18. Alex Unusual Keeps It In Check With A Nerdy And Sexy Look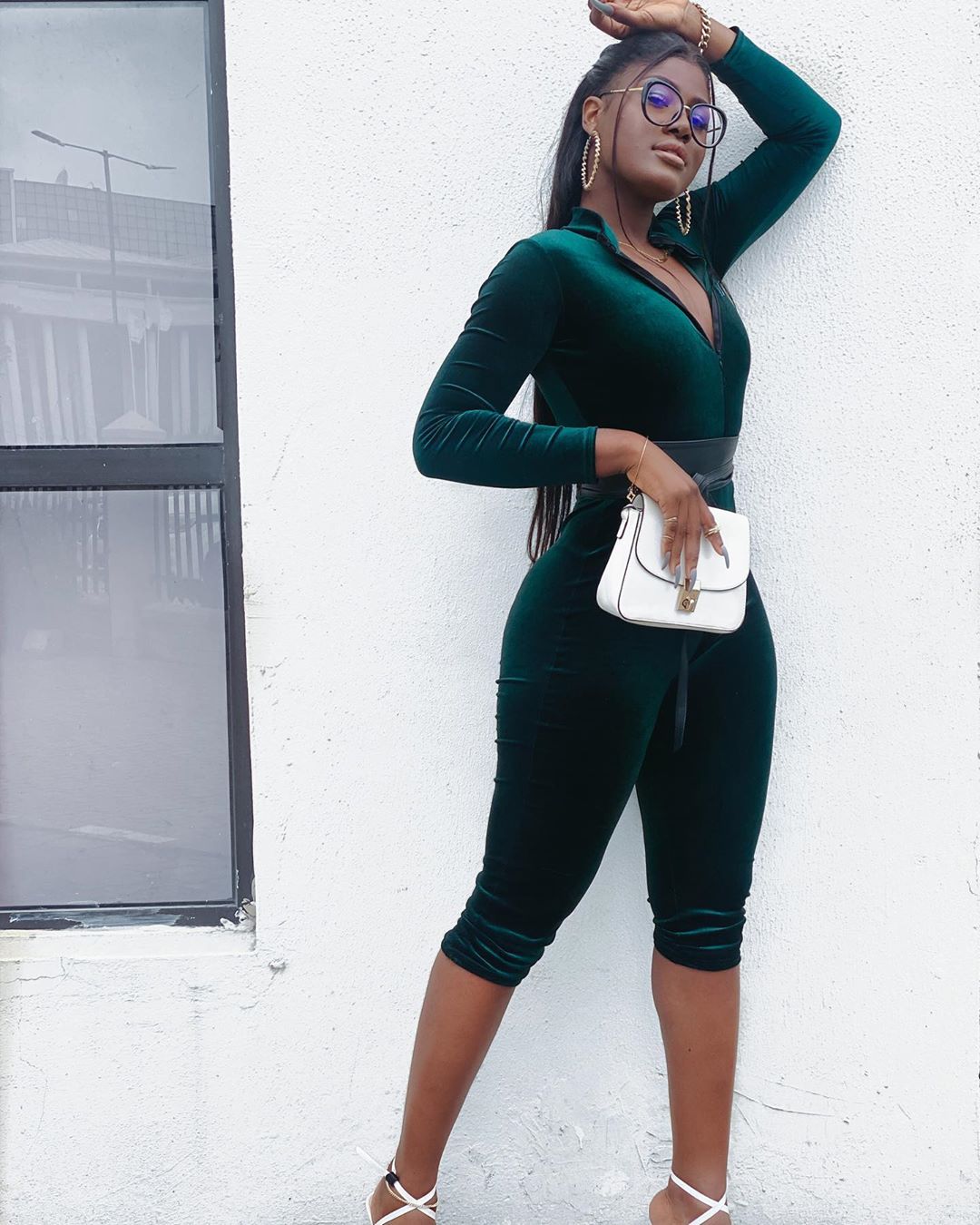 Alex is another fashion icon with an enviable personal style and above is just the right cocktail outfit.
19. Jamien Kidd Wraps Up The Jumpsuit Look And We Love It
The Combination of being a model and a travel blogger might be why Jamien Kidd has an interesting taste in styles, we can say but we are sure of how beautiful and outstanding her styles are.
20. Ini Edo Steps Out In Style As Always
The list of fashionable African celebrities won't be complete without having Ini Edo on it, she keeps it less dramatic but easy and fun to replicate. This week style combo is just what you need to get a new week started at work.
In Conclusion
Personal enviable style is more about confidence and being comfortable and you can always slay in the sexiest dress you can think of if you feel comfortable and confident. Celebrities continue to showcase fascinating styles and designers make it easy to replicate hence you can easily find your go-to style. Which of this looks above made it to your list of favorites? Leave us a comment in the box below and follow us on Instagram for updates on fashionable styles.
Read more celebsthatrock and fashion influencers: