What do you think about having your own personal style? Sounds interesting, definitely, however you do need the right styles to inspire you. This is why we bring you the latest styles from your favorite celebrities.
Fashion influencers and celebrities replicate only styles that are in trend, and it's what you need to inspire your go-to styles.
Everyone has outfits that find more suitable for their personality, and while you can admire all kinds of styles, there are still going to be styles you find more convenient.
A personal fashion style is a perfect way to express your views on fashion. Your choice of style every time you step out gets to speak for itself.
To save you the hassle of searching all over Instagram for the perfect style, we have rounded up some of our favorites from last week.
1. Ariyike Dimple- Keeping It Simple And Elegant
Dress: @billiejoella
Bag: @ttdalk
Shoes: @feragostyle
Every style definitely has its reason for standing out. While we are used to seeing elegant gown styles, this above is a much more fancy combination. It's a simple style that can help you get on the path to creating your own go-to style. Ariyike makes it look even more fascinating.
2. Kie Kie- Keeping It Green And Gorgeous
Kie_Kie sure knows how to slay in any color or style. This is quite a dramatic style, but anyone can definitely rock it effortlessly. It is just what the green October needs.
3. Alex Asogwa- Rocking Perfect Party Gown
Hair @blissqueenhairs
Dress @ella_couturebackup
Photo @psphotography_ng
Skin @lavyanna_skin
Alex Unusual is another interesting celebrity who always looks forward to seeing her style. Just as expected, she keeps it simple, but this time even hotter and fashionable. The kind of style you want to rock to dinner dates.
4. Eve Esin- Stunning Formal Outfit For Fancy Events
Outfit: @medlinboss
Styling: @medlinboss
Hair do: @dv_hairsalon
Mua: @tolufelix_mua
Eve Esin has just the right kind of formal and party outfit you need in your closet. This has been replicated for her birthday look and we must say, it looks fabulous on her.
5. Thuli Phongolo- Keeping It Sassy And Casual
Thuli Phongolo is never one to hesitate when it comes to going all out. She keeps it on a low this time with a combination of classy and street style.
6. Tolu Bally- Making Unforgettable Fashion Statements
Dress @2207bytbally
Shoes @renecaovilla
Tolu Bally really needs no introduction. She dresses other celebrities just as well as she replicates them herself, and her styles are always top-notch.
7. Cynthia Nwadiora- Making Pattern On Pattern Work
If you have been wondering how the pattern on the pattern can be rocked, then look no further. Ceec sure knows how to make any design work.
8. Idia Aisien- Looking Smart And Fancy
Accessories: @thepoloavenue
Outfit: @elizabethanofficial
Idia Aisien is another fashion enthusiast we can't get enough of. She has the perfect style for us every time. She slays effortlessly in this white outfit.
9. Linda Osifo- Keeping It Sleek And Haute
While blue is an interesting fashion color, the style you make with it also determines how well it turns out. So, this outfit is just the perfect style for blue.
10. Stephanie Coker- Power Suit To Get The Week Started
Stephanie Coker is definitely proving that suits can be fashionable for all occasions. This is one suit you want to recreate.
11. Adeola Adeyemi- Putting All The Glamour In Fashion
Designer skin: @hushd.ng
Makeup: @kim_beautystudio
Makeup products: @beautybyad
Hairstyling: @ceezysstyling
Outfit: @emaginebybukola
Adeola Adeyemi needs no introduction, she sure knows how to get jaws to drop everytime.
12. Christiana Kayode- Keeping The Casual Look Effortlessly Gorgeous
Hair: @hair_byjennysglow
Accessories: @portableaccessoriess 😋
If you are wondering what it means to look gorgeous effortlessly, then this style is what you need to recreate.
13. Ini Edo- Keeping It Colorful And Fun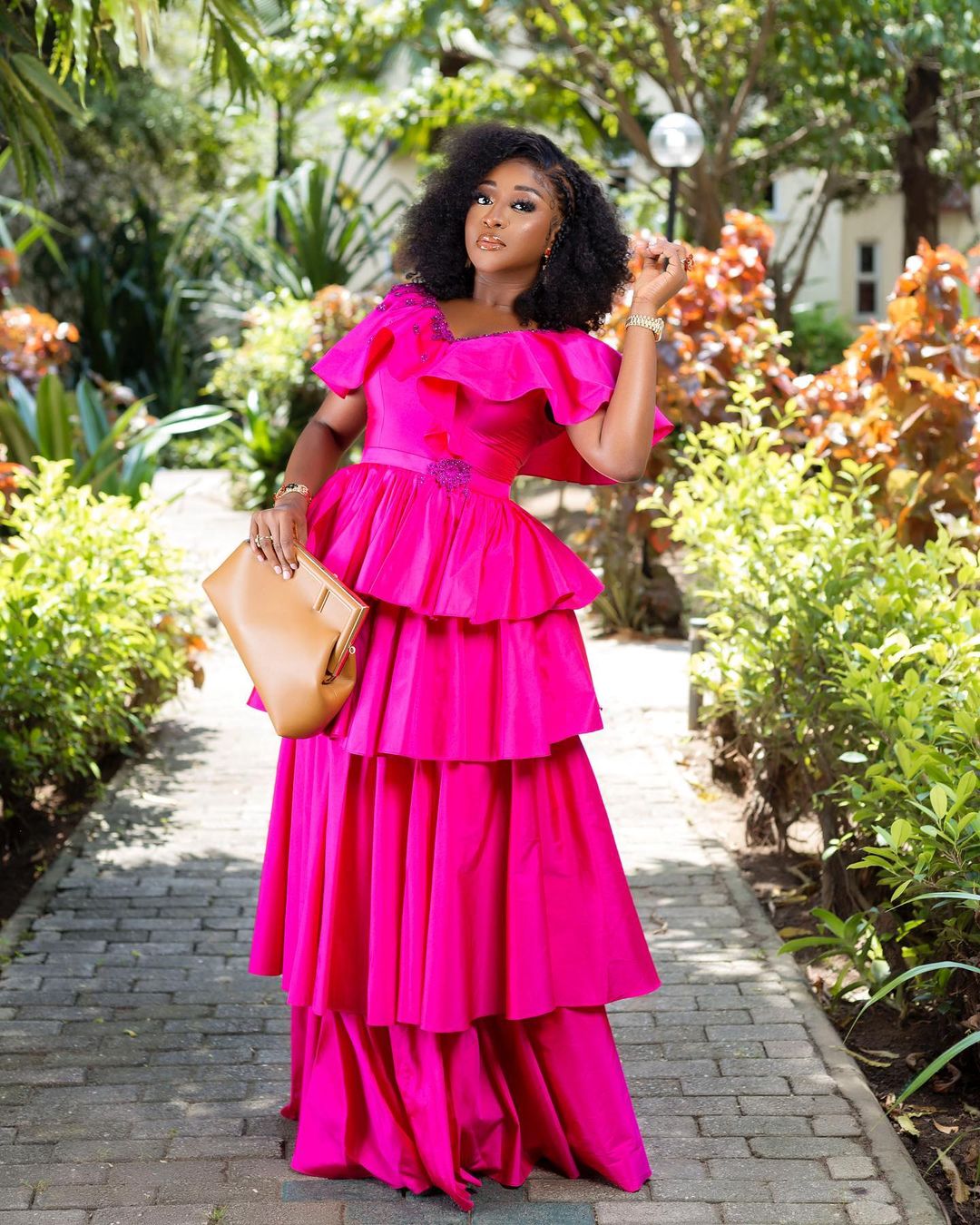 Outfit by: @dushi.ng
Makeup by: @alterbygina
Hair by: @segungbabyface
The best-dressed celebrity list won't be complete without Ini Edo on it. Even on days, she keeps it simple, there is still something trend-setting about it.
14. Chioma Goodhair- Fashionable For The Weekend
Owanbe styles are everywhere, and you sure need something trendy to inspire you every time, so here is another one you need in your fashion archive.
15. Tiffany Haddish- Replicating Green In A Really Cool Style
Tiffany Haddish sure knows how to make green the envy of everyone. This is one incredible outfit that sets the tone for any occasion. The style has been created to be dramatic and yet fun.
In Conclusion
Looking fashionable isn't complicated as long as you have your own personal style to go to. Personal styles really come in handy when it comes to getting creative, and this is because you can create something that stands out but suit your preference at the same time.
Read more on celebsthatrock: