Jumpsuits are a perfect option if you're used to wearing pants but want to update your 2021 wardrobe. The one-piece silhouette flatters all body types and can be paired with everything from sneakers to booties. You can rock a jumpsuit as it so pleases you.
Jumpsuit has become an outfit that both young and old tend to rock because it comes with a lot of comfortability when you go for the one that's best for your body shape. A jumpsuit can be rocked to ceremonies and can be worn to the beach.
It's not an outfit that is selective, all you need do is make yours stylish and bounce out in a stylish way to look more elegant and breath-taking. A jumpsuit is a must-have attire in all ladies' wardrobe because you don't want to be stranded when you need to rock something classy, casual, elegant, and breathe taking.
Here are 10 fascinating ways to rock a jumpsuit.
1. A Queen Rocking An Orange Classy Jumpsuit
This orange jumpsuit with a v-neck is quite elegant and classy. Those ladies who like the elegant style and classy vibe than going for sequins and sizzles can try this one out. This is totally new in trend and is super stylish with its orange color vibe.
2. Classy Yellow Jumpsuit With Rope At The Back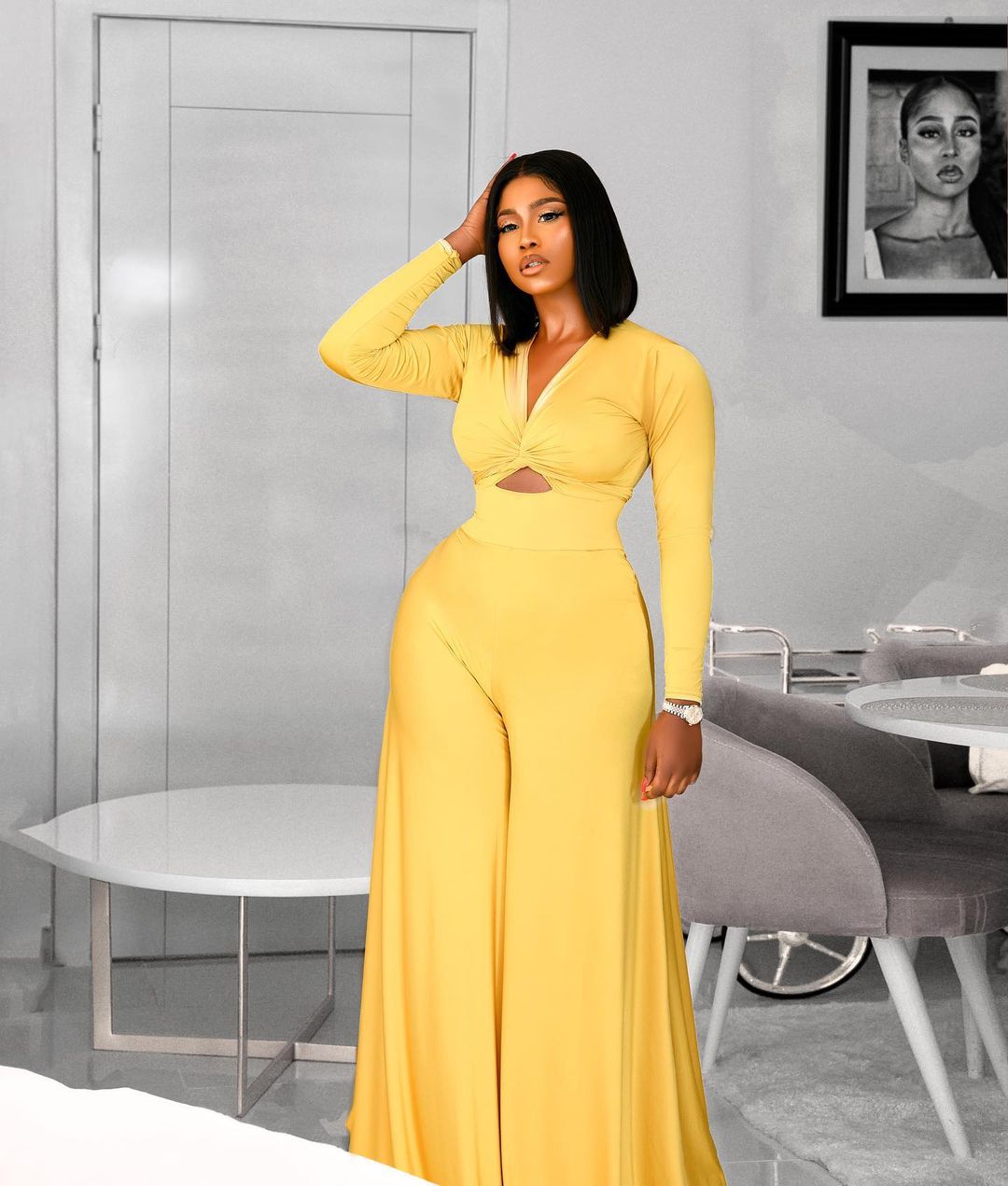 This wide-leg jumpsuit is a well-known trend currently. It is new in trend and style as well. This almost looks like a dress due to the hues and flares of the wide stitched leg. This jumpsuit will make the best party wear. This will be the best choice of jumpsuit for persons who are looking for longer durability that lasts for a longer time.
3.  Sleevelss Jumpsuit With Rope
This is a one-piece jumpsuit that is best for ladies who love to keep it casual. In case you love the simplicity and casual vibes than going for bold looks, then this is totally for you to try out. This sleeveless jumpsuit is also best in summers given the level of comfort it will give you in the hot sun. It is a trendy and easy to use jumpsuit.
4. Elastic Band Short Printed Jumpsuit
If you are someone who loves exotic beach occasions, then this is must be a definite outfit in your wardrobe. This is a must-try trend for women who are looking forward to flaunting their fashion and style sense during vacations as it will elevate your look to the next level.
5. Stretchy Long Sleeve Jumpsuit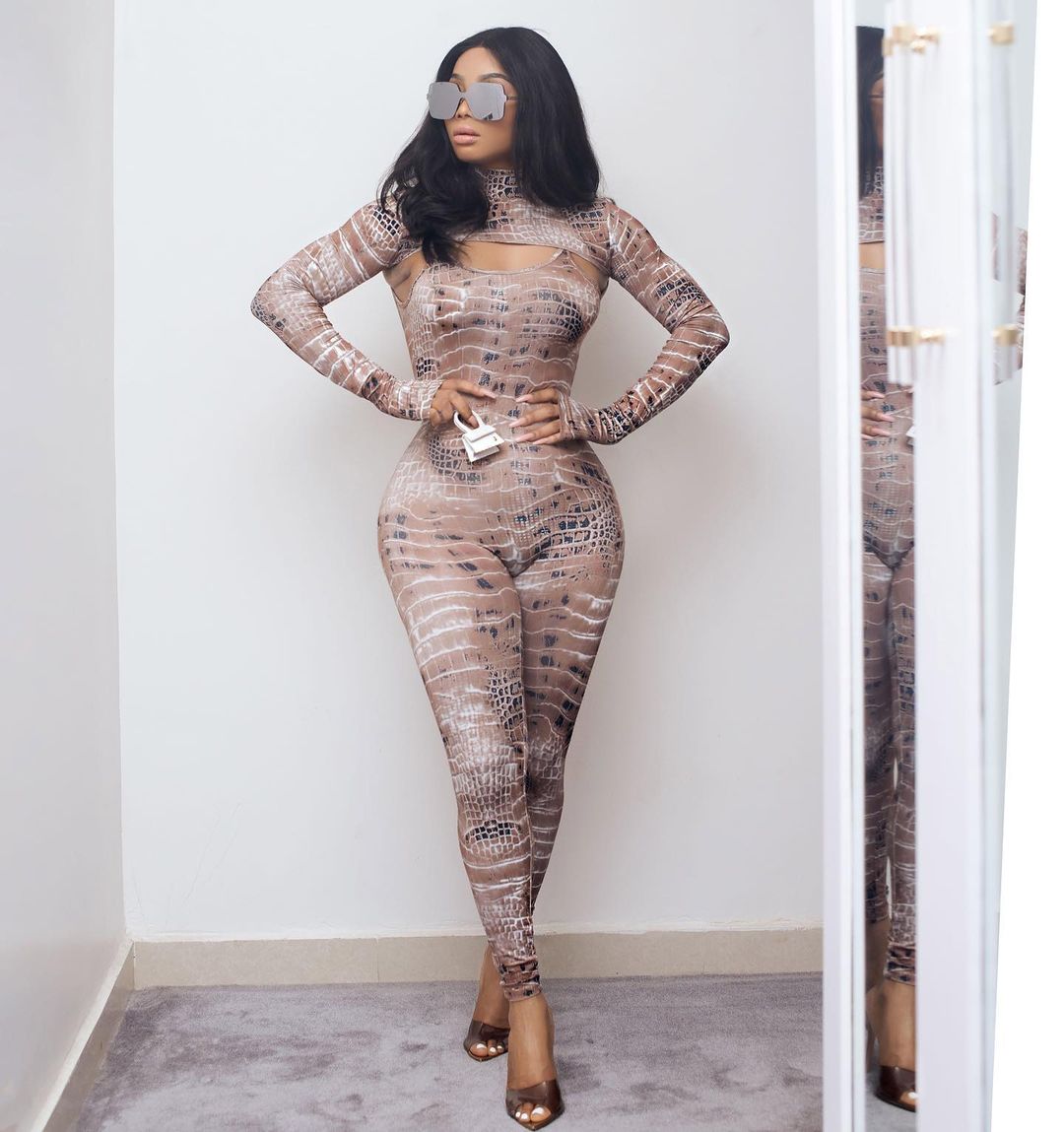 This jumpsuit for ladies, it's with several shades that make this a beautiful look and also enhances the attire of the wearer. It is a thigh-high design with a long sleeve that makes you feel comfortable. This distinctive wear looks more unique and will attract more catchy eyes.
6. Adeola On An Eye Catching Jumpsuit
This is a regular fit jumpsuit with a little bit of chest exposure. This will be the best suiting for casual occasions and a sudden night out for party.
7. Long Sleeve Cow Skin Jumpsuit
This is a beautiful-looking jumpsuit with bright cow skin patterns. The patterns add more beauty to the look. It can also be styled with a belt to make it fit best for all body types. It has a button on the front which makes it easy to wear and has full-length pants.
8. Printed Longsleeve Jumpsuit With Elastic Wrist Band
This wide-leg jumpsuit is a well-known trend currently. It is new in trend and style as well. It is quite trendy and unique and is best suited for ladies who have a petite and thin figure. Try this one out and you will surely love this outfit. 
9. Short Sleeve White Jumpsuit
Do you want it classy and short? This white jumpsuit is highly recommended. Goes well with any casual outing and can be rocked with any befitting footwear.
10. Khanya Mkangisa In An All Black Jumpsuit
This is a stylish black colored jumpsuit, with a pretty round neck. This feature makes it look stunning and gains a lot of spectators. This jumpsuit will make you look amazing all the time and makes you stand ahead of the crowd. Looks soft and comfortable on the skin.
In Conclusion
Jumpsuit remains one of the mainstays in the wardrobes of Nigerian fashionistas, and for several good reasons. A jumpsuit is a universal garment that flatters every body type and can be worn on an endless range of occasions
Read more on celebs that rock: