What's the key to a memorable look? The trick is not just to wear a fascinating dress but how you wear it and set a trend with it. The outbreak of coronavirus this year has been reported to have a negative effect on the fashion industry and as life gradually returns to semi-normal, celebrities and fashion influencers are finding reasons to step out and make a statement with fashion.
A memorable look in 2020 is something we are not going to forget in a hurry and a compilation of these styles that stands out in 2020 will help you catch up on all those times you had to stay indoors. Is coronavirus setting a new fashion trend? Yes, absolutely, we did witness designers create something amazing with mask and this is sure going to be added to our list.
As we continuously preach the safety gospel and ask that you observe social distancing and take the rights steps to protect yourself and others. Fashion is a way to express yourself without words and as long as you wear something with confidence, it will always be in style. Here are 50 outstanding styles we love in 2020.
1. Toke Makinwa Classy Look Can't Be Ignored
Toke Makinwa isn't called the queen of fashion for nothing, she has impeccable taste in styles and you are definitely going to love her taste in styles. This is a style that is sure going to be making the top list of beautiful styles, it has been designed with care to make it fit for any kinds of occasion.
2. Idia Aisien Puts A Spin On Street Outfit
The first word that comes to mind is beautiful. Idia Aisien is not just beautiful but her taste in fashion is something to inspire you. This look above gives you the perfect idea of what you want a street style to look like and if you want it looking classy and confident then this is what you want to go for.
3. Tana Adelana Ball Gown Is Quite The Perfect Outfit For Events
If you are looking for the perfect t ball gown to make you stand out like a queen then Tana Adelana has the right style to inspire you. This is a great ballgown, you can have it recreated to suit your preference.
4. Bukola Adeeyo Cute Style Can't Be Missed
Bukola Adeeyo definitely looks stunning in this outfit and the overall look is something to add to the list of fashionable celebrities. This is an astonishing style and we look forward to this outfit setting a new trend next year.
5. Pamela Mtanga Keep It Formal And Sexy
A combination of sexy and formal is not something we see often which is why this style from Pamela Mtanga is found on the list of beautiful outfits in 2020. This is less dramatic but great for any occasion.
6. ChicAma Look Simply Stunning In Lilac
ChicAma is a fashion influencer with an interesting taste in styles, she stays on top of her fashion game always. Here is a perfect outfit combination you can rock for any occasion.
7. Juliet Ibrahim Flashing Red Dress Is Find Fit For Xmas
Here is another beautful xmas gown to wrfong on any christmas day and we look forward to seeing more of this in 2021.
8. Sarah Langa Bold Exotic Look Is Great For Casual Day Out
On days you decide not to go for an elegant gown but want it comfortable, here is another bold street style you can try. Sarah Langa did justice to this outfit and we must say it's a complete outfit worth having.
9. Mona Montrage Make Purple Look More Awesom
Mona Montrage is well known as hajia4real and her taste in styles is top-notch. Her purple dress can be worn to practically any fancy or casual occasion.
10. Sinobooi Casual Party Look Wraps Up Any Weekend
A great outfit ensures you have fun at a party and here is one party outfit you need in your closet.
11. Rita Dominic Keep It Reserved And Formal
Rita Dominic is not just a Nollywood celebrity that has wow her fans with her incredible acting but her choice in styles are quite interesting as well. If you are on the look for a dramatic formal outfit, this might inspire you.
12. Juliette Fox Slays In Boogie Dress
A boogie dress is an astonishing style and we did witness lots' of creative ways to rock and here is another fascinating way to rock it from your favourite fashion influencer Juliette Fox.
13. Nakitende Esther Keeps It, Fancy
Here is how to keep it classy and fancy for the holidays.
14. Stephanie Coker Keep It Beautiful And Effortless
Stephanie Coker needs no introduction, she is an actress with an incredible taste in styles. This outfit is definitely worth every hype it gets and we love how effortless she wears it.
15. ABI KD Sets An Enviable Trend In Red
A dramatic outfit is needed for fancy occasions and here is a rare dramatic style above, Abi Kd red styled outfit looks really interesting and being part of the Christmas theme colour makes it fitting for the holidays.
16. Benedicta Gafah Rocks Ankara With Mask
The use of a nose mask since the coronavirus outbreak is non-negotiable and here is a perfect style to inspire you on how to pair your nose mask with your outfit. This is simple and we can't help but love it.
17. Diane Russet Fringe Outfit Is Needed In A Ladies Closet
Dianne Russet is another influencer that needs no introduction when it comes to fashion. She has her own personal enviable style and it's sure lovely.
18. Mabel Makun Steps Out Like A Diva
Mabel Makun look absolutely gorgeous in this outfit and it is not overly dramatic which makes it just suitable for any elaborate occasion you might have in mind.
19. Bamike Adenibuyan Combination Of Sass And Street Is Jaw Dropping
A combination of sass and street is a style that won't be forgotten in a hurry and we must admit it looks even more beautiful on bambam.
20. Yemi Alade Rocks An Iconic Owambe Outfit
Owambe outfit is a very important part of fashion in many African countries especially Nigeria and if you are on the lookout for the astonishing traditional outfit, well here is one.
21. Joselyn Dumas Look Absolutely Stunning In Red
There is really no word that could qualify this astonishing look except the word beautiful. Joselyn Dumas had this astonishing look to showcase the Christmas look and it is one amazing look that her followers couldn't help show how much they love it. 2020 has been a really trying year and an outfit like this is needed to brighten one's mood and day.
22. Nancy Isime Makes An Incredible Fashion Statement In Pink
Nancy Isime is an incredible fashion diva and if you are into keeping it cool and classy, she is the perfect choice of inspiration. This style is going to be added to the 2020 fashion archive with so much gladness as it is not just beautiful but screams confidence.
23. Cynthia Nwadiora Stylish Outfit Can't Go Wrong
Cynthia Nwadiora takes her outfit and overall look seriously and we are not surprised by the astonishing outcomes. This is an excellent event outfit no one can miss and the overall look is not something we will forget in a hurry either.
24. Peal Thusi Keep It, Fancy, In Silver
Pearl Thusi is known for keeping it sassy and bold. You can't go wrong with an elegant gown and if you love it bold and daring then here is the perfect outfit to recreate.
25. Annie Idibia Street Style Sets A New Trend
If you are looking for a street style that stands out then we have just the perfect outfit to recreate. Annie Idibia leaves more to the imagination with this outstanding street outfit, you really are sure to get the whole street style vibe with an outfit like this.
26. Bisola Aiyeola Glittering Outfit Leaves No Stone Unturned
Adding glitters to your overall outfit was on the fashion list of many celebrities in 2020 but one celebrity that did turn heads was Bisola Aiyeola. Here styles are reserved but classy and confident.
27. Nana Akua Addo Keeps It Classy For Any Event
Nana Akua Addo has the fanciest dress to impress anyone at a party, this is the perfect definition of classy and you are sure to love the cool calm way Nana Akua rocks it.
28. Thameenah Saint Beige And Boujee Could Do No Wrong
Thameenah Saint is a fashion influencer with impeccable taste in styles and above is the perfect example of her gorgeous styles.
29. Thuli Phongolo Astonishing Style Is One To Stand Out
When it comes to keeping cool and beautiful, Thuli Phongolo is a celebrity worth watcing out for.
30. Mercy Eke Sleek Blue Gown Gets JawDropping
Mercy Eke has kept 2020 interesting with some really iconic outfits and here is one style we loveth most. This has been picked for it's elegant and sassy look.
31. Kim Opara Keep It Sassy And Simple
Kim Opara is not one to keep her styles boring and green can be a bit hard to combine but with this style to inspire you, that might not be the case anymore.
32. Jennifer Lopez Keeps It Simple And Stylish
Jennifer Lopez is another fashionista that needs no introduction and she is often referred to as the queen of fashion hence its' not surprise to find her on the list of fashionable celebrities.
33. Bettinah Tianah Empire Gown Makes A Fashion Statement
Bettinah Tianah styles has always been found dropping and here is the outfit we think should be on the top list of how to rock blue.
34. Tia Marianne Nelson Mini Gown And Coat Is Just What You Need For Cocktail
If the plan is to keep it as comfortable as possible then here is an outfit you shouldn't hesitate to try out.
35. Irina Shayk Gives A New Way To Wear Oversized Coat
Irina Shayk has always been known to have an enviable personal style and above is a perfect example of a confident and beautiful outfit.
36. Lilian Afegbai Perfect Traditional Outfit
This is another traditional outfit that shouldn't be ignored. It is a style we believe could lift anyone's mood especially after going through all you did in 2020.
37. Blue Mbombo Sure Knows How To Rock A Jumpsuit
Blue Mbombo is keeping it on the low with a jumpsuit this time however it is one style that will stand out on any occasion.
38. Zynnell Zuh Keeps It Less Dramatic But Elegant
Elegant but not dramatic is a style anyone would love to rock.
39. Taylor Hill Split Dress Look Stunning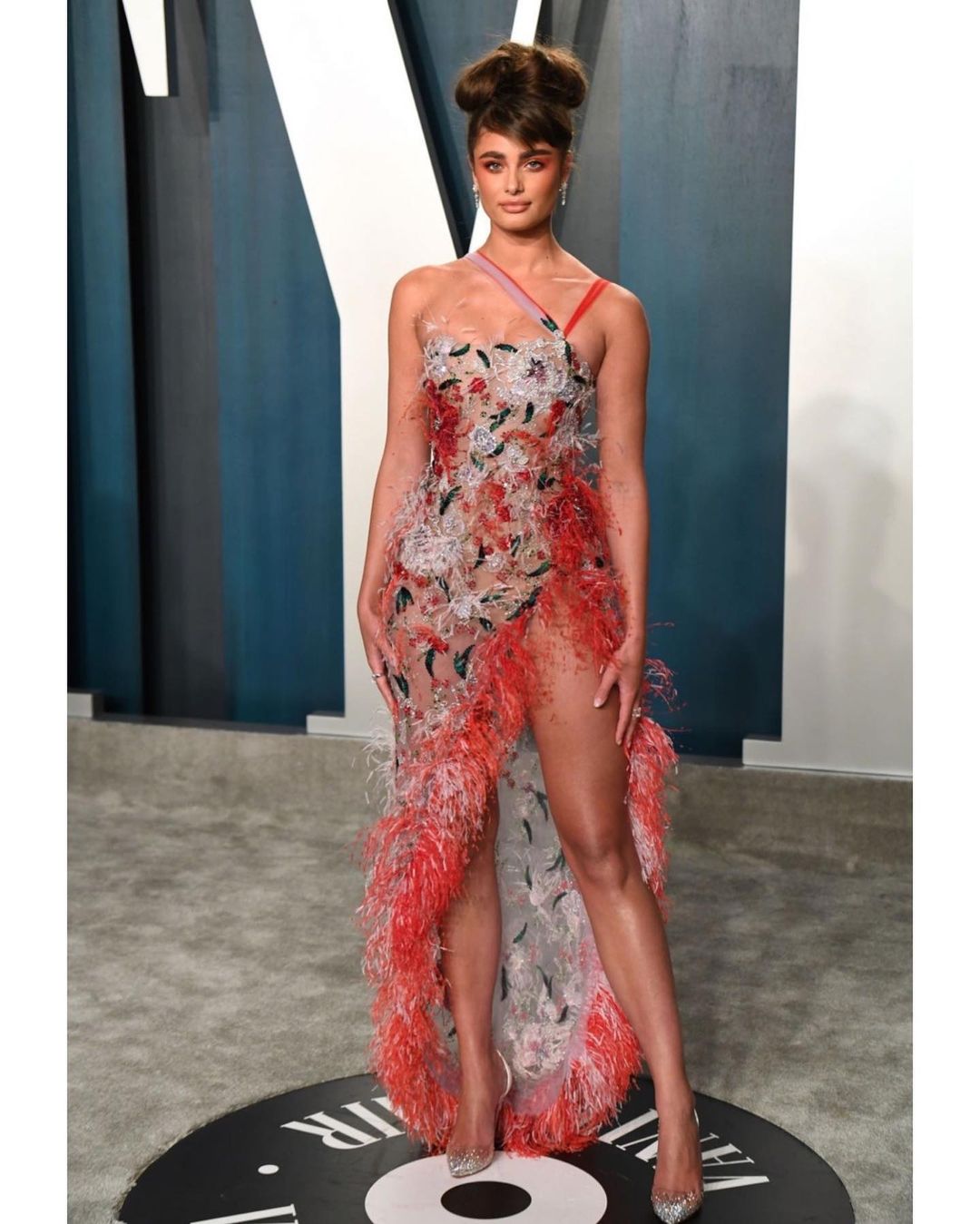 Who doesn't love a split dress? A split dress has always been known to make anyone look classy and if you are looking to add confidence and beauty to that list, here is a style worth trying.
40. Mimi Onalaja Keep It Stylish
Combination of leg boot dress and playsuit is not a style we see often. Mimi Onalaja has just the kind of style you need to stand out at any party.
41. Chioma Goodhair Sure Knows How To Keep Her Styles Interesting
Chioma Goodhair has always been one with an A-game in fashion and just like every fashion influencer, she has her own personal style. Above is s style find flattering to any shape.
42. Beverly Osu Kicks Up Fashion With Impeccable Style
Beverly Osu styles can be described as unique and pink is one color we always look forward to seeing. This is a bold and fancy outfit for all kinds of occasions and you can also get creative with it.
43. Priyanka Chopra Stuns In Bold Elegant Gown
The list won't be complete without adding this outfit from Priyanka Chopra to it. We simply love how elegant and dashing this gown is.
44. Linda Osifo Keeps It Bold In Micro Gown
A mini gown is one of the most comfortable outfits in fashion and if you are looking to add glitters, above is the dress worth giving a shot.
45. Ashanti Look Stunning In Purple
Ashanti definitely have has wowed with this simple playsuit. This is a style that sure shows playsuits can be fun and dramatic.
46. Iyabo Ojo Stays In Trend As Always
Iyabo Ojo is a Nigerian actress that has never disappointed when it comes to fashion, she has an amazing taste in styles, and here is an elegant style to put a spin on your wedding guest outfit.
47. Oyebade Adebimpe Fancy Look Is Exceptional
Mo bimpe sure knows how to rock red. This is an effortless dress with unique layers to make it stand out.
48. Mercy Aigbe Look Stunning In This Outfit
Mercy Aigbe is a celebrity that clearly knows how to rock an eye-popping color and here is the best outfit on days you want to keep it lit and casual at the same time.
49. Beverly Naya Keeps The Fun In Her Styles
Beverly Naya looks beautiful in this outfit and all though this is dramatic, it was an outfit that did stand out in 2020 and will continue to be on our list of her most iconic styles in 2020.
50. Symply Tacha Makes Red Dress Look Even More Outstanding
Symply tacha as she knew likes to keep her styles stylish and interesting, This is astyle that stands out due to how elegant and classy it. Classy styles are definitely her thing and we did have a time choosing which we found to be most fascinating however this is a style that will be setting a trend.
In conclusion
Creating a style that stands out is not an easy feat however we did witness a lot's of this happening in 2020 regardless of the pandemic and how much it has affected the fashion industry. The outfits above can only be referred to as timeless and we look forward to seeing most of these styles being re-created in 2021.