The question that every sane female should ask every now and then is "What are the best probiotics for v*ginal health?". V*ginal health is crucial to all women irrespective of age. There are efforts you can make to ensure that the area is kept healthy and clean throughout.
The v*gina has more than forty different microbes. These comprise the normal flora of the v*gina. Some of these microbes are good while others are bad. Your v*gina requires a balance between the good and bad bacteria and this is where probiotics come in.
Infections occur when the bad bacteria overpower the good one, one cause of sudden bacteria imbalance is prolonged use of antibiotics.
Probiotics containing Lactobacillus acidophilus and Lactobacillus reuteri are one of the most effective when it comes to bringing balance to the v*gina area and promoting good health.
Probiotics are heaven sent! A regular intake of probiotics promotes proper bacterial balance in the body resulting in body pH balance.
Besides, probiotics have several benefits such as combating yeast infections, boosting the immune system, supporting the digestive system, and promoting v*ginal health.
Do probiotics kill bad bacteria?
Probiotics are often defined as the friendly bacteria that live in the human gut and they play lots of important roles and killing bad bacteria is one of them as well as balancing gut bacteria.
Probiotics are meant to help your immune system fight bacterial infections such as ear infections, bacterial meningitis, and pneumonia.
Antibiotic can be really beneficial but their inability to distinguish between harmful and good bacteria, it may result in the death of lots of good bacteria but consuming probiotics can help to restore balance and keep your body functioning properly.
How to choose the right probiotic
Probiotics are created differently. Some probiotics in the market today do not contain strong and effective strains that support good v*ginal health. One of the reasons for this is that they are made under poor conditions that do not promote the viability of the cultures in them.
You definitely want to take a probiotic that will address your specific issue. That being said, you need to check the expiry date on the package to ensure that the bacteria are active.
Additionally, look at the colony-forming units to make sure that the number is in billions, this is to ensure potency. Avoid buying probiotics from a brand that does not state the number of active organisms in the supplements.
The Best probiotics for [email protected] health 2020
If you need help choosing the most suitable probiotics for women then listed below are the best options.
| Image | Title | Buy |
| --- | --- | --- |
| Top | Nature's Way Primadophilus Reuteri, 5 Billion CFU | Buy Now |
| Top | PRO-Women: Probiotics for Women with Cranberry Extract | Buy Now |
| Top | D-Mannose Plus Cranberry and Probiotics 1000 mg | Buy Now |
| Top | Renew Life #1 Women's Probiotic | Buy Now |
| Top | Garden of Life Dr. Formulated Probiotics for Women | Buy Now |
| Top | vH essentials Probiotics with Prebiotics and Cranberry | Buy Now |
| Top | Probiotic Pearls Once Daily Women's Probiotic Supplement | Buy Now |
| Top | Garden of Life RAW Probiotics Vaginal Care Shelf Stable | Buy Now |
| Top | RepHresh Pro-B Probiotic Supplement for Women | Buy Now |
| Top | Probiotics for Women - Ultimate Flora Bloom Probiotic | Buy Now |
1. Nature's way primadophilus fortify women probiotic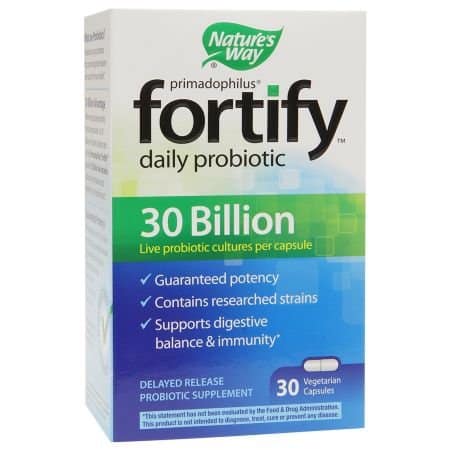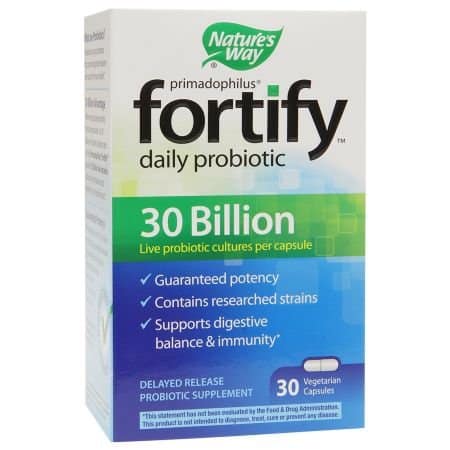 Primadophilus fortify women's probiotic is one of the most effective v*ginal health as well as gut probiotic. This probiotic contains 20 billion active Lactobacillus cultures to keep your v*gina healthy. Together with the 30 billion bifidobacterial culture, you can be sure that this probiotic will work to keep your v*ginal health at its best.
The capsules are made in a way that they only stall after bypassing your stomach acidity. This factor makes them effective in the desired areas. The capsules do not contain gluten or any other additives that can upset your gut.
Regular intake of primadophillus probiotics will help balance out your v*ginal and gut health fast.
 Pros
Effective in promoting v*ginal as well as gut health
Gluten-free
Fit for vegetarian
50 billion active ingredients per serving
Delayed-release
Probiotic strains
No Artificial Additives
Capsules are small and therefore easy to swallow
 Cons
Needs refrigeration to stay active
Priced on the higher side.
2. Hyper Biotics PRO-Women with cranberry extract
Hyperbiotics Pro- women probiotic is specifically designed to tackle bad bacterial and bring balance to women's bodies. The probiotic contains three ingredients that are natural and effective in supporting women's overall health.
The probiotic is extracted from mannose and cranberry which is good evidence that it promotes an excellent environment for the growth of good bacteria in the urinary system. Mannose is a natural sugar occurring in fruits and is effective in killing urinary tract infection-causing bacteria.
Hyperbiotic probiotic capsules are delay-release designed to facilitate better flora delivery to the target areas in the body.
The probiotic strain majorly restores v*ginal and gut health to help women feel good about their bodies. It also boosts the general body metabolism hence promoting faster digestion, better absorption of nutrients, and increased energy levels.
 Pros
Natural ingredients
Gluten-free
5 billion probiotics
Excellent urinary health support
Only a capsule a day is eno0ugh
Cons
The chalky coating on the pills may not be appealing to users
May cause acidity in users with the sensitive stomachs
Priced on the higher side
3. D-Mannose plus cranberry probiotic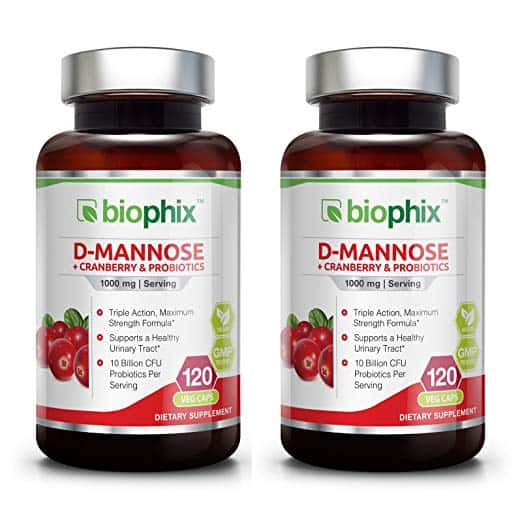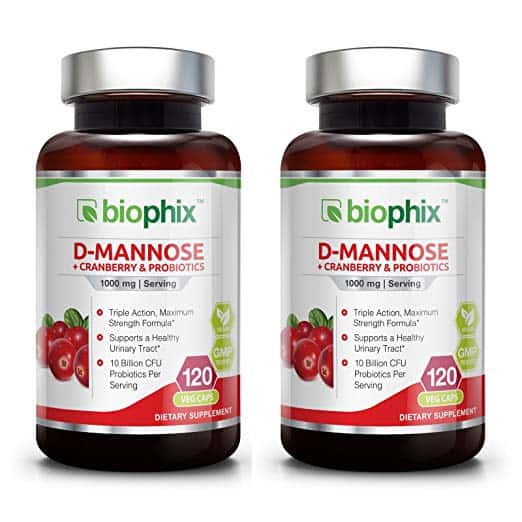 D- mannose probiotic is one probiotic in the market that many are yet to match. This is among the best probiotics for v*ginal health thanks to its unique strains that support digestive, v*ginal, and urinal health.
This product does not contain gluten or any other additives hence suitable for vegetarian. All the probiotics strains have been thoroughly tested and found to be effective in combating urinary and v*ginal infections.
The capsules are able to release live cultures 8-10 hours after intake. This mechanism allows for the better fight again disease-causing bacteria.  The probiotic also contains cranberry extract to enhance its effectiveness against harmful body bacteria.
 Pros
Does not contain artificial additives
Suitable for vegetarian users
Targets different body systems
Gluten and soy-free
Contains a good amount of cranberry extracts
10 billion  cultures per serving
Releases live cultures up to 10 hours
100% money-back guarantee
 Cons
The pack may be containing broken pills
4. Renew Life-Ultimate Flora Probiotics women care
This probiotic contains 10 strains of different probiotics that are excellent in addressing v*ginal health as well as urinary git health. The pills are fit for vegetarian users since they do not contain artificial chemicals. The Lactobacillus strains are effective in balancing the bacteria in the v*gina and combat yeast infections fast.
The supplement will result in more energy and better health when taken regularly. The capsule has a delayed delivery mechanism which enables it to be more effective in targeted areas.
 Pros
Dosage is a pill per day
Can be taken with or without food
Recommended for people with irritable bowel syndrome (IBS)
All-natural
 Cons
May take  longer to be effective fewer capsules per bottle( around 30)
Strong probiotics and may not be suitable for new users
Needs refrigeration
Priced on the higher side
5. Garden of Life- RAW Probiotics Women
This probiotic is specifically designed to keep your digestive and v*ginal health in check regularly. This product also checks into your digestive system to keep you less worried.
It is free of soy and gluten making it suitable for vegetarian consumers. One fact we love about this probiotic is that it comes with the added benefits of vitamins and minerals to promote your general health.
 The bottle contains  85 capsules, the daily dosage is 3 pills.
 Pros
5 Billion probiotics in a single serving
Contains minerals and vitamins
Can be taken by vegetarians
Soy and gluten-free
Supports colon  as well as v*ginal health
affordable
 Cons
Needs refrigeration to stay fit.
6. vH probiotic with prebiotics and cranberry
The vH probiotics and prebiotics are made to give you complete v*ginal care by fighting recurrent infections and promoting v*ginal health.
This vH probiotic blends cranberry extract in its natural form to help combat bacterial build-up. Cranberry helps flush out toxins and microbes in the urinary system and reduces your chances of developing urinary tract infections in the future.
The prebiotic strains contained in this vH pack promote the growth of good bacteria in both the reproductive and digestive systems. The live cultures work hand in hand with the already existing bacteria in your body to bring about balance and wave off general infections.
vH probiotic ad probiotic is for you if you are looking for a product that will help you forget about yeast infections for good.
  Pros
Designed for women with recurrent yeast infections.
Enhanced with cranberry extracts
Contains probiotics to promote already existing bacteria in the body
One capsule per day
Pocket-friendly
 Cons
It may not be effective in treating digestive issues.
7. Probiotic Pearls women's supplement
The probiotic pearl once daily women's supplement is made for women often suffering from tract infection and have recurrent digestive issues. Additionally, it is also recommended for women seeking to boost their immunity as well as fight stomach acidity.
The probiotic pearls are easy to swallow unlike most probiotic capsules in the market that are almost impossible to swallow. The pearl is ¼ inch and you are to take one daily. The packaging is travel-friendly and small enough to fit into your bag effortlessly.
This probiotic combines the three most effective stains against yeast and other [email protected] infections.  The pearl is designed with a triple-layer soft gel that protects the strains from heat, air, and stomach acid. This way there are reduced chances of cultural damage so as to give you the benefits you desire.
This Pearl women supplement is gluten-free. However, this may not be the probiotic for you if you have dietary restrictions of any kind. It is not clearly stated whether it supports a vegetarian diet.
 Pros
Works to relieve digestive upsets
Excellent for recurrent yeast infections
Suitable for traveling
Contains 3 active cultures
Contains a triple layer coat for culture protection
Pocket- friendly
Cons
Does not contain any minerals or vitamins
Does not contain as many cultures as other brands in the market today
Not vegetarian or daily free type of probiotic.
This is formulated specially to give relief from [email protected] and urinary tract infection, each ingredient is traceable back to the farm the seeds were gotten from, also essential for women in promoting yeast balance.
Raw Probiotics is uncooked and untreated, made from pure organic foods with no binder and fillers, a once-daily once-daily probiotic supplement that contains  Lactobacillus and Bifidobacterium (Bifidobacteria) lactis, and others for easy digestive health.
This supplement contains 30 vegetarian capsules that are delicious and chewable, it provides maximum protection against all kinds of [email protected] infection. All ingredients are gluten-free, soy-free, and clean as well.
Pros
Supports the immune system
Virginal care
Suitable for traveling
Delivers probiotic-created vitamins, minerals, and prebiotics as well as yeast-digesting enzymes
Arrives alive and stays alive up to the end of the expiration date.
Cons
9. RepHresh Pro-B Probiotic Supplement for Women
RepHresh probiotic contains 30 oral capsules that can be taken once daily to maintain v*ginal health. It contains the strains of probiotics called lactobacillus (L. rhamnosus GR-1 and L. reuteri RC-14) which clinically promote [email protected] health by balancing yeast and bacteria. The strains also work to help maintain [email protected] flora naturally present in your body for overall feminine health.
This probiotic provides the right supplement to aid the proper function of the body and protect against harmful bacteria. It also eliminates feminine odor and unnecessary feminine discomfort.
Pros
Clinically proven to maintain a healthy v*ginal
Eliminates odor and feminine discomfort
One application lasts up to 3 days
Balances yeast and bacteria
Cons
Does not contain any minerals or nutrients
Only used orally
A bit pricey
10. Ultimate Flora Bloom Probiotic
Ultimate flora bloom probiotic is recommended for proper feminine health, it provides maximum protection against infections like GBS, Bladder, and treatment of BV, UTI Treatment, and overall Urinary Health. It can also be used if suffering from unpleasant v*ginal odor or excessive discharge.
Ultimate Probiotic works effectively to help restore v*ginal health, two tablets daily for quality results. It acts as an antioxidant to refresh and cleanse the body and decreases harmful bacteria, it helps prevent potential infection during pregnancy.
This product also provides fast relief against itching and inflammation of the v*ginal, Does not contain wheat, gluten, soybeans egg, fish/shellfish, peanuts/tree nuts.
Pros
Safe for pregnant women
Boosts immunity which reduces the Risk of Infection
Prevents group B Strep
Increases performance of the digestive system
Does not need to be refrigerated
Cons
Does not contain minerals and nutrients.
What is the best way to take a probiotic?
Probiotics are available in several forms, from powders to pills.
It all depends on your reason for taking them. The ones in oil form are more convenient than those in liquid form but this does not mean that they are better. It is best to ask your doctor to recommend the best way to take your probiotics.
How long should I take a probiotic?
How long you should take probiotics depends on the reason why you are taking them in the first place. It is important to consult your health care provider to help you determine the correct how long you should take to solve the issue at hand.
Do not use scented v*ginal pads or tampons. These items may irritate the v*ginal area and throw the good bacterial off balance
Always change your pad no less than 8 continuous hours of wearing it
Avoid douching. Douching does not clean the v*gina but depletes the good bacteria
Change your inner wears as much as possible if you sweat a lot
Avoid wiping yourself from back to front after using the toilet. This is to avoid bacteria spread from the perineum to the v*gina.
Change your swimming clothes as soon as you are off the swimming pool.
Probiotics play a big role in promoting both v*ginal and overall health. The probiotics we reviewed for you have been found to help combat various infections in different systems of the body.
Probiotics, especially those with lactobacillus are known to protect the delicate v*ginal environment. Let us know which product worked for you in the comment section below.
References
Kris Gunnars. Probiotics 101: A Simple Beginner's Guide. Retrieved from: https://www.healthline.com/nutrition/probiotics-101
WebMD. What are Probiotics? Retrieved from: https://www.webmd.com/digestive-disorders/what-are-probiotics
Kelly Bramlet Blackburn. Should you take a daily probiotic supplement? Retrieved from: https://www.mdanderson.org/publications/focused-on-health/should-you-take-a-daily-probiotic-supplement-.h16-1592202.html