Lagos can be a small big place to live and not knowing how to navigate around easily can be very intimidating and personally, for me, I find it embarrassing.
There are so many places you may want to visit in Lagos for example when you have interviews, meeting up with someone or hanging out with friends.
No matter who you are and what part of Lagos you stay, there is nothing as beautiful as knowing places, and not having to call people or ask for directions when you are out because people can be misleading at times.
Imagine having a party and all your friends are scattered around Lagos wants to come but a lot of them couldn't get the description and even you couldn't provide one we may have a simple solution for you.
If you want to find your way around Lagos with a simple bus description, you can get on your phone instantly then Lara.ng might be for you.
How to Use Lara.ng
Lara.ng is an application created specifically to aid people who need a description to find there way easily around Lagos.
This is an easy app to use and all it requires is that you have data on your phone. Not only does Lara.ng gives you a description, it gives you an estimated amount the bus is likely to charge.
To use Lara.ng is very simple and we will show you how it is done
Step One
The first step to use Lara.ng would be to open the web browser on your phone and type in Lara.ng.
Step Two
When you click on this page it automatically brings you to Lara who asks you to type in your destination. For example; from Ketu to Obalende as seen in the screenshot below.
Step Three
Finally, after giving Lara your destination it goes ahead and gives you a description. isn't that interesting? This app is almost all that you need to get to your desired destination, it even gives you an estimate on pricing although not always accurate as per Lagos conductors can be crayy crayy at times.
This illustrates how your custom description looks like: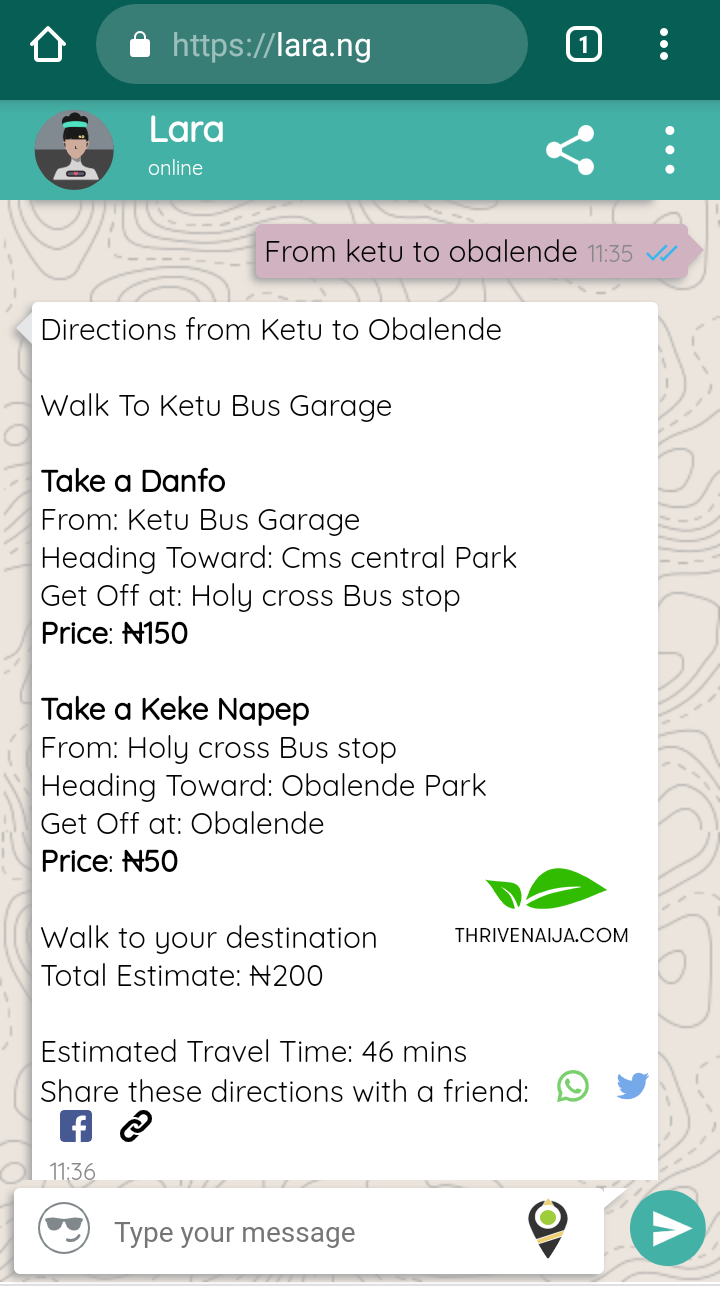 Now you don't have to worry about not knowing where you are going to anymore. The best part? It's free to use anytime, any day without restrictions.
Now you go try it.
Read next: 7 Most Crucial Health Benefits of Lemon