There are different perm types for long and short hair. Perm types like body wave perm, digital perm, loose wave perm, and other really good perms. we'll discuss every type in this post and all you ought to know.
But how do you determine which one suits your facial structure as well as your lifestyle? We have discussed the 10 best perm types to help you choose one effortlessly. But before we go into this list of perm types. we have to address a few things.
Please keep reading.
What should you consider before getting your hair permed?
There are several factors to look into before getting that hair perm you long for. There are equally   other factors determining the outcome of your permed hair, let's have a look:
1. Cold or hot perms?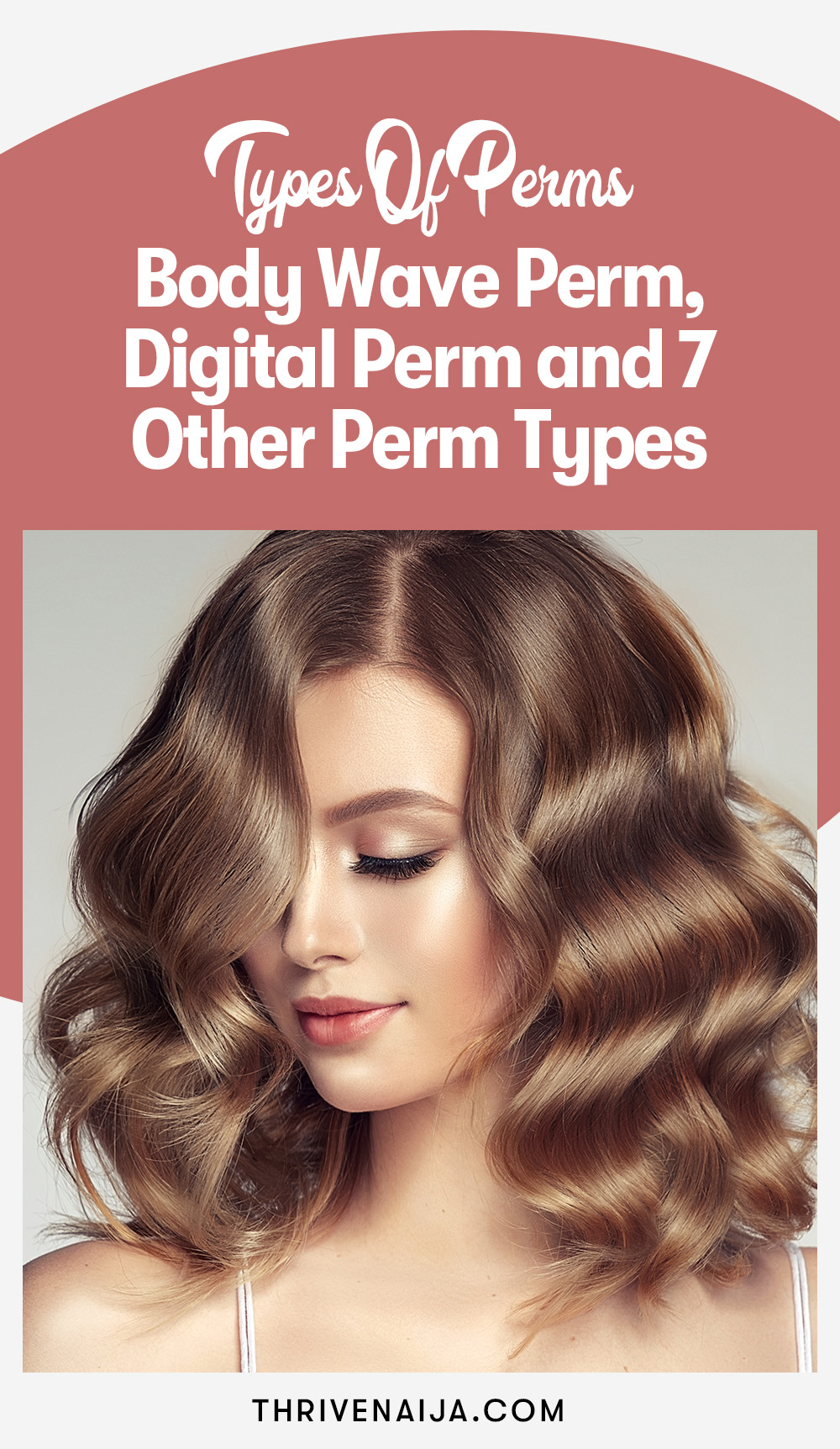 Cold perms are not as damaging as hot perms; their curls are also loose and are also pocket- friendly.  Hot perms, on the other hand, result in tight curls that last long. They are also quite expensive and can be damaging to your hair.
It is substantial to know that hot hair perms require less maintenance over time. The cold perm type takes more time to achieve a significant amount of curls and will not last long unless you opt for a root perm.
A root perm involves using hot perm to perm only 3-4 inches of the hair from the roots to help create a weighted look.
2. Type of chemical solution used to perm the hair
There are two types of perming solutions; alkaline and acid. The alkaline solution is recommended for stronger and healthy course hair while the acid solution is mainly recommended for thin and delicate hair.
It is, therefore, important to have this in mind before you proceed into perming your hair.
3. Wrapping techniques
The wrapping technique will determine the type and amount of curls you get in the end. The small rods often give tighter-looking curls. The hair should be wrapped properly bit by bit to give the desired look.
10 Different Perm Types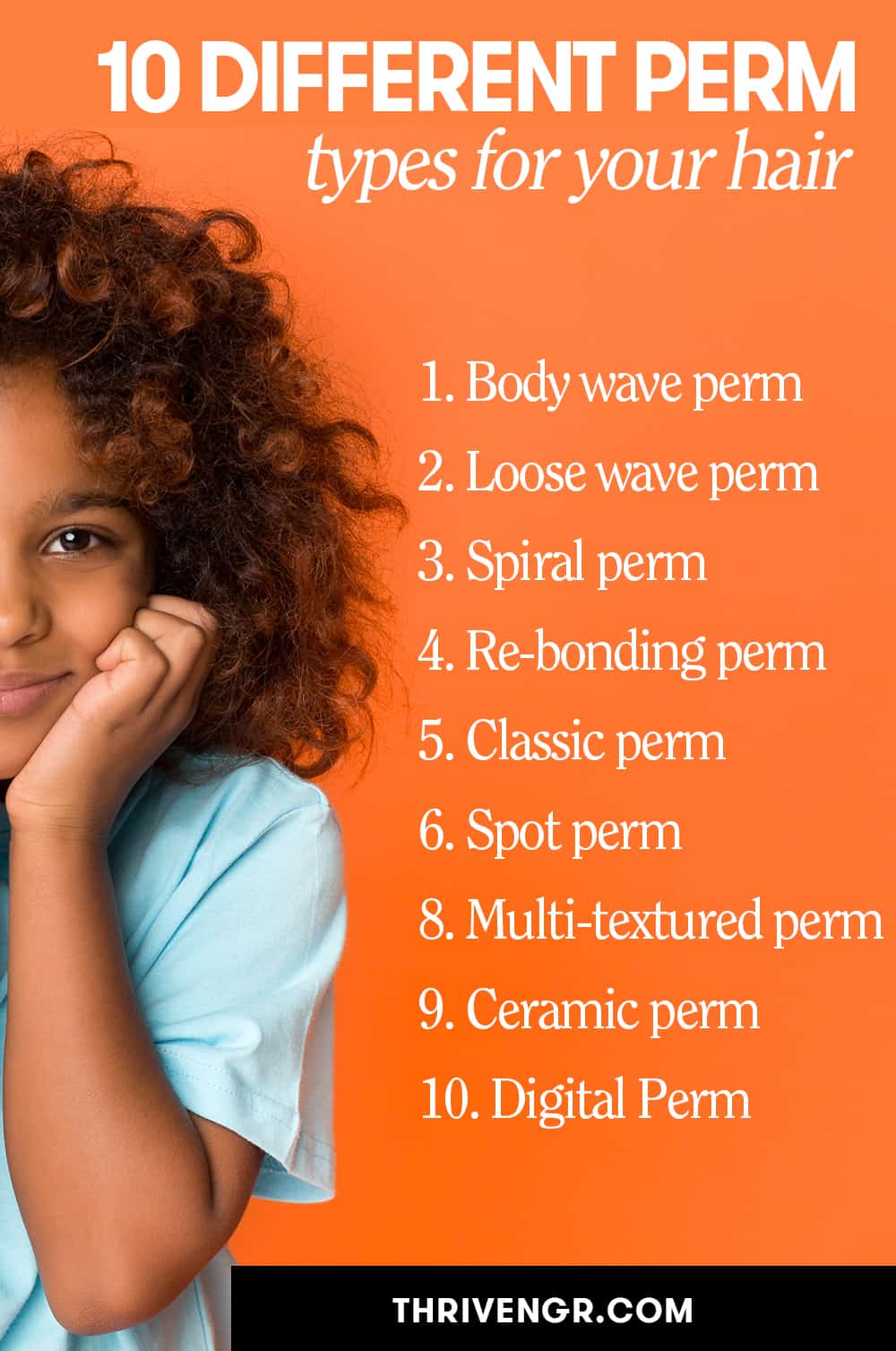 What are the different types of perm I can choose from and which one is best for me? We have highlighted 10 perm types to help you choose a suitable and sustainable one for you.
1. Body Wave Perm
This type of perm is done by wrapping larger rods on your hair, to allow loose curl patterns to form. Body perm is perfect for women who love spending most of their time outdoors.
It also perfectly suits shorter hair as it does not tamper with an overall length of the hair.
The Body wave perm is a great way to get your hair moving freely. This type of perm does not last as much as other perms.
2. Loose wave perm
Lose wave perm is tuned to add body to your hair. The term is achieved by the use of large rods that are loosely attached to the hair. It is a cold perm type that is suitable for all hair types.
The loose wave perm is mainly for people who would love to have curls without reducing the hair size.
3. Spiral Perm
Spiral perm results in tight spiral curls. To achieve this perm, the rod is placed vertically on the hair. The size of the rod to be used will depend on the length of the hair and the desired amount of curl. Otherwise, the hair is parted into small sections resulting in more perm rods.
Because this type of perm takes about 5 hours, it is recommended on healthy and strong hair preferably not colored hair.
4. Re-bonding perm
This is a type of hot perm that is done partially. It usually involves intense stages of hair strengthening at the edges. The hair at the lower half is usually left in curls. This perm is suited for medium to long hair. It is one of the most manageable perm types.
5. Classic perm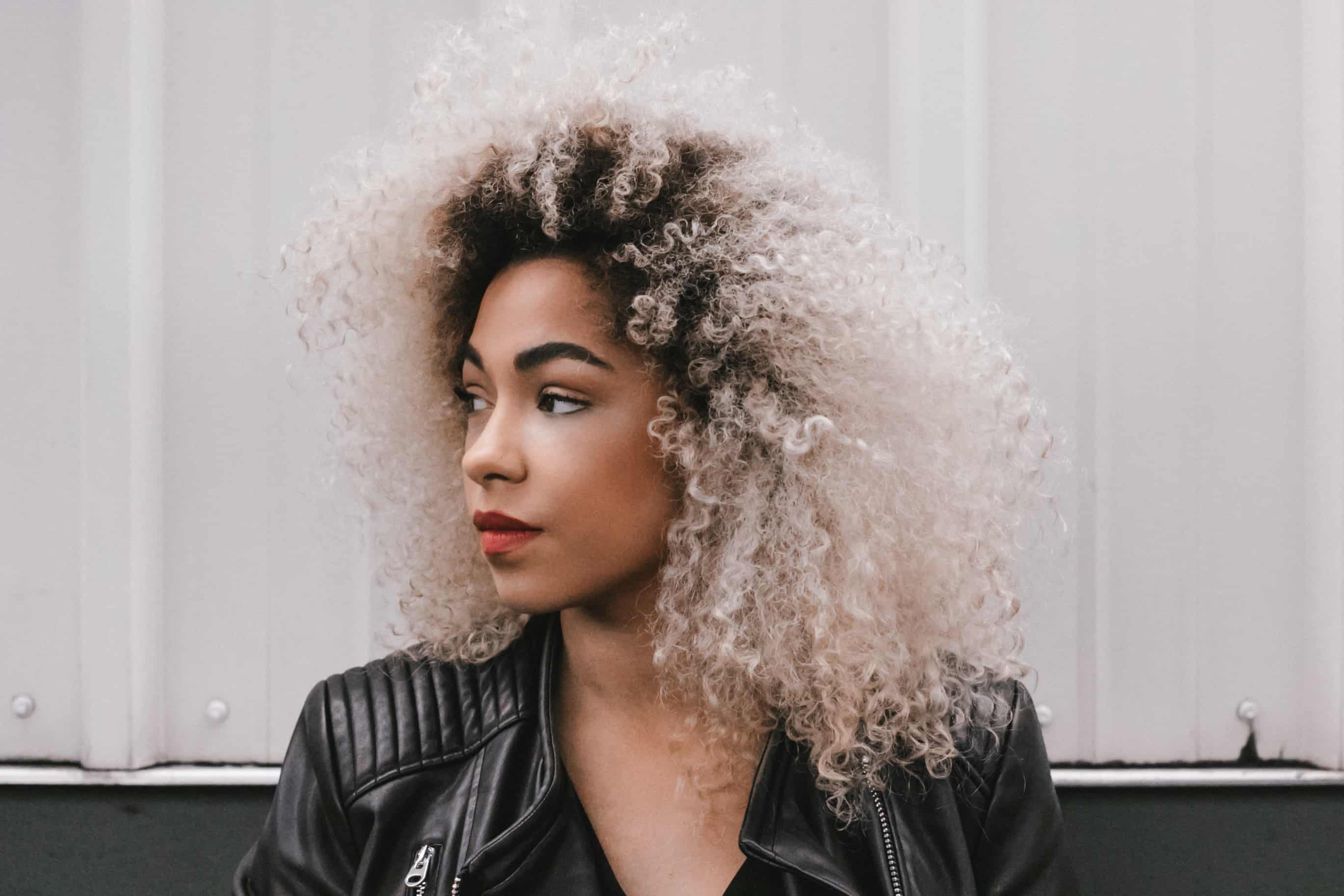 This is a cold perm type whose intensity of curl depends on the type of rod used. Classic perm is suitable for all types of hair
6. Spot perm
A spot perm is achieved by placing the rods strategically on the hair to increase curl in a specific area of the hair. It can also be done on the lower ends of the hair to form curls. It can be done on all hair types and lasts longer.
7. Multi-textured perm
This perm combines several types of wraps to create different types of curl pattern in the hair. It is almost a wash and go type of a perm.
8. Ceramic perm
Ceramic hair perm is another type of hot perm that requires much more heat for a long-lasting effect. The curls are usually in the form of an S. This type of hair significantly reduces the length of the hair and is recommended for those with strong, healthy hair that can withstand heat damage.
9. Digital Perm
A digital perm is a type of hot hair perm that gives soft curls with loose ends. Digital perm can be done on any hair type and it is easy to maintain. Read everything you want to know about digital perms.
Have I forgotten the Japanese and Korean perms?
Most people mistake these hair variations to be types of perms. In simpler terms, these are not perm types but examples of hot perm styles. The Korean hot perm style always gives more defined curls while the Japanese hot hair perm type gives a waiver look.
Perm Hair Care
Here are some tips to help you take care of your permed hair:
Always deep condition your hair before perming, this is to strengthen your hair and ensure that it is well protected from perm damage. This is the best done2-3 weeks before heading to the salon.
Weekly treatments are crucial to keeping your hair looking healthy and bouncy.
Moisturize and moisturize, there is no better way to keep your hair shiny and strong. You need to feed your hair with organic oils for utmost nourishment.
Talk to your doctor before making any decision about your hair such as coloring.
There are several hair masks for permed hair in the market. Hair masks are rich in antioxidants that are excellent in fighting scalp build-up.
Also read: What is a perm and How long does a perm last?
Bottom line
With proper care, your perm hair won't disappoint. We hope that this article helped you gauge your suitability for getting a perm. Talk to us about your experience in the comment section below.