Quick note: This huge list of Ankara short gown styles is updated weekly.
Here in Africa especially Nigeria, Ankara dresses are always a way to make a statement with your fashion choices. They are so cherished and loved and affordable.
Ankara fabrics are one of the easiest materials to manipulate in other to make a masterpiece. Every now and then people, experts, and even newbies experiment with different Ankara fabrics in other to create something that may not have been created before or make modifications to existing designs.
Whatever reason you are here for either you are a dressmaker looking for inspiration or you have an owambe to attend and need to show your designer something nice, this post is for you.
We've gathered the most beautiful short Ankara gown style pictures from Instagram, Pinterest so you can look at them in other to be able to figure out what you want to make for yourself.
See Also:
1. Button Up Gown With Long Sleeves And Belted Cape
Everyone's taste in short gown styles differs but a design like that is guaranteed to be loved by all, this style is also referred to as the butterfly style, classy and interesting. A truly adorable style for all kinds of events.
2. Micro Shirt Dress Ankara Gown
Something about micro gowns are the fact that they look exotic on whoever wears it regardless of shape and height, the style above is classy and conservative enough for formal occasion and Informal ones as well.
3. Stylish Ankara Gown Style With Free Layers And Rubber Sleeves
Simple can be stylish and stylish in turn can be gorgeous and that is how we describe the style above, very easy to wear and hit the dance floor with.
4. Wrap Flare Gown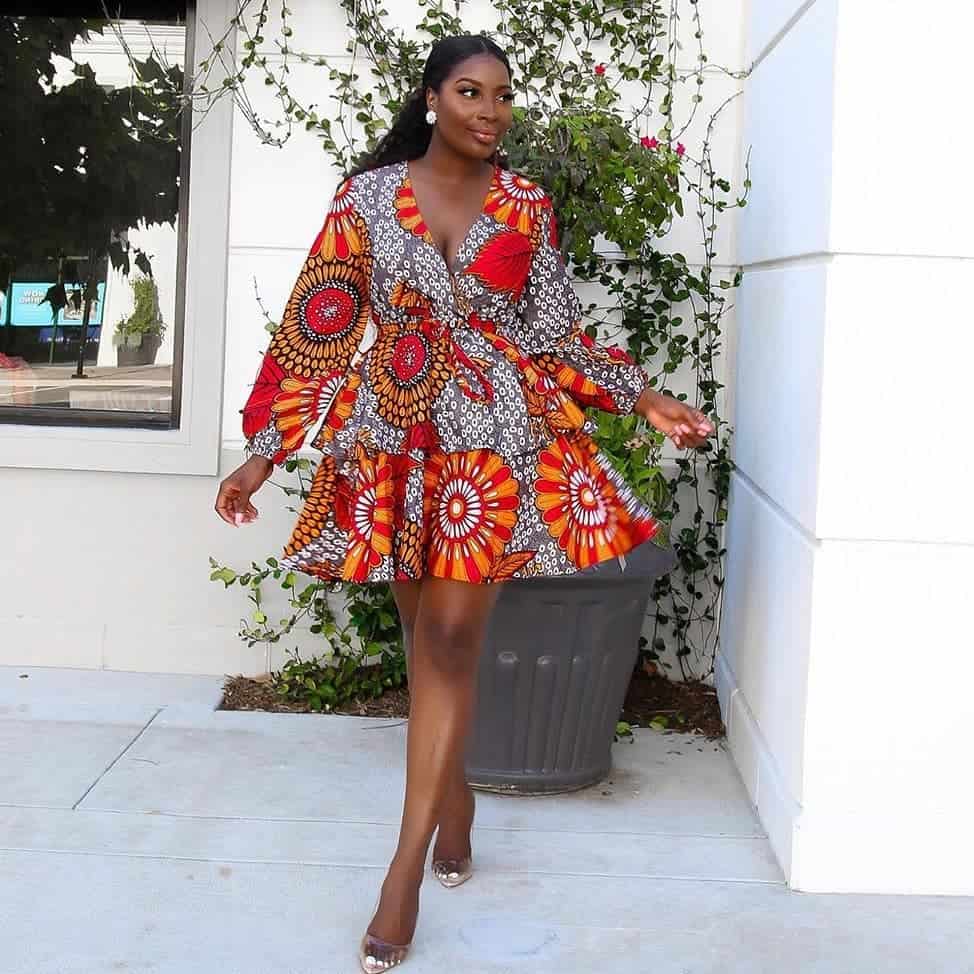 Conservatives gown styles are not that had to come by, this is one suitable style if you like short gowns but want them to be elegant and decent, you should definitely give this style a chance in your closet.
5. Off Shoulder Flare Sleeve With Double Layer Gown
Flare gowns can come in different unique design and this one above is one of the ways you can have your flare gowns made, short, elegant and beautiful.
6. Short Slit Gown With Net Sleeves
Part of being a fashion chic is to know how to incorporate different designs into your choose styles, the sleeves are the new trendy ways to rock your Ankara gown and we love it.
7. Ankara Formal Collar Dress
What perfect way to appear at the office wearing a gorgeous style like that, it's just what you need to get jaws dropping at the office on a Friday.
8. Short Sleeve Ankara With Folds
Another beautiful style for casual and elaborate outings, this is one style we believed could add some spring to your steps and having your strutting with confidence.
9. Raglan Sleeve With Short Pencilled Gown
All you need to rock a style like that is a pair of studded heels and you are good to go for practically any occasion.
10. Flay Beach Ankara Dress
Elegant and party worth us just how we see this simple Ankara gown, perfect for a time alone beach  outing.
11. Short Ankara Gown With Skirt Wrap
Very casual and sexy at the same time, the wrap skirt can be added to it differently or sew together, depending on the way you want it to look. Can also be a long wrap gown but short gowns are more interesting and simple to rock.
12. Micro Gown With Dashiki Hand
The dashiki hand makes it look different and adds more class to it, it gown itself might have looked ordinary and also the v-neck looks fabulous with it. What we love most is how radiant and flamboyant it makes the person wearing it look.
13. Mini Short V-necked Gown
Off shoulders are becoming more common and interesting, the Ankara style above can be worn for any occasion, very smart and as for the v-neck you can always swap it for a less revealing neck and the style will still be fashionable.
14. One Off Shoulder Ankara Gown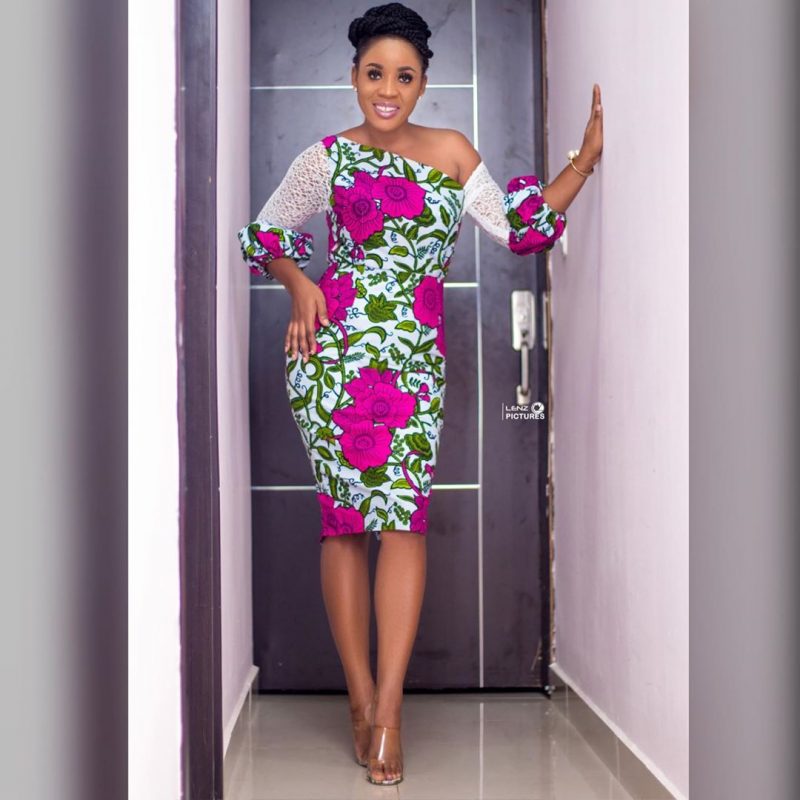 Very simple but different and who does not like simple and comfortable. Nothing too dramatic but if you get the right tailor to sew this style, you can add something different to it.
15. Ankara Dress With Front Split
If you like some drama in your dress and you do not mind the split coming up a little, this style is for you, very classy and trendy. This is one of the most beautiful short ankara gown styles you'll find in this list.
16. Short Ankara Shift Dress
The uniqueness is said to be in the sleeves and also the curve hem looks gorgeous for both casual and glamorous occasion. Another thing is the fact that you can pair it with any footwear of your choice, not so picky, comfortable and simple as well.
17. Off Shoulder With Body Wrap Dress
East to become the focus of attention with this sexy gown, really immaculate and with those frillies added to the edge, makes it look even more classy.
18. Ankara Sun Dress
Fashionable and simple for all outing you have in mind, even serves as a nice style to dorn to the beach this weekend.
19. Short Kente Ankara Gown
Ankara styles do not have to be dramatic before they can be beautiful, you just need something simple yet fabulous and that will be the design above.
20. Ankara Special Dress With Butterfly Frontline
For a fashion icon and lover of Ankara styles, you will find this style very easy to pull off and who doesn't like a nice front-line style.
21. Straps With Flay Short Gown
Classic and unique and with the head wrap, it just gives fashion another meaning and style. Really perfect for all occasion.
22. Stylish Short Gown With Neck Tie
We can't help but admire of the simple necktie made the style looks so artistic and beautiful, has a tube top as well but the more interesting one is the necktie down to the waistline.
23. Ankara Short Gown With Short And Long Sleeves
Frankly, we think the strap hands even adds a sense of appeal to it, looks simple but absolutely fabulous.
24. Freehand Mini Ankara Gown
If you like it skimpy but amazingly cute, this design is the perfect outfit for you.
25. Off Shoulder Short Gown
This style will not be going out of trend anytime soon, not because it's simple and beautiful but you can actually create a different pattern with it but still the same style.
We have more beautiful Ankara short gown styles on the next page, Click next 🙂