Quick note: This huge list of Ankara short gown styles is updated weekly.
Here in Africa especially Nigeria, Ankara dresses are always a way to make a statement with your fashion choices. They are so cherished and loved and affordable.
Ankara fabrics are one of the easiest materials to manipulate in other to make a masterpiece. Every now and then people, experts, and even newbies experiment with different Ankara fabrics in other to create something that may not have been created before or make modifications to existing designs.
Whatever reason you are here for either you are a dressmaker looking for inspiration or you have an owambe to attend and need to show your designer something nice, this post is for you.
We've gathered the most beautiful short Ankara gown style pictures from Instagram, Pinterest so you can look at them in other to be able to figure out what you want to make for yourself.
1. Flare Sleeve Mini Ankara Gown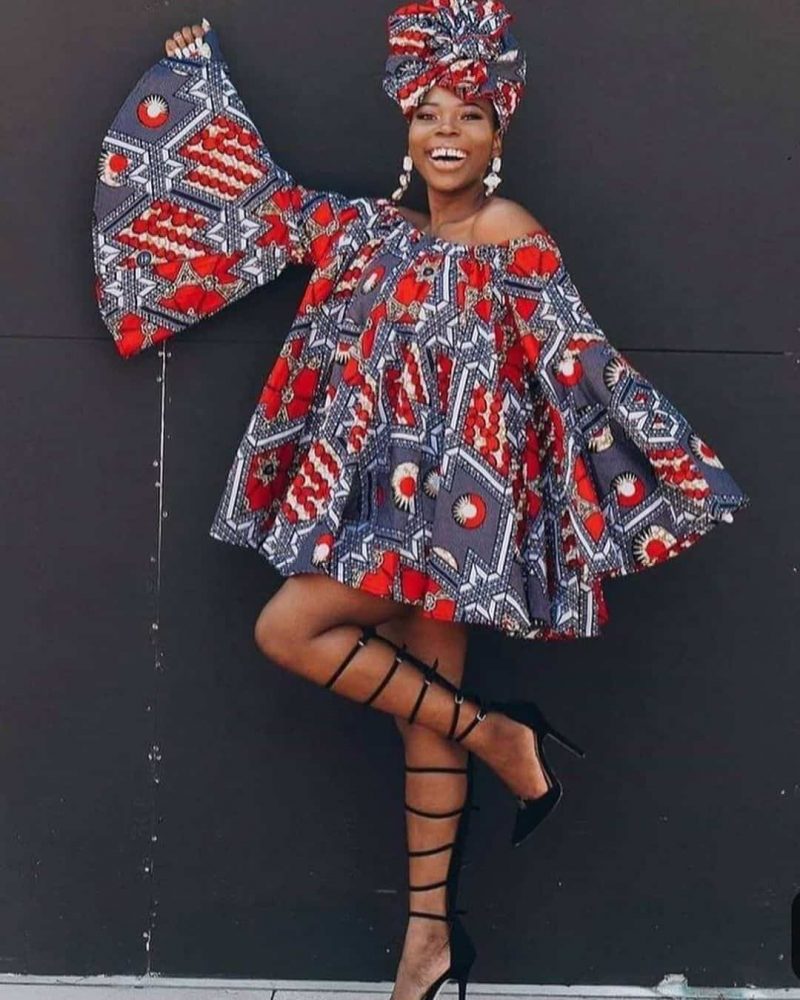 This is another off-shoulder flare goodness, just in case you are looking for a thanksgiving look to the church, this is your go-to gown and don't also forget to put on your shade of happiness.
2. Spaghetti Strap Short Gown
This is yet another classy thanksgiving look , super stylish and elegant enough to fit in for any other beautiful occasion.
3. Ruffled Sleeve Jacket Gown With Belt
I got to give it to this to style, this is class at its peak . This style gives you that bossy chic look that every lady will love to have.
4. Long Sleeve Penciled Gown
This simple but stylish outfit is a must-have for every lady.
5. Ankara Kimono Short Gown
This simple Ankara kimono gown can be switched up stylishly with a pair of sneakers and a crossbody bag to bring out the chic part of the outfit.
6. Offshoulder Onesided Layers Gown
Style is definitely more than what we wear but also the accessories we march it with matters a lot. This outfit can be anything you want it to be depending on how you style it.
7. Long Puffsleeve Pencil Wrap Gown
Show up looking elegantly beautiful in this simple stylish wrap gown.
8. Bell Sleeve Joined Kimono with A-line Ankara Gown
This a very adorable and beautiful style.
9. Simple A-line Gown
Simple classy and also very elegant.
10. Mini A-line Flare Sleeve Gown
This is yet another mini shade of awesomeness.
11. Three-Step Sleeve Mini Gown
I love the fact that this Ankara is a bit simple but the sleeve gave it some fitness and also the way she styled it with her heels added some class to it.
12. One-sided Offshoulder Flare Gown with Belt
This is another thanksgiving worthy look, very simple classy and churchy.
13. Simple Three-Step Flare Gown
Who says looking simple is not fashionable enough, you can look simple and still slay in this mini three layers gown , it is just the right amount of dose you need to slay.
14. Shoulder cut Mini Ball Gown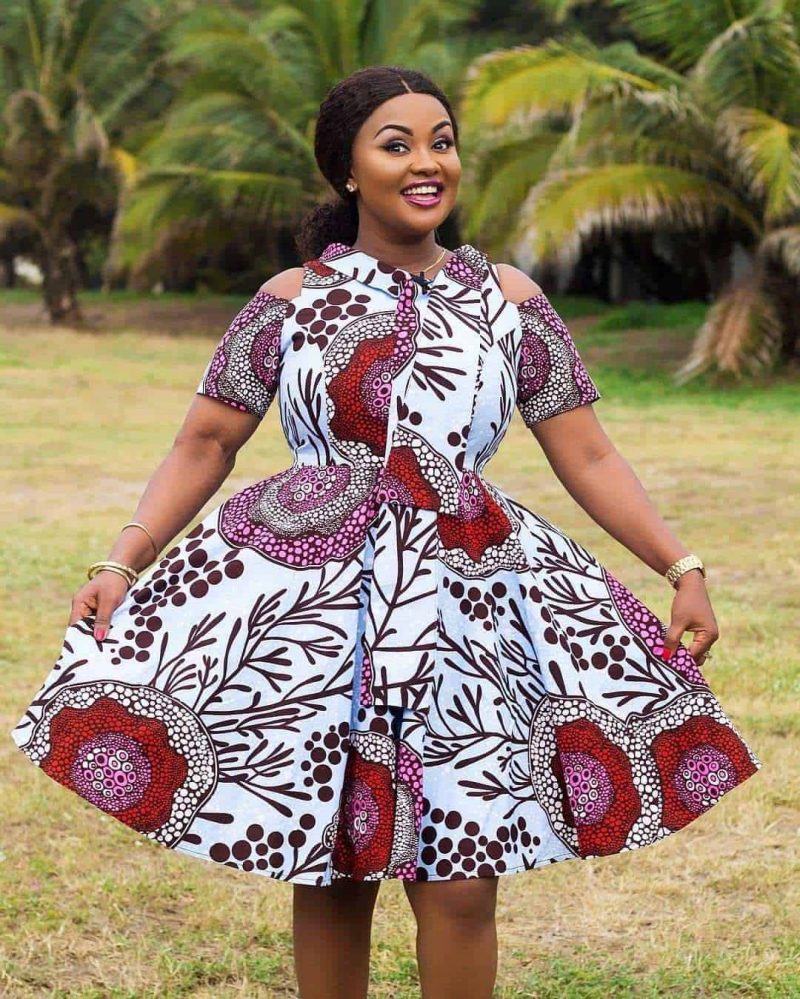 Look simple and hot at the same time in this mini flare goodness.
15. Bishopneck Shouldercut A-line Gown
Beautiful shade of a simple elegant A-line gown.
16. Offshoulder Smoked Penciled Gown
Simple off-shoulder goodness for a beautiful wedding outing.
17. Casual Ankara Mini Gown
This is how you step out looking casual and chic all at the same time.
18. Shoulder Cut Tiny Strap Short Gown
I love the beautiful stylish cut at the edge of this dress it's just simply amazing.
19. raglan sleeve penciled plitted Edges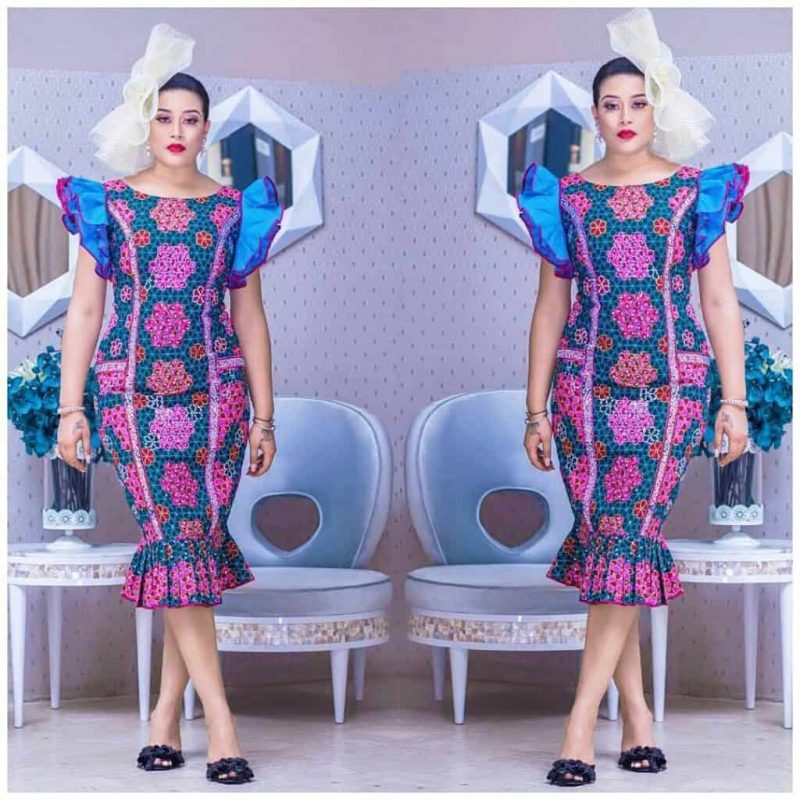 Short Ankara gown styles are going places I hope we are ready for it because we haven't seen anything yet. The ever-gorgeous Adunni Ade sure knows how to give us hot in Ankara styles.
20. Mini Wrap Puffsleeve Ankara Gown
I love the fact that it is a wrap gown with a puff sleeve it is not very common because we feel it is too simple but this nothing less than beautiful.
21. Offshoulder Puff Sleeve Gown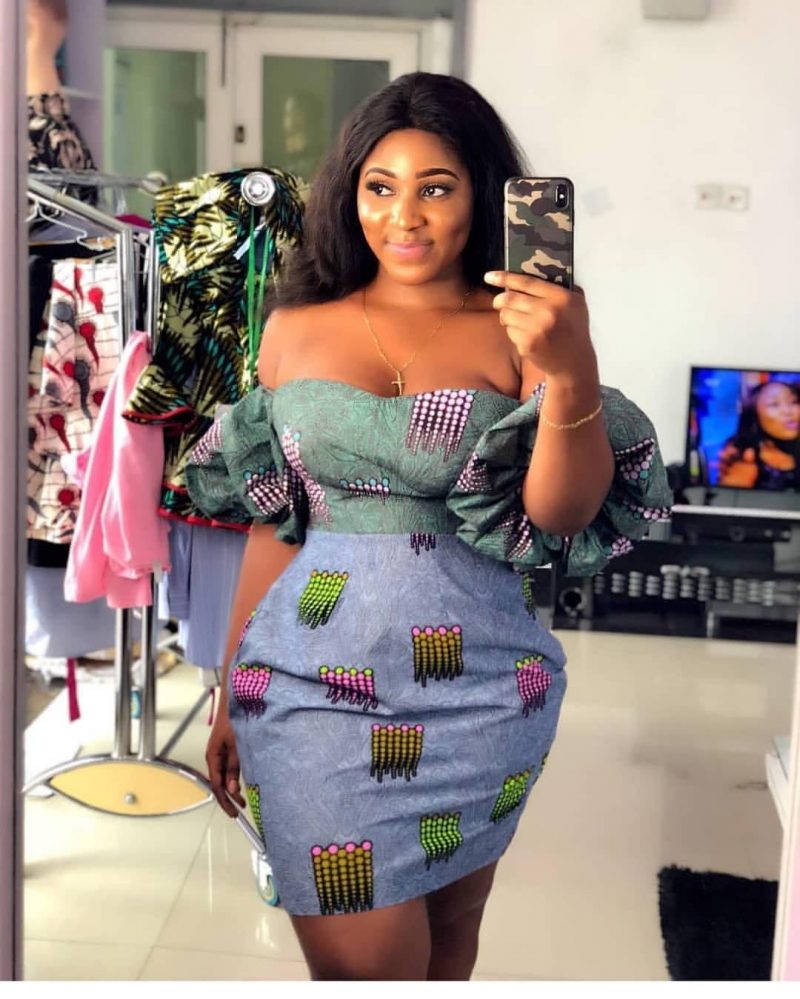 This off-shoulder goodness is fit for all kinds of occasions very comfortable and elegant also very easy tailors to get a hang of it.
22. Mini Laced Edges Gown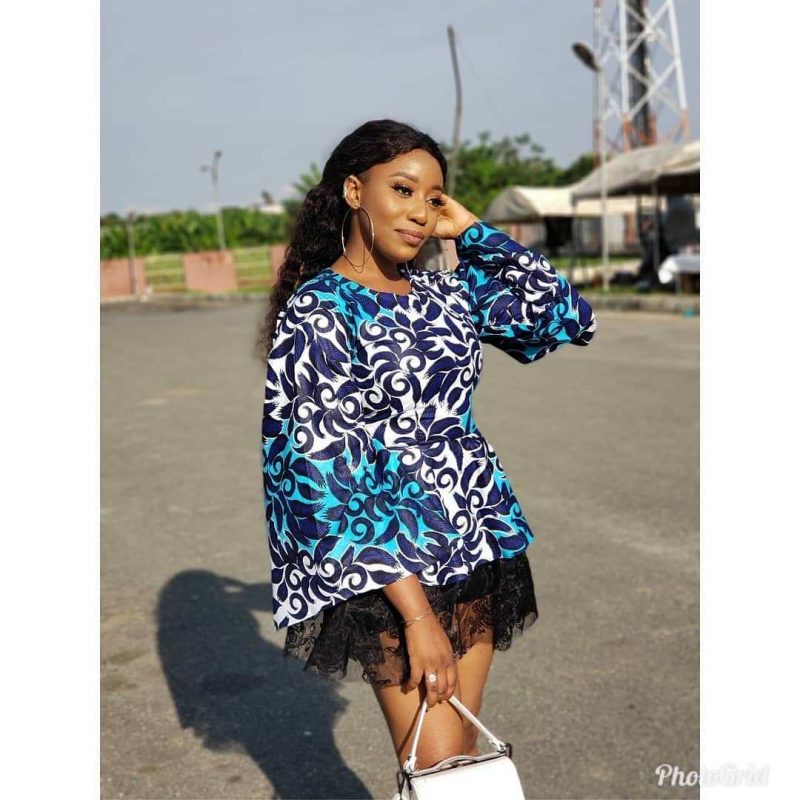 Mini but yummy, this is a classy outfit that works perfectly for weddings, and also very easy and convenient at the same time.
23. Offshoulder Flare Gown
Simplicity is key, the simplicity of this amazing flare gown is everything, it can be worn to a casual get together with a pair of sneakers also easy for your tailor to get a hang of it.
24. Spaghetti Strapped two-stepped Gown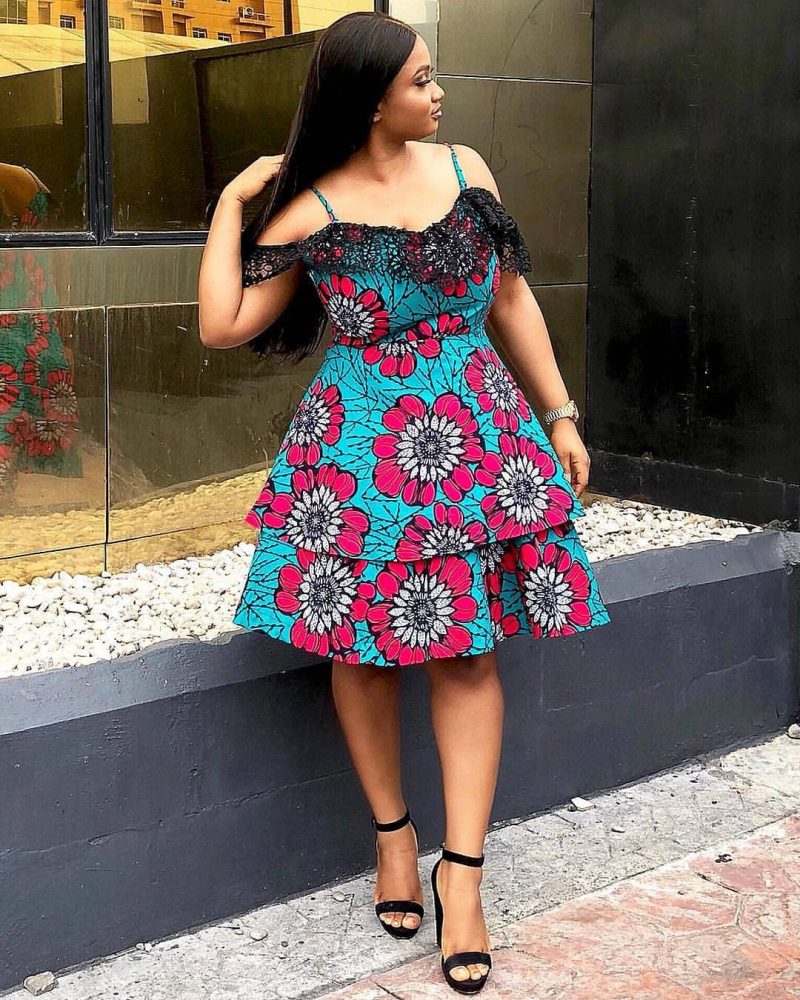 This a beautiful wedding-worthy Ankara gown, the style coupled with nice hair and a pair of nice heels will do justice to it perfectly it can also be swapped by using a headgear.
25. Simple plitted edges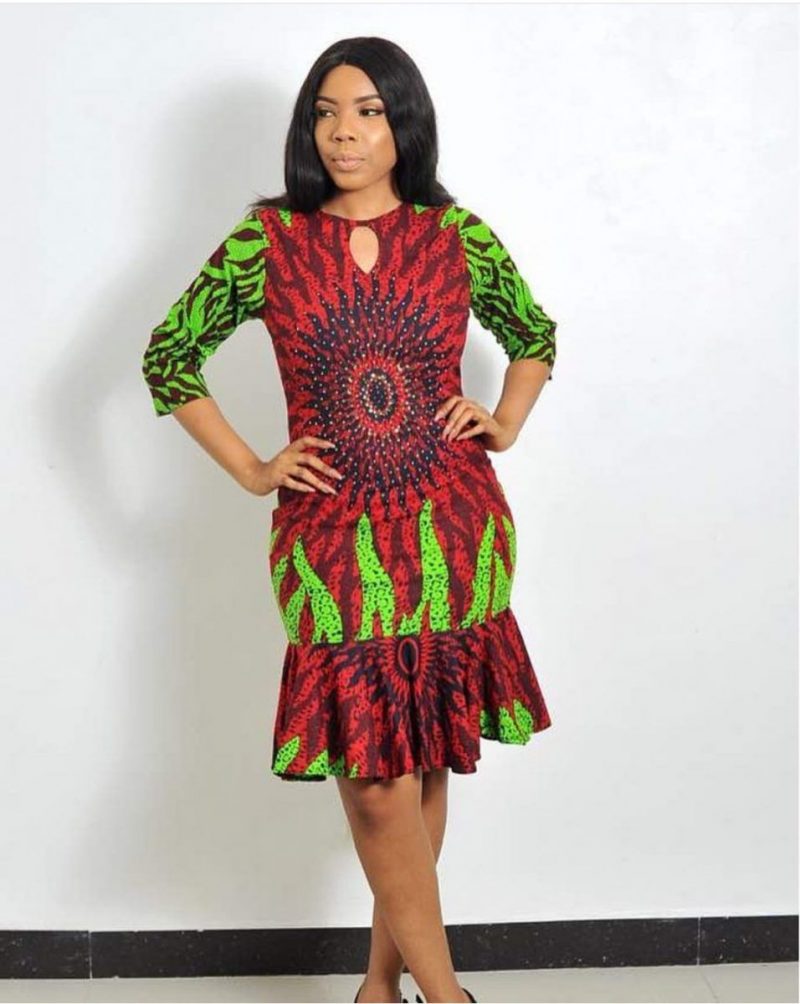 This is another casual yet classy outfit suitable for work on a Friday and other casual outings.
26. Bell sleeve Mini Gown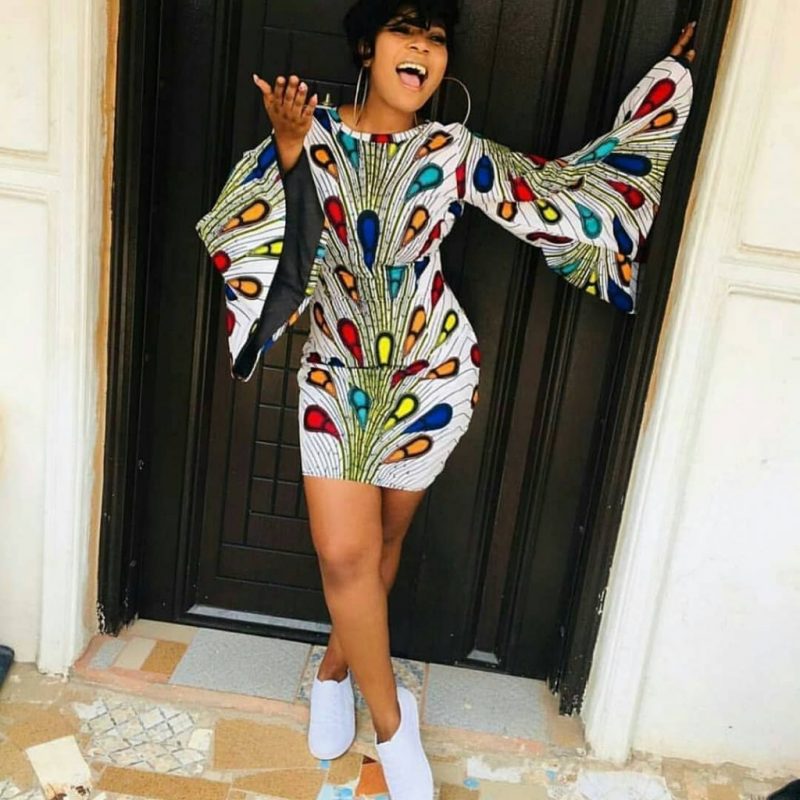 This is another work worthy Ankara outfit, also good to go for wedding parties not too simple and also not extra.
27. One-sided shoulder cut Aline Gown
This is how you show up to a wedding without making noise but you make a statement instead, her black pair of heels is great but you can always spice yours up with something even better.
28. One-sided plits patterned Gown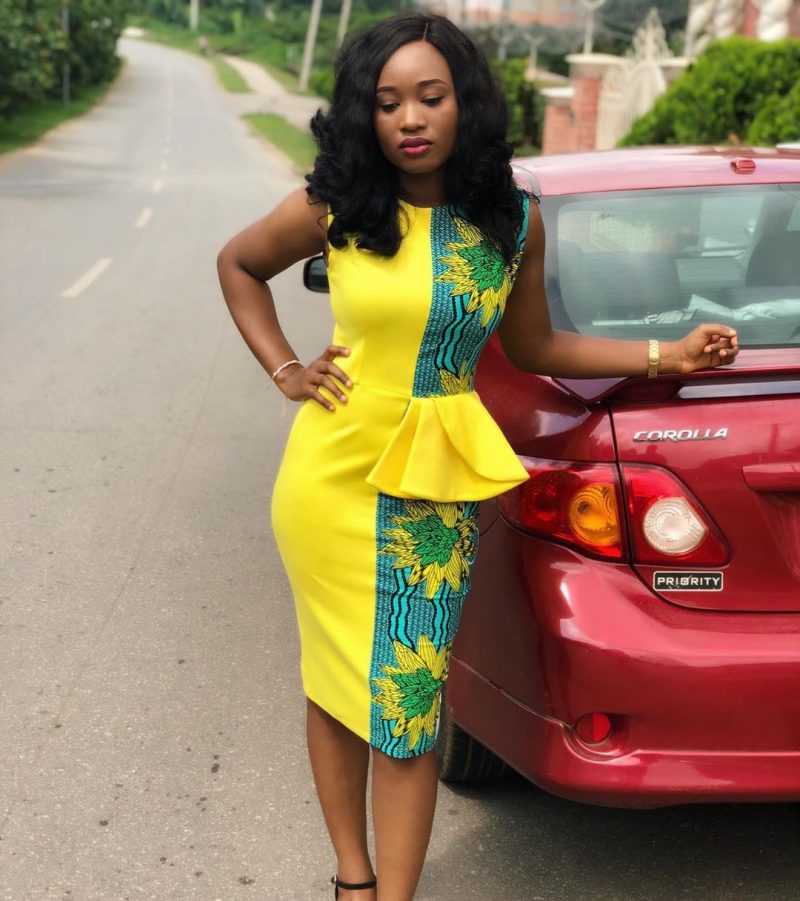 Looking perfect for a wedding doesn't call for stress but knowing the right style is what exhausts us, but this above style right here is a go-to dress for weddings.
29. Laced up pencil Gown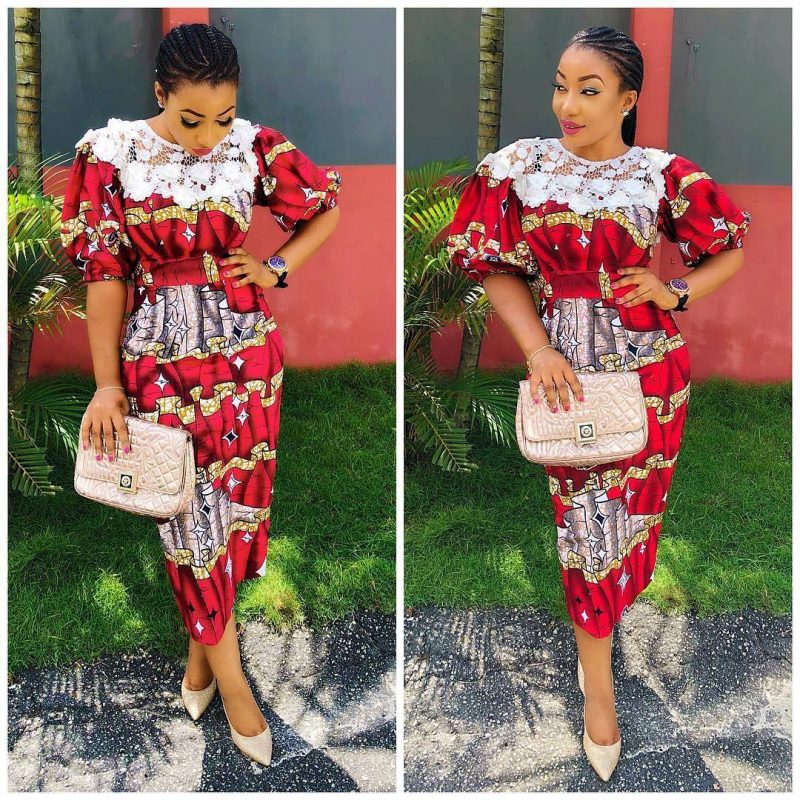 This amazing Ankara style coupled with gele would do justice to anyone who rocks it,  don't get me wrong this is nice but it can be better.
30. Simple Ankara Gown
Another work worthy look for Fridays, simple elegant but most importantly classy.
31. Bell Sleeve Penciled Gown
Most of us think bell sleeves Ankara gowns are common but unfortunately yes they are, but how you style yours makes it unique and better than others.
32. Three layers Ankara Gown
Be a boss not by talking but also let your outfit speak for you, because they always say dress as you want to be adressed.
33. Simple Vneck penciled Gown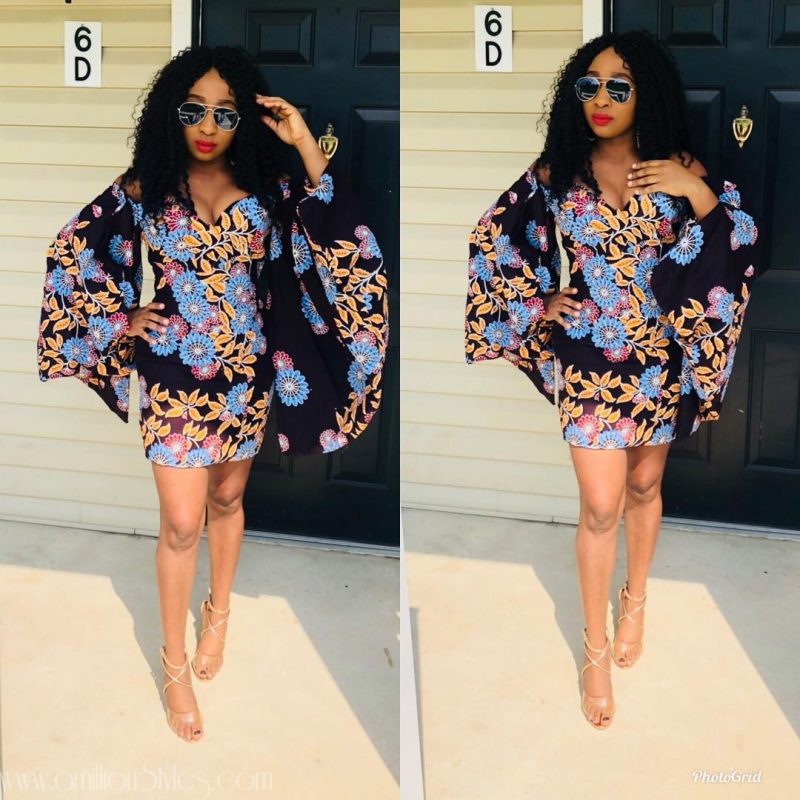 Another mini yet classy penciled gown that can be easily tailored by designers without so much stress.
34. Simple Mini splitted Gown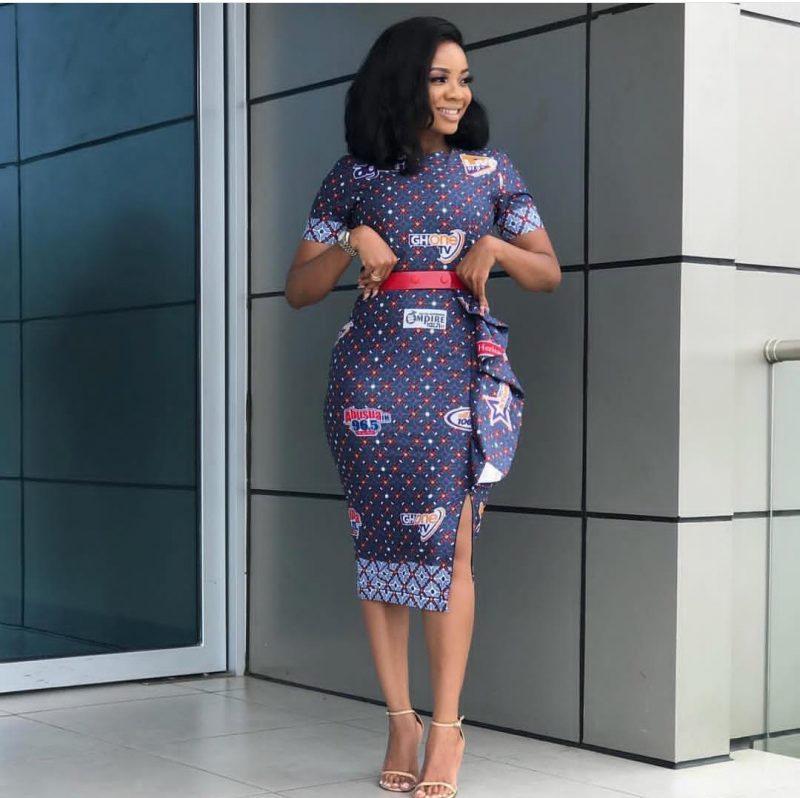 Don't look too far for that casual or evening get together with friends kind of dress this is just the perfect one for it,u can either rock with heels to make it come out classy or with a pair of sneakers to make you look all chic.
35. Mini Ruffled Ankara Gown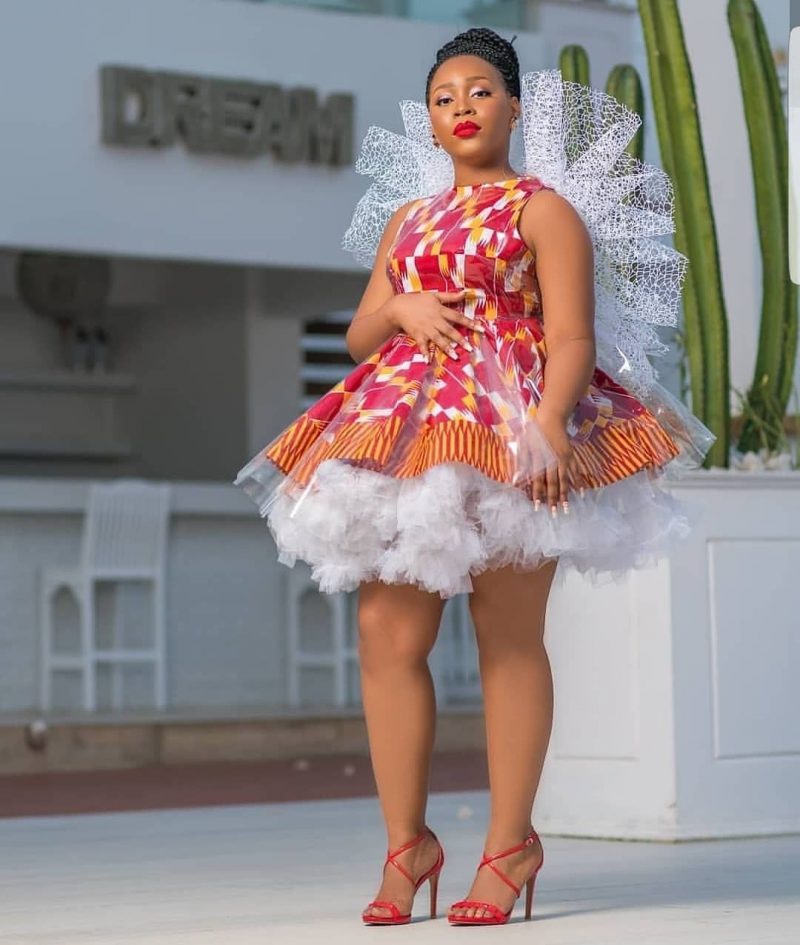 This mini ruffled Ankara gown is a crowd controller, this is exactly how you step into a wedding and make a statement even without saying a word.
36. Short Flare Gown With Belt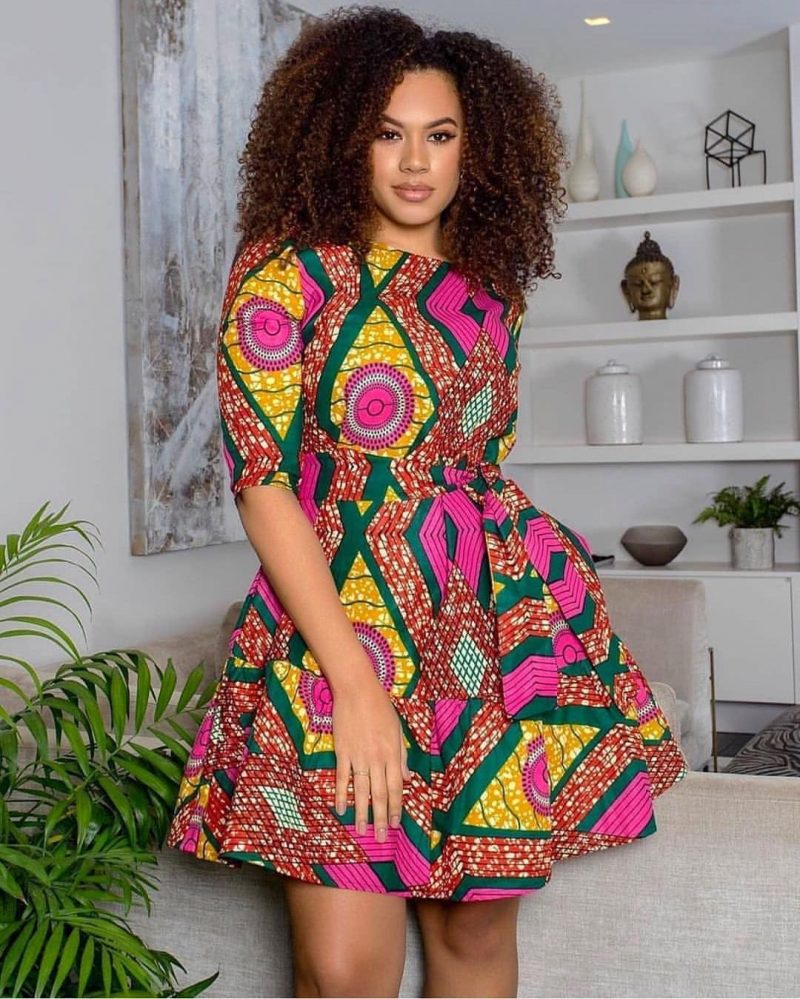 Short flare gowns can be rocked by anyone easily but adding a belt to it will make it stand out perfect from other types and also depend on whether you want to rock it with heels or sneakers.
37. Shoulder Cut Penciled Gown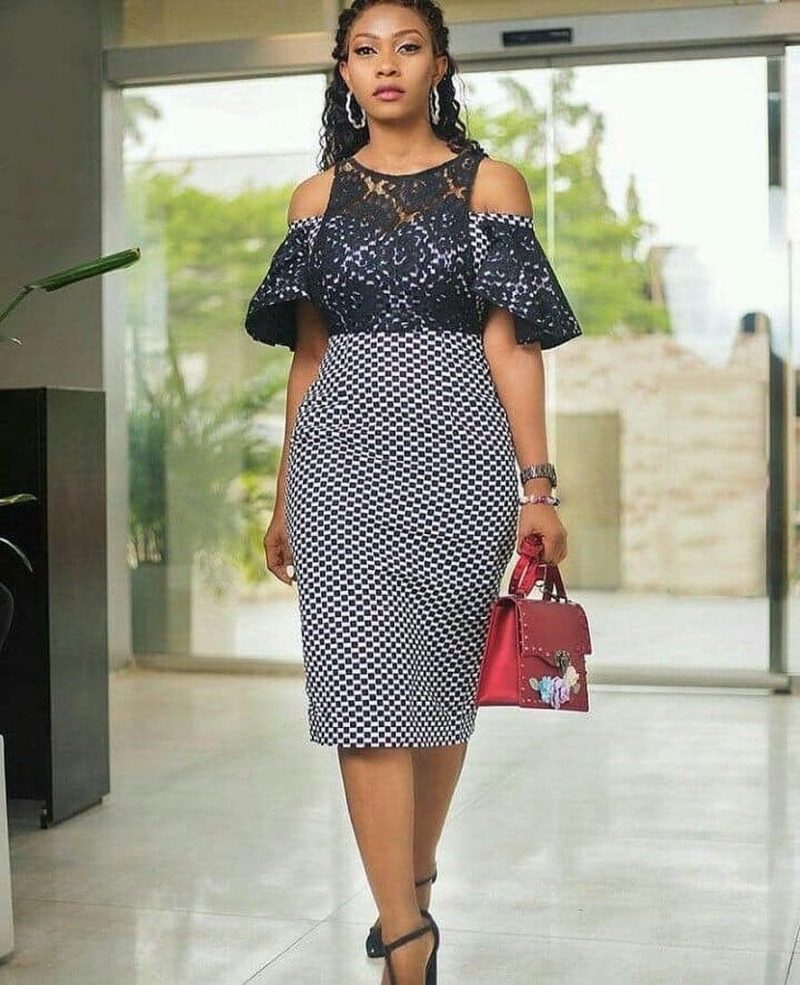 This shoulder cut penciled gown should be a must-have for every classy lady because they are easy to wear and can be worn to any occasion.
38. Mini Low Vneck Flare Sleeve Gown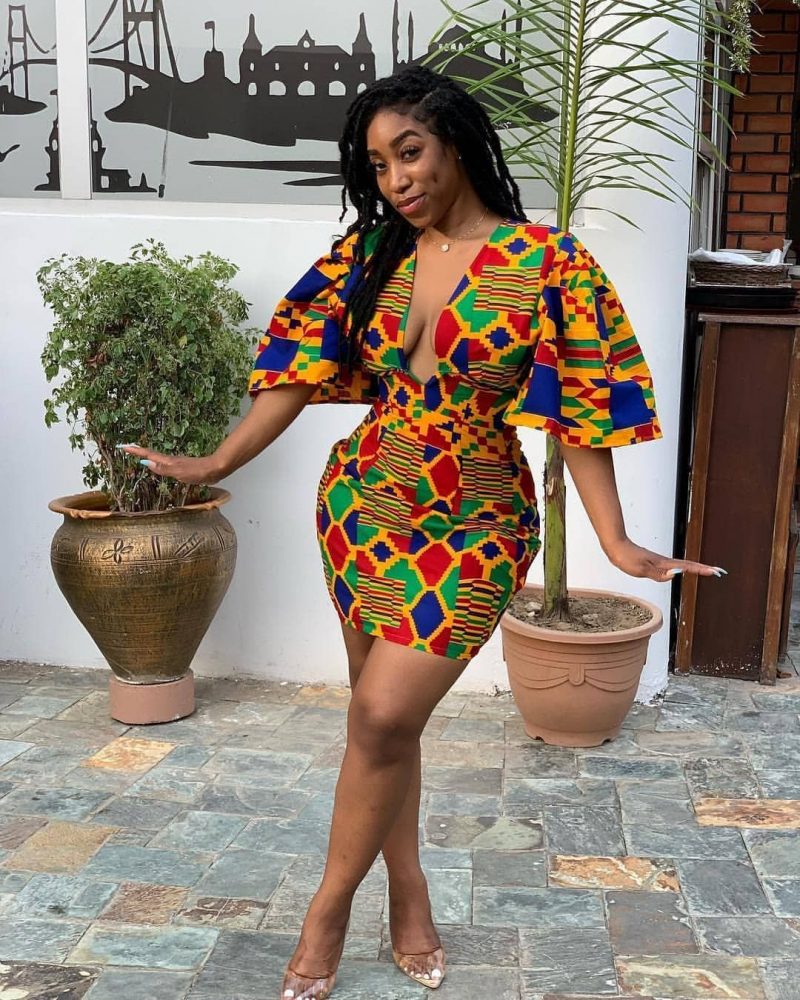 Elegant, simple, unique and classy all in one mini gown, it can be adorned also by a nice pair of sneakers for an after-party.
39. Outerneck Openback Penciled Gown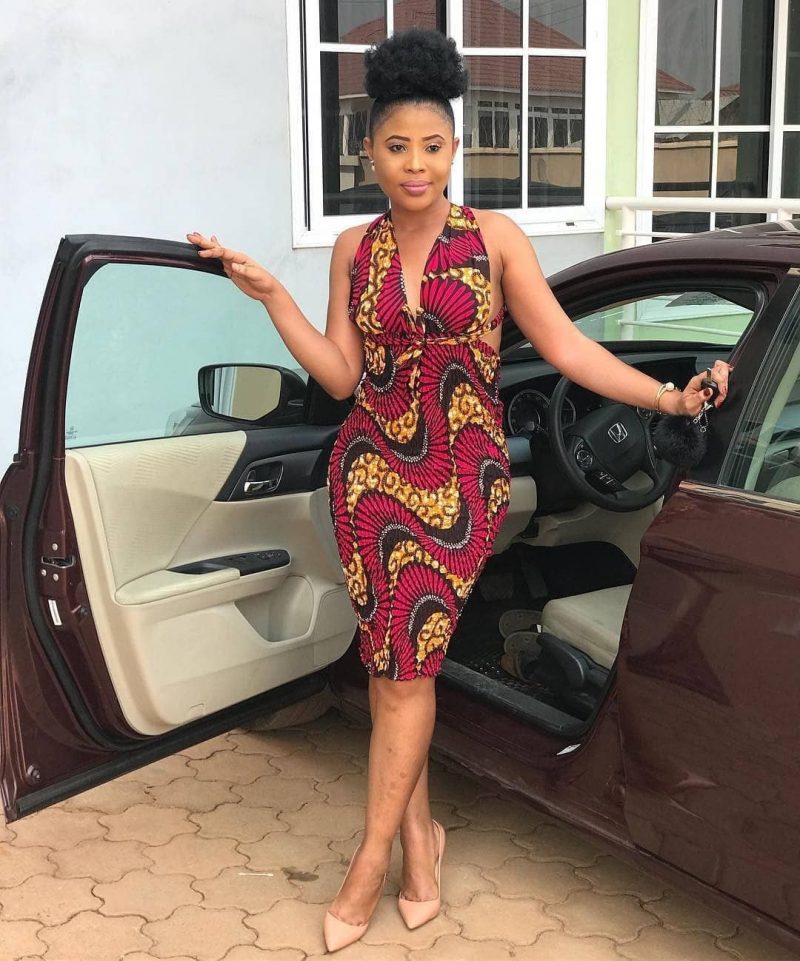 This is another adorable shade of goodness that can be rocked perfectly to a wedding without having to think whether one is overdressed or too simple because it is just perfect.
40. Simple Longsleeve Penciled Gown
If you are a boss and you are wondering how you should up at a business meeting without having through the struggles of suits and English wear then is your go-to gown.
41. Mini Gown With Bell Sleeves
You did never find a style like that bored, easily transforms the wearer to beautiful and sophisticated and your tailor should not take forever to recreate a style like this for you, you can spice it up with a strip sleeve for a more bold look.
42. Alter Neck Flare Gown
Sometimes all you need to turn up at an event is a simple elegant gown just like the one above, nothing too dramatic with enough sauce to slay with.
43. A-line Gown
An A-line gown deserves more attention than it's getting, we think you can slay just as much with a ball gown as you can with an A-line gown, all you need is the right makeup and heels to match.
44. Simple Mini Gown
A casual evening date requires a casual evening style like the one portrayed above, add your sneakers or heel to it and you are good to go and also it gives your tailor very little to do or complain about.
45. Bishop Neck Gown With Belt
Elaborate or casual, a bishop neck style is also suitable, very comfortable too and you can easily hit the dance floor at a party without worrying about the length of your sleeve, more designs can be added to this style if you have a good tailor working on it.
46. Button Up Gown With Long Sleeves And Belted Cape
Everyone's taste in short gown styles differs but a design like that is guaranteed to be loved by all, this style is also referred to as the butterfly style, classy and interesting. A truly adorable style for all kinds of events.
47. Micro Shirt Dress Ankara Gown
Something about micro gowns is the fact that they look exotic on whoever wears it regardless of shape and height, the style above is classy and conservative enough for formal occasion and Informal ones as well.
48. Stylish Ankara Gown Style With Free Layers And Rubber Sleeves
Simple can be stylish and stylish in turn can be gorgeous and that is how we describe the style above, very easy to wear and hit the dance floor with.
49. Wrap Flare Gown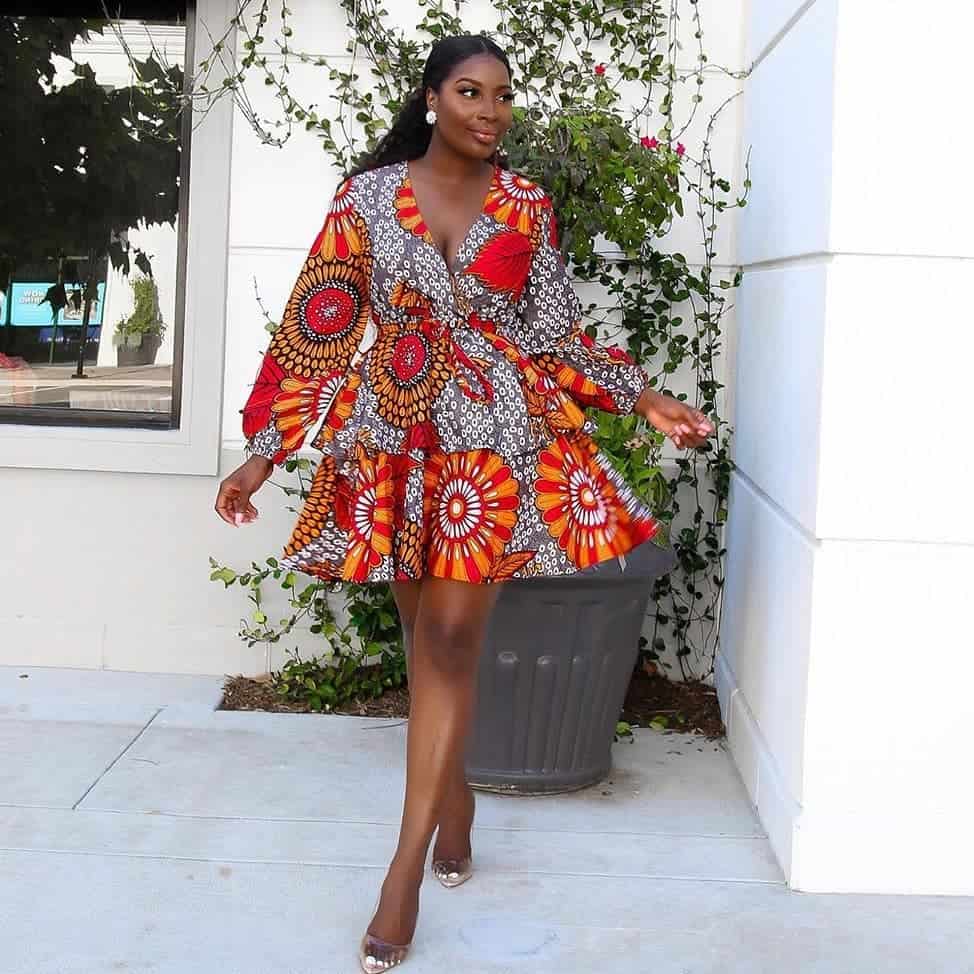 Conservatives gown styles are not that had to come by, this is one suitable style if you like short gowns but want them to be elegant and decent, you should definitely give this style a chance in your closet.
50. Off Shoulder Flare Sleeve With Double Layer Gown
Flare gowns can come in a different unique design and this one above is one of the ways you can have your flare gowns made, short, elegant and beautiful.
Continue reading for the latest Short ankara gown styles we've curated for you 👇