Every ideal fashion piece didn't have to be on your list of the best and when you do sight a delightful piece, you will know it's worth a space in your wardrobe. So, here is another week and a chance to glance at what masterpieces designers are creating.
The most interesting part of fashion is how they don't even have to be fancy to stand out.
Celebrities and fashion influencers are simply intending to set trends and inspire your style as well. Fashion is part of lifestyle, culture, beauty and is practically woven into the world itself.
What you choose to wear on an occasion can tell a lot about your personality and taste in fashion. To make sure you can pull the crowd on any occasion, you will need some of these delightful outfits from your favorite celebrities.
1. Lilo Aderogba- Rocking Bold And Glamorous In One Outfit
Styled by: @buffffffffy
Dress: @ericamoorebrand
Makeup: @looksbybettie
Hair stylist: @syndeecatedfingers
The thing about fancy fringe styles is that they let you play adorable and bold at the same time. This is a stylish piece if you are on the lookout for wedding guest style or elaborate events. Lilo Aderiogba is not one to disappoint, this is one top-notch look.
2. Mercy Eke – Looking Stunning Effortlessly
Mua: @ibiyemiglamour_
Fabrics: @maxipearl_fabrics
Dress: @amyaghomi
Hair stylist: @mobeautybar
Jewelry: @tavinbeads
This is that look that can be described as all or nothing. Mercy Eke is not one to go half in, she goes full swing in with this whole look and still made it look effortless. Your sexy red gowns are not complete without adding this piece to them.
3. Adeola Adeyemi- Looking Sassy And Gorgeous
Jewelries: @bozjewelry @bozdiamonds
Styled: @mr_danielcharles
Hair styled: @adefunkeee
Makeup: @ariyike_mua
Diiadem is that celebrity that is always going to have a space on the list of best-dressed celebrities. She keeps it classy, interesting, and fun on all occasions. She never hesitates to bring her best in at all times.
4. Angel Smith- Sophisticated Look That Can Do No Wrong
Dress: @lanredasilvaajayi
Elegant short gowns are fast becoming the go-to for big classy occasions. Angel is not one to leave any stone unturned in fashion, so you are sure going to have lots of giddy moments when you step out with a delightful outfit like this.
5. Symply Tacha- Keeping It Lit With Just The Right Amount Of Glamour
Styled: @medlinboss
Gown: @xtrabrideslagos
Hair: @thenessaeffect
There is just something about Tacha's style that makes her stand out. Her taste in fashion is not the only thing worth noting but the pose and stylish way of rocking it are all that sets the tone for final results.
6. Marsai Martin – Taking Chic Look To A Whole New Level
What do you think about elevating your idea of chic styles? Marsai Martin did not hesitate to give us a new dimension of chic, and we are loving the look. Here is another delightful style that is going to be around for a long while.
7. Maria Chike- Just The Right Dose Of Adorable
Black is not a go-to color for lots of people but with celebrities finding new styles for it, you can't help but change your mind. Maria sure has another piece that can completely change what you think of black colors.
8. Sharon Ooja- Keeping It Effortlessly Haute
Hair styled by: @adefunkeee
Hair: @cmhairbyhills
Dress shopped by: @posibaby
Sharon Ooja is that fashion enthusiast you should have on your list of favorites. This is another stylish outfit you should have in your wardrobe.
9. Londie London- Looking Lovely In Jumpsuit
Londie has another official beautiful style you can recreate with any black material of your choice. But if you are still convinced black is a fashion color for you, this works for other colors as well.
10. Bukola Adeeyo- Setting New Fashion Diva Look For Weekend Owambe
Dress: @beccaneedlesnstitches
Makeup: @maq_jose
Hair: @jjluxuryhair_
Bag: @luxurybykpearl
This is quite an iconic look, from the classy split gown to the gorgeous makeup, and not to forget the hair as well. Bukola has always been known for her incredible taste in styles and here is another style that proves that.
11. Mercy Aigbe- Rocking Just The Owambe Look The Season Needs
Gele :@abydouz_gele
Facebeat: @priceless_signatures
Outfit: @ceolumineeofficial
Luxe clutch and luxury shoe: @theokrikawardrobe
The signature looks like this is not going anywhere anytime soon. Mercy Aigbe is well known for incredible styles and this is a masterpiece you need in your wardrobe.
12. Kefiwe Mabote- Setting The Gorgeous Vibe
Dress: @kentse_masilo
Hair: @emporia_luxury_hair
Here is another piece that is ideal for any shape, and it's just what you need for that garden party you have been invited to.
13. Ini Edo – Looking Stunning In A Glittering Fringe Gown
Ini Edo is that celebrity that needs no introduction and if you are familiar with her style then this shouldn't be surprising. She keeps it lit on all occasions.
14. Tolu Bally – Keeping It Cool And Classy
Your favorite designer sure knows how to keep the fashion circle on point no matter what she is rocking.
15. Linda Osifo- Replicating Stylish Street Style In All Simplicity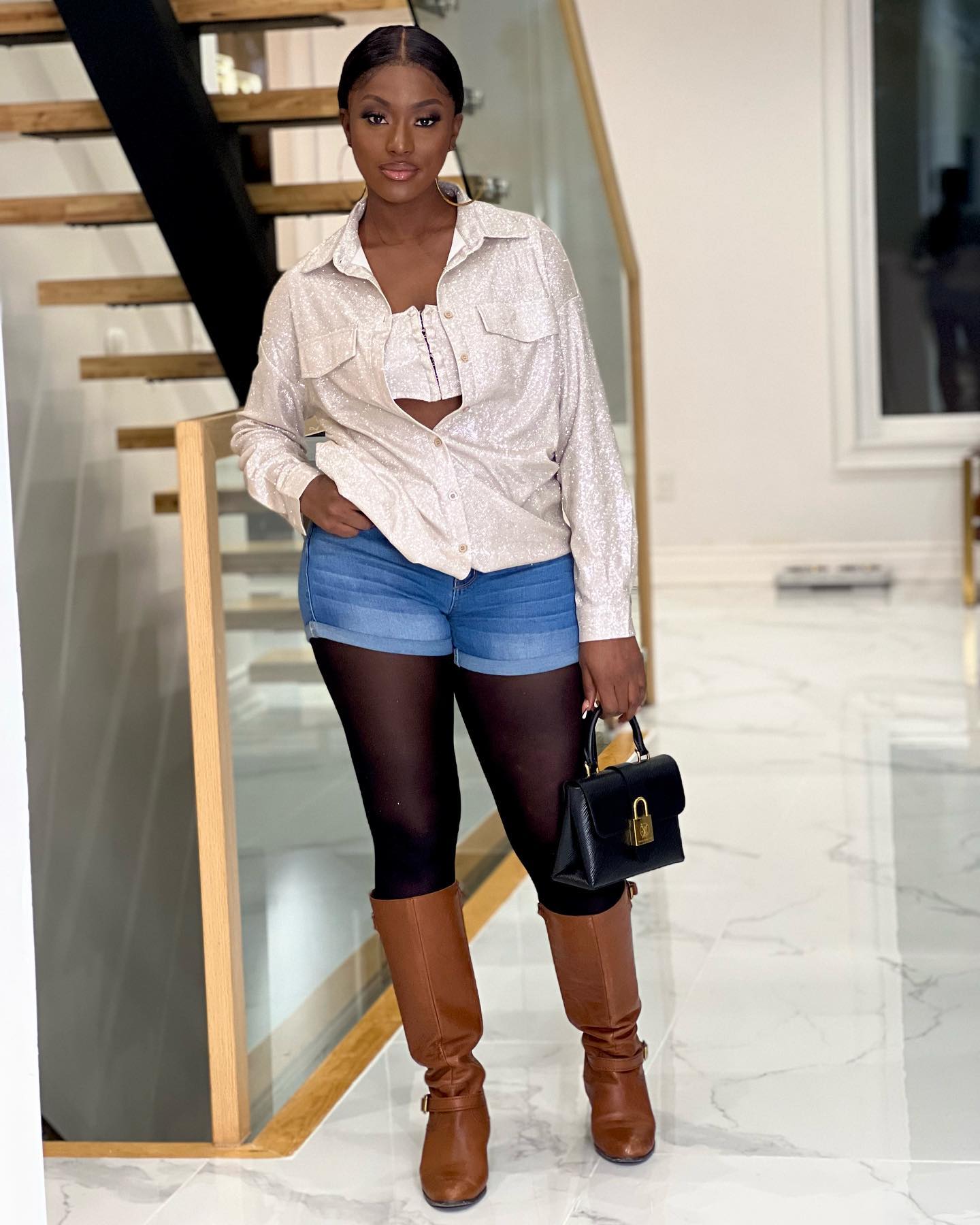 Linda is not called the fashion diva for no reason. Her taste in styles is one of the reasons you can't help but love her. She keeps it fascinating and ready on all occasions.
<
Wrapping Up
Creating a personal style of your own is always going to require inspiration. Designers themselves have to seek inspiration from the latest trends from time to time. The key to creating a new personal style is to know the seasonal trends, that way you can also create something delightful that will be around for a very long.
Read more on celebsthatrock: