Are you searching for the perfect hairstyles for natural hair to rock? You might want to take a quick break and check out this post as we think you've found something.
What we've done is carefully gathered a massive list of natural hairstyles that are trending online and in fact, they are becoming lots of ladies' favorite natural hairstyles and they can be a little bit difficult to come by especially if you are in the first transitioning stage.
Every new season requires a new hairstyle hence you do need new hairstyles to make your natural hair worth it, extensions do not have to be a regular hairstyle for you, your natural hair can be made into something beautiful.
Read our guide on four simple ways to transition your relaxed hair to natural hair material.
21 Hottest Hairstyles For Natural Hair
These are styles for formal and casual occasions and are easy enough for your stylists to make, each style we have chosen can also be made at home by you, the best part? We update this page regularly with more styles.
1. Afro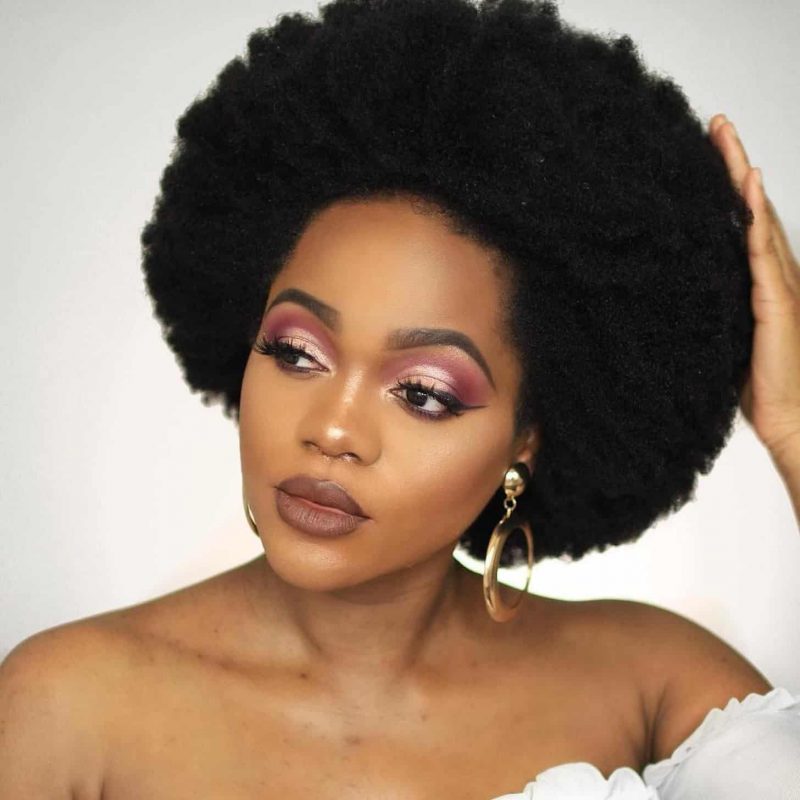 One natural hairstyle that has always been in trend and will continue to be for a long time is afro. it's perfect and suited for all types of face, the trick is to trim it low and try to maintain the edges to avoid it getting overgrown and untidy.
2. Bridal Roll Cut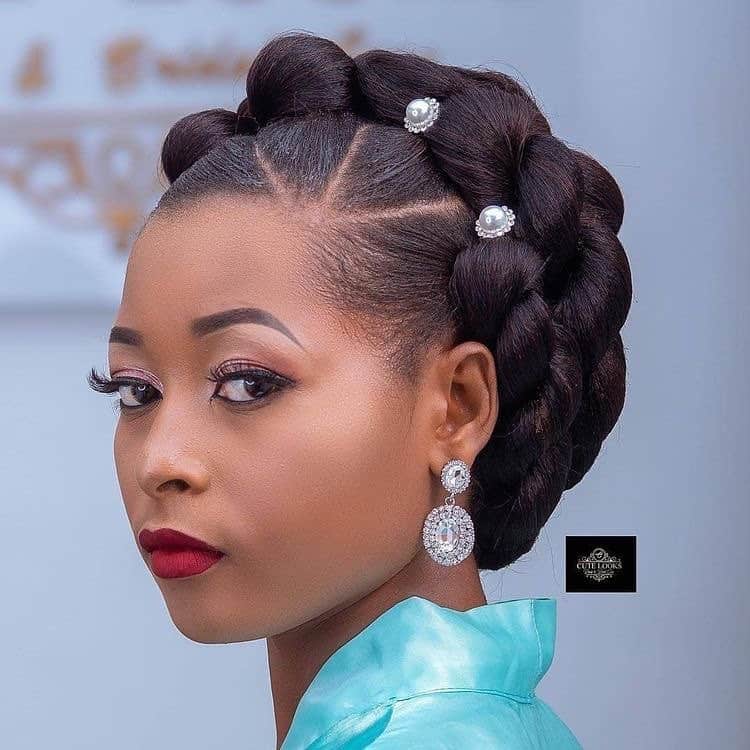 Here is a simply adorable style for your natural hair to stun a wedding or a glamorous event with, the idea is to have your hair rolled and tucked in nicely at the base.
3. Bun And Base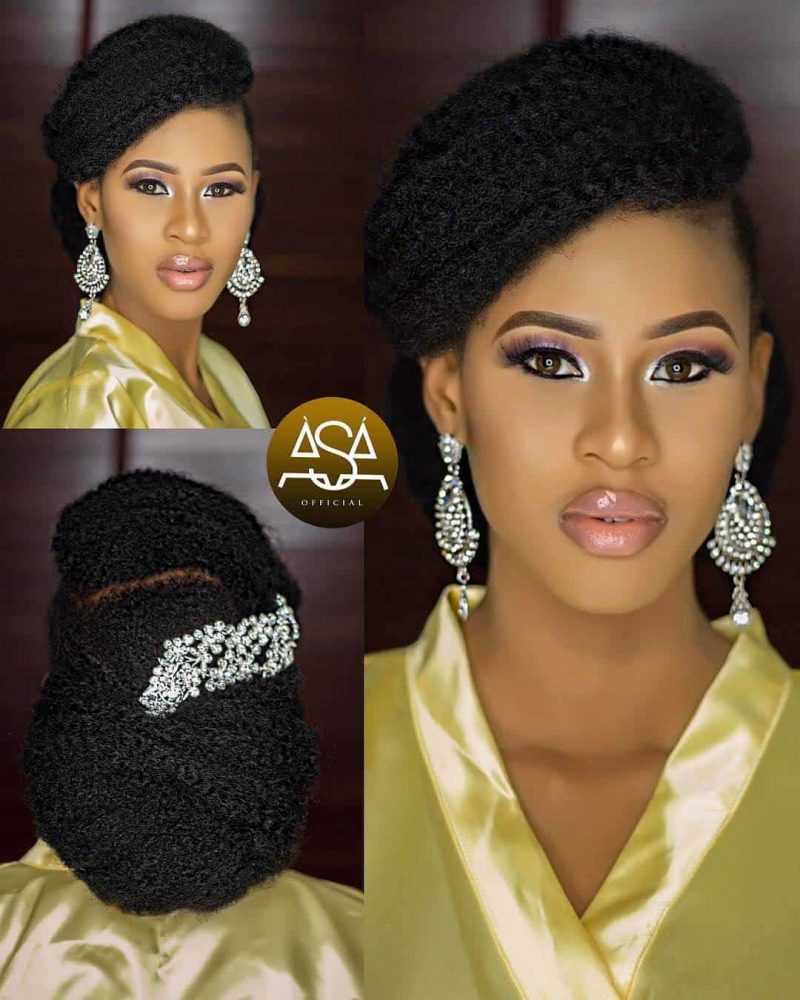 Planning a wedding and you need a simple stunning style then look no further, here is one gorgeous style you can easily recreate, it's just an easy tuck and roll process and a good stylist is all you need to get it done for you.
4. Cornrow
Cornrows might be a pretty popular method of natural hairstyling but we bet you haven't tried this new method of the cornrow, it's elegant and fits any kind of face.
5. Danai Gurira Transitioning Hairstyle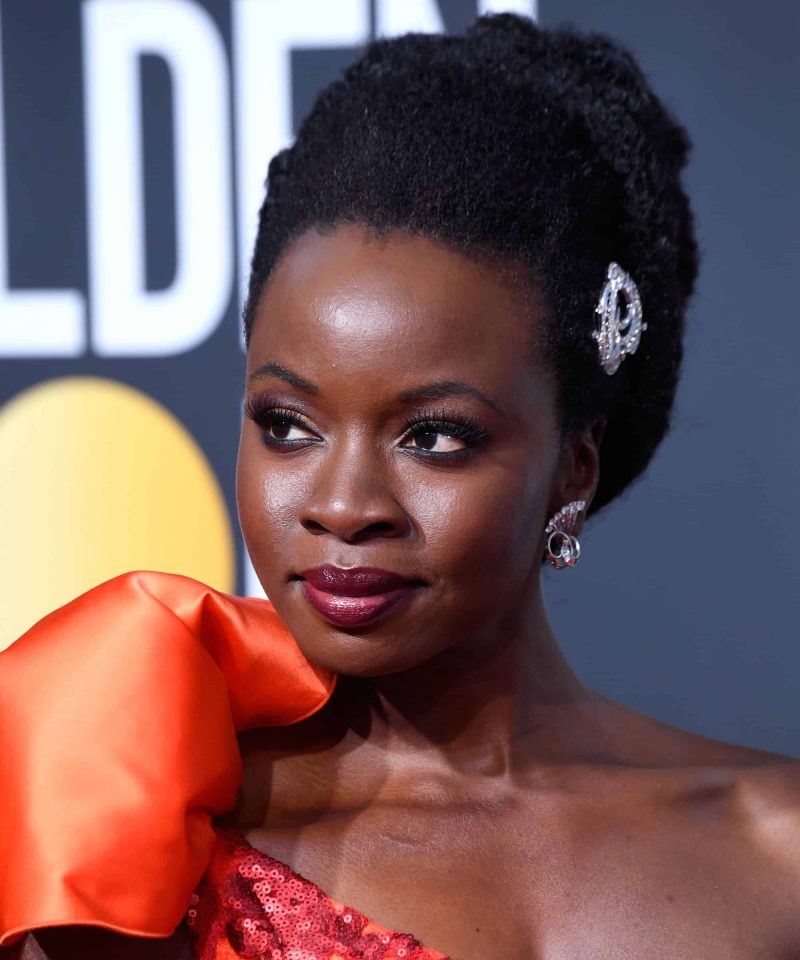 Danai Gurira is well known for her natural hair, she really does make it look unbelievably beautiful and classy and we couldn't help but love it.
6. Frohawk Natural Hairstyle
If you are a fan of mohawk then you would definitely love the new frohawk style, trendy and classy, you do not want to miss any of this interesting look.
7. Protective Updo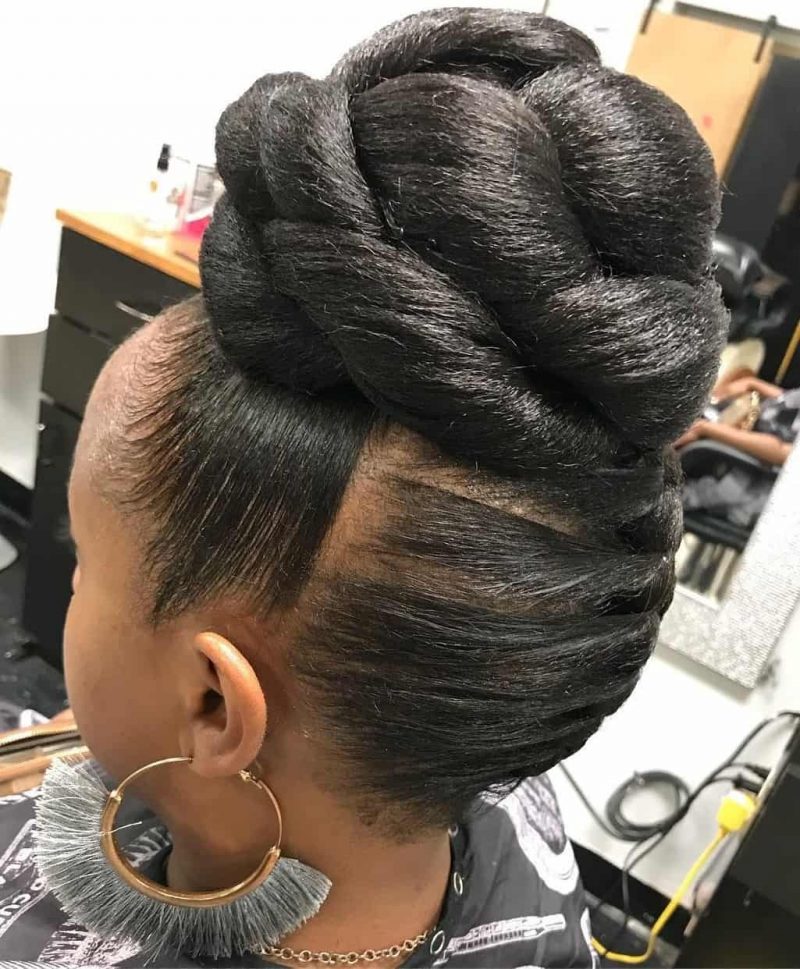 This is a style that is usually recommended for relaxed hair but if you have long natural hair, then you can also find a way to plait this hairstyle and keep it tidy for a while.
8. Rolled Bun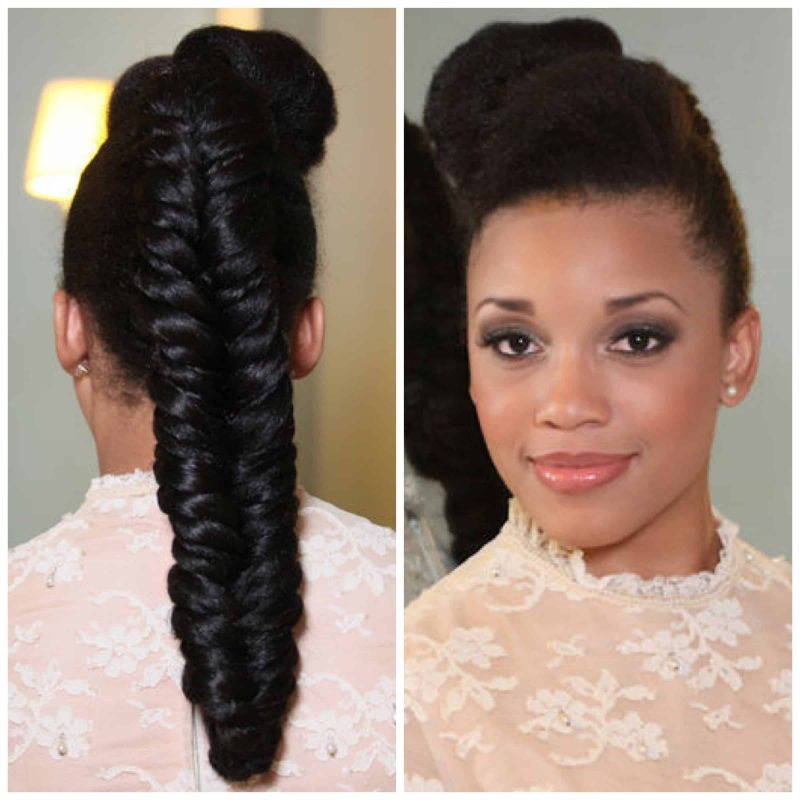 Another hairstyle for brides to be or bridesmaids with natural hair, the hairstyle is just right if you have hair breakage as it keeps the hair healthy and gives your scalp space to breath.
9. Curly Natural Hairstyle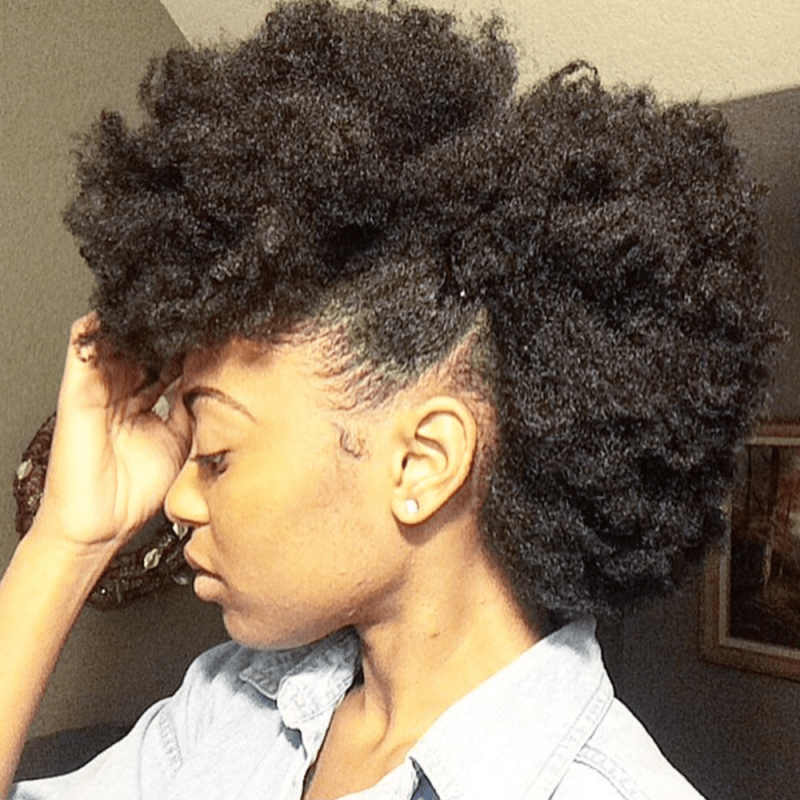 One fantastic hairstyle that has been recommended for those with medium length natural hair is the hairstyle above, it can be done easily, all you need to do is toll it in little at the sides, pin it in and you can just comb the front and back to give it the desired effect.
10. Rolled Bun With Coils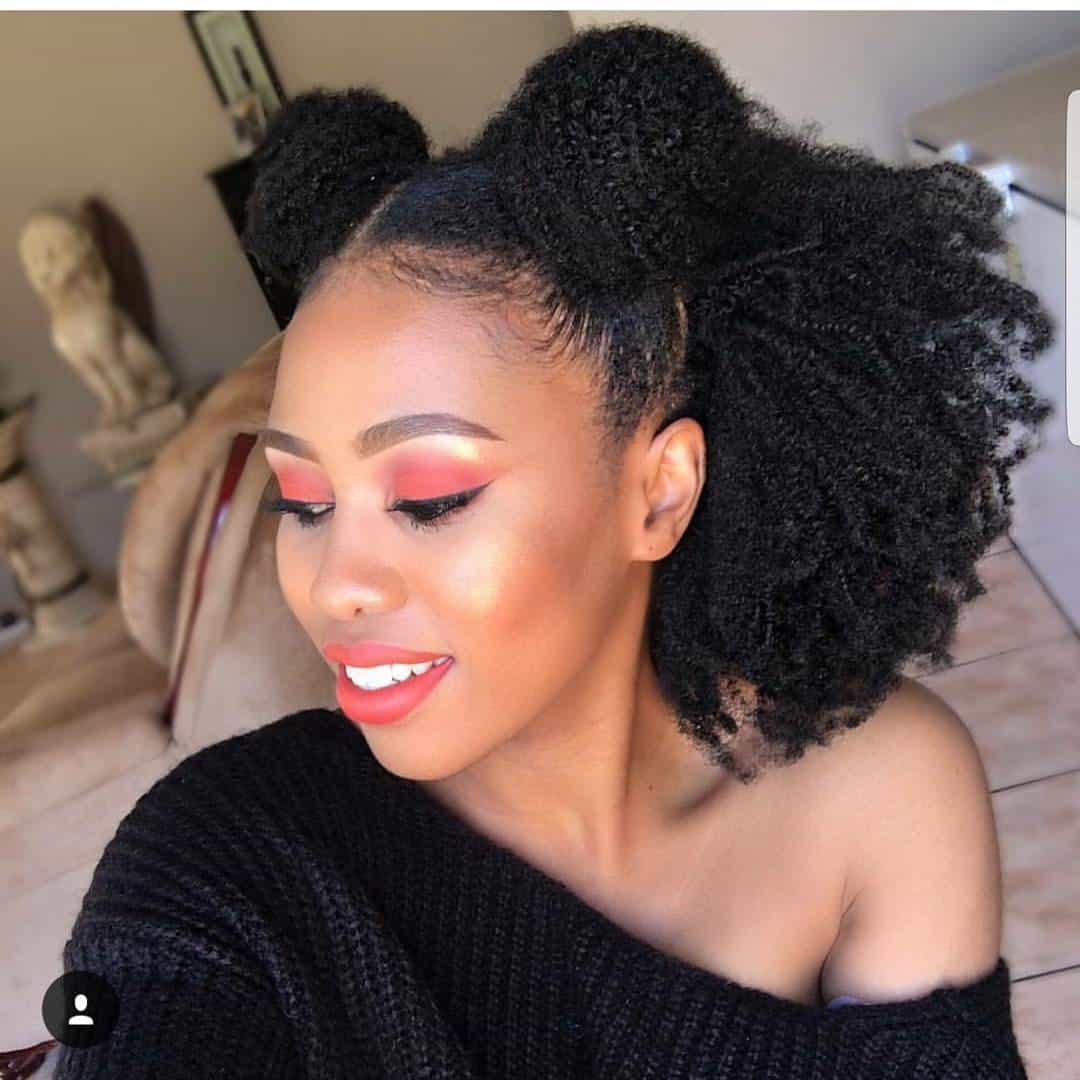 Coils in natural hair tend to add some class and formality to any hairstyle, it is also a very easy to make hairstyle and you can do it at home yourself.
11. Double Bun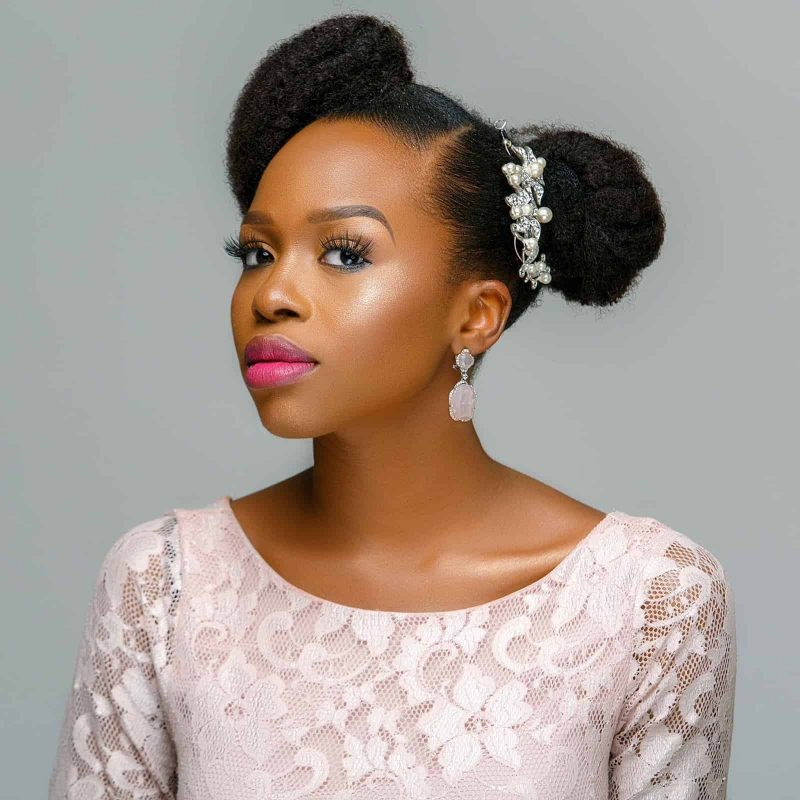 Any kind of bun is always beautiful and you can never go wrong with a double bun either, it's elegant and suited to the face, it tends to accentuate the face and make you look more beautiful.
12. Fro Hawk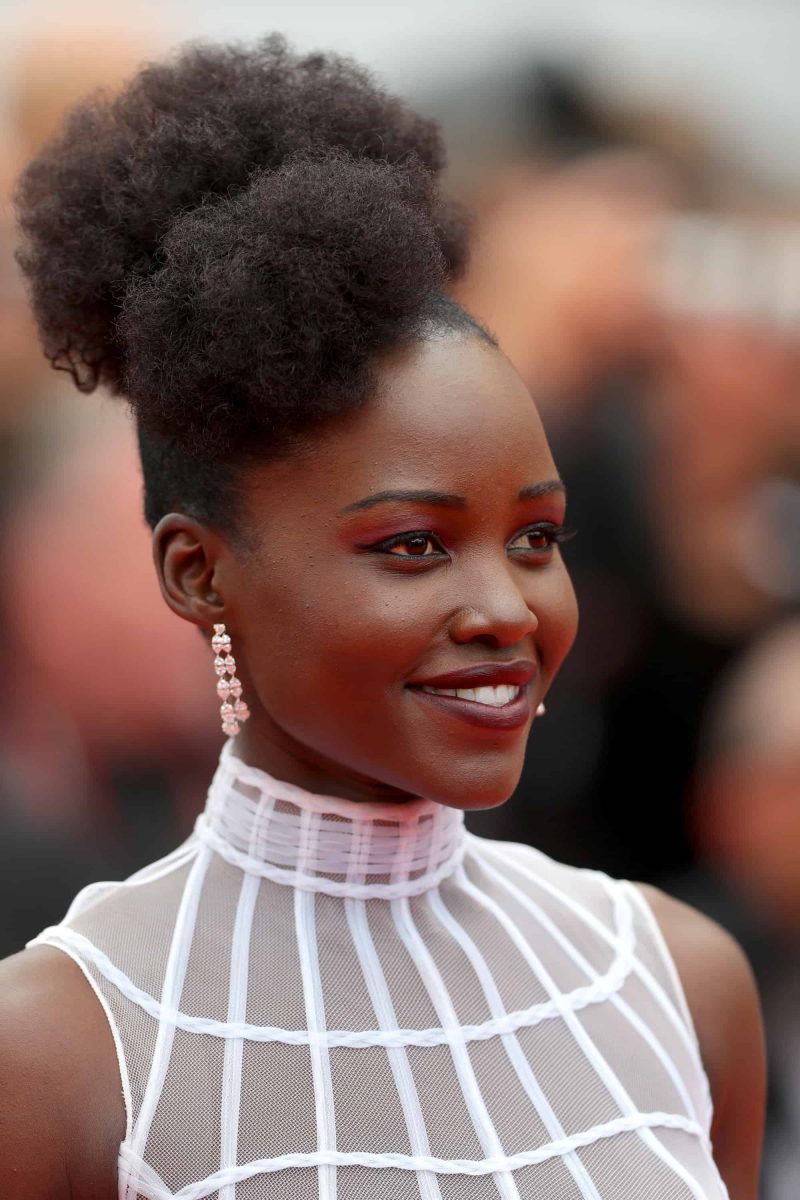 Lupita Nyong'o has always been known and loved for the stylish ways she designed her natural hair, it's always beautiful and does justice to her black skin, if you have a natural hair like hers then you can always check out some of her top-notch hairstyles on natural hair.
13. Pin-Up Hairstyle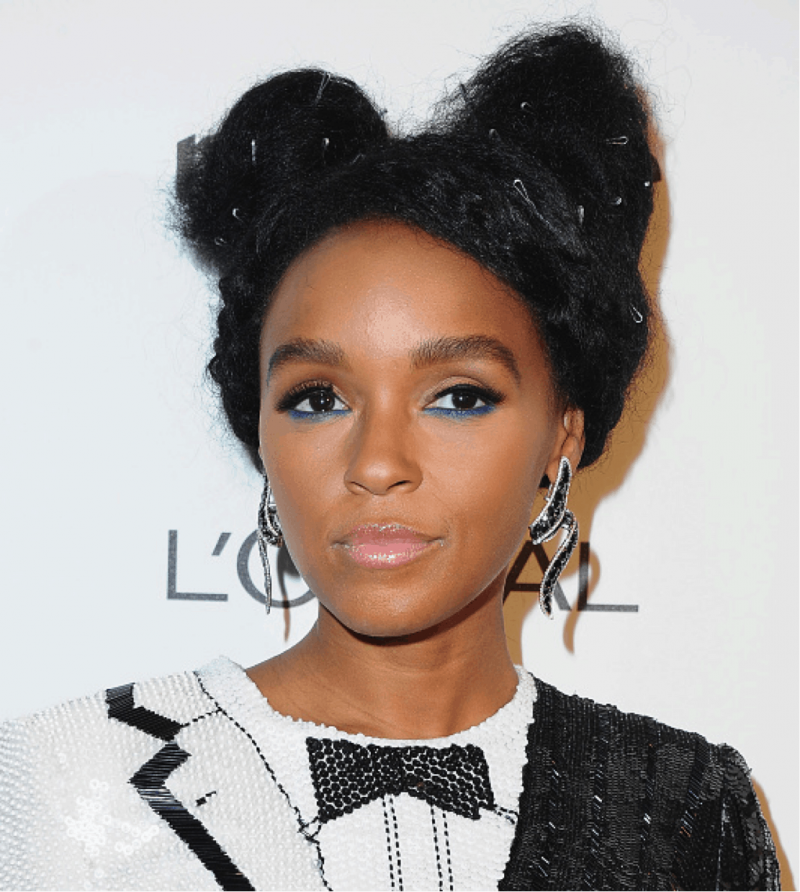 Another celebrity that has managed to maintain a natural hair is Janelle Monae, her hairstyle is definitely worth coping from, never boring and you would surely find a way to make it even more stunning than plaiting with extensions.
14. Flat Roll And Twist Natural Hairstyle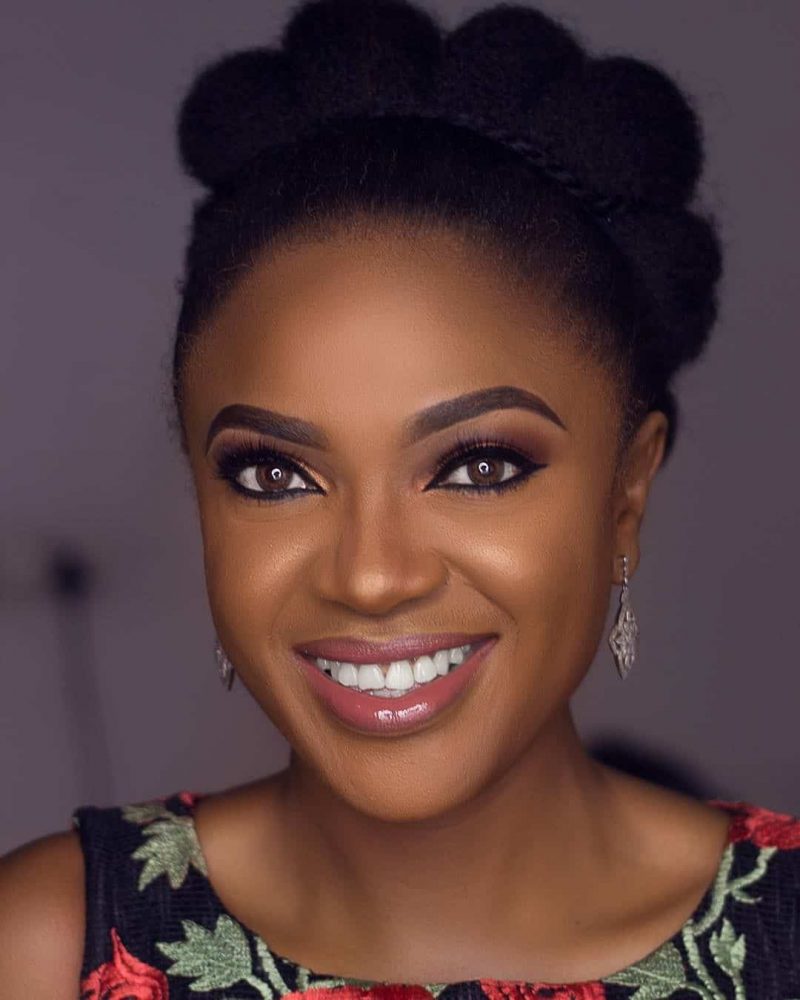 Omoni Oboli is your go-to actress if you want an adorable natural hairstyle, she has maintained her natural hair well and she is always seen styling it in different unique ways that we always love. Her flat twist and roll hairstyle is not the only natural hairstyle she has wowed us with.
15. Transitioning Didi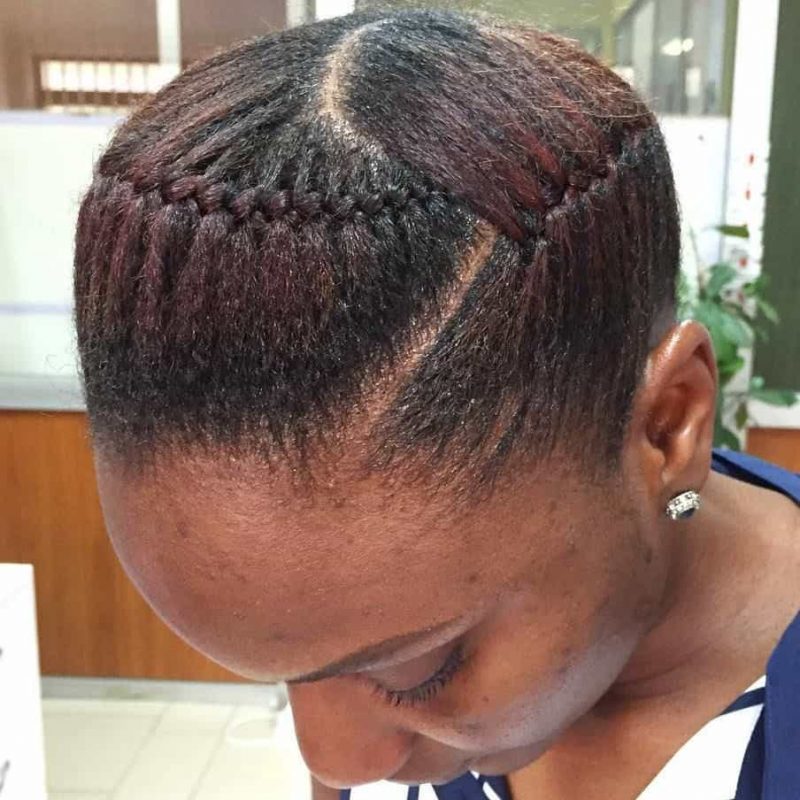 You can only do this particular hairstyle if your natural hair is in the first transition stage as a strong natural hair might be hard to pick and plait, long natural hair can make this though if you have a good stylist.
16. Wrapped Twisted Braid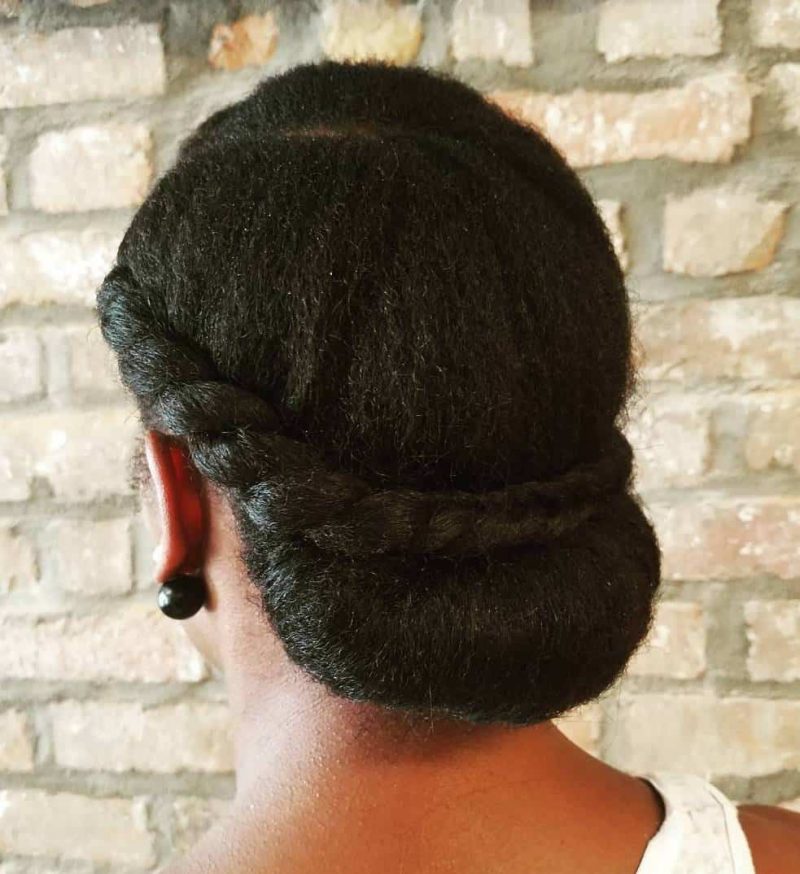 If you have natural hair that keeps breaking and you need hairstyles that protect it then you should try this wrapped twisted braid, it's perfect for saving the hair from breakage and even more importantly it keeps the scalp from locking out moisture.
17. Braided Bun With Golden Cuffs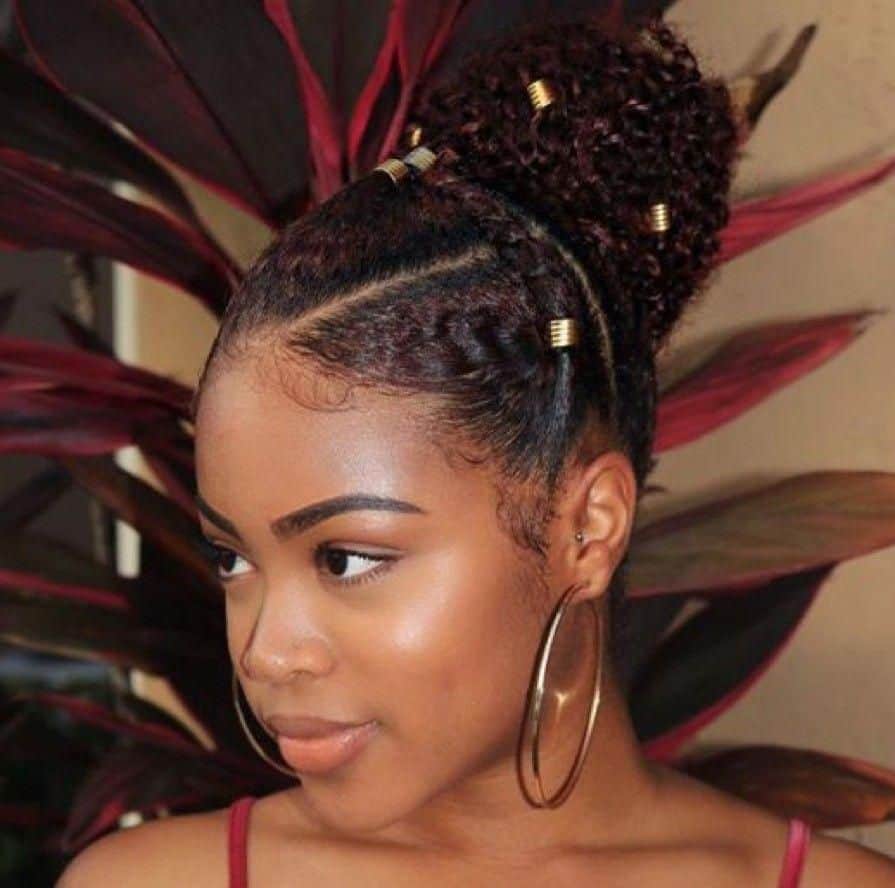 Tired of rolled and tucked up hairstyles that don't last, you should try something different and bun might be a pretty popular king of natural hair hairstyle but now you can add some twist to it and make it look interesting with a braid and a golden cuff.
18. Mohawk On Teyonah Paris
A well-styled mohawk like the one Teyonah Parris has on is what you need for that natural hair of yours to grow longer and thicker, the mohawk hairstyle is just like frohawk but this time it's in a straight line in the middle of the head and can be really pretty if it's plaited neatly.
19. Braided Up-Do With Natural Hair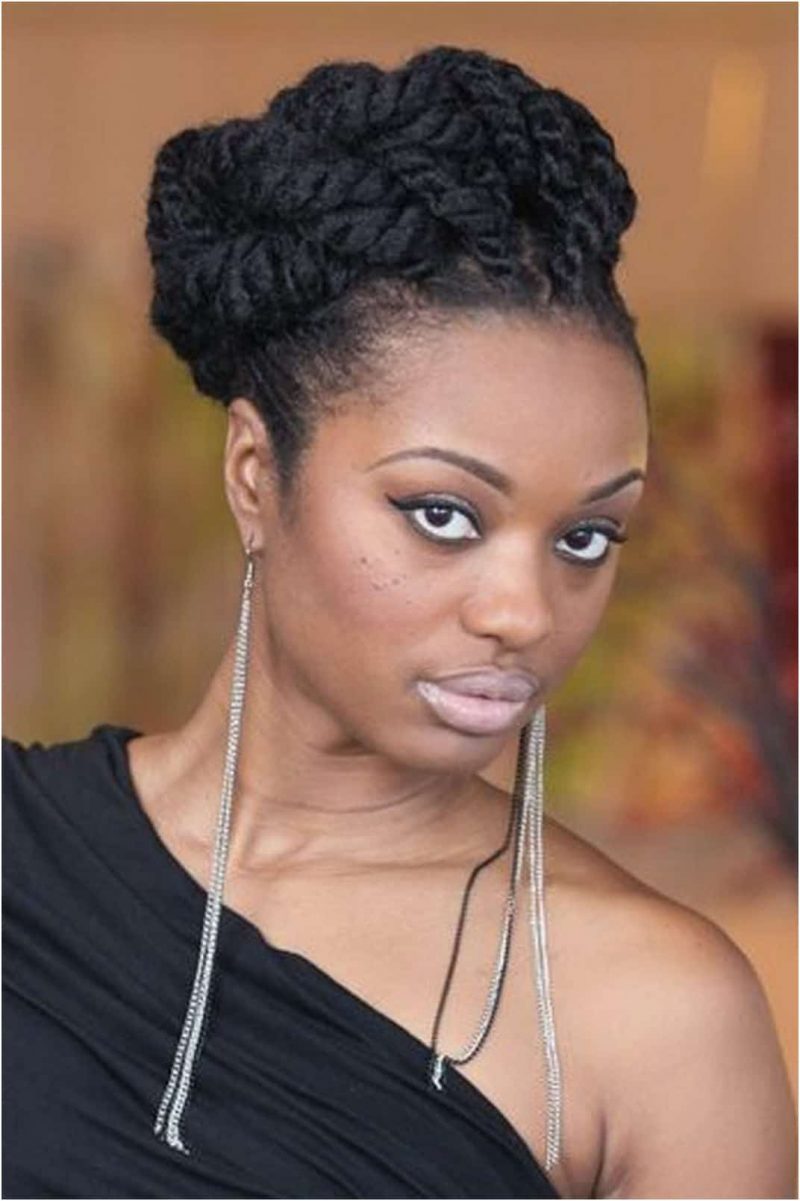 This is not difficult to make at all and you are going to love how it can skillfully transform your face, it is perfect for all kinds of face.
20. Kinky Low Bun Hairstyle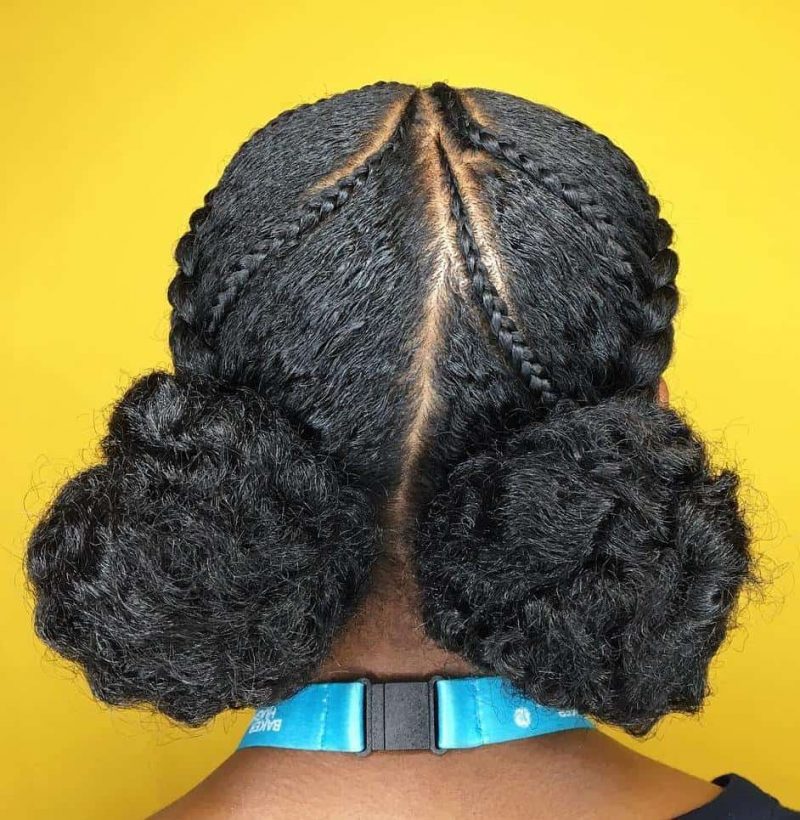 Want to spice up your kinky hair? Try this amazing low bun for natural hair, very stylish and all you need to make this is your hair and a band to hold it in, you can also try in in one low bun instead of the double low bun above.
21. Braided Bun With Base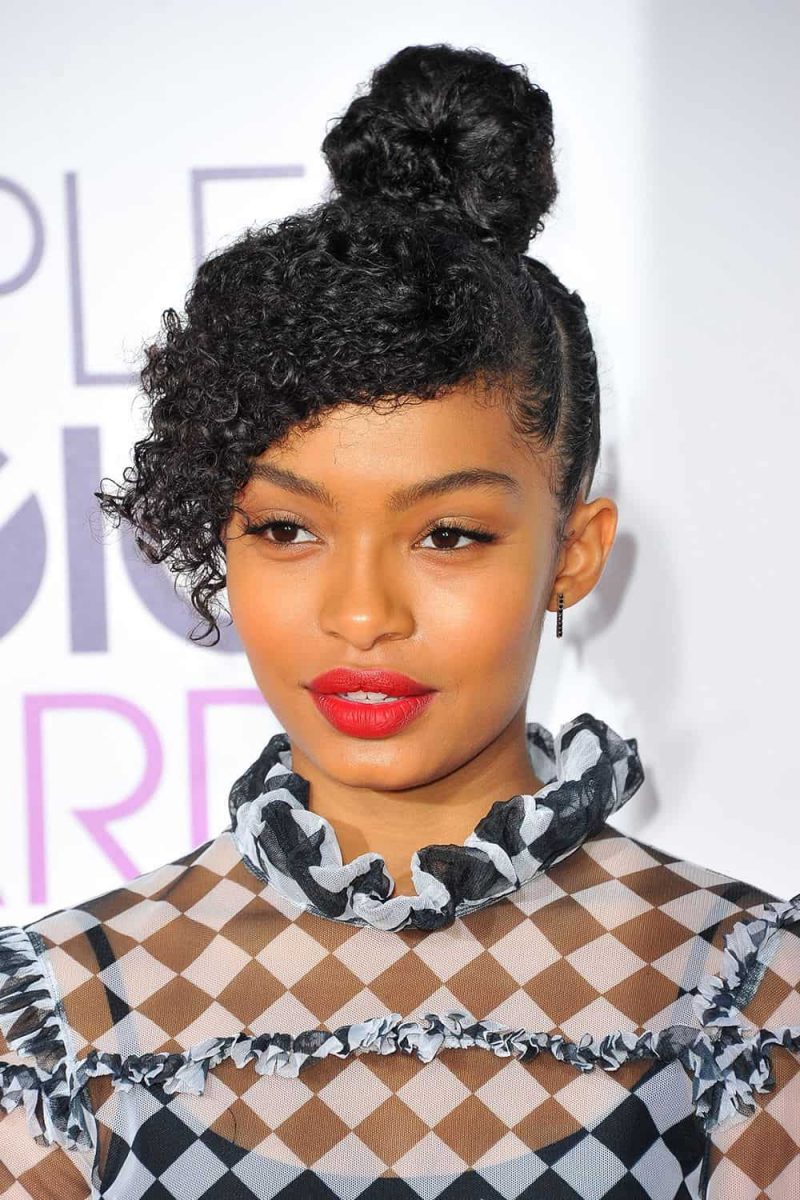 Every celebrity who has done something spectacular with their natural hair deserves some accolade and Yara Shahidi is also one of those beautiful actresses that should get that, her natural hair hairstyle is unique and the base makes it even more suiting for her face type.
Natural hair could be so much fun with the hairstyles gathered above, each week you have something new to rock, every hairstyle in this post have been carefully selected, the hairstyles applies to relax and unrelaxed hair, natural in this case just means your natural hair with no weave or wig. No one wants to be left out when it comes to classy hairstyles hence ensure to follow us on Instagram @thrivenaija to get more updates on trendy hairstyles.
Read more on natural hair care tips and braids: