It's another year that is brimming with different aso ebi styles and you want to be a partaker of these fabulous styles.
Aso Ebi is a very important fabric to preserve traditional attire, it is highly respected for weddings and formal occasions in Africa, from sewing elegant dresses, formal gowns, classy long gowns, jumpsuits, skirts, and blouses, are all part of the African attire when made with aso ebi.
The latest aso ebi styles for 2021 will have you accepting all wedding invitations this weekend as we are sure you would want to show off these amazing syles we have compiled, trust us to always bring the best and latest.
Latest Aso Ebi Styles For 2021
You might not be able to pick a favourite as all of these styles will change your opinion on African attire to a more interesting one.
Here are 67 aso ebi styles you can wear to a wedding and be honoured with the award of the best-dressed guest in 2021.
1. Sleek Straight Gown Design
Aso Ebi styles are basically for weddings so they need to be glamorous and that is exactly what this style is all about. The design is quite simple but it has been embroidered to look fancy. The fringe did add to its unique beauty too.
2. Empire Blouse Design Wrap Slit Frock
You can make a statement with the Aso Ebi style. This is definitely a dramatic outfit but it is very fashionable and it is sure going to be setting trends.
3. Off Shoulder Tub Gown With Thigh Slit
Here is another fashionable piece that is sure to grab attention on any occasion. This is a cool style if you want to keep it fancy.
4. Tub Gown With Wrap Slit
Tub dresses are quite bold and sexy no matter how they are styled. This is sure one of those styles you can't help but love. The high thigh slit adds to the glam as well.
5. Simple Pencilled Gown With Skin Net Design
This is quite a practical style but is also designed to look sexy. This is a perfect style if you want something reserved and Haute.
6. Bold Petal And Slit On Long Gown
Owanbe parties are fun until you have to worry about the outfit to rick. Here is the perfect aso ebi style for any kind of fancy occasion. If you are up for some bold glamorous look then here is an outfit you should give a try.
7. Elegant Sleeveless Aso Ebi Style
Elegant and sassy are the words that come to mind when you see a style like this. It's worth styling for any kind of occasion.
8. Tube Gown With Front Slit
Here is one of the latest and exciting aso ebi styles we find fascinating. You can have this designed with long sleeves or short strapless sleeves for a less dramatic look.
9. Tub Pencil Gown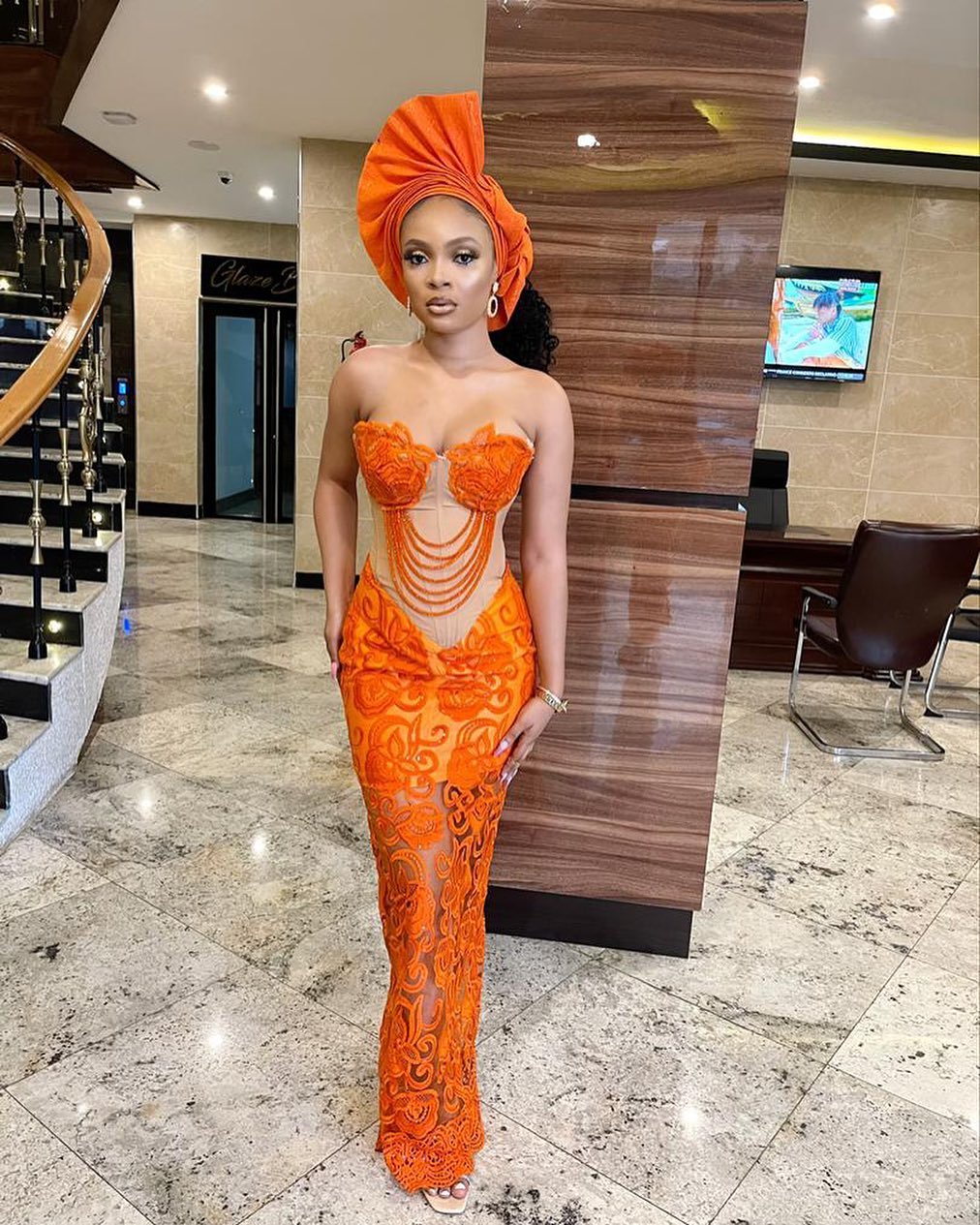 If you are up for some glamour and a bold sassy look then here is the outfit you ought to try.
10. Raglan And Cap Sleeve Design
Raglan sleeve is an exciting sleeve that can make any outfit look exotic and fun. This whole style is gorgeous and it's great for any kind of fancy occasion.
11. Aso Ebi Style Nikkah
Most Nikkah weddings mean conservative styles and now you can experiment with a fascinating style. This design allows you to dance comfortably and it is also great without the headcover.
12. Purple Aso Ebi Style With Cape
This is a fancy style we look forward to seeing more of in 2021. This style is quite exotic and the additional cape makes it ideal for all kinds of elaborate weddings.
13. Net Bridal Sleeve On V Neck Sleek Gown
Zynnell Zuh choice in styles are no doubt fascinating, here is a good example of that, this is glamorous and fitting for all kinds of events. This style has been designed to offer comfortability and make any aso ebi material worth it.
14. Deep V Neck Emerald Style Gown
This is simply gorgeous and perfect for your aso ebi material, this is just the right kind of style for any owambe, it's quite trendy as well.
15. Simple Split Frock Style
Toke Makinwa remains the fashion diva and we completely trust her judgment on this simple Ankara style, fancy and fitting for an event.
16. One Hand Sleeve With Gathered Frock Gown
Every style has its unique reason for standing out and just like every other aso ebi style, this latest gathered frock gown above is not just beautiful but going to stand out.
17. Cute Micro Gown With Sleeve Cape
This is not just a fun style but one of the latest aso ebi styles we can't help but love.
18. Raglan Design Elegant Long Gown Style
This is stunning and no word to describe the effect of this aso ebi style on its wearer, you can style this in your unique way, either way, this is a beautiful style.
19. One Sleeve Alter Neck A-Line Gown
Another stunning style to make any aso ebi pop.
20. Net Sleeve On Split Gown With Side Cape
Here is quite an interesting aso ebi style that is not just beautiful but also very conservative and cute.
21. Short Cap Sleeve With Penciled Gown
We love this style and if you love your styles beautiful and simple, you would find this very interesting. This is a unique aso ebi style that is a trend for all the right reasons.
22. Off Shoulder Front Split Gown With Bell Sleeves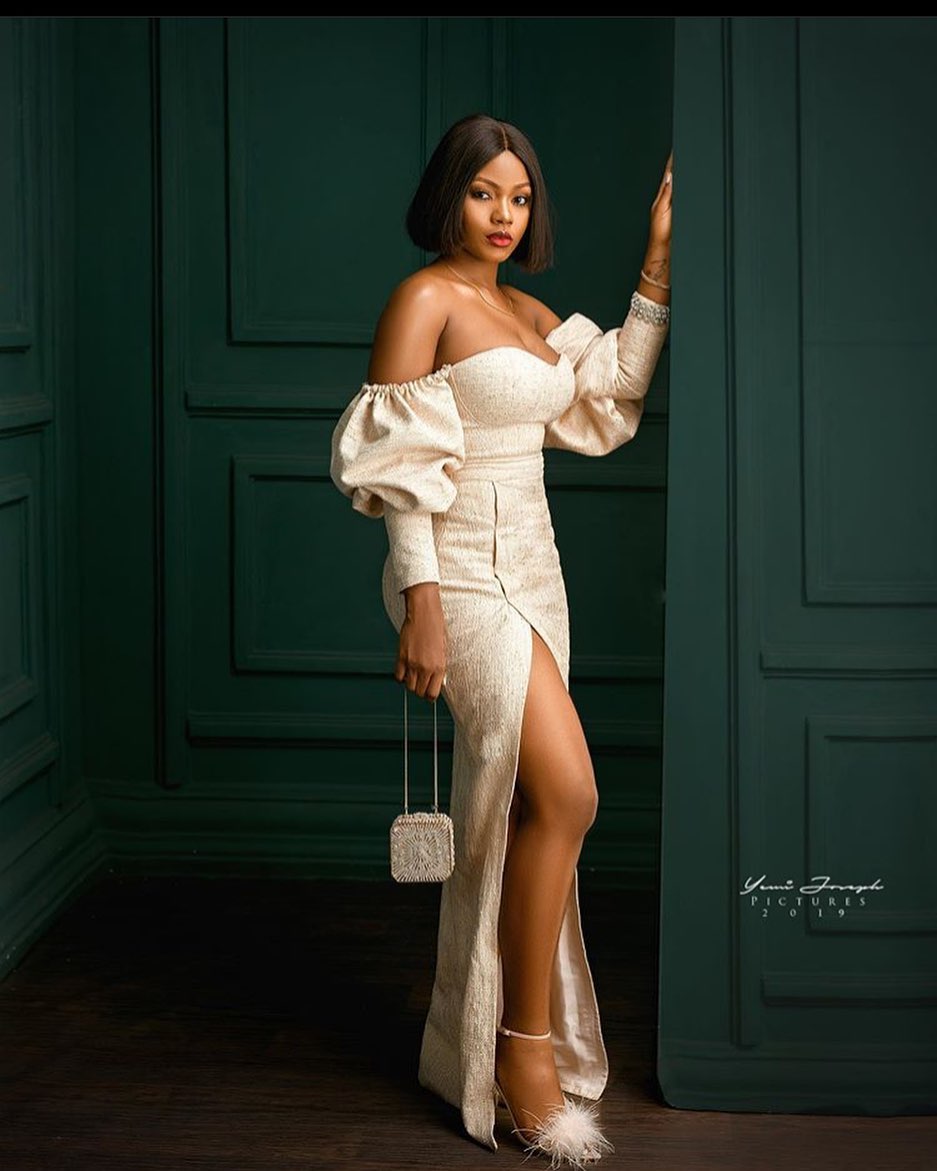 Looking for a sexy bold aso ebi style? Here is just the perfect style for every shape and curve to show off.
23. Ball Gown With Double Sleeve (Bell Sleeve And Long Sleeve)
This is gorgeous and would look great on a bride, nothing too dramatic or complicated for your designer to replicate, this style is perfect for all elaborate events and made with amazing aso ebi material to give the style a lasting and unique appeal.
24. Simple Off Shoulder With Side Tucked Sleeve
This is also quite simple and stress-free, perfect for a classic simple wedding, this aso ebi style looks exotic but not much is required to make this look gorgeous and worth it. You can easily add your unique trend to it.
25. Off Shoulder Gown With Attached Side Cape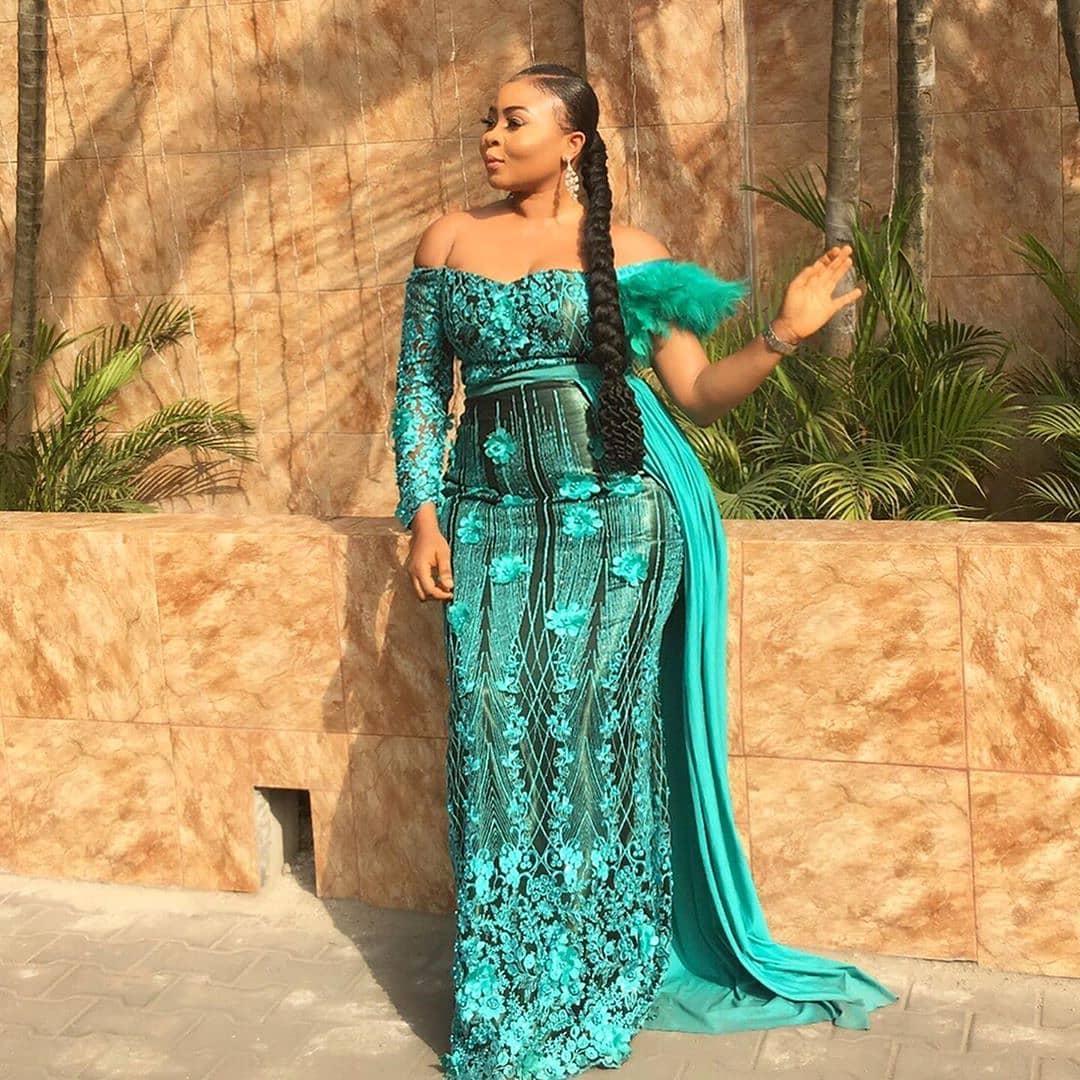 Often you want to look classic but with a comfortable style and this style, above fits that description perfectly. This style fits and accentuates practically any shape.
26. Net Sleeve With Fringe Frock
A fringe frock is setting a fashion trend, makes even the simplest gown look exotic and fabulous, this is one style that won't be going anywhere anytime soon, rather it would get more interesting.
27. Dramatic Design Aso Ebi Style
Here is another beautiful aso ebi you can't help but love, this is easy to replicate and quite different from the normal wedding styles you're likely to come across.
28. Fring Gown With Design
Chicama is one fashion influencer who always has something interesting and glamorous for us every time and aso ebi styles are no exception, this is chic and fantastic, the colour makes it even more pop.
29. Petal Sleeve On Split Gown
This is beautiful and there are different ways to add splits to a style, it can be elaborate or simple and straight, depending on the designer and how the outfit is meant to look. This fascinating style makes it easy to hit the dance floor.
30. Bracelet Sleeves With Free Flare Gown
Most people love flare gowns for convenience and comfort and this aso ebi gown style offers it and even more, it is less dramatic and gorgeous.
31. Straight Gown With Wrap And Net Cape
If you love bold beautiful styles then this is the exact style you should go for, this is beautiful and easy to replicate provided you have a great designer to get it done. This can be worn simply without the cape or wrap.
32. Petals Sleeve On Straight Gown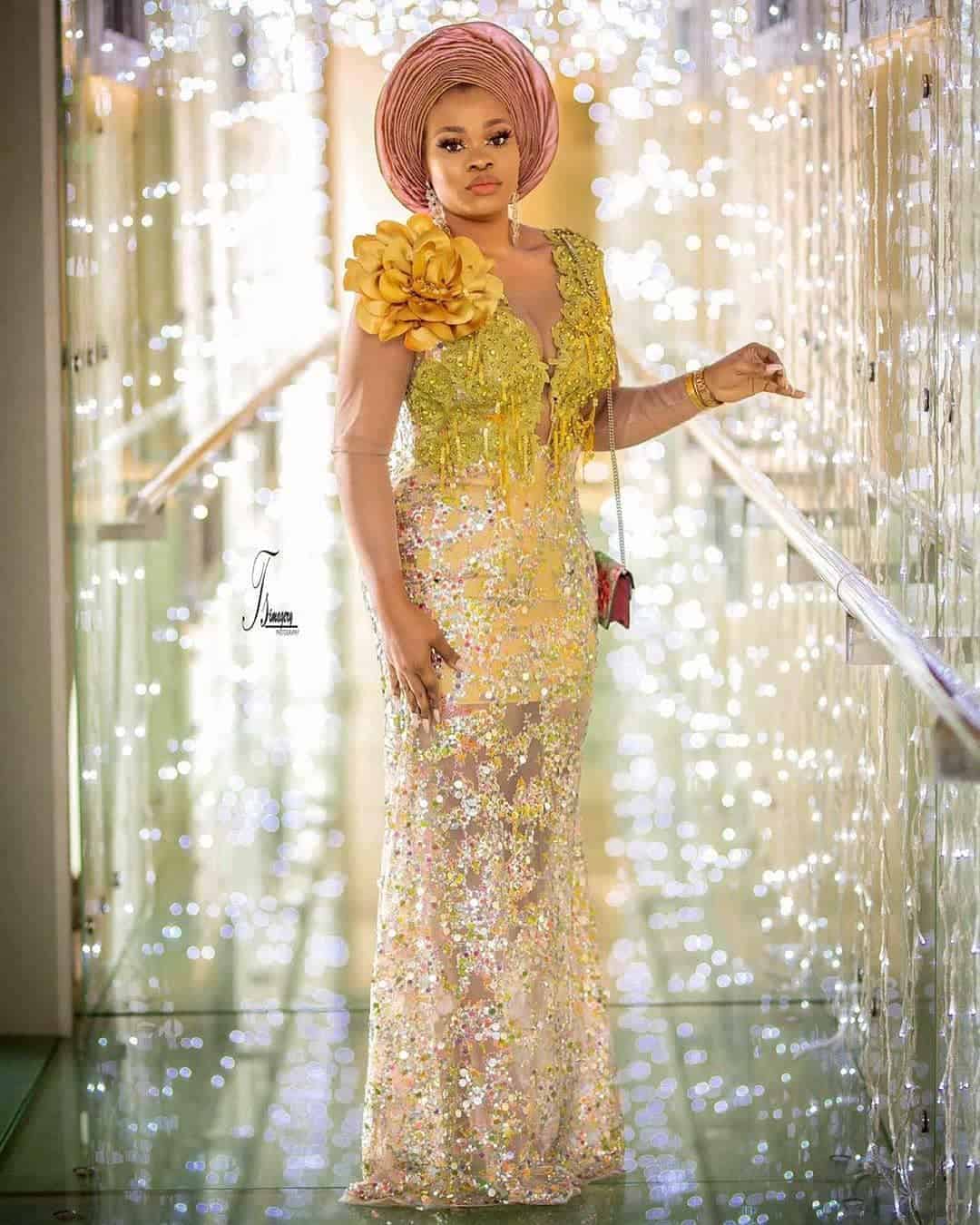 Here is another beautiful aso ebi style that not only caught out attention but is making quite a wave on Instagram, it is found to be lovely and the height of fashion.
33. Long Tub Gown With Fringe Cape
Alex Unusual knows how to dorn a jaw-dropping outfit and this design is no exception, it's classic and beautiful.
34. Slit Ball Gown With Normal Sleeve
Sometimes all you need to make an expensive aso ebi w0rtjh it is a creative ball gown like the one above, white looks like the fashion colour and we love it.
35. Jumpsuit With Bracelet Sleeve
This looks very simple but unique, nothing too elaborate and you can hit the dance floor feeling comfortable.
36. Sleight Sleeve And A-line Gown
We couldn't find the perfect description for this style and we would leave the justice of this unique style to you.
37. Double Sleeve And Strapless Sleeve With Slit
Feeling comfortable when choosing a design should be a priority and this style above is a good example of unique and comfortable styles.
38. Tub Gown With Attached Cap Sleeve And Wrap
Another lovable style that can make you accept practically any wedding invitation just so you could show off this amazing design. An expensive aso ebi sure deserves a unique style like this.
39. Combined Sleeve And Cape Design
Keep it simple if you are planning on hitting the dance floor later and this might just be the most suitable style to go for.
40. One Strap Sleeve With Waist Cape
Some of the best aso ebi styles look effortless and just like this elegant style above, it is classy and very trendy but you won't have to worry about looking too much or too little.
41. Off Shoulder With Short Cap Sleeve And Fringe Design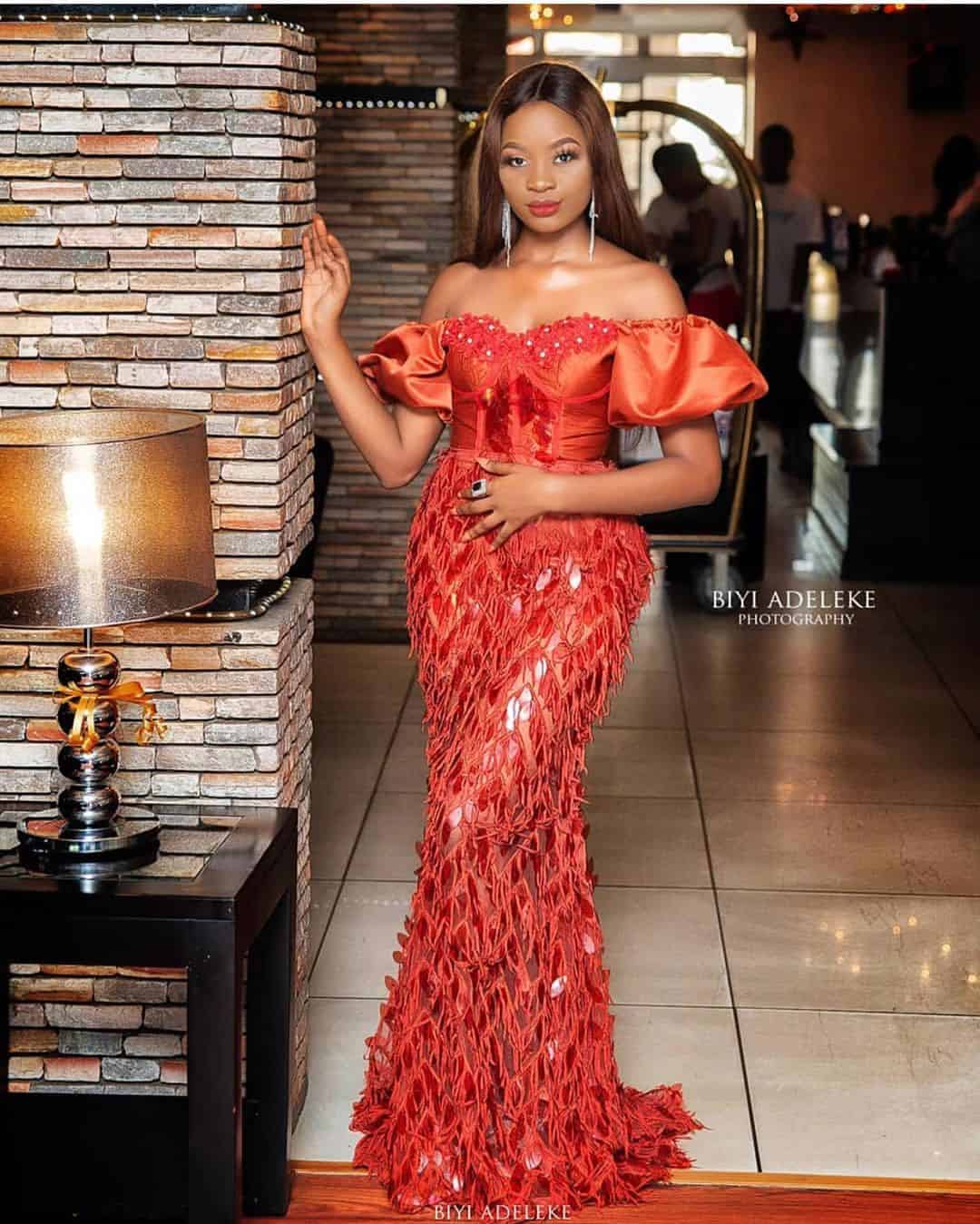 One of the secrets of aso ebi is you can look great even with the simplest style and design and fringe looks gorgeous and any kind of aso ebi material. This style above is a perfect example and you would surely want to have this tucked among your wedding outfits.
42. Elegant Tub Dress With Star Cape
If you love boldly elegant design then this needs a second look and obviously worth replicating, it's quite fitting for any kind of shape and there are still ways it could be designed to suit your taste.
43. Empire/ Queen Design With Cape
Nothing says a simple aso ebi won't be perfect for a traditional wedding, you did get to look like a queen and that and if this is for a simple occasion, the cape can be removed to make it a sleek gown you can easily dorn for a simple occasion.
44. Simple Flower Design With Long Split
Elegant aso ebi is practically the best, you keep it easy but with glamour. The split adds a more trendy outlook to it and you can't love the bold design that comes with this style.
45. Raglan Design With low Split
Another less elaborate style you can't help but find fascinating, quite trendy, and lovable.
46. Long Sleeve With Rubber Edge On Penciled Gown
No lady wants to attend an elaborate wedding looking too little or too much but you can keep it well balanced with this straight gown.
47. Elegant Split Gown With Cap Sleeves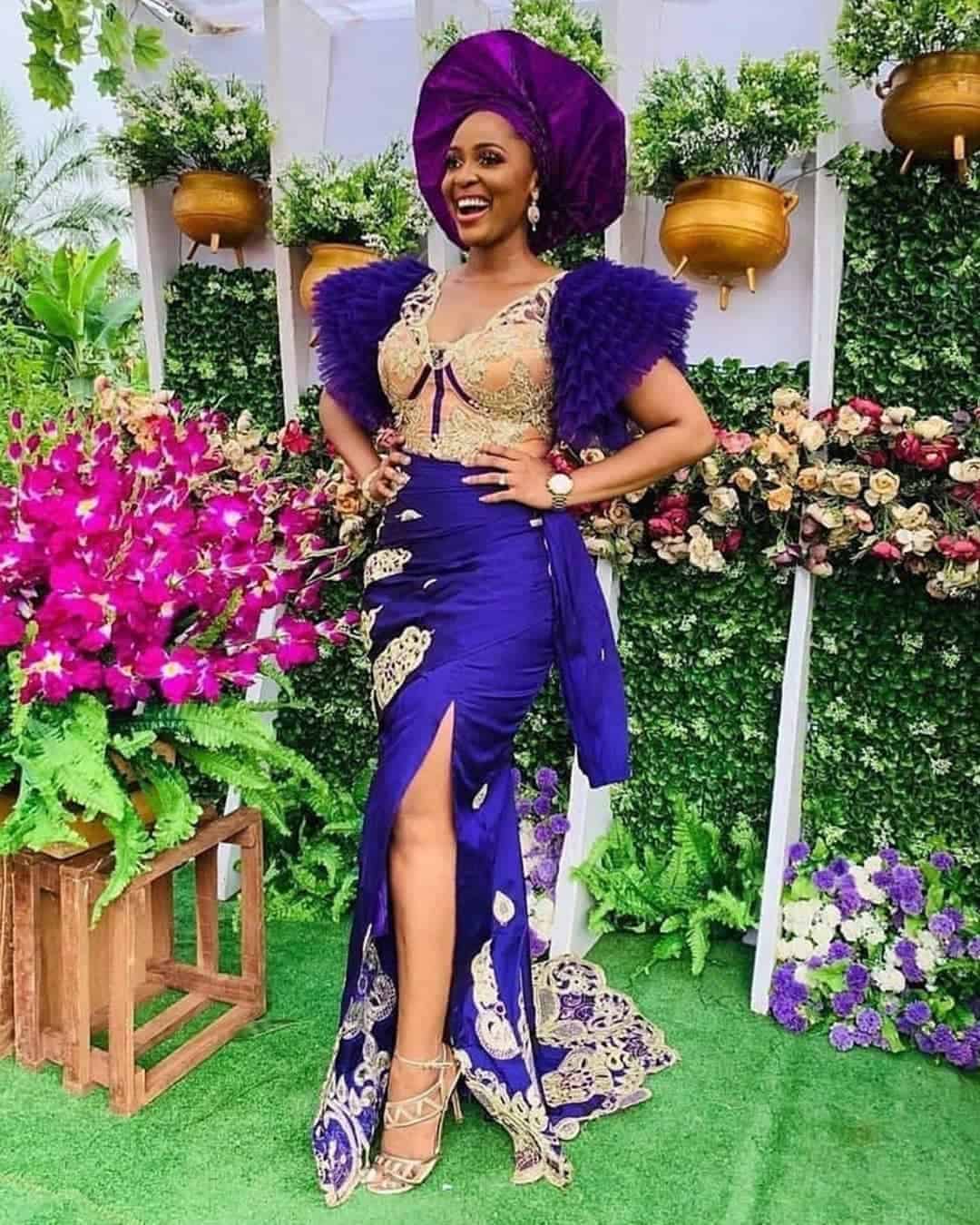 Keep your sleeve fashion upgraded with a less dramatic cap sleeve, trendy and perfect for any style you choose.
48. Sleeveless Frill Ball Gown
This is absolutely gorgeous and even regarded as one of the best owambe styles on Instagram, simple and elegant which makes it even more fascinating for dinner parties and lots of events.
49. Petals Jumpsuit With Net Cape
A sweet elegant style that would surely get you the best-dressed guest, pretty and smart.
50. Mermaid Gown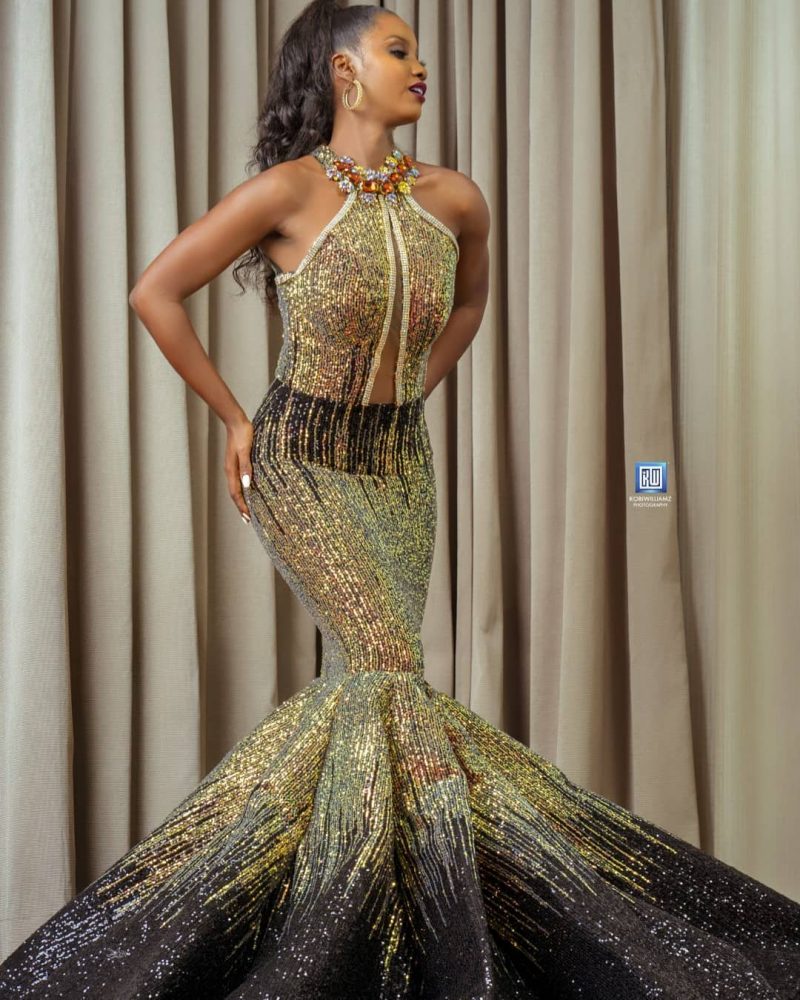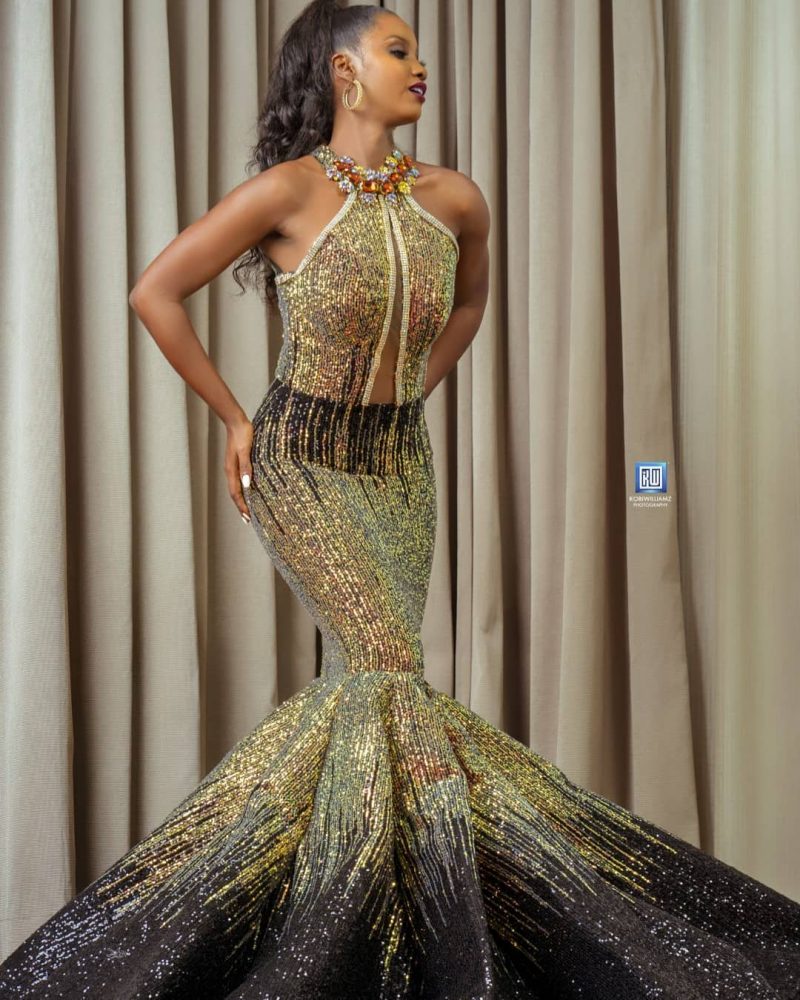 A mermaid gown is always perfect for an even and this is a style you can always re-wear but might want to reduce the layers to minimal.
51. Pleated Layer Gown
Aso ebi is more interesting when you can re-wear the style and still look fabulous in it.
52. Buttercup Sleeves With Wrapped Blouse
Expensive aso ebi deserves the best style and here is one of those styles befitting your chosen as ebi.
53. Dramatic Gown With Cutting Layers
This aso ebi style has been much talked about on Instagram and we must say we were fascinated too at the simple design.
54. One Hand Sleeve With Rumpled Hem

This is a perfect style if you do not mind bold and dashing styles, it's also elegant and perfect for all kinds of events especially weddings.
55. Straight Elegant Gown
This is an easy style for your tailor to recreate and even more interestingly, it can be worn for different occasions.
56. Body Shaped Gown With One Cross Strap
You can wear this to a wedding and totally get the honourary best guest award, one of the latest styles that would never make aso ebi boring in 2019, it's elegant classy and a good representation of African styles, the style can also compliment any figure.
57. Sleeveless Gown With Large Petals Design
This is simply exotic and we are more fascinated with the petals making the front of the blouse look really beautiful, this style really would look good on the 2019 catalogue.
58. A Net Tube Gown
Planning to look simple yet beautiful? This is the style that would totally get you the look you want, sometimes a not so dramatic style is all your aso ebi needs to get you the attention and make you a star guest.
59. Off Shoulder Gown With Short Layer Sleeves
African attire can never be found lacking, any colour of aso ebi would really bring out the beauty of this style, it is effortless.
60. Jumpsuit With Drapes
Ever seen a jumpsuit that is completely off the line of a jumpsuit and still makes lots of sense? This is a style that is as modern as a jumpsuit can get, if you have bought an expensive aso ebi then you need a style as exotic as this.
61. Short And Long Sleeves With Net Infused
This is a style every woman would love to own, you do not want 2019 to end without saying you have this latest style, it makes the price you pay for your aso ebi totally worth it.
62. Deep V- Neckline Gown With Puffy Sleeves
Probably you like your styles bold and daring with lots of spunk then here is a style you can relate it, one of the latest aso ebi styles on Instagram that people are rooting for.
63. Straight V-Neck Gown With Side Net Infused
We are guessing you love this style as much as we do, it's an impressive design with not much drama but yet superb, a colourful, aso ebi material will make this really stunning.
64. Chidinma Tub Aso Ebi Gown
This gorgeous style could even be more stunning with colourful material, perfect for all kinds of shapes, it is stylish and formal for a cool traditional wedding.
65. A Cross Sleeve Design And Fringe Dress
Your aso ebi style could really be magical, you just need the right tailor to sew and sharpen it up to your taste. Another latest aso ebi style we totally love.
66. A Formal Top With Long Split Skirt
You can rest assured you are getting attention with a style like this, very effortless and yet beautiful and we are sure you loved it as much as we do.
67. Double Sleeves Long Gown With Side Split
Another latest aso ebi style that is trending on Instagram is this and it's worth it, a very simple alluring style that pulls the crowd.
68. Fallen Staps And Folded Blouse
A real glamorous style that your tailor does not have to spend hours on, you are going to love this style even more if you make it with some shiny aso ebi fabrics but whichever, it is still wonderful.
69. Aso Ebi Style With Fringes And Feathers
Ever thought of being donned in a style full of fringes and feathers, something that has been incurred into the modern styles and we are enamoured by it.
70. Cute Sleeves Blouse And Long Skirt
This is one unique style you want to own before 2019 brings in new styles, that beautiful aso ebi your friends picked needs a unique style like this.
71. Fulani Style
Talking about the latest, unique and beautiful, here is the perfect combination of it all, this style would not only make your Aso Ebi worth every penny but you would be the star on all occasions you graze the style with.
72. Low-Neckline Gown With Attached Fur Sleeves
With or without those fur sleeves, you could pull this look off, one of the most pretty Aso Ebi Instagram has not stopped showing love for, we love how it's simple and if you love bold daring then we say get your tailor working on it.
---
One reason why Aso Ebi are so much loved by all and sundry is how you can add your own style to it and make something even more fantastic with these latest styles.  Follow us on Instagram @thrivenaija
We hoped you enjoyed this post and found one or two favourites you can recreate as these styles are suggestions for when next you have a wedding to attend and you have to sew the latest 2021 Aso-Ebi style.
Read more on the Latest Owambe styles: