There is no word to explain the attention you get when you are rocking a stunning aso-ebi style. Being armed with the latest aso-ebi style when you attend a wedding is one of the ways you can stay in trend and be called fashionable.
Weddings are everywhere these days and it's quite important to stay updated with the latest styles in trend.
It can be quite frustrating when you buy an expensive aso-ebi material and have to go with a style that is regarded as outdated. Aso Ebi happens to be a very important traditional material in Africa especially in Nigeria.
There are lots of aso-ebi styles out there but it's more fun when you hop on the latest. Aso-ebi material no incorporates all kinds of fabric but lace happens to make styling even more interesting.
32 Latest Lace Aso-Ebi Styles For 2021
It doesn't matter if you like your styles fancy or casual, there is always something for you.
Lace happens to be the most popular choice of aso-ebi fabric for fancy occasions. Hence we have compiled 32 latest lace aso-ebi styles for 2021.
1. Off Shoulder V Neck Style With High Thigh Slit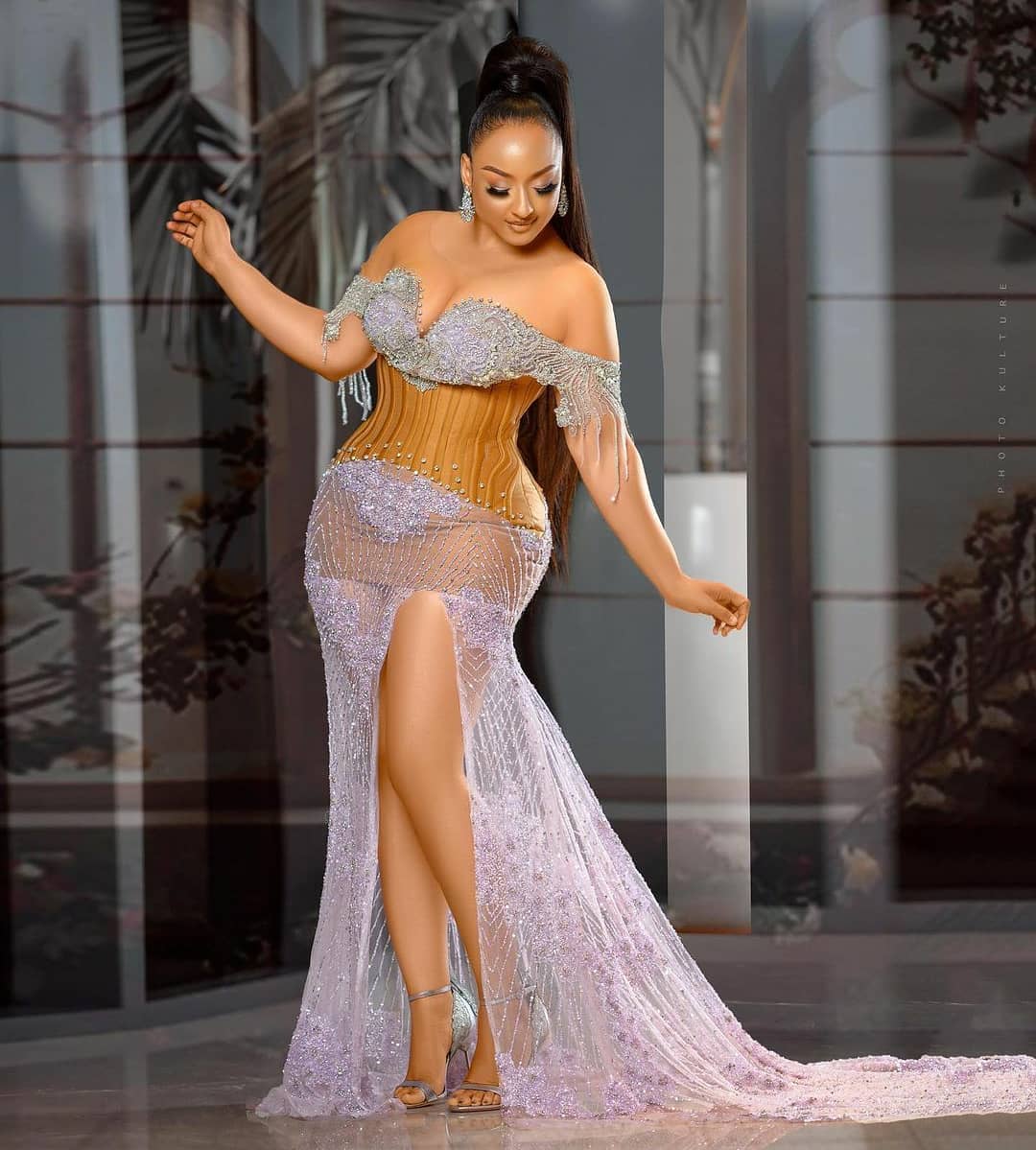 This is quite a stunning aso ebi style. It's perfect for weddings or any fancy traditional occasion. Slits sure have a way of making any outfit stand out and if you want a more conservative style, you can replace the sleeves with something less dramatic.
2. Strapless Circular Skirt Gown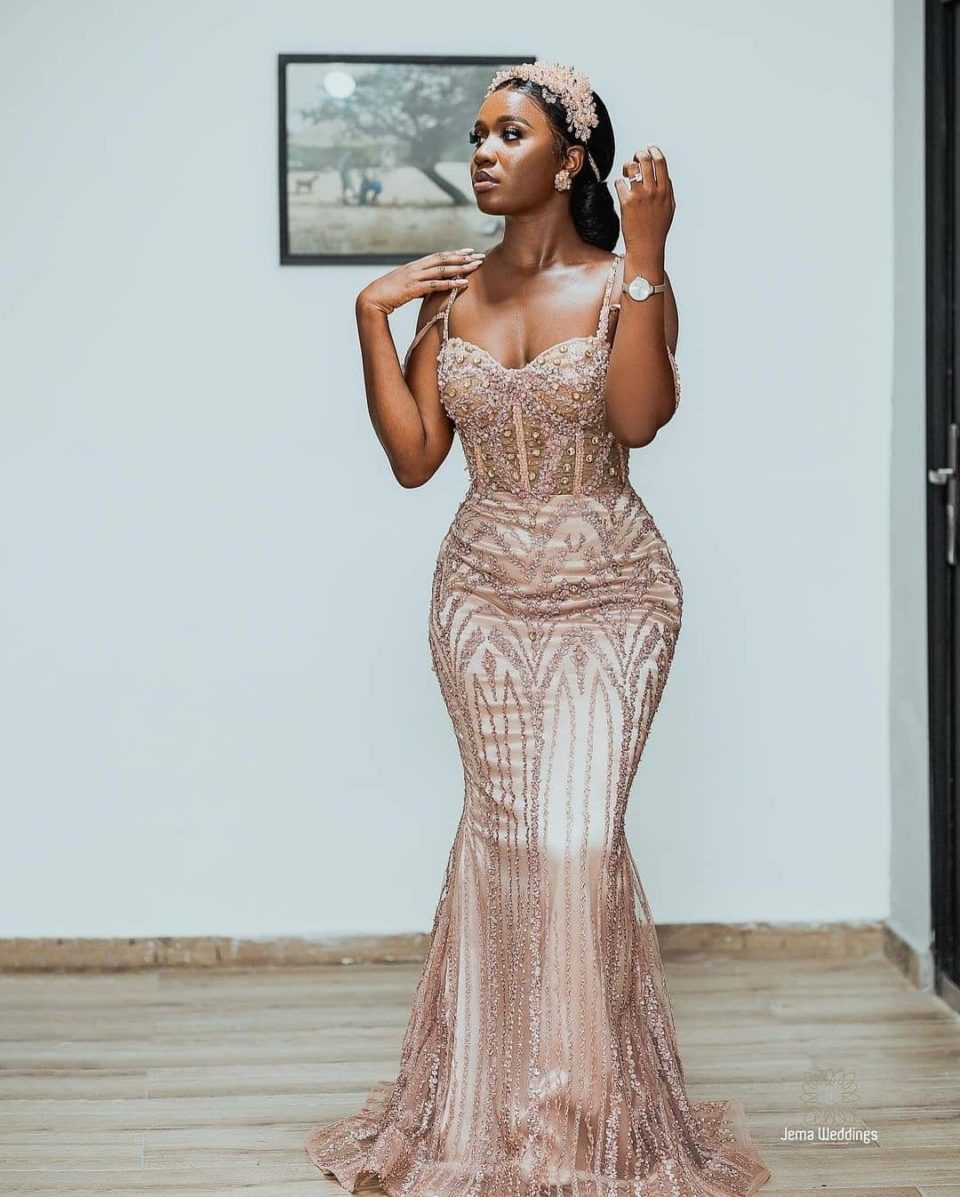 A circular skirt gown is the new fashionable to style the frock of your gown and we must say it's really beautiful. This elegant gown design is perfect if you want something fancy but comfortable.
3. Double Strap Sleeve Gown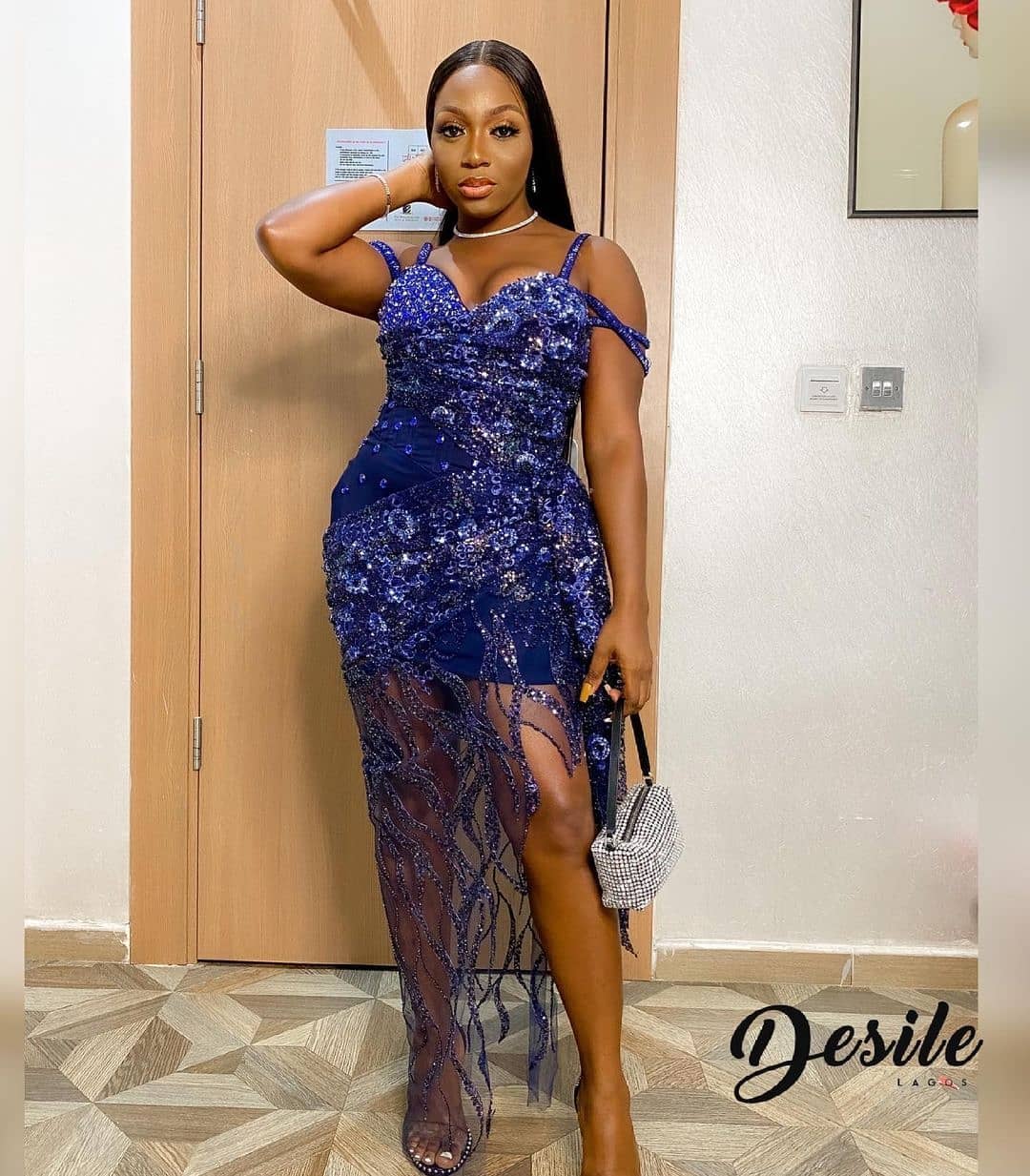 This is another aso ebi lace style that is not overly dramatic but perfect for any occasion. It really helps keep things fun and simple. The double is a great choice of the sleeve if you don't are comfortable with strapless sleeves.
4. Bias Cut Gown With Turtle Neck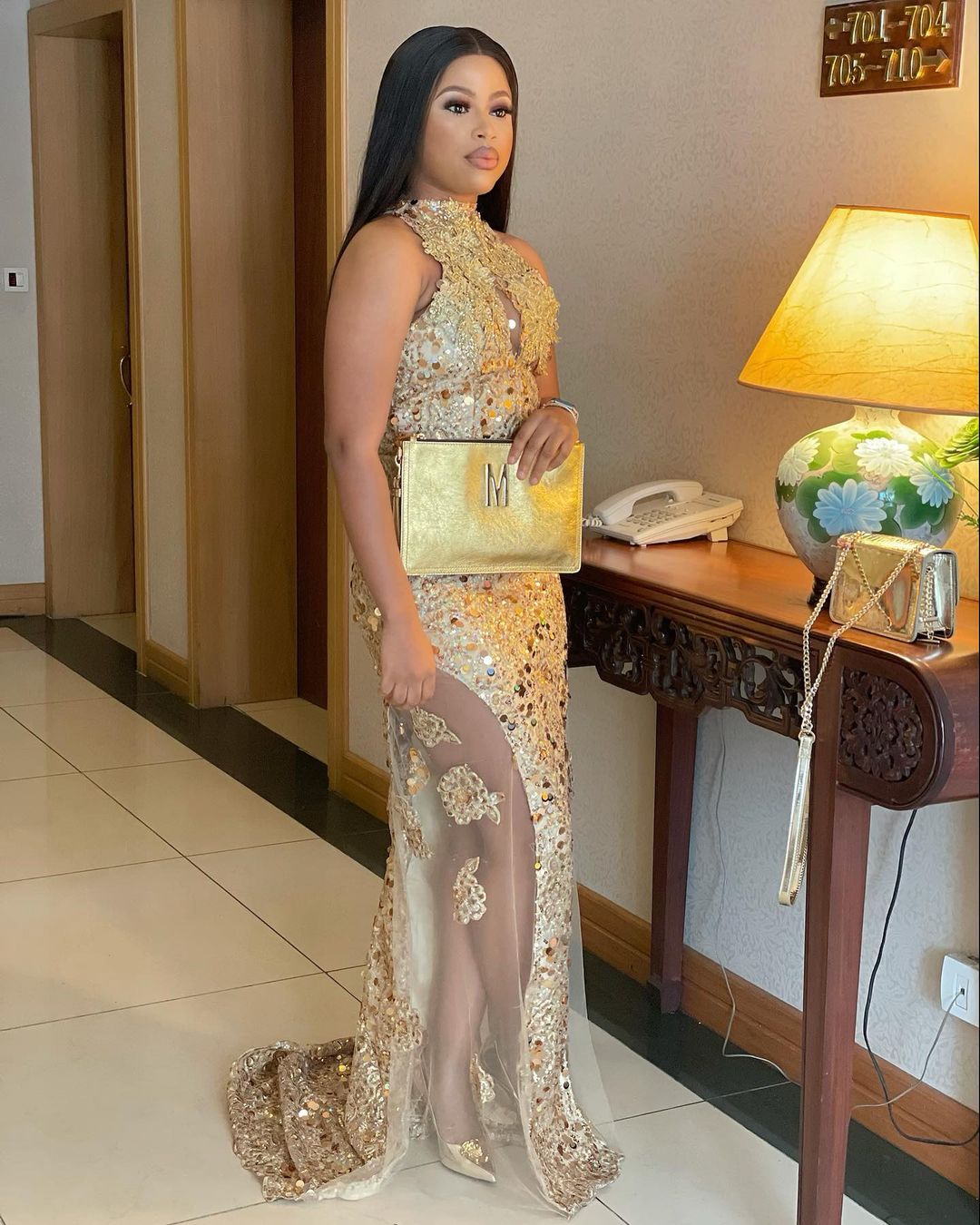 Here is another superb styling of lace aso ebi. The lace fabric is glam itself and paired with that style, it can't go wrong for any occasion.
5. Slashed Sleeves Circular Gown Design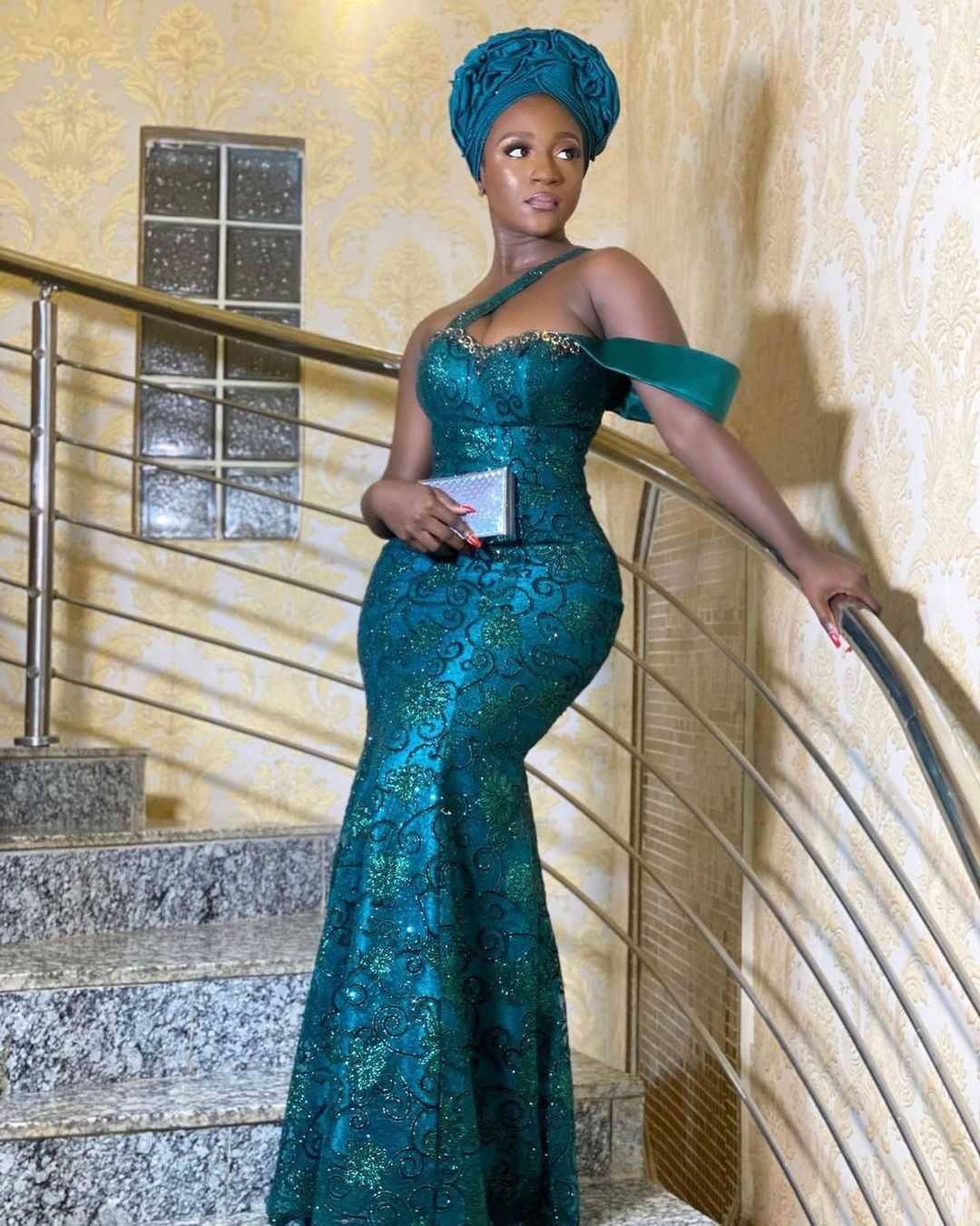 This is another lacy gown style you can't say no to. This is designed with a slash sleeve and it's perfect if you are up for something bold and sexy. If you are not a fan of open sleeves then you can have them replaced.
6. Simple Side High Slit With Satin Strap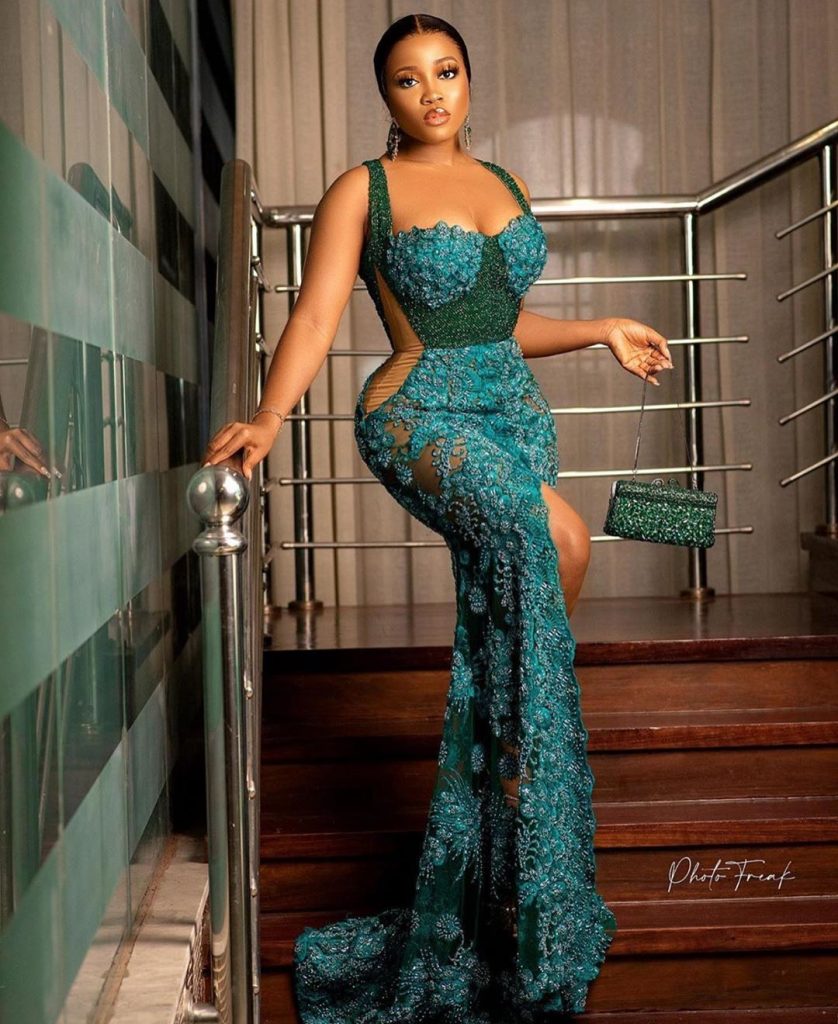 Another simple yet quite stylish sleeve to add to any dress is the satin strap. This has style is setting trends this year and it's really worth replicating.
7. Midi Side Slit With One Hand Cap Sleep Gown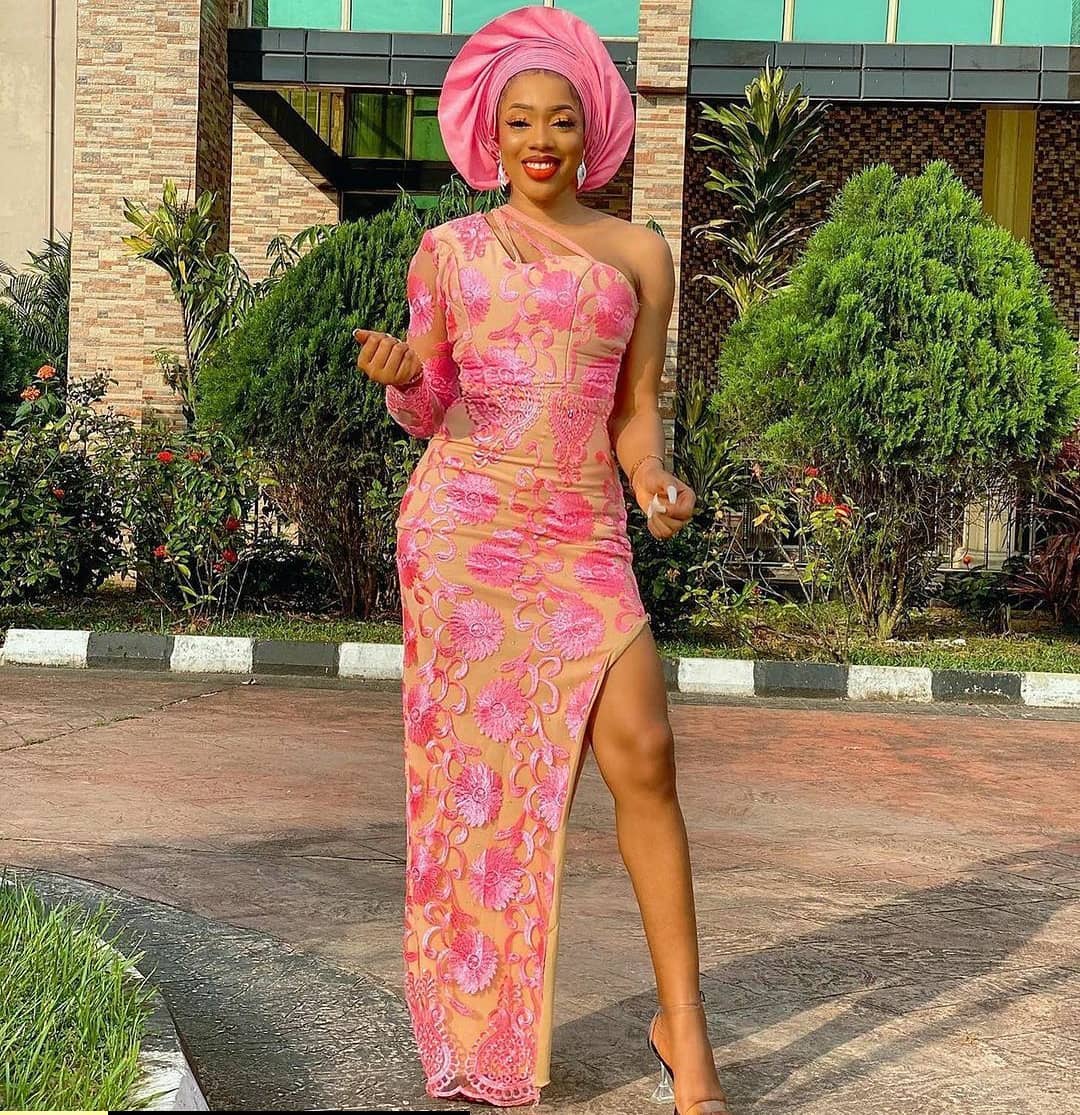 Pink is one of the most interesting colour of aso ebi lace fabric and rocking a style like this one above makes it look even more fascinating.
8. Bubu Lace Blouse Style With Trouser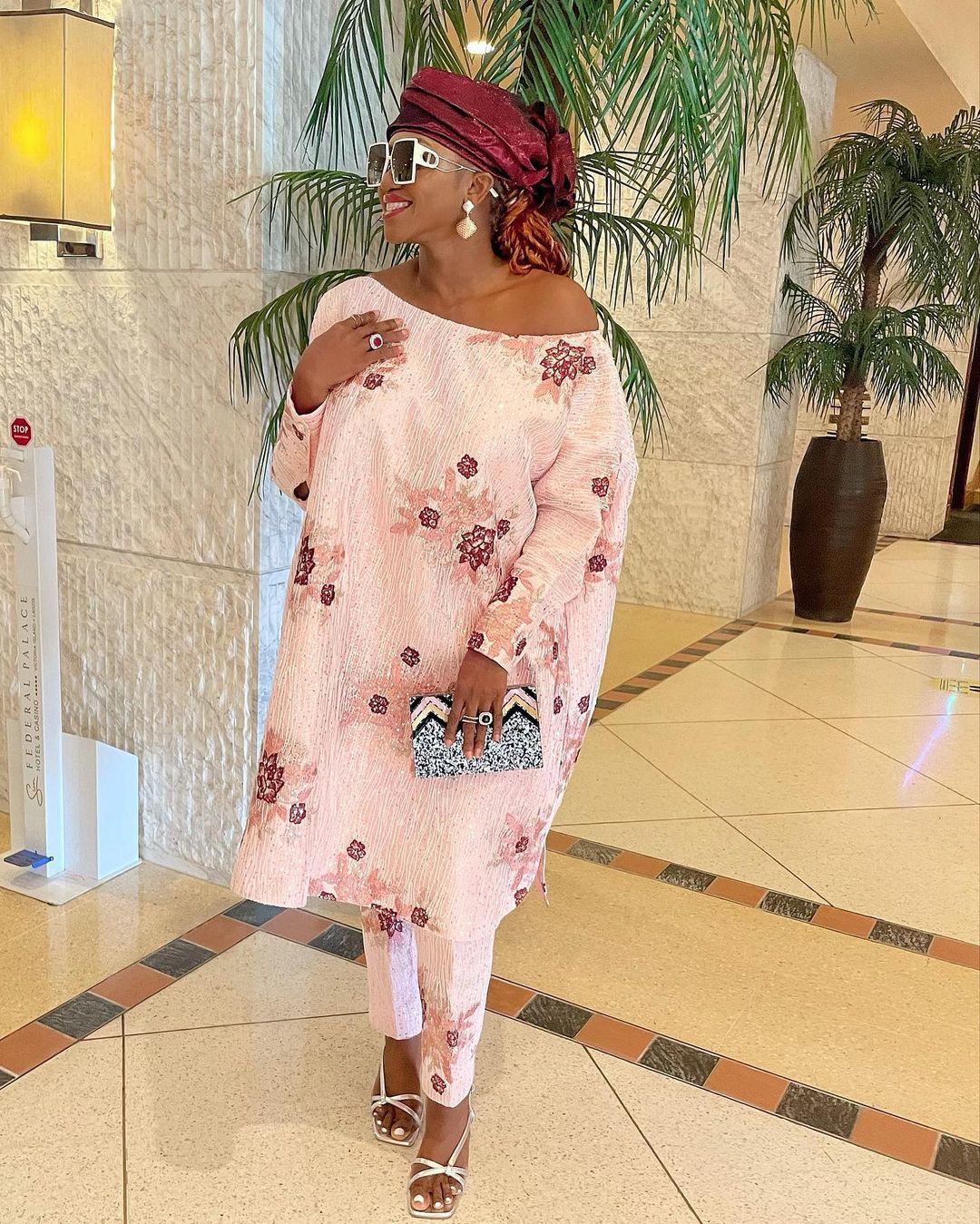 This style is sure to make some fashion statement. Waje leaves no stone unturned with this exotic style. It can be rocked to practically any fancy event and the occasion doesn't even have to be traditional.
9. Long Cap Sleeve Cami Gown Style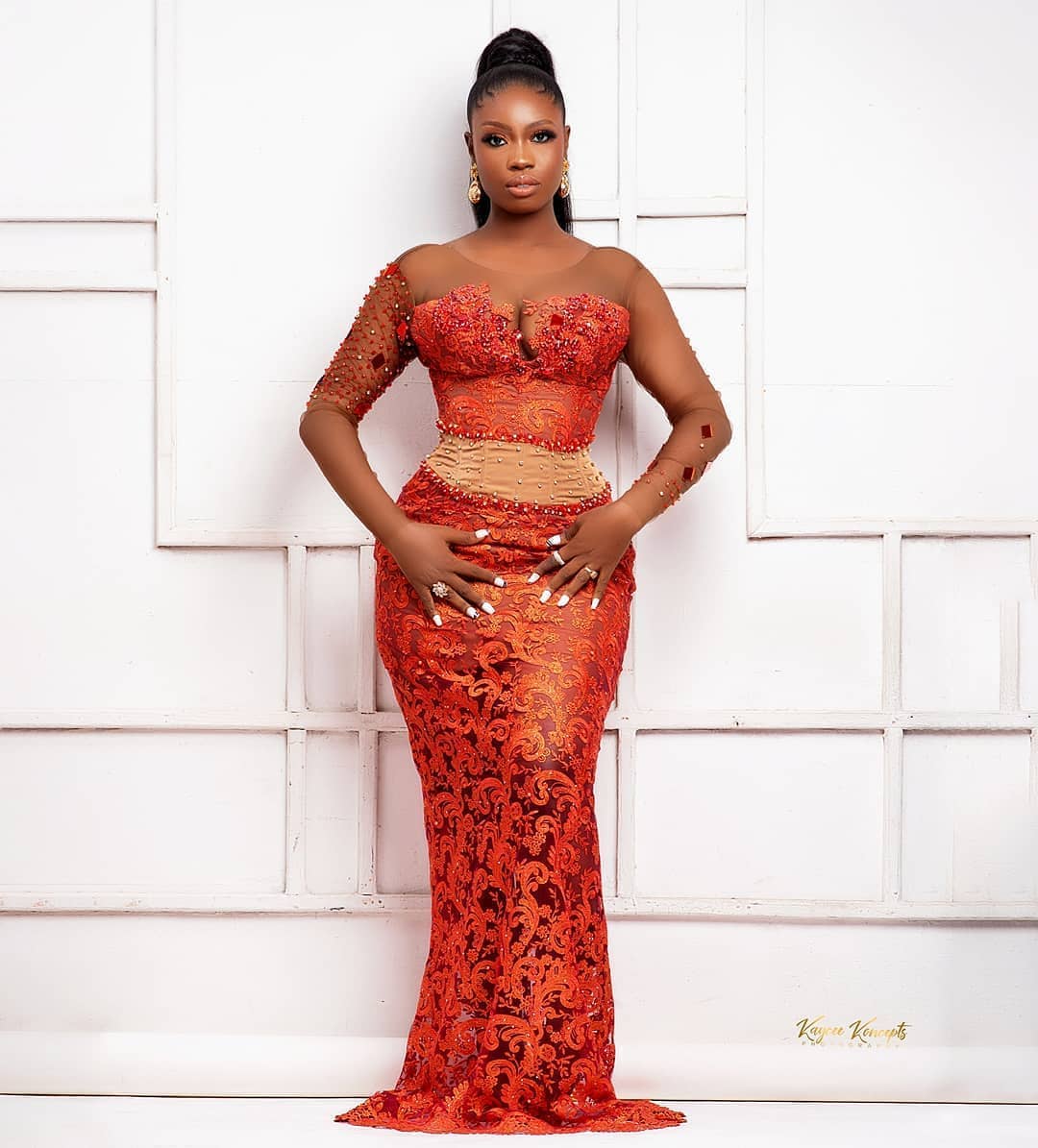 This is another simple but interesting lace gown style. This is one style you can't say no to, not only is it class but look comfortable as well which means you get to hit the dance floor confidently.
10. Simple Straight Gown With Strap Sleeve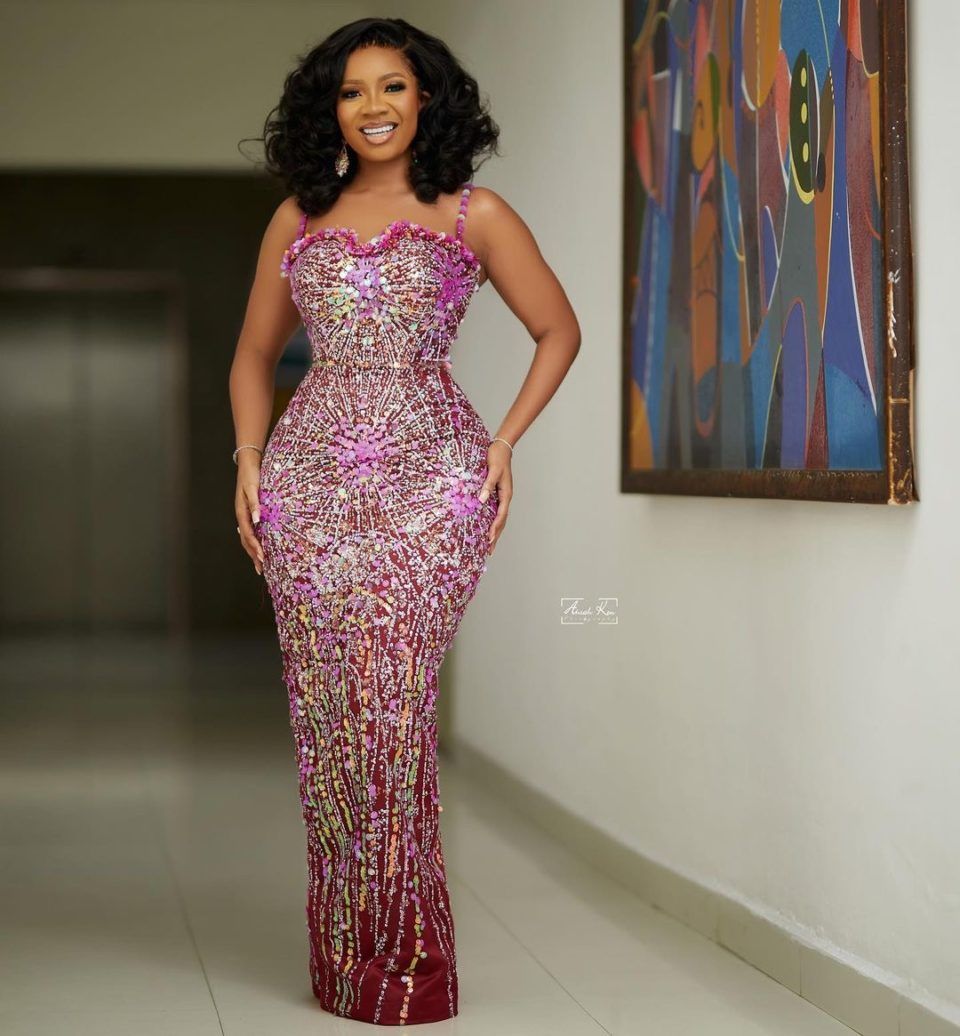 This lace style is quite stunning and it sure gives a new definition to lace styles. It's the ideal style for simple traditional weddings.
11. Jumpsuit Style With Flutter Sleeve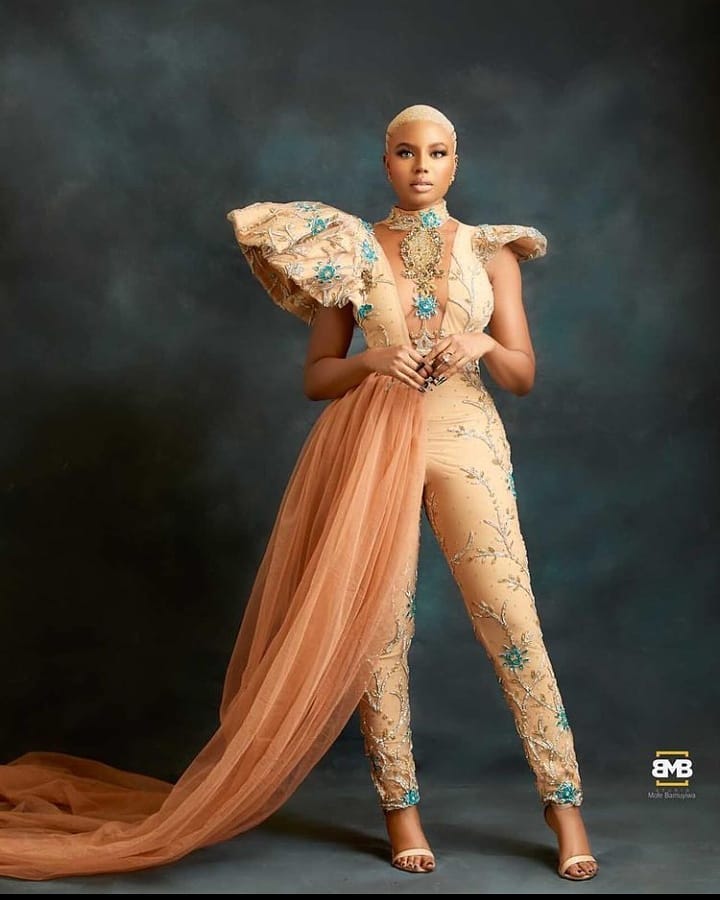 If you're looking to make an unforgettable fashion statement with lace then here is one of the perfect styles you can't help love. Fancy and dramatic makes it perfect.
12. Simple Bandeau Gown
This is another trend-setting aso ebi style. This is really cool to replicate and the styling is easy enough for your tailor to grab.
13. Aso Ebi Style With Fringe Sleeve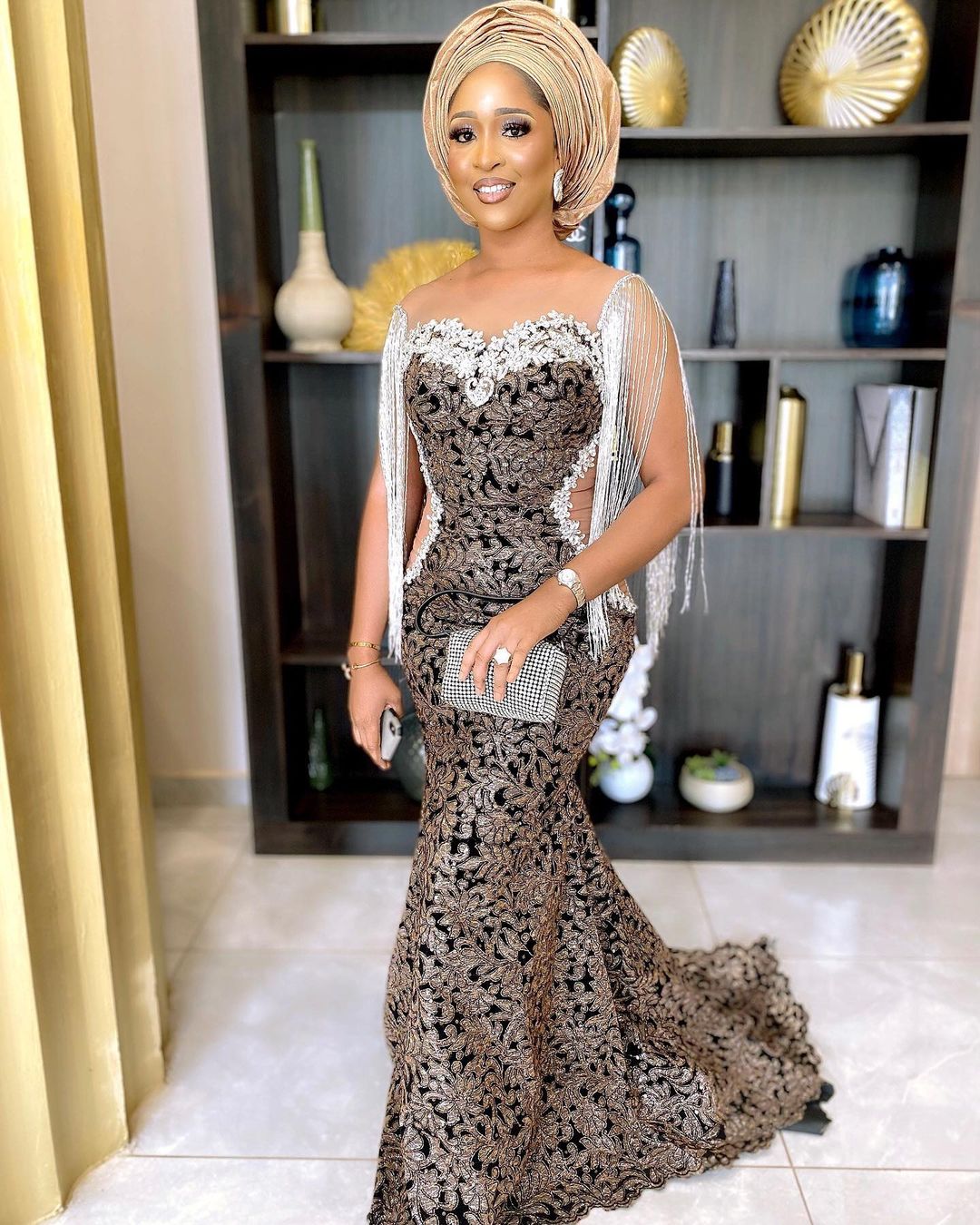 Your type of lace fabric tends to decide what kind of style you can recreate with it but with this lace fabric, you can create something unique. This style is sure on the list of favorite aso ebi styles for many.
14. Dropping Sleeve Lace Style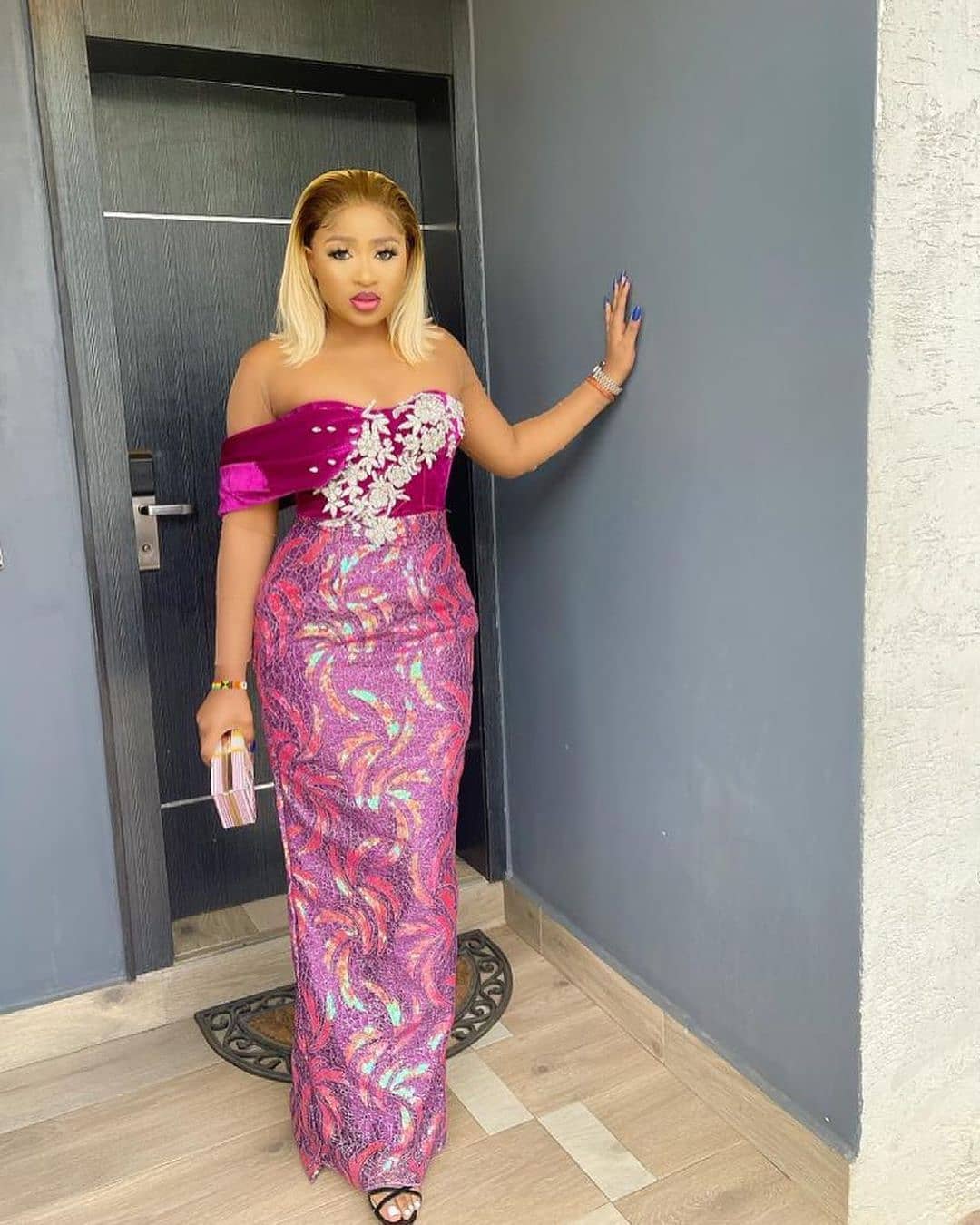 If you are into a more simple but fascinating style then this is the perfect style you want to use that expensive aso ebi lace for.
15. Cap/Raglan Sleeve Gown Style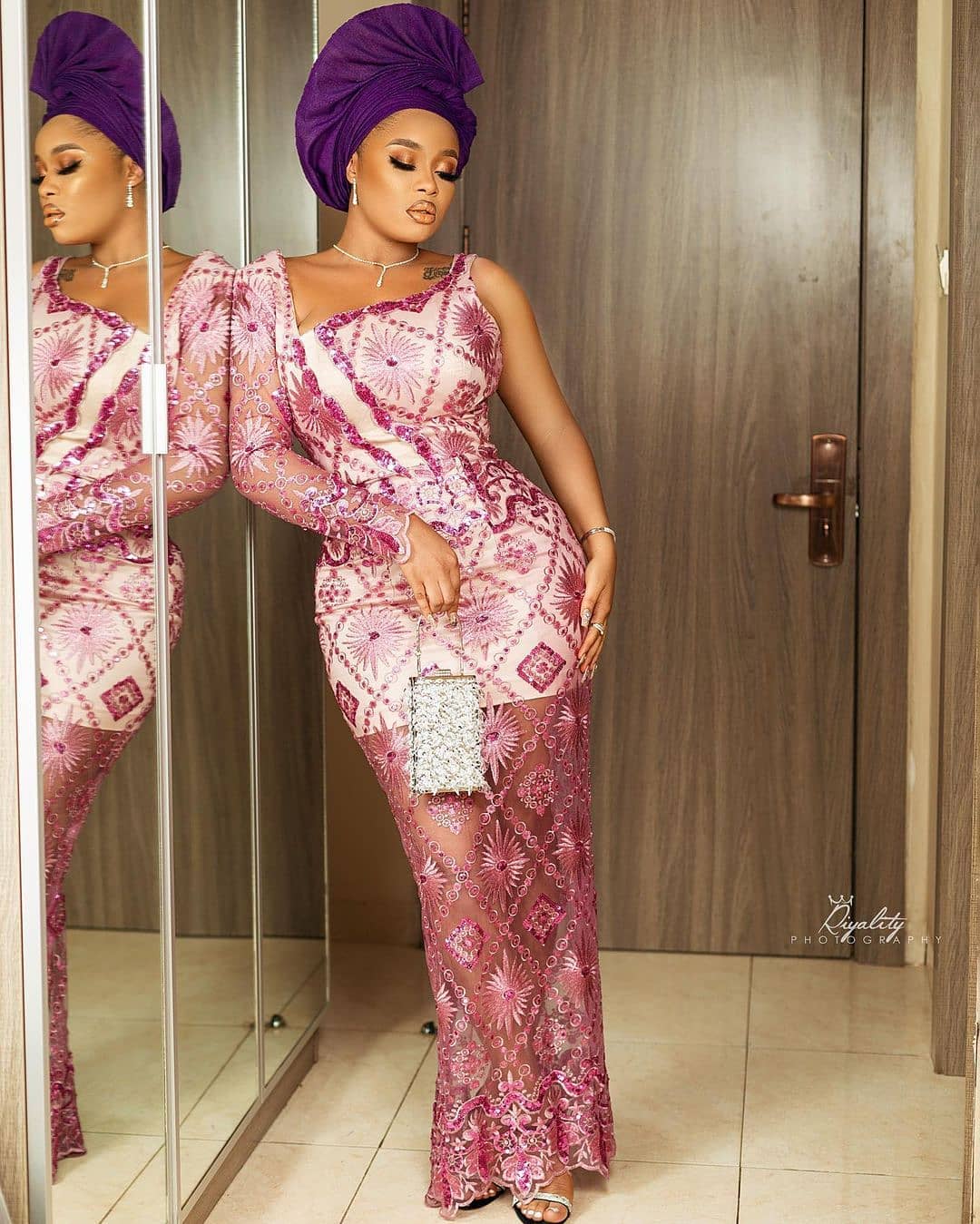 This another aso ebi lace style that can't be classified as boring. This is a really cool style and the double sleeve gives it a more elevated look.
16. Glitter Lace Fabric Jumpsuit Style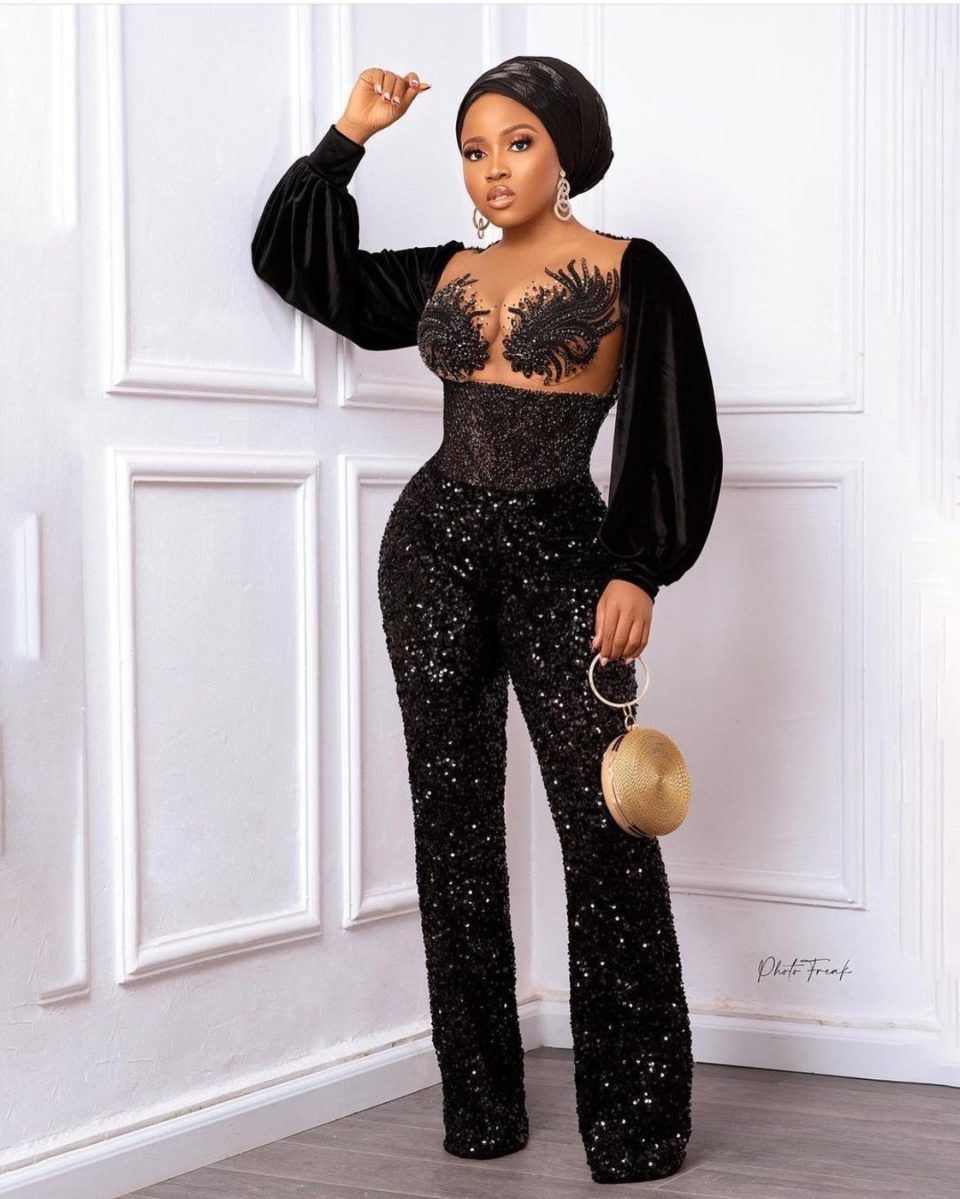 This stunning outfit is sure to make you stand out as a guest as a wedding. It is not overly dramatic and the type of lace fabric used makes it look more glamorous.
17. Panel Gown With Bishop Sleeve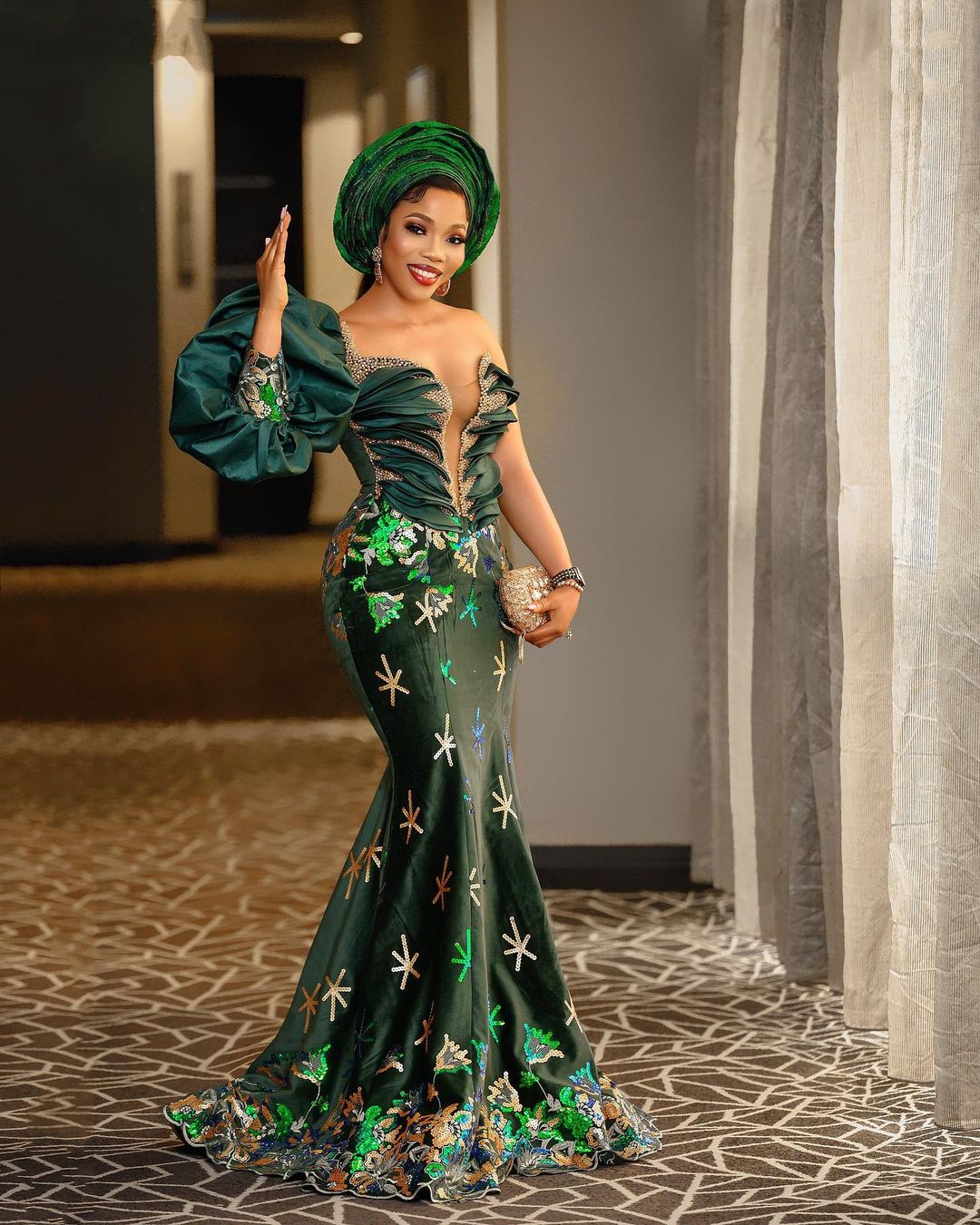 The panel style is becoming quite popular and it is made by joining panels of fabric and this style is similar to layered pattern but this is more interesting.
18. Classy White Lace Style With Bishop Sleeves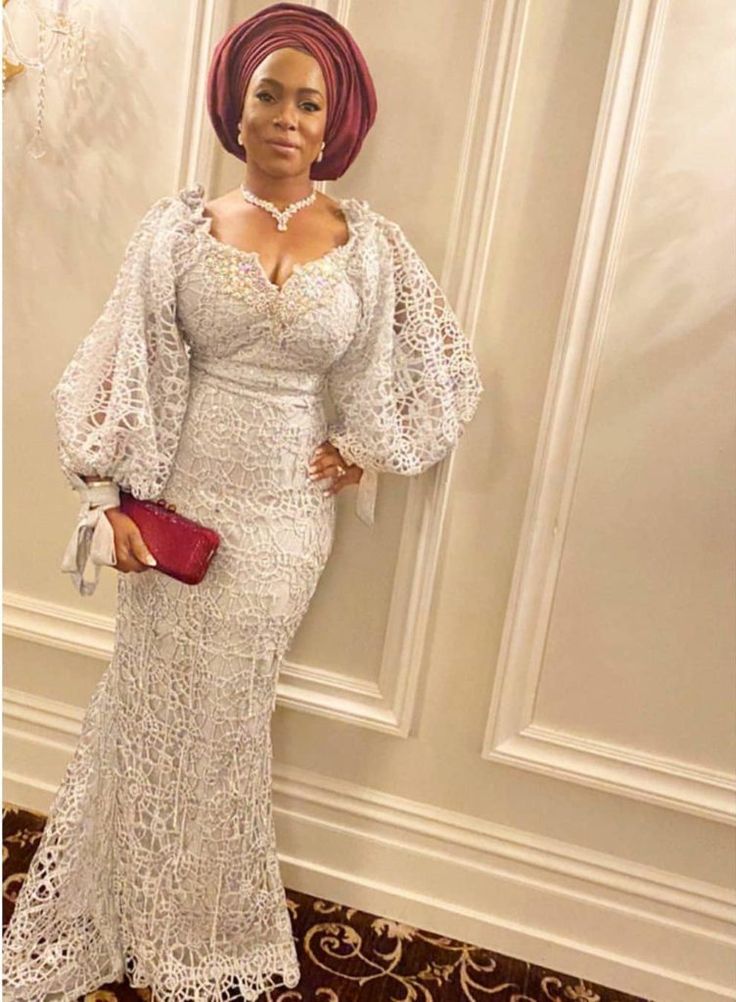 White lace are quite common colours for wedding aso ebi colour. This lace style is quite cute and fashionable.
19. Simple Petal Gown Design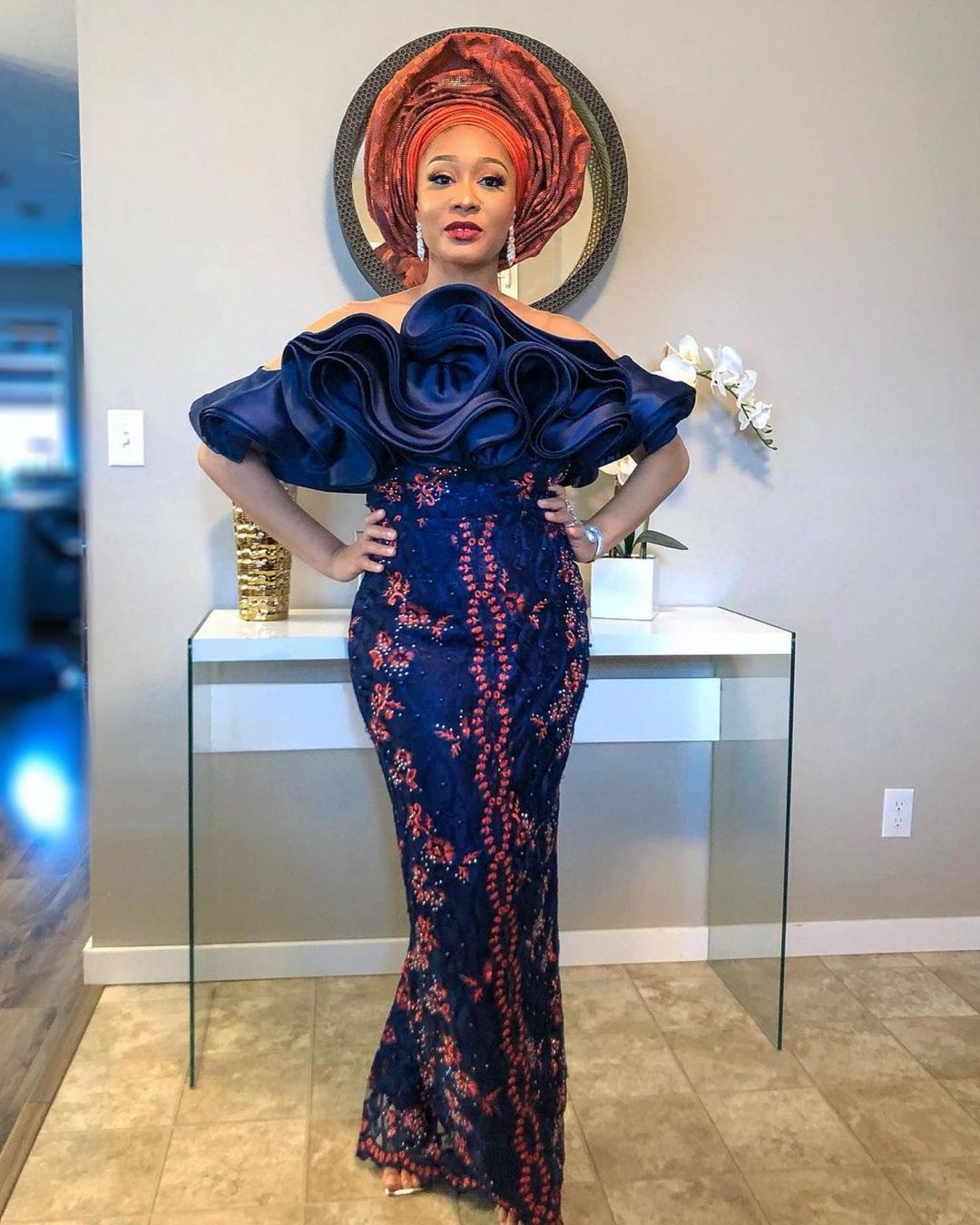 Your lace aso ebi style really needs to be fun if you are going for a wedding which is why this simple gown has petals to make it fascinating.
20. African Lace Style With Off Shoulder Rope Sleeves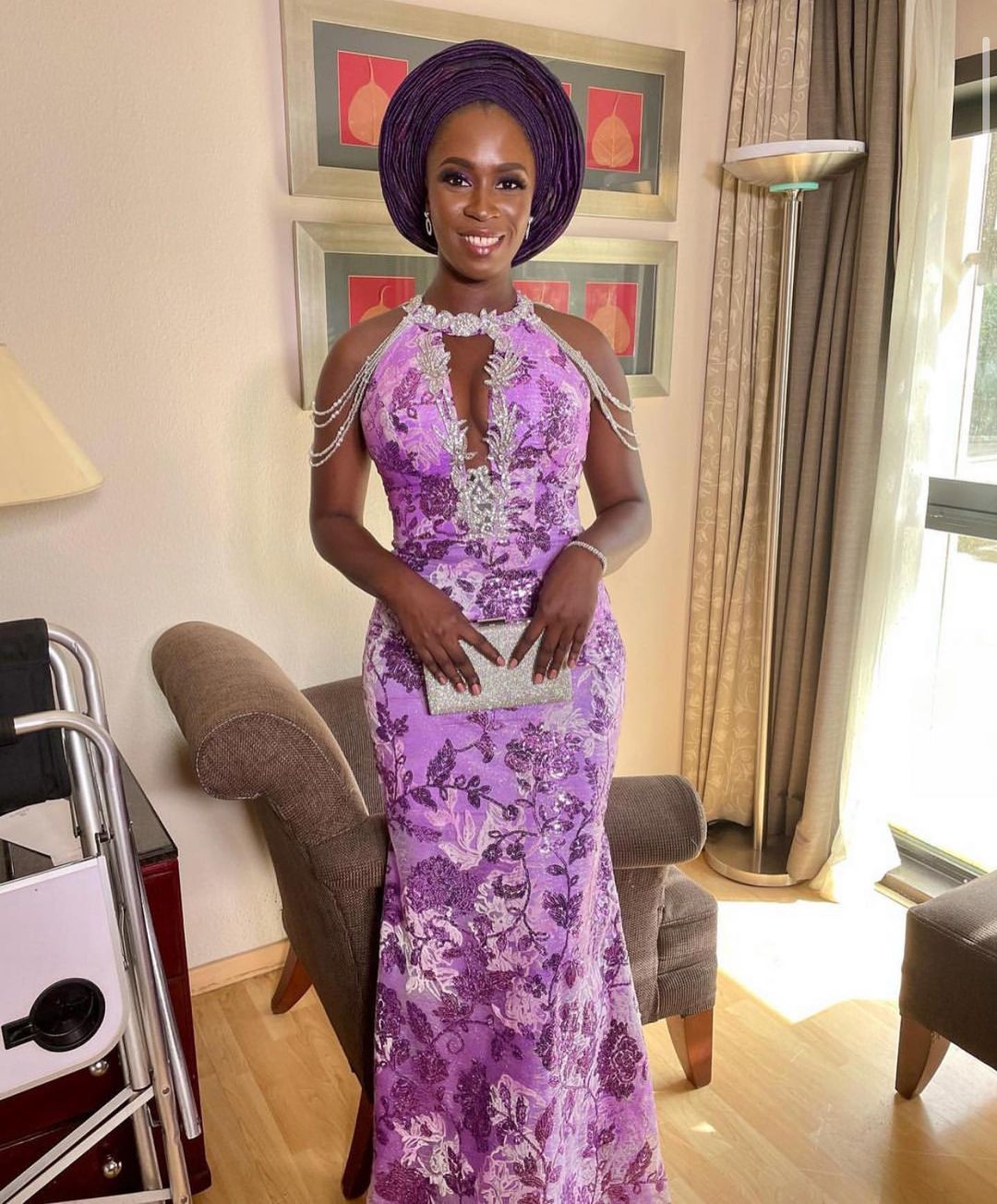 Here is another outfit that strikes the balance between interesting and simple. It is perfect for any figure.
21. Pencil Cut Gown With Long Sleeve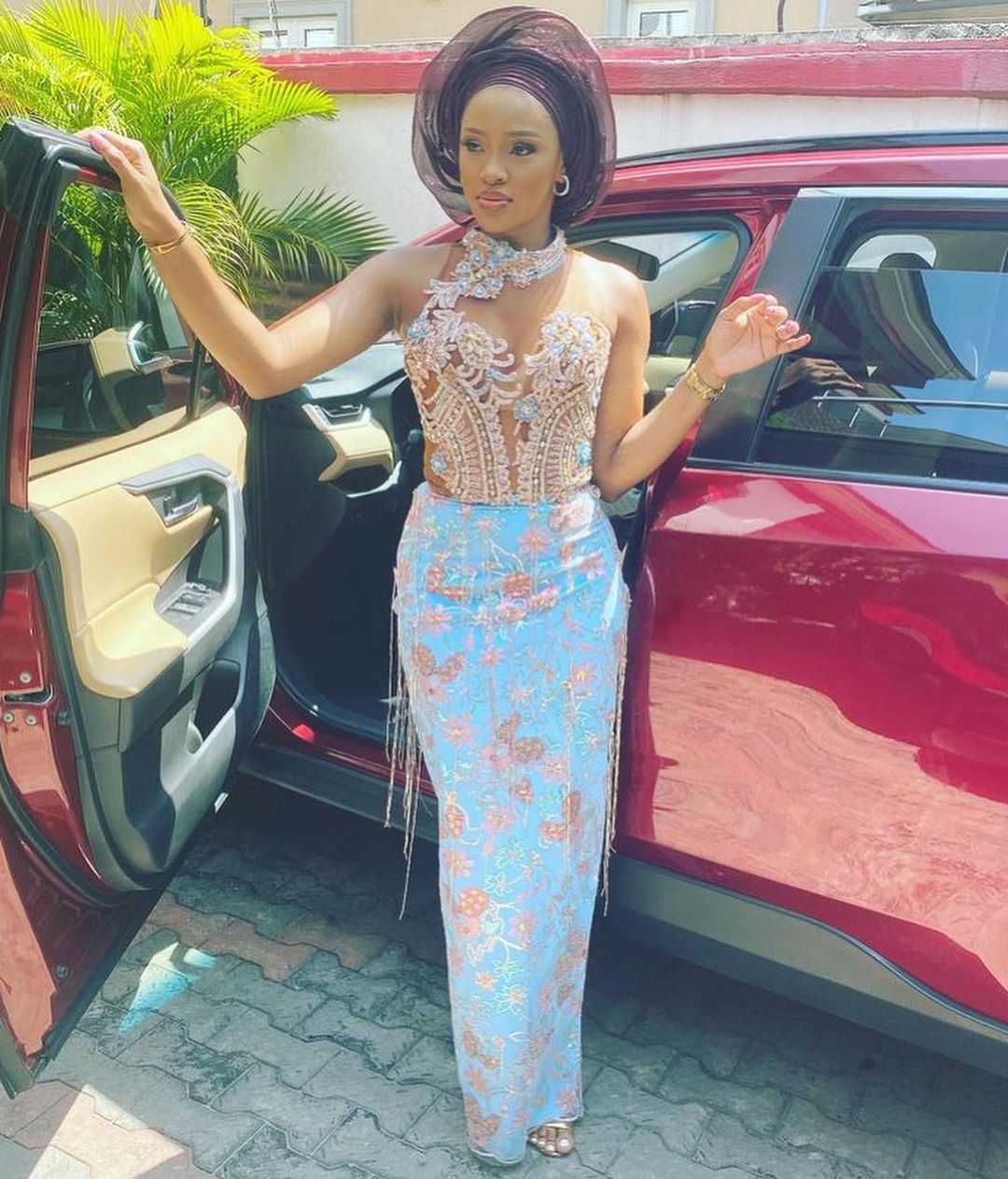 This is another exciting style that can have you going to weddings you already said no to. The design is simple enough for your designer to recreate.
22. Fancy Cap Sleeve Blouse With Cami Skirt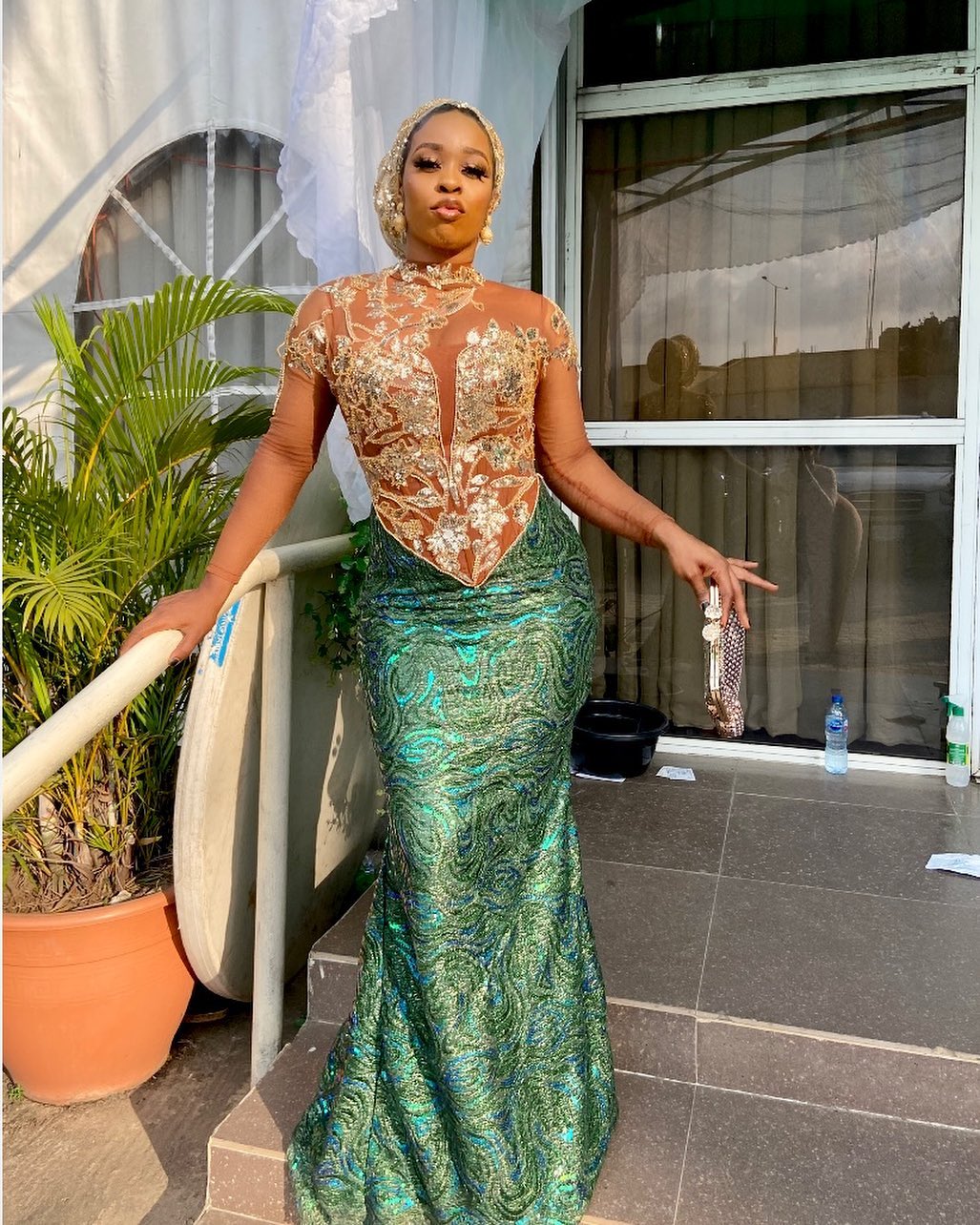 Skirts and blouse can't be called boing with a really unique style like this. The blouse itself can be paired with any other type of skirt design but both are sure setting trends together.
23. Long Sleeve Gown Style
There are lots of simple ways you can rock a style and still make it look super gorgeous and that is exactly what has been done with this style. Long sleees and straight gowns are never to be boring again.
24. Short Sleeve With Side Thigh Slit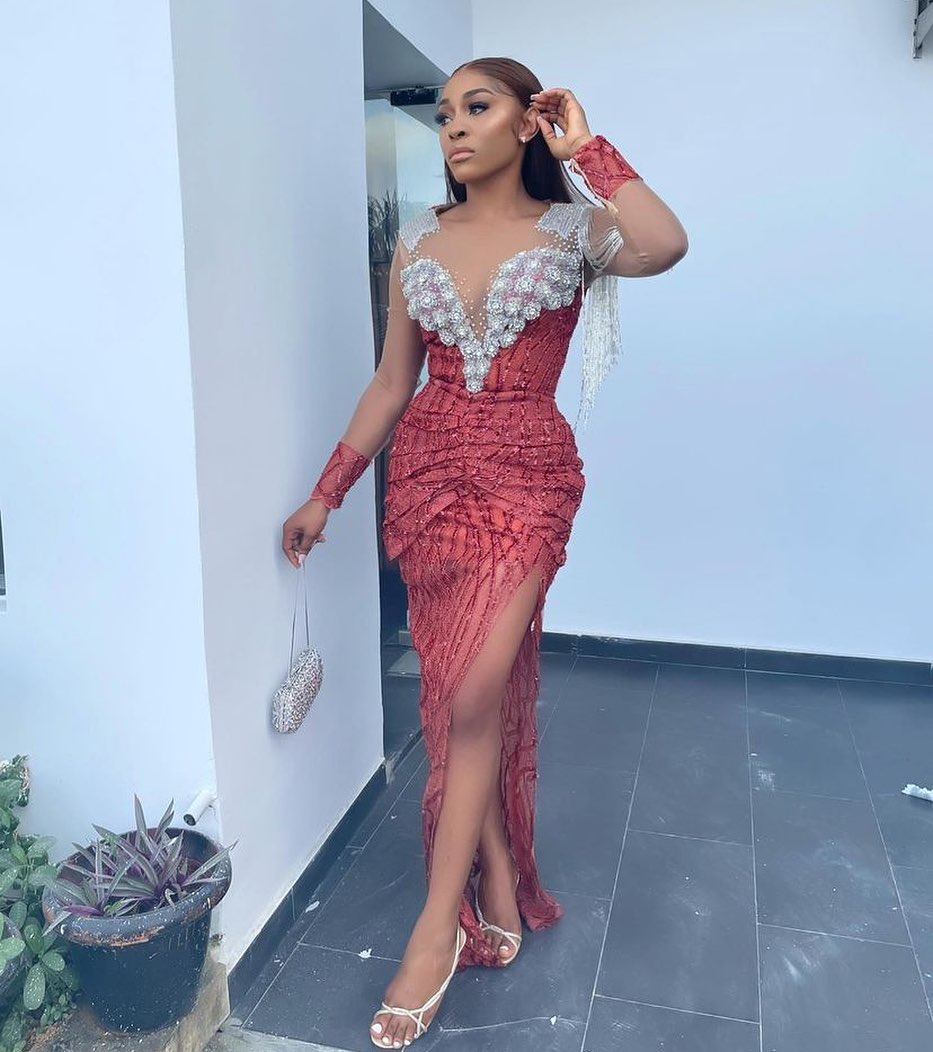 Lace aso ebi styles let you be creative just like Ankara styles. This is the exact kind of style you want if you plant to hit the dance floor comfortably.
25. Off Shoulder Empire Gown Style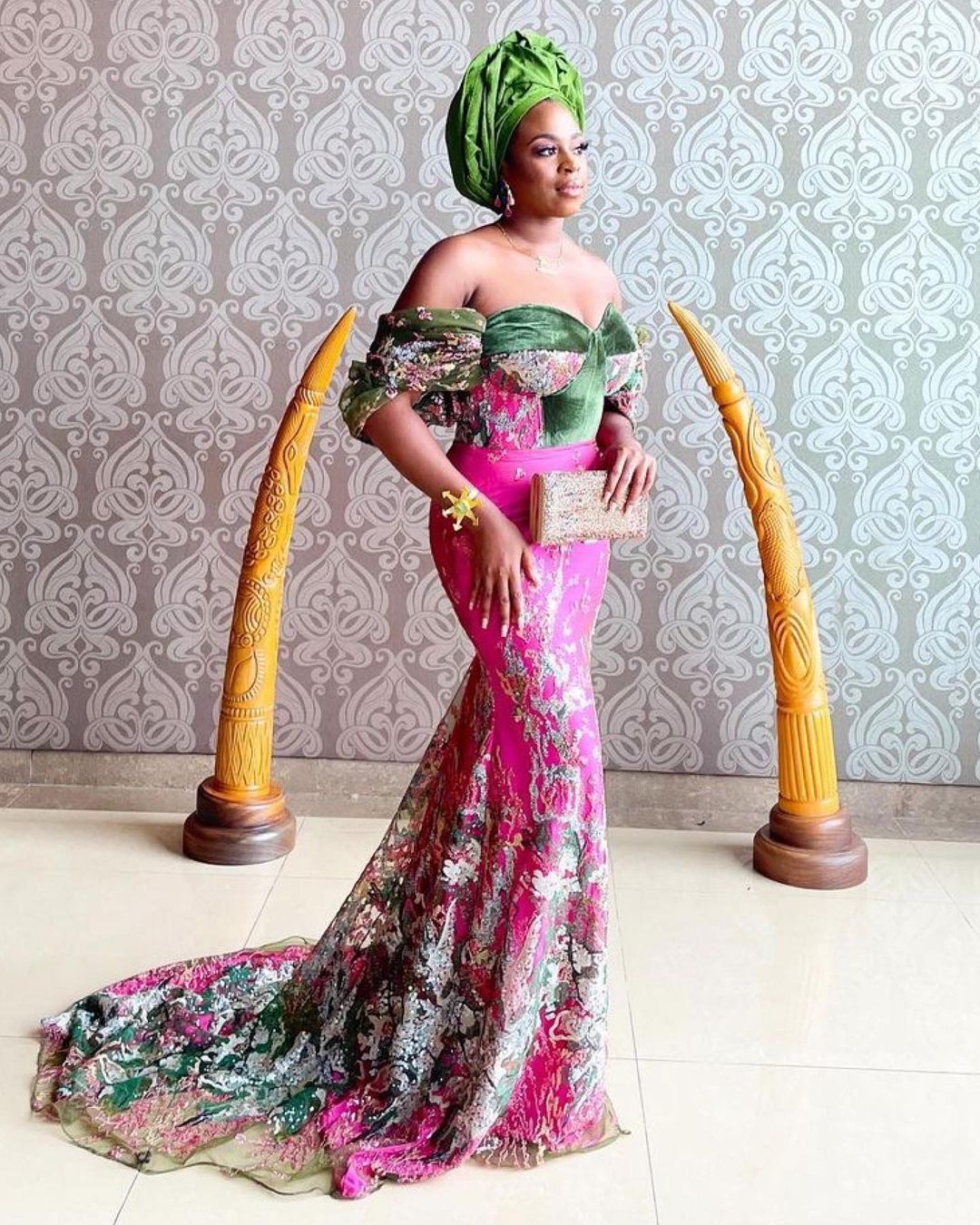 Empire gown is a long flowy gown that is often used for wedding gowns but now you can have it made with your lace aso ebi and look stylish as a wedding guest.
26. Asymmetrical Cord Lace Style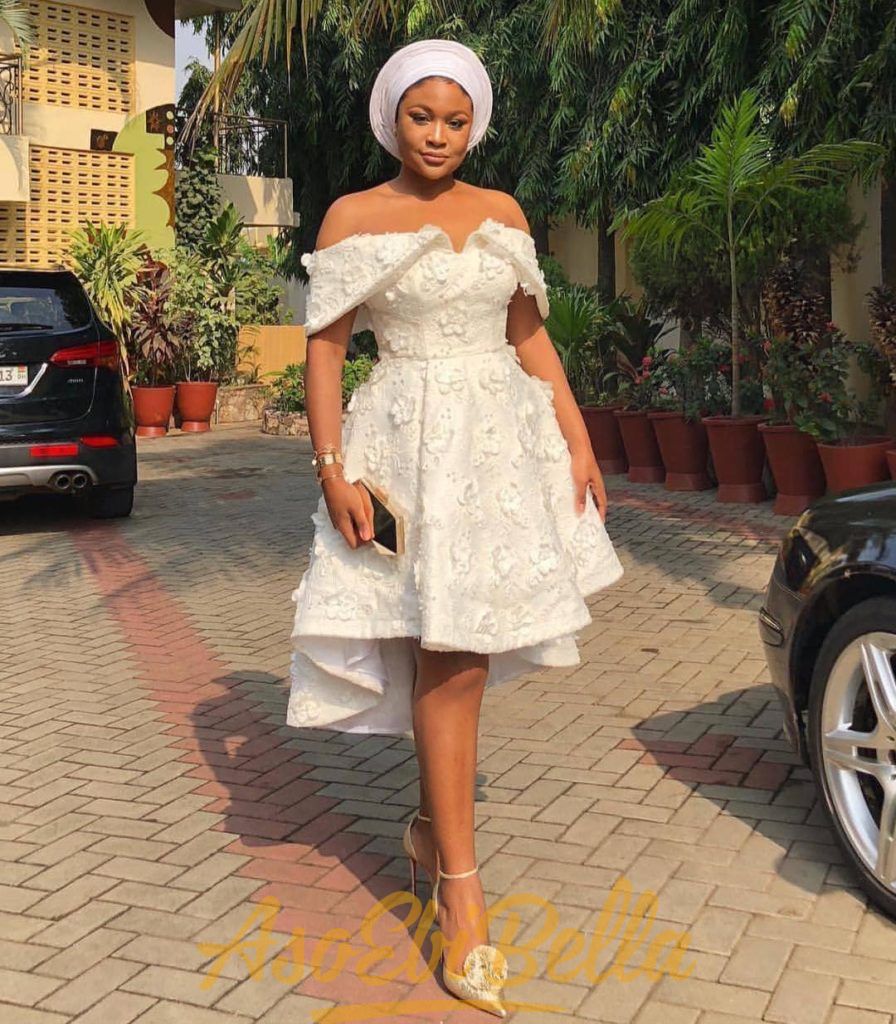 If you are working with a cord lace fabric and want to keep it less dramatic as possible then here is one style that works perfectly for all weddings.
27. Cami Gown With Short Sleeves
Here is another interesting camisole gown style to add to your fashion archive. This is another lace style that will be around for a long time.
28. Lace Wrap Style With Bell Sleeves
This is stunning and if red happens to be your fashion colour too then you can't help but think of this style next time you get your hands on a lace aso ebi fabric.
29. Deep V Neckline Off Shoulder Gown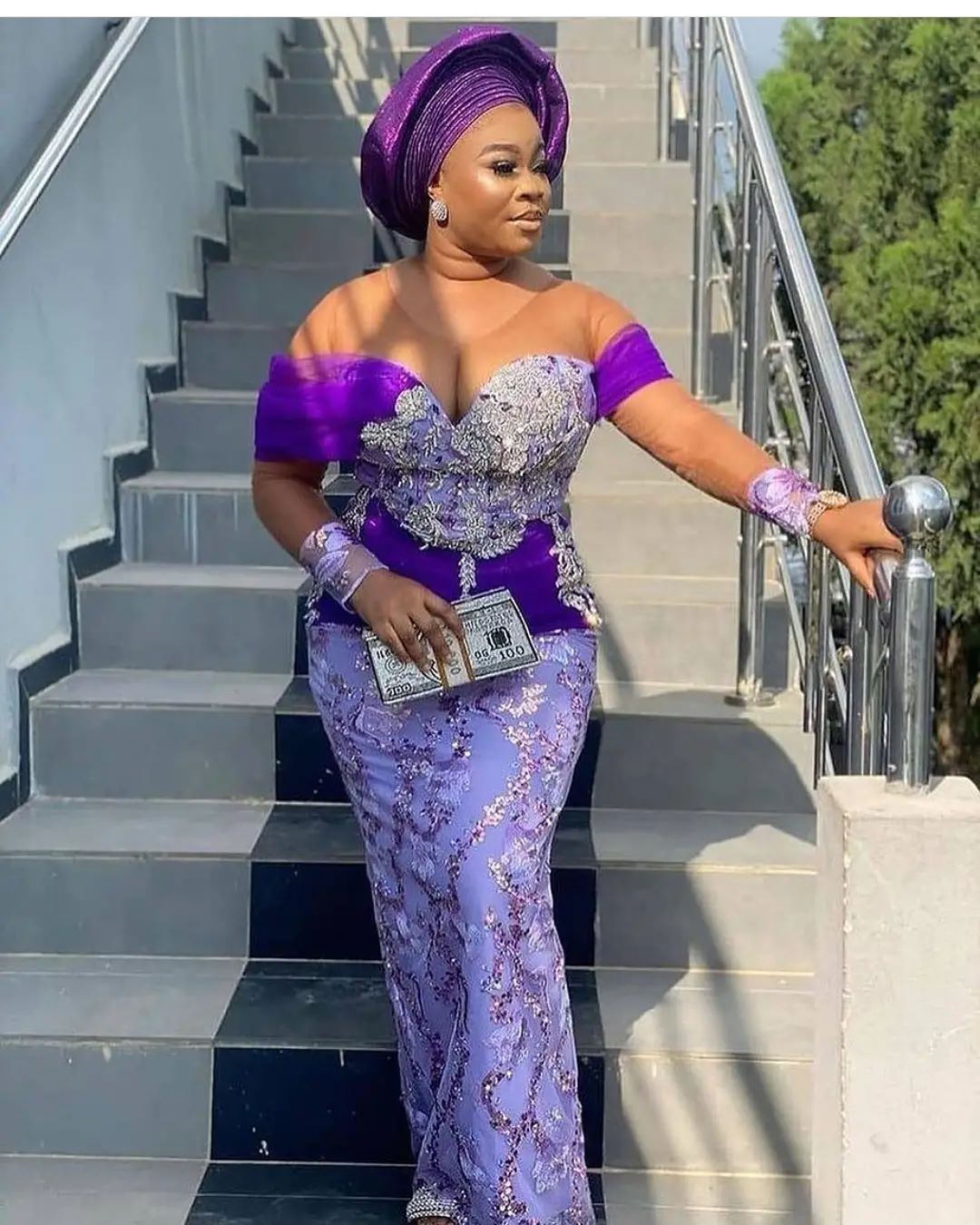 To give you a more stylish and bold styling, a v neckline is the recommended choice. This conservative and hot at the same time.
30. Stunning Lace Jumpsuit With Side Cape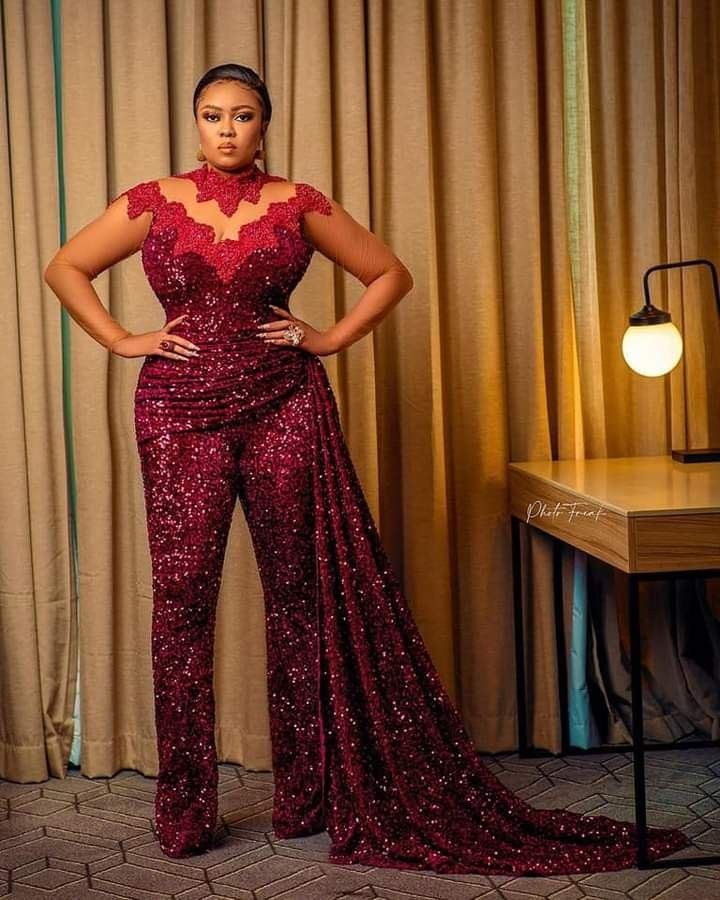 The list of latest aso ebi styles won't be complete without adding this amazing style to it. Jumpsuit is a really interesting choice of aso ebi style for any occasion.
31. Off Shoulder With Dramtic Angel Sleeves
This is another outfit that is sure to put a smile on your face. Its a really great style for any occasion and there are other ways the sleeves can be styled.
32. Open Sleeves With Side Thigh Slit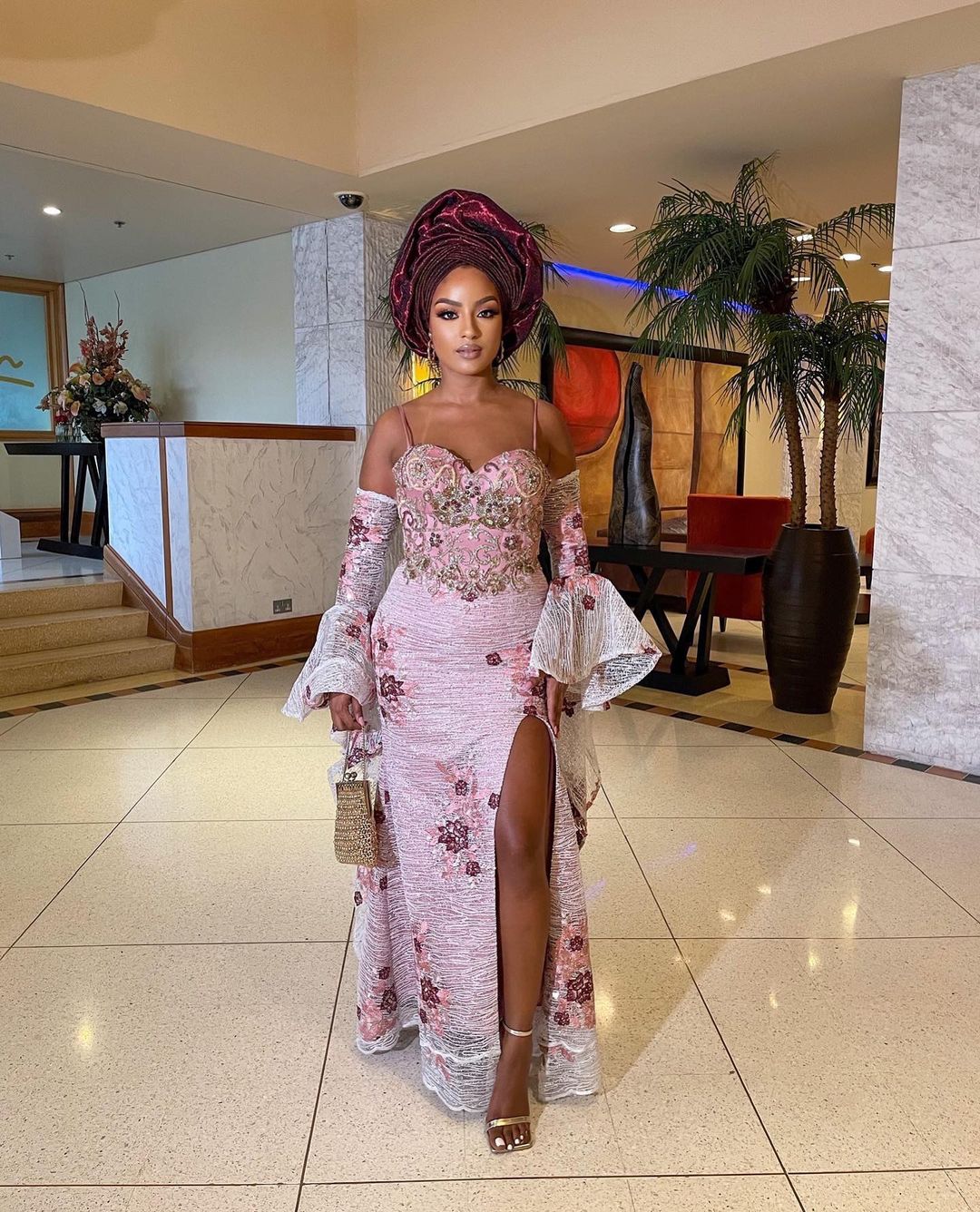 You need to get your tailor to work on this gorgeous outfit. This style is really cool for weddings and it seems comfortable as well.The open sleeves are fast setting trends and you should definitely hop on it.
Final Thoughts
There are different colours and materials of lace aso ebi styles and with so many styles in trend, you just have to pick one that you find most suitable. Lace fabric have been part of Africa tradition for years and they are the best choice of aso ebi for any wedding and although they are more expensive which is why you need the best styles to rock with them.
Read more on aso ebi and owanbe styles: