African fabric that we can't help but notice how trendy it has become is lace fabric, lace has become so modern and they are so many beautiful styles you can spot at weddings and traditional functions, these styles are adorable and we had to bring it to you, we have compiled only the best lace gown styles and we are still in awe at what lace can be done with it, it's also one of the reasons we update these trendy gown styles for lace every week like we do our latest ankara styles.
These styles would be the reason no wedding invites would be rejected as you can't wait to show off these fabulous styles and maybe bag the best-dressed guest. Celebrities are also in complete support of these lace gowns as most of them show off with it on weekends.
We have gathered a list of 60 beautiful and trendy styles you can't say no to and if you are a designer, you really would find a style fitting for your 2019 lace gown styles catalog.
Beautiful Lace Gown Styles For 2019
Do you want owambe styles that are not boring? Here are the most beautiful lace gown styles you should make this year.
1. Short Lace Gown With Chevon Design
Short gown with one-sided off-shoulder, this can be rocked for any special occasion.
2. Straight Gown With Puffy Sleeve
A mixture of lace and material makes a complete dripping gown with a puffy hand.
3. Sleeveless Pencil Gown With Skin Net Design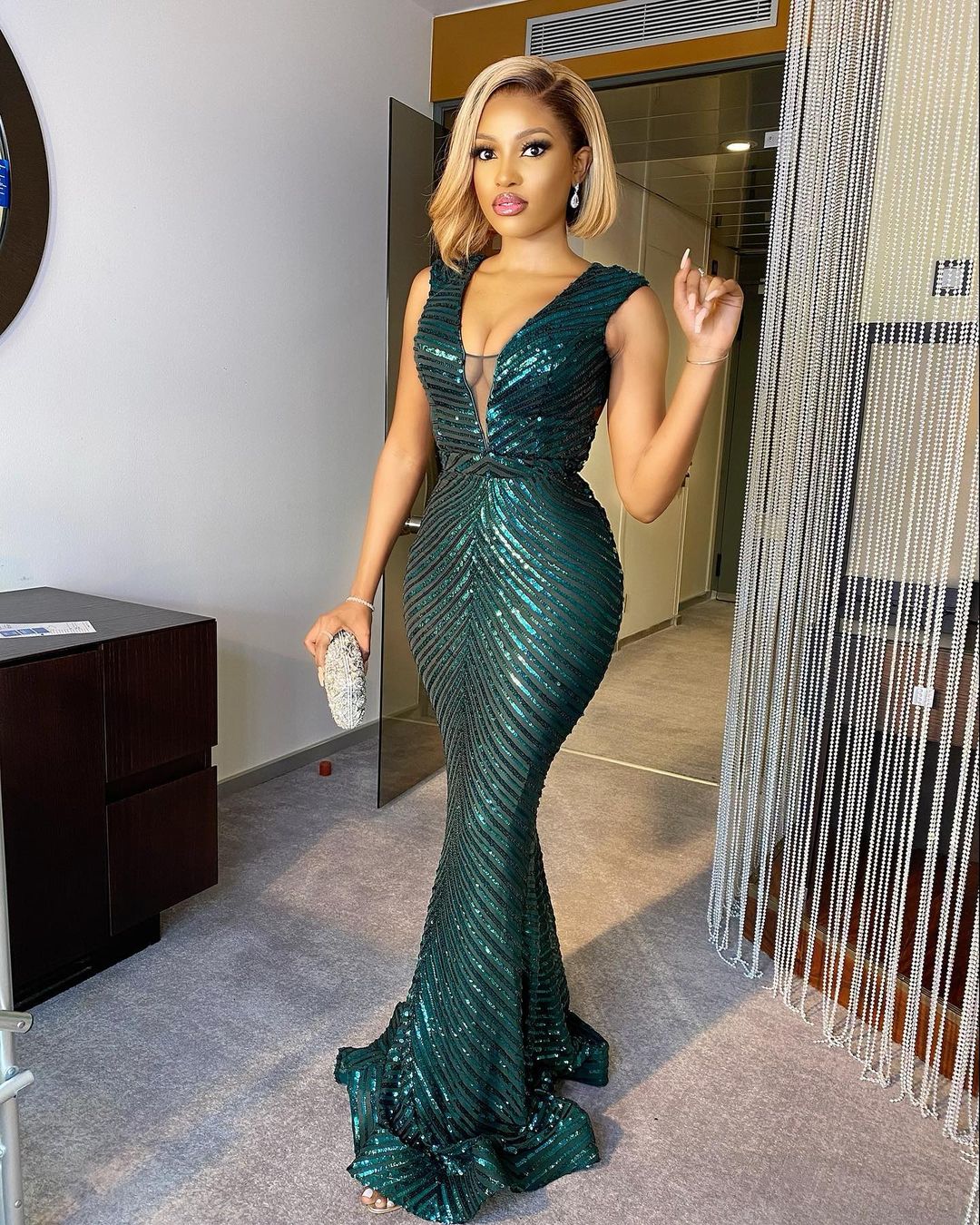 Simple and classy sleeveless A shape gown, with a touch of skin net. Your dress doesn't have to be too dramatic to look gorgeous.
4. Short Blue Ball Dress
Short ball gown with full pleating, looking like a real barbie doll.
5. Off-Shoulder Gown With Feather Design
Off-shoulder gown with a bit of feather on the sleeve, spot that pleating design round the waist.
6. Straight Pencil Long Dress With Thin Strap
This looks so comfortable with zero stress, now this dress is what I call the life of the party.
7. Front Slit With One Sleeve
Side slit long dress with one hand long sleeve.
8. Side Slit With Lace Design
Dripping in a long-sleeve gown with a side slit, this looks awesome with the choice of hand and lace as design.
9. Dripping In Purple Long dress
Dripping in a purple v-neck gown, two in one sleeve, the long sleeve, and the puffy sleeve, making the outfit look exceptional.
10. Straight Gown With Long Slit
Puffy hand with long slit and a little bit of flower design to pop out the beauty of the dress.
11. Sleek Lace Gown Style With Petal Neck Sleeve
Joselyn Dumas has always been known as an incredible fashionista both on and off the screen and her latest lace gown style is no exception to gorgeous and fashionable. You can style this with any sleeve of your choice.
12. Simple Pencil Lace Gown With Bell Sleeve And Dramatic Sleeve
Combining two different sleeve styles is fast becoming trendy and this can be styled on practically any kind of lace design, it is simple and perfect for owambe.
13. Lace Draw Sleeve On Split Gown
Lily Afe gives a new definition to aso ebi lace gown style and we love this exotic style.
14. Lace Gown Style With Net Design
Here is another simple and classy style for any kind of event, it's simple and perfect if you like bold and sexy styles.
15. Cute Split Lace Gown
Lace gown style does not have to be dramatic to be beautiful and fitting for an occasion, bell sleeves add all the glamour to this lace style above and it's just the right outfit for a traditional wedding.
16. Cap Sleeve With V Neck Gown
A v neck is a great substitute to a round neck and paired with a cap sleeve makes it just perfect.
17. Reserved Lace Gown With Ankara Design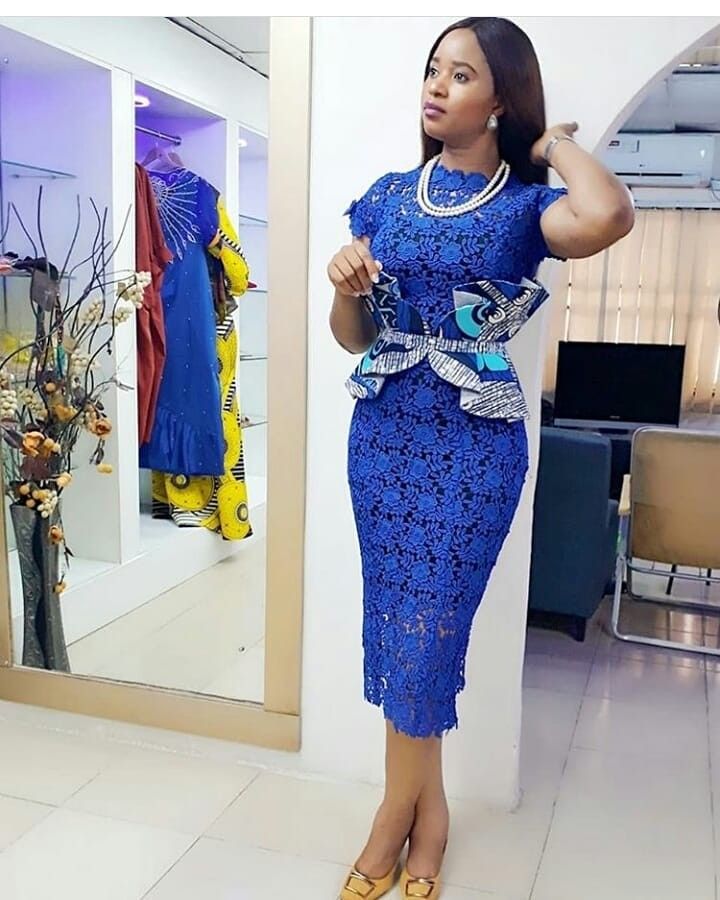 This is one of the trendiest lace gown styles you do not want to miss out on.
18. Casual Ball Gown Style
Ball gown styles do not have to be overly dramatic and flowy, you can keep it on the casual side with layers down the frock to keep it less elaborate.
19. Off-Shoulder Sleeve With Strap Sleeve Split Gown
This is simply stunning and suitable for all kinds of occasions, casual or elaborate.
20. Traditional Lace Gown With Raglan Sleeve And Wrapper
Looking for the perfect lace style for a traditional wedding? This is just what you need to stand out, it is a deck out in all its glamour.
21. Fancy Sleeve On Low Neckline Gown
Tune-up your choice of styles a bit and there you have this gorgeous outfit, this is sure to pop out in any kind of lace fabric.
22. Short Cap Sleeve Lace Gown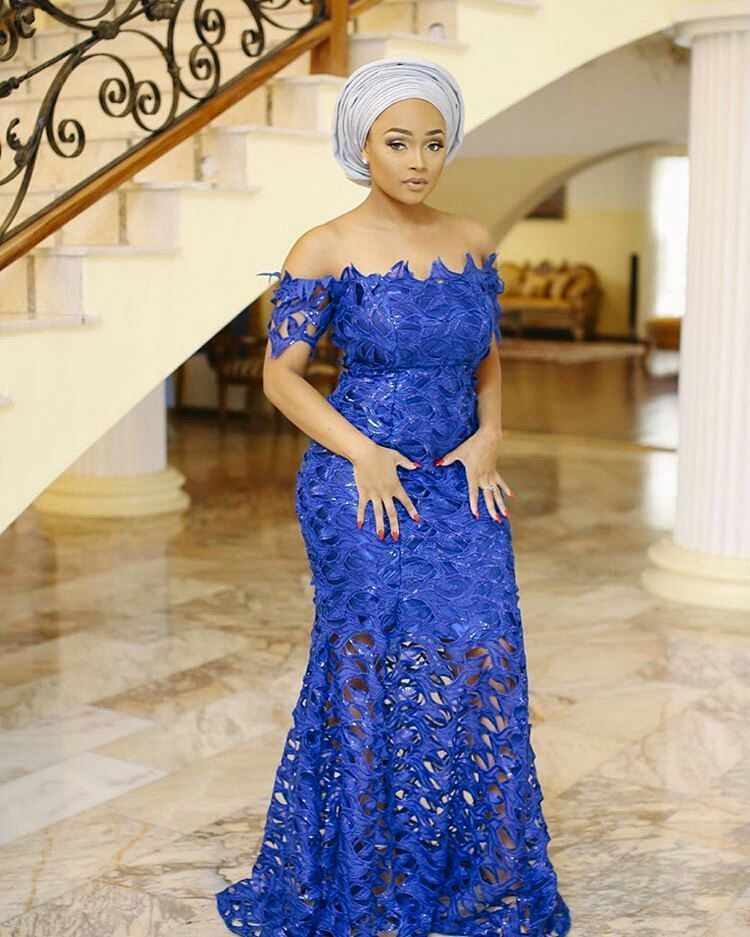 This is another fancy style that has been in trend for quite a while and has continued to be in trend due to its simplicity and how creative you can get with it.
23. Simple Lace Style With Petal Sleeve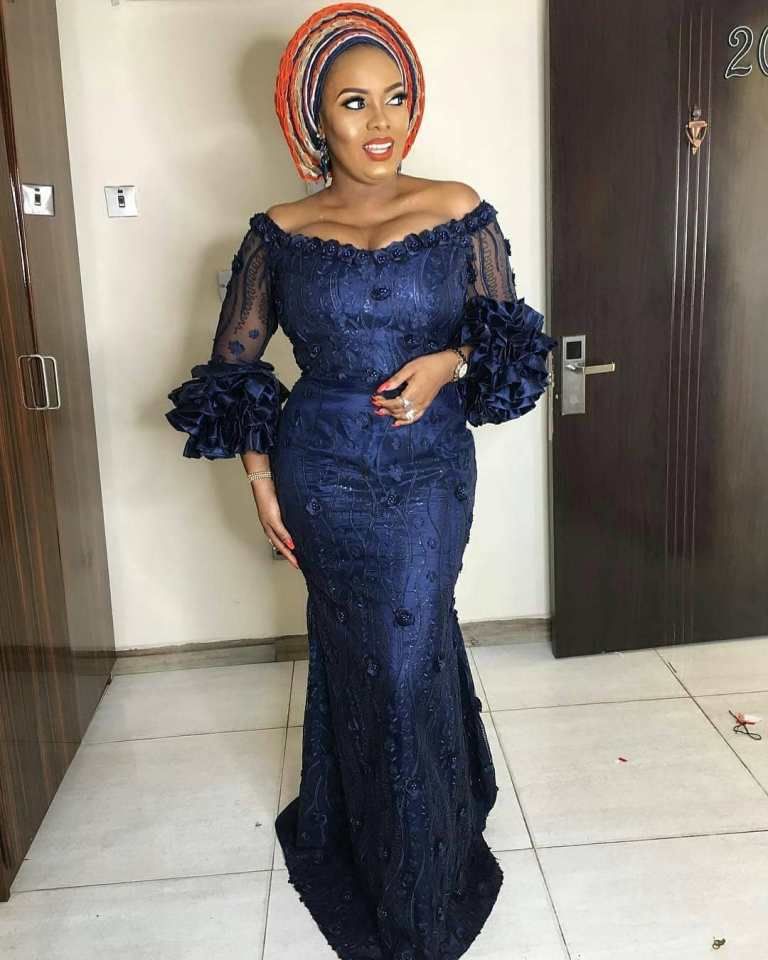 This is beautiful and not too dramatic which makes it suitable for all kinds of events and just like every other style listed above, you can get creative and add your own touch to it.
24. One Hand Long Flowy Lace Gown Style
This is another simple and beautiful long gown style you want to add to your list of fascinating owambe styles.
25. A-line Gown With Falling Sleeves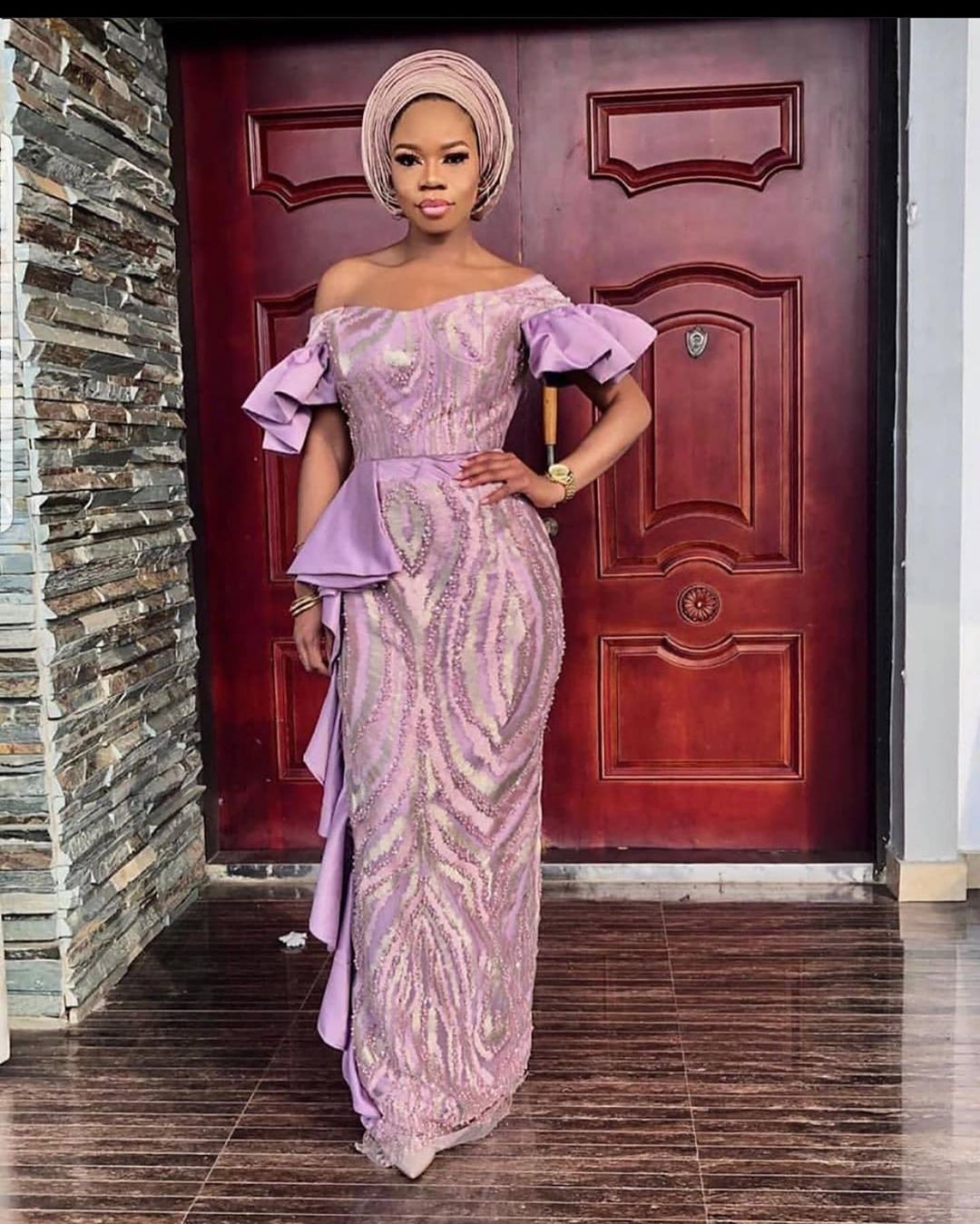 Falling sleeves are not the designers' mistake this days, this is part of the trend and it's fancy and fun.
26. Boogie Lace Gown Style
Keep it comfortable so you can hit the dance floor in style and glamour.
27. Net Lined Sleeve With Feathers Frock
It doesn't have to be filled with numerous designs to be fancy but a feathers design is something worth trying on your lace.
28. Tub Gown With Flowing Frock
This lace gown is designed with all the fancy and glamour befitting an owambe style, it is flowing and perfect for traditional weddings or reception.
29. Straight Gown Style With Long Sleeve
Another beautiful style that would continue to be in trend is this style from Mercy Aigbe, who always has her fashion A-game on and she is a great example.
30. Flamboyant Lace Gown Style With Low Neckline And Long Sleeve
This is a stunning and great style for that lace fabric you adore so much, it's just the right kind of owambe style that is sure to stand out.
31. One-Off Shoulder Gown With Low Slit
Keeping it simple means with no drama, nothing dramatic to stop you from loving this style, it's glamorous and perfect for all kinds of events even formal ones.
32. Neck Wrap Gown With Frills
Another elegant gown you can wear to keep you comfortable and easily hit the dance floor when the music starts.
33. Mermaid Gown With Petals Flower Design
A long mermaid gown can never cease to get you the attention you want at an event, it's elegant and classy which even makes it the most suitable for weddings.
34. Empire Waist Gown With Net Neck
Image: @africanlacestyles // InstagramThis style is becoming quite trendy and really worth it for an elaborate party.
35. Contemporary Gown With Bow Sleeve And Fringes
Explore a more bold and daring style, this is one chic lace gown style you can't ignore, it's stunning and truly fashionable.
36. Mermaid Tub Gown With Bow
The mermaid style is a recent design that takes a resemblance to a ball gown, it's simple and elegant, something you can gladly wear to a wedding and love it.
37. Side Rumpled Gown With Pleated Frock
Sometimes all you want is a simple gown you can re-wear and still garner attention. A fantastic style with less drama.
38. Half Shoulder Gown
Some styles just make parties more interesting just like the lace gown style above, we can only say it's beautiful and worth having in your closet.
39. Straight Less Gown
Talking about easy but pretty, here is the perfect style to fit the description. This style has always been in trend and nothing has changed that yet.
40. Off-Shoulder Gown With Fluffy Net Sleeves
This is a style that did show that sleeves don't have to be the normal trend, this is more fun and less boring, it also added some interesting look to the style.
41. Raglan Sleeves With Pencilled Frock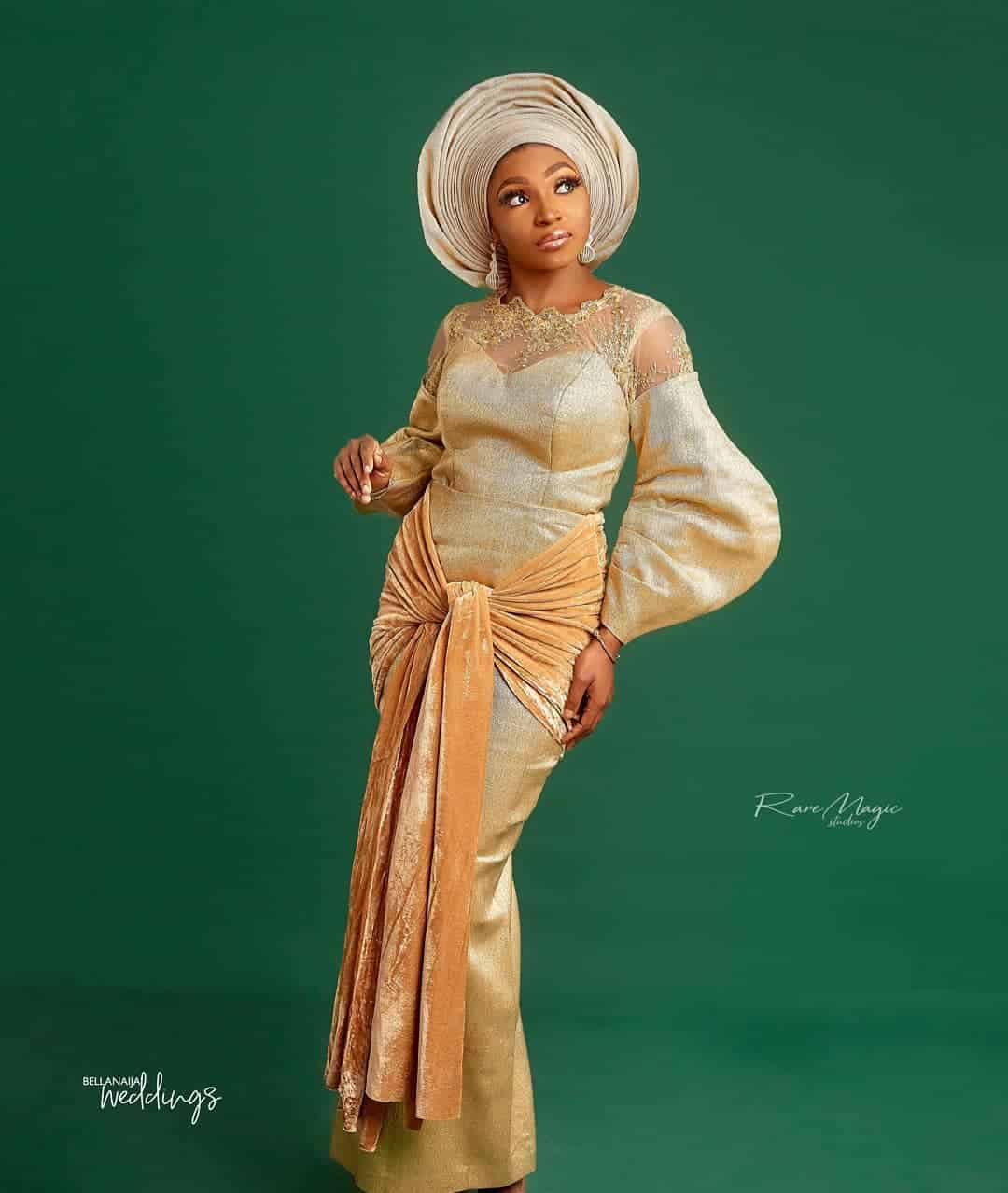 Expensive lace material deserves a unique style that gains attention, something you can rock and still love it each time you do so, the simple elegant style above might be what you need to show your tailor.
42. One Hand Sleeve Straight Gown
Often times you want a simple style you can re-wear just like the style above, here is a style befitting any lace design, elegant and stunning.
43. One-Off Shoulder Embroidered Lace Design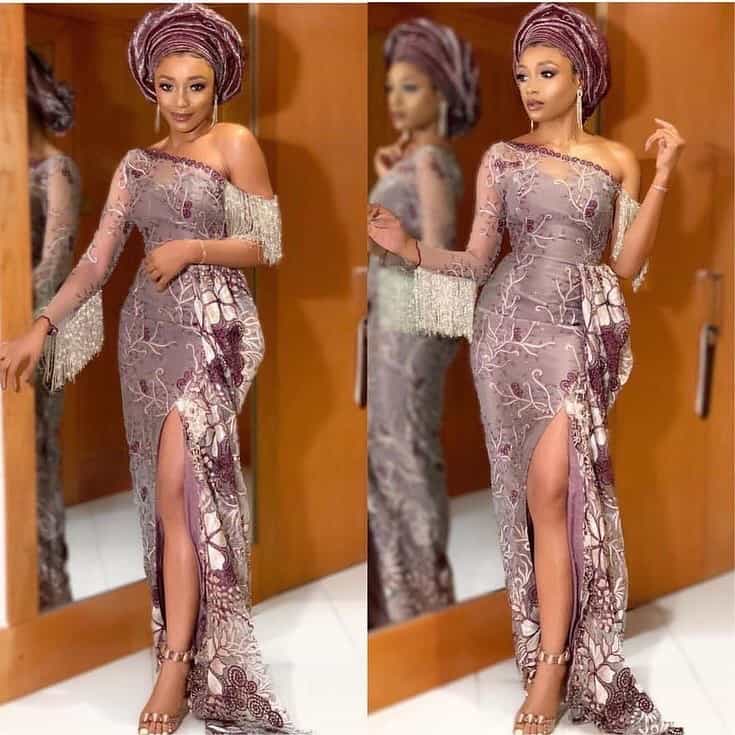 Here is a complete chic style to give you the perfect look, not too dramatic but fascinating enough to be worn for all kinds of occasions.
44. Puffy Layers Sleeve And Side Split Gown
A simple yet exotic style like the one above won't be such a bad idea for any kind of lace can also be styles with different types of fashion stones to make it more classy.
45. Large Petals Design On Pleated Gown
Most lace fabrics need styles that bring out their uniqueness like the style above, a soft lace material would do just fine.
46. Off Shoulder Gown With Double Bell Sleeves
This did garner some interesting comments on Instagram, ladies loved it and we can see why starting from the double bell sleeves and the penciled frock, it's simply beautiful.
47. Blazer Top Gown With Waist Layers
If you plan on a cute dashing style that is decent and completely adorably, you should go for this style, it really befits a lace fabric and also a style you can keep wearing for a long time and not get tired of, the waist layer can also be ignored but to make it more trendy hence the waist layer.
48. Petals Sleeve And Net Sleeve Long Gown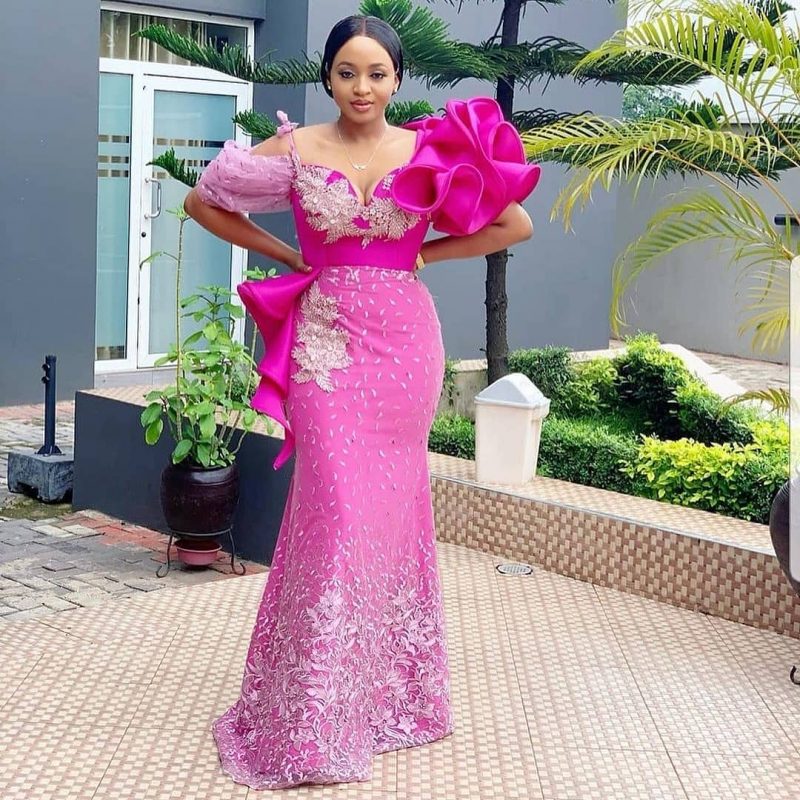 One of the most loved styles in 2019, it's a style perfect for simple and elaborate weddings, it's classy and smart, something lots of people love in styles.
49. Quarter Length Gown With Cross Sleeve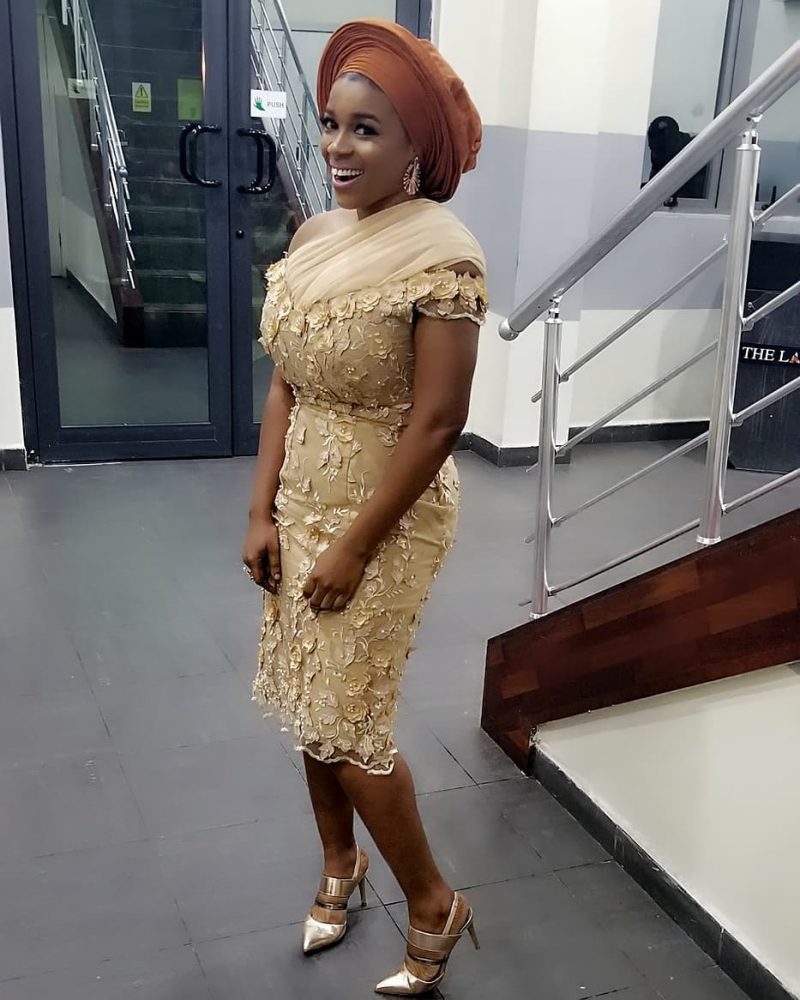 Lace gown styles are becoming more dashing and fascinating, this simply chic style is practically jaw-dropping, we love the sleeve and the not too fancy look it gives which makes it just the right style for any kind of wedding.
50. Simple Gown With Frills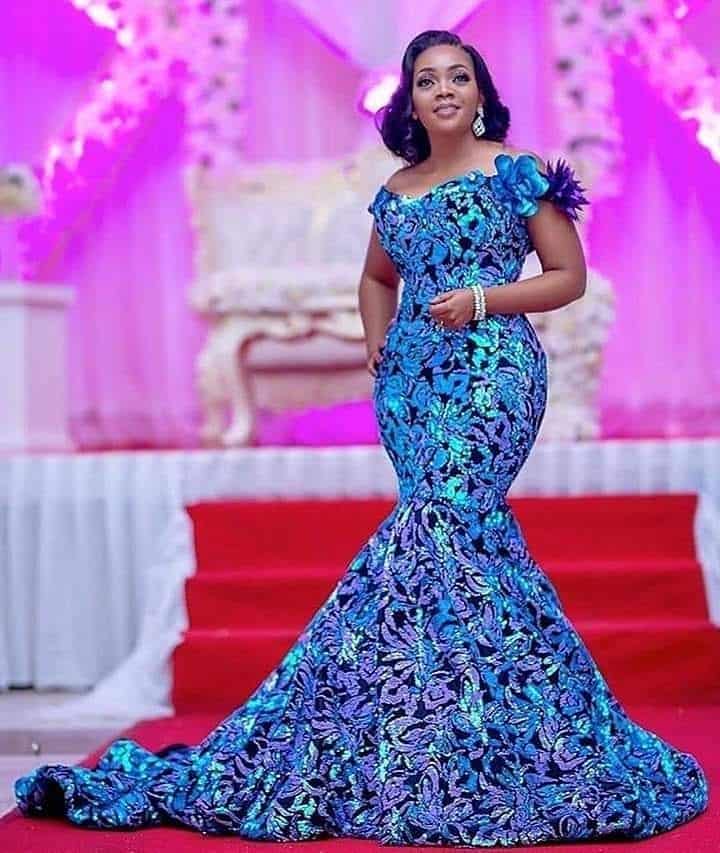 We are loving this and this style could totally pass for a traditional wedding style, it's simply elegant and fashion worthy and nothing can go wrong when you are wearing a style like this.
51. Round Neck Gown With Front Slit
Elegant and conservative is the right word for this style, some slits can't just be ignored and this style shows how beautiful front slits can be.
52. Off Shoulder Gown With Fringes
This style speaks of its glam itself and we love the fringe design, it adds some importance to the style and if you want it simple without the fringes then do go for it as it is still going to be stunning.
53. Long Conservative Sleeve With Cape Slit
Image: @africanstyles // Instagram
This is adorable and not too dramatic, this should be the right style to have this 2019, it's a style that would be in trend for a very long time.
54. Lace Gown Style With Frills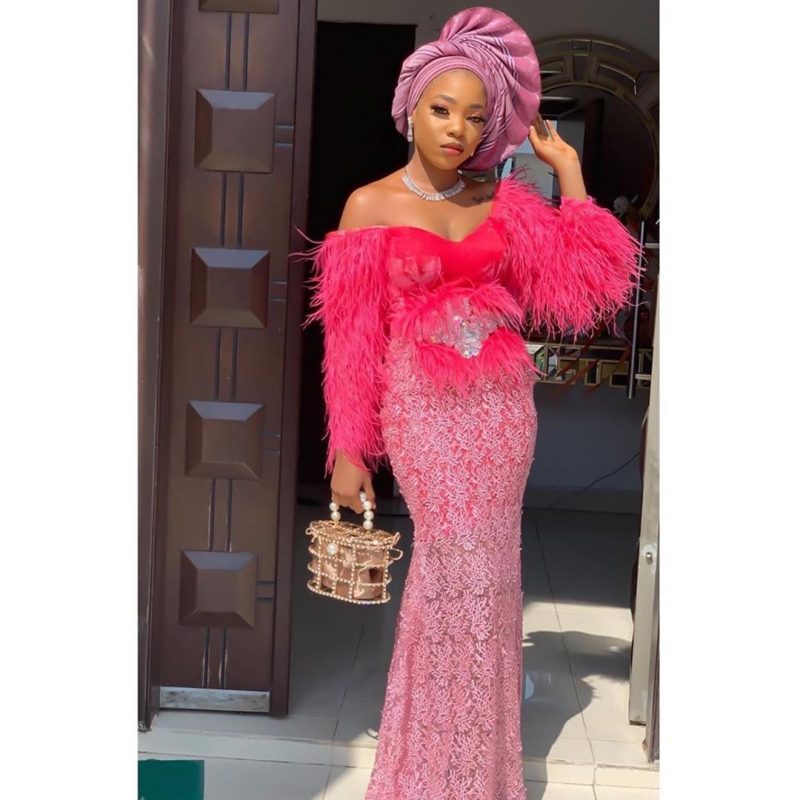 Ever wondered how a lace would look like if you style it with frills well this answers some of your curiosity and we must say this is pretty and worth space on 2019 lace gown styles catalog.
55. Cute Conservative Gown Style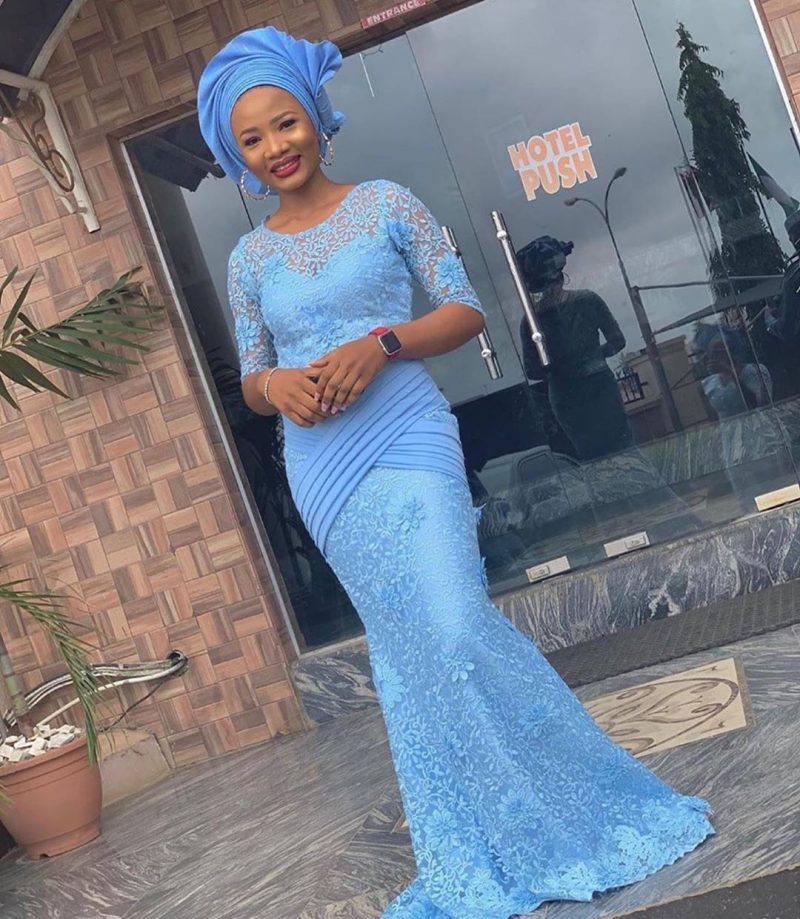 A decent lace style that meets all your requirement when attending a formal party, it's simple, smart and adds some confidence to appearance.
56. Attached Tied Sleeve With Simple Slit
The sleeve is a fashionable and modern addition to the world of modern sleeves, it's smart and you would definitely be getting all the right attention with a sleeve-like that.
57. Double Strap Lace Design
This is elegant and exotic, we like how it's not too fancy but can fit into any party nicely. Also not a bad idea for a simple classy wedding.
58. Off Shoulder With Tied Slit
If you want a style that says fashionista, go for this style, you would surely love how comfortable and convenient it is.
59. Thin Strap With Net Frills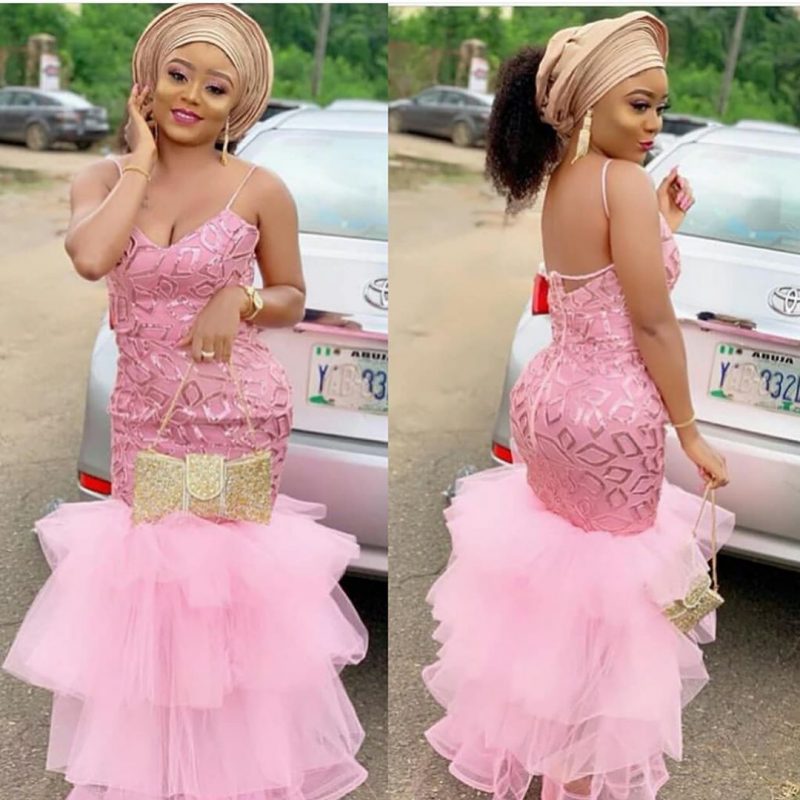 We are totally floored by this style especially with the net frills that added some alluring look to it, lace fabric can be really beautiful with styles like this.
60. Simply Lace Gown With Rubber Sleeves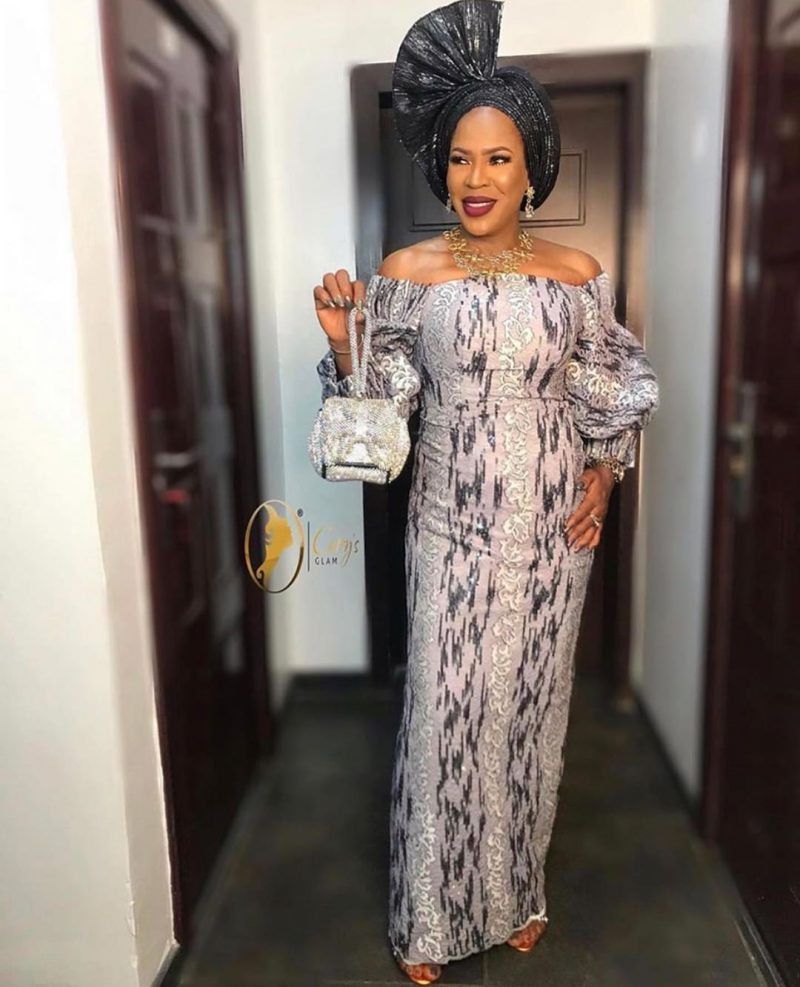 Often times, we really want a style that makes it easy to dance at the occasion, then this is just the perfect lace gown style you want in 2019, it is convenient to dance in and if you have the right tailor working on it, you would be floored with the outcome.
---
We are sure these styles have given you all the confirmation you need on how desirable and beautiful lace gown styles can, you tailor would have no problem recreating any of these styles for you as they are simple enough.
Read more on lace and owambe styles in 2019: