Owanbe will never be out of ceremonies in Africa and having a nice, elegant, breathe taking outfit will make you look all amazing. No matter how we try to talk less about the female native wears, it does not change the fact that it is getting more popular than ever.
This is the reason why we are bringing together some of the finest native attires you can think of for your next owanbe. What we love about owanbe is that we do not look less than who we are when it comes to our choice of outfit.
Every weekend there's always a wedding to attend and the perfect wear for any such wedding is usually lace styles or Ankara styles.
The latest lace or ankara styles for weddings and other various kinds of owanbe demanding occasions and events in Nigeria have been the reason for the surge in the demand for this wonderful and most adored women's fashion fabric since we were young.
1. Veekee James Stealing The Show In Her Elegant Dress
Long slit-free gown with skin net and lace design, looking stunning in the elegant style.
2. Chioma Looking Beautiful And Elegant
Choima on long straight net lace with fringe design as a sleeve. Do you want to be the life of the party? Try rocking this style, it helps you gain more confidence while rocking with nice footwear.
3. Nancy Looking Like A Ray Of Sunshine In A Print Dress
Ankara short gowns make you look, very much on-the-go. You can style an Ankara short gown with any of the different types of shoes for women depending on how you want to look. The Ankara short gown can be worn to work, weddings, or any casual outing. Its flexibility makes it a must-have for every wardrobe.
4. Oluwabusayomi Rocking A Green Dress With Little Twist
A puffy hand with a pleating design on the shoulder, outfit looking so beautiful with choice of accessories.
5. Temi On Off-Shoulder Gown With Double Puffy Sleeve
Image: @temicam_ // Instagram Off-shoulder long gown looking unique and good with a lace design. Designers sometimes use net materials, and other fabrics in different colors to design the puffy sleeve.
6. Princess Adeshayo On A Two Strap Neck Line Sleeve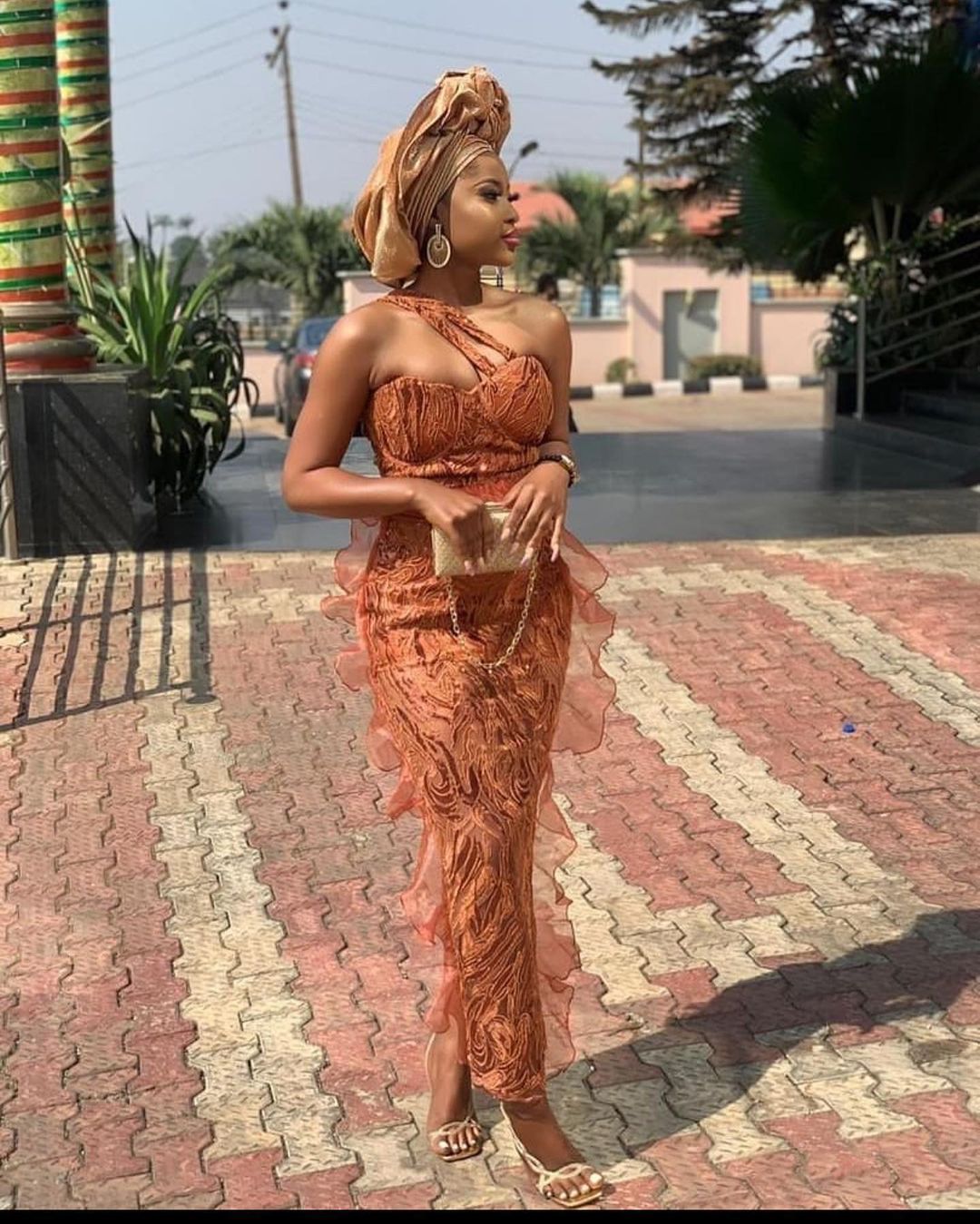 Long gown with sideways net design. If you don't want long or short sleeves you can rock this two-strap neckline sleeve, it will make you look exceptional and awesome.
7. Doyenne Rocking A Short Dress With Chevon Sleeve
Happy girls are the prettiest in ankara print with chevon sleeves making the short dress looking pretty.
8. Printed Ankara With Bub Sleeve And Off Shoulder
Lovely ankara print with bulb. A perfect fit for the weekend.
9. Stephanie Hemzem On A Long Sleeveless Gown
Lovely choice of color combination for this sleeveless dress, designed with skin net, looking floaty from the kneel length.
10. One Sleeve Peplum top With A Pant Trouser
Peplum top with one long sleeve hand and pleating, rocking the top on a pair of pant trousers.
11. Long Dress With Little Twist And Off-Shoulder
Ankara long dresses suit any lady whether tall or short, slender or plus-sized. The important thing is to choose a style you are best comfortable in. Long dresses accentuate your femininity and help in concealing some flaws in your figure. Wearing heels with a long dress gives you a more confident carriage.
12. Black Is Known To Be Beautiful Without Hurt
Black gown with a little twist, looking awesome with two straps of hand and flower as design, giving it a stunning look.
13. Ariyike Looking Perfect On A Kneel Length Dress
Glistering gown with long sleeves, looking all set for the owanbe.
14. Owanbe Guest Looking Like An Angel
Straight long dress with amazing designs, giving the dress an elegant look.
15. Happy Girls Are The Prettiest On Burnt Orange
Skin net long sleeve hand with little lace design and fringe. Looking pretty.
<
16. Dakore Keeping It Casual And Simple
Printed ankara with fley sleeveless gown, looking casual and classy for your next owanbe.
17. Adeoye Blessing On A Burnt Orange dress
Burnt orange color top gown with off shoulder, looking stunning.
18. Fenny Looking Pretty And Snatched
Two different hands with a rose design, looking like a ray of sunshine.
19. Nancy On A Slit And Sleeveless Dress
Life of the party dress. A slit gown with a skin net design.
20. Violaflair On A Rose Mini Dress
A sleeveless turtle neck short gown with a little slit can be rocked for that occasion.
In conclusion
There's hardly any Nigerian lady (old or young) that would say they don't know how wonderful lace styles and lace outfits look or how lovely and most revered they have always been, this love for the latest lace and ankara styles of all time has not reduced that's why I have compiled the above list of most loved and wanted lace styles for every ladies out there to rock as she so pleases.
Read more on our owanbe outfits: