One fabric we could not help but notice how it's making waves in the fashion world is lace, it is mainly believed to be made for the traditional occasion and that might be true but as a fashionista, have you seen the latest lace styles?
This particular fabric has been around for many years. Lace styles have become more modern and some of its styles can now compete with Ankara styles. Lace material comes in different colours and beauty which makes it even more interesting to sew styles with.
Modern days styles for the lace are so chic, you would be getting lots of compliments for them at a wedding, we have carefully selected some of those latest styles you can't help but love.
Lace is very well respected mostly in Africa, in fact, it is adored and widely choose for traditional weddings but with these latest styles, you can stand out all occasion.
Most Beautiful Latest Lace Style Pictures For 2022
70 2022 lace styles that can never be described as boring, fashion enthusiasts will describe these designs as classy, glamorous, and beautiful.
1. High Thigh Slit With Strap Sleeve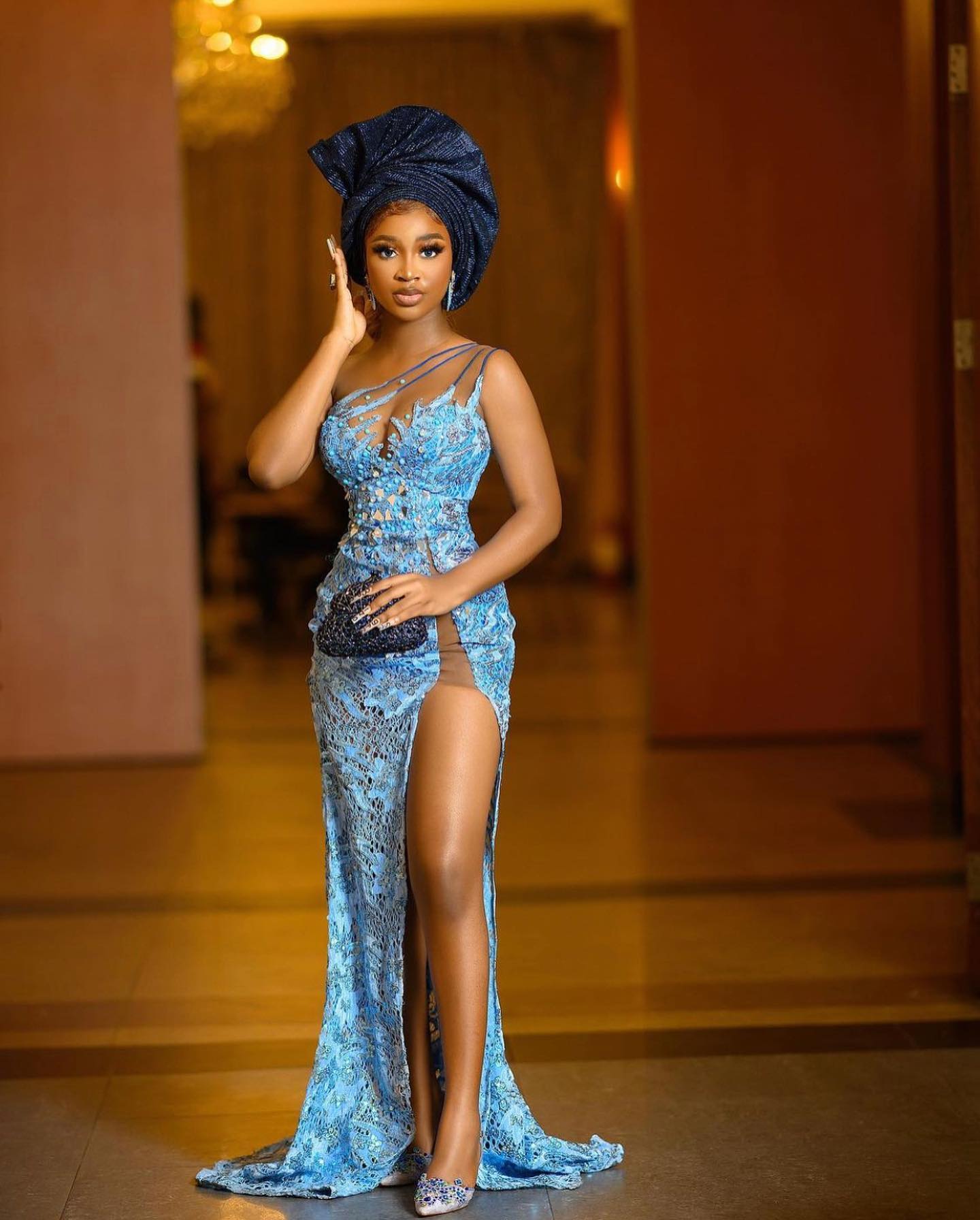 Thigh-high slits are currently the new trend, and they seem to work for lace fabric. This lace style is really classy, and you can be sure it's an ideal outfit for weddings or any elaborate occasion. You can go with any sleeve you prefer.
2. V-Neck Lace Emerald Gown With Cute Sleeve
Here is another exquisite style you do need in your wardrobe. This style has been around for a while and designers have found lots of amazing ways to make this style look even more astonishing.
3. Straight Gown With Diffrent Chic Sleeve
Standing out at a wedding as the guest shouldn't be difficult if you are wearing an outfit like this. This is really beautiful and just the right outfit to elevate your mood.
4. High Thigh Slit Gown With Cute Embroided Designs
Need something even more classy and exquisite? Here is a gorgeous style that will not only elevate your look but your fashion status as well.
5. Tub A Line Gown With Fringe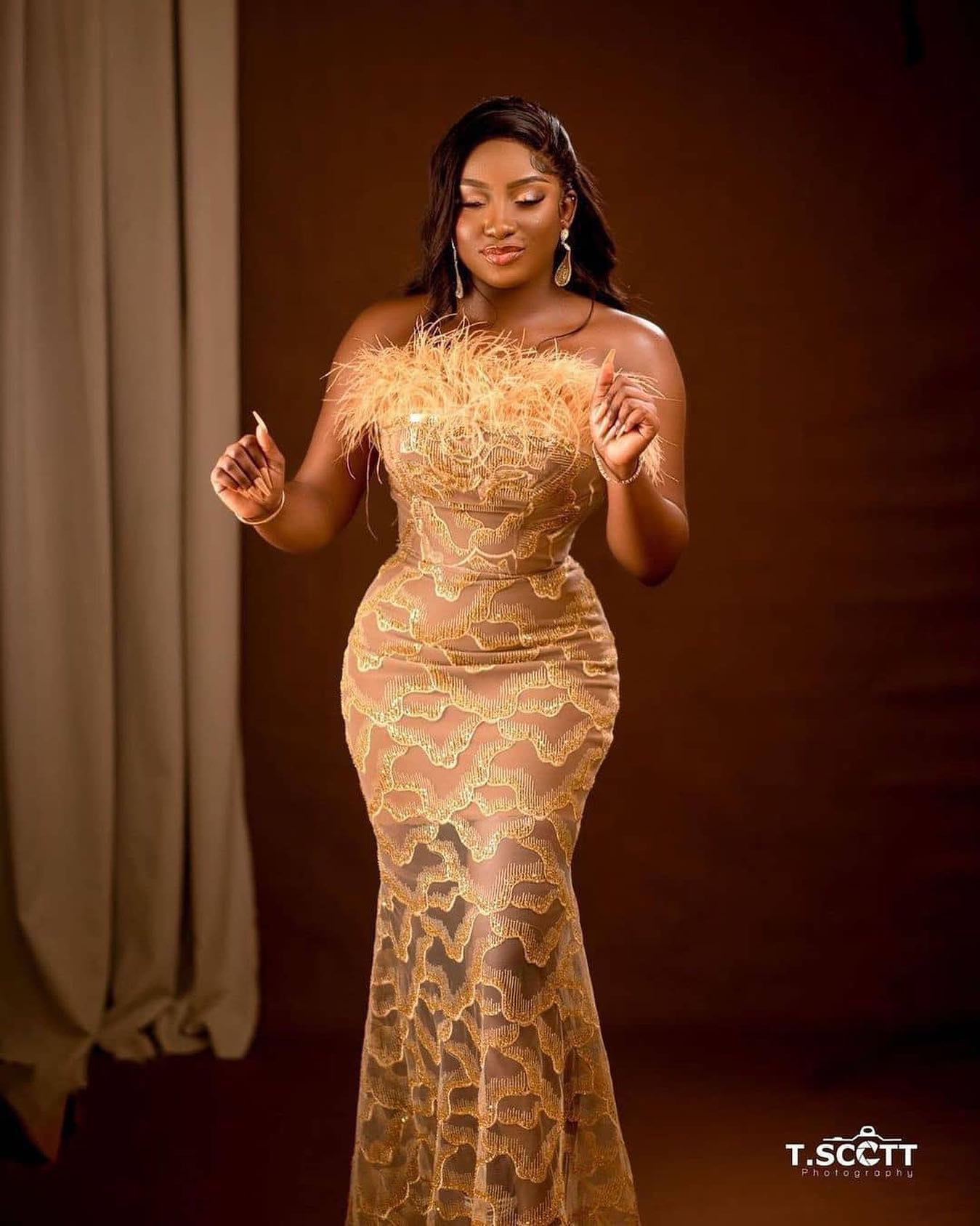 Tub gowns can be really exciting if you know how to style them and make them work. So, here is the perfect outfit to inspire you.
6. Side Thigh Slit With V Neck Strap Sleeve
With so many styles out there, it can be really confusing. But if you are on the lookout for something bold and interesting then here is one you are sure to love.
7. Net Rope Sleeve With Side Layered Ruffles
Fashion will only continue to get better. With an exciting style like this to add to the list, you are going to be attending quite a lot of owambe this year.
8. V Neck Sleeve Panel Lace Gown Style
Lace fabric really has a way of making any style look pretty effortlessly. Here is another fascinating style we can't say no to.
9. Average White Lace Gown With Circular Sleeve
From the sleeve to the gown itself, this is a unique style, and you can't go wrong with these for a traditional wedding.
10. Off Shoulder Sleeve With Slit
The off-shoulder sleeve is causing an interesting fashion buzz on Instagram. Hence, it's time to have it recreated for yourself.
11. Off Shoulder With Bell Sleeves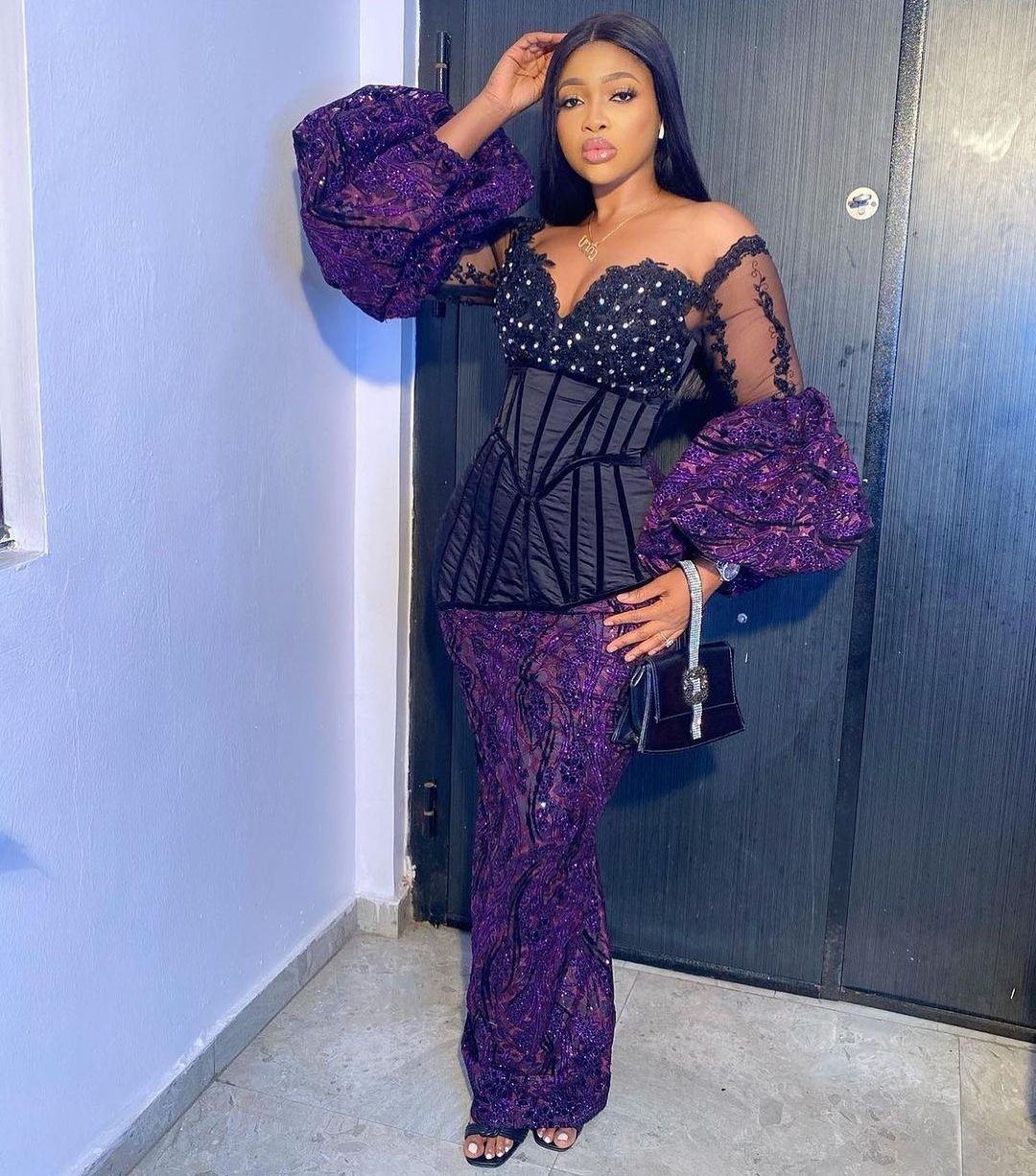 With the right style, lace fabric can never be found boring, and here is an elegant off-shoulder style to prove that. This is the perfect style to go for if you want to stand out as a wedding guest on any occasion.
12. Mermaid Gown With Cross Neck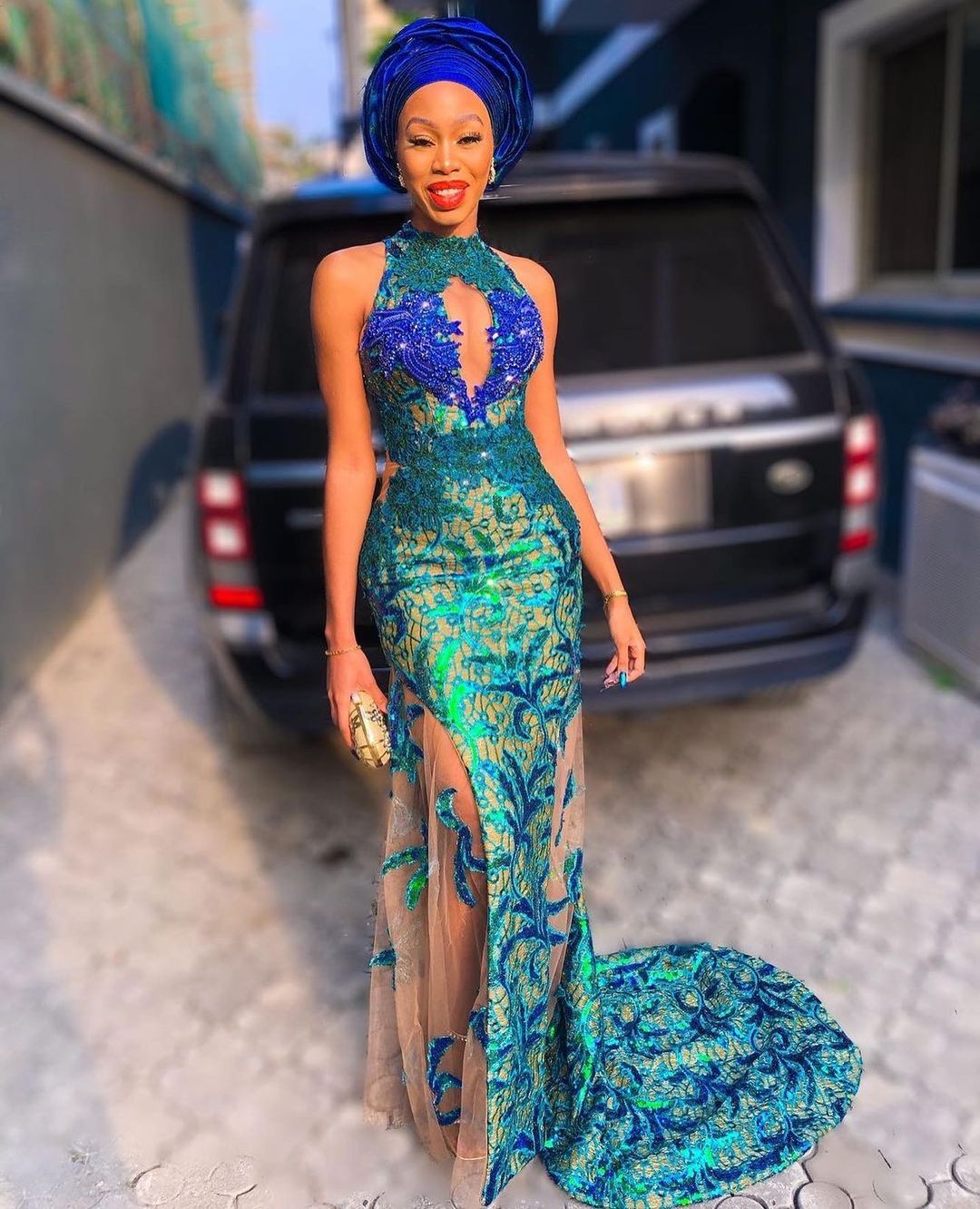 A simple cross neck gown is a trendy style to go for these days and one way to make it look more amazing is by making the frock look dashing in mermaid style.
13. Long Sleeve Lace With Cape
The trick to a cape style is to keep it simple and classy as done with the style above.
14. Falling Sleeve With Split Frock
If you're quite selective of styles for lace fabric then here is a style that suits anyone's taste. It is not just simple but very conservative as well.
15. Average Gown Fringe Style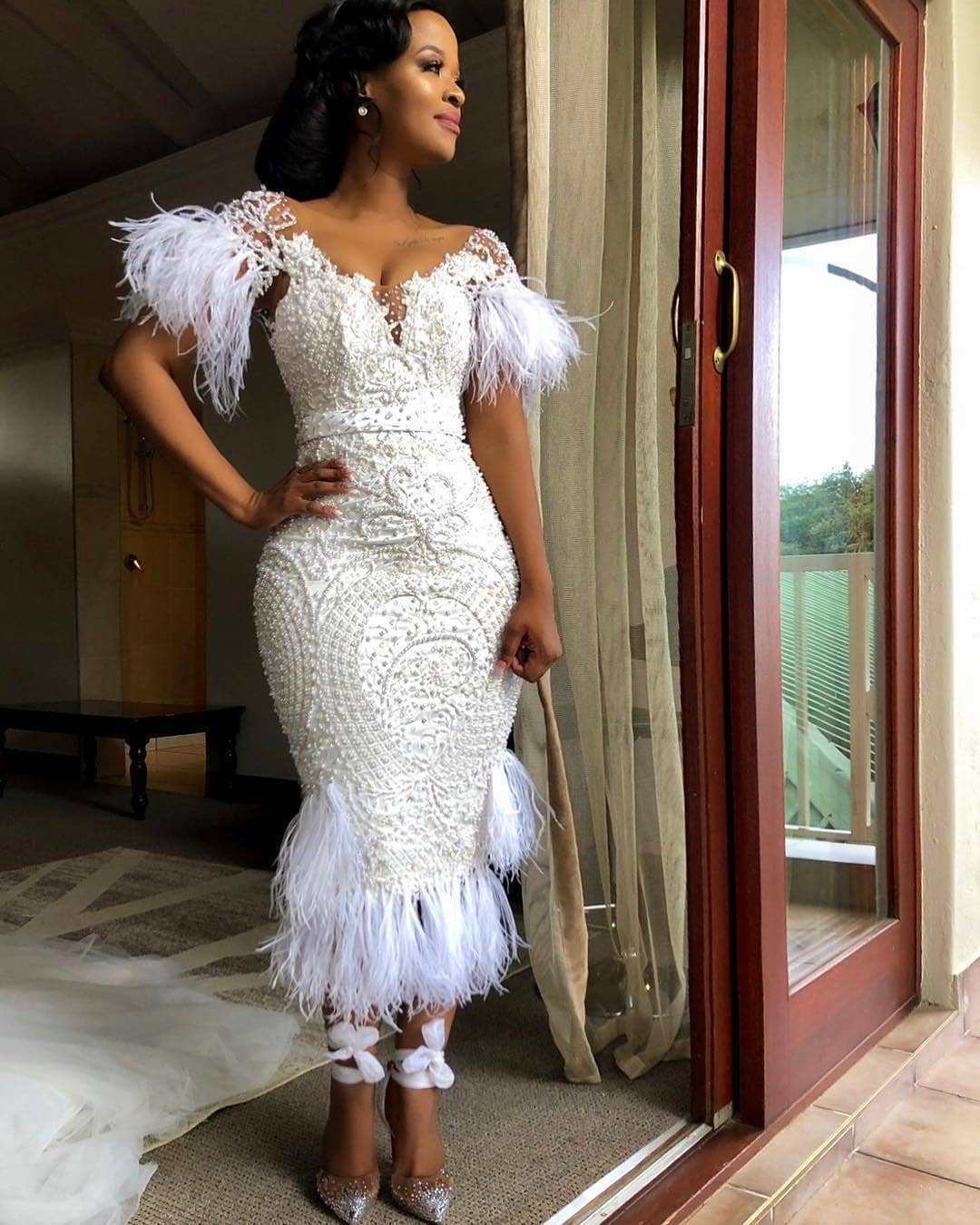 Everyone loves an outfit adorned with fringes and they look even gorgeous when it's a lace fabric being used.
<
16. Simple Short Lace Gown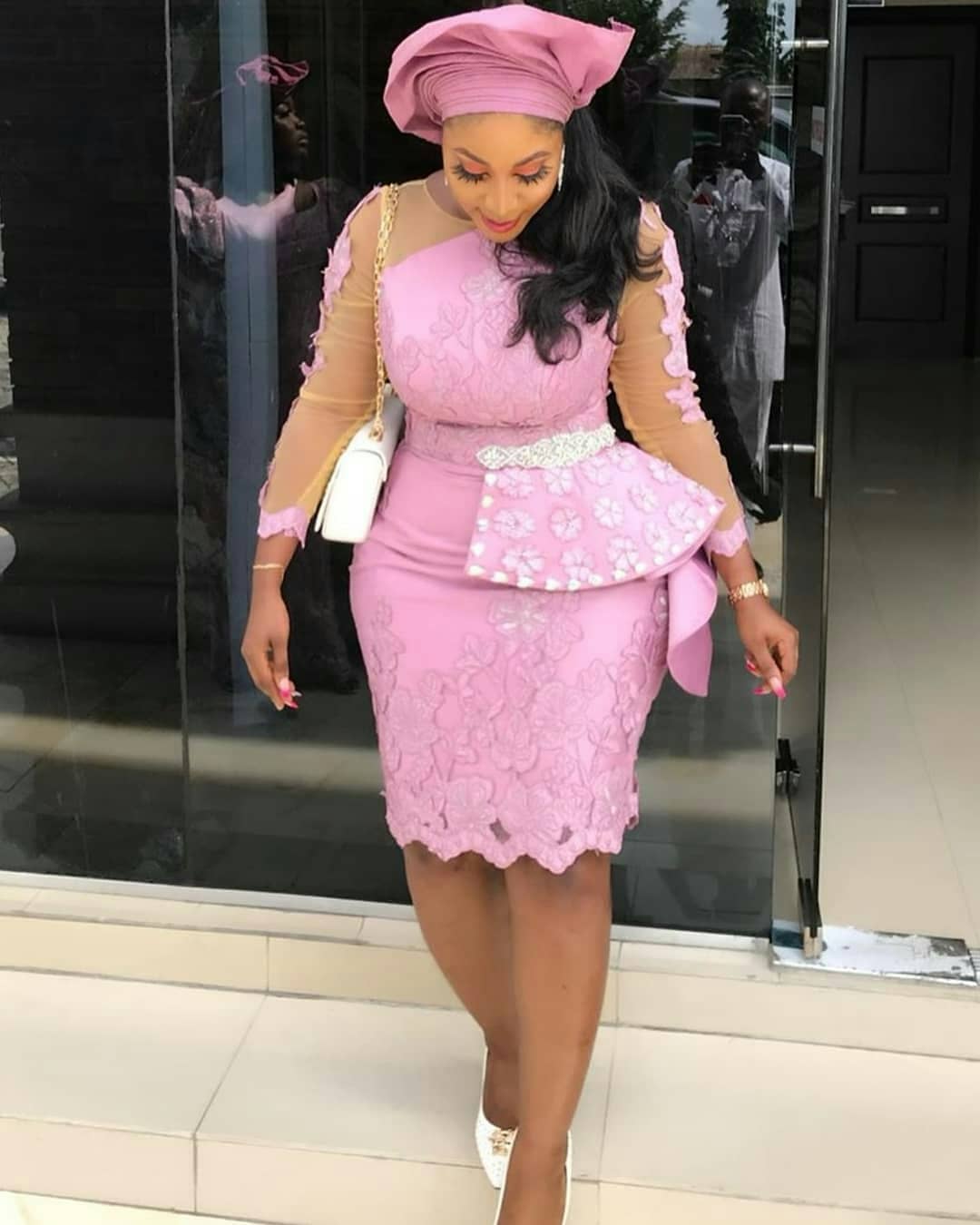 Keep it short and simple.
17. Strapless Steeve Straight Gown
A white lace fabric can never go wrong and above is a style that pairs nicely with it.
18. V-Neck Lace Gown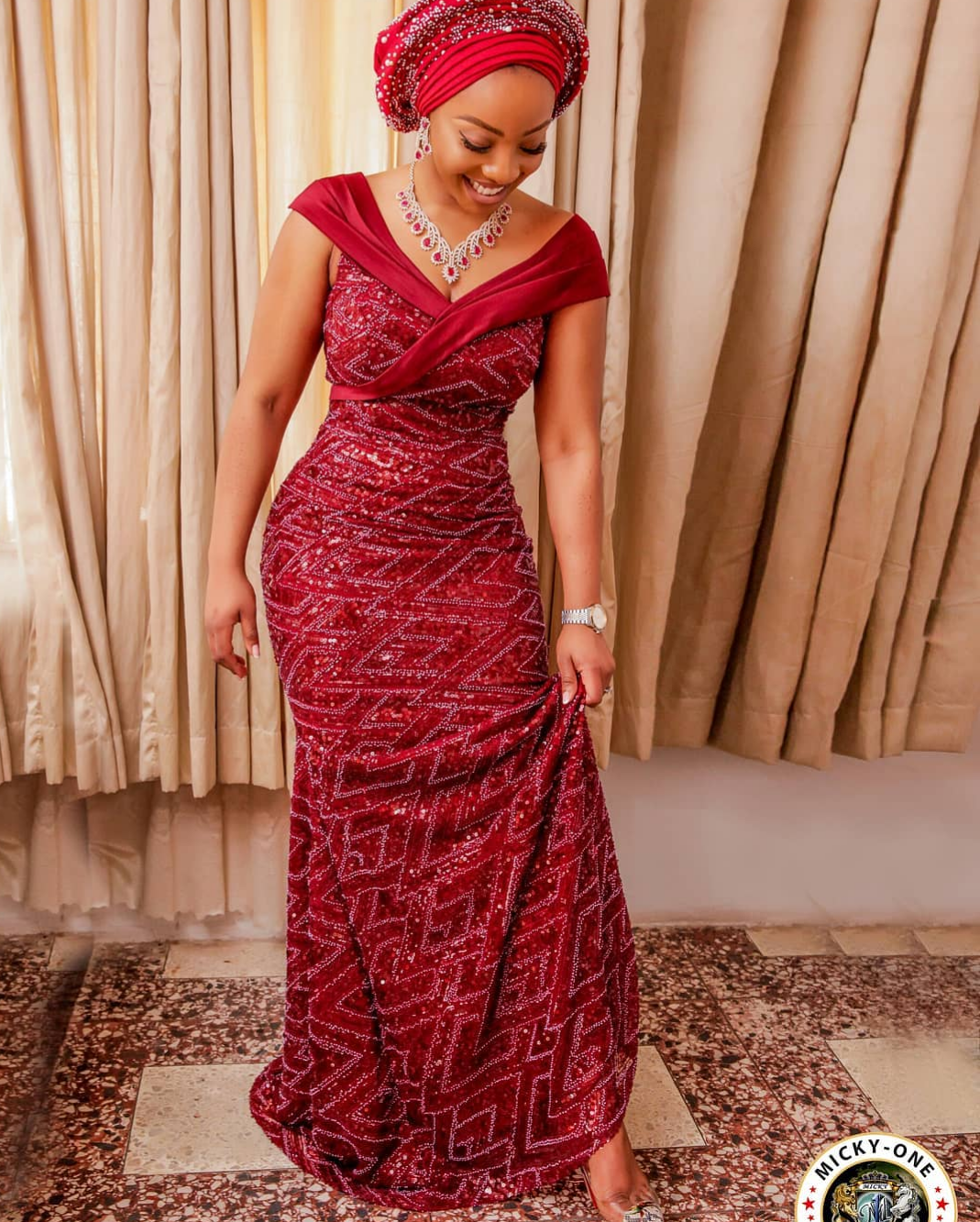 This is a great style for a traditional wedding or an owambe.
19. Short Cap Sleeve Lace Gown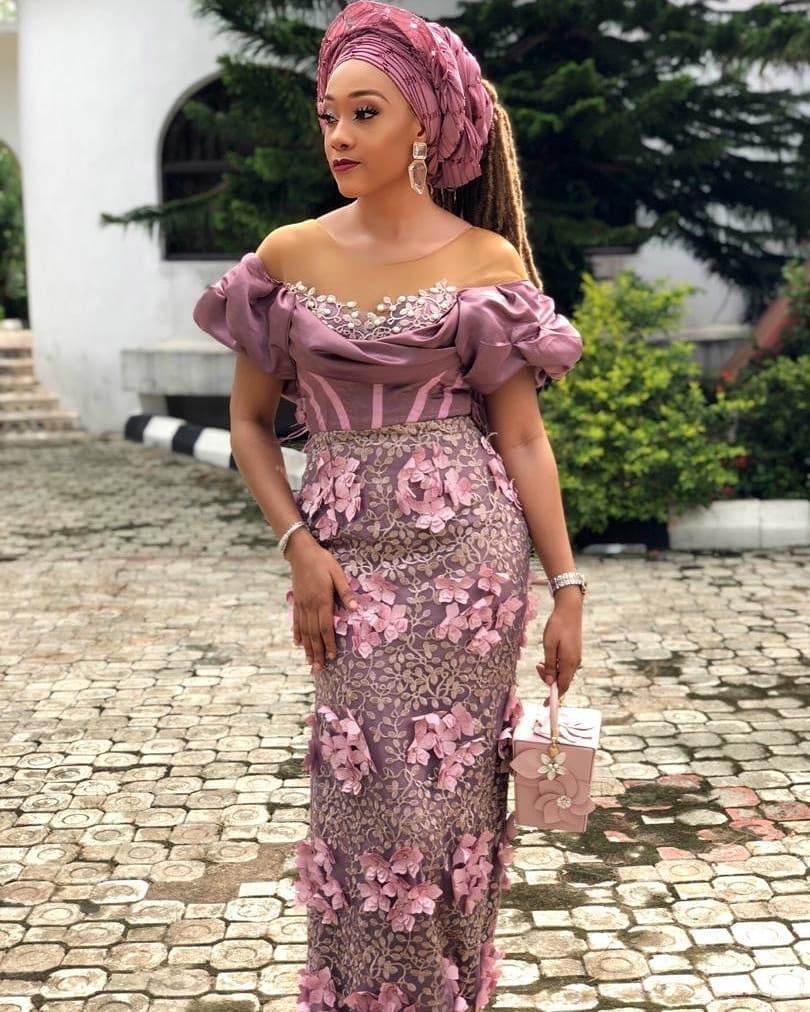 Here is another stylish outfit you can't help but love. This is best suited for a lace style with flower designs, it adds to the uniqueness of the style thereby making it stand out.
20. Pencilled Gown With Fringe Sleeve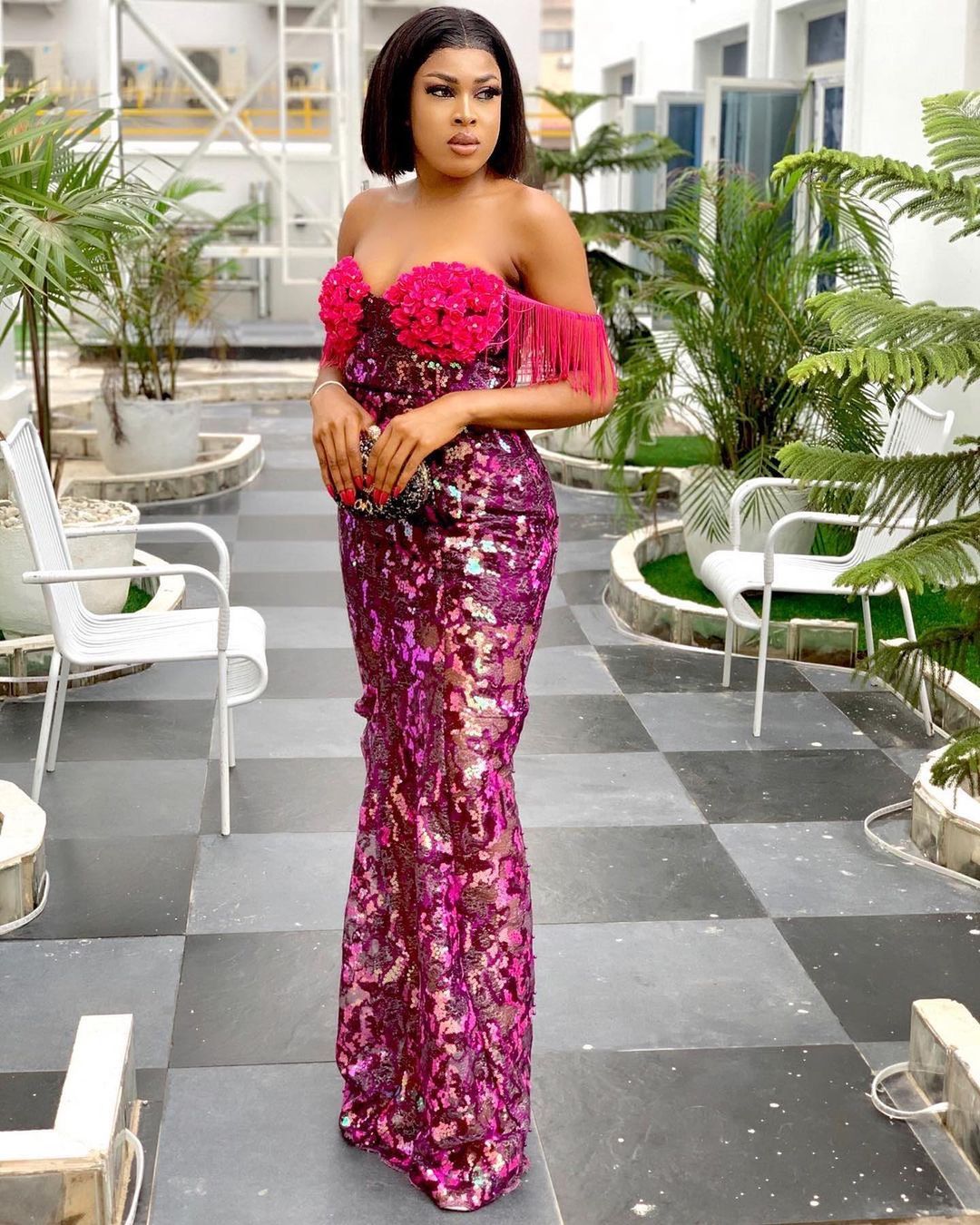 Keep it sassy and simple, this is the perfect way to turn up as a guest to any wedding.
21. Simple Lace Design With Layer Frock
Biodun Okewo is well known for her amazing wedding styles, this above is no exception, it has been woven to make you the best wedding guest. This style is exotic and beautiful and not the whole material is lace, just the upper part of the blouse but this can be designed according to your preference.
22. Off Shoulder Gown With Medium Split
This is quite simple and not one-bit elaborate which makes it the most perfect outfit if you do not want to attend a wedding looking too exuberant. This is one beautiful lace gown style and your designer can add even more interesting designs to you.
23. Tiny Strap With A-line Gown
Keeping it simple and classic is usually the best option most time, it makes hitting the dance floor very easy and comfortable.
24. One Hand Lace Design With Attached Cape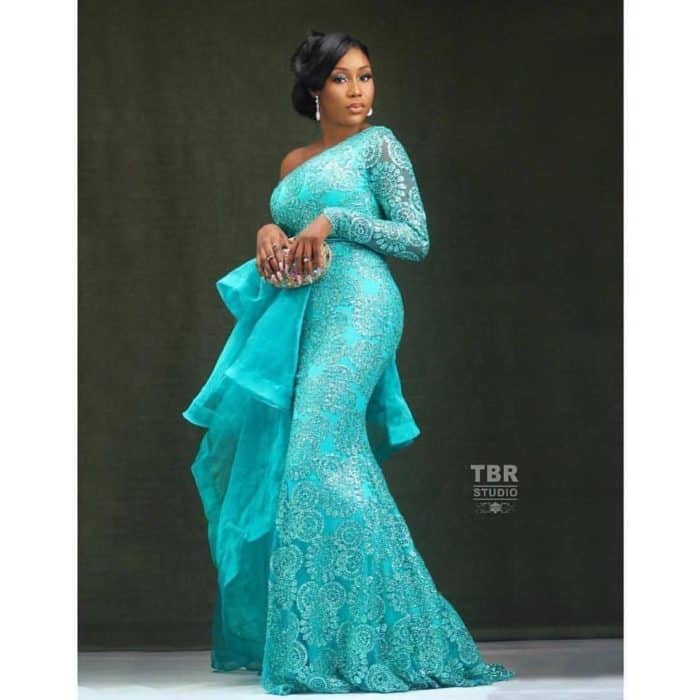 Here is another exotic lace gown design you can't help but love, also quite simple and this is fitting for any kind of wedding.
25. Long Cap Sleeve With Ruffled Frock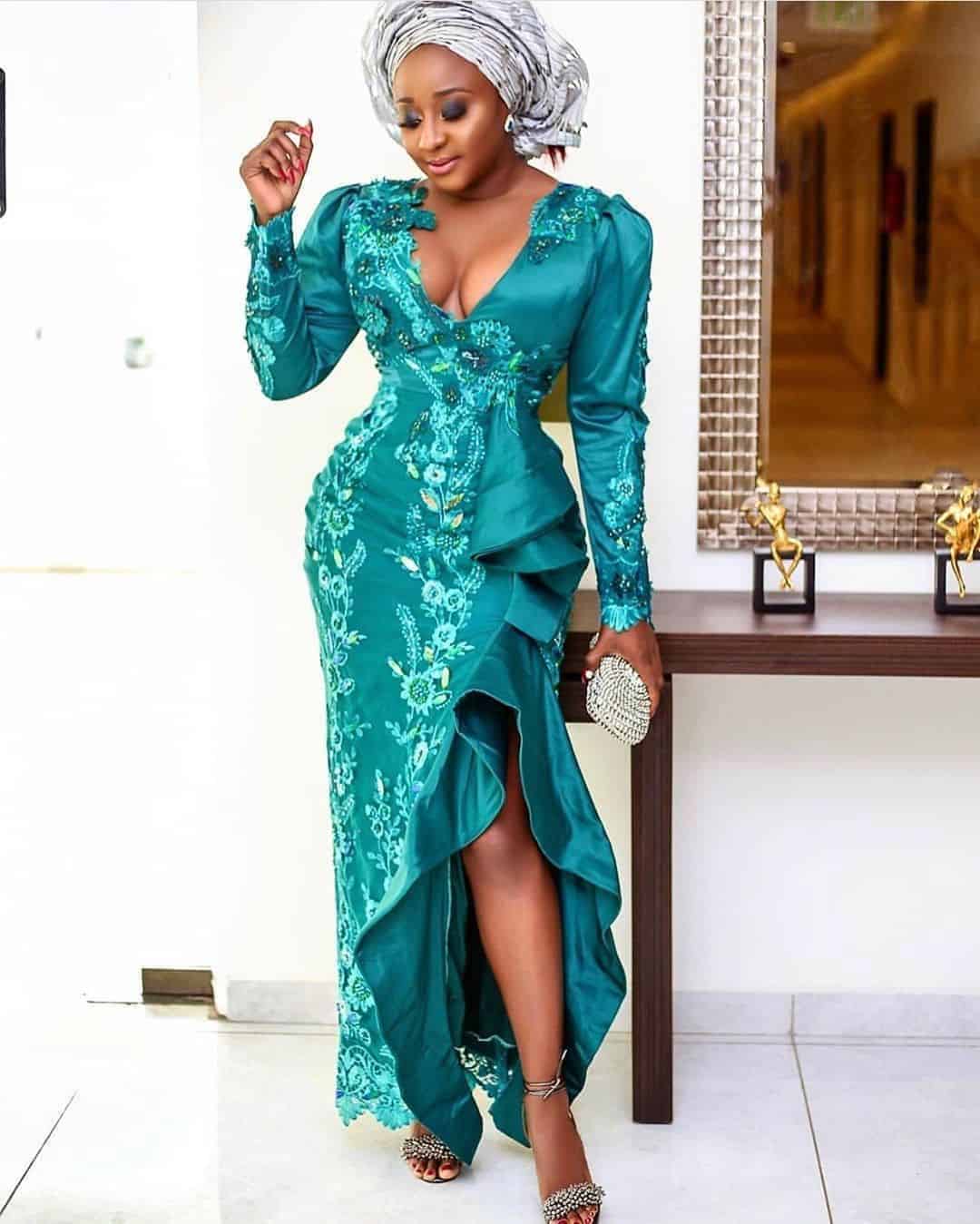 Ini Edo is a dive whose taste in fashion is held in high esteem, she always keeps it interesting and trendy. Her styles are fabulous and can be worn for practically any event and wedding.
26. Large Bell Sleeves A-line Sleek Gown
This is beautiful and we love it, this is one lace gown style that would look stunning on anyone, it has simple designs that are easy to replicate.
27. Strapless Tun Micro Gown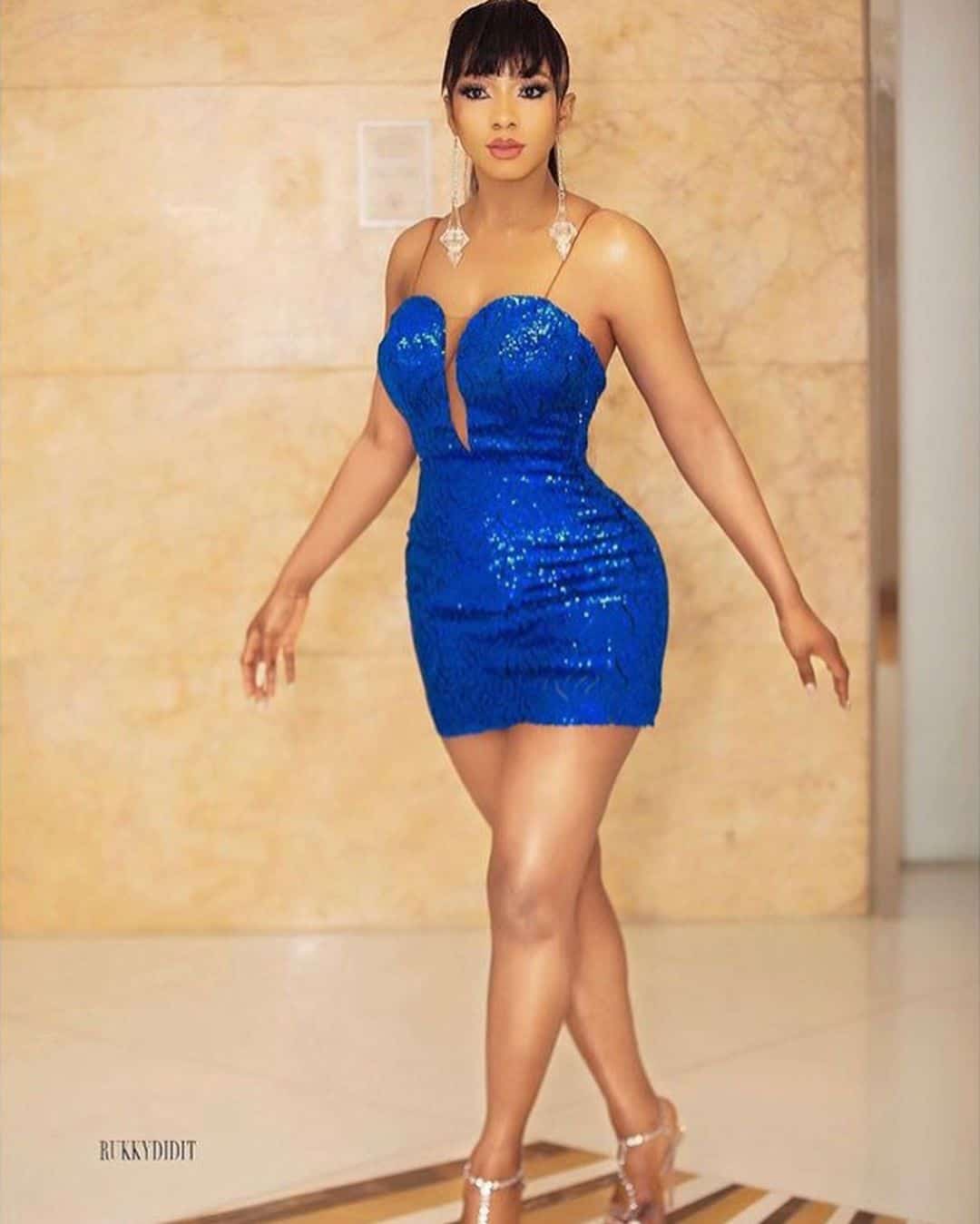 Keep it simple and less dramatic if you want to be comfortable. This is quite bold and stylish
28. Shiny Lace In Boogie Design
Mimi Onalaja is another celebrity you can watch out for to deliver the best owambe styles, she keeps it classic and elegant.
29. Lace Gown Style With Fish Design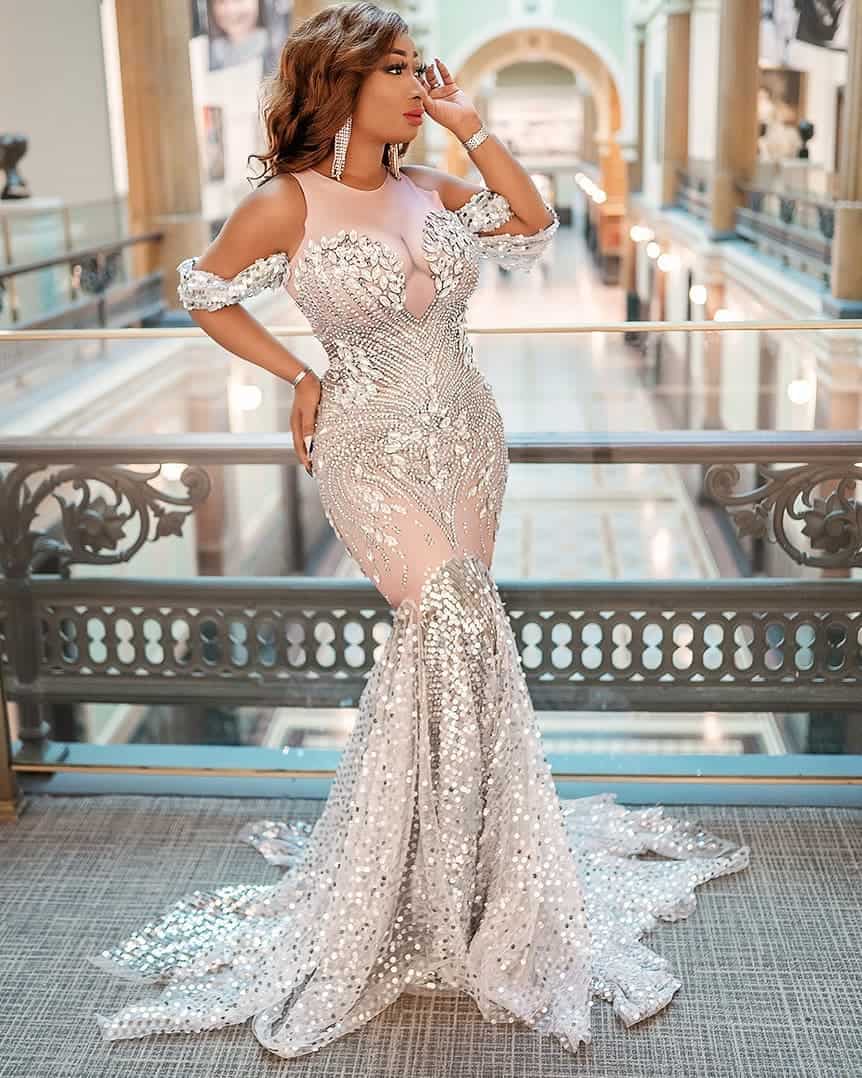 Chicama is one of the style influencers on Instagram that always have something lovely and fashionable to showcase and her lace gown designs are no exception. This is one beautiful style you are going to love and adore.
30.One Hand Raglan Sleeve
This style should cause no stress or hassle if you are going to replicate it.
31. Double With Turtle Neck And Sleek Pencilled Gown
You do not need an elaborate gown to look glamorous at a wedding, something simple and interesting like this style above would do just fine.
32. One Hand Raglan Sleeve On Micro Gown With Side Wrap
Simple and stylish does the trick most times in lace designs. This is one style that is going to trend for a long while.
33. Double Sleeves On Pleated Gown And Cape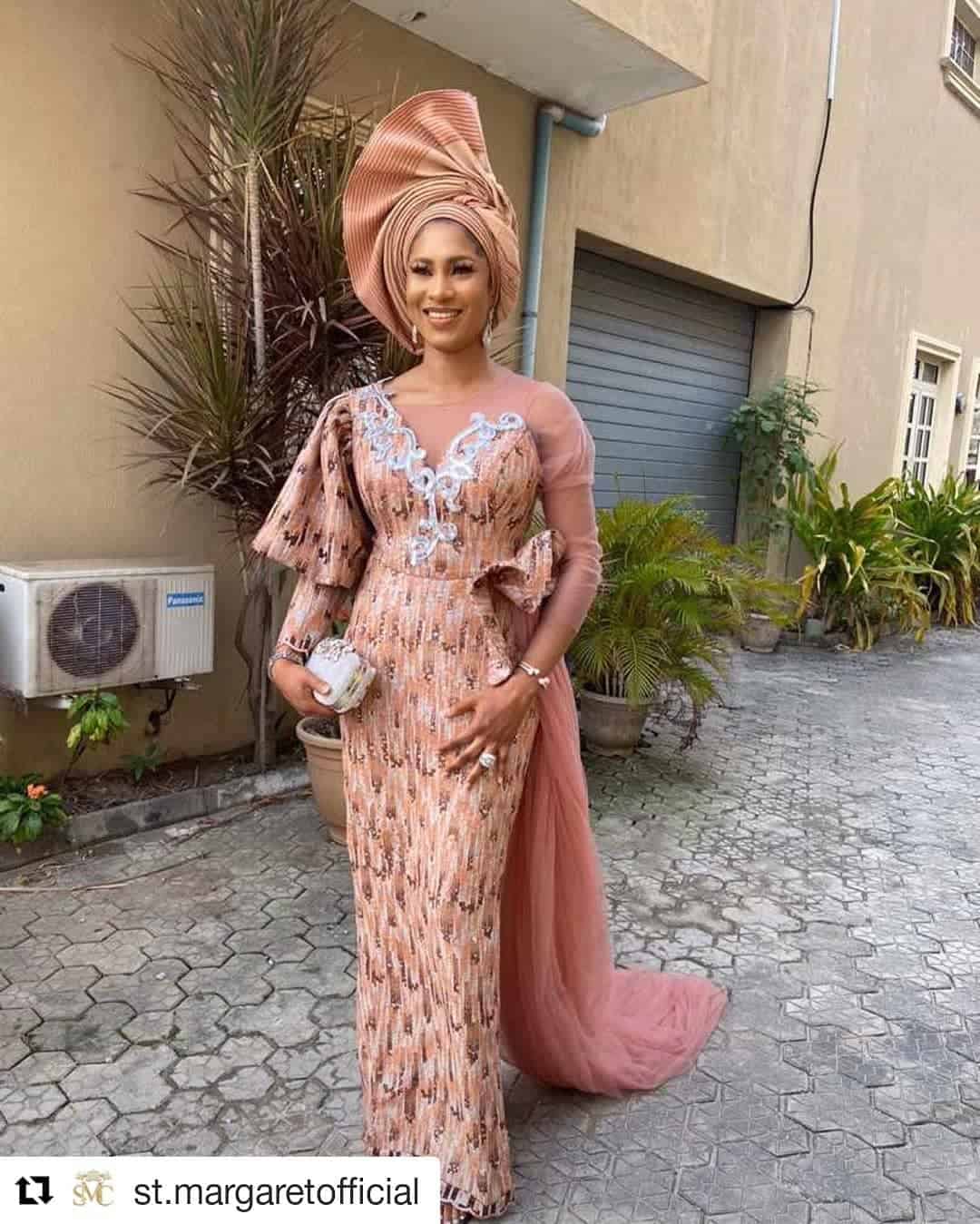 This is another style we are in awe of, it is elegant and fitting for all kinds of events, lace fabric makes this style look more elaborate and dashing.
34. Short Cap Sleeve With Deep Split
Keeping it simple and interesting is what most lace fabrics would compliment.
35. Conservative Sleeveless Gown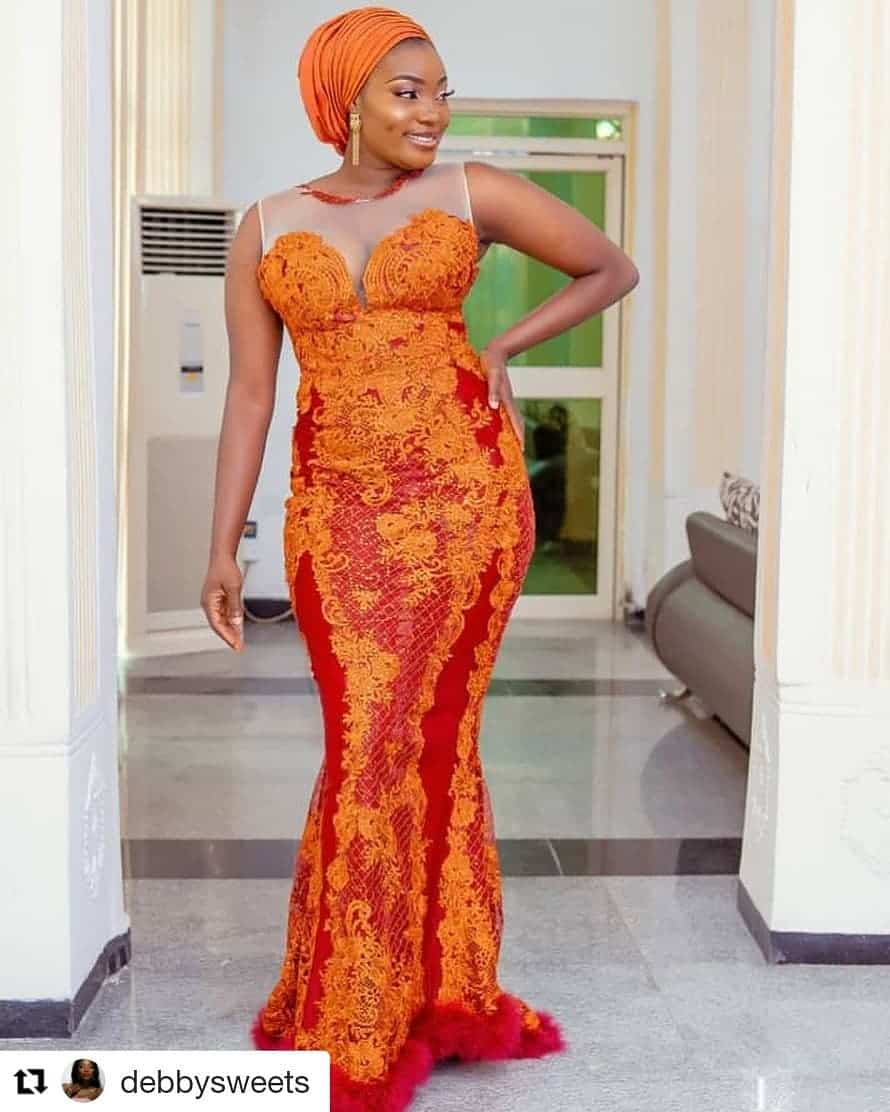 Most lace styles just need colourful lave fabrics and something simple and comfortable as this style above, you can attend any events with this comfortable style.
36. Complimentary Sleeve On Straight Gown And Pleated Side
This is another convenient style you can replicate with a lace fabric, this style does not require extra material to be added except if you are trying to create your unique style.
37. Dramatic Sleeves On Sleek Gown
Keep it elegant and body shape and you will be glad you did.
38. Off Shoulder Gown With Cape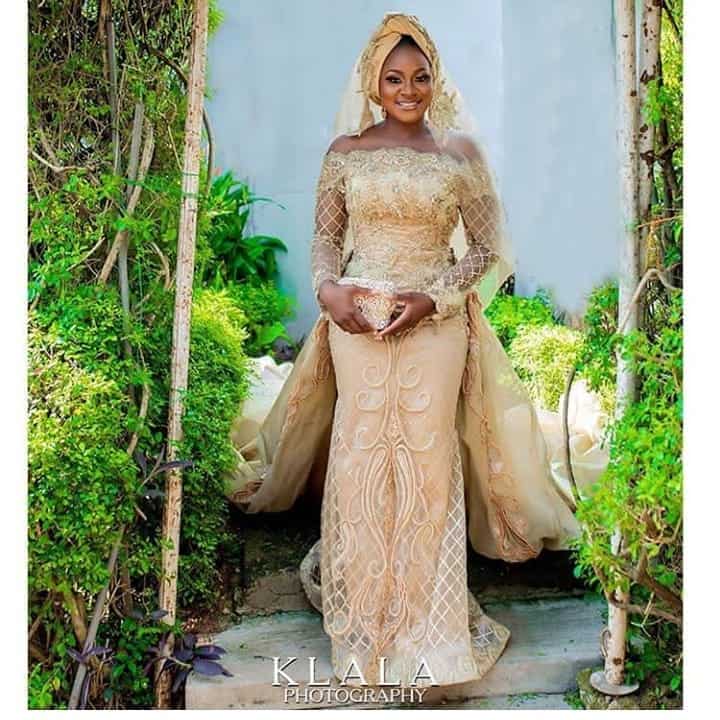 This is a common design and it continues to be in trend and found to be more lovely in 2022.
39. Cape Sleeve On Straight Gown
If you do not mind a bit of fun and net in your sleeves then this is the style you would want to rock to that elaborate wedding.
40. Fish Designed Gown With One Sleeve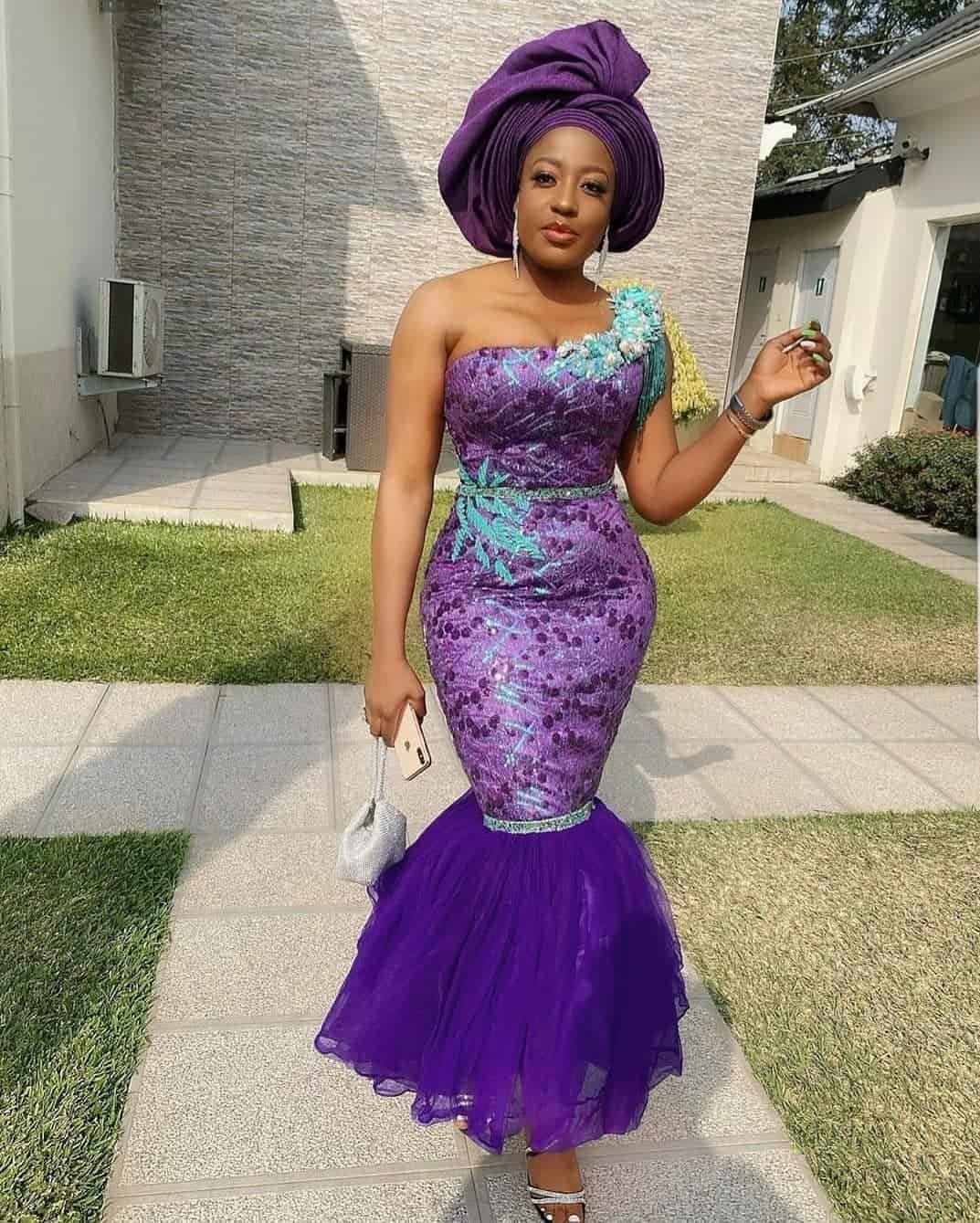 Most lace fabrics require easy styles to bring out their beauty and the style above is one of those styles.
41. Jumpsuit Style With Petals Design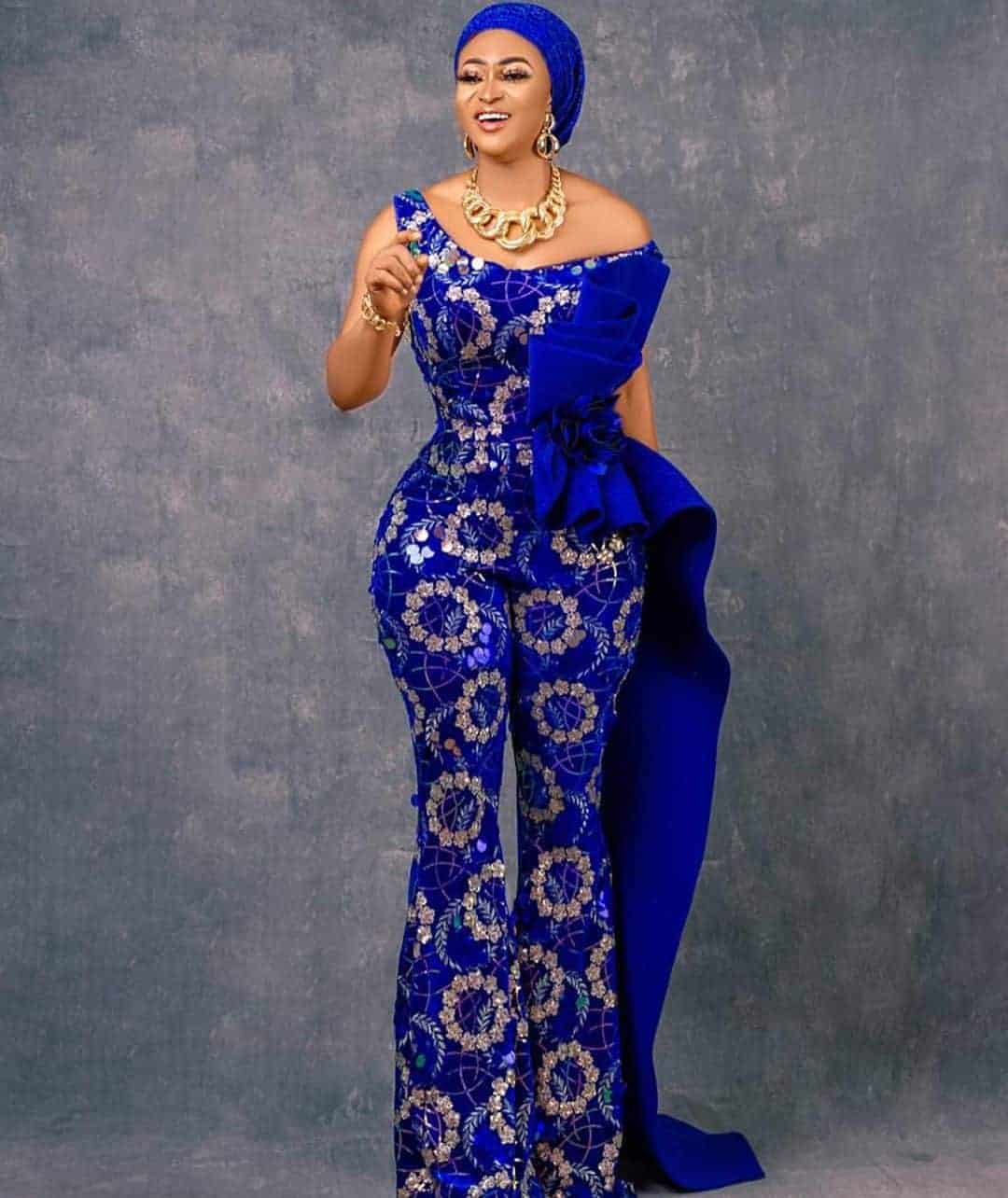 Lace fabrics can be made into an exotic style if a good stylist has been working on it, a one-piece jumpsuit is always an interesting style regardless of the fabric material being used but a lace fabric adds more glam to it, and you should try a boot cut frock and cape just like the one ceolumineeofficial had on.
42. Off Shoulder Lace Style With Side Wrap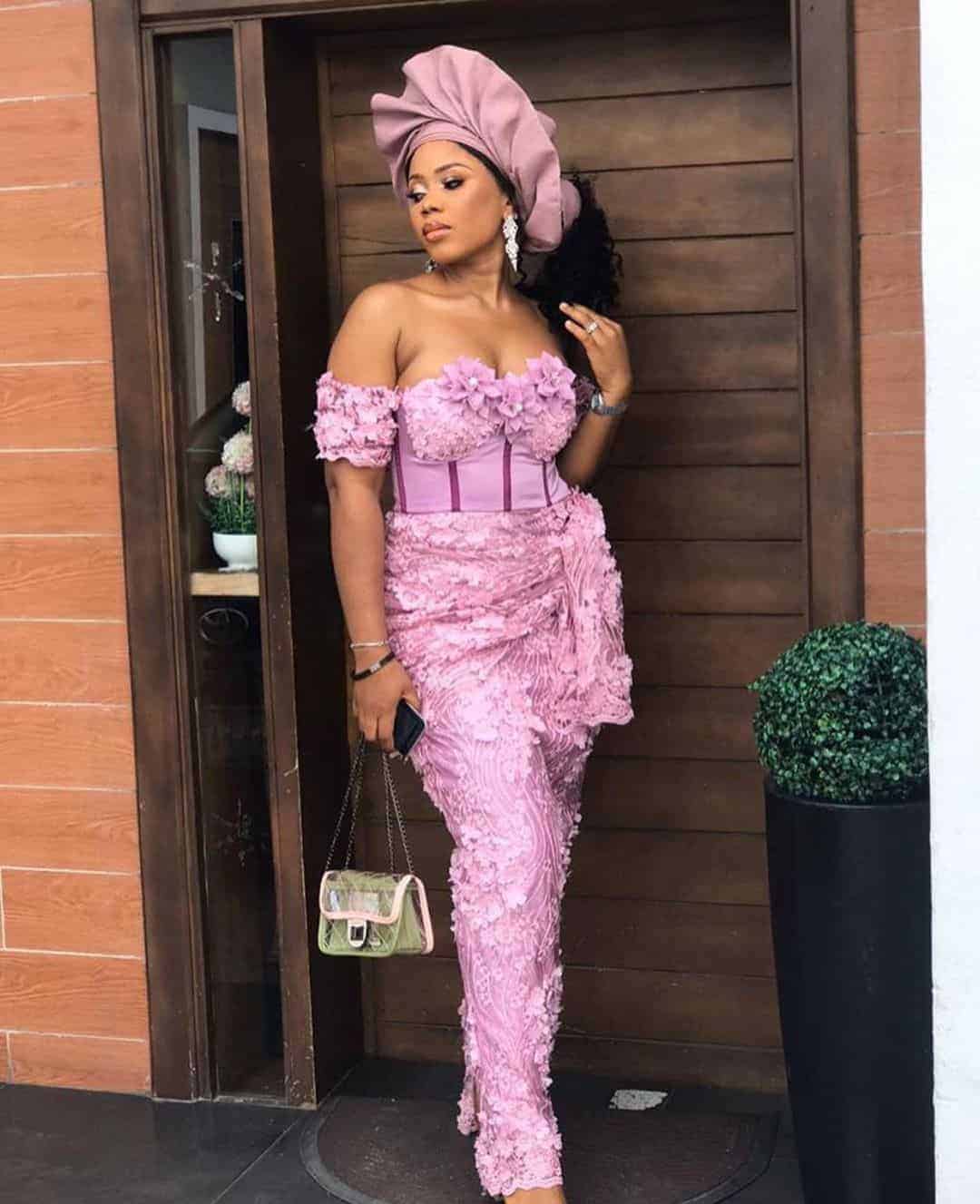 Keep being in trend with this fascinating lace style for practically all kinds of occasions, the style is simply the height of fashion.
43. Tiny Straps With Long Sleeves And A-line Gown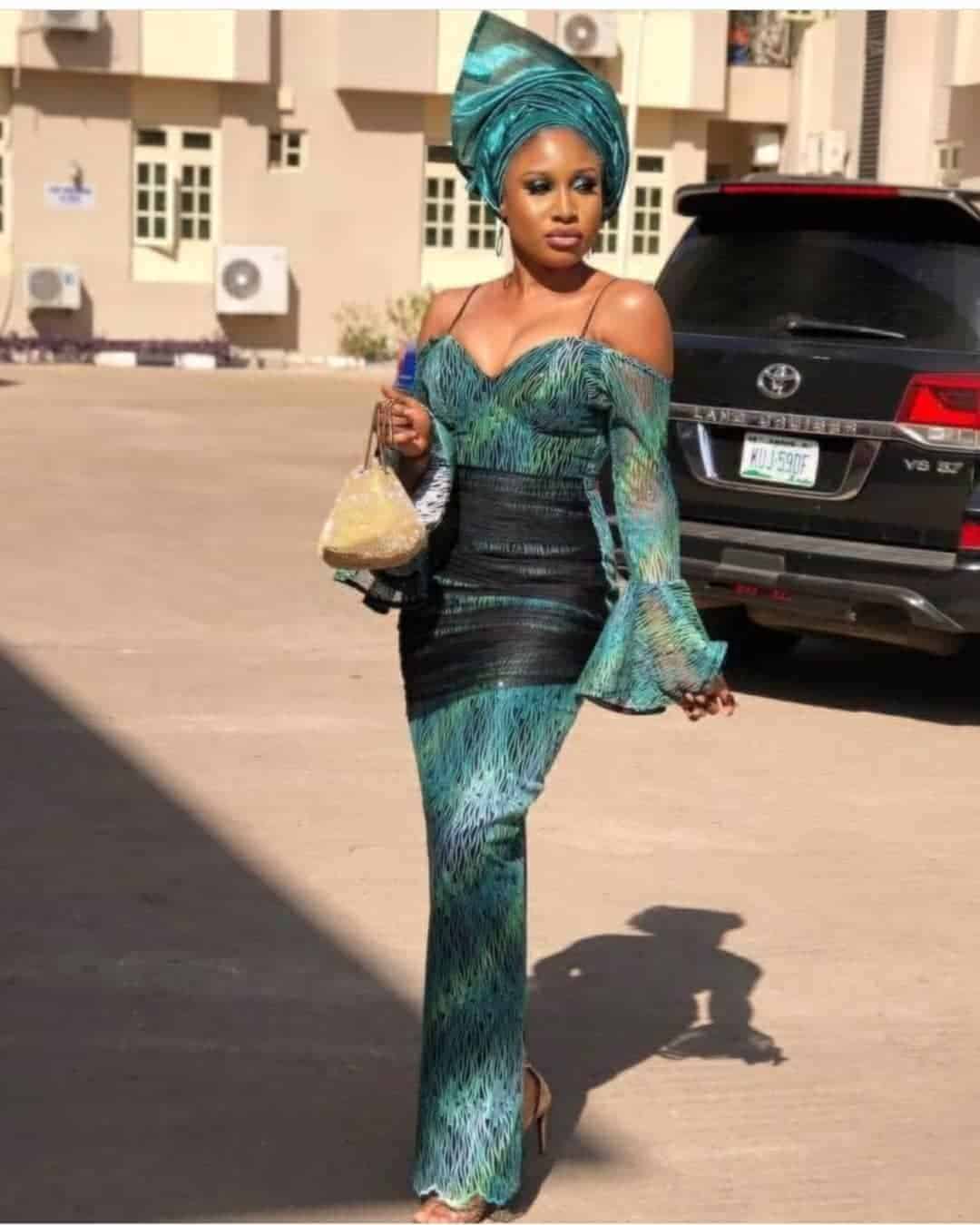 Give your designer less to do with this easy lace design, it represents everything fashionable, it's a double sleeve that makes you feel comfortable and stylish.
44. Lace Design With Wide Neckline And Cape
Kinkronke is surely looking gorgeous with this design and we love it, we love the glitters and the exotic design makes it stand out.
45. Simple Long Sleeves With Side Roll Petals
Another style you should have among your wedding outfits especially traditional weddings, this is quite a trendy style you should have your stylist working on as soon as possible.
46. One-Handed Ruffled High Tigh Slit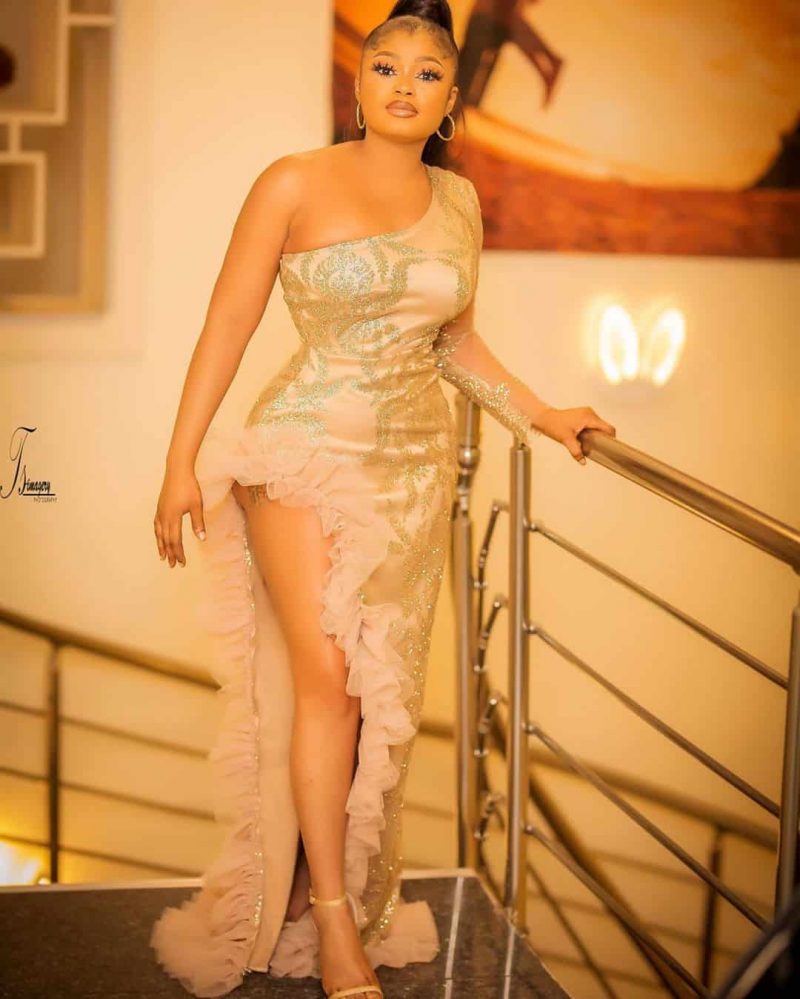 Slay it and nail it in this beautiful very elegant lace design for those asoebi slayers that like to show up and show off at a party this is the right dosage to up your slay game.
47. One-Handed Hip Cape Short Lace Gown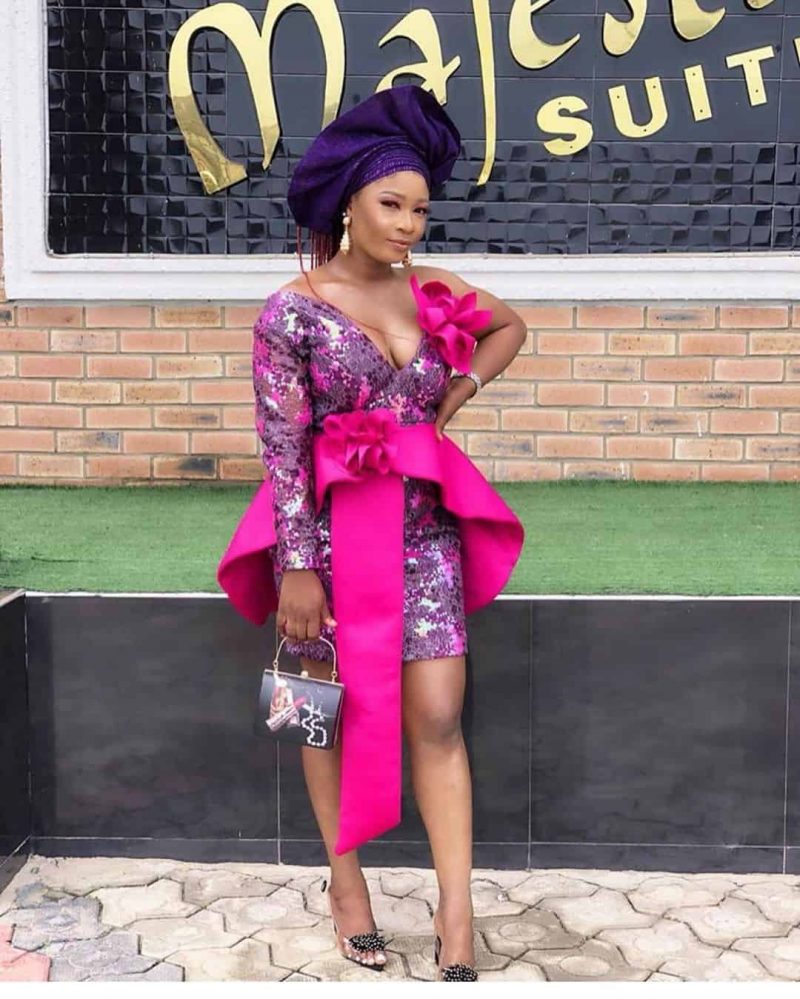 Another Stylish design to rock for a wedding party in this ember season.
48. Three Quarter Sleeve Hip Flare High Slit Gown
This is yet another asoebi worthy lace design for owambe to be rocked in this ember season.
49. Vneck Cut Out  Hip Veil Short Lace Gown
Just the right amount of dosage you need to show up at a party and remain the talk of the party even days after the party.
50. Tiny Strap V-neck Off houlder Long Sleeve Penciled Gown
For those of us that like to show up looking classy and still very beautiful, this right above is exactly what we need as a perfect lace design style.
51. Net Infused Sleeve With Short Hip Veil Slit Long Gown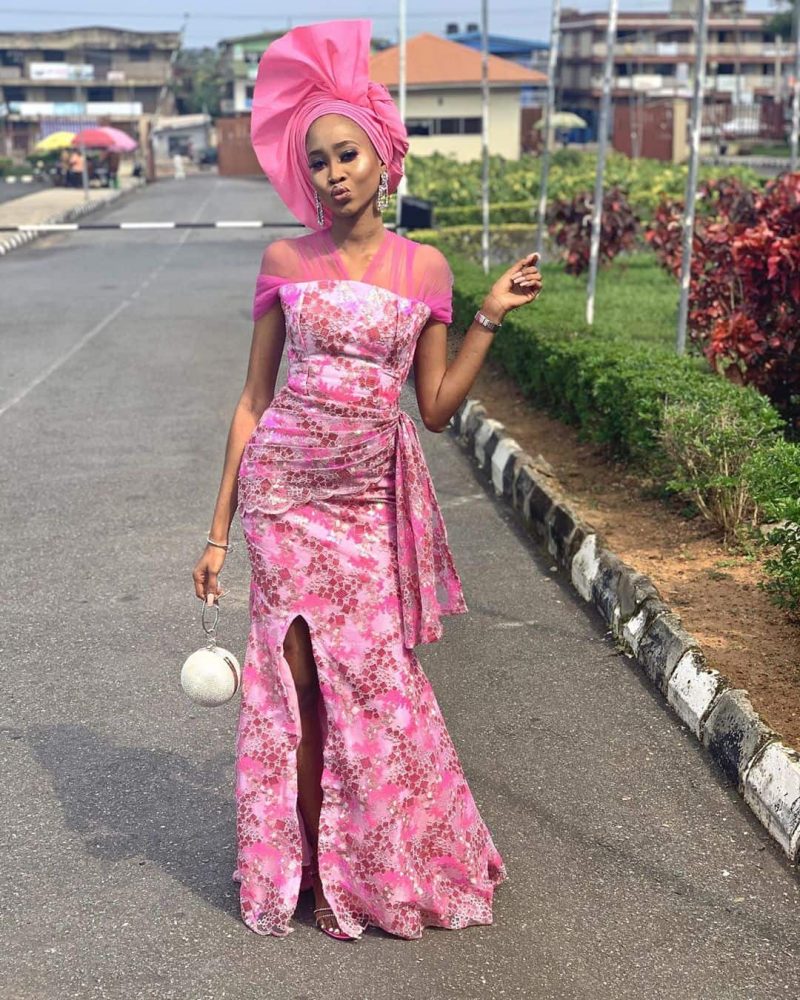 Just the right amount of slayage needed not too dramatic and not too simple just perfect asoebi lace style that speaks elegance and class at the same time.
52. Offshoulder High Tigh Slit Lace Gown
Another simple yet classy lace design suitable for my asoebi party rockers.
53. Lace Style With Petals And Stylish Sleeves
If you ever need a lace style that gives you an air of importance at an elaborate event then this is highly recommended, it's classy and very much in trend. This is a style that can't be found boring at all.
54. Floral Pattern Design With Net Sleeves
Instagram has not stopped showing how much they loved this style, a really modern chic design. The floral pattern is not uncommon but rarely used like this and the fringe at the bottom of the gown added some fascinating appeal to the style.
55. One Shoulder Design Gown
We love how simple and elegant this style is, very rare and yet sincere enough to make do on any occasion. The style does not need lots of time to recreate and your tailor would definitely find this style interesting.
56. One Shoulder Long Gown
Stunning is just the right word for this style, pretty popular these days and fancied for all occasions, this is basically one of the latest styles that have gained a lot of attention, it is classy and adds some confidence to its wearer.
57. A Stick Tub Gown With Side Waist Cape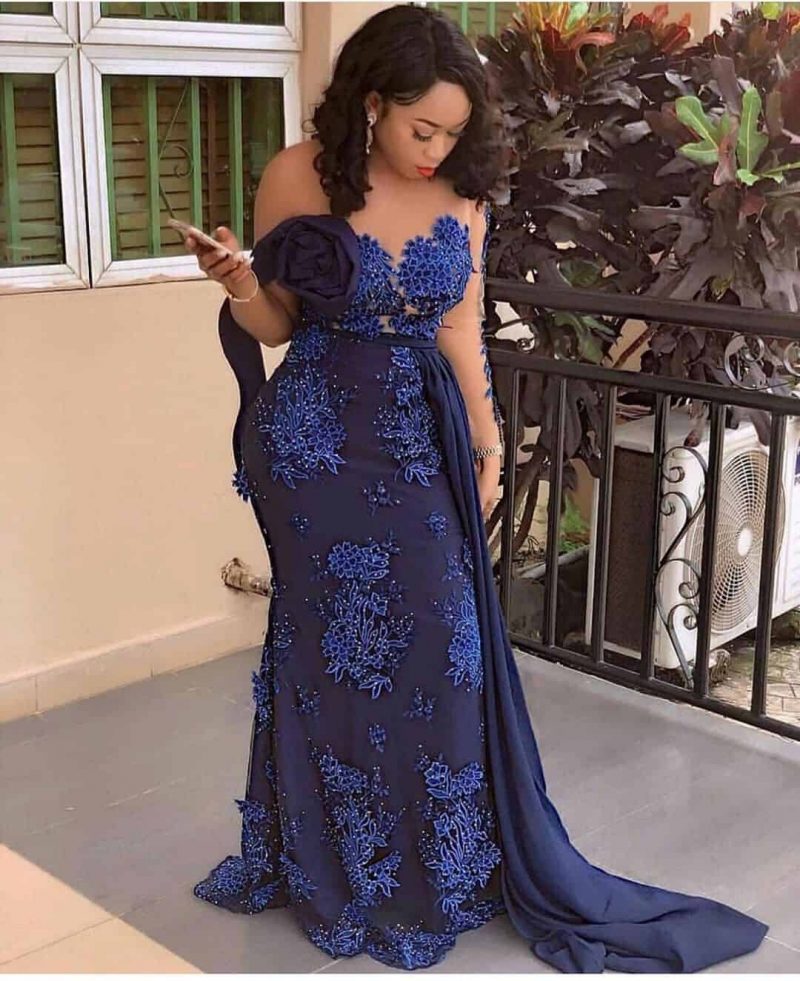 There is no perfect description for this style but we would just say it is beautiful, a style you are sure to get attention with and your tailor should enjoy making these as it's one of a kind style.
58. Off Shoulder With Fluff Sleeves
You must admit, this is one style that would look good and any figure, it is smart and simply stunning. Another lace style that has been found irresistible by many women in fashion.
59. Buttercup Tub Design With Puffy Sleeves Top And High Waist Skirt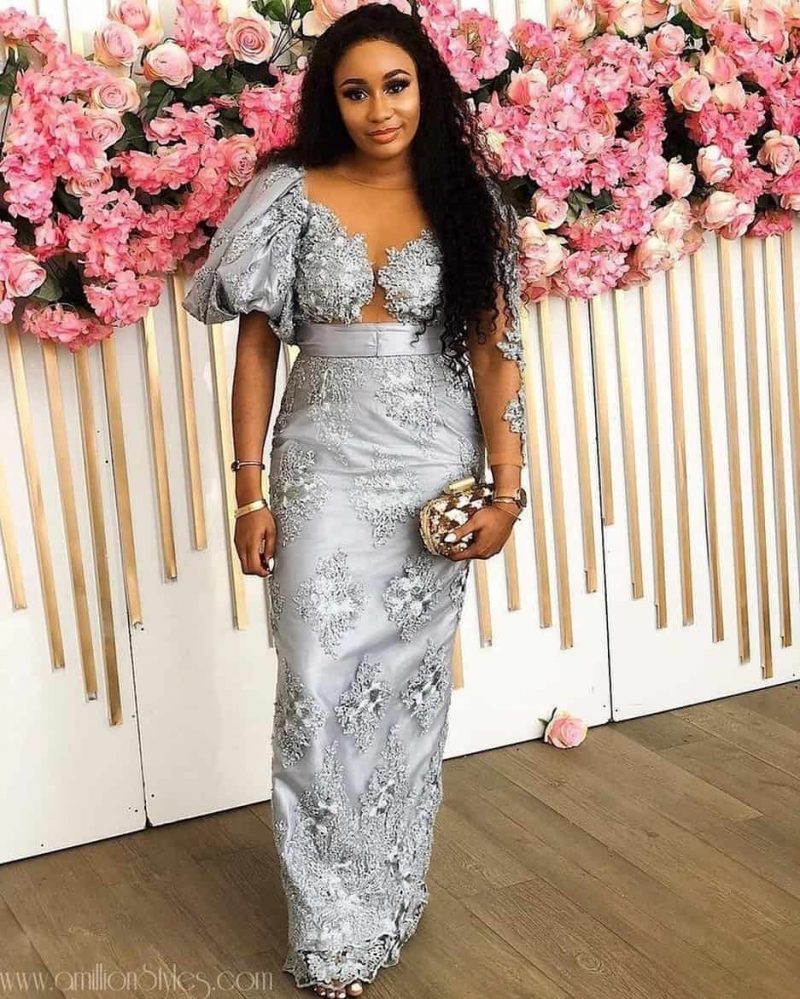 Something interesting about modern styles is how creative they can be and you would still find them fascinating in this regard, this style is all about creativity in fashion and we love it.
60. Alter Neck Gown With Flower Sleeves
Talking about the latest lace styles that people have not stopped showing how much they admire on Instagram, it's classy and can be said to be fashion conscious, if you like it bold and daring, you should definitely sew this.
61. Fringe Sleeve With Low Split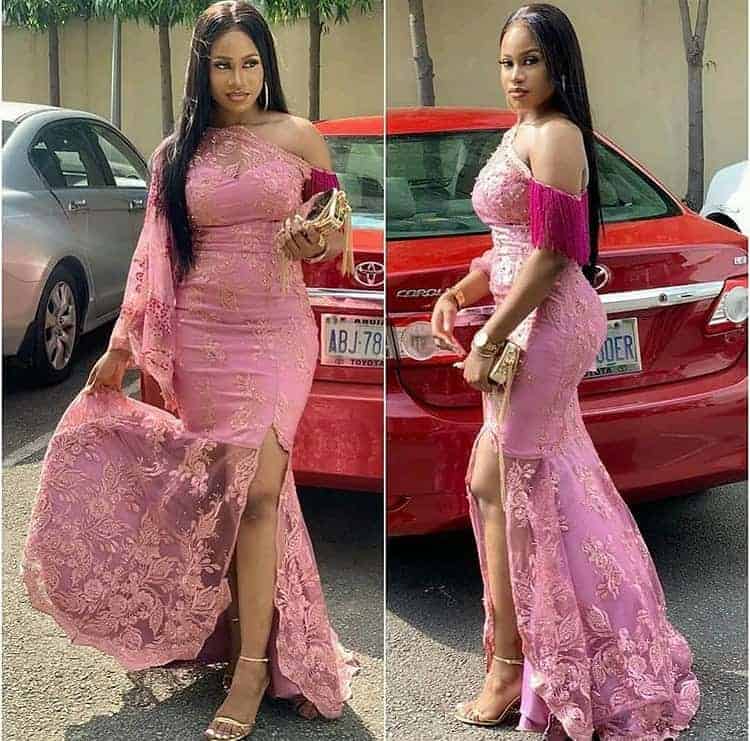 We just couldn't decide on a favourite after seeing this unique style, it is everything you want to rock to a glamorous wedding and also one of the common 2019 wedding guest styles. Very subtle and fascinating, which is a very combination of lace styles.
62. Tub Design With Shoulder Fringe

Image: @lacestyles // Instagram
This is a style that can never get old, not just a wedding outfit but also recognized as one of the best modern outfits that ladies can stop loving, there is a scissors design on the front of the blouse that seems to make the style more pretty.
63. Simple Flay Gown With Long Sleeves
We are totally rooting for this especially if you like it simple with no drama and also would like to stand out in a totally different way. This is a decent style that is going to be favoured by a lot of women throughout 2019.
64. Short Sleeves With Net Cape
A simple style that you can't help but feel yourself in it, lace styles can really be fun and spontaneous just like every other fabric. This is a style that can still be worn without the cape.
65. Off Shoulder Gown With Petals
Layers are not meant for Ankara styles alone and they even make this lace style look more beautiful, not too dramatic but glamorous enough to stun an occasion with. Mercy Aigbe Gentry is also one of the female celebrities that have unique styles.
66. Cross's Tiny Straps With Puffs On A Sexy Lace Design
A beautiful smile is all that's needed to put a finishing touch to this amazing style, indeed it is sexy and more perfect for an hourglass shape, the puff sleeve can be excluded and it would still be worth it.
67. Simple Straight Gown With Belted Waist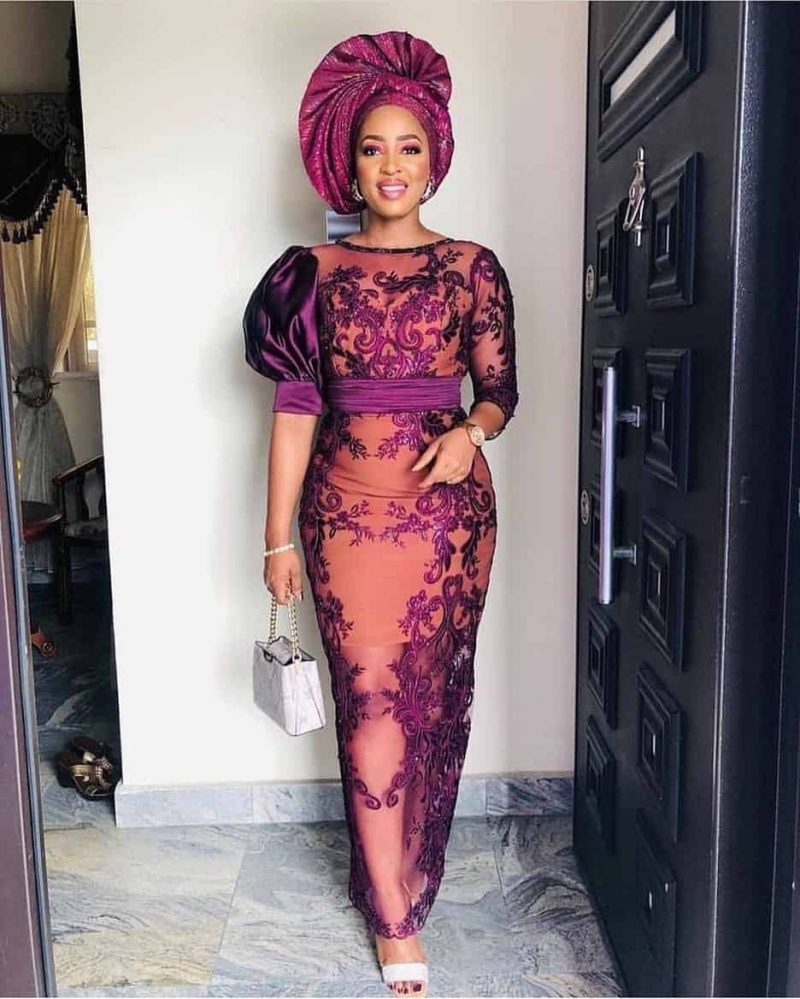 That sleeve is everything you want it simple style, you would love to be in a style that makes you comfortable especially if you plan to show some of your dance moves, this style is just what you need your tailor to sew then.
68. Quarter Length Gown With One Sleeve
This has been cautiously selected, it is not just beautiful but permits us to enchanting, the style is worth wearing to a wedding and it is comfortable as well. This is one of the latest lace styles you do not want to miss this 2019.
69. V-neck With One Bell Hand Sleeve And A Side Split
2019 laces styles keep getting better and better. The right style will inspire you the right way hence why these styles are very important to have, they do inspire some chic appearance too.
70. Dramatic Lace Styles With Fringe And Petals
---
We hope you found this latest lace style design as helpful as we had much fun compiling, Guess you can't wait to show your tailor right? These are styles that show lace can be really fun after all and these are not just party styles, as some of them could be worn for casual weekend outings.
Read more on the latest celebrity fashion and style ideas: