No sunburn this summer? Absolutely. This list of everyday summer skincare essentials covers the best sunscreens for every skin type.
Trying to look your absolute best, keeping your skin well nurtured during summer is a no brainer, summer is almost here, in fact, it's here and you need the right skincare essentials to store up and one of these essentials are sunscreens.
Sunscreens are not just any essential but given the degree of heat and the damage, the sun could do to your skin during this period?
It is very much needed as nothing is yet to beat ending summer with tanned skin and you might have to spend more time outdoors so you definitely need sunscreens to lessen the effects of the summer heat on your skin.
In order for you have a skin free from sunburn during the summer, we have gathered some of the best sunscreens in this list of everyday summer skincare essentials you need to get.
And for the best part? None of these sunscreens will put a dent in your budget, they are affordable sunscreens and you can rest assured they are quality as well.
You can enjoy all your outdoor games as much as you want with any of these sunscreen's listed below, sunscreens are not just basic summer beauty essentials but also part of everyday essentials even after summer is long gone.
Best Sunscreens Under $15 to Buy
With the endless stream of sunscreens everywhere, can be hard to pick the right one in quality and price, so we have done a thorough search and screening and picked these 13 sunscreens below which we think are the best in quality and price as well.
1. Australian Gold Sunscreen Lotion
Australian Gold Sunscreen Lotion, with aloe vera as the top ingredient no only help the skin retain nutrients but moisturizes the skin as well, makes you feel good while wearing them, keeps you comfortable and gives the skin a smooth radiant glow. With Australian gold sunscreen, you have no fear of enjoying outdoor activity and has no chemical ingredient that can irritate your skin.
2. Neutrogena Beach Defence Sunscreen
Perfect for you if you plan to a vacation on the beach this summer, Neutrogena protects the skin from burning UVB rays and at the same time moisturizes the skin, acts as an anti-aging resistant so you can have a clear, glowing skin. Neutrogena beach defense is light and goes easy on the skin, easily absorbs into the skin immediately and also prevents clogged pores.
3. Amazon Brand – Solimo Sport Sunscreen Lotion
This is a sunscreen from Amazon Brand, quickly absorbs into the skin but you might need to reapply every two hours and if you sweat or get wet during outdoor activity, you should get dry first and reapply, this has an added advantage, it helps protect against sun and very comfortable to use as well. You should use in small quantity as it is a chemical sunscreen and might irritate if your skin has a reaction to it
4. Blue Lizard Australian Sunscreen
Blue Lizard is the best sunscreen to recommend for anyone with sensitive skin, it has no chemical reaction, contains a mineral zinc oxide that provides the skin broad protection from the sun, no skin irritating paraben or fragrance and also water resistance, so even after sweating or getting wet, you do not need to reapply.
5. Australian Botanical Sunscreen
Another sunscreen from the Australian Gold Brand that is designed to be a chemical-free sunscreen and offers long day protection from the sun, combined with unique botanicals and fragrance-free as well, can be used by the most delicate skin as it has no reaction whatsoever but still provides full day protection, it also retains moisture into the skin and give you a clear skin at the end of the day.
6. Solimo Sheer Facial Sunscreen
Solimo sheer facial sunscreen gives you that clean, light feel when rubbing, it absorbs fast and also oil free so you do not have to worry about clog pore, offers your skin complete protection from the sun, water resistance for a long period. Keeps the skin from getting irritated even after sweating for a long time except if you have sensitive skin.
7. Neutrogena Clear Face Liquid Lotion Sunscreen
<
This sunscreen offers complete protection againd=st sun, oil-free and oil-free so it does not cause clogged pores that can eventually lead to breakouts on your face, offers maximum protection from skin burn and locks in moisture so the skin stays hydrated during your outdoor activities. You can reapply every 15 minutes or after sweating, swimming or towel drying.
8. Babo Sheer Botanical Sunscreen
Babo Sheer Botanical contains certified organic flowers and oils that naturally reduces eczema and good for all skin types, has no reaction whatsoever on the skin, can be used on your baby skin as well as it is pure and natural, the oils in it are essential oils that are healthy to the skin and clogged no pores.
9.  Ultra Sheer Dry-Touch Water Resistant and Non-Greasy Sunscreen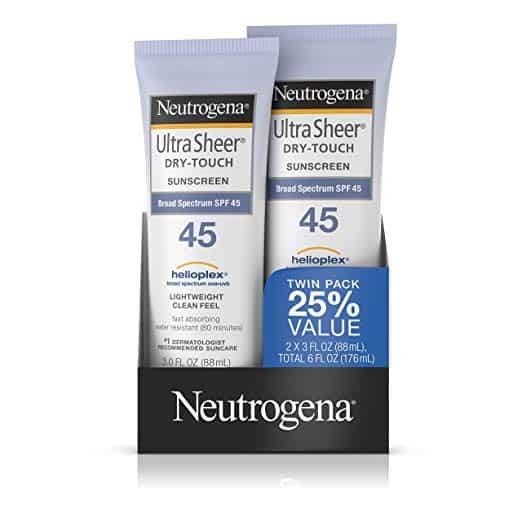 This is also among the well-recommended sunscreen against UVB ray, easily absorbs into the skin and also enable a soft, glowing skin, water-resistant lasts up to 80 minutes before reapplication, very effective sunscreen even on dry skin, it locks in nutrient and keeps the skin free from any bacteria sweating might leave.
10. Aveeno Positively Radiant Sunscreen
Aveeno is a sensitive sunscreen for all skin types, helps the skin retain it's even skin tone and texture, leaves the skin radiant and healthy as well. Perfect choice for sensitive skin tone helps to reduce the appearance of redness and blotchiness on the skin, giving you a clean and healthy skin tone.
11. General Protection Continuous Sunscreen
General Protection Continous Sunscreen offers you protection from harsh sunny conditions even long after you sweat, not just a sunscreen but a good skin moisturizer as well. Apply 5 minutes before going out into the sun and reapply after 2 hours unless you sweat or towel dry, then you should apply 80 minutes after.
12. Mountain Falls Active Sport Sunscreen
Specially formulated to keep the skin glowing and light, after a long sports activity outdoor, you can enjoy all you sport activity outdoor for as long as you want and water resistant up to 80 minutes, easy to absorb directly into the skin and leave no dry feeling. Comes in a spray form and no paraben free, so no irritation to the skin.
13. Age Shield Face Lotion Sunscreen
The perfect anti-aging sunscreen, protect the skin from getting sunburned and also shield it from wrinkles as well, the continuous time spend on the UVB light might irritate the skin and wrinkle it out, especially during summer, age shield face lotion sunscreen helps prevent that from happening. Naturally formulated to resist sweat and keep your skin free from spot and wrinkles.
---
Summer can only get better with the right sunscreen, These are all sunscreens tested by dermatologist, free from ingredients that are harmful to the skin. The natural sunscreens are recommended if you have highly sensitive skin and other beauty essentials you need to help you keep a tanned skin this summer.
Keep shopping: