We believe women are beautiful without makeup but with the right makeup one can be pretty powerful, Makeup is not a mask makeup is art, passion, and expression. Most women struggle daily with trying to look really good in their makeup and that is exactly why at thrivenaija we came up with this simple and classy beauty looks to inspire you. Be good to your skin you will wear it every day of your life!
As you all know that helping you live well and look good is what we are all about, we took out our time to go on the gram and select for you the 10 best most amazing looks from our celebrities around the Globe to inspire you.
Here is the list of 10 best most amazing looks that we carefully and single-handedly picked out for and we hope you find them amazing enough to inspire you.
1. Aissata Diallo Looking sleek In Maybeline Fit Me Dewy 355 Coconut
The pretty young model looks very sleek in this nude look in her Revlon so fierce mascara,  Revlon vinyl eyeliner, and victoria secrets lips coupled with the braids on her hair all together making her look so flawless.
2. Omoni Oboli looking flawless in this make-Up done by House of Tara Intl.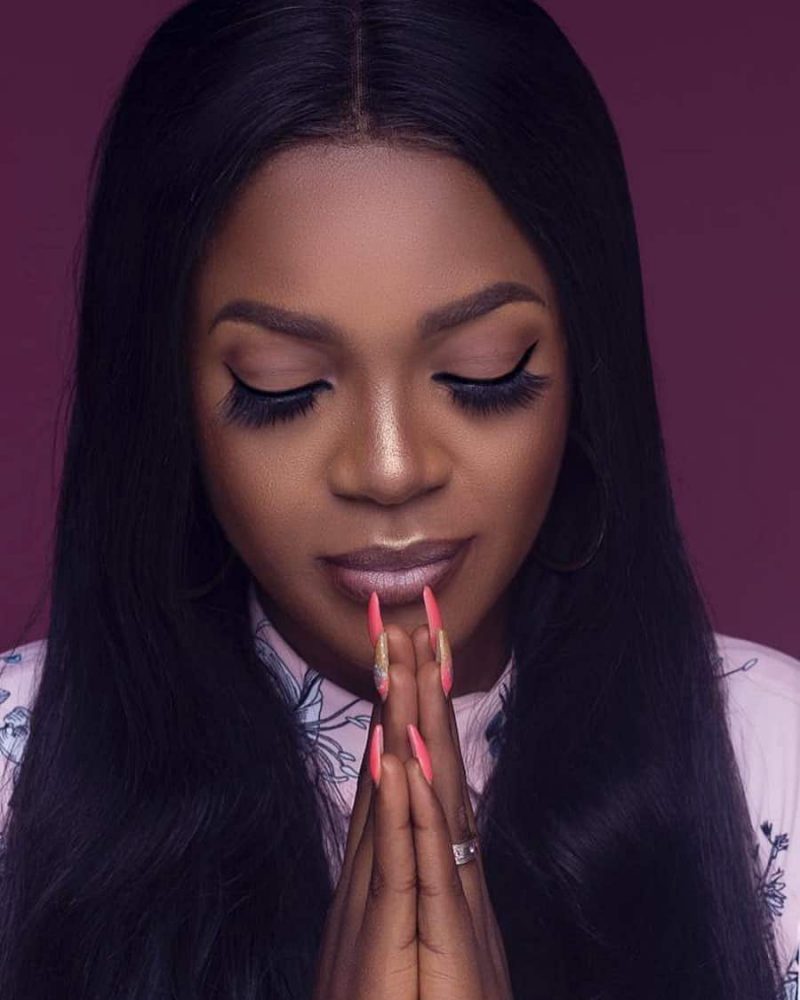 Omoni Oboli the ageless actress looking so flawless in this @houseoftara skin talk look as she unveils her 3D mink lashes and calls it ageless by omoni.
3. Toke Makinwa giving us the extra nude Chinese doll look
Toke Makinwa the best selling author and Actor made our beauty list as she is giving us the Chinese doll looks in this makeup by Anita brows. She paired this look with her ponytail fringe hair and two-layered pearl earrings really brought out the look.
4. Tiana Parker looking bold and beautiful in fentybeauty make up
Fenty sure did a good job on Tiana Parker and we can't help but fall in love with it. The beautiful model wore this soft matte realness and a bold blue, head-turning lippie giving us that STEP ON NECK looks. This sure looks really good no doubt.
5. Funke Akindele Jenifa giving us the boss chic look in this skin tone makeup by Zainab Azeez
Funke Akindele jenifa is giving us a boss classy chic skin tone look in this matte blue eyeshadow, black eyeliner, a glossy nude lipstick making her look all bossy and chic at the same time.
6. Inn Genue giving us vibe in this smoky eye monochrome look courtesy Hudabeauty

Image: @inngenue_// InstagramWhat is not to love about this Inngenue blue smoky wild look. The makeup artist really nailed this look with her matte eyeshadow, blue eyeliner and glossy shade of pink lipstick paired with her greyish white long straight hair. The whole look is definitely a VIBE!.
7. Cynthia Nwadiora looking fierce and bold in this beautiful look
Ceec the ever daring ex BigBrother see gobe housemate currently known as the best-dressed ex-housemate because of her fashion game that is topnotch. she sincerely nailed this fierce look with her matte wine-colored lippie and contact lens paired with her ponytail hairdo.
8. Bambam looking all calm and steady and beautiful in this flawless face beat
Bambam as fondly called by everybody is giving us a body art look in this gorgeous face beat, truly our level of confidence really matters on the look we put on. I just love how flawless her face looks in this nude matte eyeshadow and lipstick with her roll-up ponytail hairdo.
9. NYANE giving us feels with this Bratz vibe in this smoky look
Nyane is giving us the Bratz vibe look in this smoky eye matte pink eyeshadow and also a nice palette nude lipstick, The hair goddess paired up the wild smoky look with a cocoa macchiato hair. The look is everything and more.
10. Kim Kardashian West looking classy and chic in this flawless look by kkwbeauty
Kim Kardashian looking so flawless in this cream eyeliner produced and owned by herself called the kkwbeauty. The celebrity wore this nude look paired with a ponytail hairdo to her interview on keeping up with the Kardashians and she definitely nailed it.