Lately, I've been obsessing over coloring my hair. Colored natural hair is a beauty to behold.
There's something about seeing those curls and coils in a different color that hits different; especially for a hair type whose colors usually range from jet black to a nice tint of brown.
A color is a form of expression, culture even. Curly, textured hair was policed and socially conditioned to look a certain way, for years and now that those bounds have been broken, we can't get enough of this beauty.
Now, people with textured hair are rocking everything from pastel colors to vivid, in-your-face colors; green, blue, pink, icy/platinum blond, purple, grey, ginger, and for the love of God, they look so good.
For adventurous, but also careful people like me – yes, we exist – experimenting is tantalizingly terrifying and we want to play with our hair, but not ruin it, so we keep postponing dyeing.
I have good news, everyone; we can do this! Here's something for we first-timers and for the others who have been unknowingly damaging their hair.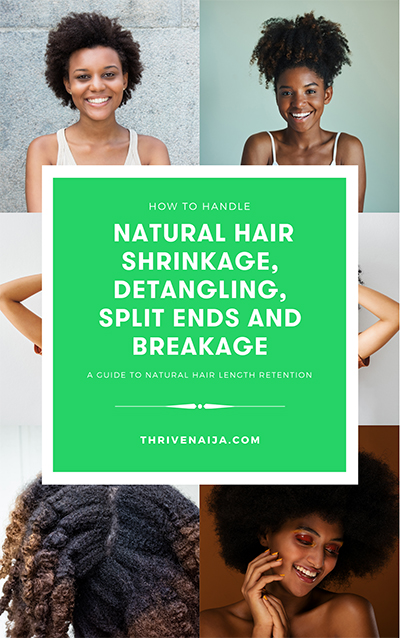 WHAT'S YOUR BIGGEST NATURAL HAIR CHALLENGE?
Dealing with a couple of issues with your Natural hair? Our guide tackles four of the biggest issues natural hair babes face.
Natural hair shrinkage.
Detangling.
Managing split-ends.
And breakage.
We call it a guide to natural hair length retention. We're excited about it and we're sure you'll find it very helpful.
How Much Damage Can Coloring Do to Natural Hair?
The truth about dyeing natural hair, is, dyeing or any form of color treatment will dent your hair. But if you are careful, the dent won't be major and proper preparation before dyeing and treatment while and after having colored hair will have your hair perfectly fine again in no time at all.
Basically, the health of your hair before dyeing greatly determines how much damage you will incur. If you have not been adhering to basic hair maintenance guides or already have heat or chemical damage; coloring your hair will ruin it.
Read Dryness, intense breakage, and loss of elasticity and before you know it, maybe a patch will appear on your scalp.
5 Simple Tips For Coloring Natural Hair AKA Dying
1. Start With Research
Yes, your hair will grow back, but because your hair is yours, no one will be more bothered about it than you. Hence, if you are going to color your hair yourself, you have to be sure of your hair health, what products are best, if their ingredients are good for your hair, how exactly the process of coloring should go, etcetera.
If you will be going to a salon, research which salons are best for color treatments, which colorists have finer reviews; it's important that your preferred colorist knows how to color textured hair, have as many consultations as will make you feel at ease, ask all your questions, and a good colorist should be patient enough to answer them; you will literally be putting your head in their hands.
Answer all their questions truthfully too, so that they can recommend which products and processes are best for your hair
2. Play Around with a Temporary Color
After you have decided on which color to run with, try it on before you get a permanent color in. Colored weaves, temporary dyes like the kind from @curlfit, dye your wigs, any of these to see how well the color suits your skin tone and how much you like it.
3. Moisturize
There's no leaving this behind; before and after coloring, your hair needs all the moisture it needs. Natural hair thrives on moisture and because bleaching and dyeing have a higher tendency to dry out your hair, consistently fortifying your hair weeks before your appointment is an excellent idea. Stock up on deep conditioners and moisturizing hair masks.
Usually, when natural hair is about to go through intense chemical treatments, protein treatments are recommended and most conditioners are made with a fine balance of proteins and moisturizers.
So if you have dry, high porosity hair, you should probably deep condition once a week or every ten days before your color appointment and afterward and if you have low porosity hair, deep conditioning once or twice a month before and after coloring should help. It all depends on your hair needs.
4. Color Only Clean and Healthy Hair
Natural hair is very delicate, so a lot of things can cause damage to it. Hair dyes and bleaches are part of these things. It's crucial to go for your hair appointment with the healthiest hair possible. Do hot oil treatments, scalp massages, protective styling, moisturize your hair ends.
However, 2-3 days before you color your hair, don't wash it. This is because bleaching and dying would strip your hair of moisture and melanin and have it exposed; squeaky clean hair will increase such exposure badly and could cause the dye to burn your scalp.
Instead, go with clean hair with minimal product in it. Some people recommend dyeing dirty hair so that the hair cuticles are more protected, but this will make it difficult for the hair color to be properly deposited on your strands.
5. Mind Your Hair Health
After coloring, your basic hair care routine continues, you keep at the moisturizing, trim your ends, make protective styles, get the right products to wash colored hair, take note of every slight change you notice in your hair, resist the urge to heat style immediately after coloring; give your hair time to heal from the coloring before introducing the heat.
In fact, stay away from hot water, cold water is ideal for locking in moisture when rinsing out conditioners. And, if you want to keep the color, do a retouch every 6-8 weeks (consult a hair colorist for this.)
There Are A Few Things To Note About Dyeing Natural Hair
1. Bleaching might be necessary
If you want a vibrant color or want to have pastel colors, you have to bleach your hair to lift the color, else you could come out with a dirty-looking color, except your hair is already naturally light. But if you want darker colors, you don't have to.
2. You could record a change in hair texture
Bleach removes the melanin in the hair and the lighter the hair is, the more exposure and damage it could get. That's why bleaching from dark to really light hair at once is more likely to damage your hair. You might want to start with highlighting certain parts of your hair instead.
3. You will have to take breaks from hair dyeing
First, you will have to be okay with having roots, frequent touchups will affect the integrity of your hair.  However, if you use semi-permanent hair dyes, it's okay to use them more often because they are designed to be gentler on the hair and fade more easily.
4. The best kind of dyes
Go for semi-permanent dyes. They don't have alcohol or ammonia in them, so they don't try your hair as much, and they coat only the surface of your curls. For better coverage, use gel and liquid dyes, because foam formulas do not work well on textured hair.
I hope you enjoy your hair coloring experience.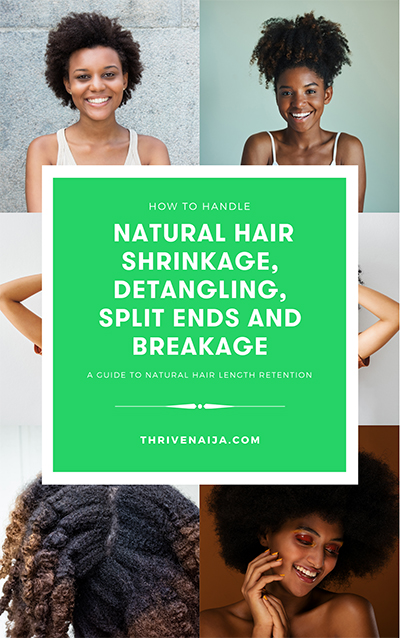 GET A COPY OF OUR NEW BOOK!!!
Dealing with a couple of issues with your Natural hair? Our guide tackles four of the biggest issues natural hair babes face.
Natural hair shrinkage.
Detangling.
Managing split-ends.
And breakage.
We call it a guide to natural hair length retention. We're excited about it and we're sure you'll find it very helpful.