Should you worry about natural hair shrinkage? Before deciding if shrinkage is worth worrying over or not, you should knot it's considered a sign of healthy hair.
One of the styling hair dilemmas of natural hair is shrinkage and we must admit, hours of pulling, stretching, and picking to get your curls to reach their full height, only for it to retreat when it's dry can be really frustrating.
Shrinkage can be really annoying and it doesn't have a great reputation among naturalists. However, natural hair shrinkage is really easy to solve and all you need is to understand the causes and how to make your curls stay put.
Growing long natural hair isn't an easy task so it's quite understandable why shrinkage can be annoying since you won't get to enjoy the benefits of the length you work hard to grow.
While many people will say shrinkage is a great disadvantage to natural hair, it's crucial that you understand what shrinkage is all about first, and to get the hang of it, you need to know its causes as well.
What Is Natural Hair Shrinkage?
Shrinkage as the name implies is when your curls go from a stretched lengthy form to a tight and more compacted form. For some natural hair types, your hair simply looks shorter than it actually is. Any hair natural hair type can experience shrinkage and it doesn't matter if your hair has been long for a very long time.
Most people with natural hair experience shrinkage and keep in mind that it's not a sign of unhealthy hair. Shrinkage is what makes your hair texture curly and you can easily get your hair back on track with some anti-shrinkage products.
4c natural hair type gets the most shrinkage and followed by those with type 3 natural hair. Some people get shrinkage of up to 75% and some get less.
What Causes Shrinkage In Natural Hair?
Shrinkage is a common natural hair trait but its' not really something to worry about. It is a natural aspect of every hair texture and the most common cause of shrinkage is when moisture is removed, it naturally just shrinks back.
Every curly and coily hair type have the tendency to shrink and this can be regarded as nature asides from its genetic preposition.
When your natural hair is hydrated, it makes it more pliable and adds a little weight to it. But when the water is removed, either through a natural drying process or use of a hairdryer, the hair will no longer have the weight added to it and this leads to hair shrinkage.
Shrinkage is sure to happen every time you add water to it or wash it. If your hair is not braided either, it's sure to shrink as the water gradually evaporates from it. It is also important to determine your hair porosity to help understand if shrinkage is causing damages to your hair strand.
How much does natural hair shrink?
Shrinkage is normal for textured hair and how much shrinkage your hair gets depends on hair type.
4c natural hair type happens to get the most shrink, it can shrink to as much as 10% of its true length. Other hair types can also shrink up to 20% of their real length and it shrinks, even more, when in close contact with water.
It's hard to avoid shrinkage on natural hair and it often happens only after you wash or add water to your hair. As annoying as shrinkage does sound, it is an essential part of a healthy natural hair journey and embracing it can help find a way to combat it.
No matter how healthy your natural hair is, there will always be some level of shrinkage. However, read How to Prevent Shrinkage After Washing Natural Hair to get your hair to stay stretched.
Final Thoughts
Your curl pattern is going to play lots of roles in the percentage of shrinkage your natural hair gets. Hence you need to understand your hair type to help minimize shrinkage.
While there are certainly a few steps you can take to reduce shrinkage in natural hair, the most important step is moisture. Ensure to retain moisture in your hair by choosing a shampoo that hydrates rather than dry your hair out.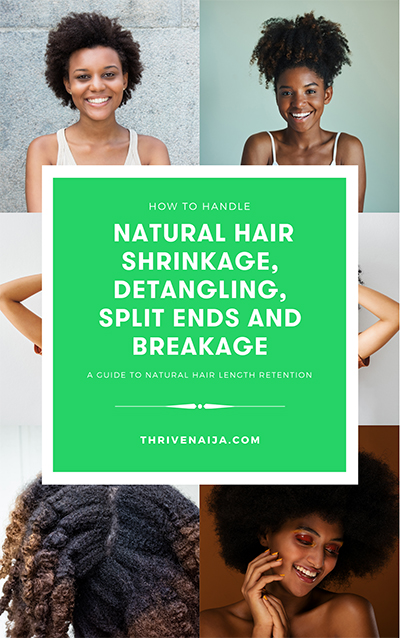 Want to take better Care of your Natural Hair?
Get your hands on our new Natural hair guide. It's everything you need to know about the four major problems we natural hair ladies face on a daily basis:
<
Shrinkage.
Detangling.
Breakage.
Split ends.
We call it The Guide to Natural Hair Length Retention.