Everyone likes a box braid and one of the reason is because it's pretty versatile and styling it can add some fun to it the hairstyle, there are pretty many chic ways you can style it, braids are also counted as a low maintenance hairstyle as it can last up to three months with awesome ways to style it every week.
Braids are one of the most trendy hairstyles due to the fact that it offers an opportunity to extends one's hair, it's a very exquisite hairstyle and very simple to do.
Time to spice up your braids and do something even more creative with it, here are 18 chic hairstyles for braids you can make with braids.
1. Side Braid Bun To Inspire A Smile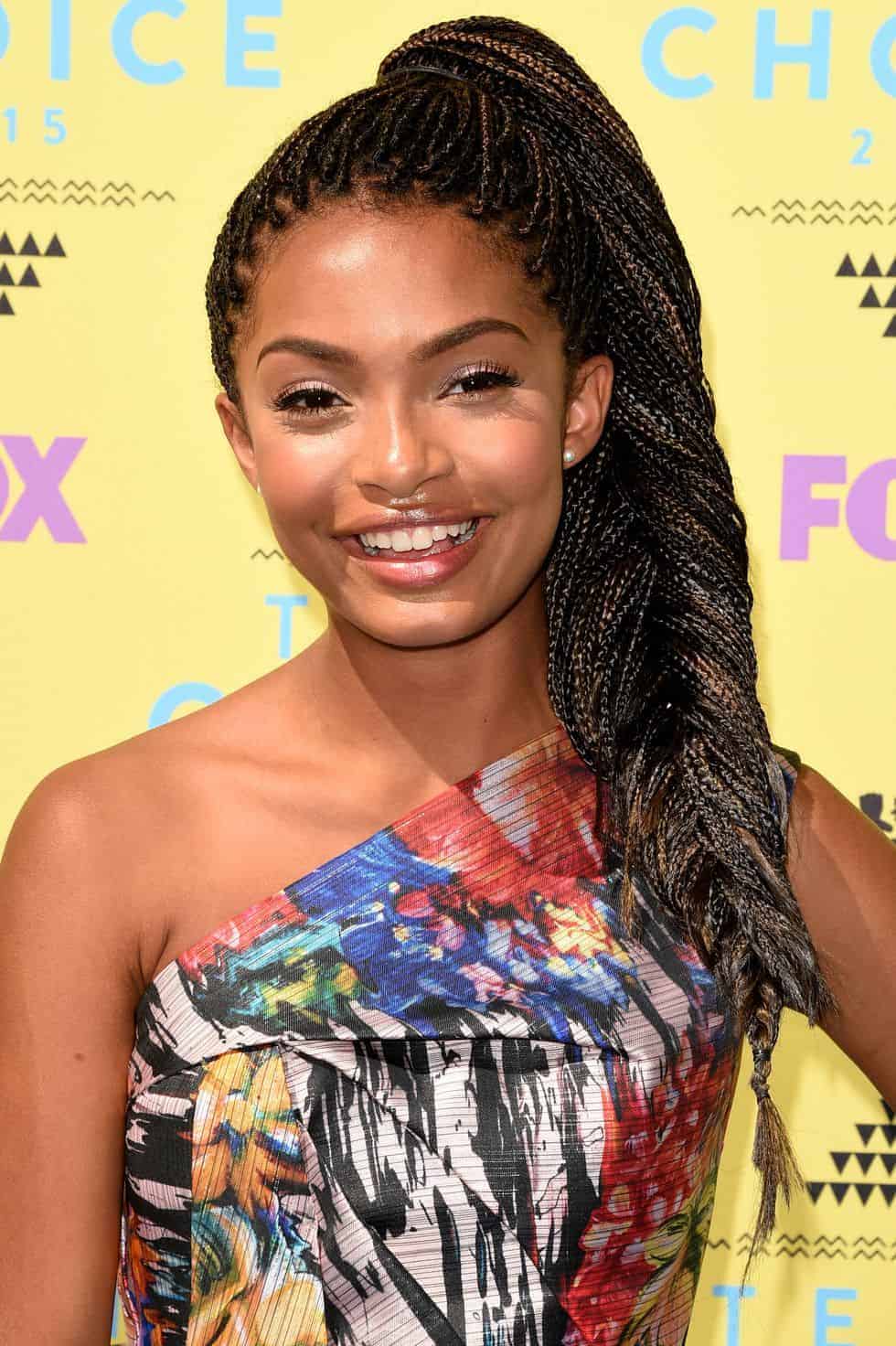 To look like the chic you are and inspire some style and confidence, you can go with Yara Shahidi simple braid styling, the trick is to have the braid fall to one side and hold with a band to secure the look. You can pair this with any kind of outfits.
2. Deep Side Part Braid To Show Off Your Beautiful Face
Jhene Aiko has another special beautiful way you can style those gorgeous braids, this is a very easy way to style those braids, it's an elegant and exotic style.
3. Blonde Jumbo's If You Like Some Colors In Your Braid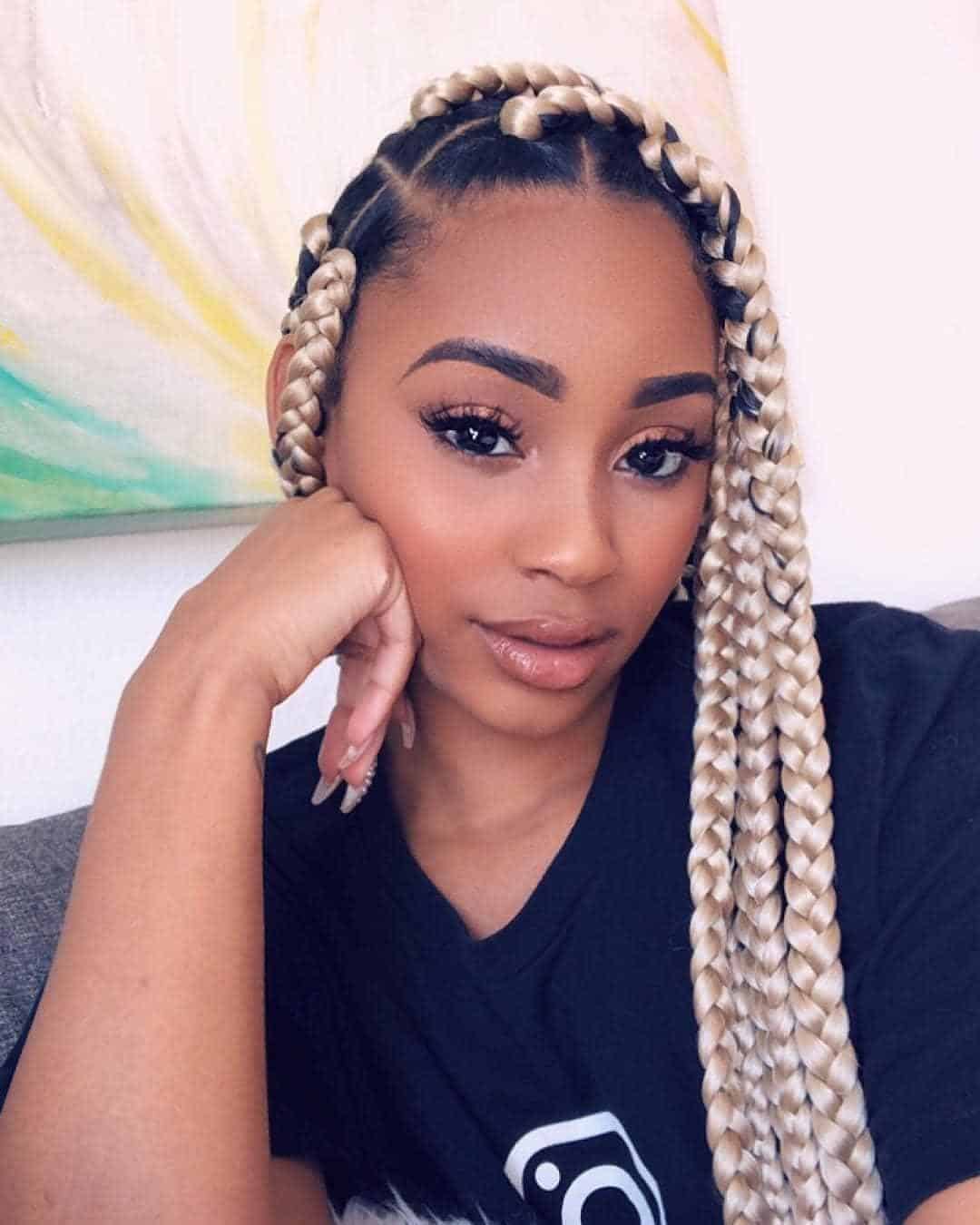 A blonde jumbo braid says it all when it comes to looking chic and glamourous, blonde jumbo braids are perfect for lighting up the face and adding more colors to your outfits.
4. Medium Braid With Middle Bun To Pair With Any Makeup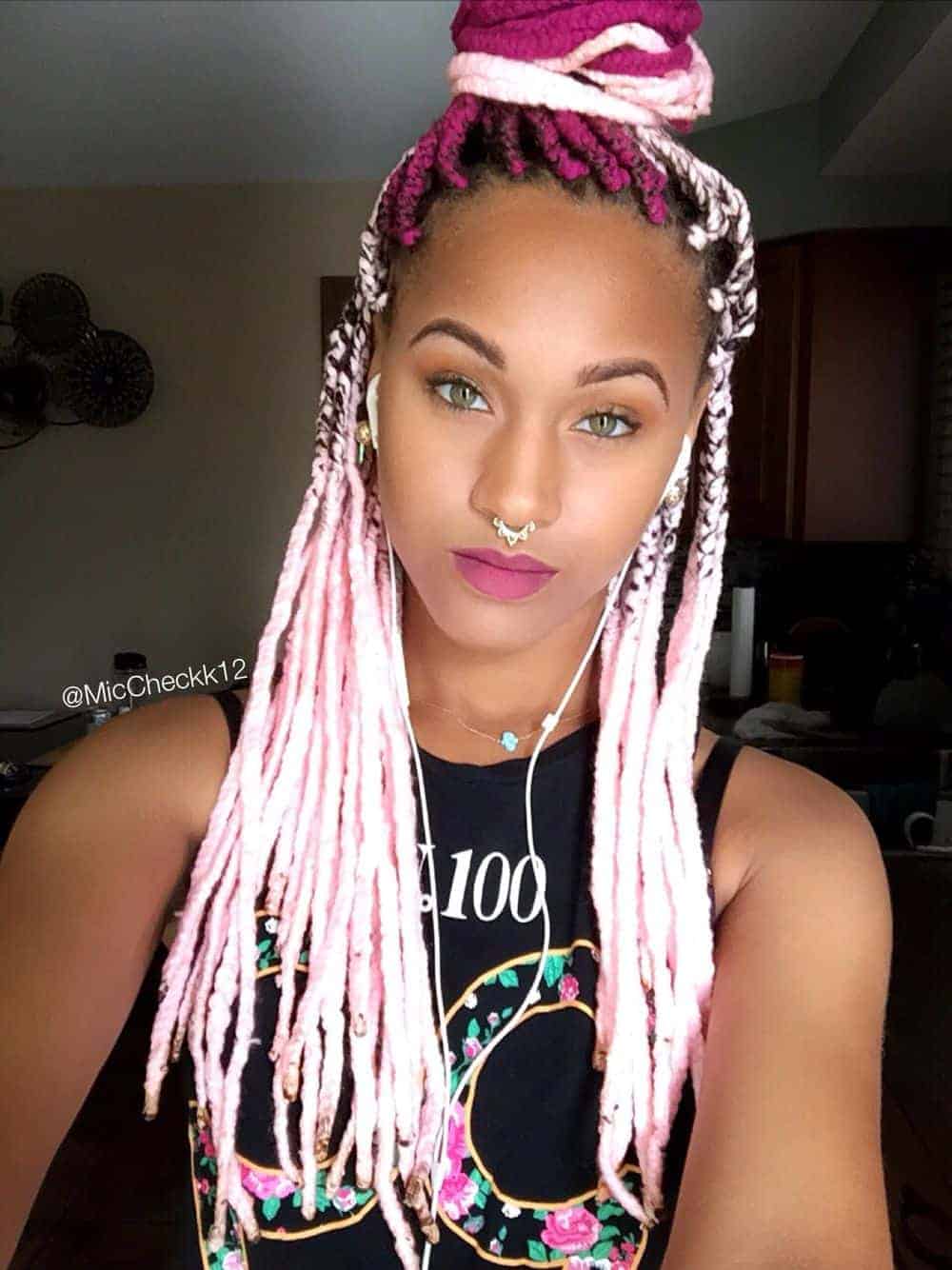 A simple exotic style to highlight your look and add more interesting outlook to your makeup, have a small part tucked upwards and hold then let the rest fall to the side in a simple less dramatic way.
5. Large Jumbo Braid With A Spiral Bun That Goes With Little Jewelry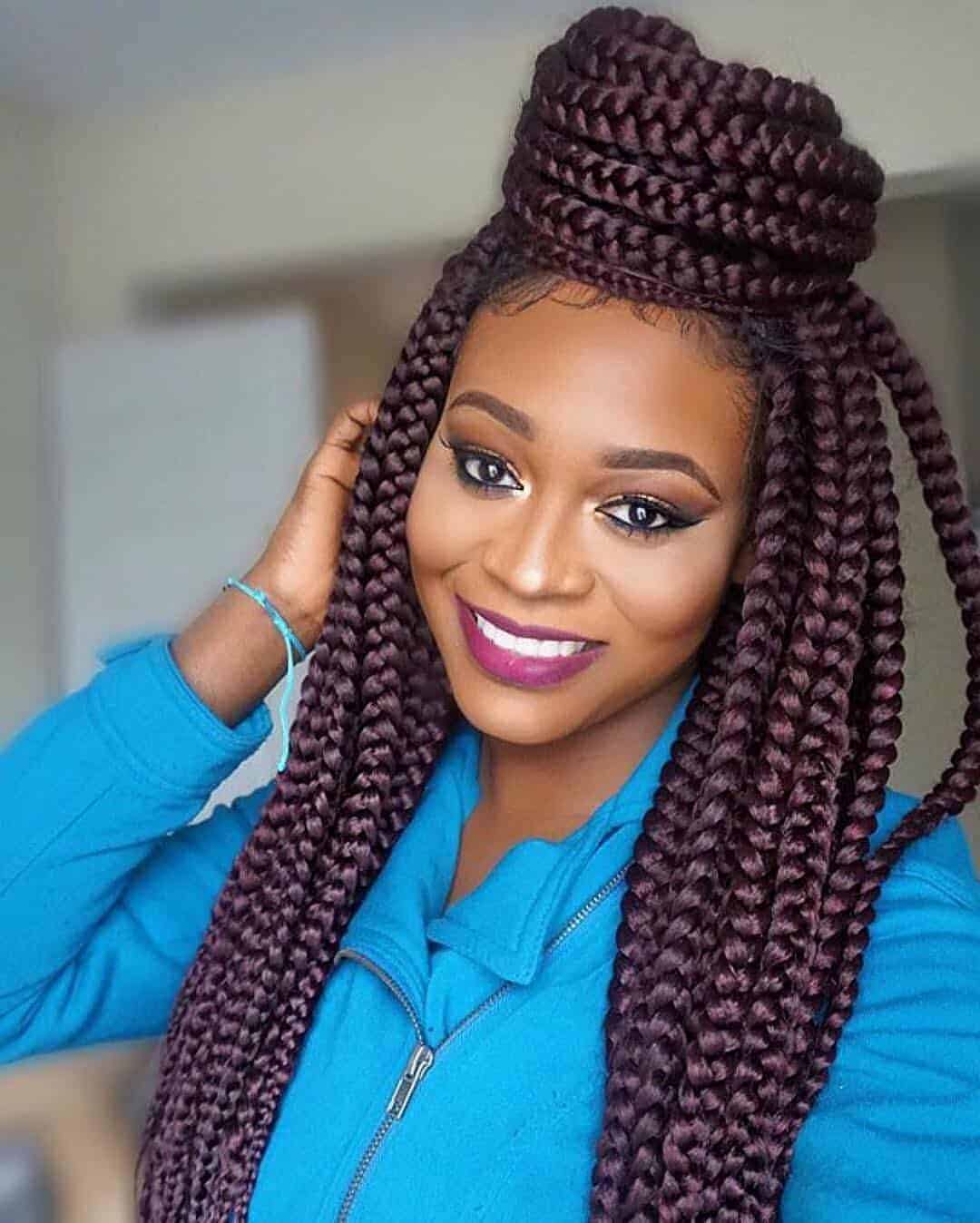 Here is the perfect braid style for you if you are planning to go with a small piece of jewelry, it brings out the face and makes you look elaborate.
6. Front Bantu Knot With Box Braid To Give You A Sleek Traditional Look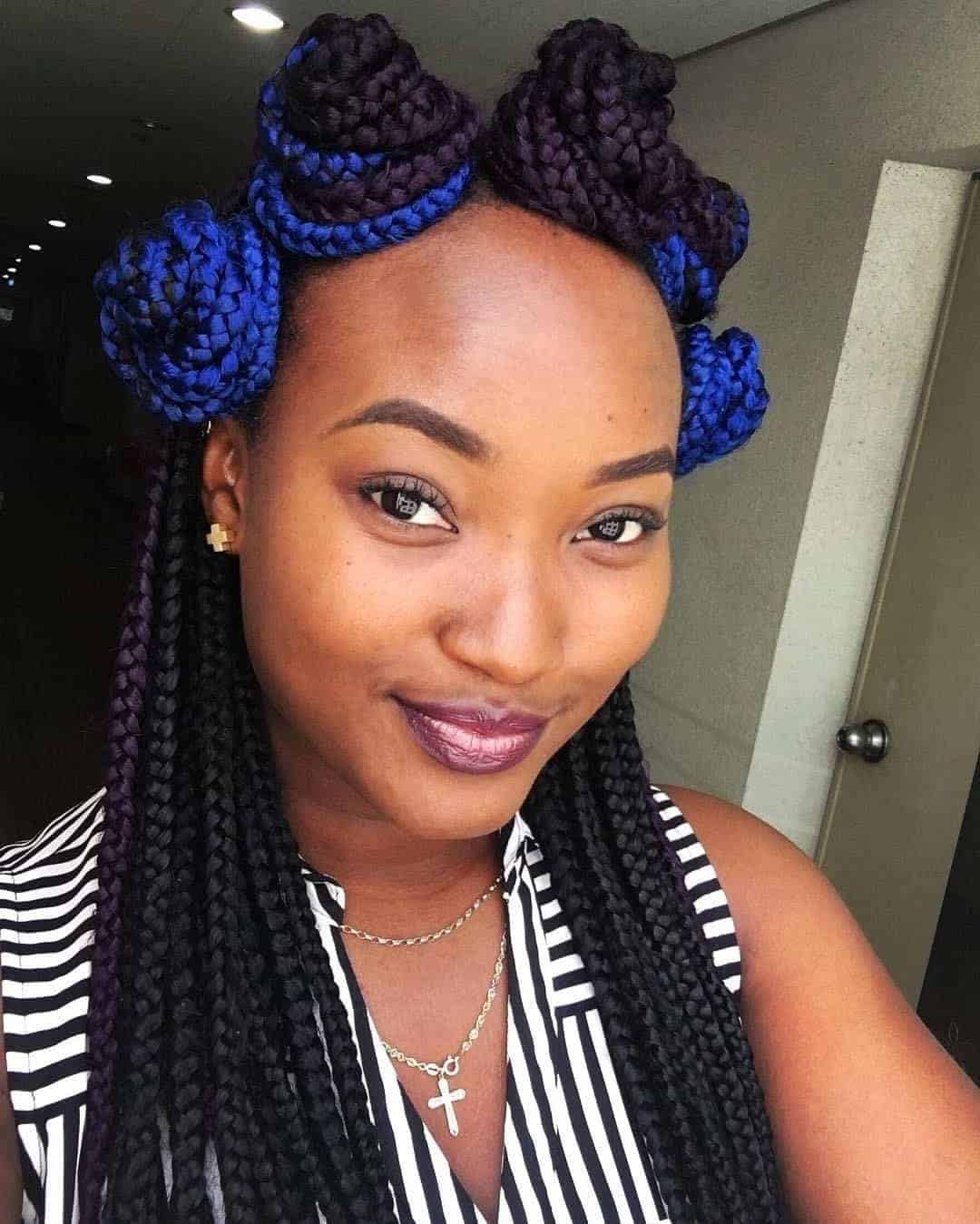 Planning to attend a traditional wedding and you want a style that is exotic and different from the normal usual trend, you can add more style to it and make the Bantu knot simple and less dramatic.
7. Rolled Up Ponytail For A Casual Stay At Home Look
Source: ShpockHere is one of the best ways you can keep your braid from disturbing while you get some house chores done, it's simple and easy to roll up, also an easy to do style for an evening outing.
8. Scanty Braid With Loose Tip To Make You Comfortable
No reason to go dramatic or too much with those braids, keep it light and simple with some colorful extension and it's going to be just perfect.
9. Parted Braid Box For A Formal Event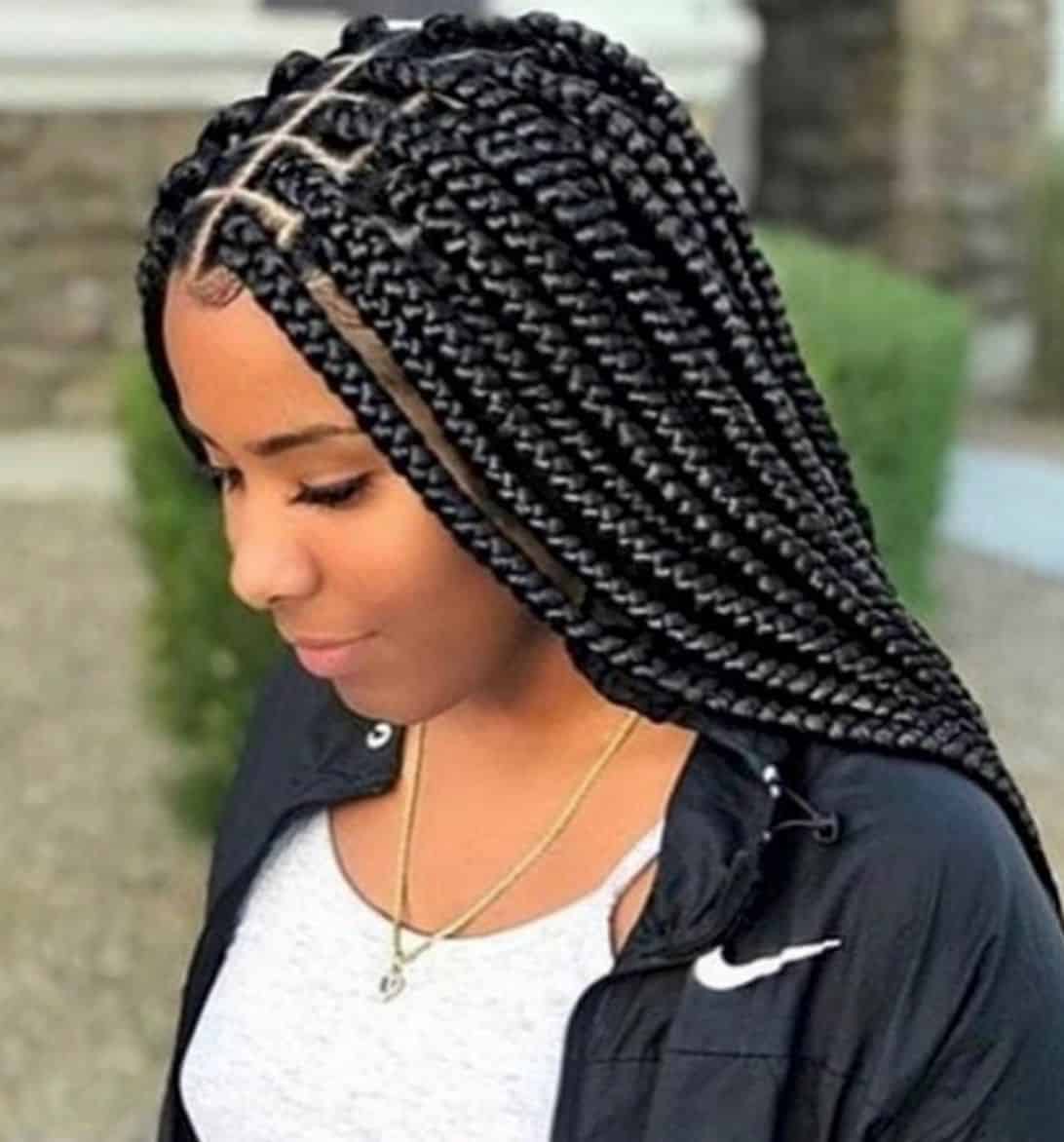 Just a deep parting at the front and you are good to go.
10. Large Roll Up Bun To Show Those Beautiful Lip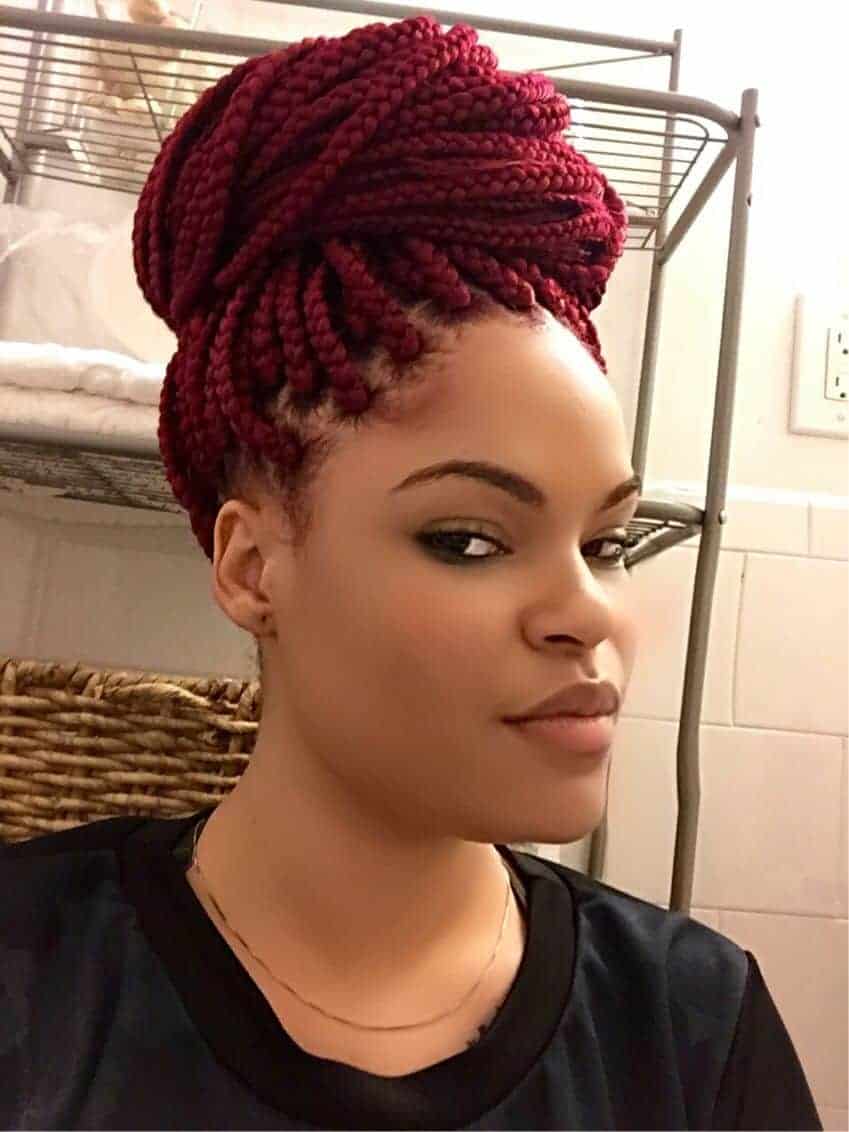 Nothing looks better than a hairstyle that lets you show off your sexy pout lips and perfect for a party too as you do not have to worry about your hair getting into your face.
11. A Half Parted White Braid Extension To Show Off Your Shimmery Makeup
A touch of white makes all the difference in a braid, it adds some unique trend to it and you can style whichever way you want.
12. Side Cornrow Braid For All Kinds Of Events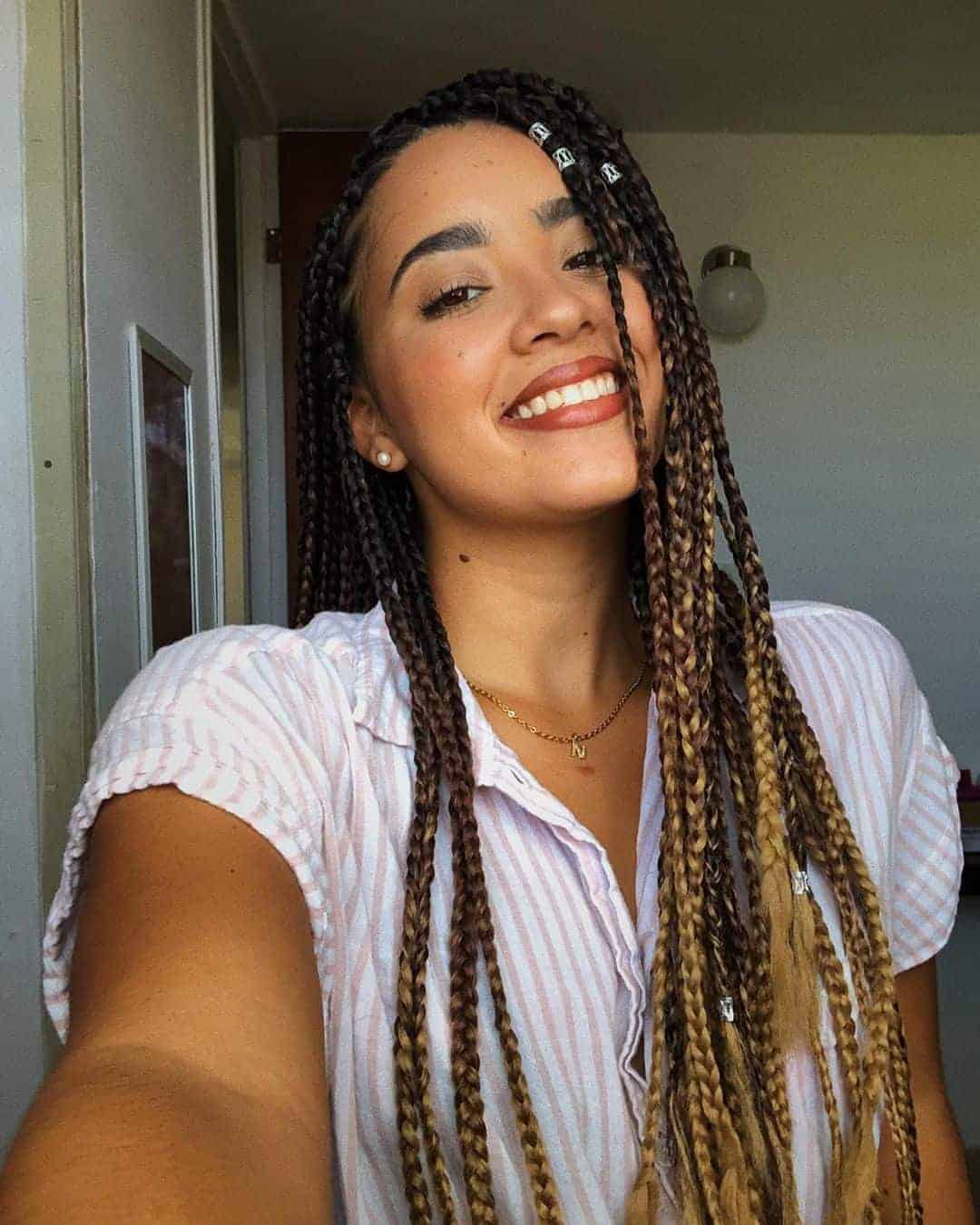 We are absolutely swooning over this style, it adds a chic personality to your look and it's just the perfect way for you to show off your gorgeous face.
13. Deep Parted Box Braid Adorned With A Butterfly Hair Accessory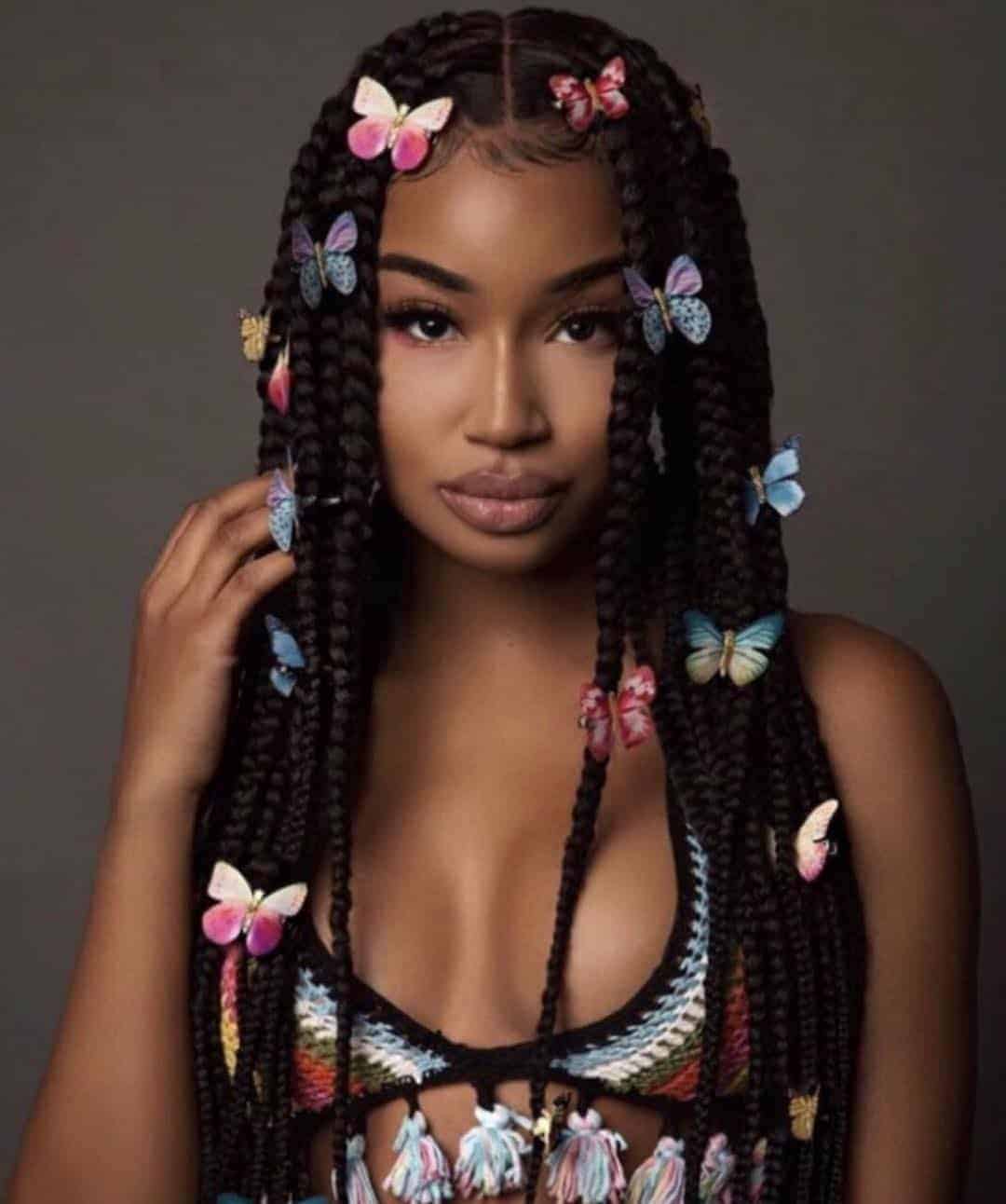 For a more stylish look that turns head, adorn your braids with some gorgeous butterfly accessory.
14. Keep It Simple With A Tuck At The Back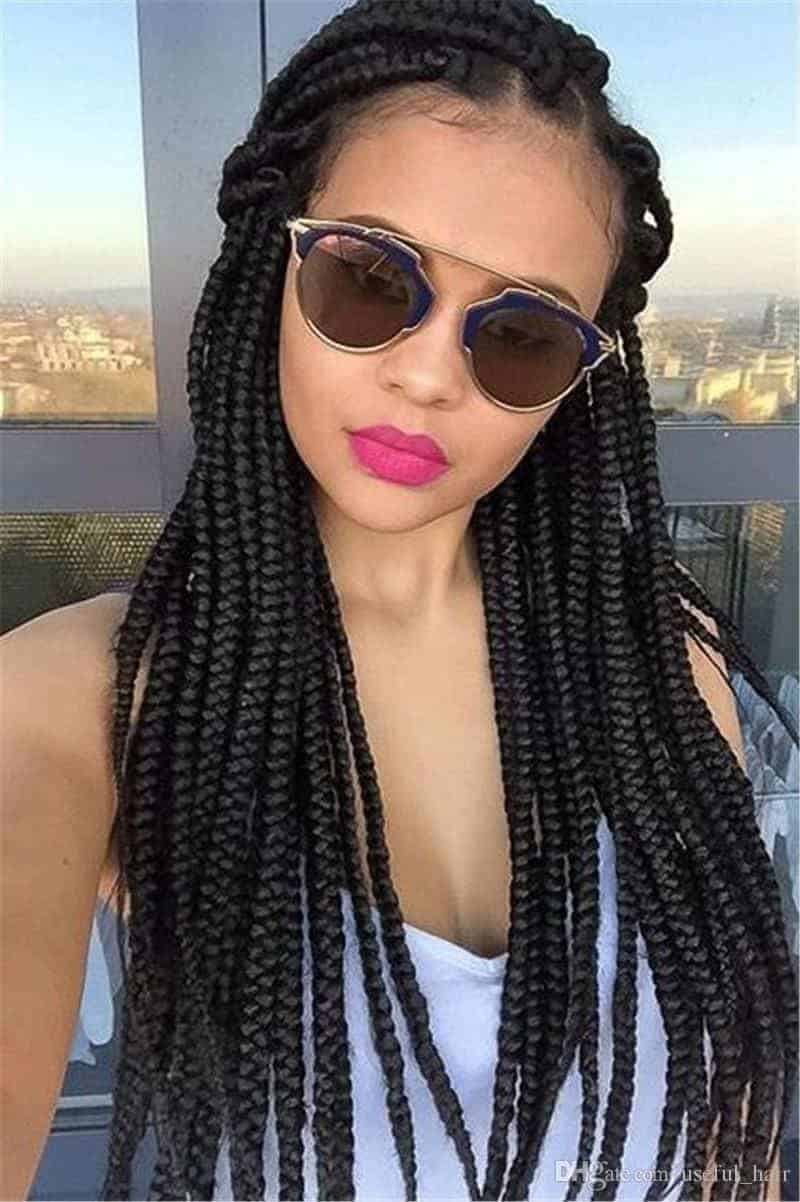 You do not need to take it overboard, have it styled by draping a few braids at the front over the ones at the back to tune up the look and look even more like a chic.
15. A Few Front Roll Up Bun To Keep It Less Dramatic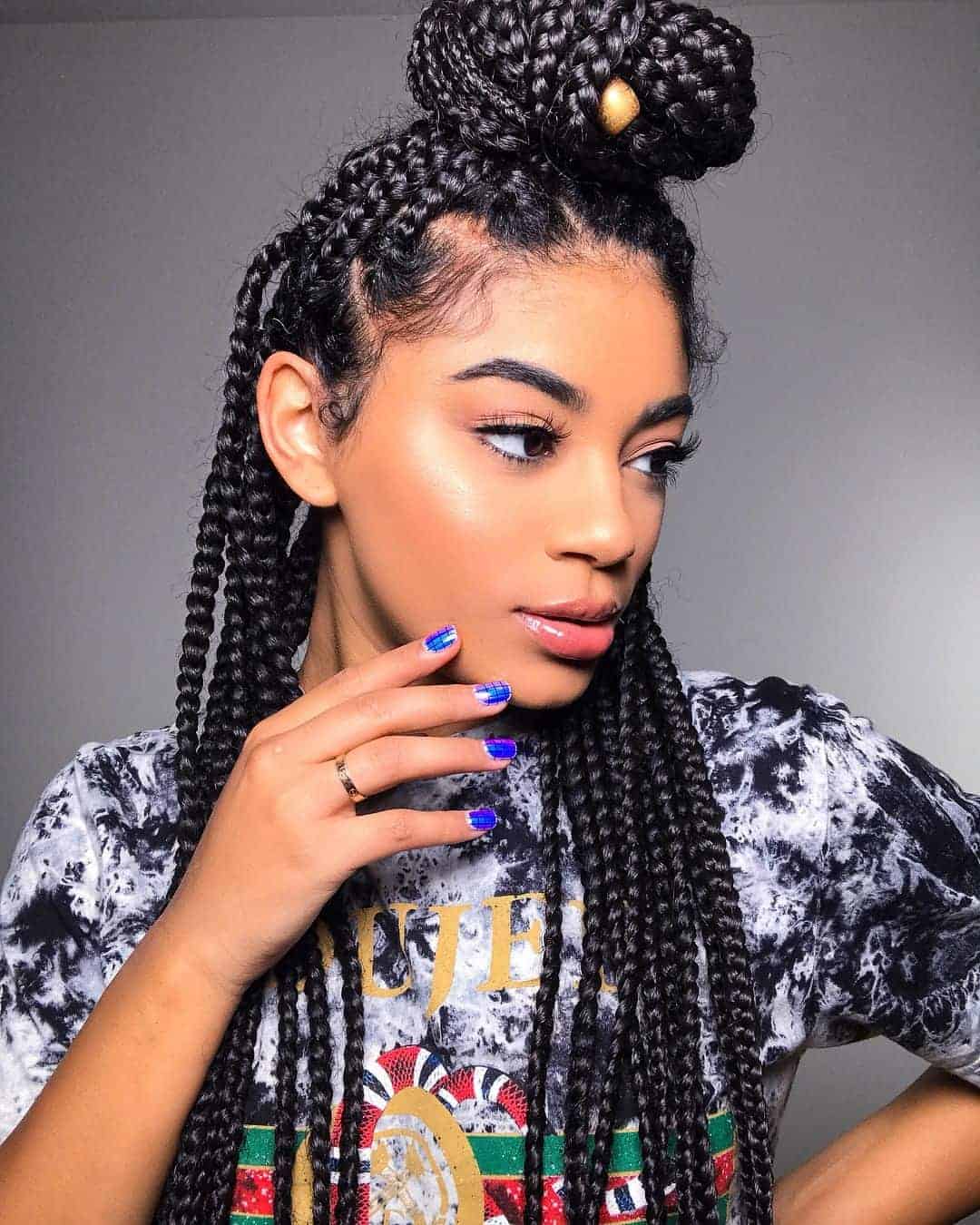 One thing you need to know about basic braids is that they do not have to be elaborate to be beautiful, just something simple like this would do, it keeps your front hair from breaking.
16. Big Blue Box Braid To Pair With  A Flawless Makeup
Add more glam and interesting personality to your braids with this amazing blue box braid, you can match this with a bold exotic lipstick.
17. Elevated Box Braid In A Side Updo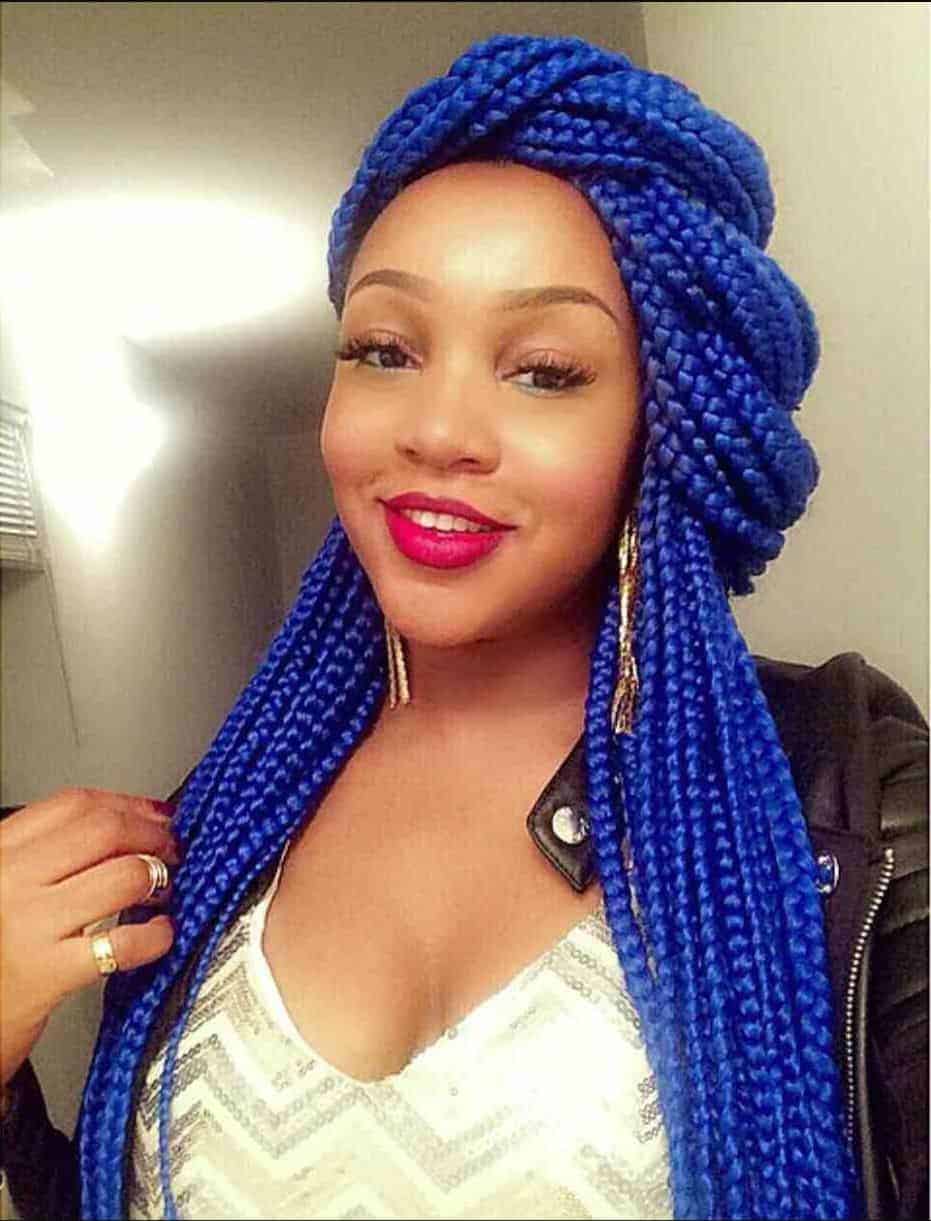 There are many ways to elevate a braid and add a simple interesting up do it, this is a pretty trendy style for a wedding guest, not too fancy but it's not to be paired with heavy jewelry.
18. Messy Braided Bun For A Casual Outing
If you want to wear your braid casually and with less fuss or care about flashy makeups then we recommend you go with a superb hairstyle like the one above.
---
Whether you go for a mini bun styling or a ponytail styling, braids still have the tendency to look fantastic and fitting for all kinds of occasion, braids are not limited to chic styling alone, you can make it even more interesting by adding some colored extensions to it.
Which of this braid stying is your best go to? We look forward to your reply in the comment box below and follow us on Instagram @thrivenaija for more style Inspiration.
Read more on hairstyles for natural hair and braids: