111. Ankara Pattern With One Hand
Hot, Simple and Sexy. this is a simple but unique style, can't help but look chic while rocking this.
112. Sexy Tub Ankara With Puff Hands
Don't you just love how classy this gown looks? Surely designed for those who love sexy and hot.
113. Off Shoulder Ankara Jumpsuit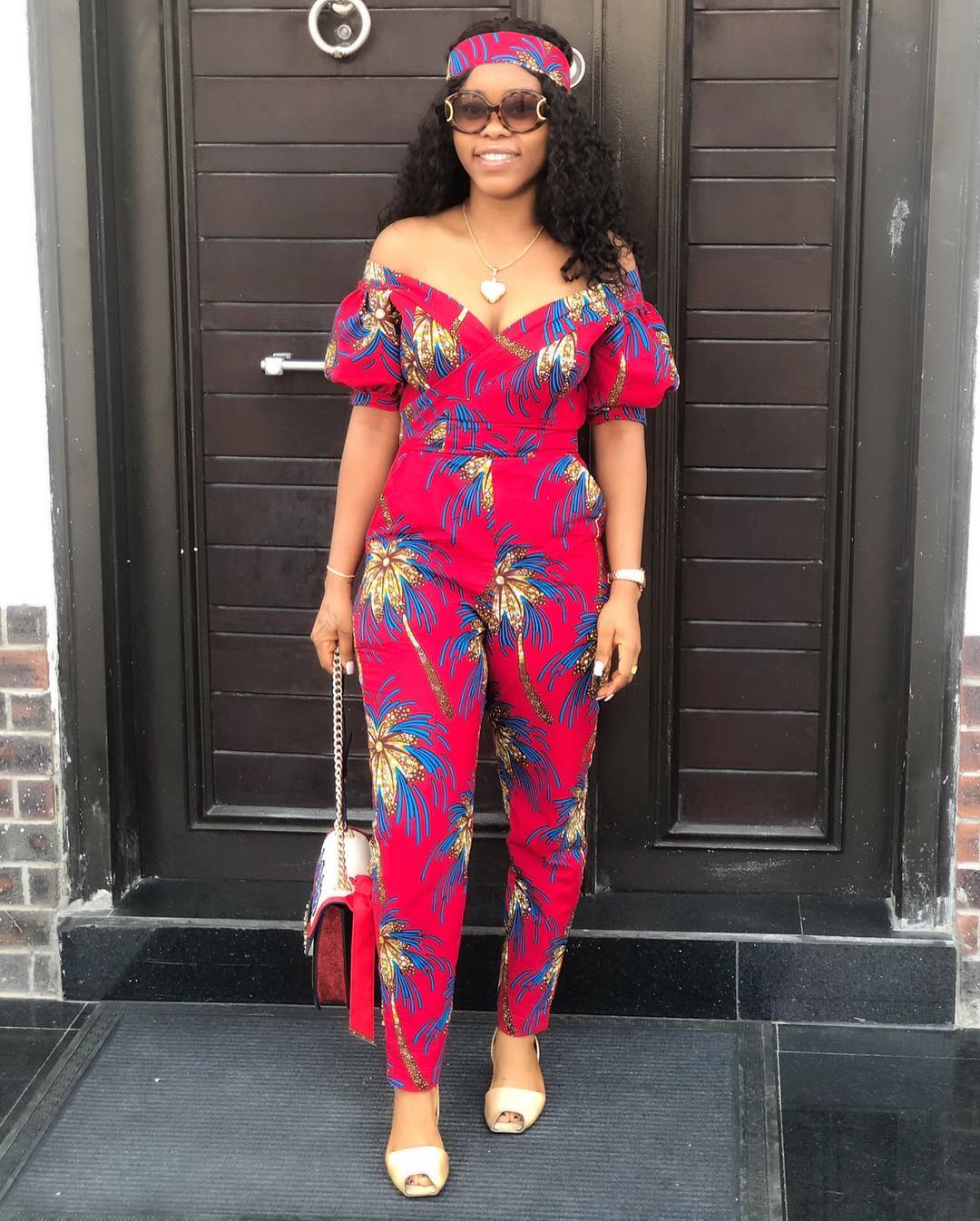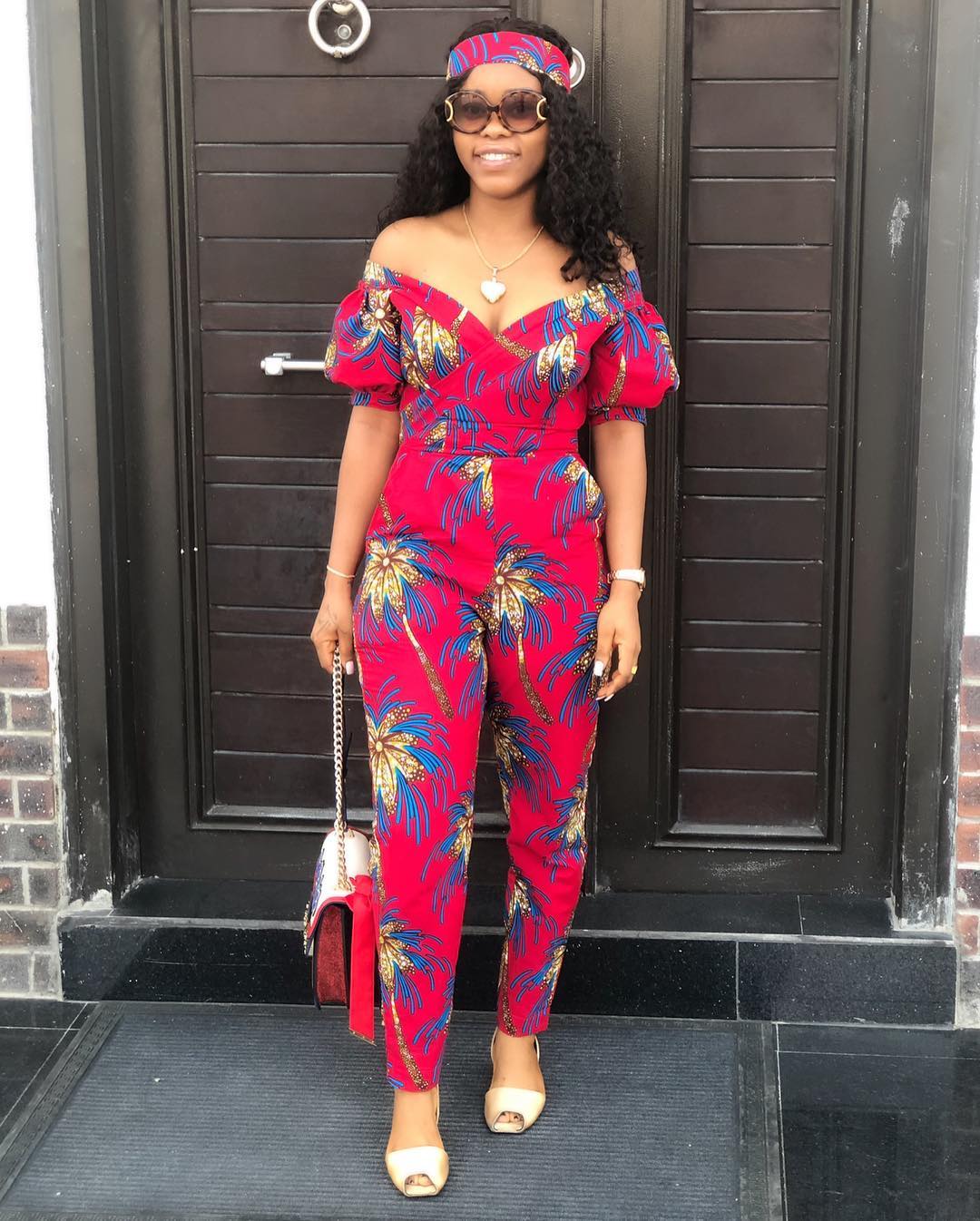 This is a jumpsuit with our lovely Ankara to give it a fabulous unique appeal.
114. Flappy Hands In Simple Gown
This is simple yet fashionistas, with or without the belt it will still give a desirable and trendy reaction.
115. Tiny Straps With Flays
This is a short, simple yet elegant flay gown. It is comfortable and any figure can rock it.
Continue reading for the latest Ankara styles we've curated for you ?
116. Ankara Short Skirt And Blouse
Did we hear you say fantastic? It is designed to surely impress lovers of creativity so if you love them short and comfy then go for it.
117. Ankara Pattern Hand With Layers
I think this gown is a sure winner for that cocktail party you are attending soon and with a beautiful smile while rocking it am sure nothing can go wrong.
118. Double Hand Gown With Straight Split
This is worth adding to anyone's Ankara dresses collections. It goes a long way to really show class and surely adorable as well.
119. Ankara Short With Bubbles
This captivating Ankara with bubbles surely gives a chic look and can we say absolutely party bubbly.
120. Ankara Jumpsuit Combination
This is an impressive and wow combination. Different shades of Ankara combined to make a jumpsuit and with that puffy hands definitely interesting and can rock any occasion.
121. Average Sleeves Blouse With Boot Cut
The interesting combination of this attire is quite impressive. practically, everyone loves bootcut and now it is made with our lovely Ankara which makes it all the more attractive.
122. Flamingo Dress
The designs made with the hand of this gown has a nice approach to it and can be worn no matter the occasion.
123. Simple Elegant Gown
This gown just represents simplicity.
124. Kimono And Trouser
Fashion keeps getting better and better most especially Ankara and nothing intrigues more than having a chance to input your casual wears into your Ankara.
125. Asymmetric Cut Design
This beautiful clad design has a sense of appeal that gives one wearing it some vibes and sparks.
126. Ankara Caftan Dress
Did I hear Unique?  it really is unique, carries a sense of authority and an appeal that can not be overlooked.
127. Long Sleeves With V-neck
This Ankara style flatters the shape surely. It has a subtle way of intrigue, smart and appealing too.
128. Corporate Ankara Style
This is looking all simple and stylish. It can be rocked to the office on a Friday or even church.
129. Boogie Ankara Style
This is another lovely style you can't help but like, this is the perfect chic style you need for all kinds of classic weddings or parties.
130. Chic Ankara Gown With Flay Designs
This is a gown that has been designed to look like a skirt and a blouse. The front has a flay design that gives it a simple but yet classy appearance.
Love these lovely latest Ankara styles? You'll love our list of 55 Ankara short gown designs 🙂