What is oil slick hair? This form of hairstyle is fast becoming the new trendy hairstyle and you can find different ways to get your hair to wear this fancy hairstyle, oil slick hair is the colour for your hair, this is simply inspired by the colours reflected in puddles of oil and gasoline on the pavement, the oil slick hair trend is quite a gorgeous one and with lot's of hairstyle ideas to inspire oil slick hair. Dark hair girls can go for a rainbow oil slick colour to add some edge and fun to their hair.
Oil slick hair dyes are hues of cobalt, purple, magenta and green. Oil slick hair is one amazing technique that allows brunette rock rainbow hair and not worry about damages, it's a really gorgeous hairstyle and this rainbow hair colour trend for brunettes does not require bleaching.
From dreamy pastels to galaxy-inspired ombre, there is just so much to love about oil slick hairstyle, beautiful colours have been designed to suit people with flaxen hair and if you are wondering the perfect oil slick hairstyle you should get, below are hairstyle ideas in inspiring you.
Oil Slick Hairstyle Ideas You Can Try
Oil slick hair does not have to be extreme or dramatic, you can have fun with it too and get just the right colour to suit your preference, it is a style that applies the mix of dark blue, green and purple tones over dark hair giving it a bold appearance. Here are some oil slick hairstyle ideas you should try.
1. Perfect Slick Oil Hairstyle With Sleek Baby Bangs For A Cool Look
Hair slick oil hairstyle can be as dramatic as you want it to be, it's an exotic style that gets even more so when the colour is heightened just like this hairstyle above. You have your bangs styled before going for oil slick colour to give your hair some bounce and edge.
2. Oil Slick To Highlight Your Layered Haircut
After getting a layered haircut at home yourself, you can make it more exciting with just a tone of oil slick colour, this is fitting for a casual day out while rocking a cool trendy colour.
3. Balayage Oil Slick Hairstyle For Long Hair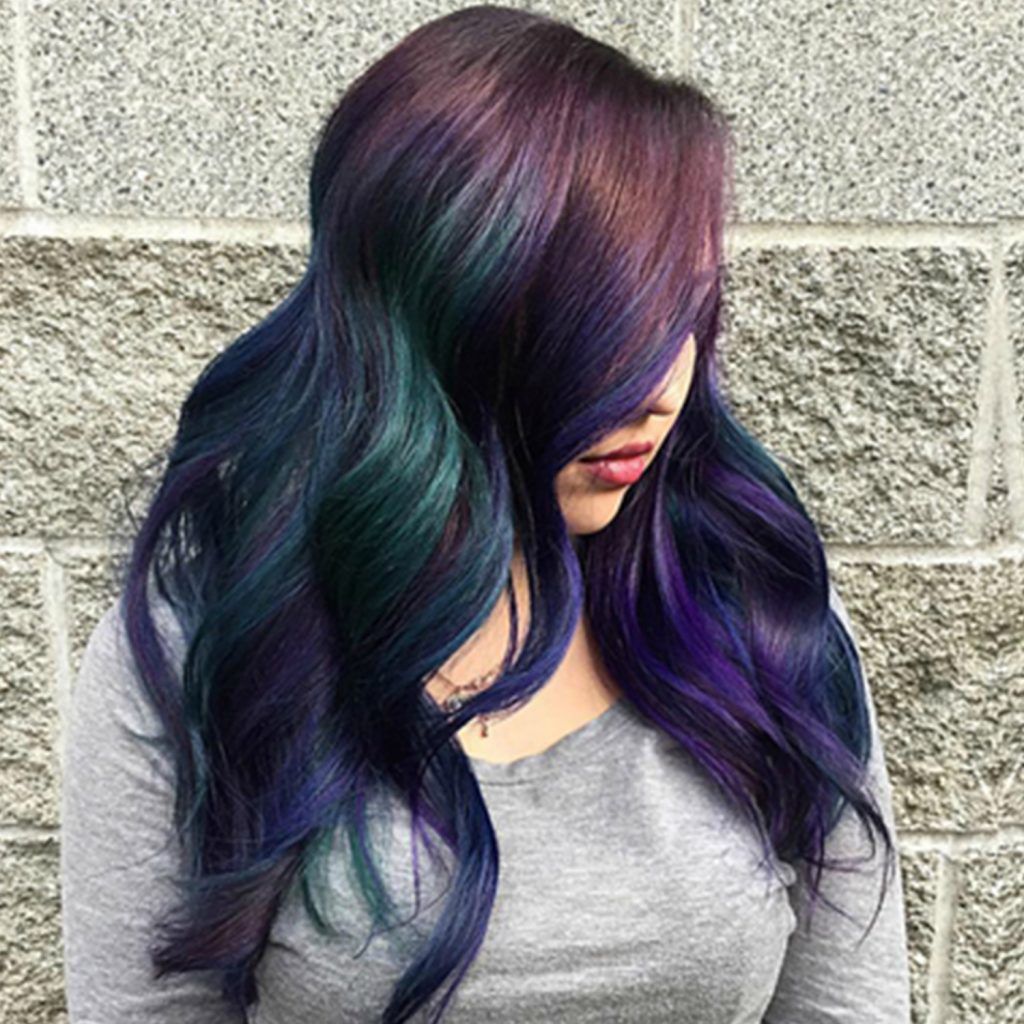 Here is another trendy hairstyle that pairs nicely with oil slick colour, this look is classy and fitting for all kinds of events and there are different amazing ways you can style it as well.
4. Tune Up Your Look With A Little Bit Of Oil Slick
Most brunette want to keep it as simple as possible and above is just the perfect oil slick hairstyle to get, it's quite simple and just a bit of colour highlight if you do not want it too exotic or ruining your hair colour.
5. Enjoy An Attention Day Out With A Sleek Curls And Oil Slick Hairstyle
Another great hairstyle that pops on oil slick hair is this fascinating hairstyle, great for taming long wavy hair.
6. Pastel Colour Hair Style For A Different Oil Slick Look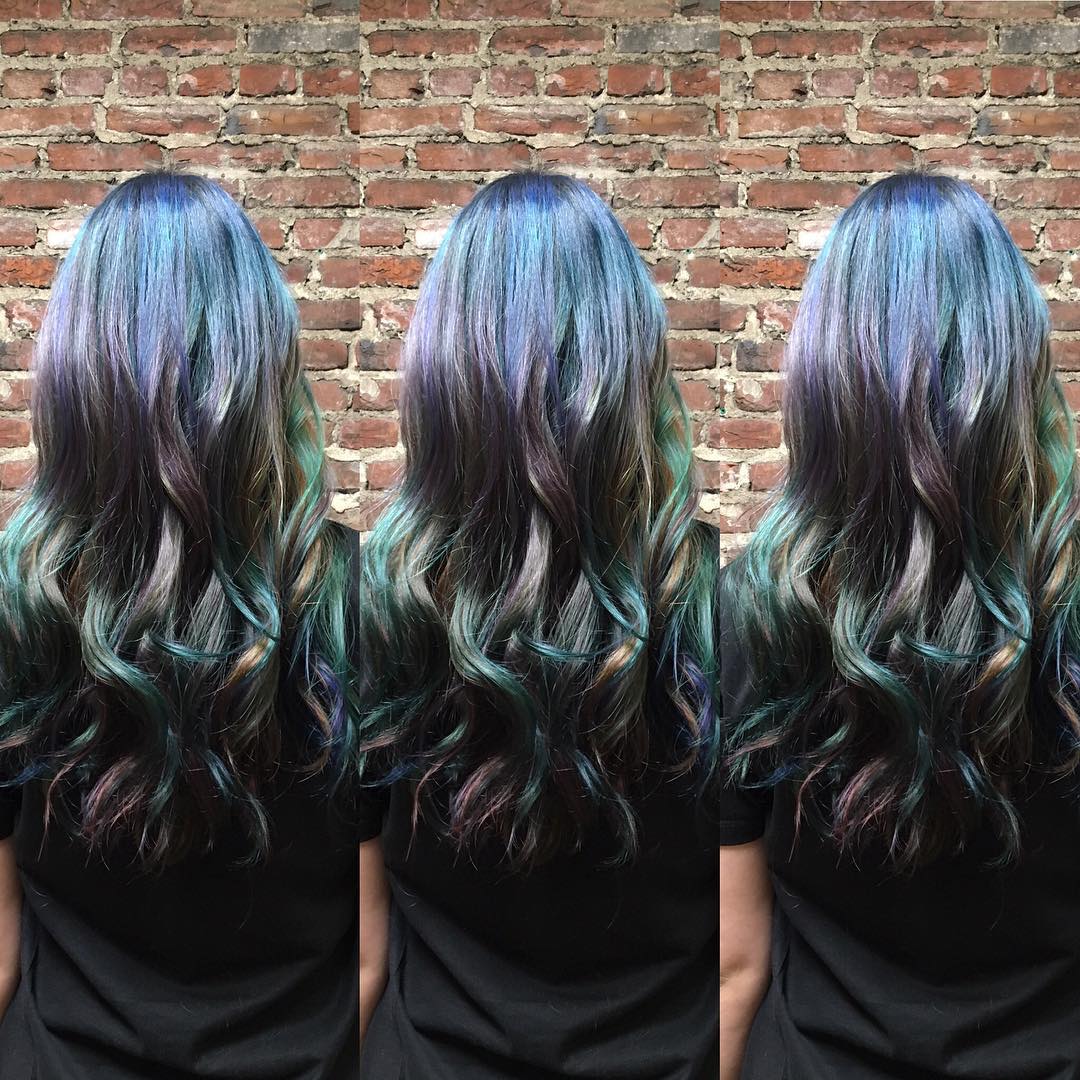 Oil slick hair is one amazing colour that last's awhile compare to other shades of colour and here is just one hairstyle you want to rock with an oil slick colour.
7. Layered Hairstyle With Center Parting To Compliment Round Face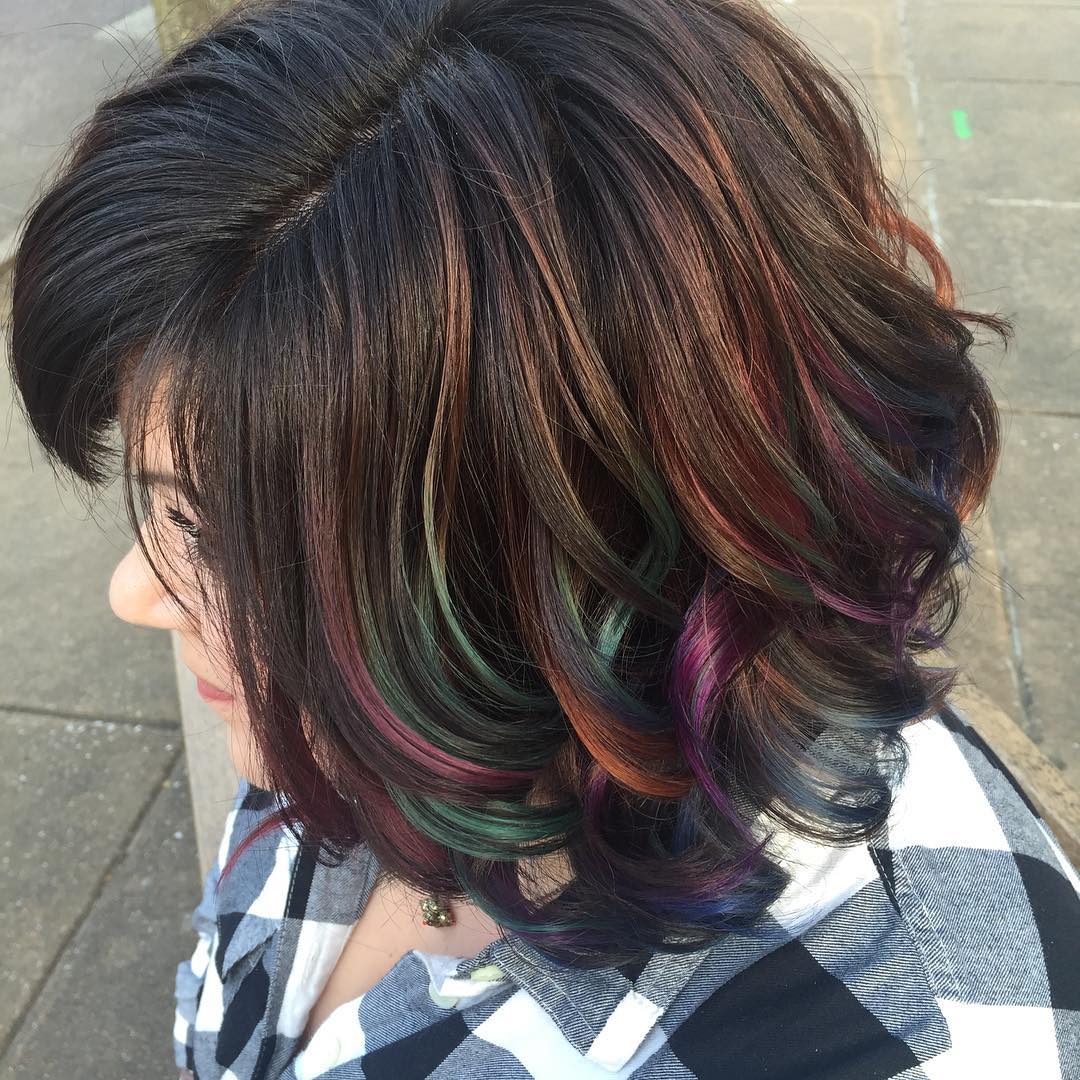 Go for a hairstyle that shows off your round face and colour that shows off your hair even more.
8. Tapered Oil Slick Hair Cut To Look Classy
You can still get an oil slick hair colour if you need to make your tapered haircut look even more astonishing, this is one style you can be sure is trendy and still gives you that shimmery look that comes with oil slick colours.
9. Fish Tail Braid With Oil Slick Hair To Tame Your Wavy Hair
If you are worried about your wavy hair looking too untamed with oil slick colour while you go out then you can easily have it styled with a fishtail braid or dutch braid. This still is quite suiting for all kinds of event and outfits.
10. Add A Little Bit Of Pink With Oil Slick Colour
Pink is a fabulous colour to pair with an oil slick hair, add some glam and drama to the look.
11. Just A Tint Of Oil Slick Oil To Keep It Casual
Your type of hair depends on the type of how much oil slick colour you are going to get however above is just a simple oil slick highlight that is perfect for all kinds of hair colour, not too dramatic and you can carry this for as long as you want with different styles each day.
12. Oil Slick Hair Curls That Can't Go Wrong
If you want you to want to show off your wavy curls, this might just be the kind of oil slick colour you should try. Easy to wear and match with any kind of outfit without stress.
13. Short Bob Looks Even More Fascinating With Oil Slick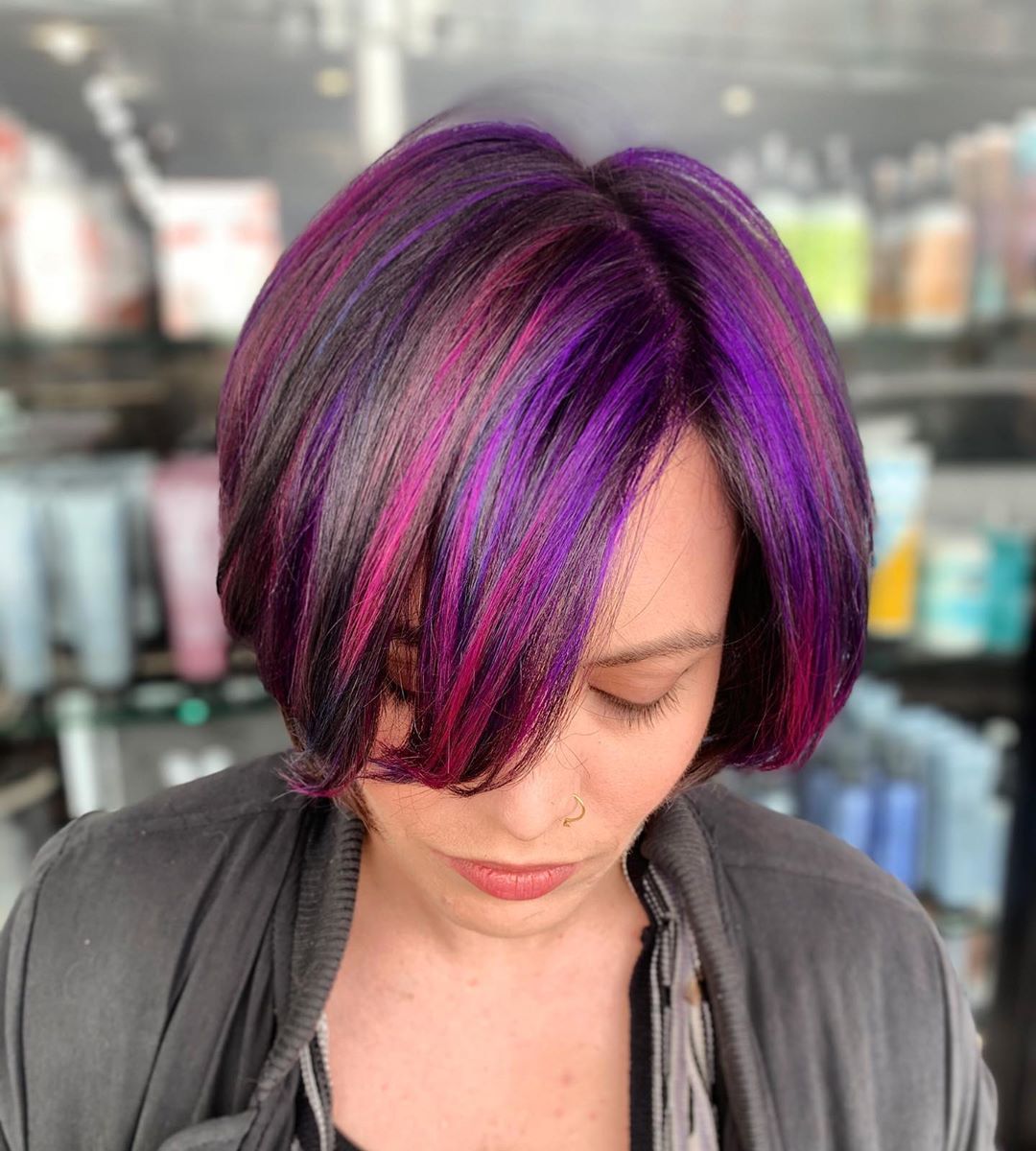 Center parting short bob is an interesting hairstyle and gets even more exciting on oil slick hair.
14. Light Oil Slick Colour For Stay At Home Look
Most times you don't want an excess of this colour in your hair or just need a bit of it to highlight your hair, above is a suitable hairstyle idea you would love.
15. Split Bangs Paired With Rainbow Oil Slick
This is another bold look to go for if you are looking for a way to make your black hair look even more exotic and interesting, not too much but beautiful.
16. Oil Slick At The Tip Of Your Brown Hair For A Dashing Look
Keep your hair colour with a bit of oil slick colour at the tip.
17. Bold Hair Colour If You Are Bored With Your Black Hair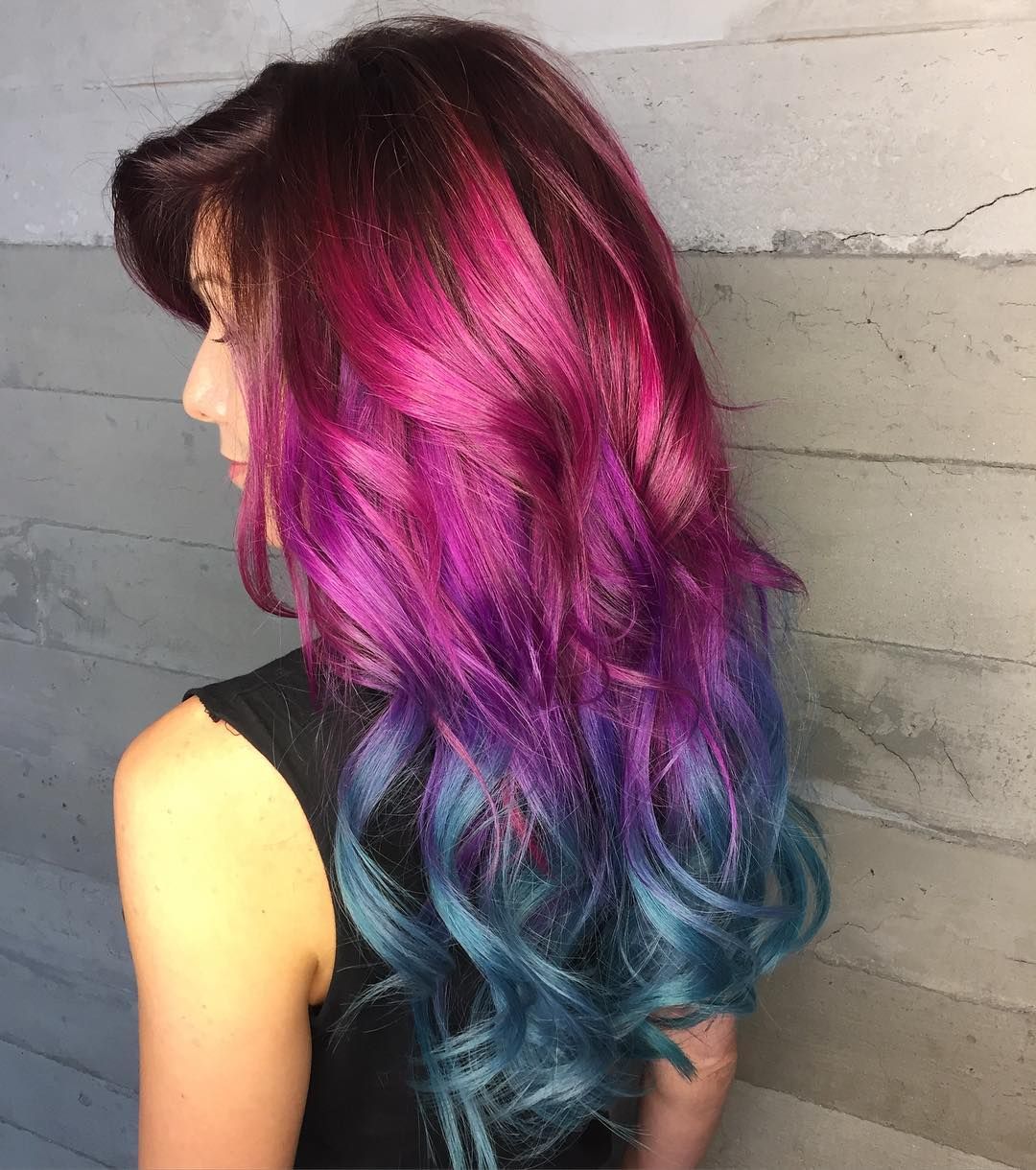 Oil slick is the answer if you dark hair and all your light-haired friends have all the hair colour fun and they change it up constantly with pastels or bright colour. You can definitely join the fun with this classy hair colour above.
18. Double Dutch Braid With Emerald If You Are Not That Keen On Using Lot Of Highlighter
You can opt for a lot or a little of oil slick depending on your hair colour or how elaborate you like things to be however this colour above is just hovering between little and too much which is quite suitable for black and grey hair.
19. Oil Slick Colour To Show Off Your Natural Hair Curls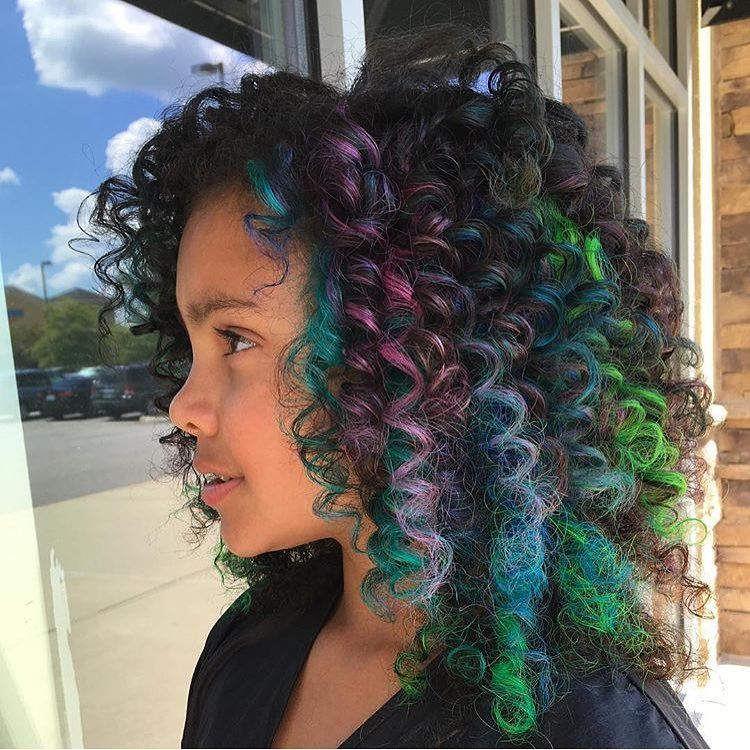 With oil slick colour you can have some colour in your natural hair and not worry about damages or breakages.
20. A Fancy Oil Slick Hair Colour To Pull Off Any Look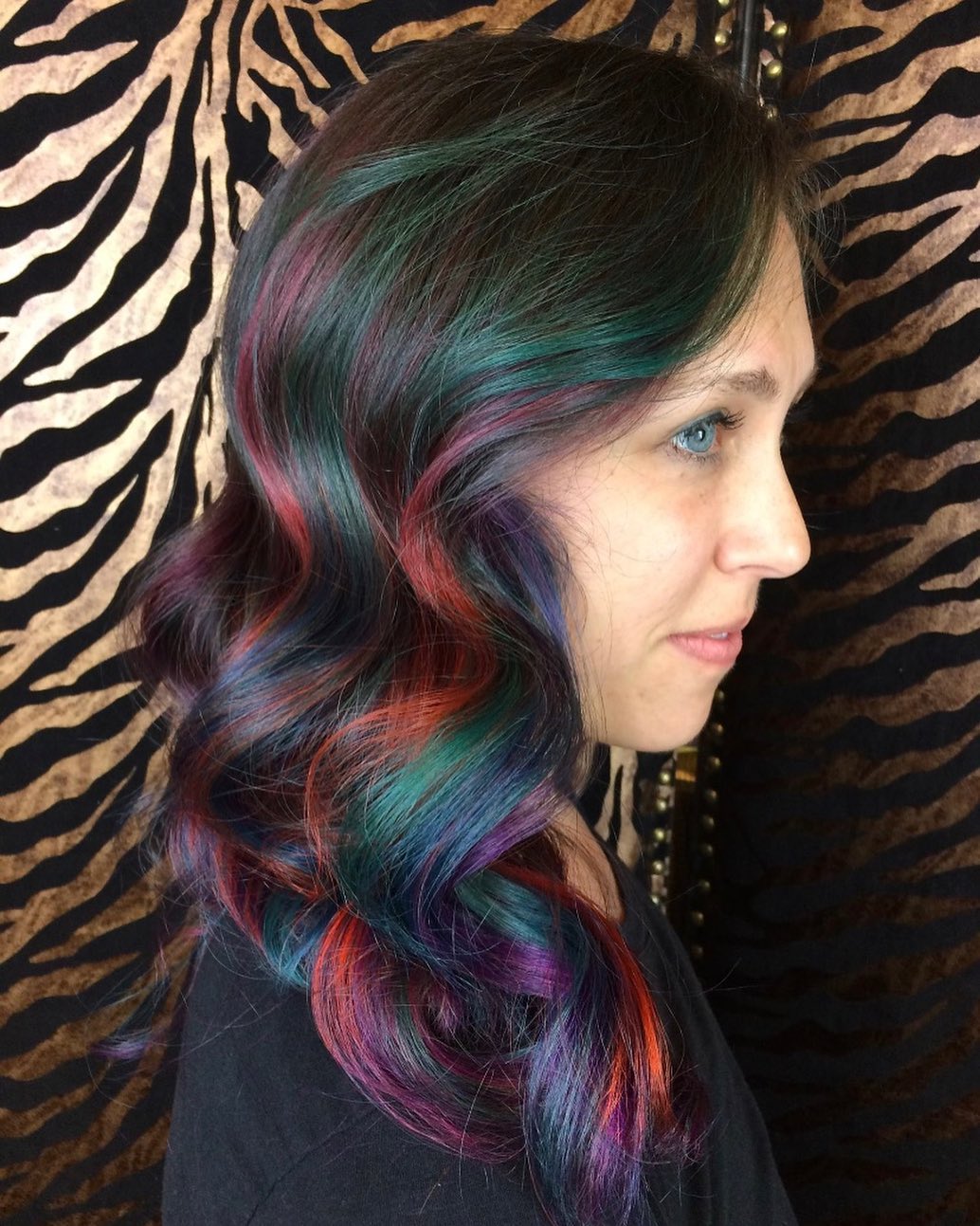 There are many oil slick designs to choose from and above is a trendy design you would love for your black hair and you need is to show your hairstylist what you want to recreate the exact look you want.
21. Oil Slick Hair To Keep It Cool And Badass
This is one fascinating hair colour palette that both flatters and expresses one's look without looking too elaborate and this is one of the beauties of oil slick hair.
---
The oil slick is a style that you can't help but find fancy if you are bored with your dark hair or love have colourful hair, it is a style that applies a mix of a dark blue hue, green, and purple tones over darker hair which gives it an iridescence appearance and you can decide to go for little or lots of oil slick, anyone would actually look pretty bold and dashing and above are just the perfect oil slick hairstyle ideas to inspire you.
Read next: 15 Simple Home Haircut Ideas You Can Try