Wondering what hairstyles are protective for 3a hair texture? 3a hair type is made or well-defined and has springy curls, these curls come with an S-shaped pattern and the 3a hair type is not as fragile as they look which is why protective hairstyles are important to keep the edge.
The circumference of 3a natural hair type is the size of a piece of sidewalk chalk, and they do have a fine to medium texture, it also has a lightweight feel which makes it susceptible to breakage, and you have to avoid hairstyles that are too tight.
3a hair type consists of loose spiral curls and this is more common for those with much drier hair texture, 3a hair type requires lots of care and this is where the choice of hairstyles comes in. You can easily style your natural hair at home with the right hairstyle to inspire you.
Your natural hair is pretty versatile when it comes to the choice of hairstyles, 3a hair type is not a common hair type, but there are several hairstyles to help you keep yours healthy.
25 3a Hair Style Ideas You Will Love
If you suspect you have 3a hair type and haven't found your mate in that department, you shouldn't worry about that as most people do have several curl types on their head and if you are thinking of hairstyles to show off your curls, below are amazing hairstyles worth rocking.
1. Curly Side Fringe To Keep Your Look On Point
This is quite an exciting hairstyle that frames your face and helps stand out effortlessly as well. It is a great choice of hairstyle no matter the occasion, the cute updo sure adds to the glam, but you can go with a low ponytail if you find that to be more suitable for your face.
2. High Cross Bun UpDo For An Instagram Worthy Picture
We already agreed that your choice of hairstyle for 3a does not have to be overly dramatic, that is the beauty of having fascinating curls. You can style it to bring out the spiral curls just like it's done here. This is a really beautiful updo for any hair type generally.
3. Deep Spiral Hairstyle Paired With Baby Bangs For Full Curls
3a hair types tend to show off curls better than other hairstyles. So, one way to get the curls out in full swing is the spiral curl hairstyle, add some bangs to it, and you get this classy hairstyle above. This is a cool hairstyle for all occasions, and you can do this at home yourself after watching a YouTube tutorial.
4. Tribal Bantu Knots As Protective Hairstyle For Keeping Your 3a Curls Bouncy
While 3a hair types are quite difficult to style due to the soft hair textures, Bantu knots work great on them. Bantu knots also give you a chance to keep it protected during winter. So, to make it look interesting especially when you are just growing your hair out, you can add three or two-strand braids to it.
5. Tribal Knotless Braid For Cool Sassy Looks
Every hairstyle for your 3a hair type does not have to be basic like a ponytail or bun, you can also try something like a feed-in braid. This is one of the most popular hairstyles in Western African Countries, and it happens to be a great protective hairstyle.
6. Messy High Ponytail To Get Your Hair Through The Week
For those naturalists with mixed hair types, maybe a type 3a and 3b together, here is one simple hairstyle that would work for all occasions. It is easy to style at home yourself, and you can also add three-strand braids to it to elevate the look.
7. Double Bun For A Simple Glam Look
Double bun is the season's go-to hairstyle, this is classy and the styling can be done with or without fully defined curls.
8. Loc N Loose High Bun Hairstyle To Keep The Look Confident
This hairstyle for the 3a hair type has been circulating on social media for a while now. Also, the fun part of this is that it works for any hair type. This is a typical way you want to style your natural hair on days you can't be bothered to braid it. This gives a cool fancy look.
9. Side Stitch Braid to Keep Your Curls Tamed But Bouncy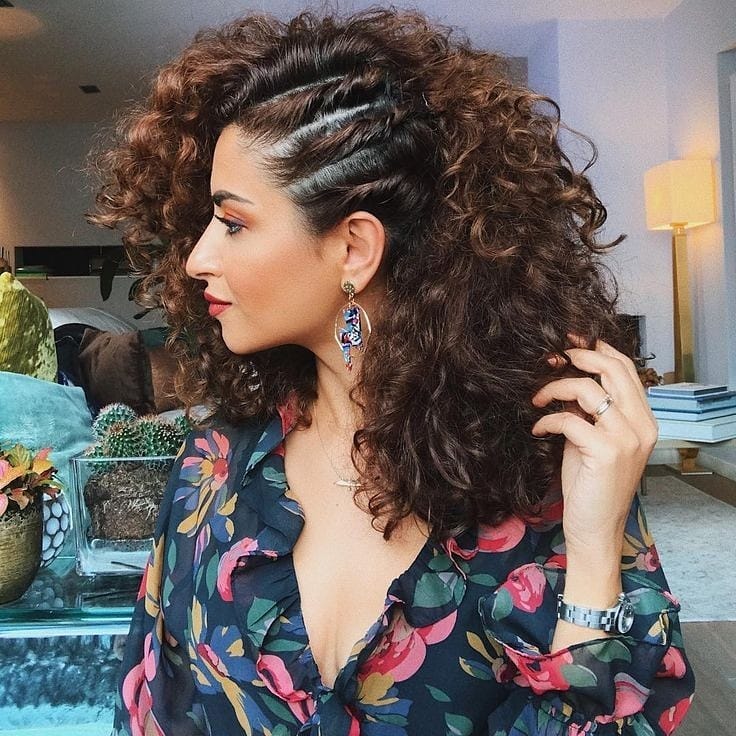 Here is one of the protective hairstyles that can help avoid stressing your hair. If you are looking to avoid tight hairstyles like the bun above and ponytails, this is a good choice, and it does give you bouncy curls as well.
10. Messy High Front Clip Puff For A Full Layout
If you can't make up your mind between high and low-bun hairstyle, you can choose to style it this way instead. This hairstyle gives a sophisticated vibe while also giving a relaxed look.
11. Messy Fringe Curls To Give You A Casual Look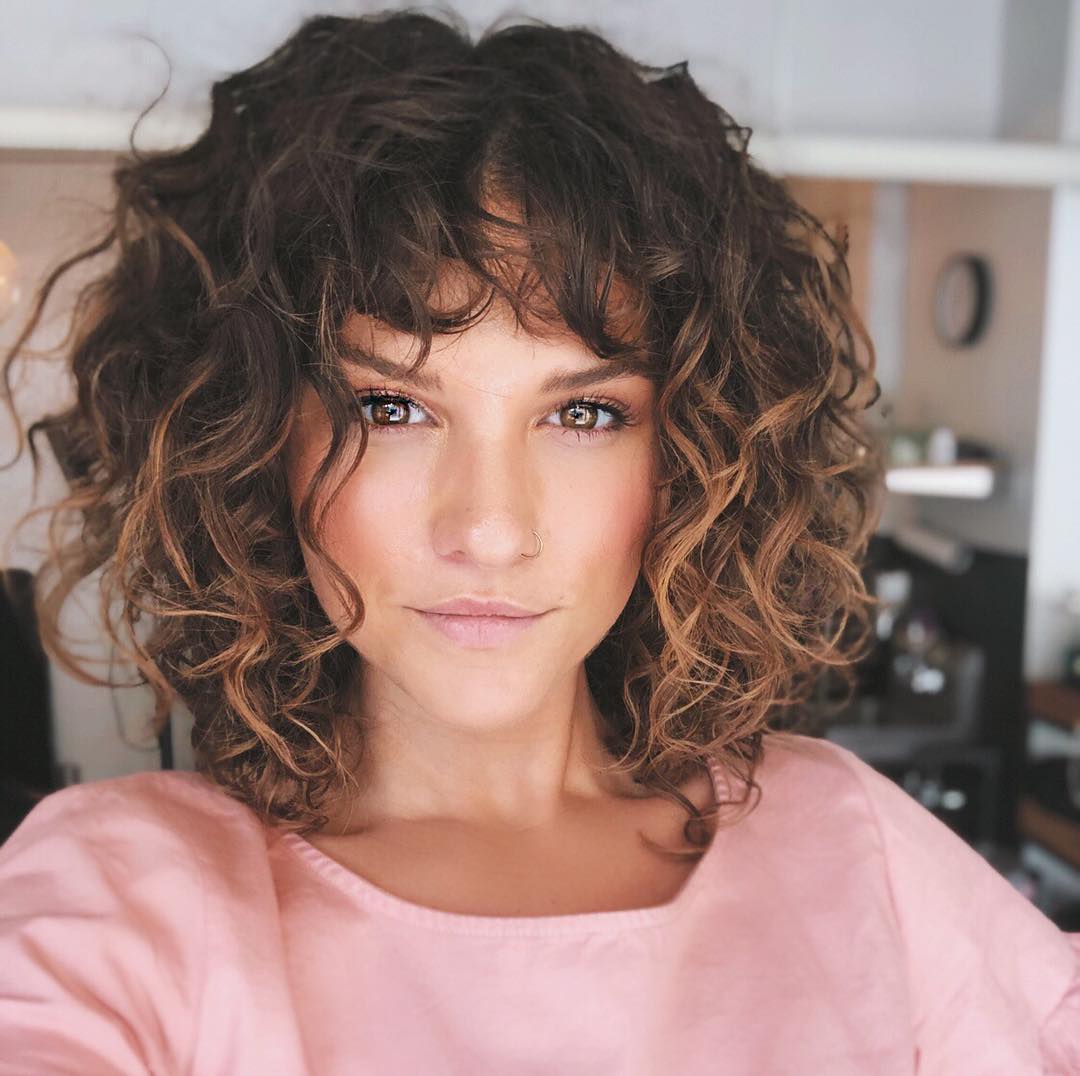 3a hair type hairstyles do not have to be dramatic, here is a hairstyle you can wear to any occasion and rock for as long as you want, a bang is a trendy hairstyle and most fitting for 3a hair types. This can be trimmed at home yourself if you can't find that perfect stylist.
12. Sleek Ponytail For Any Event
A ponytail can never go wrong on any kind of hair texture and even more gorgeous on curl hair, this is a very cool hairstyle for any kind of event and can be paired nicely with any outfit.
13. Half Up Half Down Curly Hair Updo
3a hair type comes with fine curls and texture you want to make can be done at home yourself and be sure you show it off as much as you can one of the most common curly hair hairstyles is a half-up half-down updo, you can add a Bantu knot to make this hairstyle even more splendid.
14. Ponytail Braid To Pair With Shimmery Makeup
One of the most amazing hairstyles for curly hair in a ponytail braid, this is a classic hairstyle for practically any kind of event and with less manipulation on your hair and scalp.
15. 3a Mohawk Afro To Keep Your Curls Tucked In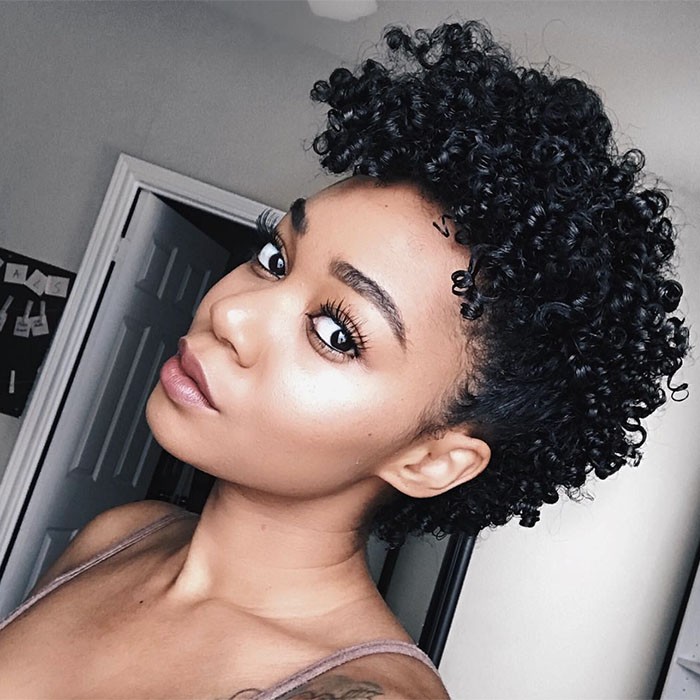 There are times you want to keep those curls from getting in your face while you work, above is the perfect mohawk for your curly hair.
16. Twisted Braid For A Calm Look
A twisted braid is an exciting hairstyle for the 3a hair type, this is a protective hairstyle if you are transitioning to natural hair, and protects your hair and scalp from damage.
17. Messy Curls For An Indoor Look
3a curls can be a bit tough to detangle and when this happens, above is just the right hairstyle you can rock casually while you go about your business for the day. This can also be styled by washing it, this helps to properly detangle your hair.
18. Half Parting Style For An Evening Event
One of the most amazing things about curls is that you do not have to be dramatic about it before getting great styles, a center or side parting on curly hair requires low maintenance.
19. High Ponytail Keeps It Simple For Weddings
A high ponytail can never go wrong on curls.
20. Curly Baby Bangs To Give You A Unique Party Makeover
Show off your gorgeous curls with baby bangs, and this requires less trimming compared to 4c natural hair.
21.  Messy Curls With Split Bangs Can't Go Wrong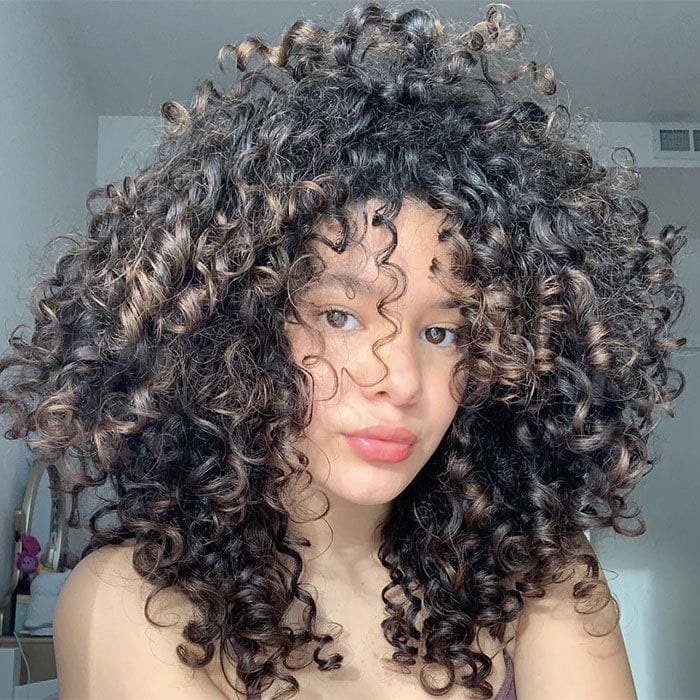 Keep your curls healthy and fanciful with this interesting hairstyle.
22. Fashionable Bun To Keep Your 3a Curls Looking Classy
Another classic hairstyle you are sure to want with your 3a curls is a bun, just as fancy as a ponytail, and you can keep your curl from getting in your face when you are the bridesmaid at a wedding.
23. Medium Bun With Bangs To Pair With Any Makeup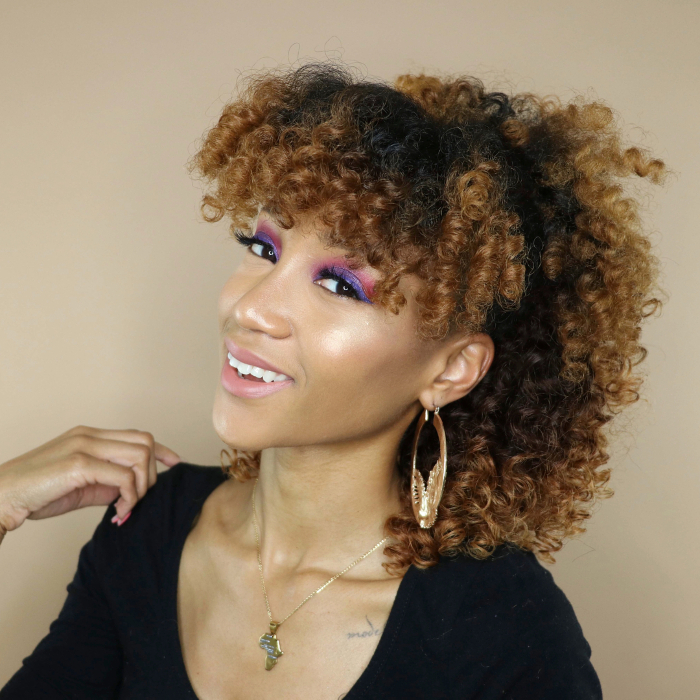 Most 3a curls are not as defined as other hair types which is why less manipulation is needed to keep it healthy, above is an interesting hairstyle for any kind of hair type as it is low maintenance and your curls can grow longer and finer.
24. High Bun With Split Bangs To Bring Out Your Bold Makeup
Here is 3a hairstyle to try at home and spend less on your hair, this helps to identify your curls as you can easily figure out the pattern from the split bang, and add a more interesting look by using a fancy hairband to hold your bun in place.
25. The banging curls you should be getting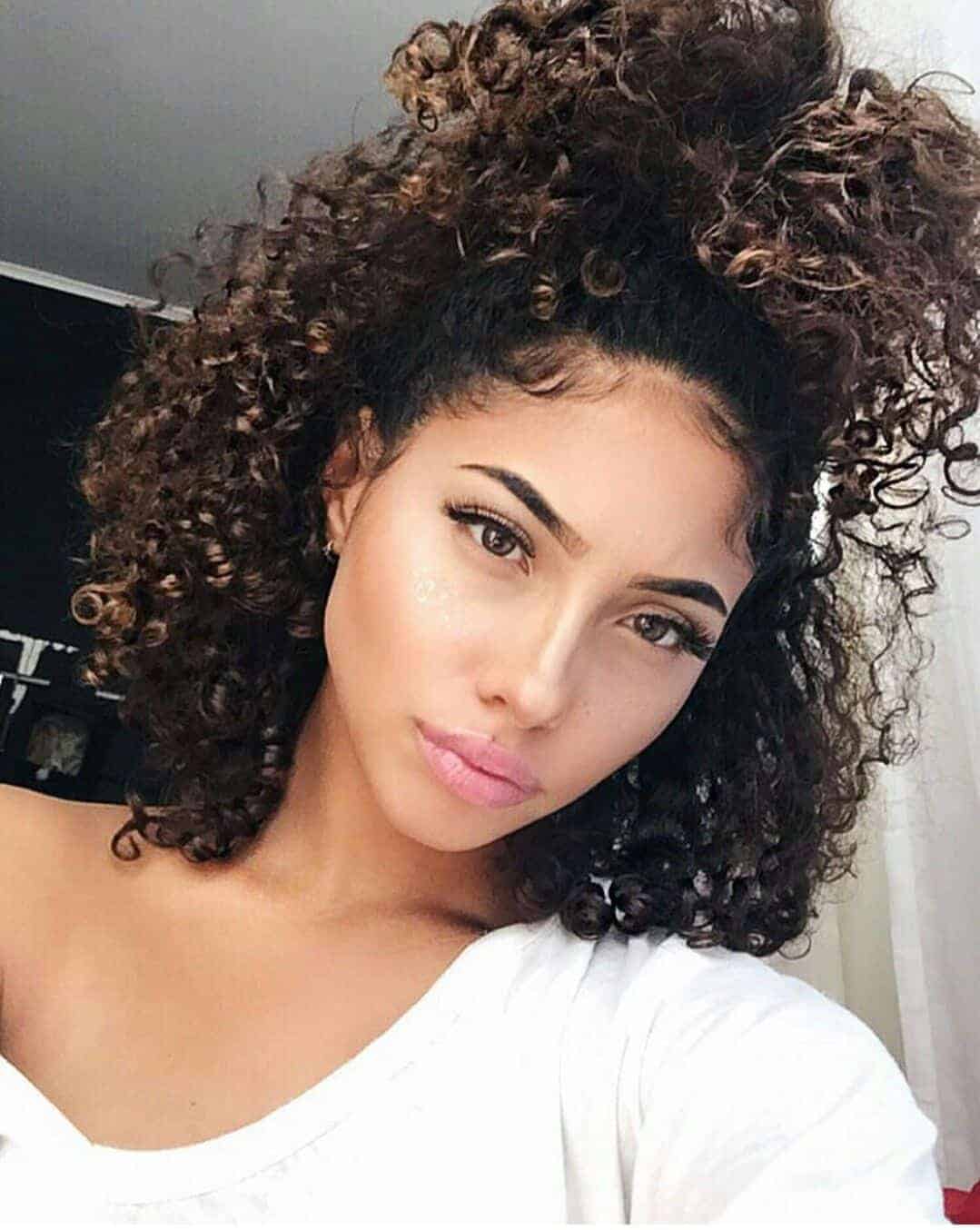 3a curls are beautiful and can be more so depending on your choice of hairstyle, half up half down hairstyle is classic and easy to make, you can style this at home yourself in few minutes.
---
Every curly girl needs a bit of help to identify her curls and determining your curl type will help you care for it properly, 3a curls hair needs care and less manipulation than just every other hair type, it can be a bit difficult to manage 3a curls strands and to get your curls to look its absolute best which is why these hairstyles above have been selected, maintaining this styled curls above are easy and keep your hair healthy as well.
Read more on curly hair and natural hair types: