101. Fulani Braid With Curly End
This is a Fulani braid but this time with a curly end to add a simple yet fascinating look to it, different from the normal Fulani braid but still the same, this looks a lot stunning and there is an extension designed to give you the exact look.
102. Short Box Braid With Cornrow
Short braids are beautiful, no doubt about that as the braid above is top-notch, it's trendy and stunning, a perfect style during summer, it's cool and not overly dramatic.
103. All Back Cornrow
Africans love bun and cornrow, you actually create a combination style with it, it's trendy too and widely accepted both African and African American.
104. Loose Braid
Loose braids are pretty common these days and just like a box braid but in this regard with a loose cornrow, it's a pretty amazing style and does last a long while if you are good at maintaining braids.
105. Short Box Braid With Curls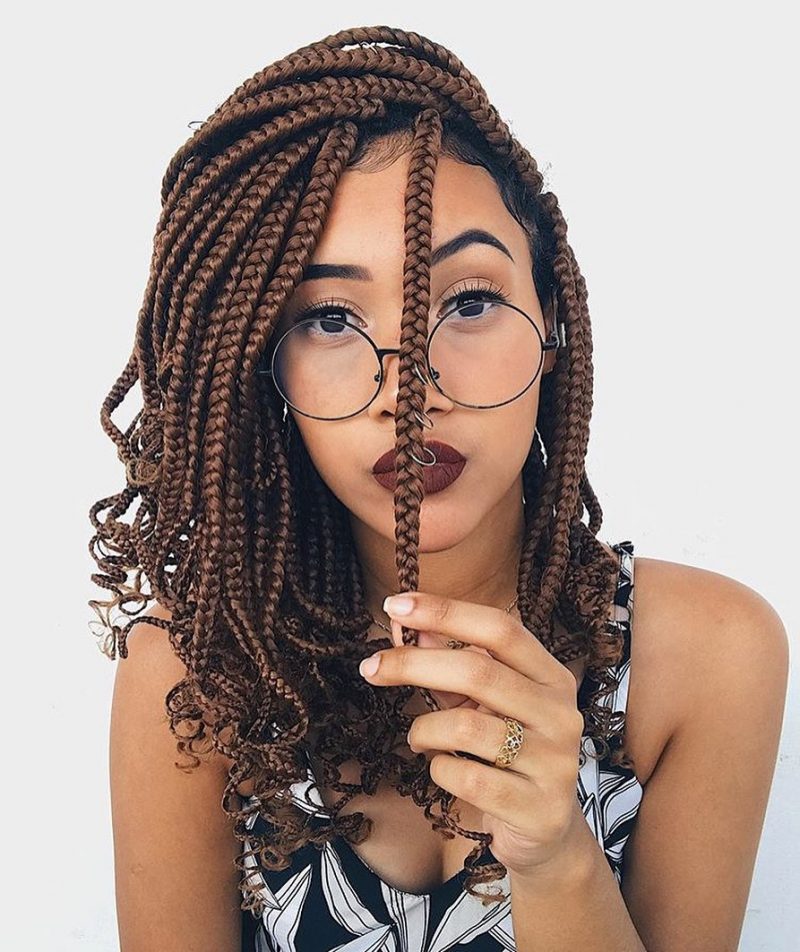 Adding curls to braids is now a pretty common trend you can't help but love, it's simple and fascinating, nothing too dramatic though and you can also wear it with any classy outfit.
106. Jumbo Box Braid
Just like a box braid is gorgeous so is a jumbo braid, you can easily buy the extension for this and add to your hair or have it braided directly into your hair, whichever way you make it is always beautiful and in trend.
107. Simple All Back Fulani Braid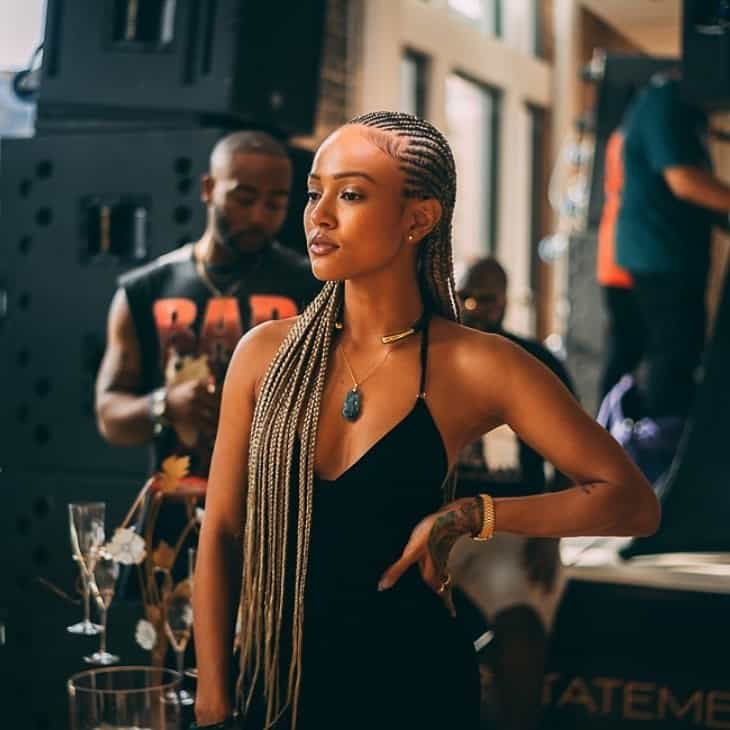 This is a style that has been known for ages and not only is it perfect for any look you want to recreate, also believed to enhance makeups and give the face a stunning look even without makeups.
108. Afro Cornrow Braid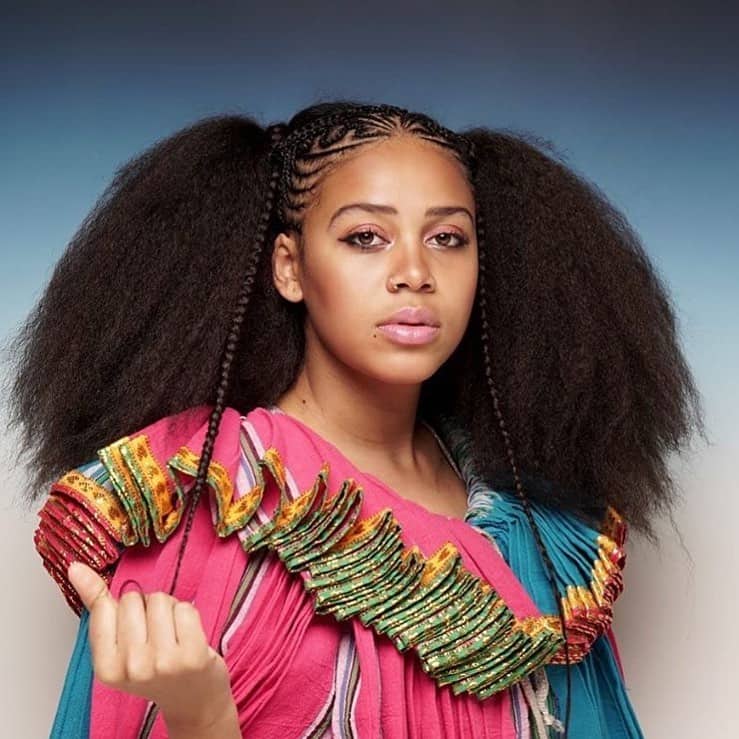 This is highly favored by the South Africans, popular in African countries too but mostly called south African braid and is a perfect glamorous style for anyone who likes bold daring hairstyles.
109. Side Cornrow Braid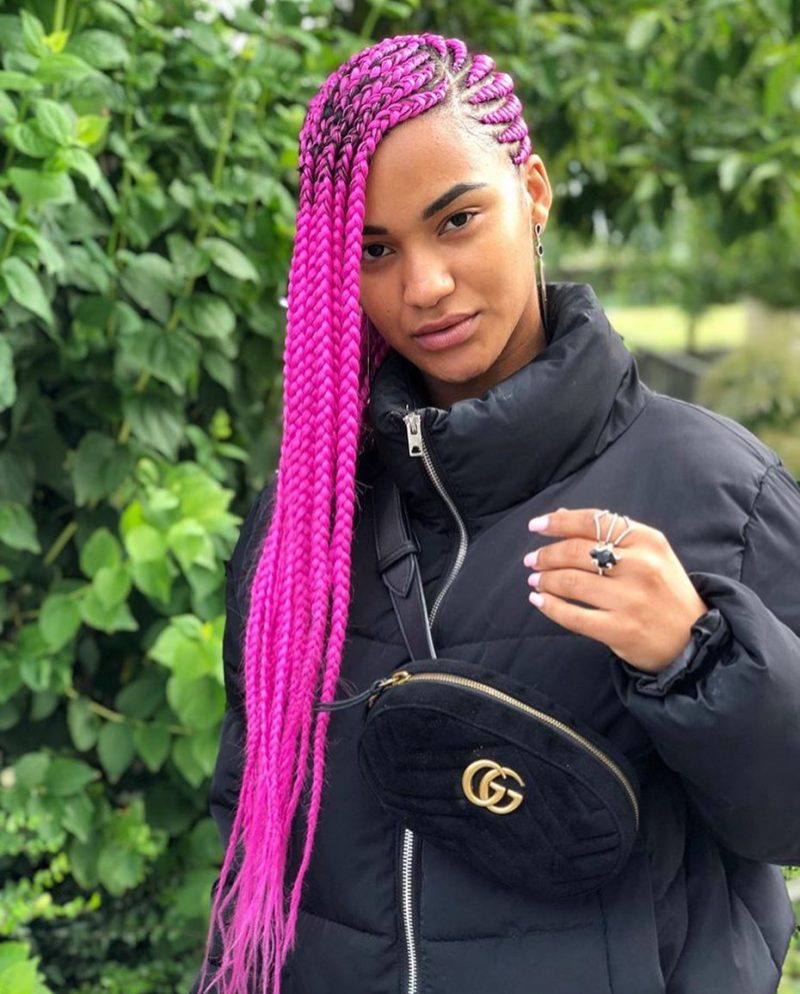 Take a break from the normal cool color and try something flashy and beautiful as using a pink extension for a side cornrow braid, it's simple and would not take the whole day to make.
110. Fulani Bun Braid
Thinking about making a bun braid but you can't help but fancy Fulani braid too then you can simply combine it and get the look above, elegant and stunning just like the one in the picture above and all you need is a good stylist to get that done.
111. Shade Adu Braid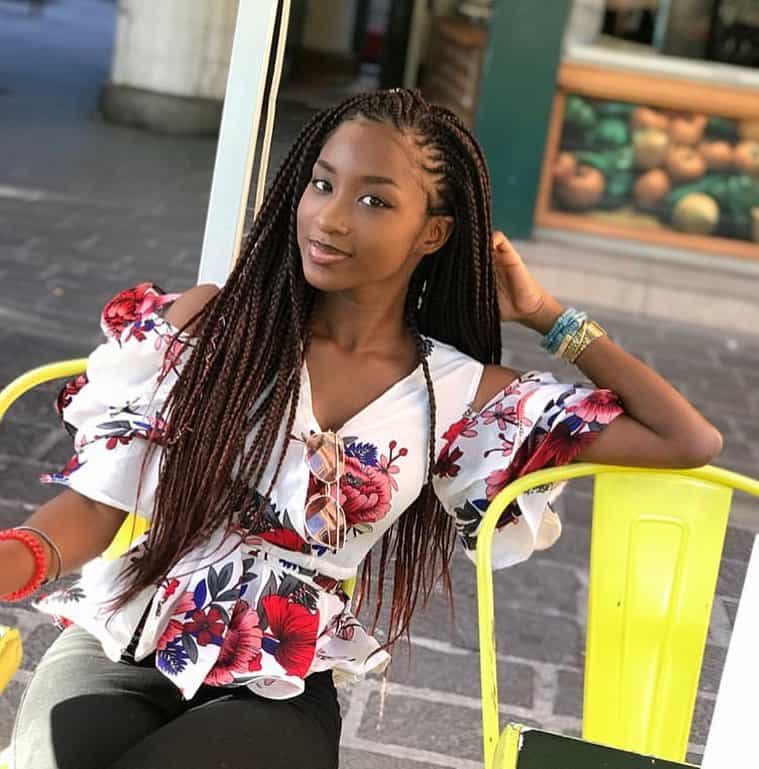 Here is a style every lady can relate with, it's pretty close to a box braid or exactly like a box braid, the only difference is the small cornrow plaited at the front before making it all box braid.
112. Middle Parting Short Box Braid
Classy, elegant, and adorable is the right description for this kind of braid, the middle parting did add some glamour to the style and we are loving it and we are sure you do too.
113. Double Bun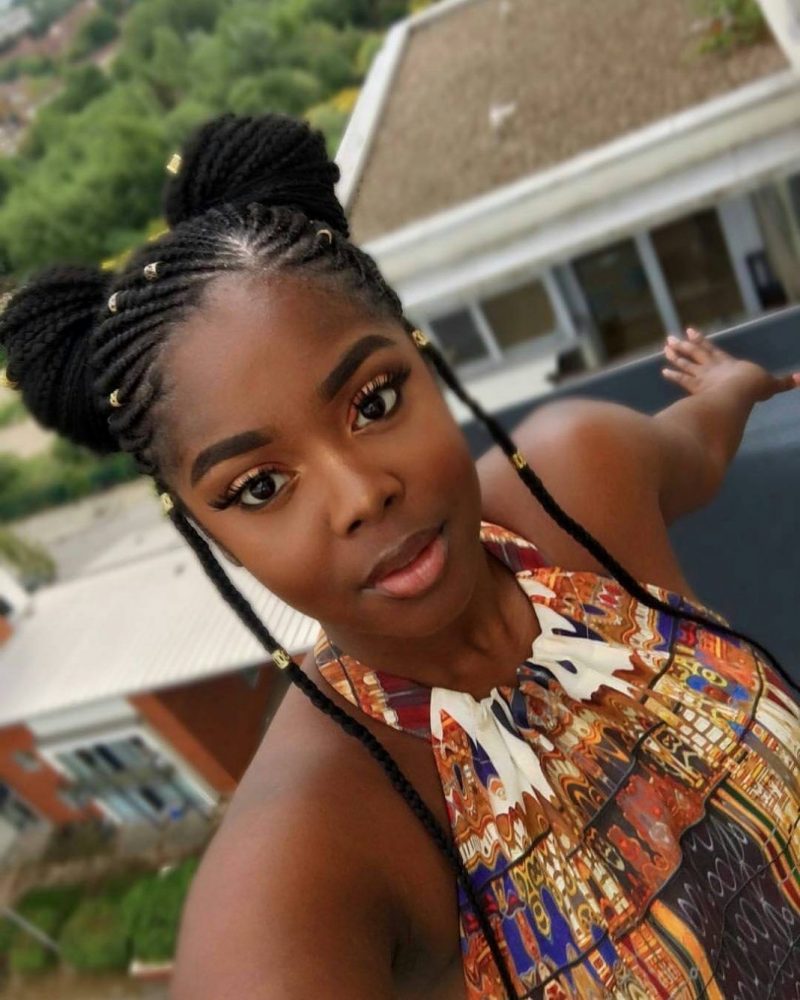 If you like a single bun then you are definitely going to love a double bun more, it's feminine and perfect for a formal look.
114. Tiny Twisted Braid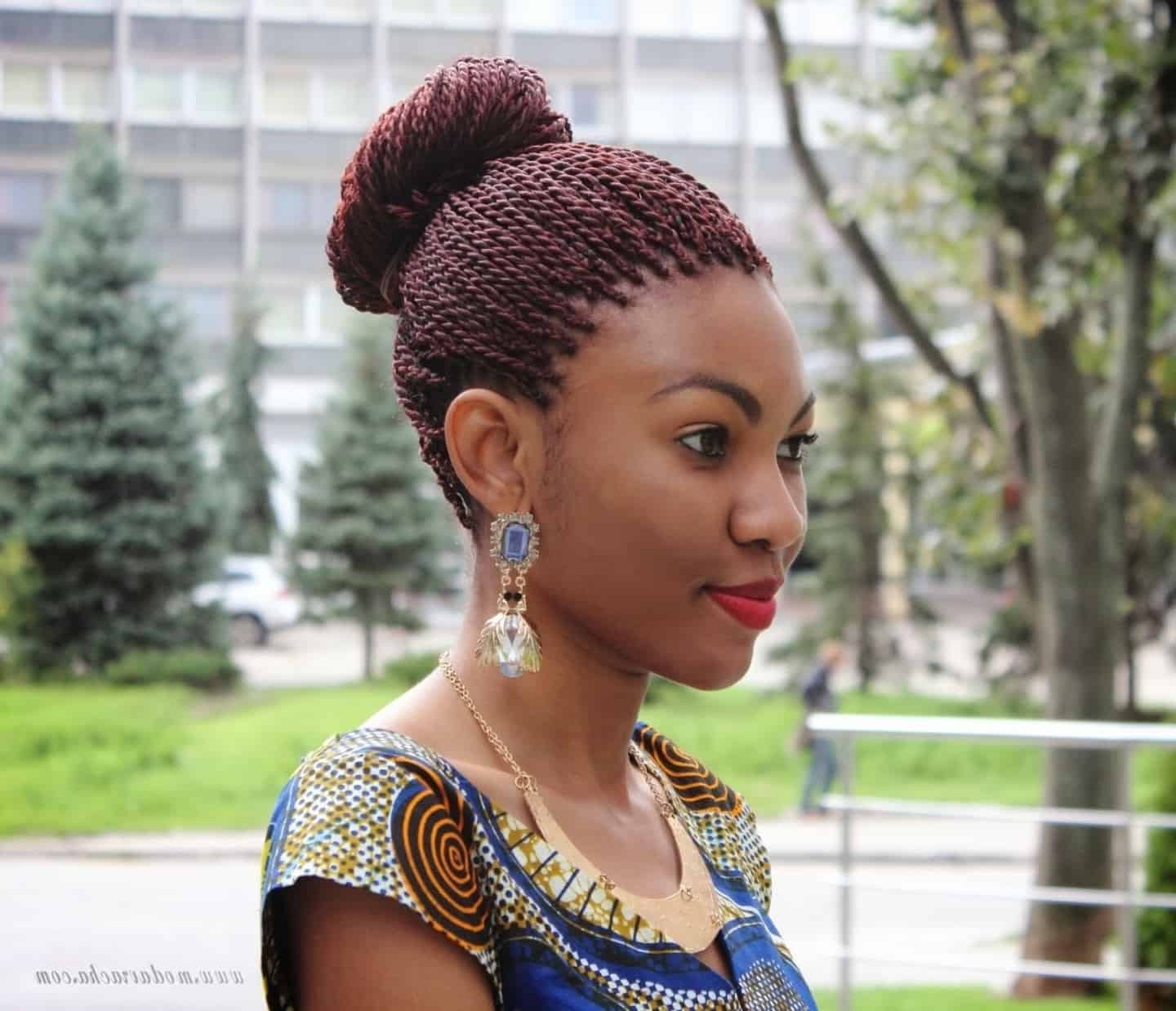 Just like tiny box braids, you can make twisted braids and still look beautiful with it, it takes time to make though, the medium size takes less time.
115. Full-Length Box Braid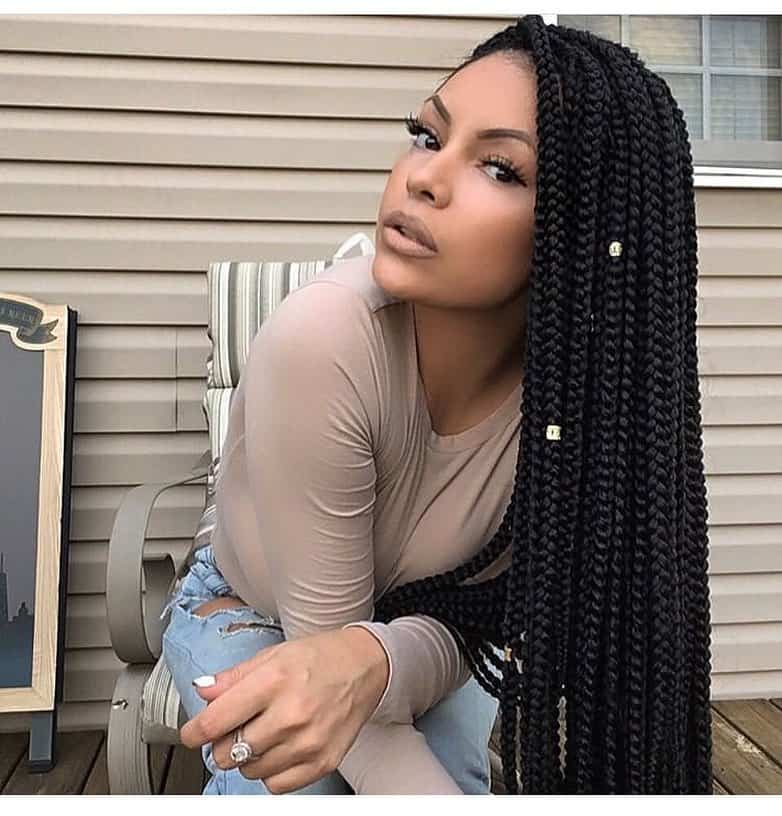 Have you tried a full box braid? If no then you need to try it out, it's one of African's most cherished braids, they love it and it's one hairstyle that can last a very long time.
116. Havana Twist Braid
Havana twist is another African braid worth plaiting, it's gorgeous and mainly an occasion hairstyle and does last a long while if you know how to rock it.
117. Frohawk Braid
This is just as simple as styling a Mohawk and even more desirable, this style is just what you need for a weekend wedding.
118. Ghana weaving
You would have lots of patience with your stylist if you want a style like this, for it to turn out right, it requires time and it's always worth it if you have a good stylist to make it for you.
119. Medium And Tiny All Back Cornrow
Gorgeous is the right word for this style, it's just what you need for a simple not too dramatic outing. This is the most common style in Nigeria and now basically adopted by lots of countries.
120. Ghana Weaving Braided Pony Tail
Another African style that screams trend and class, perfect for ladies who like looking casual and formal at all times, this doesn't take forever to make though and some other styles can be added to it to give it a different appeal.
---
Braids are a really versatile hairstyle, fashion probably won't be complete without it and it sure did add some glamour to outfits, frankly, braiding your hair can never be boring. Creativity only gets better with braids.
Read more on braids and natural hair hairstyles:
We save ideas like these on Pinterest. Click here to follow ThriveNaija for more inspiration.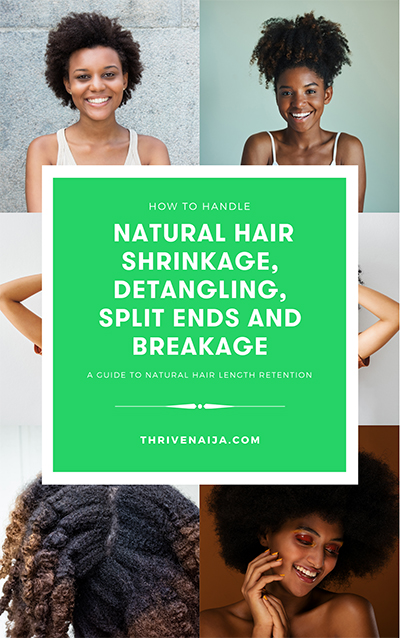 Want to take better Care of your Natural Hair?
Get your hands on our new Natural hair guide. It's everything you need to know about the four major problems we natural hair ladies face on a daily basis:
Shrinkage.
Detangling.
Breakage.
Split ends.
We call it The Guide to Natural Hair Length Retention.