It's September and we have celebrities and fashion influencers showcasing hot and fashionable styles we can't help but love as always, from a casual outfit to cocktail looks, they step out in styles that reminded us that this year could still show off the best of fashion regardless of the pandemic. While you are staying safe and adhering strictly to all the safety measures, you can still keep your fashion game impeccable and on point.
If you are looking for how to slay effortlessly this month, we have got the answer from your favorite celebrities and fashion icon, this week on celebsthatrocks, we will be streamlining every outfit we consider trending and fashionable globally.
One way to rock a classic outfit is to boost it with some confidence too and we must admit, a good style does instill some confidence.
20 Amazing Styles From Last Week
Influencers and celebrities have got all the fashion details tailored out for every week and this week is no exception, we have rounded up simple but exotic styles that can't be missed.
1. Chika Ike Outfit Is Just The Sass And Glam You Need

Image: @chikaike // Instagram
Chika Ike is a Nollywood actress with an interesting fashion taste even her simple styles are worthy of second looks, she keeps it sassy for this week and we must say the outfit and pose are top-notched and she is one celebrity that rocks.
2. Ini Edo Serves It Hot And Fancy
Hot and sexy is what we are getting from the gorgeous celebrity this week,  and we are loving it. Ini Edo is well known for keeping it fancy and fashionable, this is one style you want to rock for a cocktail party.
3. Cynthia Nwadiora Jumpsuit Is Feature Worthy
A jumpsuit is one fashion piece you can admit is going to be in trend for a very long while. Ceec is another stylish fashion icon you can be sure has incredible taste in styles and this jumpsuit is just what you need to wrap up the week.
4. Ashanti Keeps It Simple And Stylish

Image: @ashanti // Instagram
Ashanti keeps it on the low with a casual shirt dress which is just the best outfit on a casual day out.
5. Toke Makinwa Diva Look Gives The Weekend Vibe A Boost
Toke Makinwa can be described as the fashion diva of all time, she keeps the sass in and the style game on point at all times.
6. Mercy Eke Look Simply Adorable
Mercy Eke needs no introduction, here is a way you can rock pink effortless and get jaws dropping is admiration.
7. Funke Akindele Keeps It Dashing And Gorgeous
Funke Akindele has us staring at this simple fancy outfit and the interesting pose over and over again.
8. Bettinah Tianah Sets A New Trend
This might be all easy to replicate but it's going to be setting a trend, it's one combination we look forward to seeing more of.
9. Mimi Yina Glittering Style Leaves No Stone Unturned
Mimi Yina is going all-in with this week's look, this is an exciting style and perfect for an elaborate event.
10. Alex Unusual Look All Ready To Party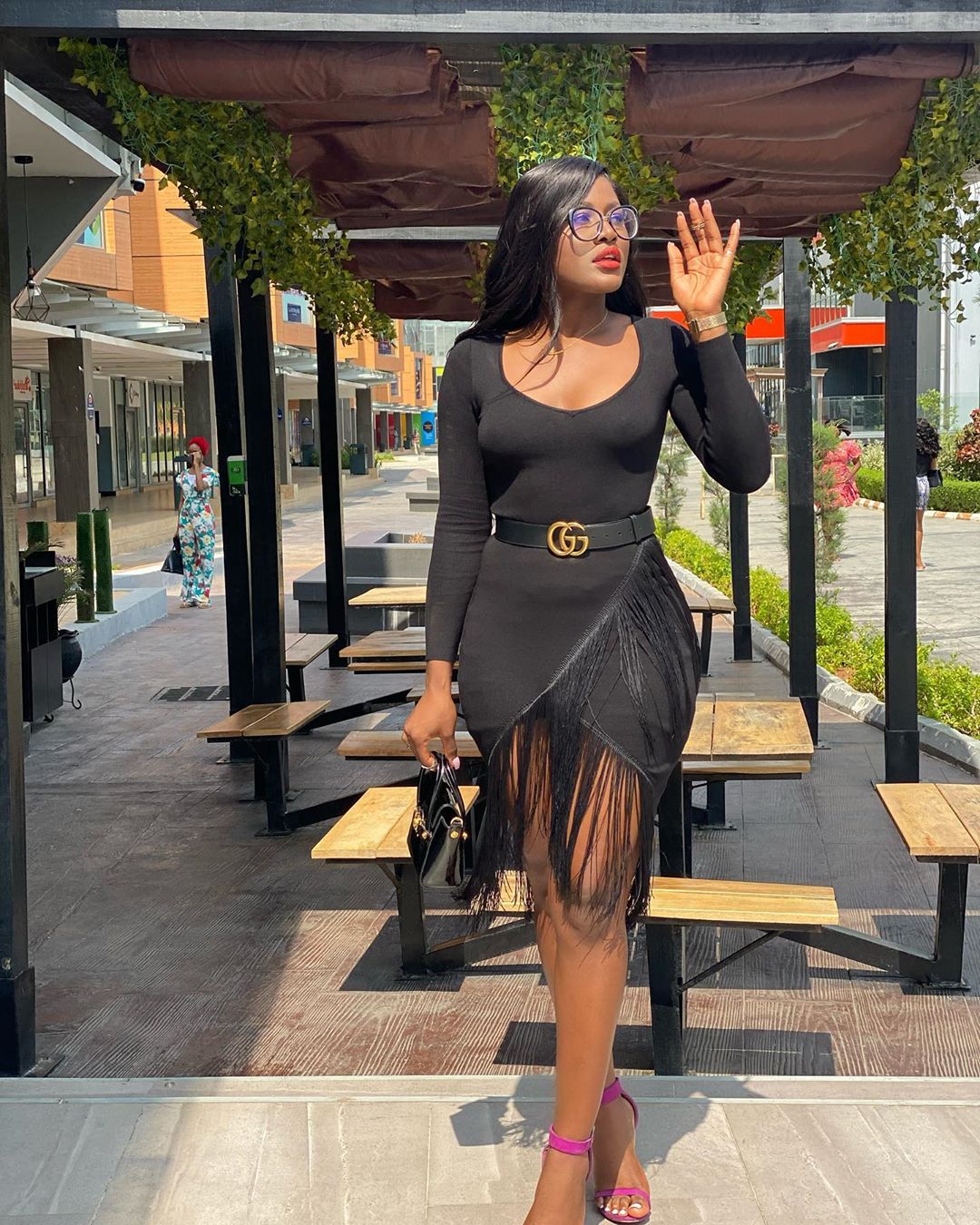 Alex Unusual has continued to serve us  hot looks and outfits in all categories of fashion and the accessories are no exception either
11. Thameenah Saint Outfit Is Just The Enviable Style The Month Needs
This is another look that needs no approval to set a fashion trend.
12. Jennifer Oseh Keeps It Formal
A formal outfit should not just give you confidence but add some spring to your step. Jennifer Oseh is a fashion influencer you need to check out on Instagram.
13. Nancy Isime Keeps It Classy
Image: @nancyisimeofficial // Instagram
Nancy Isime fashion taste could do no wrong, simple, classy, and sexy just like a weekend outfit should be.
14. Marii Pazz Keeps It Stylish And Interesting As Always
Marii pazz is your go-to influencer if you love it sexy and trendy.
15. Chic Ama Flare Dress Keeps The Drama Out

Image: @chicamastyle // Instagram
There are definitely days you want to keep it less dramatic but still as fashionable and glamorous as it can be and we have got just the perfect style for that from Chic Ama, very easy to replicate as well.
16. Blair Eadie Sets A Fashion Culture With Stripes
Who says you can't combine stripes and look stunning? Blair Eadie stripes combination has shown how to step out in an all strips outfit and look dashing while doing that.
17. Toyin Abraham Stuns In Red

Image: @toyin_abraham // Instagram
Here is one red outfit you can't resist. Toyin Abraham remains a fashion icon of all time and if you are in search of a jumpsuit that is different but classy then you have got just the perfect inspiration above.
18. Iyabo Ojo Keeps It Party Worthy And Comfortable.
Iyabo Ojo did do justice to that outfit and you can hit the dance floor in style with this outfit.
19. Diane Russet Outfit Sets A New Cocktail Style Trend
Diane russet style for the week has jaw-dropping and you can be sure there is more to imagine as you can style this to suit any occasion.
20. Idia Aisien Pink Dress Sets The Week In Motion

Image: @idia.aisien // InstagramAs always, Idia Aisien keeps it cool and classy, pink is one glamourous color the fashion world can't get enough of, it could be described as that color that makes accessories pop and all you need is a diva attitude to match.
In Conclusion
From the bags to the heels, everything speaks fashion and beauty which is just what every fashionista needs to get the new week on set. Celebrities and influencers promote fashion trends every day and there is always something to replicate which helps gets your next outfit and makeover looking top-notched. Which of this celebrity look met your fashion approval? Leave us a comment in the box below and follow us on Instagram @thrivenaija for more style inspiration.
Read more on celebsthatrock and fashionistas: