Looking for beautiful pictures of African braids hairstyles? You'll find the most beautiful versions of African braids online in this post.
The most versatile continent when it comes to how hair is styled is Africa with so many braid hairstyles to choose from, every braid comes with its own unique way of designing, the stylist also does come up with different styles every day and you can never get tired of these beautiful hairstyles.
Another interesting thing about African braid hairstyles is how you can add some extensions to it to give it a more interesting appeal, different colors, and different lengths. For example, take a look at what these 18 white girls on braids did to theirs.
Braided hairstyles also pave way for creativity, you can add your own styles to it and if you do have natural hair with long length and big wave then this is a bonus for you as it would make any braid you make come out more beautiful.
The research did show that Africans can be traced down to centuries ago, with years more styles are created to inspire you and every new style is found fascinating.
Below are 100 braids that are sure to inspire your choice of hairstyle for every season.
Interested In Natural Hair?
We have quite the collection of natural hair ideas and hacks you can apply to achieve your hair goals, here are a few:
African Braids Hairstyle Pictures
Fashion definitely won't be complete with these beautiful African braids hairstyle pictures to complete the look, we have gathered only the best braids that are in trend.
1. Fulani Braid With Colors And Beads
We did agree that African braids are not to be easily ignored as they are too gorgeous, above is one gorgeous braid you want to have added to your must-do braids for 2019 and 2020, this has always been in trend and will continue to be.
2. Pink Black Braid
Time to add some color and fun to your braid this coming holiday, something completely different from your usual boring braids.
3. Short Box Braid With Curls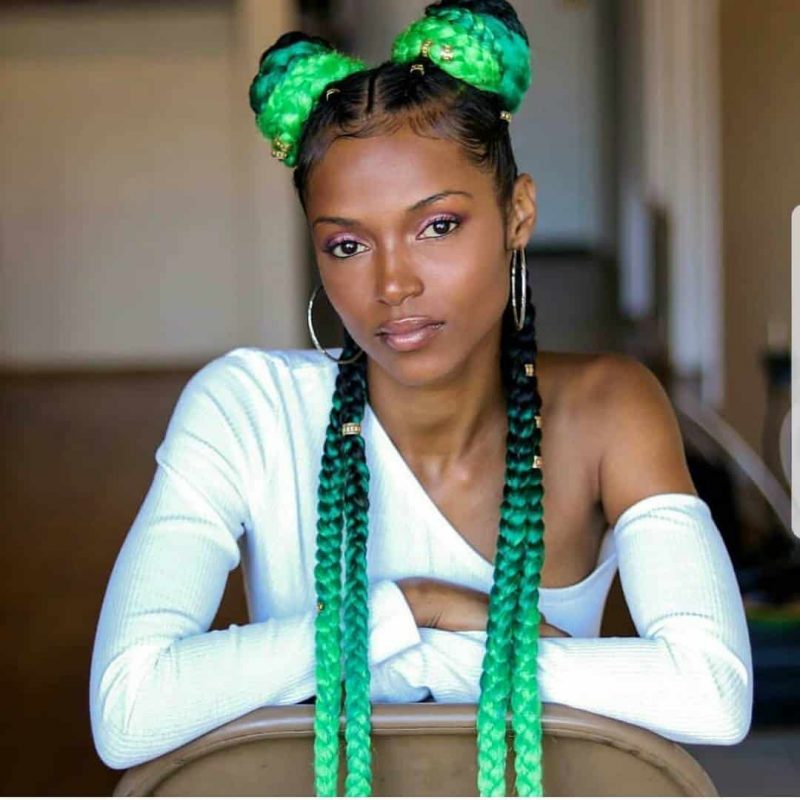 African braids are not all about being large and tiny, it can be simple and really colorful.
4. Patterned Braid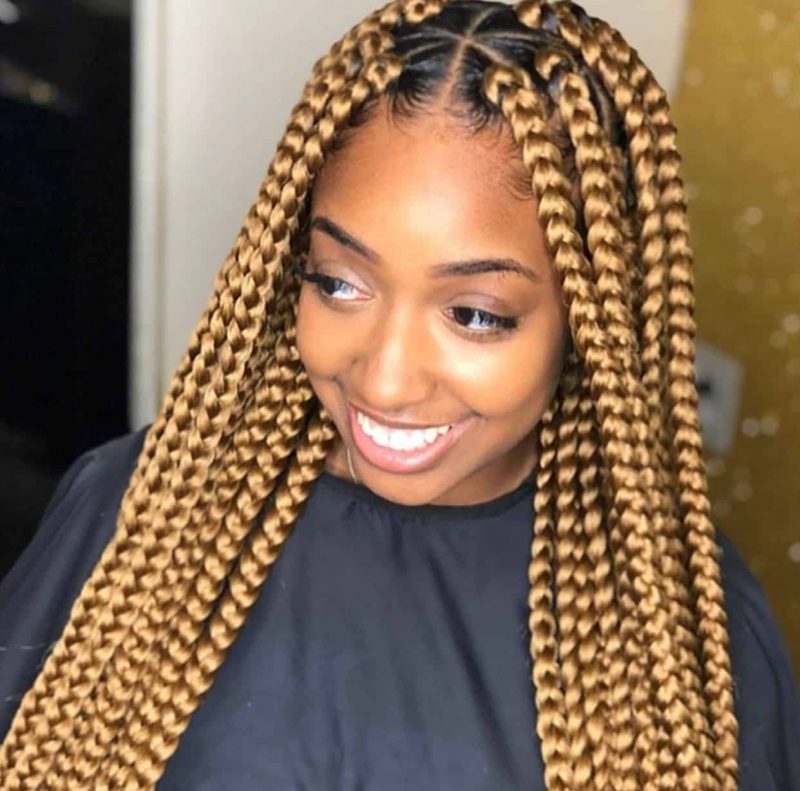 Patterned braid is definitely something you need to give a try, it's beautiful and worth every expense.
5. Medium Two-Step Braid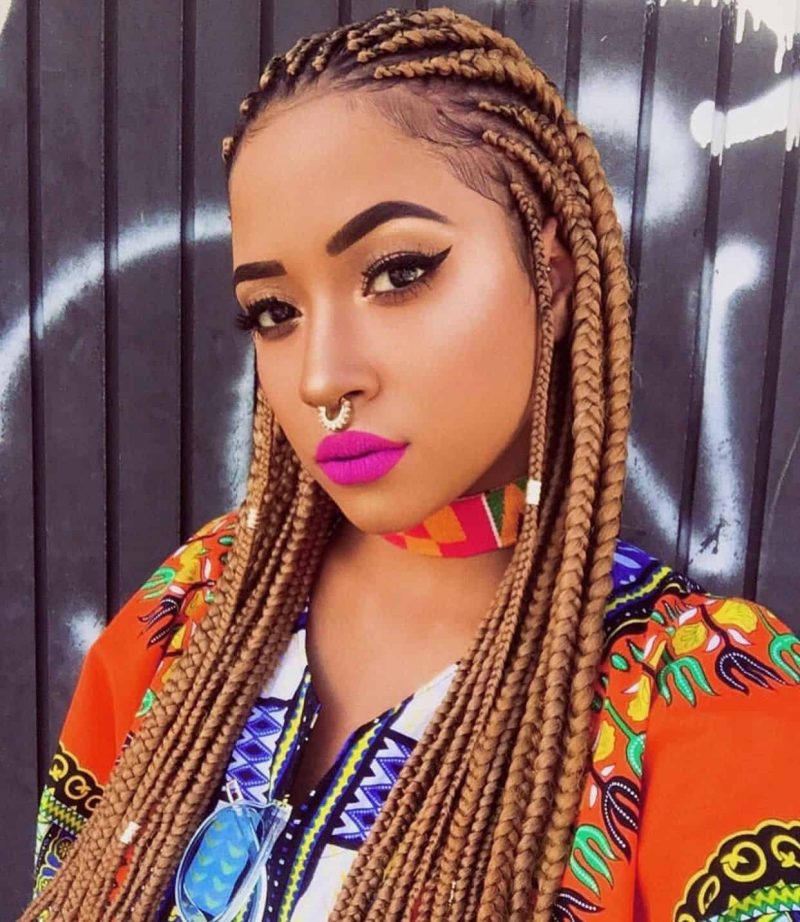 Just like every lady who loves braids so does every stylist loves to experiment and here is another fabulous braid with rose gold extension for you to try.
6. Showy Protective Bob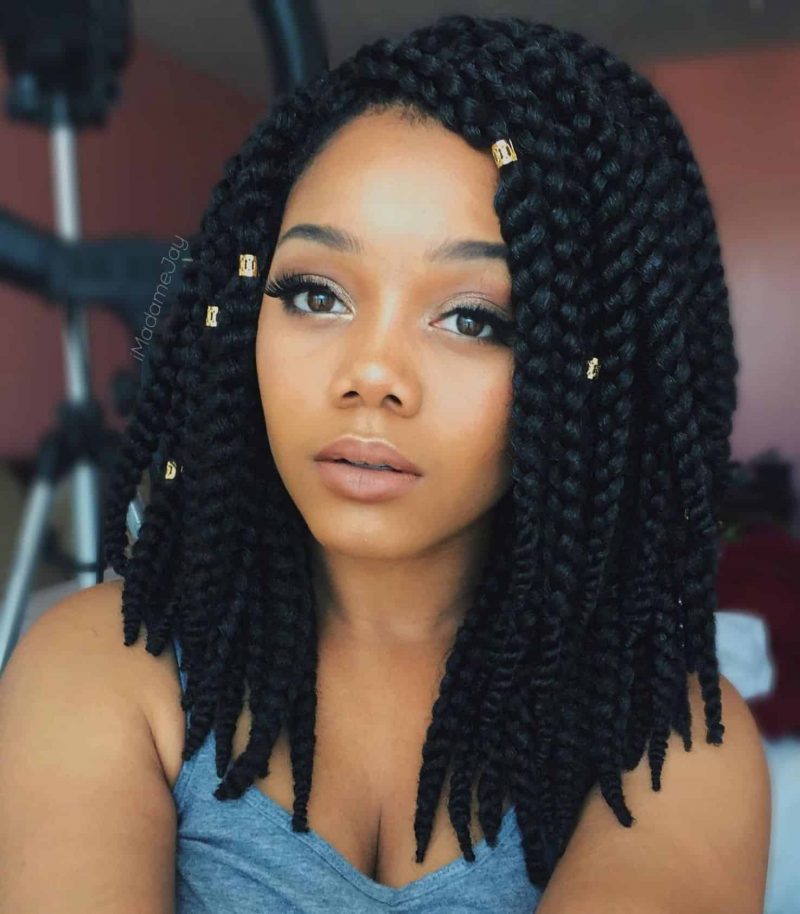 Box braid is another braided hairstyle that comes in various lengths and styling, here is another way you can make those box braids look jaw-dropping.
More ideas on the next page 😇😉
7. Crochet Braid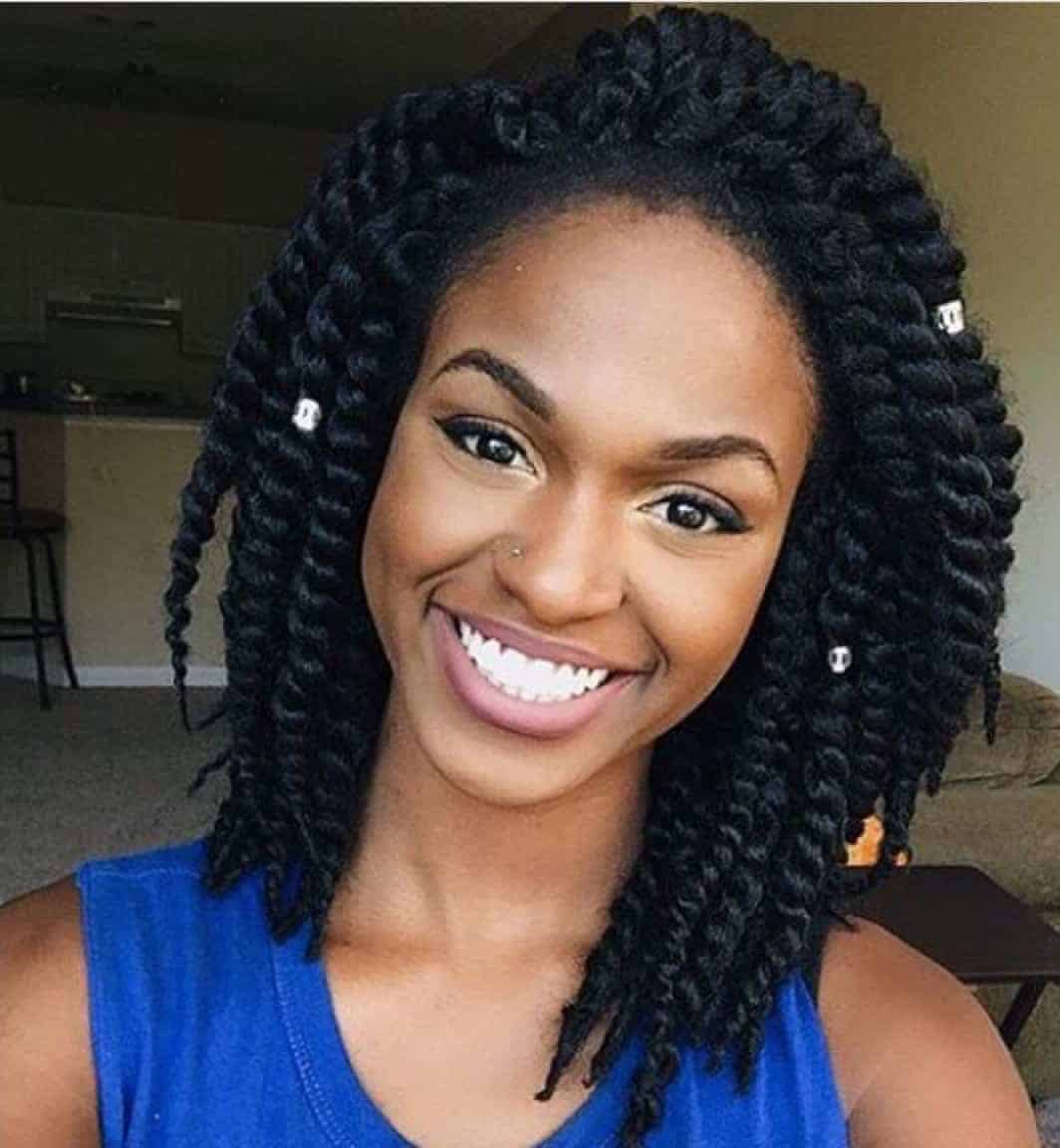 Crochet braid is one braid that requires very little time to make, it's done with extension and does takes time before you would need to change it, it's referred to as a fast and easy hairstyle.
8. Simple Ponytail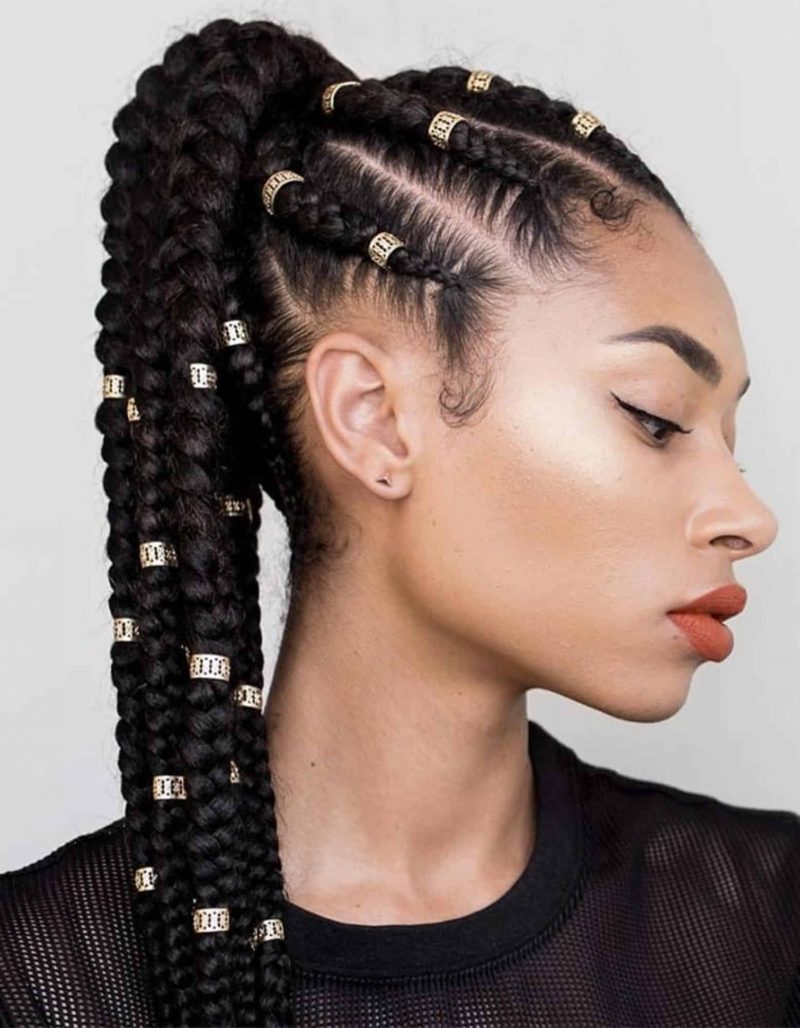 Another simple ponytail for oval or long face shape, it's not too dramatic and you can wear it for a very long time if you have a soft hair texture.
9. Protective Box Braid Styling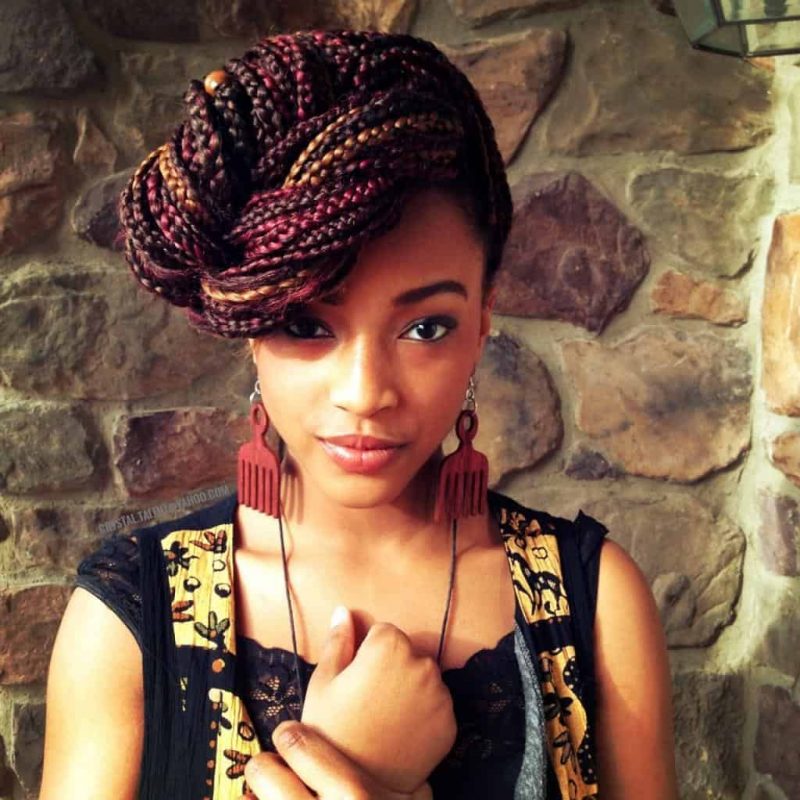 This is just like every normal box braid with styling to suit your face type, the purpose is to give your face a more radiant and elaborate look.
10. Step Roll Braid
This look is everything, exotic and gorgeous, pretty trendy too.
11. Whip Ponytail
One braid hairstyle that is only going to get more creative and interesting is a ponytail, gives a simple chic look and you can't help but love it.
12. Loose Plaited Braid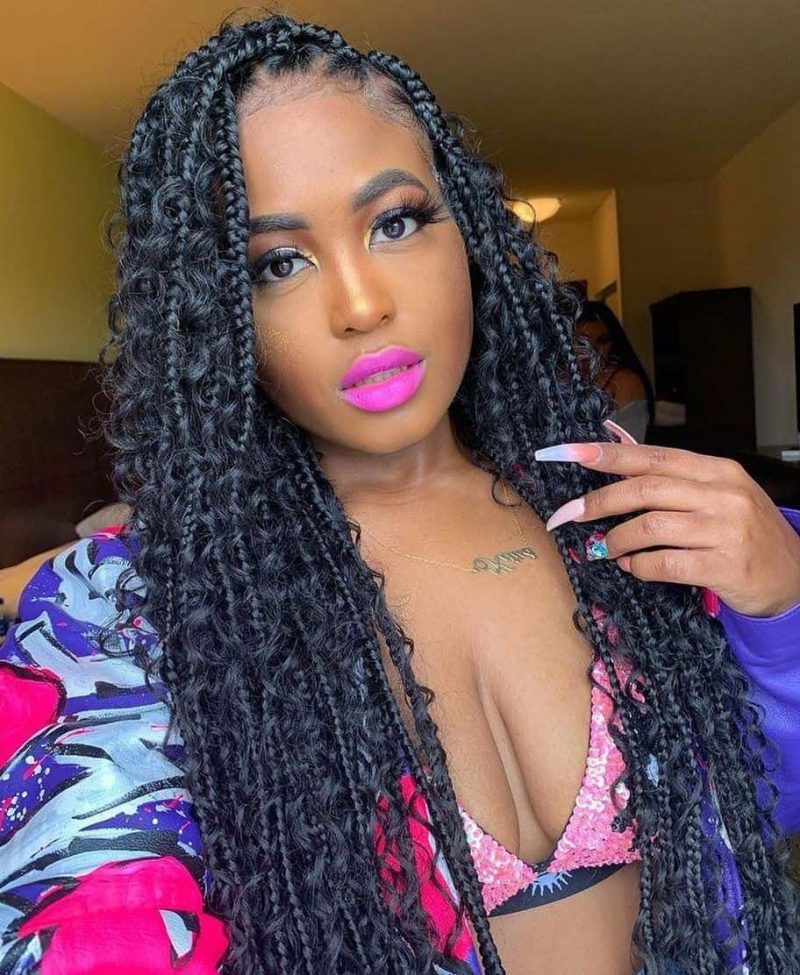 Instead of going for a complete loose braid, you can try something with less fuss, which is a combination of loose and box braids.
13. Big Braid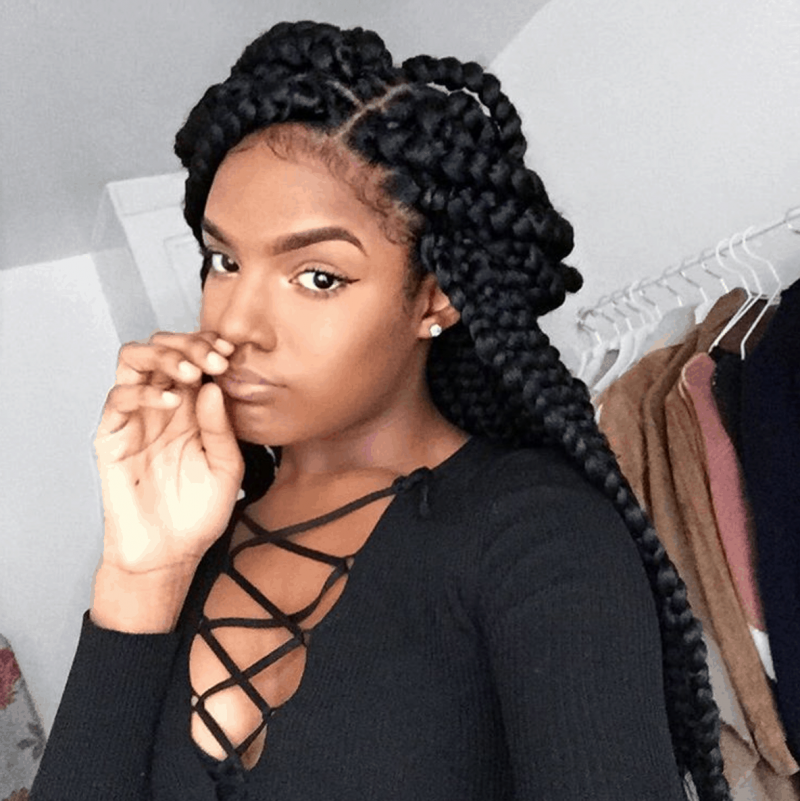 Big braids are worth every time and expense, they are simply stunning and good for different styling.
14. 2 Layers Braid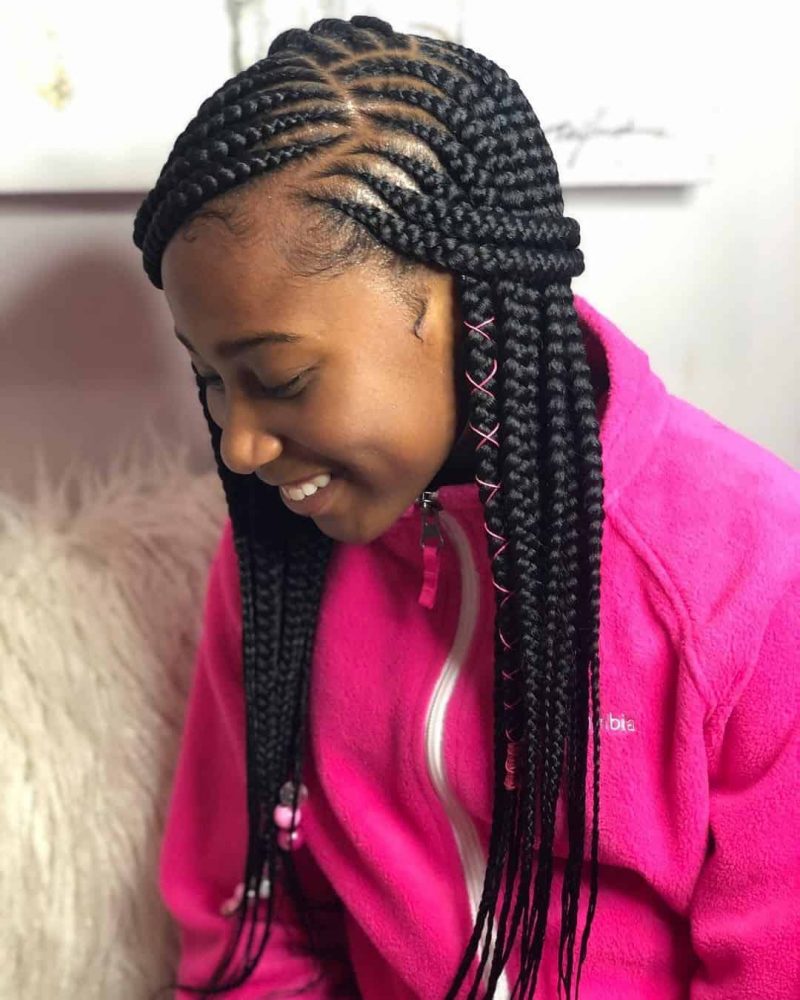 Often times we want a braid but nothing too much as we are trying to avoid sitting for too long, this is when simple braids like this come in, nothing too elaborate to keep you sitting for too long.
15. Tiny French Braid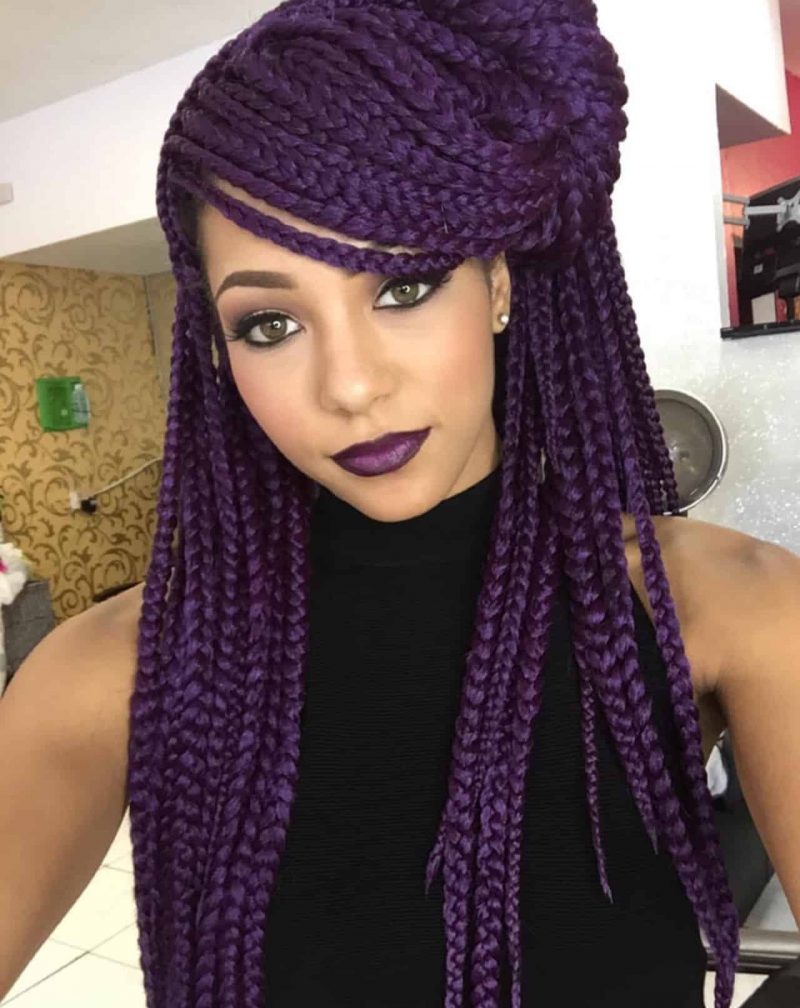 Every braid hairstyle has what differentiates it from other braids, this style might look like any typical braid but this time with a purple attachment and a bolder styling.
16. Silvery Faux Locs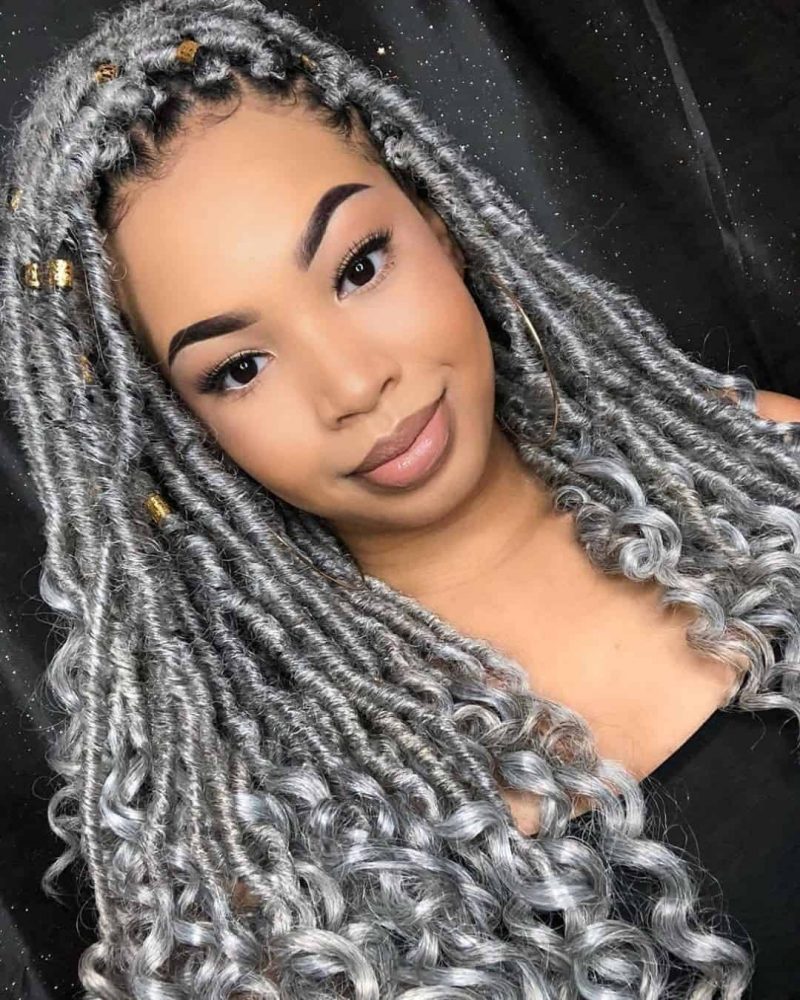 Faux Locs can be really beautiful and serves as protective hairstyles to natural hair, it's even more gorgeous with this silvery extension.
17. Fringe Braid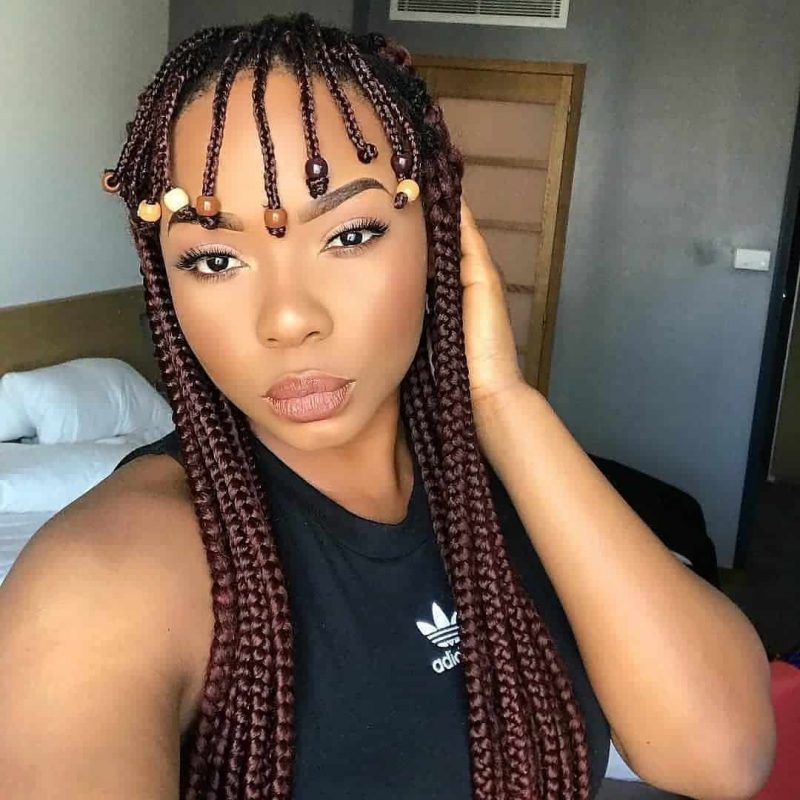 Yemi Alade is a lot's of ladies fashion icon, she is not just good with her music but fascinates us with her designs and her choice of braid is not an exception, it's beautiful and we can't help but love this simple fringe style, now you can abandon the usual fringe extension and try the trendy braid.
18. Cultured Braid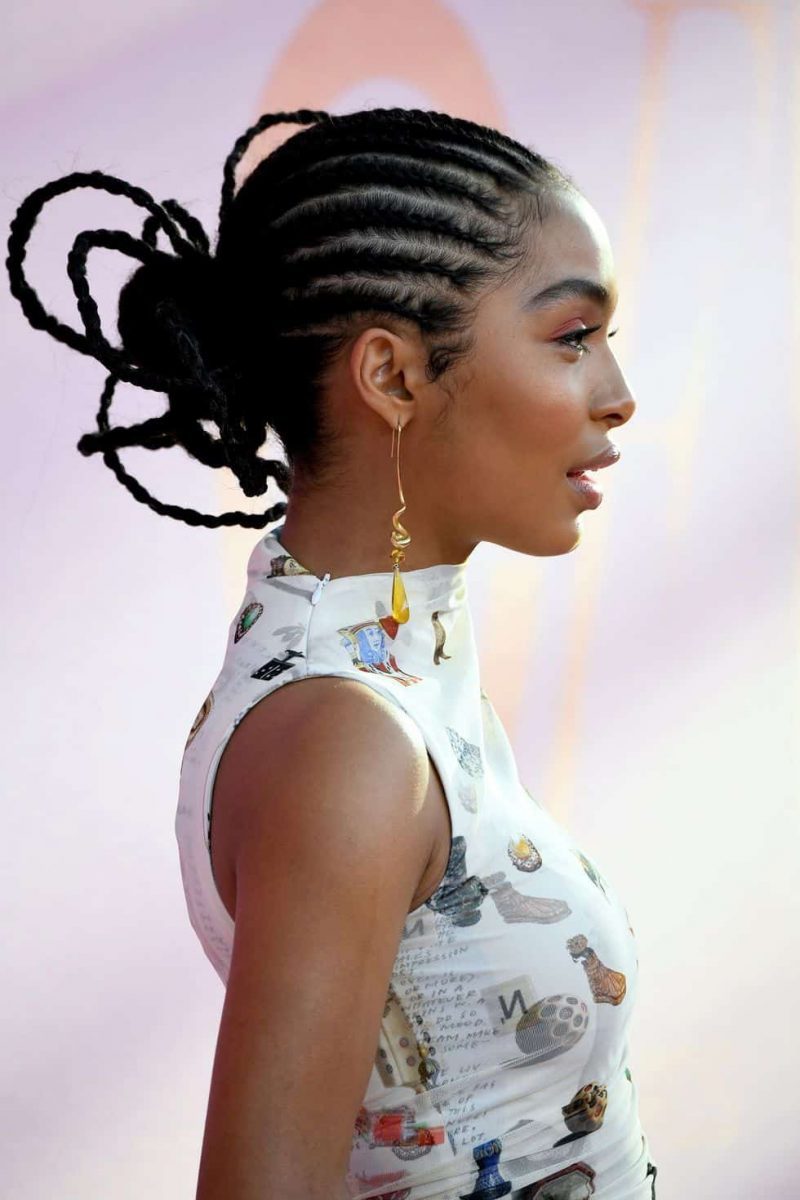 Cultured braid has been part of African braid for a very long time, a simple hairstyle believed to be for older women but Paris Hilton did prove that assertion wrong, she looks chic and gorgeous with this cultured braid.
19. Uneven Size Braided Updo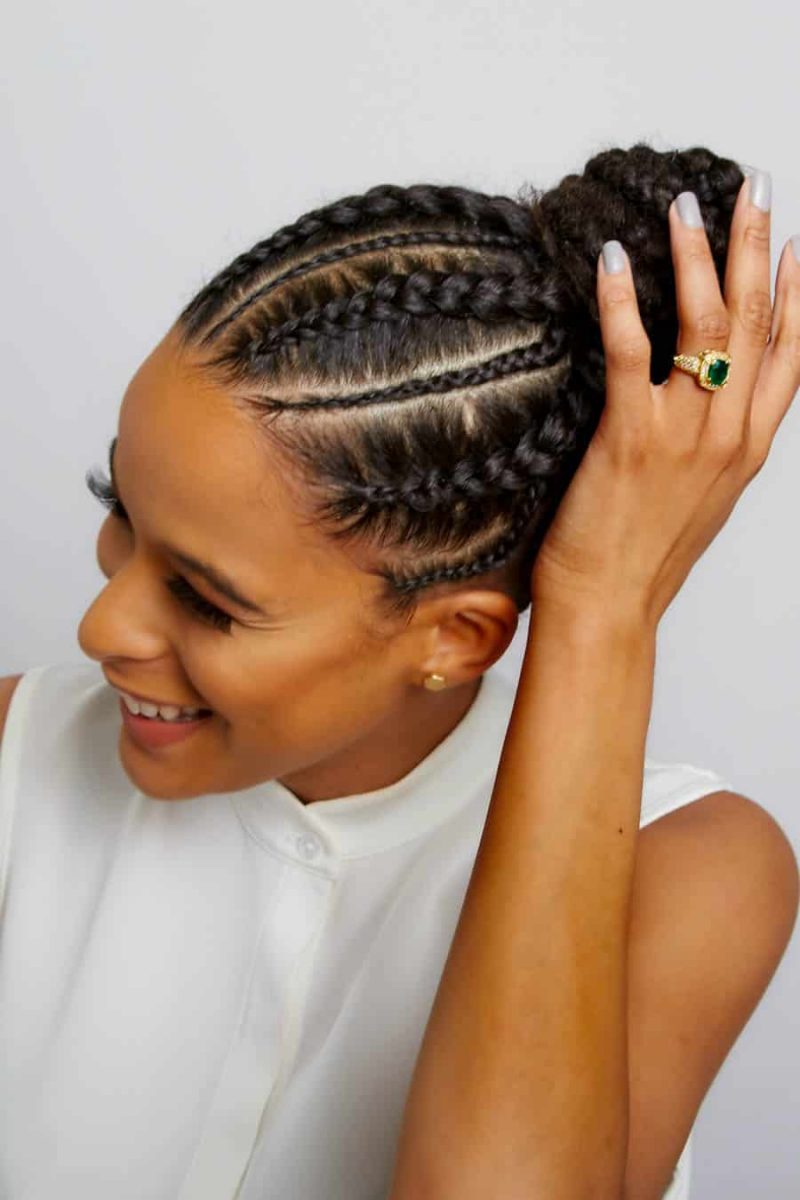 African braids can only get better and that can't be denied with the exotic styles we keep seeing, this is similar to all back cornrow but this time you have it big and small in an updo.
20. Braided Brazillian Wool Bob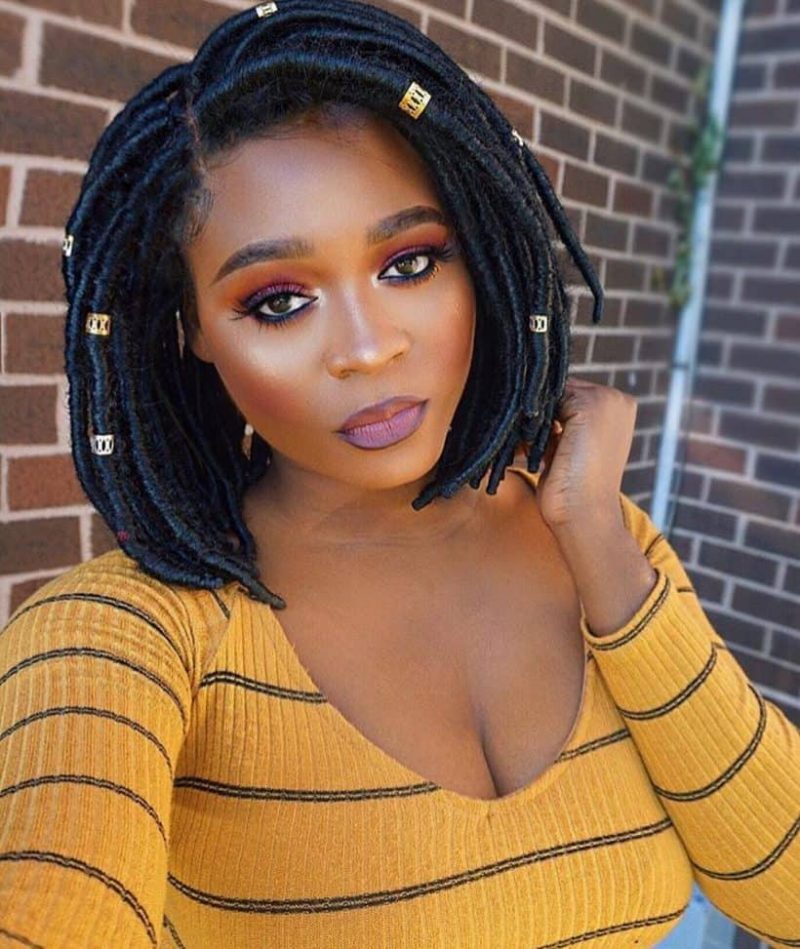 Brazillian wool can make your hair just as much as beautiful as any attachment would, this is a hairstyle worth trying.
21. Braided Bangs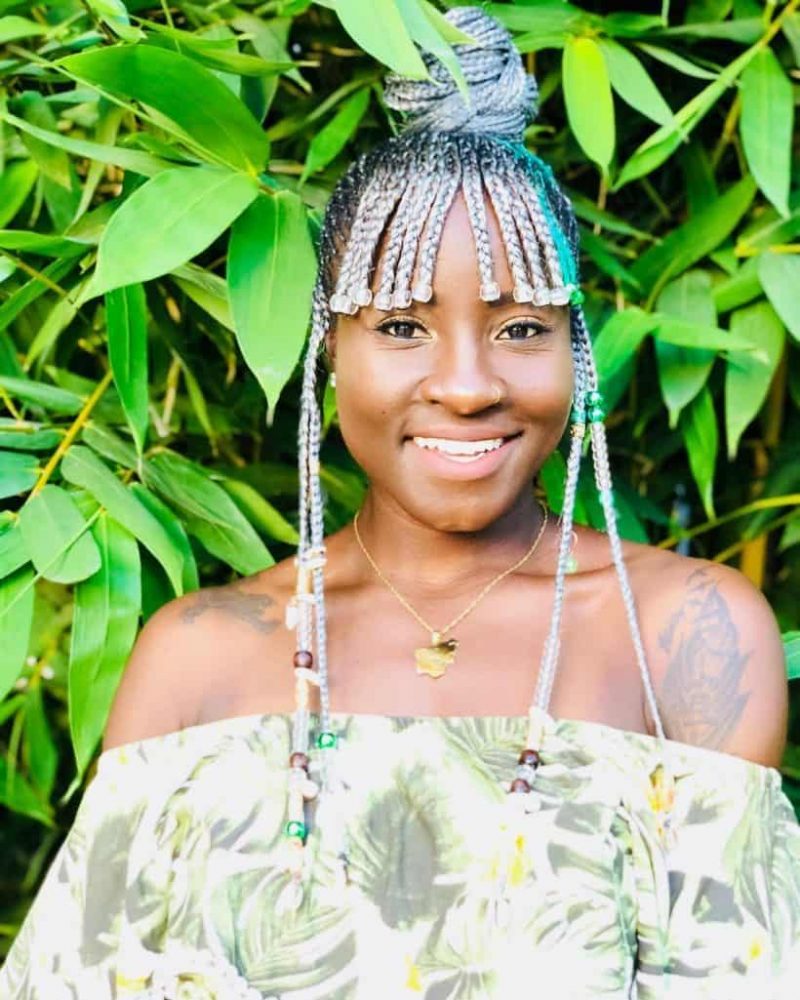 This braided bang is everything gorgeous about braid, any color of an extension would do just fine.
22. Big Size Twist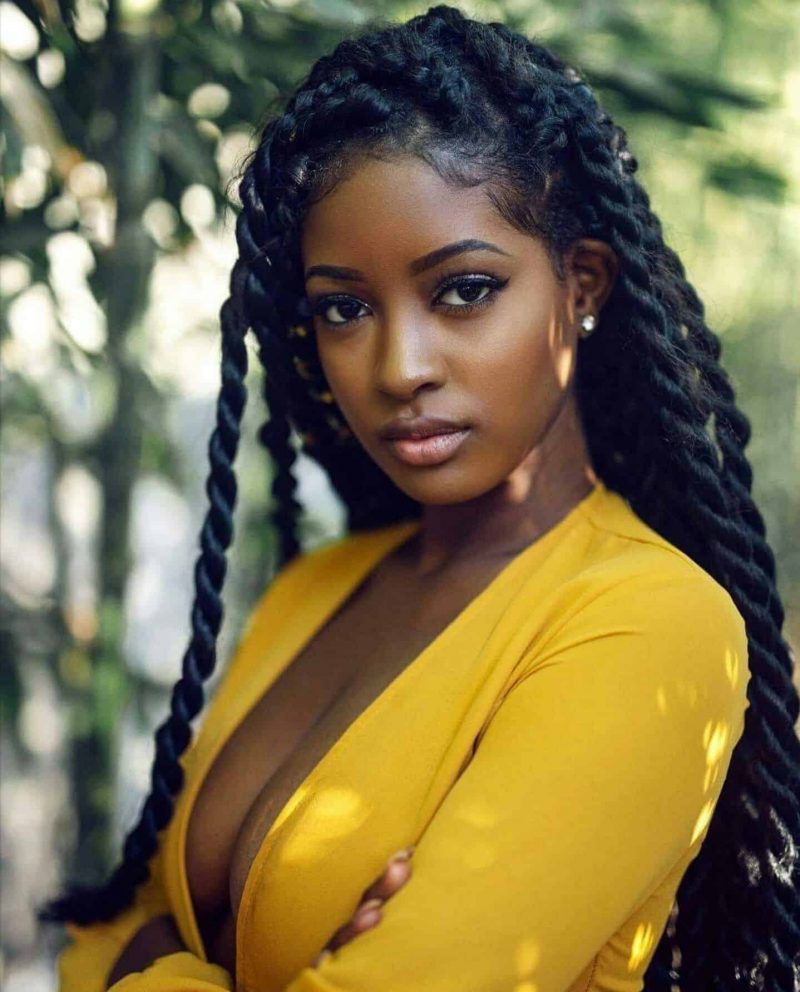 Go for a big smooth twisted braid to add some unique trend to your choice of braid, something fascinating and top-notch for any kind of hair.
23. Dutch Braid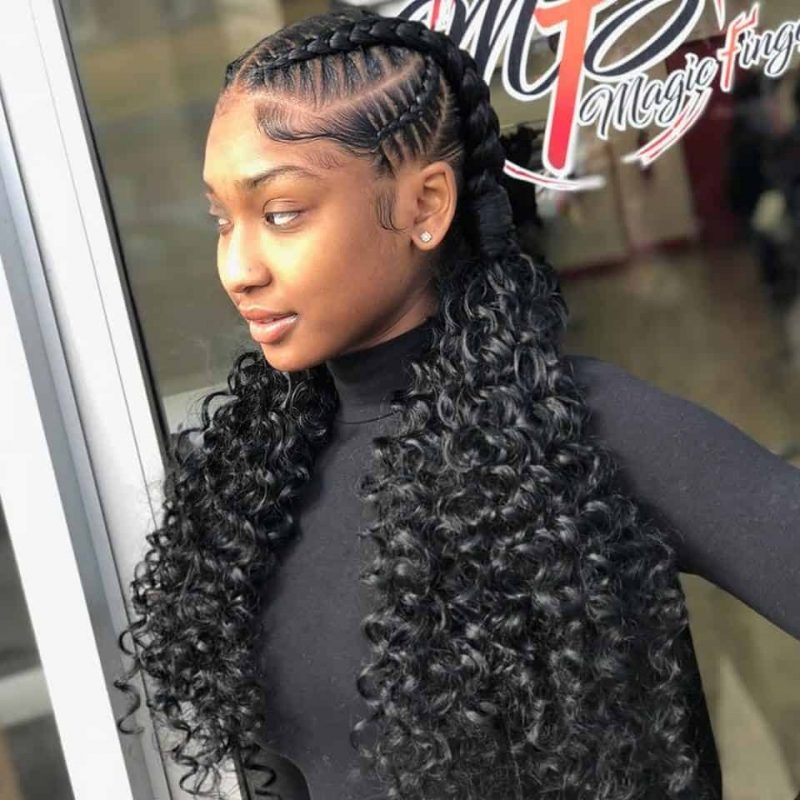 Dutch braids are one of the easiest braid styles to make, either you make it big or small.
24. Fulani Braid With Tuck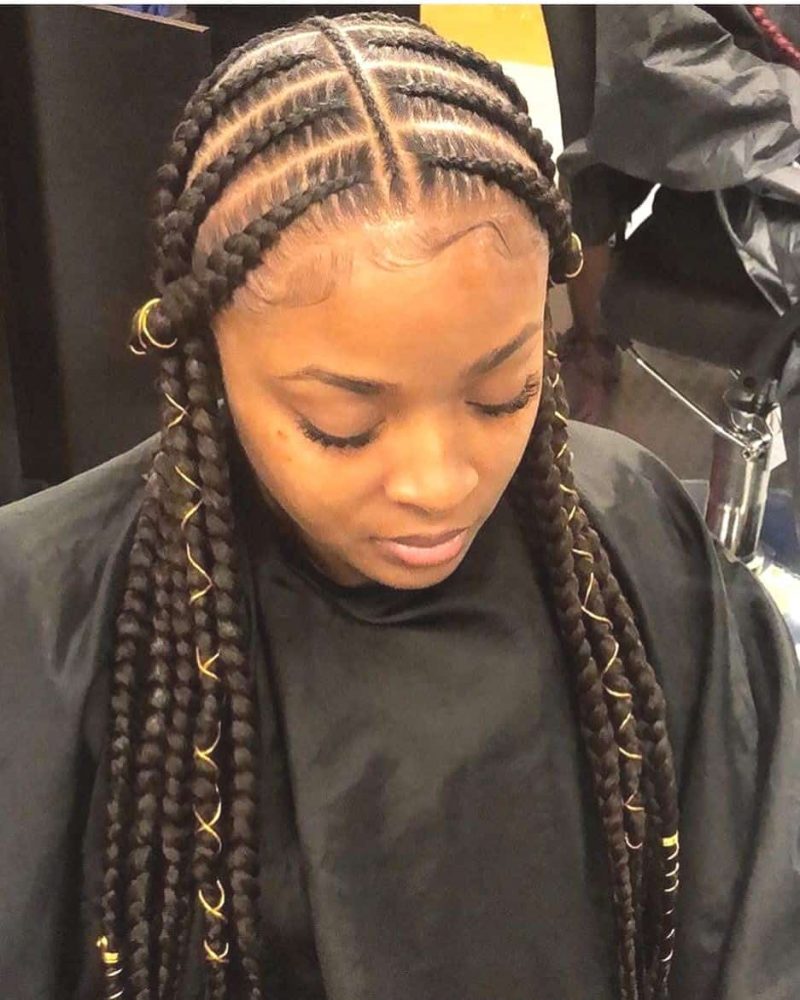 Another jaw-dropping way to make your Fulani braid, as earlier stated, there are just too many ways to make Fulani braids and every one of them is lovable.
25. Goddess Fulani Braid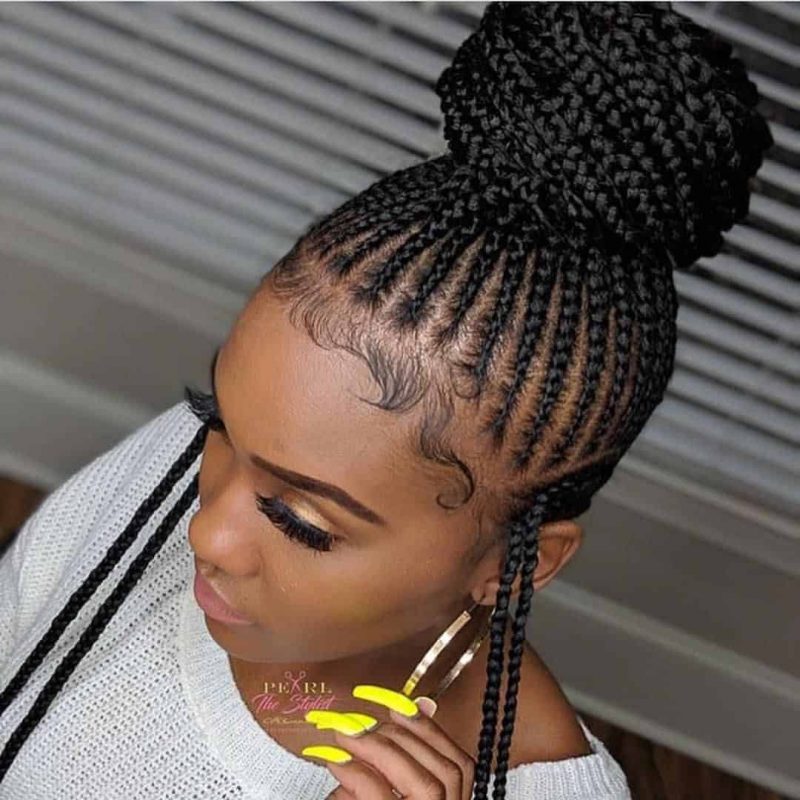 Every lady really needs to try this hairstyle, it accentuates any type of face shape and brings it out even more.
26. Mohawk Tiny Braid
This is just tiny braids and packed in a mohawk style but we love the simple look.
27. Ghana Weaving
Add more fun to your usual bun braid, the important thing when it comes to braids is to be creative.
28. Bracket Weaving
This type of bracket braid requires expertise and it can be really beautiful when done by a good stylist.
29. Lemonade Braid
This can also be called side braid, a weavon is fixed at the other side of thew braid to complete the look.
30. Stylish Braid
Just like every fulani braid, here is another one to add to your hair routine.
31. Ghana Cornrow Braid
Cornrow braids are made with different pattern and style to make it more glamorous, you can easily tell your stylist you want this easy peasy style to save time and look good at the same time.
32. Purple Goddess Braid
Purple seems to be the new color for your braid, simple and not too elaborate.
33. Lose Faux Lock Braids
Loose braids are even more fabulous when its' faux locks.
34. Tiny Sleek Goddess Braid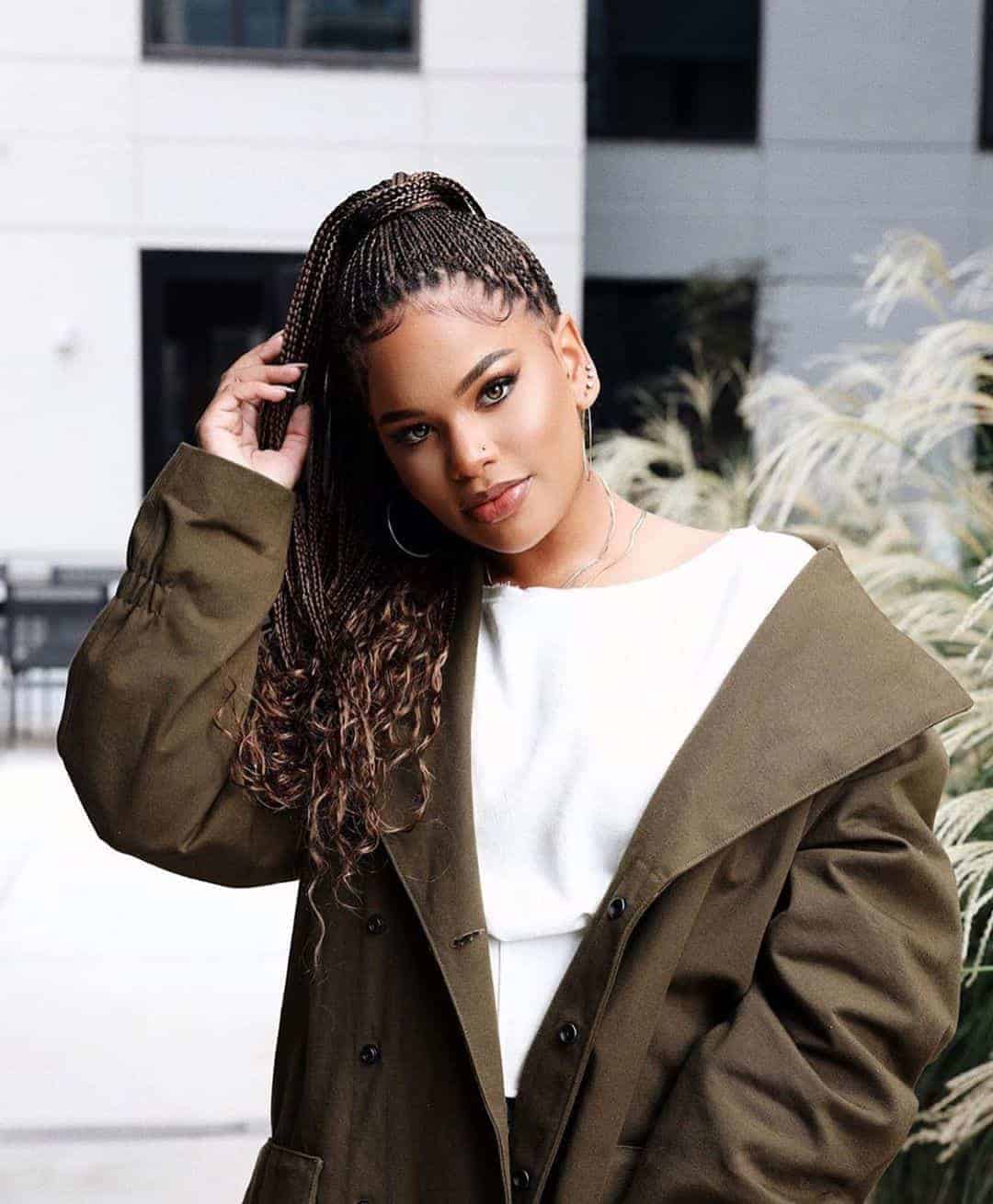 Time to try a different method of those goddess braids.
35. Edge Braid With Cornrow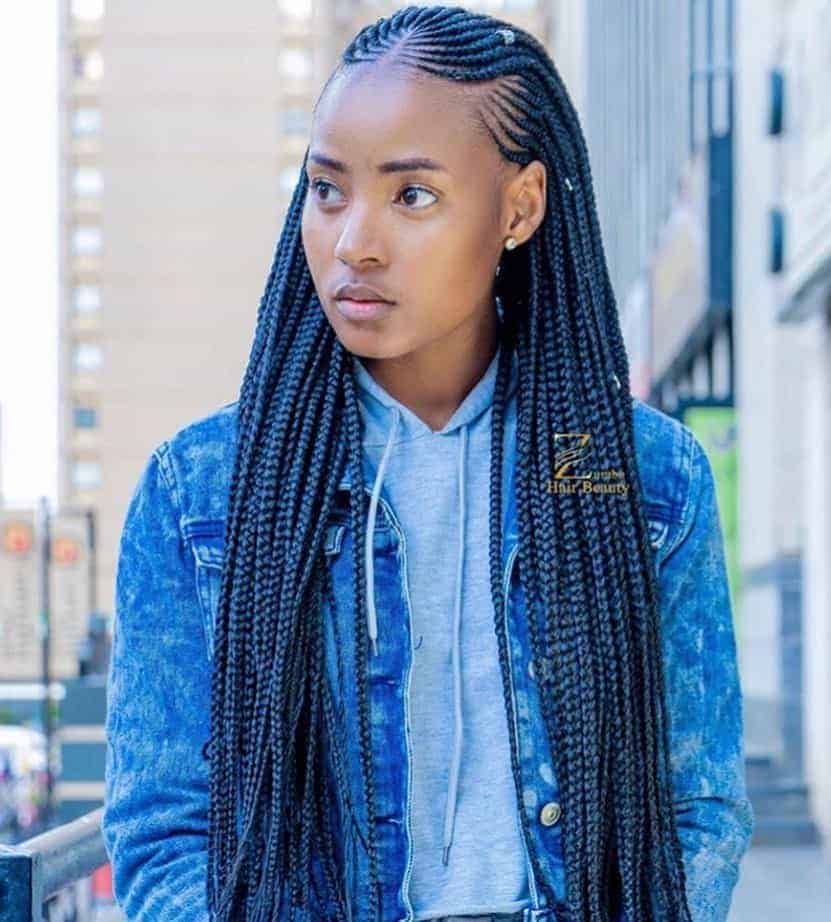 Add some edge to the base of your cornrows to make it stand out in the midst of other cornrows, this style is quite trendy and would be for a long while.
36. Durant Braid Bun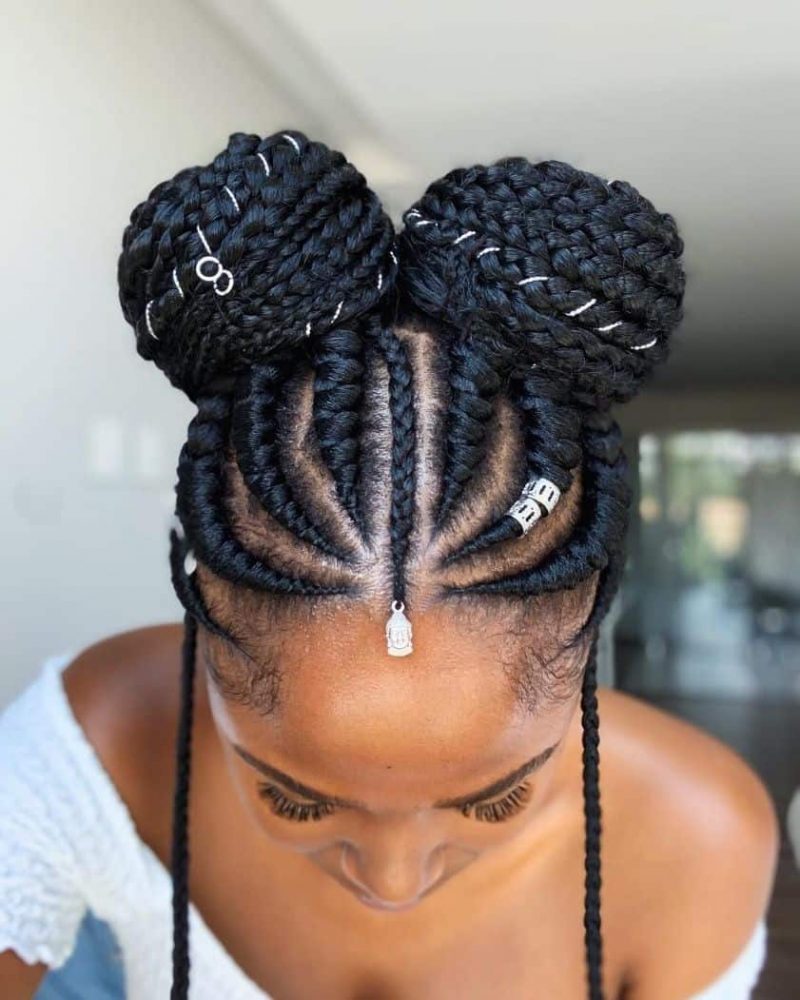 Tired of your usual braided bun, then you can add some Durant to it to spice up the look and add more sause to it.
37. Crown Bun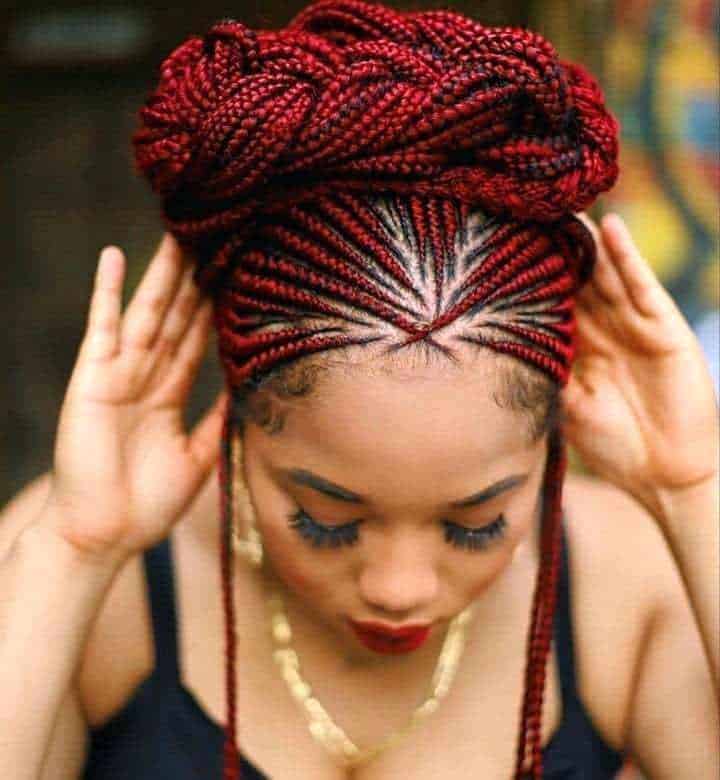 Crown bun is just like every normal bun but with more center goddess braids.
38. Short Braid With Double Bun Styling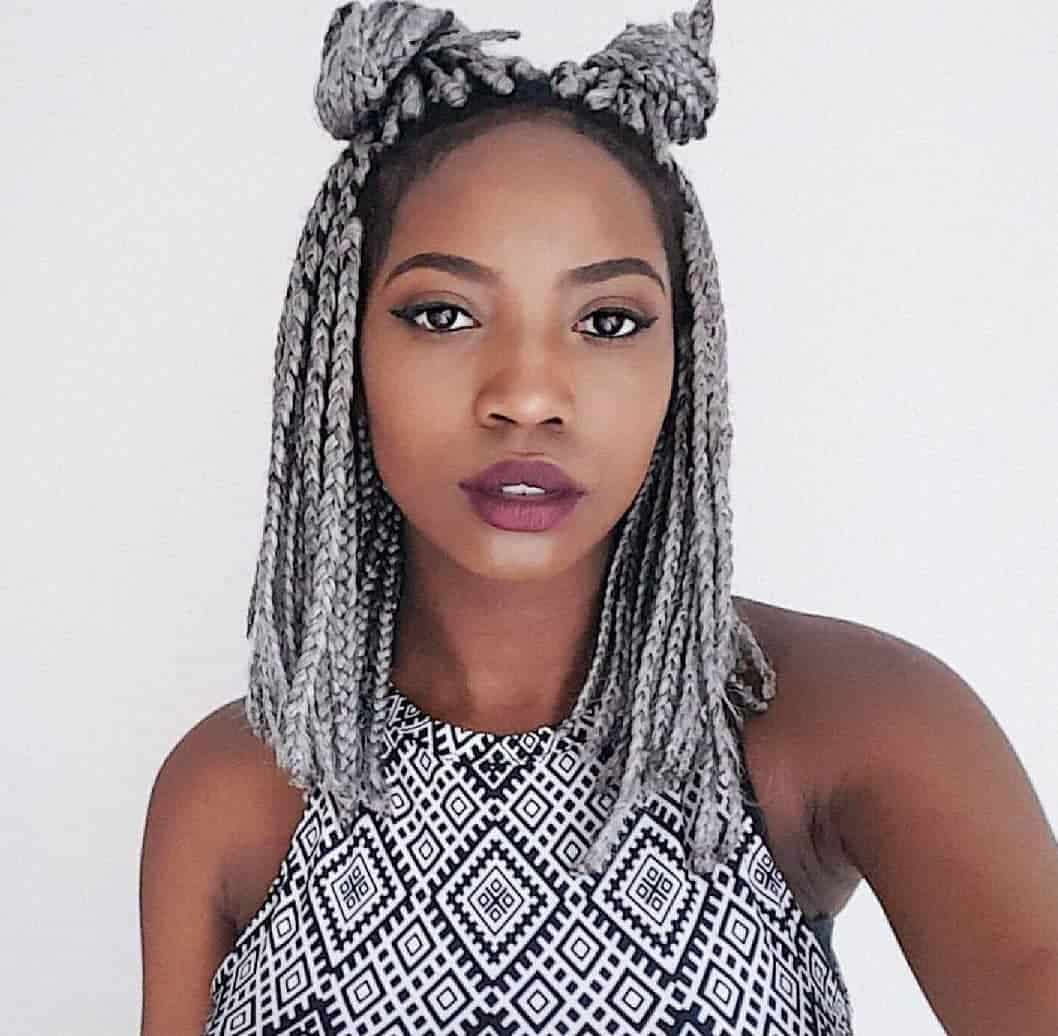 Grey seems to be the new color.
39. Faux Lock With Curls
Elegant and simple is the new faux lock you should try.
40. Center Parting Three Step With Beads
African braids are numerous but not all are going to fit your kind of face but that does not extend to three step braid, it looks good on all kinds of face and suitable for all kinds of outfit.
41. Center Parting With Roll Styling
This is just like the braid above it but with a different unique way to style it and give your look a more distinguished and professional look.
42. Tiny Cornrow Two Step
This is a pretty popular braid and perfect for archiving a simple chic look, it heightens the face.
43. Ponytail With Twist Braid
Ponytails are one hairstyle you do not want to miss making with your beautiful hair, colourful extension adds some interesting look to it.
44. Medium Goddess Braid With Curls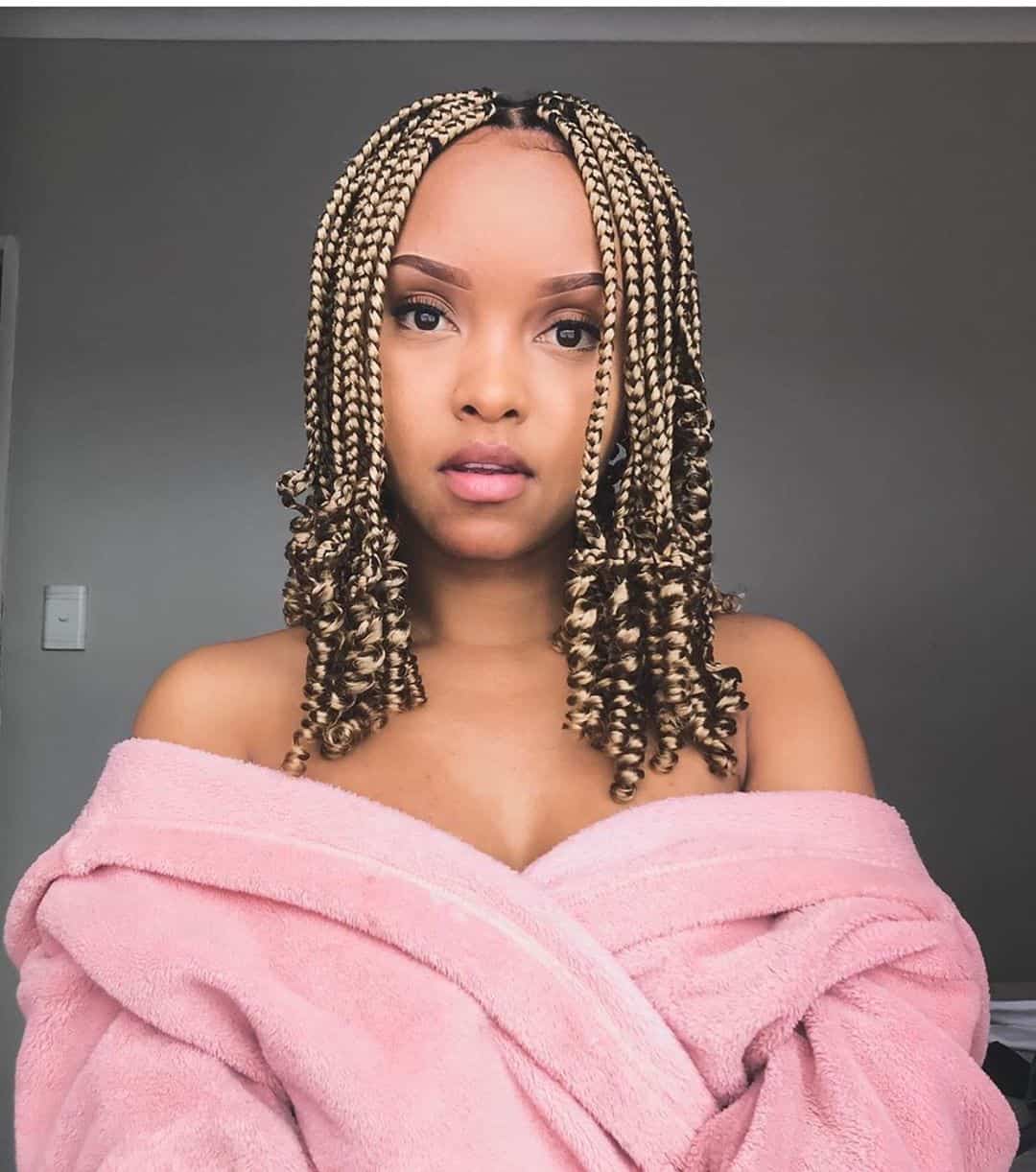 It is said that a gorgeous braid style is the one with less drama and with a style like this, we are not disputing that fact.
45. Pail Braid
Pail Braid us one hairstyle that has always been in trend, it's part of Africa's cultural hairstyle and it's not just easy to make but adds class to your look.
46. Simple Bun Braid
Time to switch up your natural look for another natural look but with spice this time, simple and with no drama.
47. Side Cornrow Twist
You can try this effortless braid style and we guarantee you are going to find it worth the time and effort.
48. Dread Braid
This is not exactly a free kick but a crochet woven exactly like it and it's one braid you can carry for a long time with different ways to style it.
49. Woven Bun Braid
White woven gold braid seems to be the new braid style in trend and we love it.
50. Medium Goddess Braid
Goddess braid with a blue attachment is another hairstyle you might want to consider making, not too elaborate and really affordable.
51.Faux Lock Braid
Faux lock is becoming quite trendy does lasts long which makes a much-preferred braid if you plan to keep a long hairstyle.
52. Center Parting Cornrow Braid
Kim Kardashian is a celebrity with an awesome taste in styles and we are not surprised she can make a braid like that look effortless and beautiful, this style is stunning and doesn't take much time.
53. Engaging High Braid Bun
Bun braid can be styled in so many ways you did never know which to go for, you can easily have this done as it has a combination of high ponytail design and bun braid as well.
54. Ombre Braid
Here is a simple common braid and all you need is to swap your usual black attachments for a colored one and you a beautiful braid like this.
55. Box Braid With Base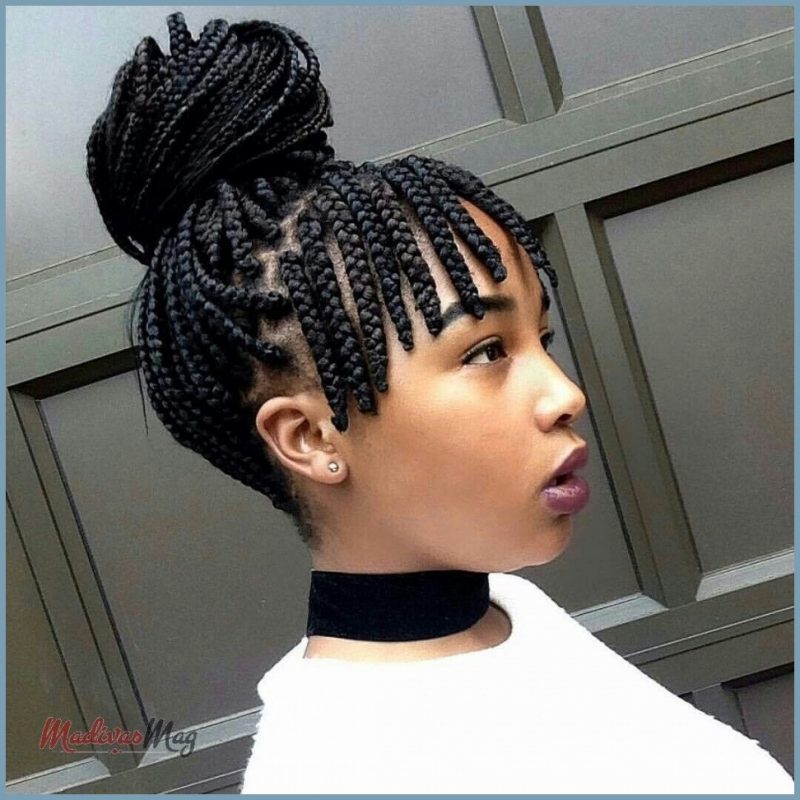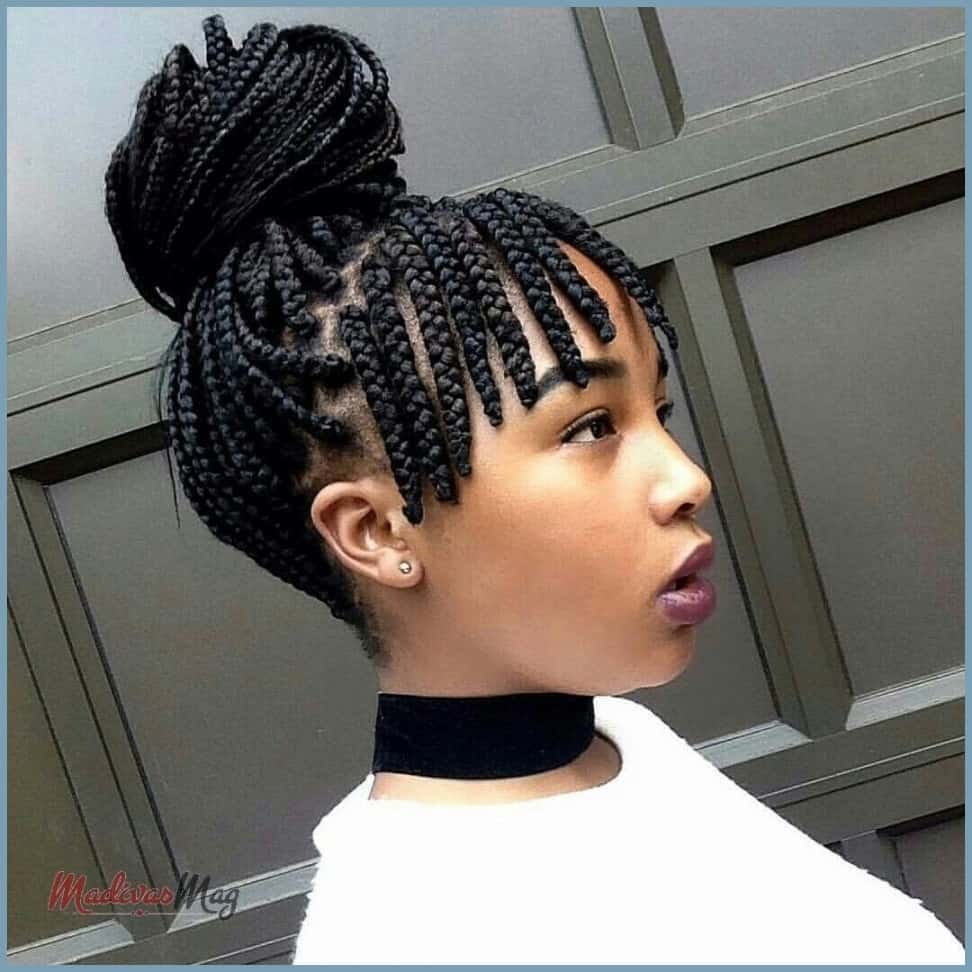 Time to spice up your usual box braid with a base at the front gives it a sleek confident look, any color of extension or attachment would do just fine.
56. Two-Step Braid With Bun
This style is totally worth the expense, your stylist might charge you a bit for a style like this, it's beautiful and worth every penny but you would need a good stylist to make it look really worth it.
57. Box Braid With Loose Mouth
Amandia Stenberg simple short loose box braid is not looking so bad at all, it looks dashing and superb especially for those with short hair.
58. Bob Braid
Bob braids are the most suitable choice when you are trying to change your look, it gives a simple casual look to ladies and doesn't take much time to make at all.
59. Goddess Braid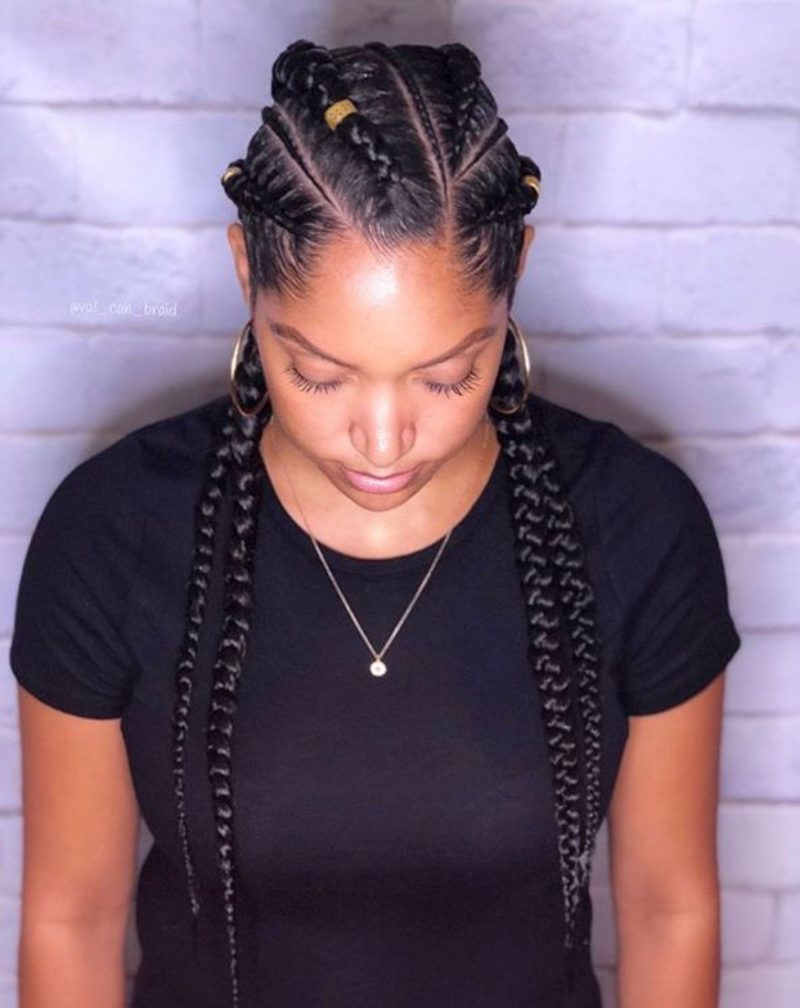 Goddess braids are a lot's common these days especially if you want a fast simple style with no drama then goddess braid is the best option.
60. Cornrow Bob Braid
Cornrow and braid do go hand in hand and the look is effortless yet you can rock it for practically any occasion.
61. Large Loose Braid
Large loose braids are beautiful and worth all the time you will spend on it, large loose braids tend to last a long while too.
62. Kinky Braid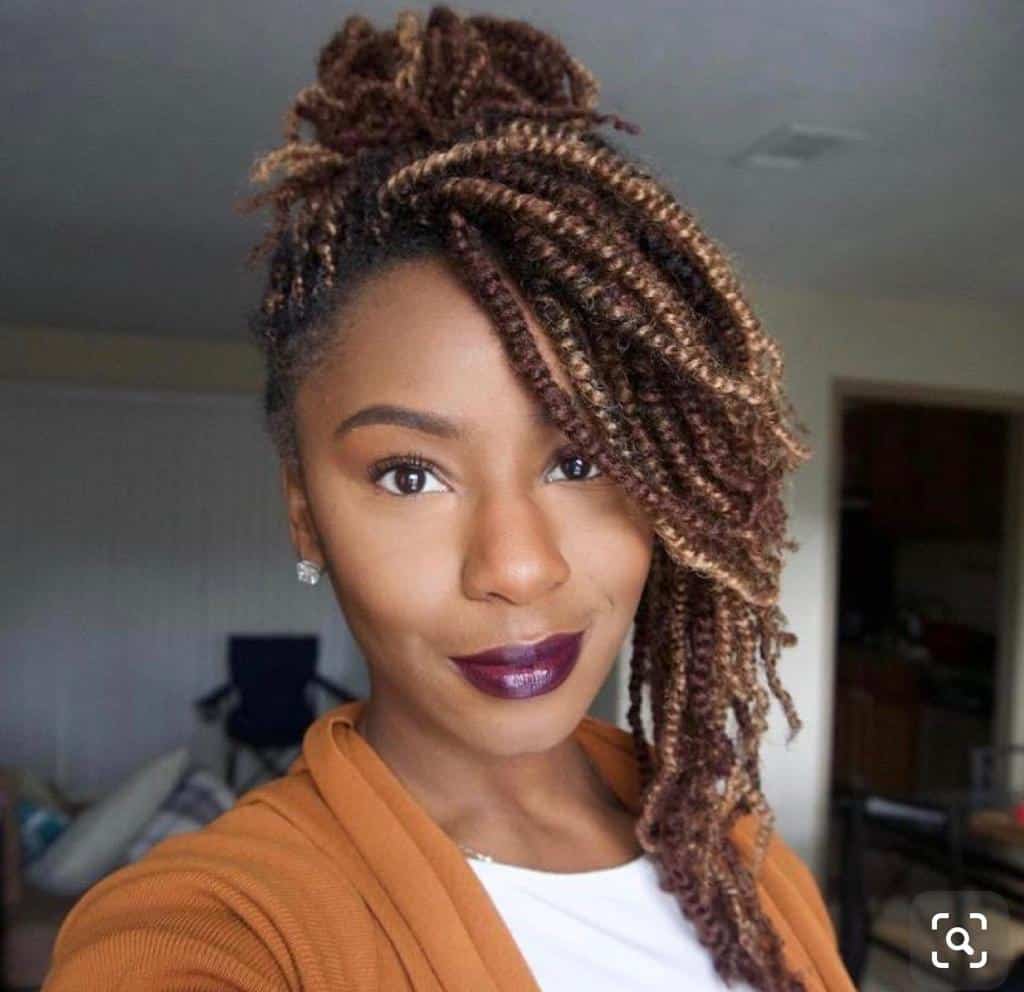 Short kinky braids are awesome, simple and not too dramatic.
63. Protective Braid
This is one out of the many braid styles that are protective of your natural hair, it is mostly done with your natural hair and allows different method of styling without affecting your hair growth.
64. Feed-In Braid Double Bun
Adding feeds to your braid is pretty common but rocking it with a double bun is more interesting and beautiful, bun is becoming trendy and so is a feed, all you need is to combine them both and get a beautiful braid just like the one above and it's suitable for all kinds of hair length if you adding extension.
65. Neck Length Shade Adu
One African style that has always been in trend is shade adu and it has always been loved no matter the length, long shade adu braid is not bad either.
66. Ghana Weaving Braid With Curls
Spice up your look and do something different and fascinating with those normal braids, some curls is not a bad idea at all.
67. Cornrow Shade Adu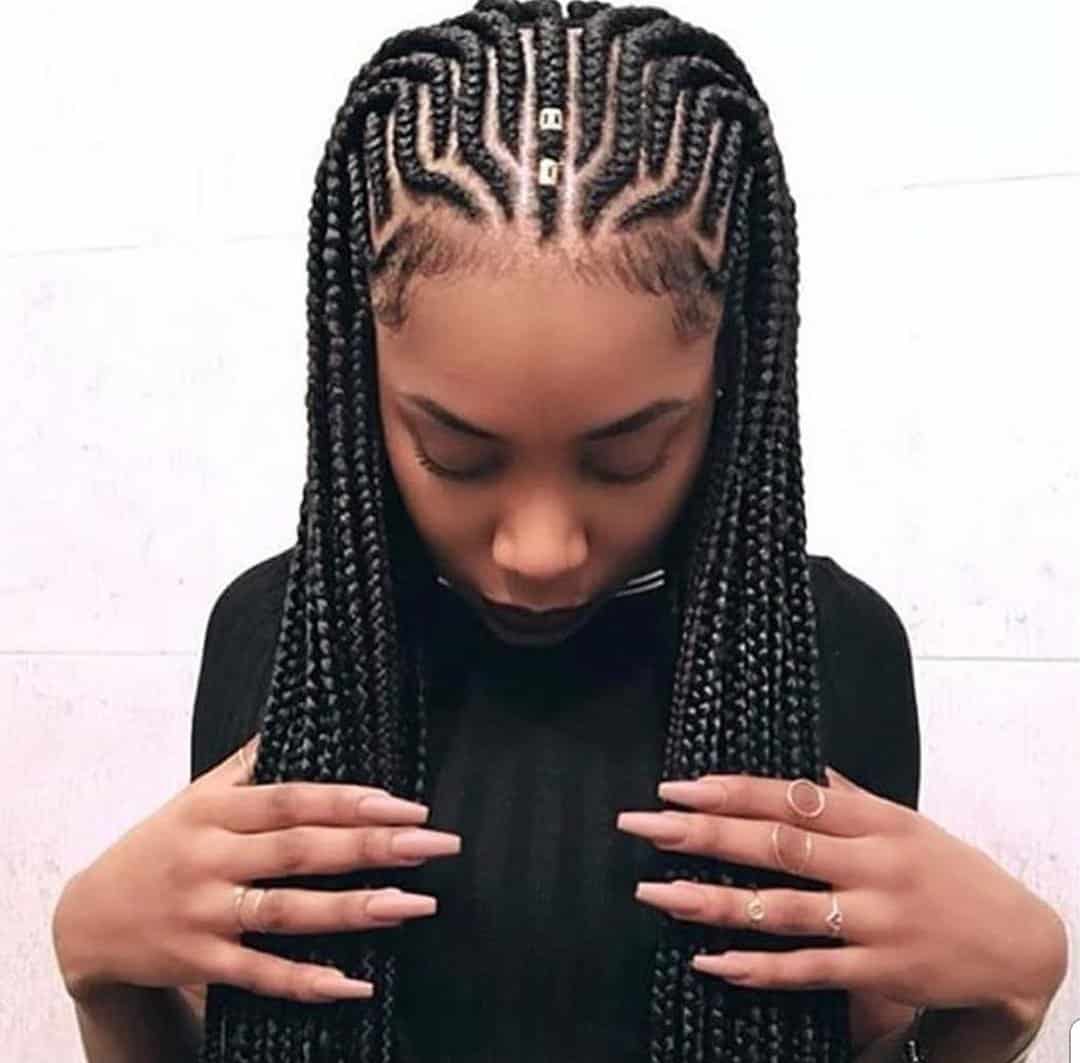 Simple and with no drama is just what you need to make your hair stand out this beautiful week.
68. All Back Cornrow
Substitute your normal black attachment for a gold one to rock this amazing cornrow that gives your stylist no stress at all.
69. Three-Step With Braided Bun
Enhance your chic look with a simple braided style just like the one above, perfect for all kinds of events and any look you want to recreate.
70. Center Part Braid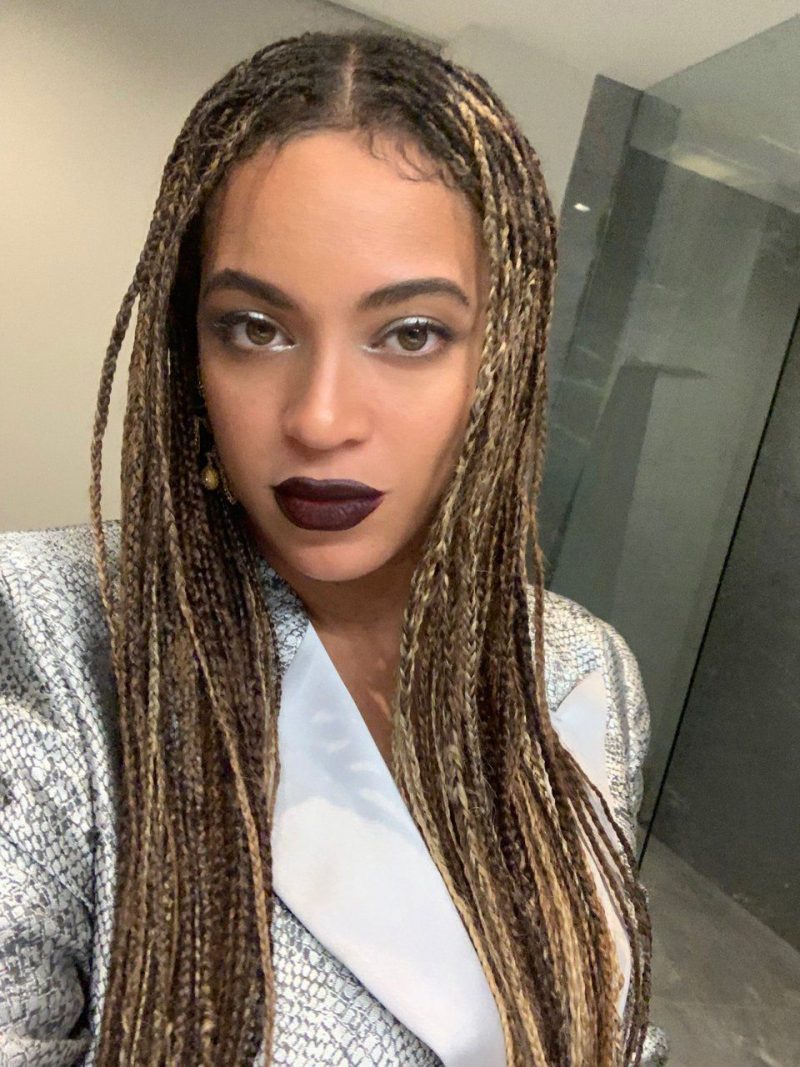 Beyonce is one beautiful celebrity we can trust her choice in hairstyles and this braid is totally killing it and don't you just love the look it gives her.
71. Braided Up-Do
Another celebrity you can get some braid inspiration from is Lupita N'yongo, her braid is simple and adorable.
72. Twisty Braided Up-Do
All you need to make a braid look astonishing is a simple updo styling, nothing too dramatic and just suitable for all formal events.
73. Senegalese Twist
There are Senegalese braids which are just as beautiful as a Senegalese twist, this takes lesser time to make than the braid though and is usually loose and perfect for those with natural hair.
74. Tribal Braid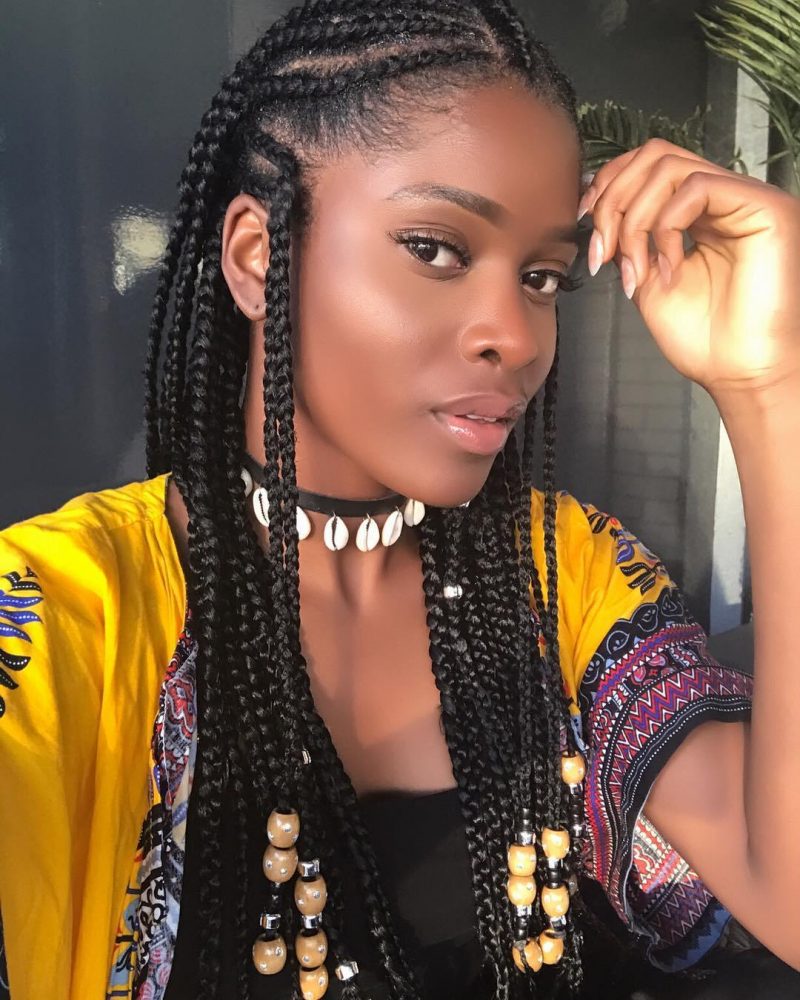 Tribal braid is a pretty common braid in the northern part of Nigeria and eventually embraced by other Africans and we can admit the style is worth the attention.
75. Mohawk With Side Feed
Alicia keys is well known for her beautiful African braids, there is always something new and fascinating about her braids and you can call her a trendsetter as she has a way of creating her own styles.
76. High Bun Braid
This is one beautiful braid hairstyle that has been recognized for ages, it's glamorous and highly official, bun braid can come in different ways, sometimes a low cornrow, short bun, double bun and all which would all be seen in this post. It goes with all kinds of looks and adds some interesting class to an outfit.
77. Fulani Braid
Fulani braids are simply gorgeous with no doubt about that, it is one hairstyle that has recently been added to African braids and it has so much be loved and accepted by a lot of African women and they did wear the hairstyle with pride.
78. Two-Step Fulani Braid
Another beautiful Fulani braid that is simply astounding is a two-step braid, few cornrows is plaited at the front and another at the back or box braid can also be plaited at the back, the important thing is it is separated in two hence the name two-step.
79. Short Fulani Braid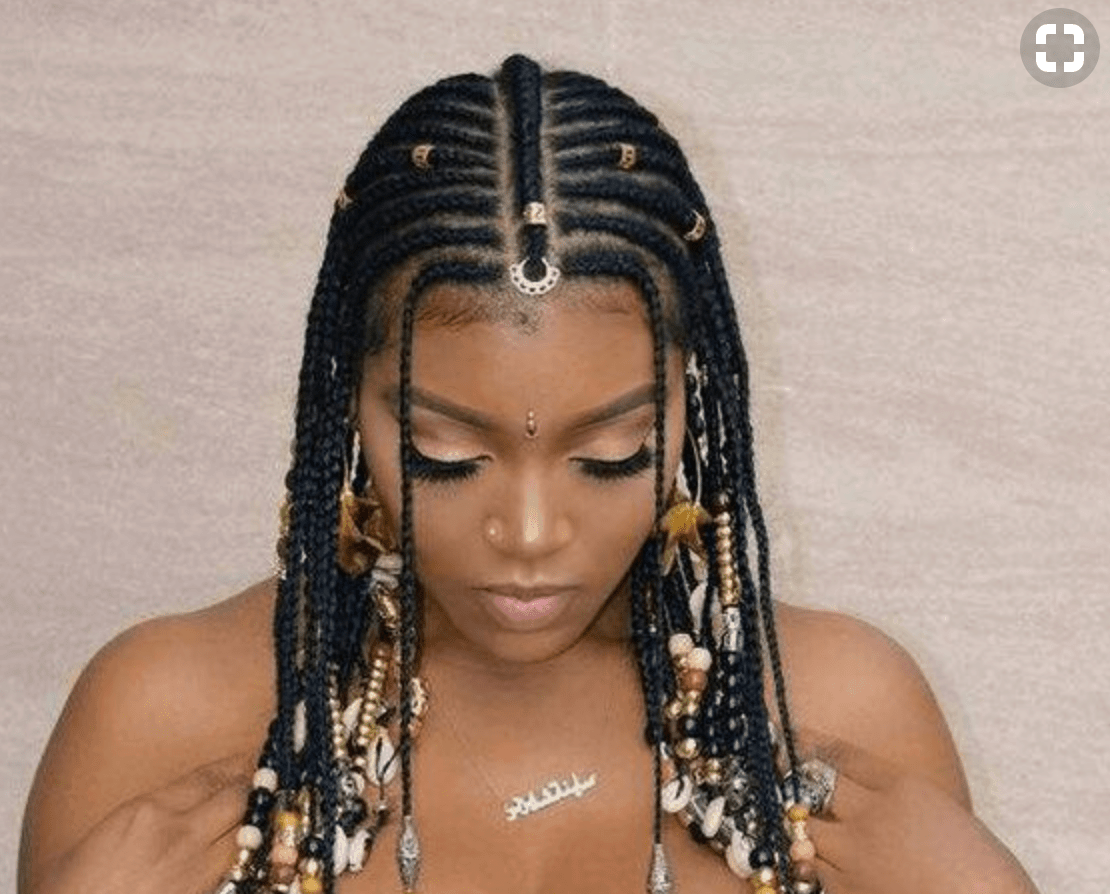 Fulani braids are common and not just that, it comes in different styles and designs, African braids are versatile and that means lots of amazing styles to look at. This is a simple style that has been woven to give the whole Fulani look.
80. Beaded Bangs Braid

Source: Hairstyle ideasThis is completely African and we love how it has all the idea of creativity in it, the bead added some class and trend to it, it is usually a culture style used to dictate tradition and most brides do wear it for a traditional wedding.
81. Fulani Braid With Curly End
This is a Fulani braid but this time with a curly end to add a simple yet fascinating look to it, different from the normal Fulani braid but still the same, this looks a lot stunning and there is an extension designed to give you the exact look.
82. Short Box Braid With Cornrow
Short braids are beautiful, no doubt about that as the braid above is top-notch, it's trendy and stunning, a perfect style during summer, it's cool and not overly dramatic.
83. All Back Cornrow
Africans love bun and cornrow, you actually create a combination style with it, it's trendy too and widely accepted both African and African American.
84. Loose Braid
Loose braids are pretty common these days and just like a box braid but in this regard with a loose cornrow, it's a pretty amazing style and does last a long while if you are good at maintaining braids.
85. Short Box Braid With Curls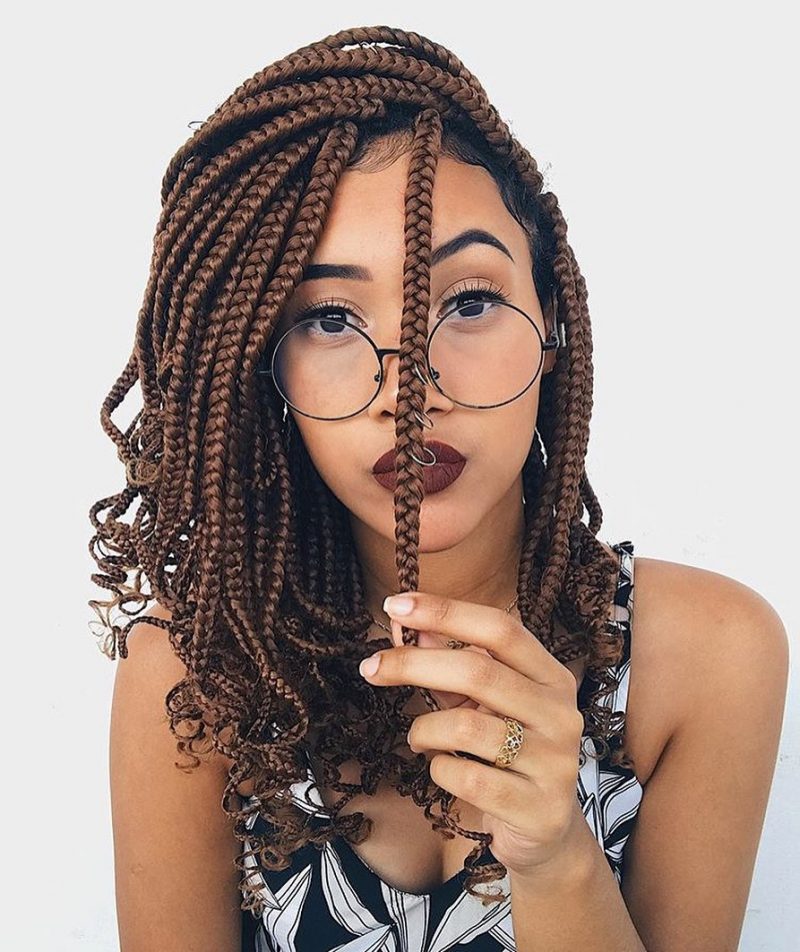 Adding curls to braids is now a pretty common trend you can't help but love, it's simple and fascinating, nothing too dramatic though and you can also wear it with any classy outfit.
86. Jumbo Box Braid
Just like a box braid is gorgeous so is a jumbo braid, you can easily buy the extension for this and add to your hair or have it braided directly into your hair, whichever way you make it is always beautiful and in trend.
87. Simple All Back Fulani Braid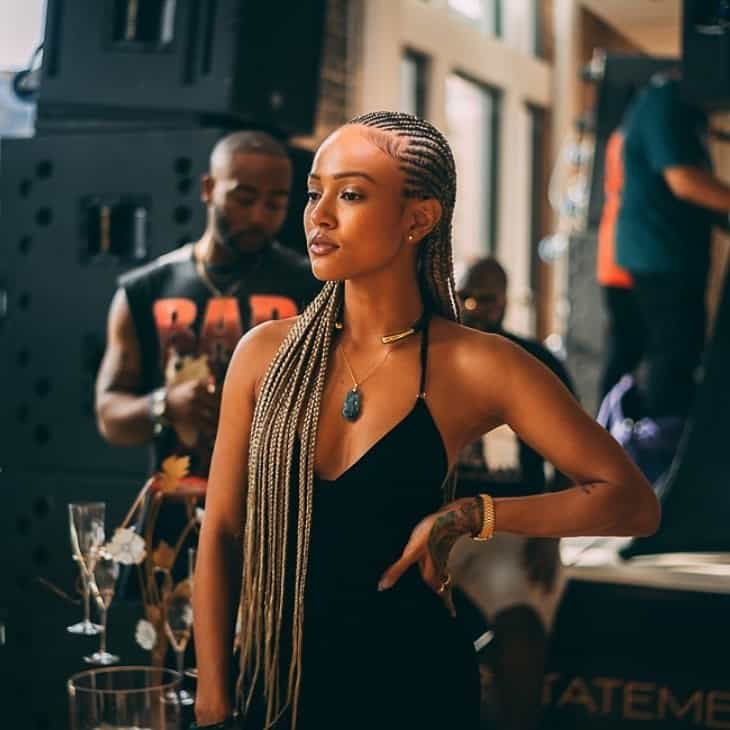 This is a style that has been known for ages and not only is it perfect for any look you want to recreate, also believed to enhance makeups and give the face a stunning look even without makeups.
88. Afro Cornrow Braid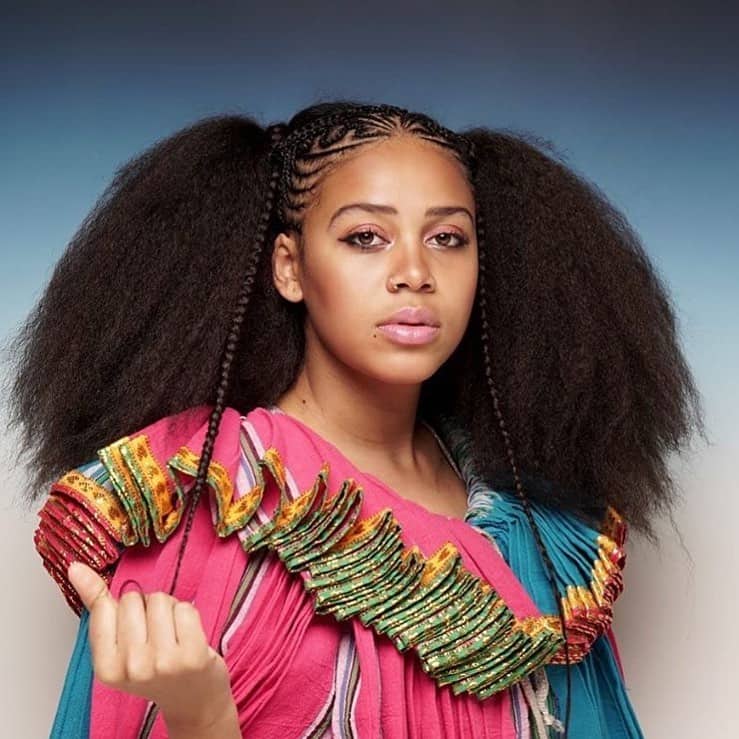 This is highly favored by the South Africans, popular in African countries too but mostly called south African braid and is a perfect glamorous style for anyone who likes bold daring hairstyles.
89. Side Cornrow Braid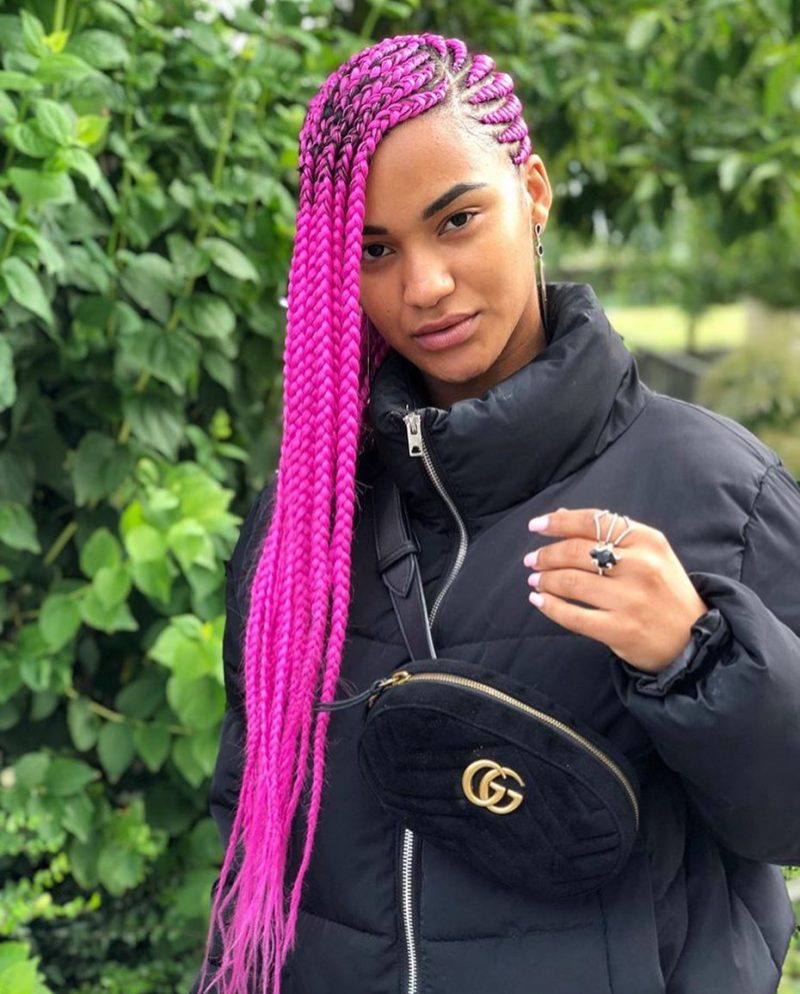 Take a break from the normal cool color and try something flashy and beautiful as using a pink extension for a side cornrow braid, it's simple and would not take the whole day to make.
90. Fulani Bun Braid
Thinking about making a bun braid but you can't help but fancy Fulani braid too then you can simply combine it and get the look above, elegant and stunning just like the one in the picture above and all you need is a good stylist to get that done.
91. Shade Adu Braid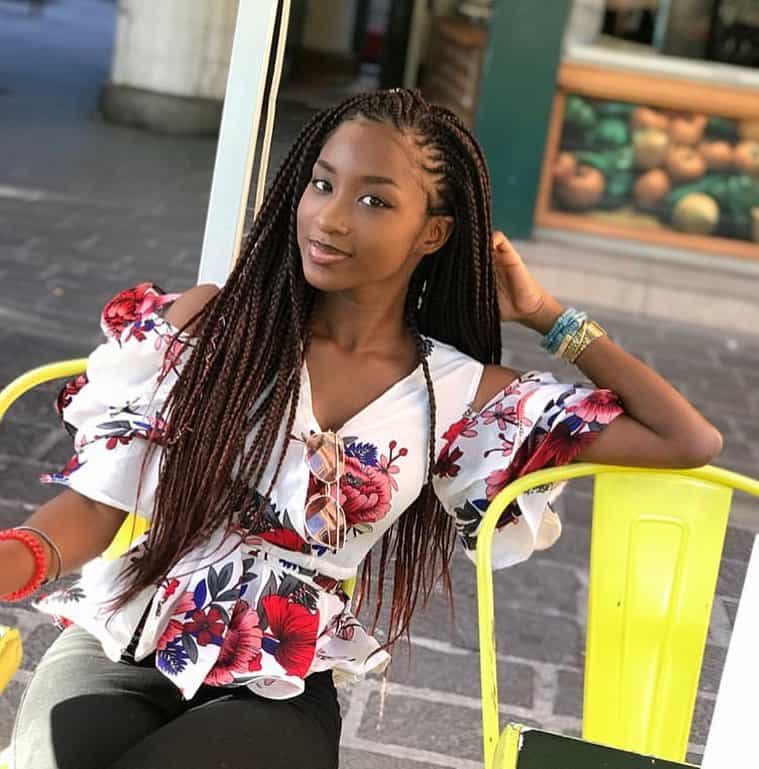 Here is a style every lady can relate with, it's pretty close to a box braid or exactly like a box braid, the only difference is the small cornrow plaited at the front before making it all box braid.
92. Middle Parting Short Box Braid
Classy, elegant and adorable is the right description for this kind of braid, the middle parting did add some glamour to the style and we are loving it and we are sure you do too.
93. Double Bun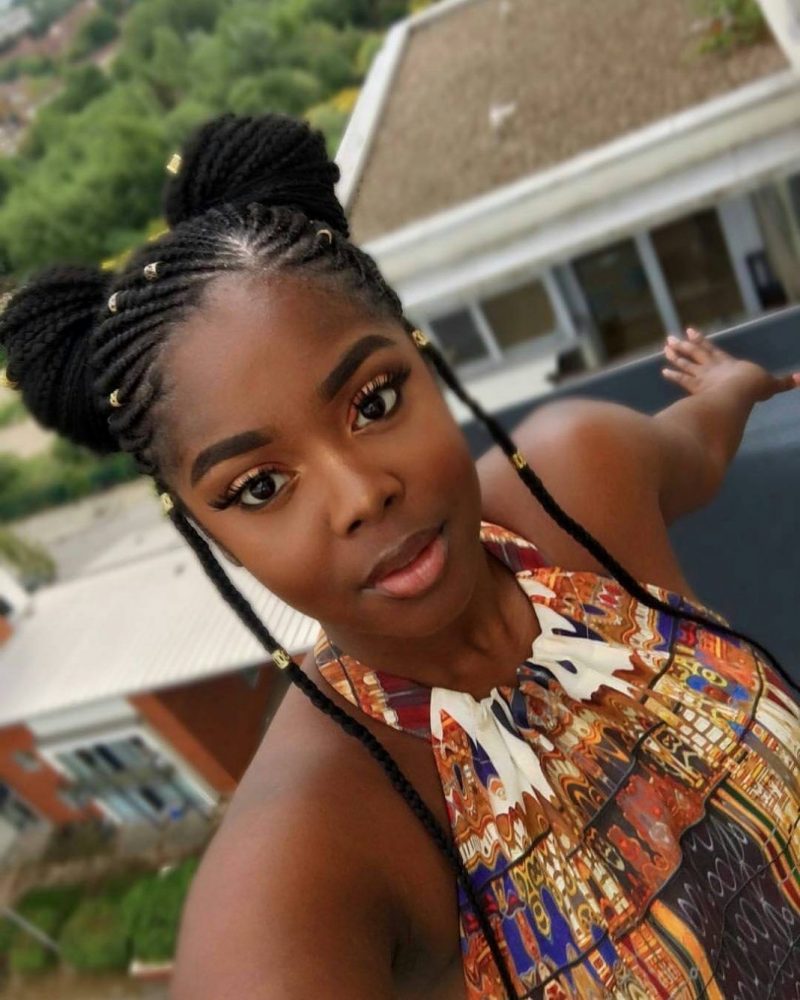 If you like a single bun then you are definitely going to love a double bun more, it's feminine and perfect for a formal look.
94. Tiny Twisted Braid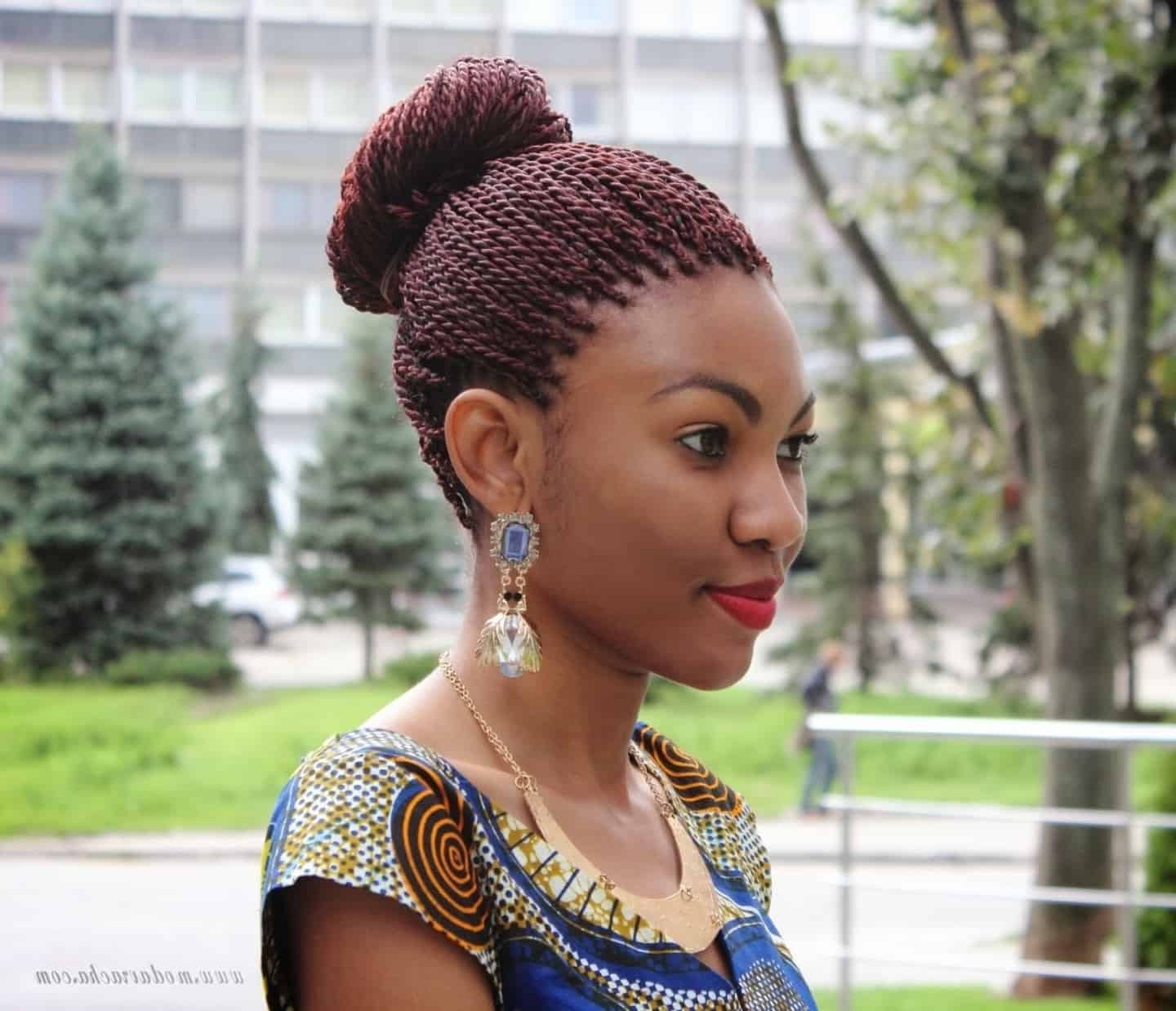 Just like tiny box braids, you can make twisted braids and still look beautiful with it, it takes time to make though, the medium size takes less time.
95. Full-Length Box Braid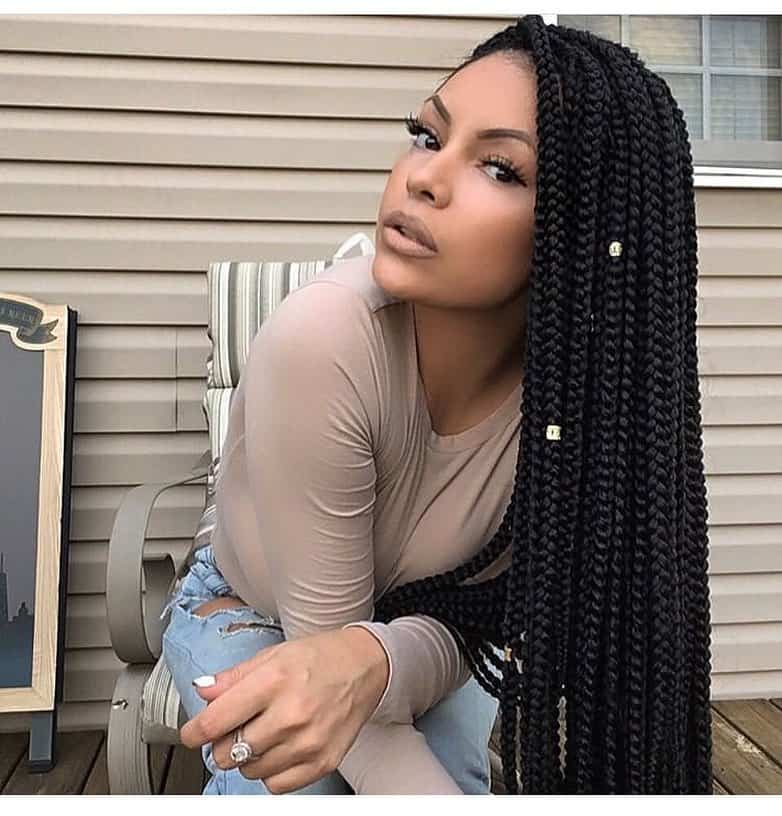 Have you tried a full box braid? If no then you need to try it out, it's one of African's most cherished braids, they love it and it's one hairstyle that can last a very long time.
96. Havana Twist Braid
Havana twist is another African braid worth plaiting, it's gorgeous and mainly an occasion hairstyle and does last a long while if you know how to rock it.
97. Frohawk Braid
This is just as simple as styling a Mohawk and even more desirable, this style is just what you need for a weekend wedding.
98. Ghana weaving
You would have lots of patience with your stylist if you want a style like this, for it to turn out right, it requires time and it's always worth it if you have a good stylist to make it for you.
99. Medium And Tiny All Back Cornrow
Gorgeous is the right word for this style, it's just what you need for a simple not too dramatic outing. This is the most common style in Nigeria and now basically adopted by lots of countries.
100. Ghana Weaving Braided Pony Tail
Another African style that screams trend and class, perfect for ladies who like looking casual and formal at all times, this doesn't take forever to make though and some other styles can be added to it to give it a different appeal.
---
Braids are a really versatile hairstyle, fashion probably won't be complete without it and it sure did add some glamour to outfits, frankly, braiding your hair can never be boring. Creativity only gets better with braids.
Read more on braids and natural hair hairstyles:
We save ideas like these on Pinterest. Click here to follow ThriveNaija for more inspiration.