Celebrities and fashion influencers are unpredictable when it comes to stylish outfits, they can decide to keep it real and simple or go for overdramatic outfits. We must say fashion seems to have gotten more interesting after the pandemic as everyone seems to be making up for the times spent going for casual outfits.
So, this week on Celebsthatrock, there are going to be more all-occasion outfits since parties and events are every weekends now. We all agree not every outfit can be regarded as fashionable or event worthy so we need more of a party outfit to turn things up.
Designers are getting more creative every day and their ability to put a dreamy and effortless look to any outfit is top-notch. Hence, to get in tune with all occasions, outfits, here are 15 fabulous outfits from last week for you.
1. Tonto Dikeh- Stunning Is The Word For This Look
Stylist/Onset creative director @chachabrowz
Outfit created/Designed by @mimis_kreationz
Hair @hairbybims
Mua @sosared_89
Okay, this is LIT. She definitely looks like the King who takes charge of her styles and rock it effortlessly. This outfit is on the list of fashionable outfits not for this week but also going to be around for a long while.
2. Linda Osifo- She Keep It Sleek This Time
Yeah, we agree this is a sleek outfit and her smile did make it look even more astonishing. It's a look you are sure to feel comfortable rocking to a party.
3. Iyabo Ojo- Looking Ready To Stun A Wedding
Outfit: @tiannahsplacempire.
Makeup: @ella__donatella
Gele: @gele_by_segunlagos
Shoe: @debbyfootwears
Iyabo Ojo is not one to leave any stone unturned in any outfit she is replicating. This fancy outfit has been styled by Tiannahsplacempire and the same outfit had been rocked at the CEO herself wedding Toyin Lawani. We must say she did an incredible job.
4. Christiana Kayode- Serving It Hot In Black
Dress @chic_byveekeejames
Makeup @bibyonce
Waist snatched @berbiebeauty_
Purse @accessorize_by_rea
Earrings @portablewigsandaccessories
Gele @larrygele
Hair styled @ivys_place_
Berbiedoll knows how to serve spicy hot looks that get our jaws dropping and this time it only gets hotter. She has also stun Toyin Lawani's wedding in style and we must say black does look good on her.
5. Symply Tacha- Looking Sassy And Adorable
Symply Tacha has her followers jaw-dropping with this stylish and sassy outfit. She look absolutely gorgeous in it.
6. Tiwa Savage- Serving Classy In Pink
Tiwa Savage pick pink to get us staring in awe this time. This is one elegant gown that makes an elaborate party get even more interesting.
7. Jemima Osunde- Keeping It Less Dramatic
Jemima does not hesitate to give us some sass and glamour and this outfit gives both in full essence. From the makeup to the hair, we love everything.
8. Mimi Onalaja- A Fashion Babe Always
Asoebi: @ayabacouture
Makeup: @artistrybylisaa
Mimi Onalaja happens to be one of our favorite fashion divas and she is always giving us enviable styles.
9. Adeola Adeyemi- Keeping It Fun And Classy
Designer – @house_of_dova
Styled – @flostyling
Diiadem looks absolutely beautiful in that outfit and she is definitely going to be one of the best-dressed guests at the wedding.
10. Ayanda Thabethe- Looking Dashing In White
Sometimes you are up for keeping things cool and the outfit will still be exciting. Ayanda Thabethe simple elegant gown really is something worth replicating.
11. Thabsie Sa- Keeping It Lit And Formal
Formal can definitely be bold and sexy. Thabsie leaves no stone unturned with her gorgeous net pans and blazer jacket. She looks dapper and cute.
12. Toyin Abraham- This Is Simply Stunning
Outfit: @houseofasooke
Makeup/gele: @eeswatmakeovers.
Aso Oke by: @houseofasooke
Gold @beckygoldjeweler
Purse/shoe @bags_warehouse1
Toyin Abraham might just be the best dressed at the wedding she attended this amazing outfit with. She looks gorgeous and we must say the designer did a great job.
13. Mercy Aigbe- Looking Ready To Party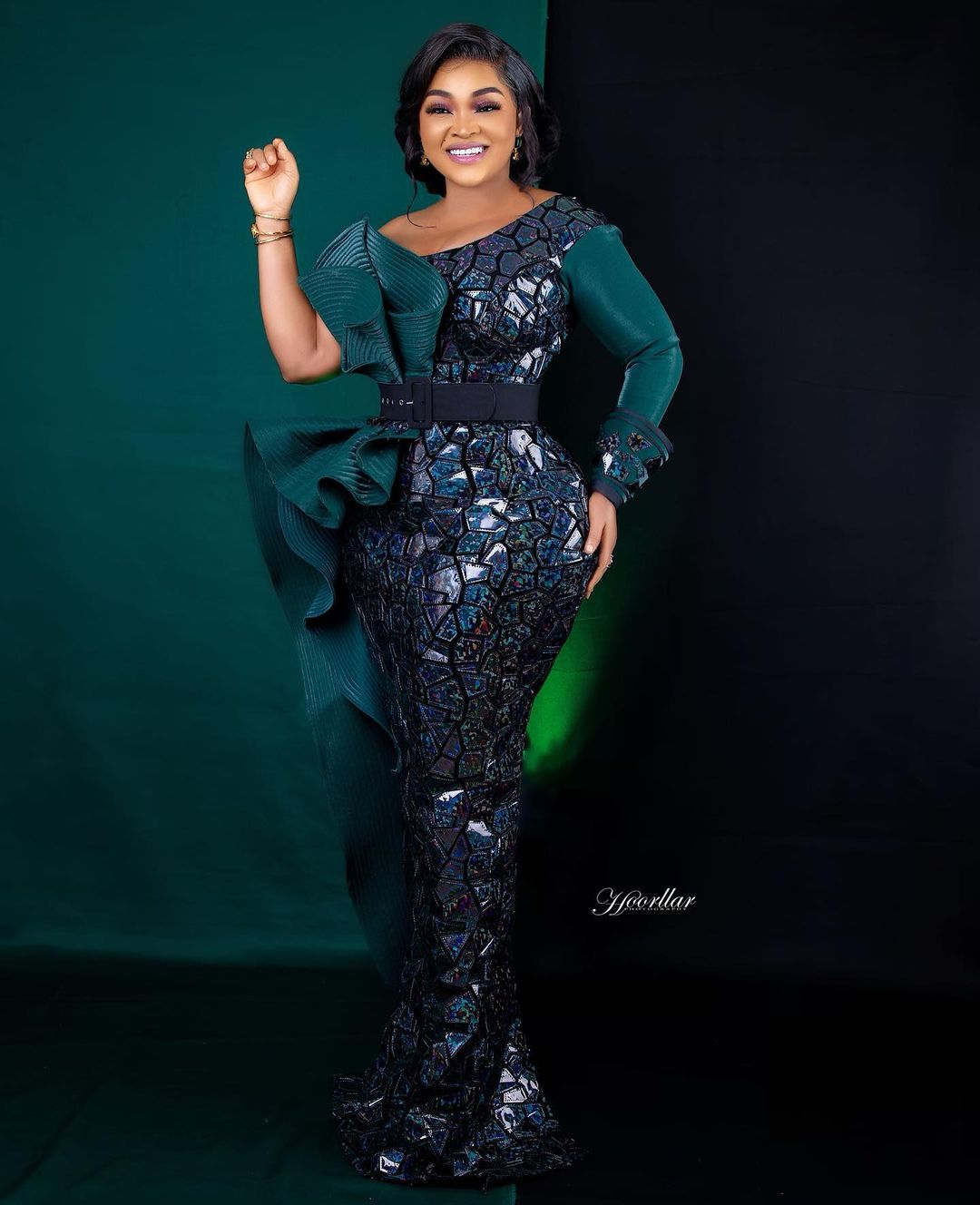 Outfit: @ceolumineeofficial
Mercy Aigbe fashion A game has also been something you can't help but love. She keeps it fun and lit all the time and this time there is no exception.
14. Stephanie Coker- Haute In Red
We must all agree red is the new sexy color and Stephanie wears it well. This is an outfit worth replicating for a date or night out with the girls.
15. Erica Nlewedim- Looking Dapper And Ready To Have Fun
Wearing @lanredasilvaajayi
Skirts have been around for centuries but seem to have just recently gotten interesting. Erica looks really beautiful and ready to rock any occasion.
Final Thoughts
Summer or harmattan season, celebrities and fashion influencers are not taking a break from looking stunning. They have found effortless ways to make casual outfits look impeccable and most importantly you can replicate them in your own style. Picking a favorite the best-dressed celebrity from last week is tough as always so we are leaving that to you.
Read more on CelebsThatRock: