Fulani braids are worth trying out and one of the major treason why every woman should have Fulani braids installed is that it protects any strand of hair type from damages.
Fulani braids are one of the most versatile hairstyles, from the incredibly intricate patterns to simple plaits, these braids are not just fascinating but can be done for any kind of occasion, whether you are in the office, at the gym, school, or even attending a wedding, there is always a Fulani braid that is ideal for you. Fulani braids are timeless and feminine which is one of the reasons why they have continued to be in trend.
Fulani braid is a style where you have a unique pattern of braids woven into your hair that transitions into braids or hair extensions that loosely fall down your back, this is a trendy form of hairstyle for African women and fast gaining popularity around the world and it can help you grow your mane longer.
If you haven't tried a Fulani braid yet then you need to check out some of the unique styles we have rounded up for every hair type, these are the latest Fulani braids to make your 2021 hairstyle game more interesting.
40 Latest Fulani Braids Hairstyle Ideas 2021
Fulani braids are easy to style and wear for a very long time, they are a great option if you want to rest your natural hair with protective hairstyle and this is protective hairstyles that keep you from content styling of your hair, below are 40 of the latest Fulani braid hairstyle ideas.
1. Shuku Fulani Hairstyles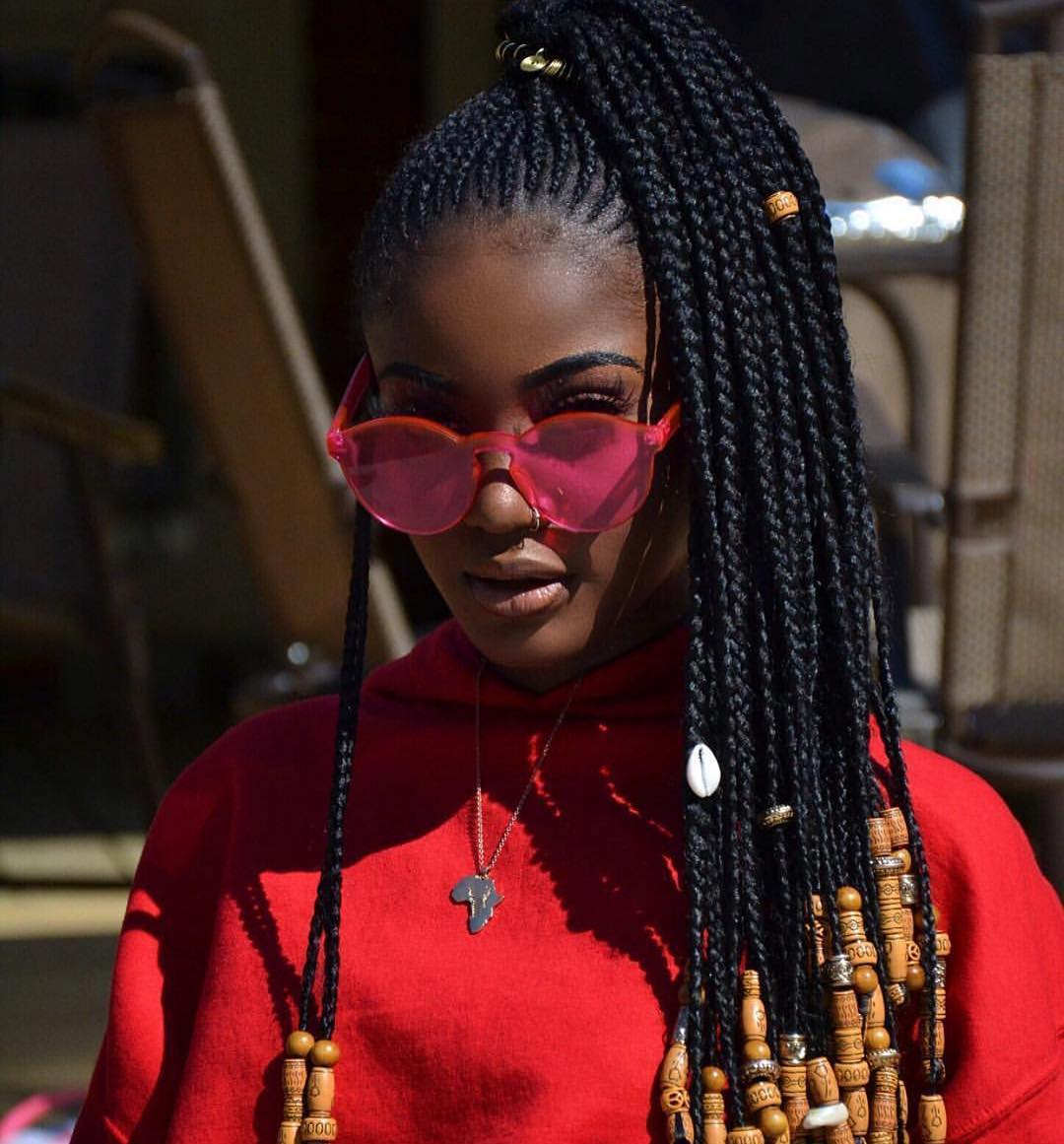 Shuku is one of the oldest African braid hairstyles and in this style above, Fulani style has been included in it with the side braid out and the beads did complete the look. This is a perfect look for anyone who likes to keep her edges laid and classy.
2. Fulani Braid With Loose Ends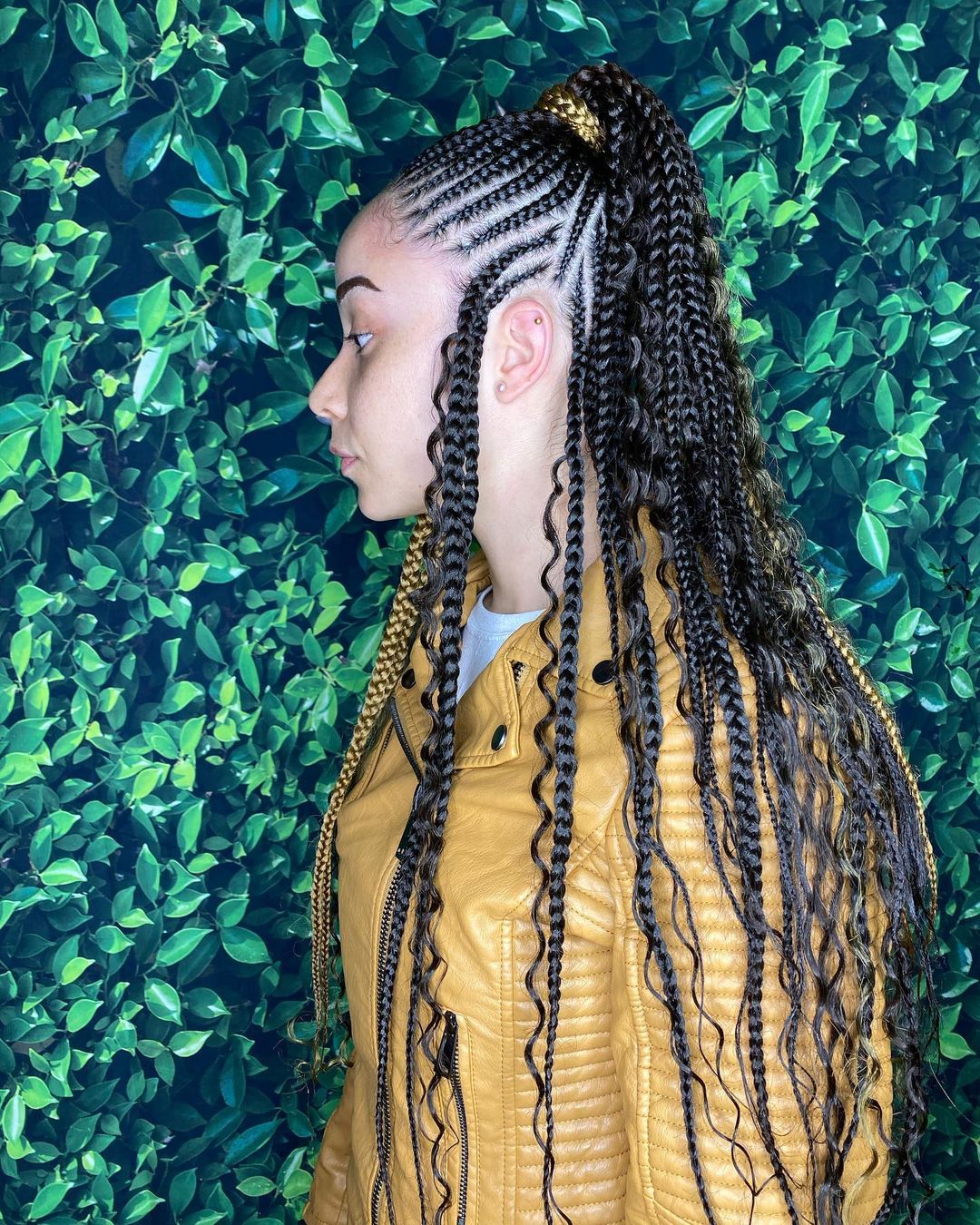 Loose tips have a way of making the Fulani braid hairstyle stand out, it is simple and not too elaborate however you can make it so with colored extension. It is the ideal style for ladies in 2021.
3. Classy Fulani Braid Hairstyle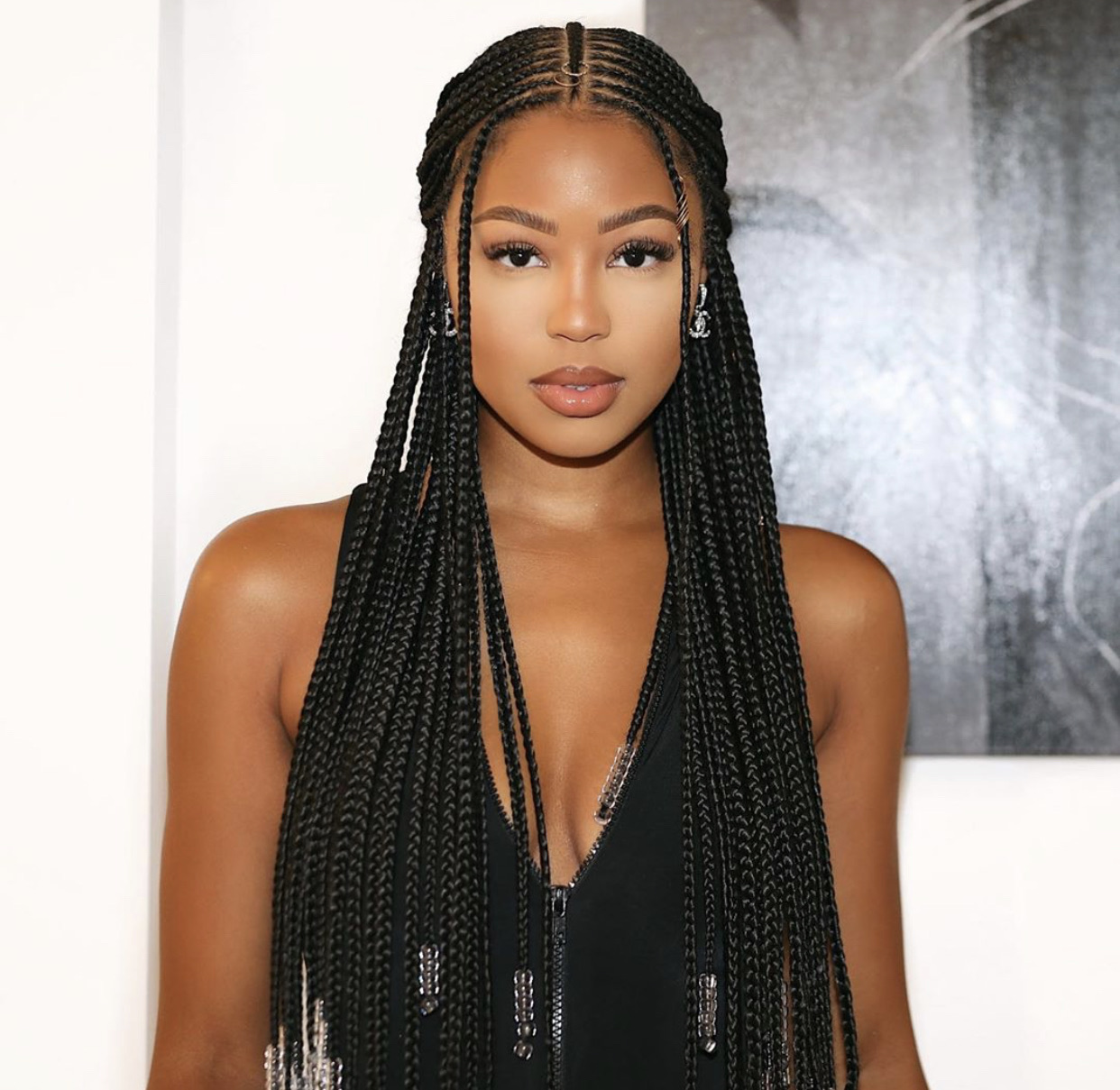 This is quite beautiful and the word that comes to mind is definitely classy.
4. Cross Pattern Fulani Braid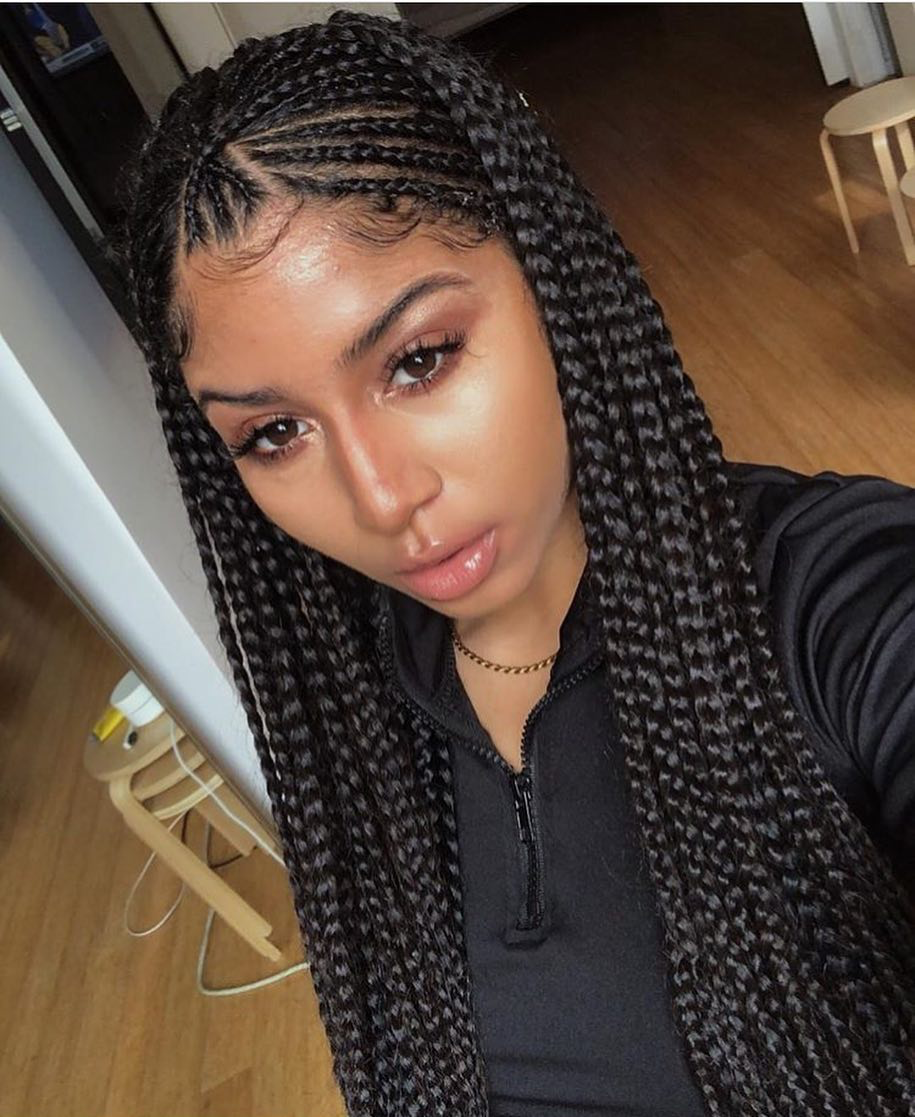 The cross pattern at the front of the braid is perfect if you are not so into cornrow braids. It is also very easy to style and all you need is to show your stylist.
5. Two-Step Fulani Braid With Pattern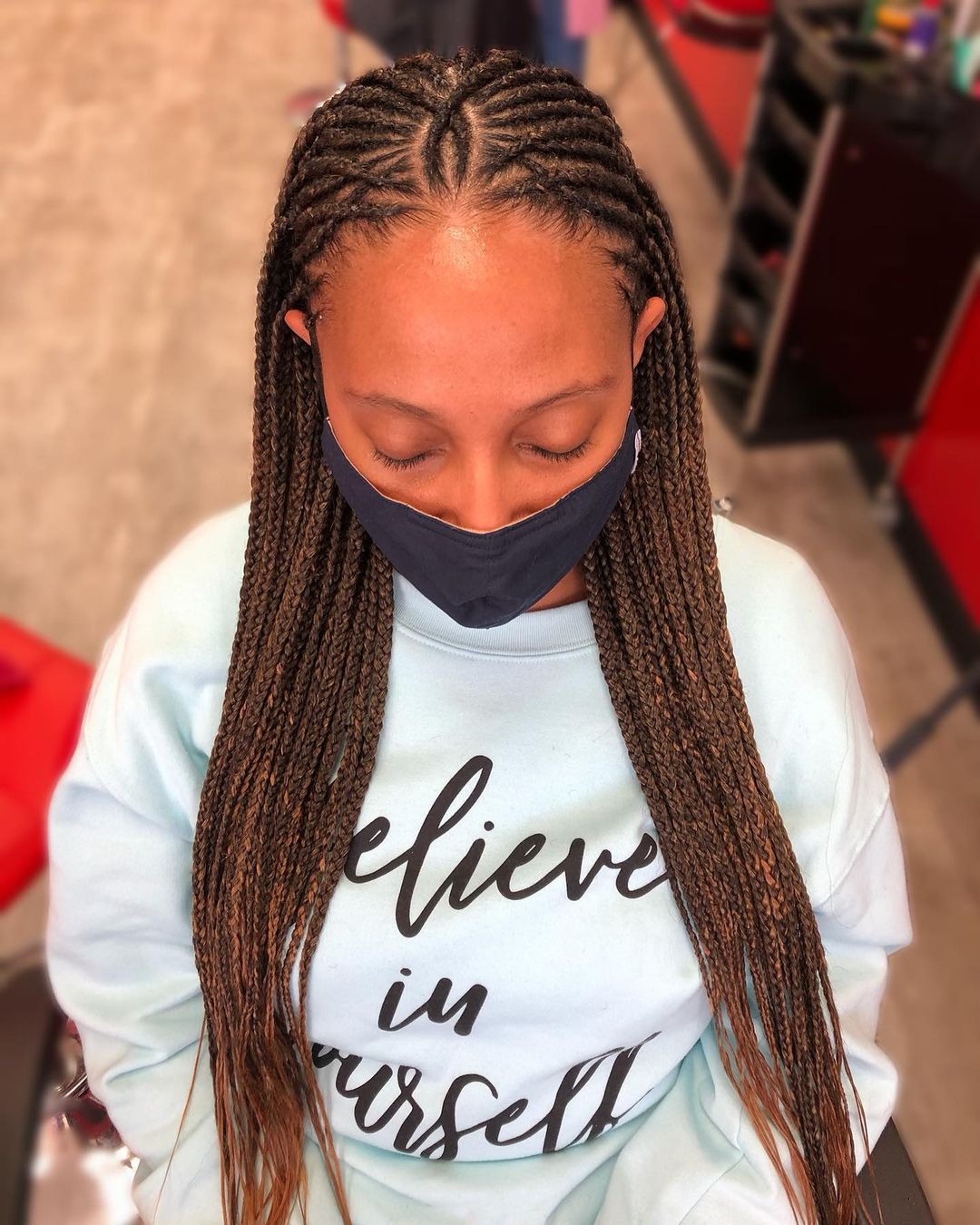 Here is another fascinating way to style your two-step. Add a touch of the tribal braid to it and you are good to go.
6. Cute Braid With Green Tips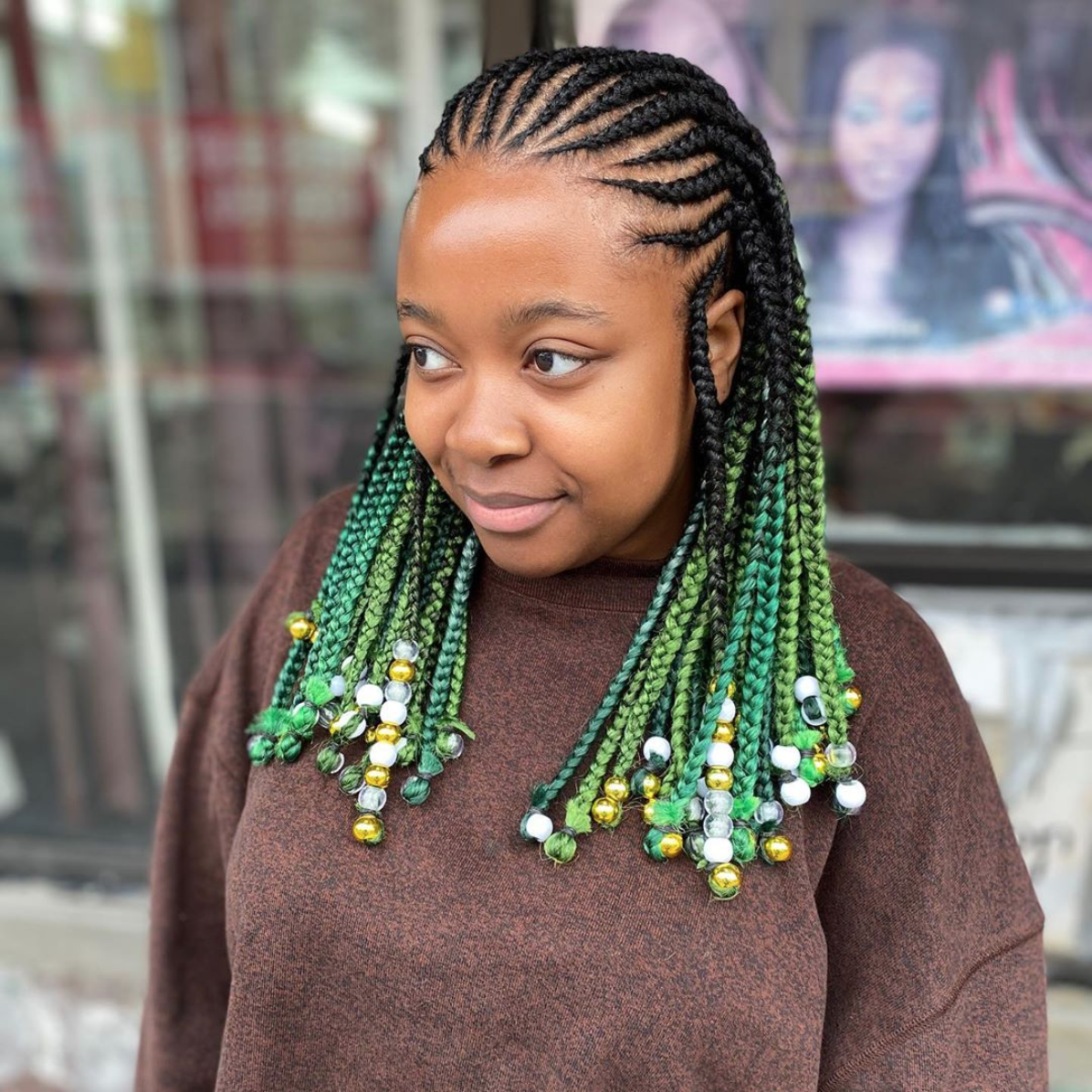 The ends of your braids are just as important as the front. To make the end stand out, complete with green or any colour of your choice.
7. Shuku Tribal Braid
When it comes to Fulani braids, shuku happens to be the most plaited type of it and it gets even more interesting with styling. This is a simple shuku Fulani braid you can have your stylist make in minutes.
8. Burgundy Fulani Braid
Keep it less dramatic but cool with burgundy attachment.
9. Simple Fulani Updo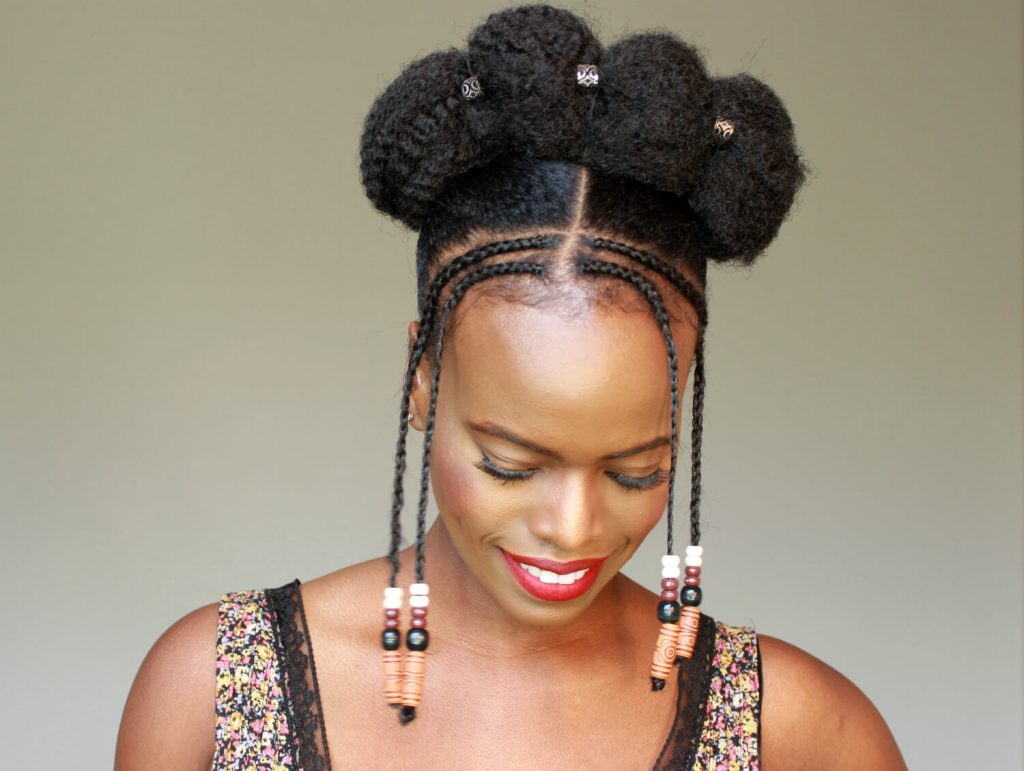 A cute and simple updo will do just fine if you can't sit for long.
10. Blonde Fee-In-Braids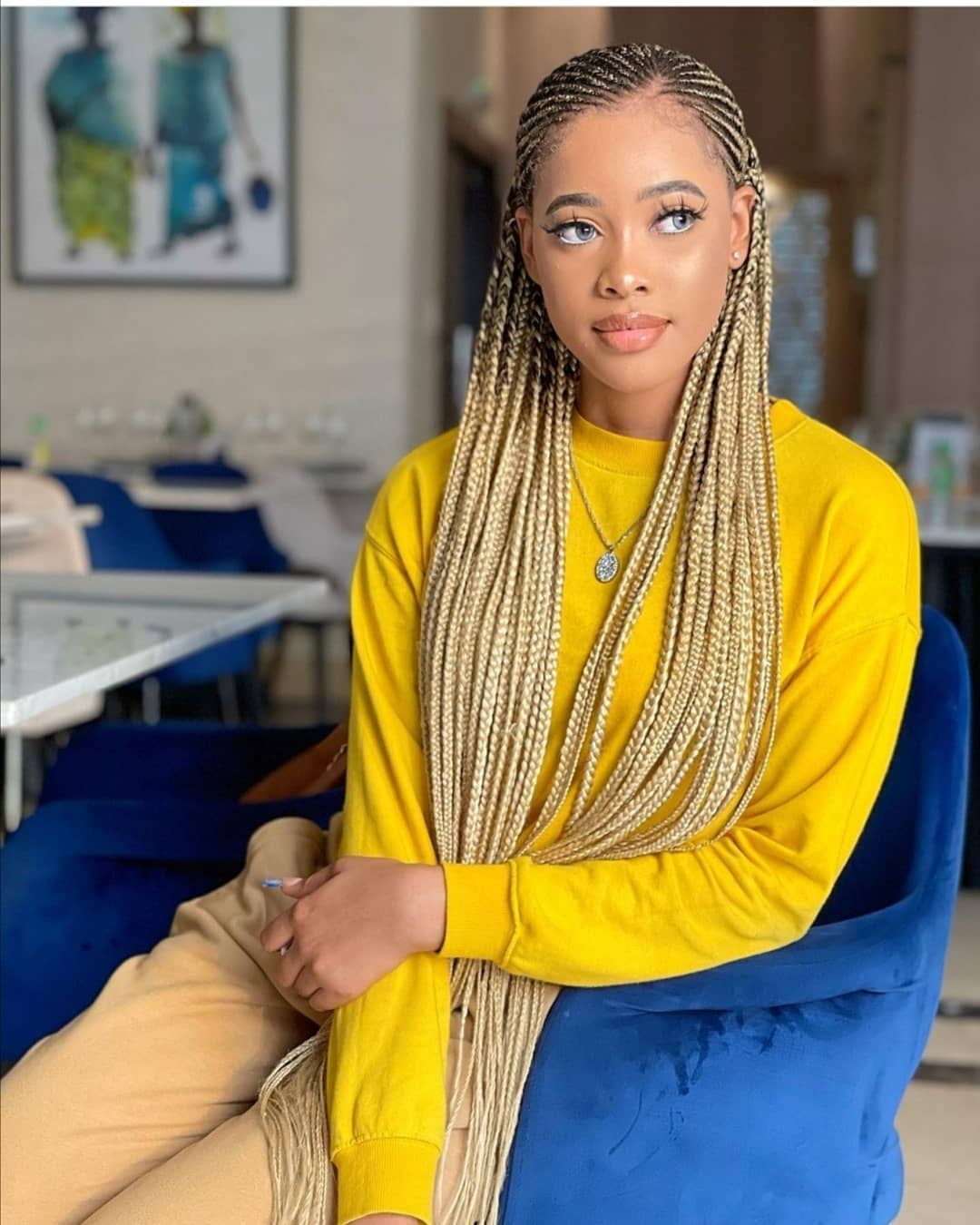 This blonde look is going to be around for a very long time. The cool fancy look is not just from the braided hairstyle itself but from the blonde attachment used for the hair and it's lovely.
11. High Bun Fulani Braid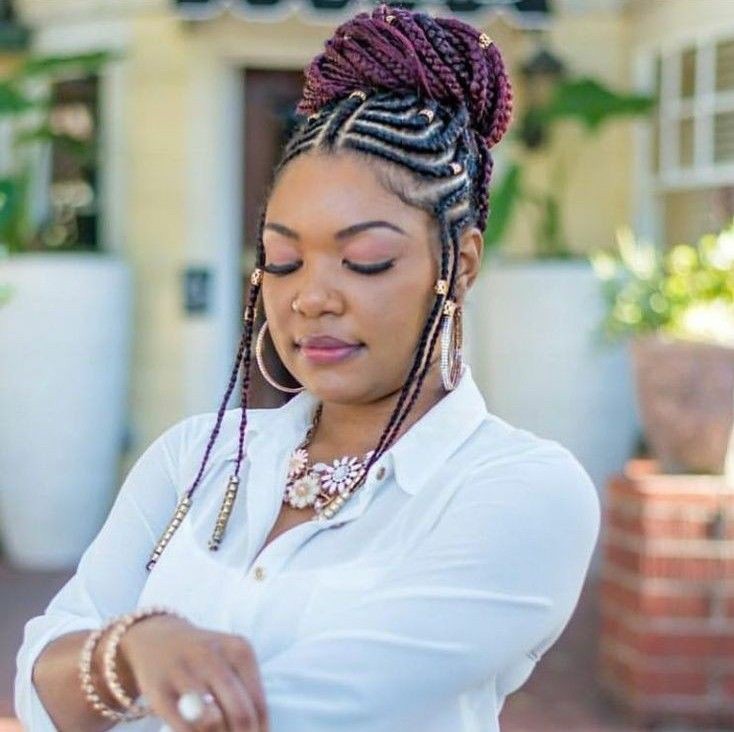 High bun Fulani braid comes with a classic look you can't help but love to try out, this is one of the oldest forms of Fulani braid, beads are used to adorn it and a coloured extension can be used for a more unique look. This can be a summer hairstyle to keep your hair from getting dry and away from your face.
12. Half Up And Half Down Fulani Braid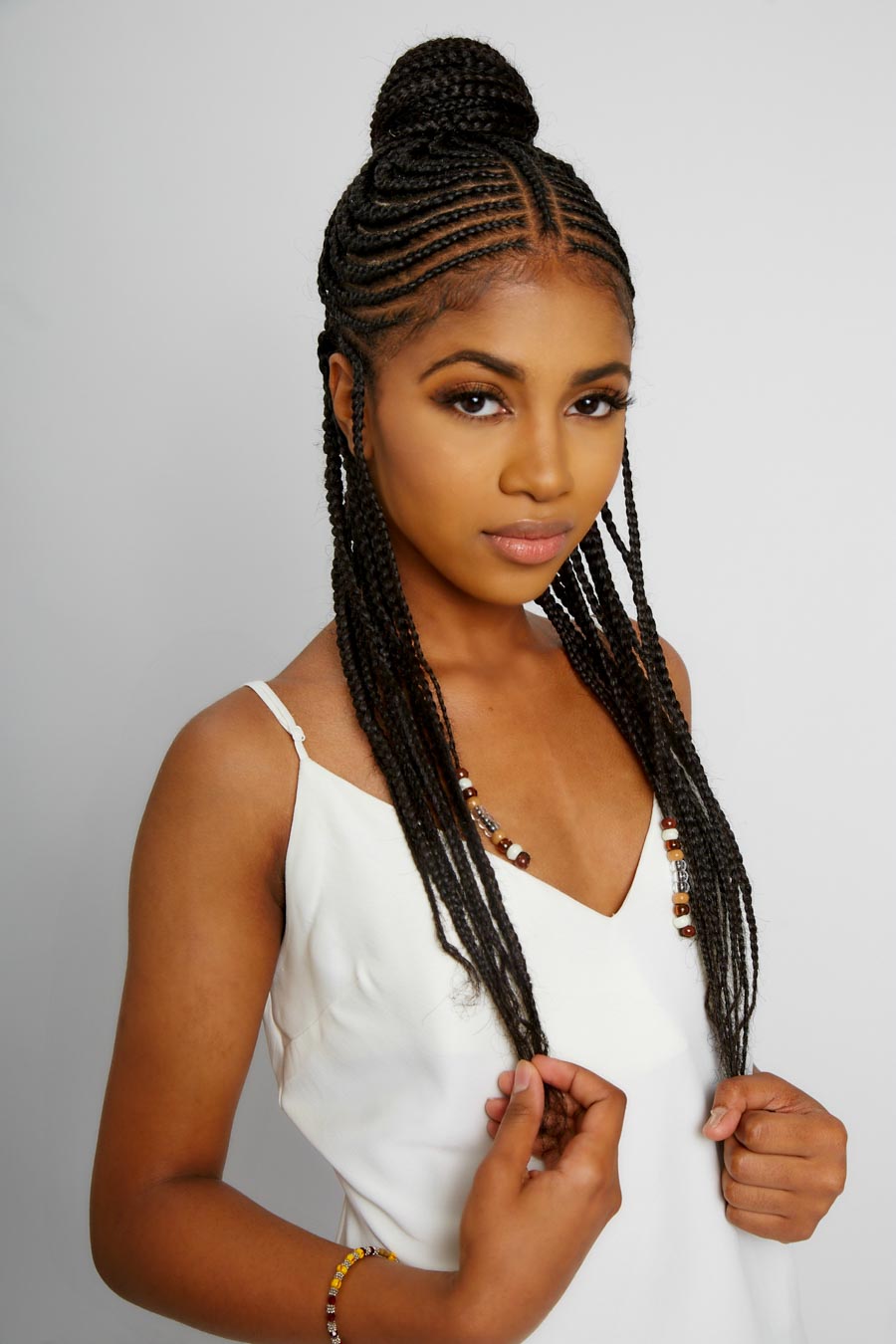 You can make your Fulani braid hairstyle more fascinating with unique styling, half up, half down Fulani braid is not just gorgeous but suitable for all hair type, any kind of extension can be used depending on how long and dramatic you want it to look.
13. Ponytail Fulani Braid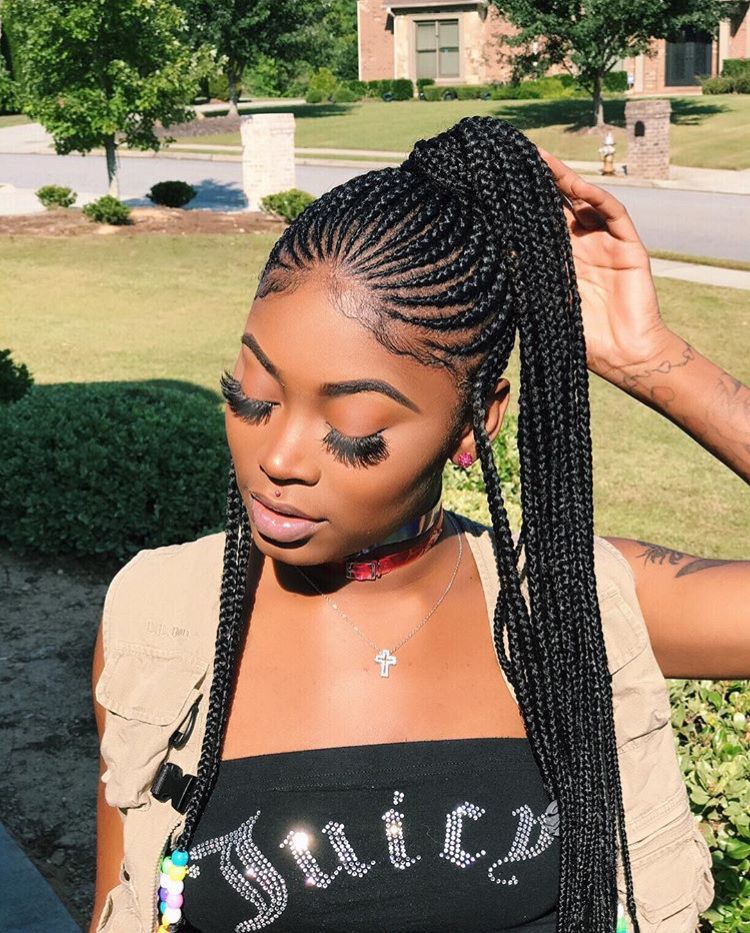 Ponytail braids are simply beautiful and perfect for all kinds of occasion, this does not require any special styling as it is a fixed for of hairstyle and all you need is a stylist that make it neatly with extensions.
14. Two-Step Fulani Braid With Beads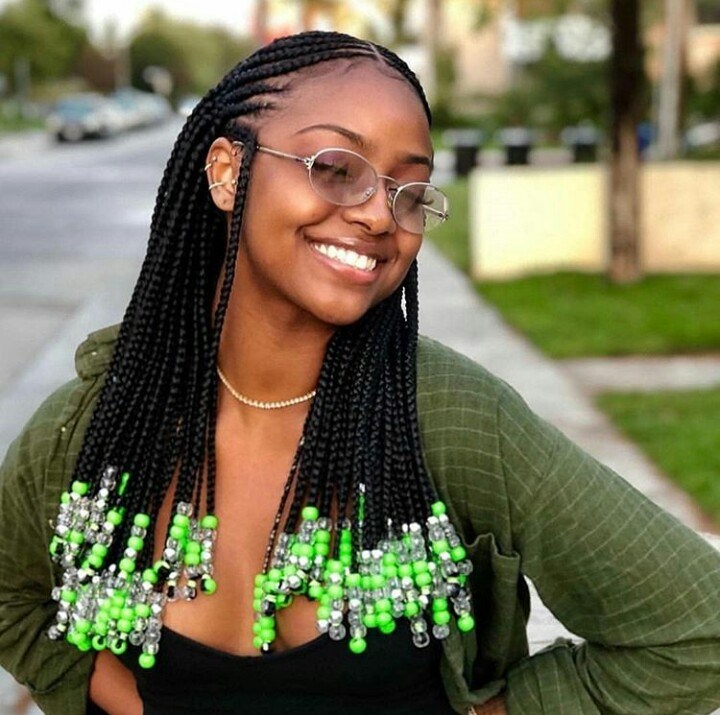 This is just the right hairstyle if you have a smile or oval face shape and need a trendy hairstyle that highlights your face shape, adding gorgeous colourful beads to the style makes it look absolutely splendid.
15. Ethiopian Fulani Braid With Hair Accessories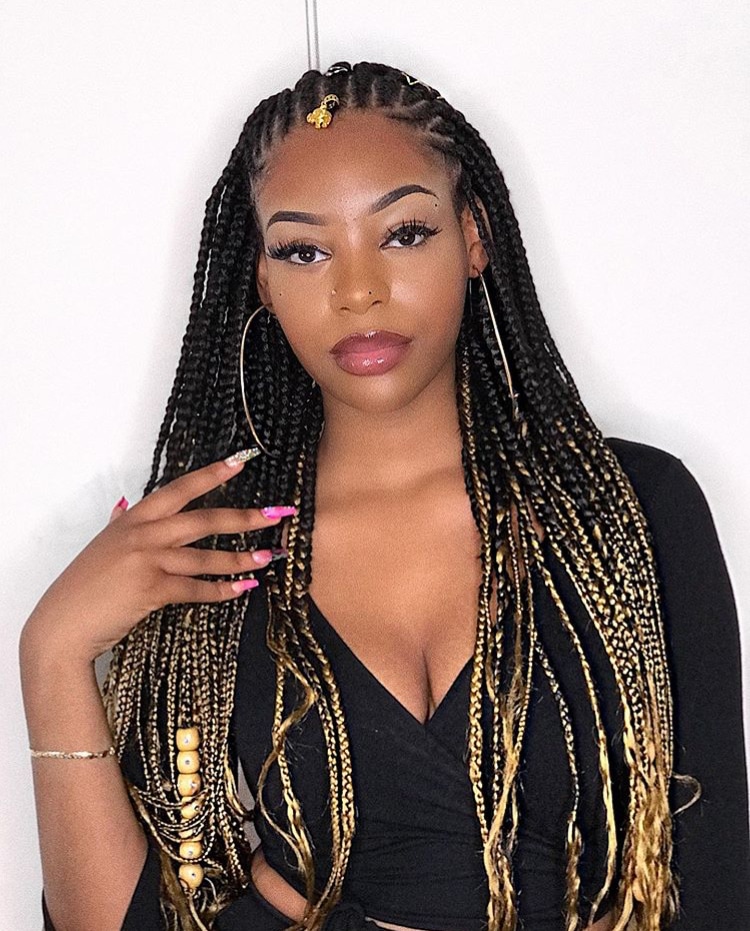 Hair accessories add a more exotic appeal to any form of hairstyle, your Fulani braid can look even more outstanding when styled with different hair accessories ranging from beads to hair barrettes.
16. Simple Two-Step Fulani Braid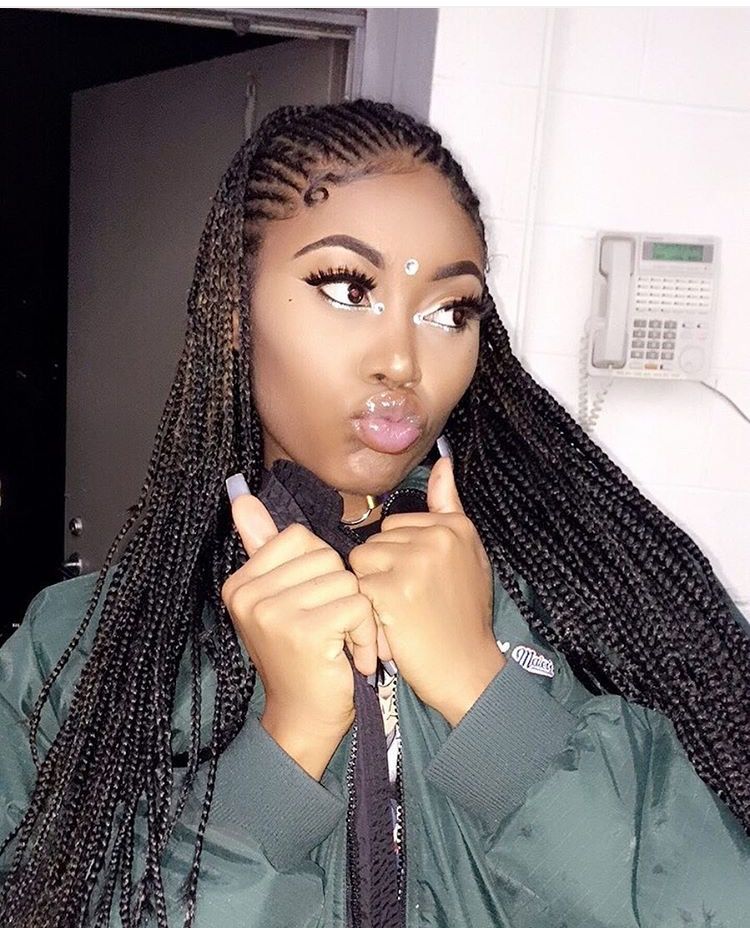 If you are a fan of shimmery eye makeup then above is a great hairstyle that has been adopted for years for its unique appeal an how it easily highlights the face and bring out any kind of makeup.
17. Tribal Fulani Braid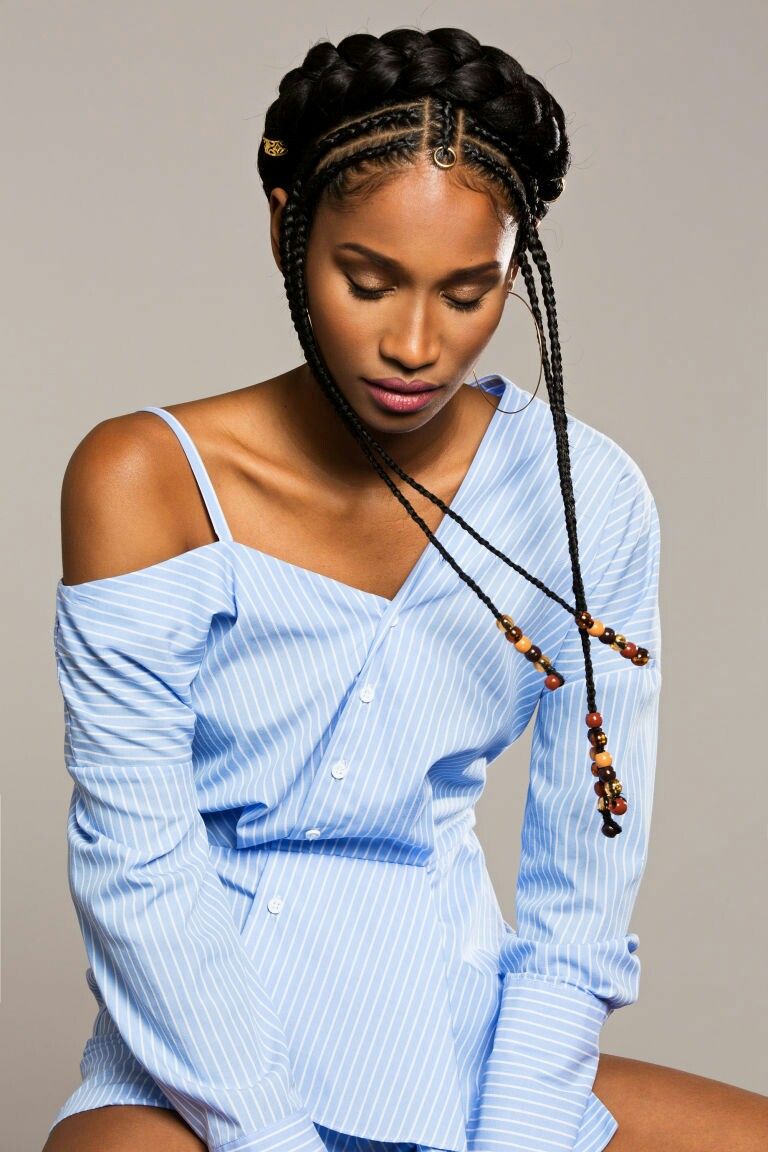 This is one of the simplest forms of Fulani braids, it is called tribal Fulani braids because it is most common in the Nothern part of Nigeria, it's a classy hairstyle and requires less time and effort compared to other braids,
18. Double Bun Fulani Braid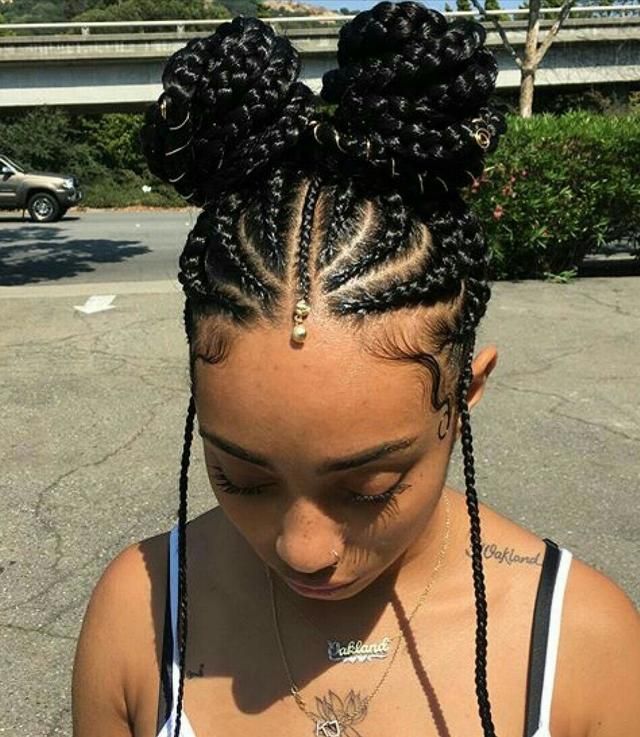 Double bun styling needs no introduction, it is a common style for natural hair and you can make it more exciting with a Fulani braid.
19. Center Parted African Fulani Braid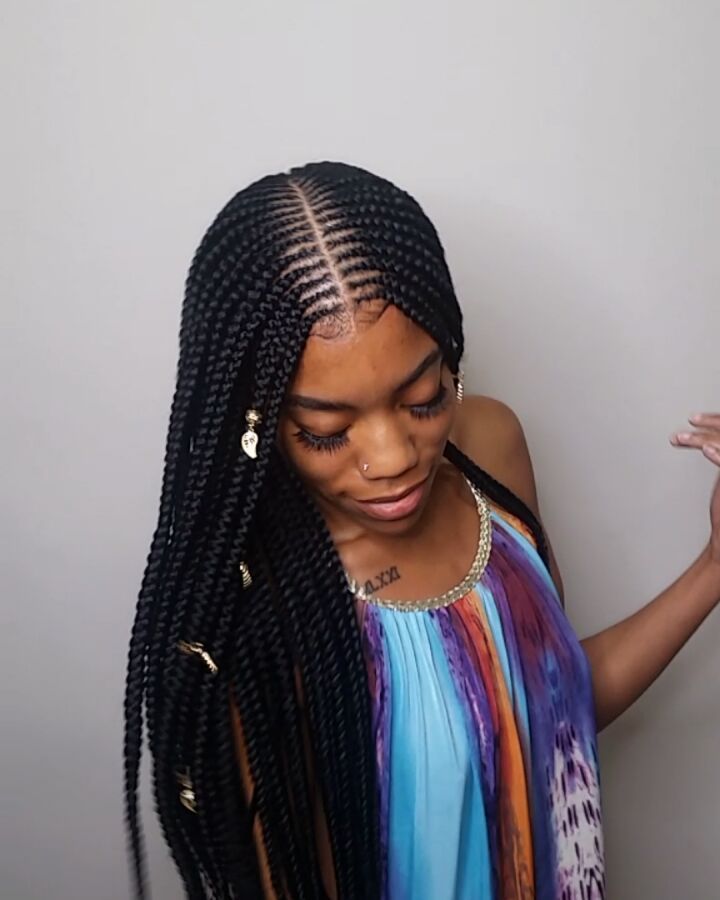 Another braid that looks dramatic but lovely is a centre parting full ni braid, this braid can be worn by any hair type and tend to last for a very long time if you are good with keeping braids.
20. Fulani Braid With White Extension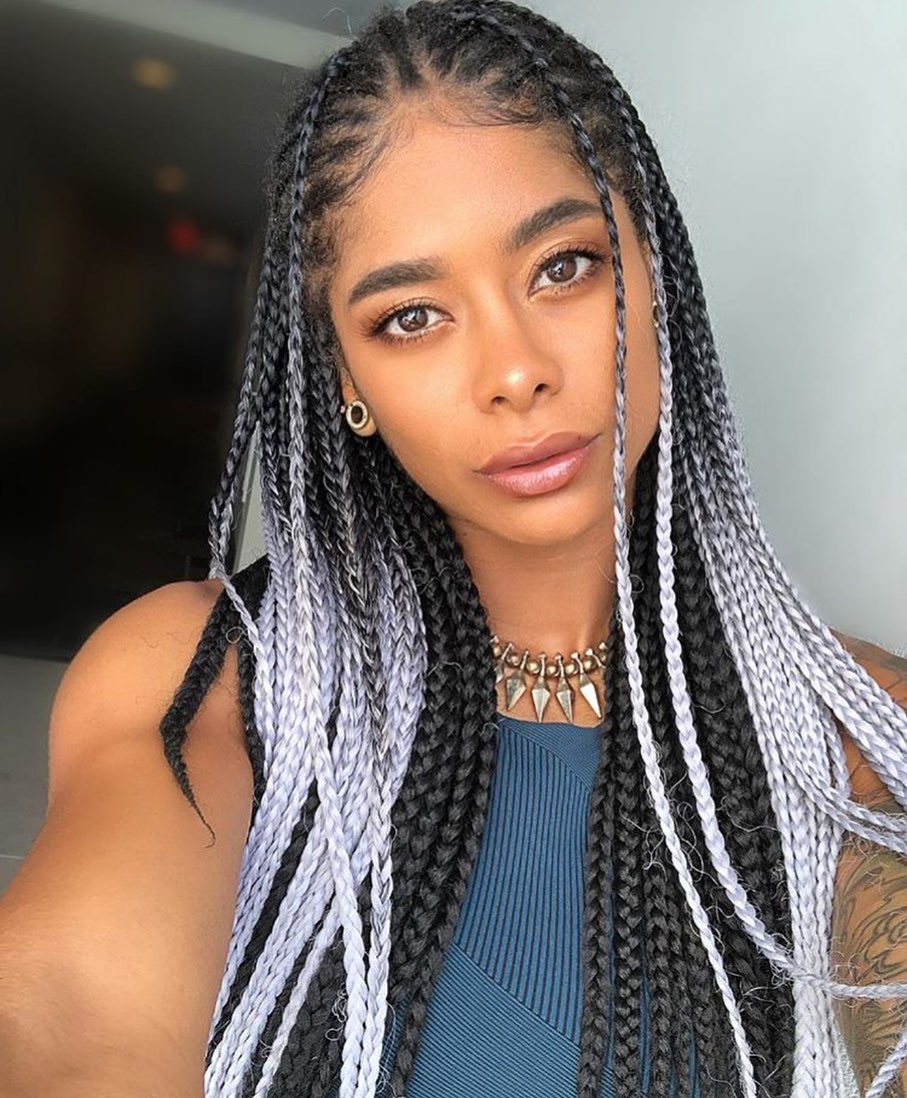 If you are looking for a way to make your Fulani braid and interesting one, the perfect solution would be adding a colourful extension and above is one of the most used types of extension, white is not too dramatic or flamboyant and you can easily mix it with black to keep it cool.
21. Two-Step Fulani Braid Without Base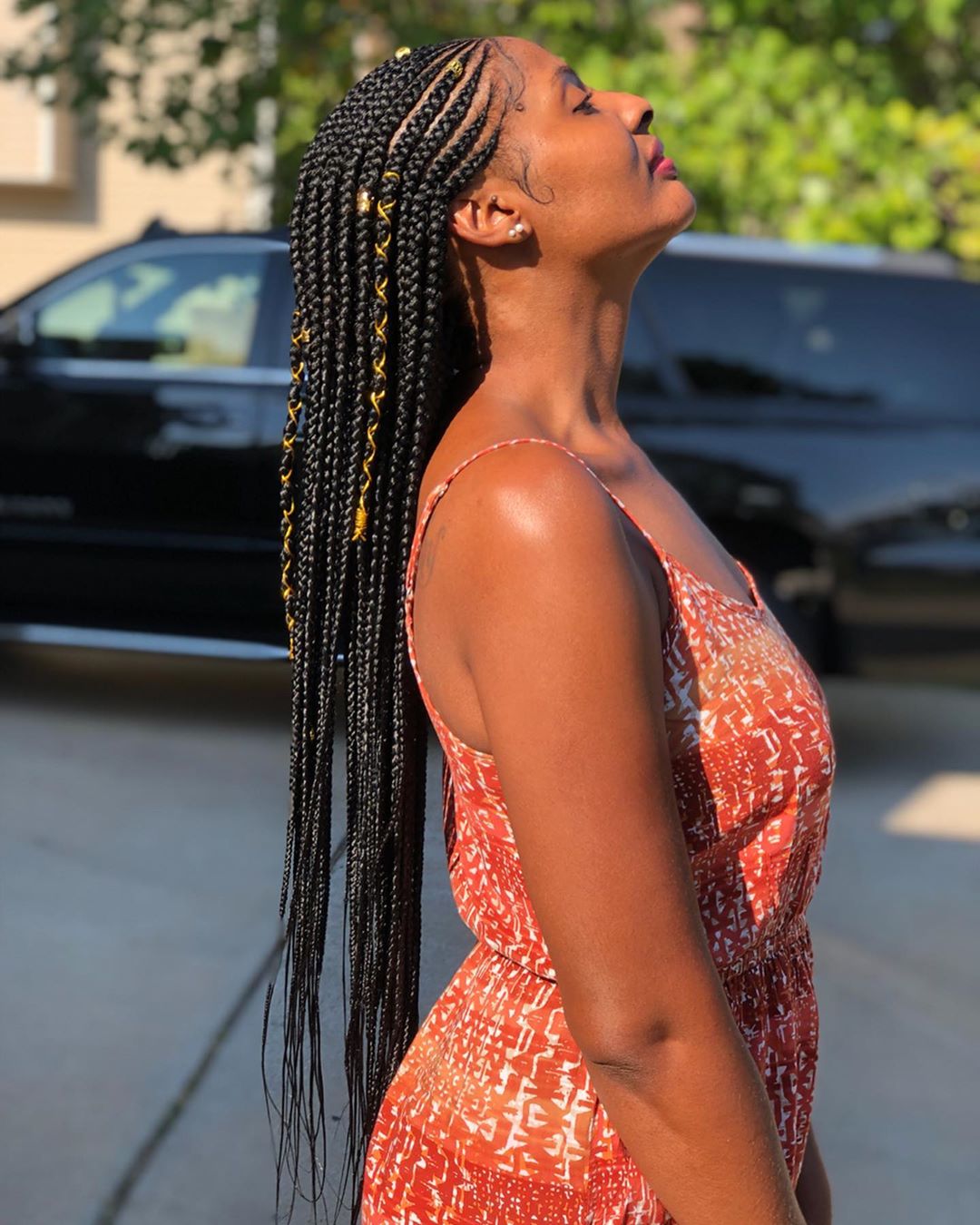 Often times you want to keep a braid hairstyle simple which is why a two-step braid without base is recommended, this is also fitting for those with front hair and not worried about breakage.
22. Brown Extension Tiny Centre Braid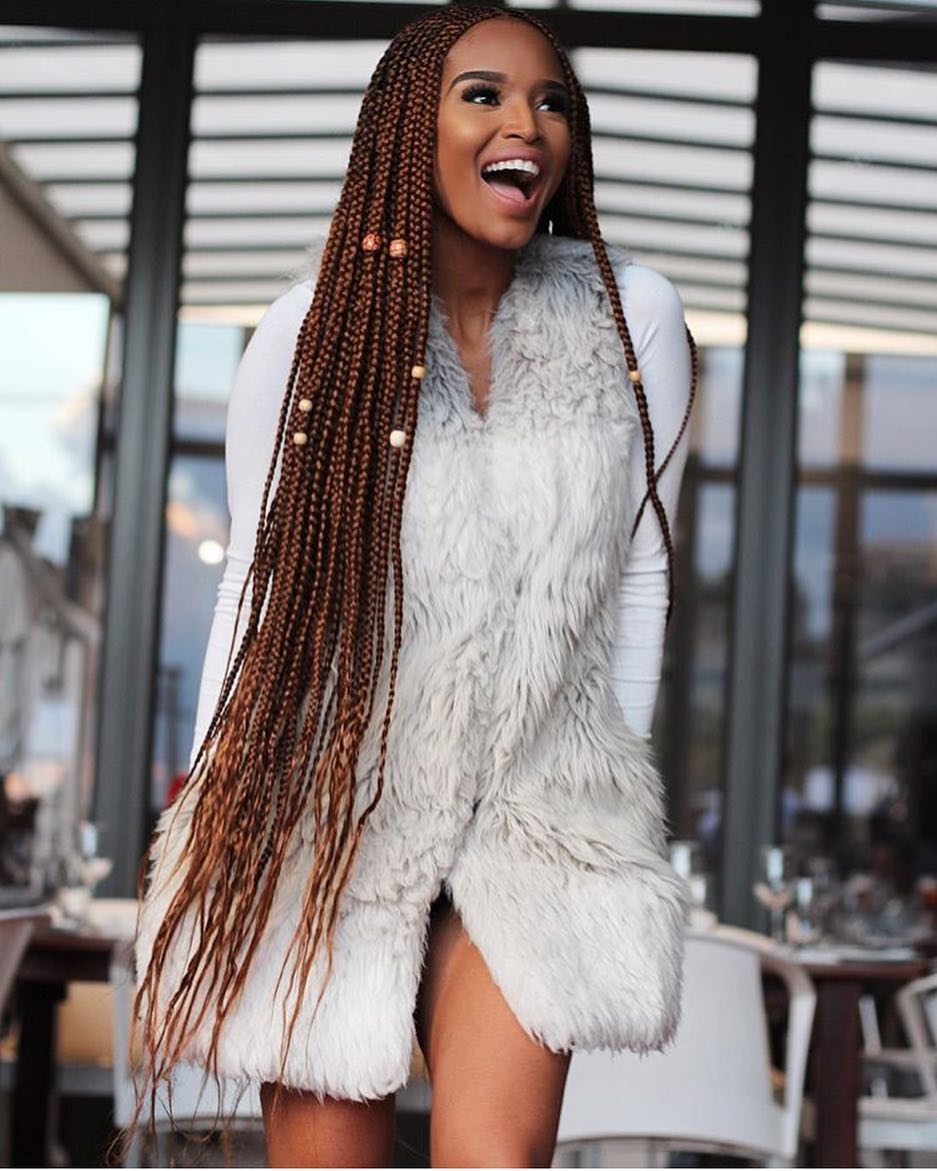 Centre braids are fun and can be tweaked to suit your preference if you are bored with the usual black extension, you might want to go with a brown extension which is known to be even fancier and suitable for brown skin girls.
23. Feed-In-Braid Fulani Hairstyle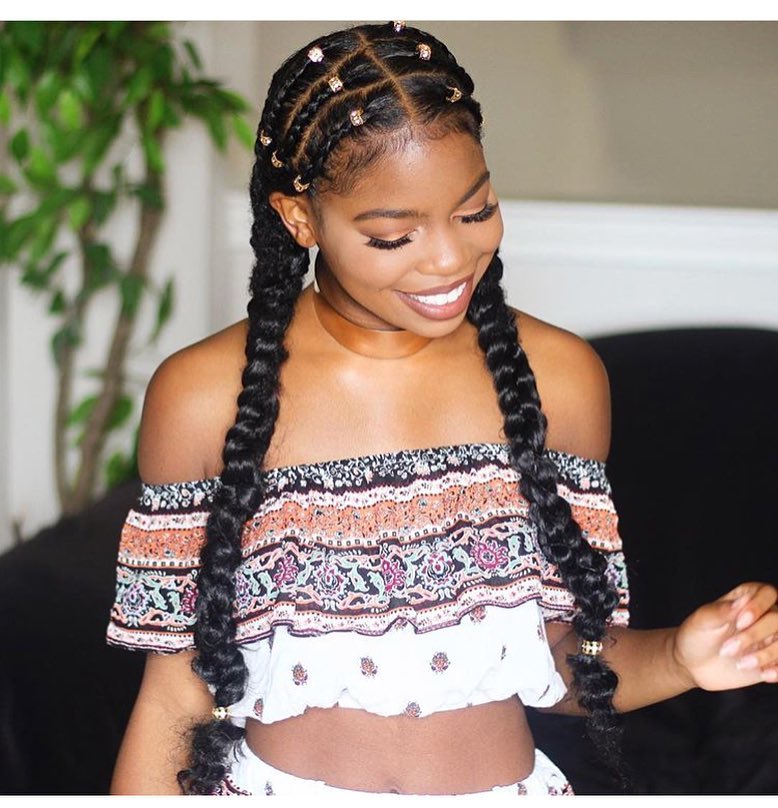 Fulani braids do not have to be dramatic, it is best to keep it simple if you have fragile hair and scalp, the hairstyle above is one of the most recommended hairstyles for transitioning natural hair.
24. Bun Braid With Conrow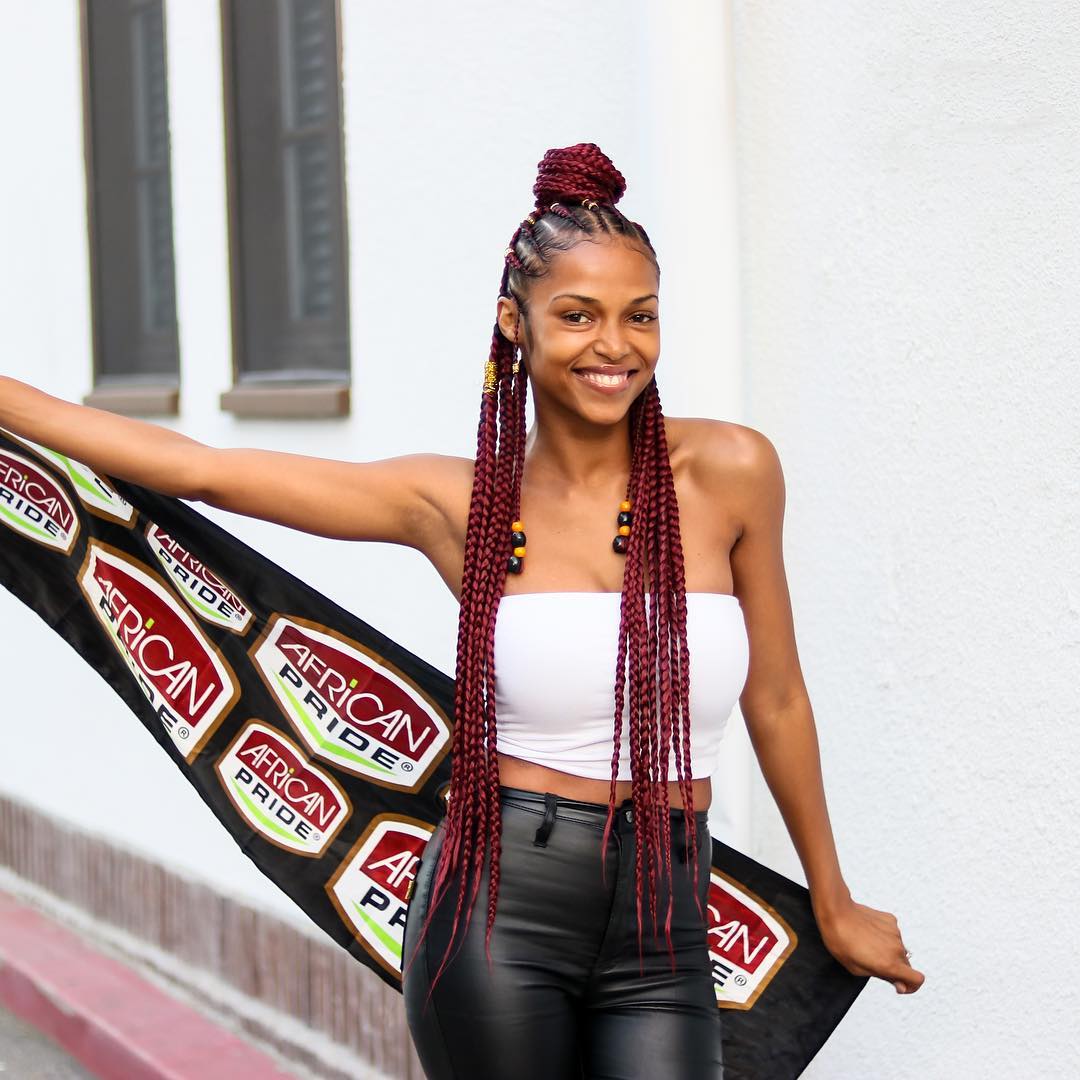 Here is a Fulani braid you will find very convenient and simp[le to make, takes less time but can last for a long while.
25. Tribal Braid With Bun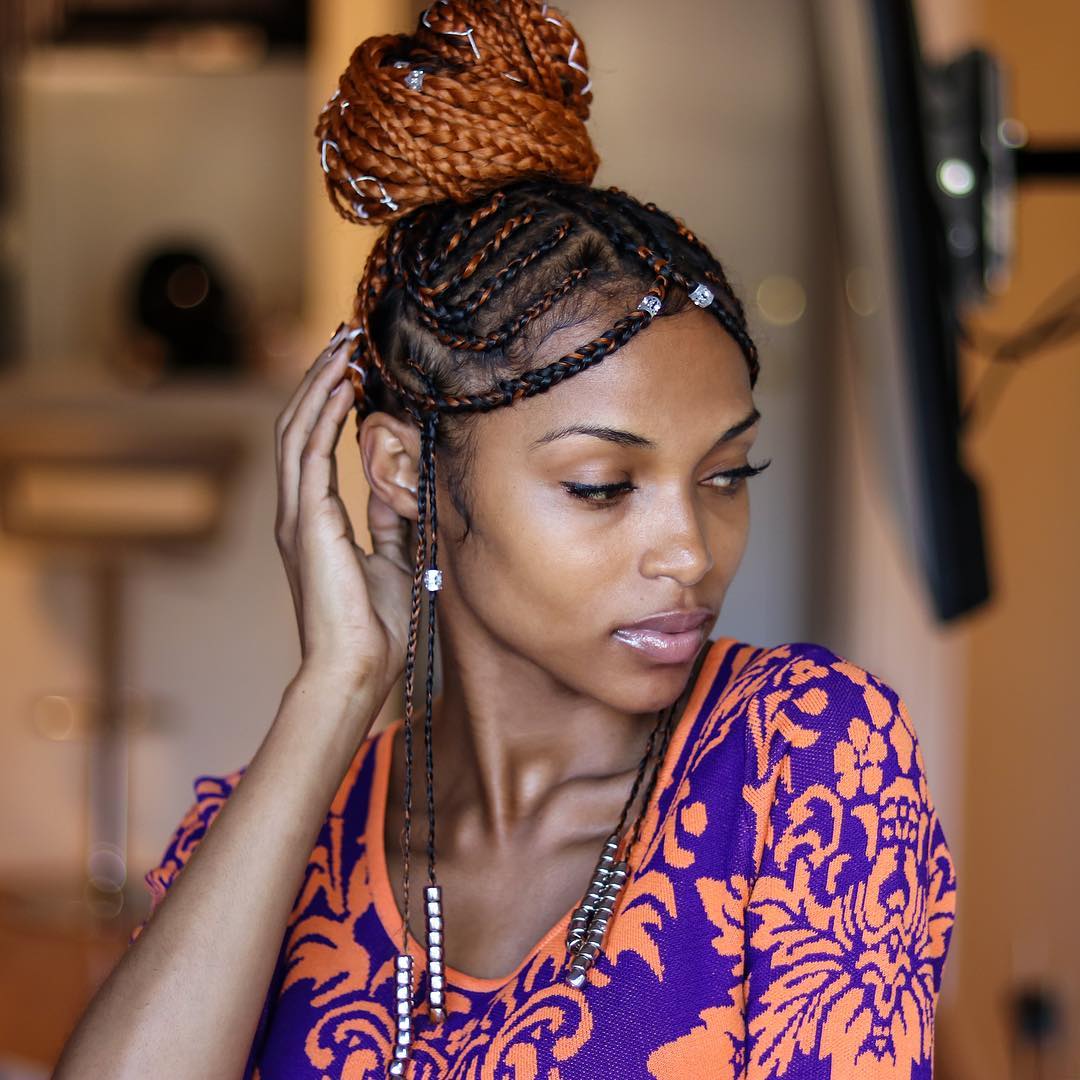 Another way to rock a Fulani tribal braid and keep your hair healthy is by adding a bun to it. This is trendy and unique as well.
26. Feed-In Braid Center Parted Fulani Braid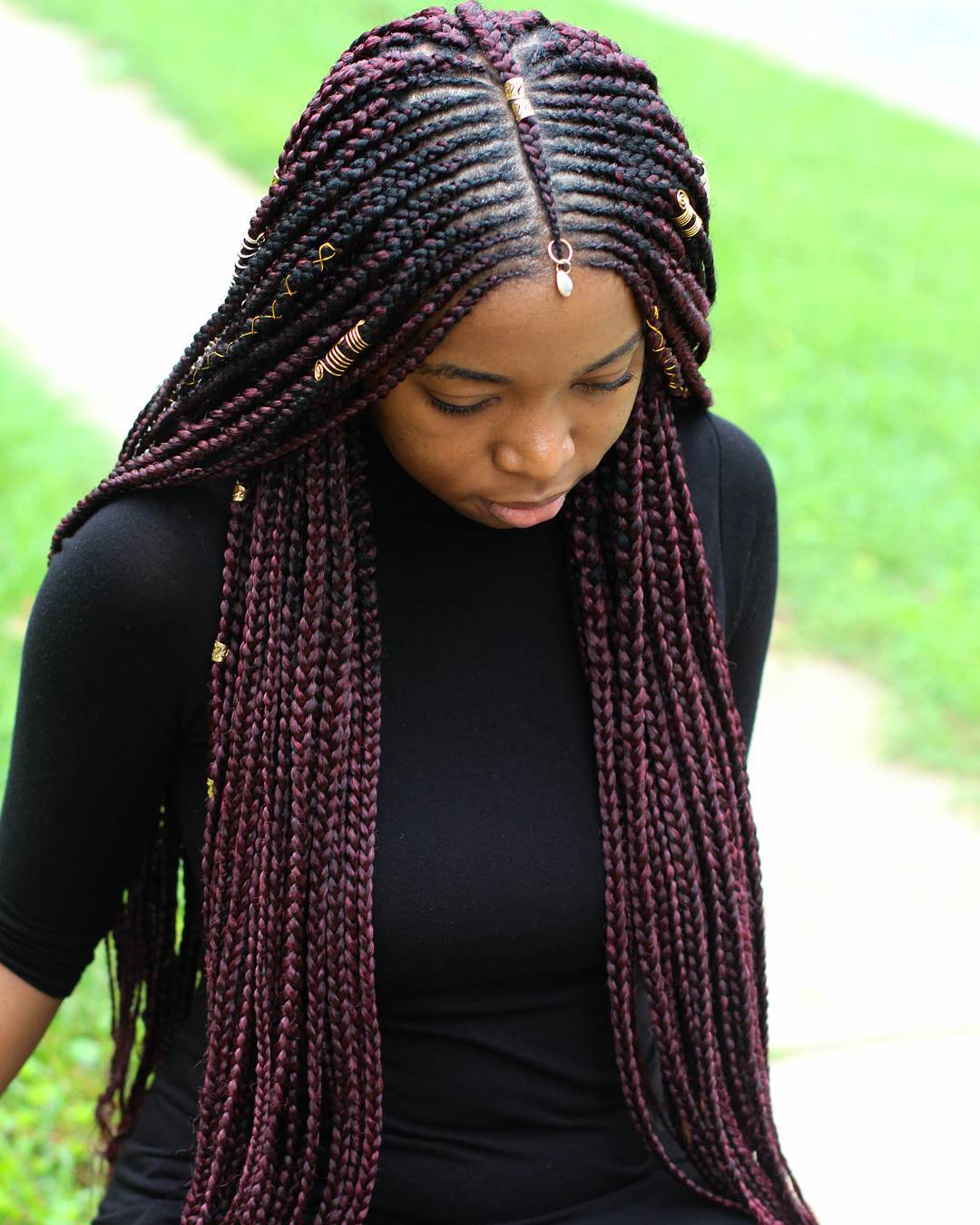 Just a stylish feed-in the middle to add a different appeal to your Fulani braid.
27. Low Ponytail Fulani Braid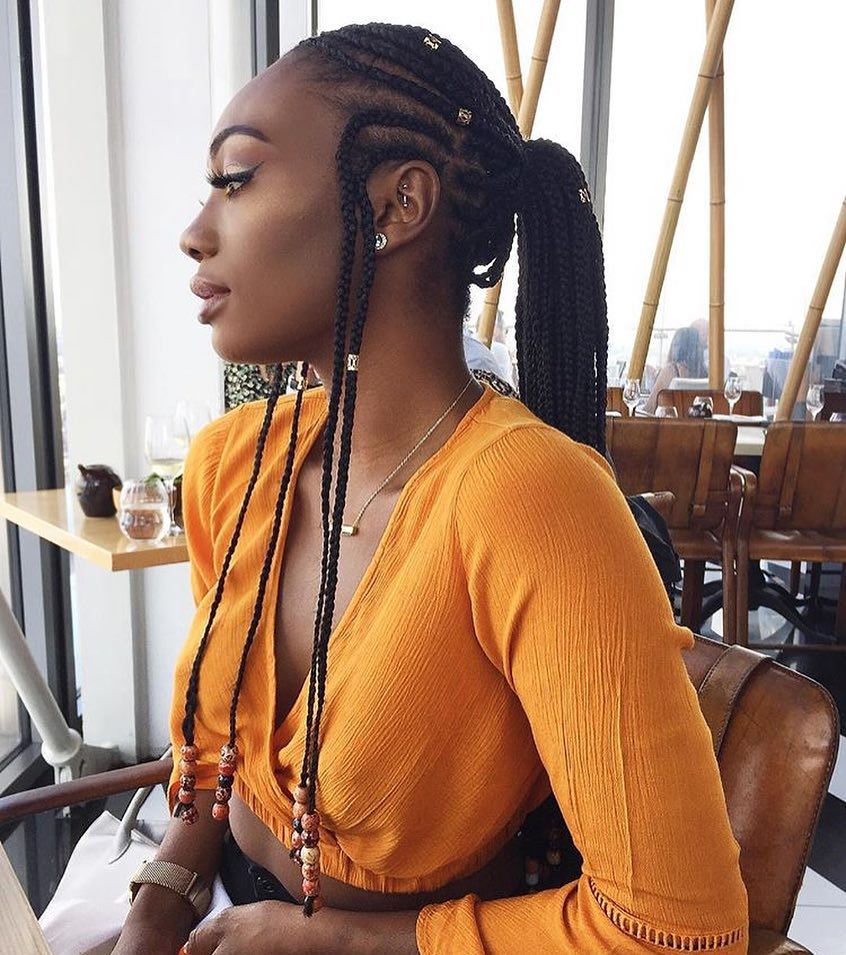 A combination of ponytail braid and Fulani braid can't go wrong, here is a low ponytail braid to give you a casual weekend look.
28. Stylish Fulani Braid With Green Extension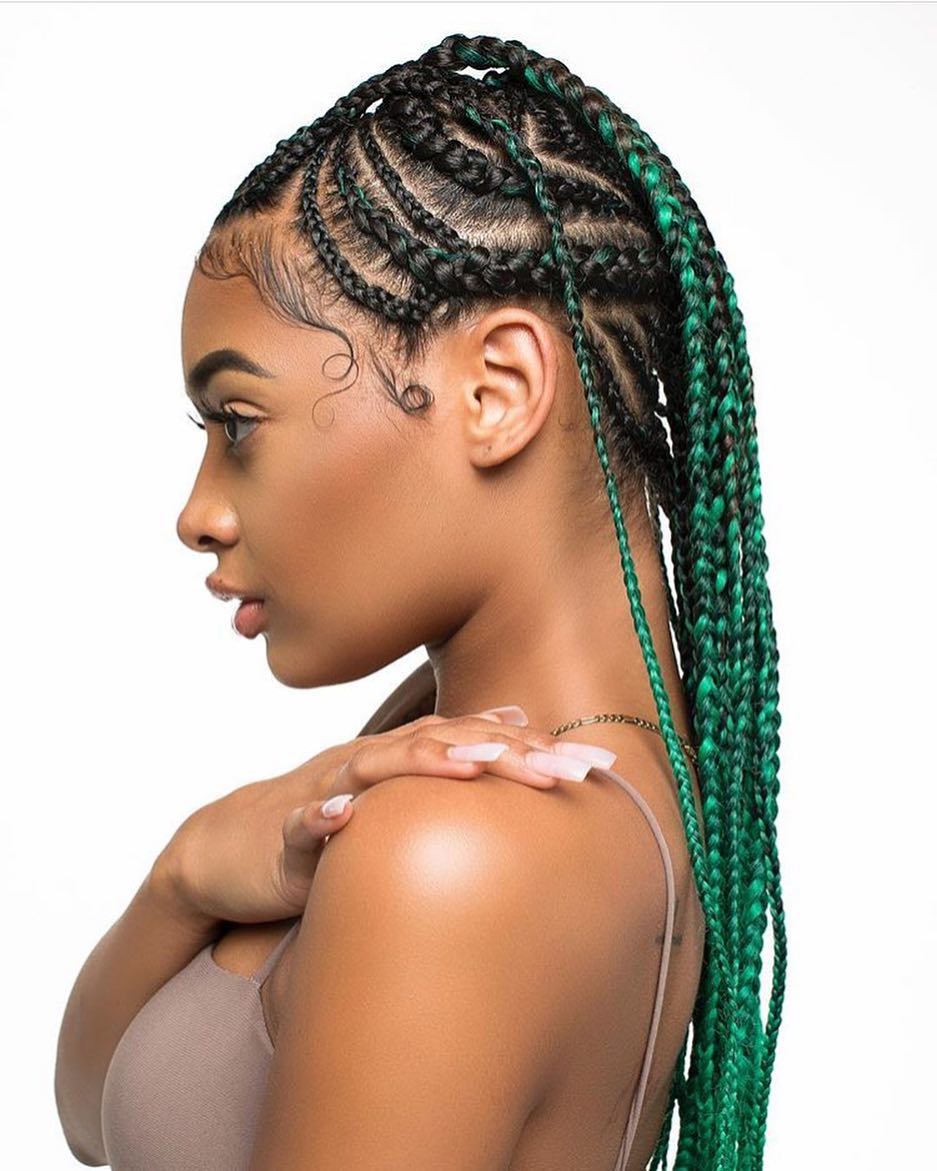 This is a really stunning Fulani braid hairstyle less dramatic but the green extension adds some fun to it.
29. Fulani Braid With Crochets And Beads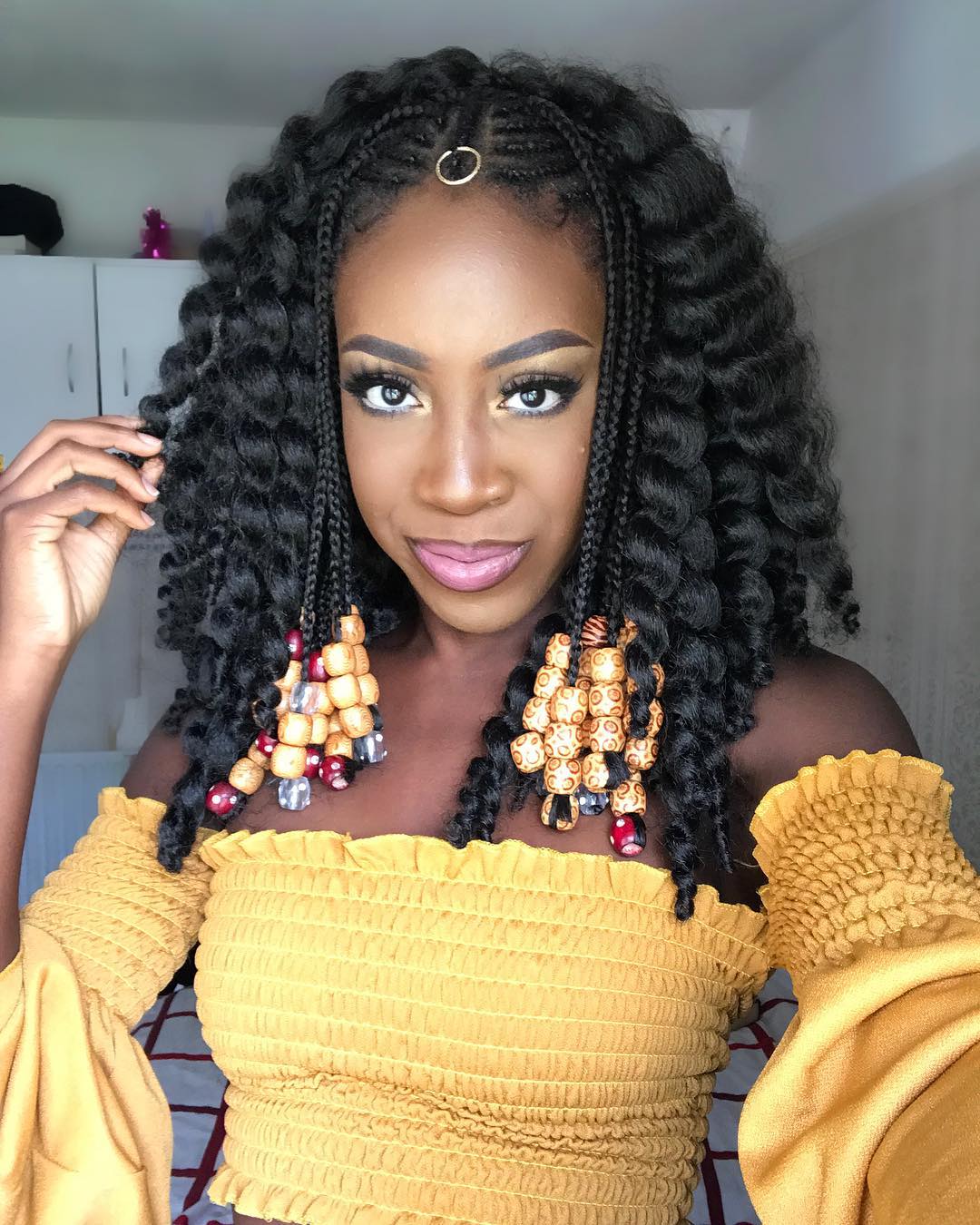 If you are bored with the usual extension, you can add crochet to it, this is an interesting look to get for any elaborate event.
30. Cornrow Styled Fulani Braid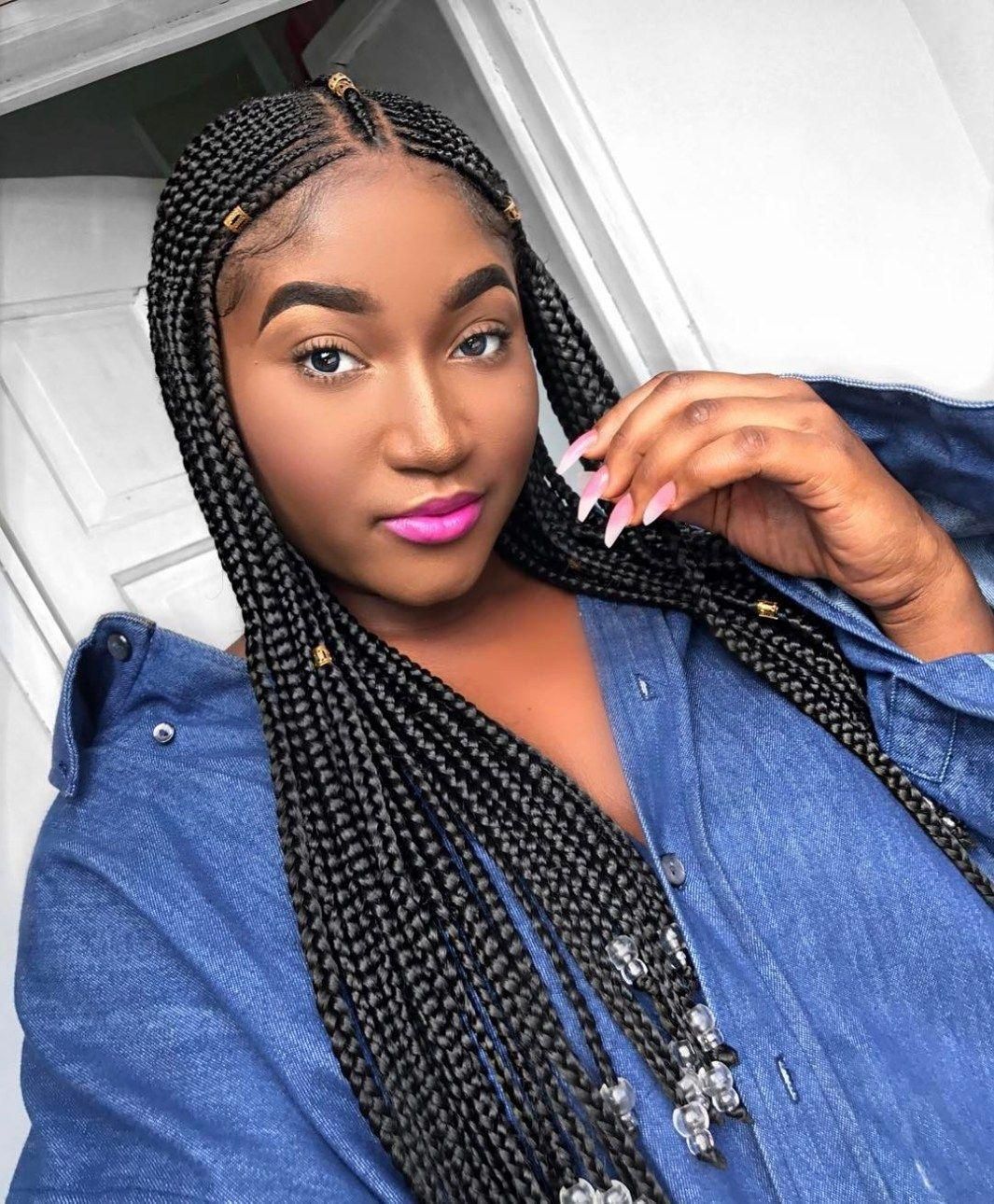 Another Fulani braid that has been styled with unique patterns of thin braids, this is popular braid for all hair types.
31. Traditional Fulani Braid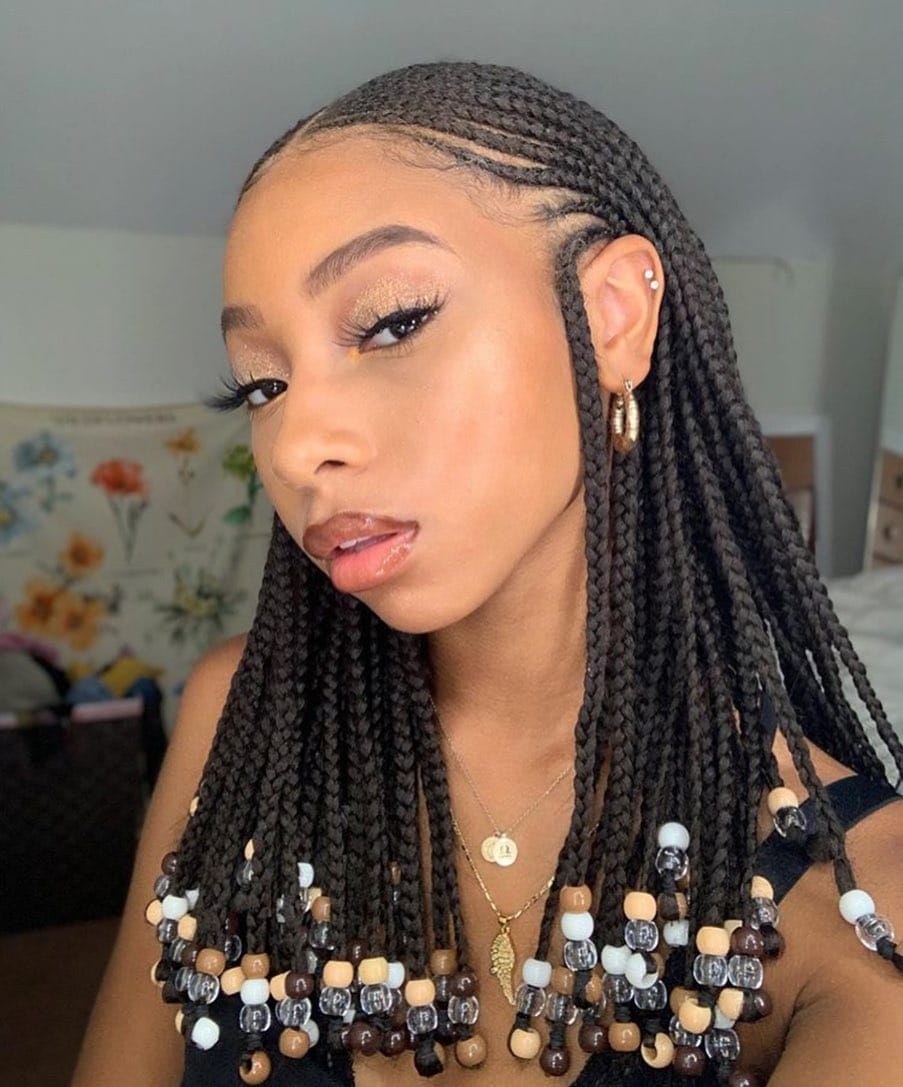 Here is a fascinating tight Fulani braid to accentuate your facial features, not too dramatic but fun with beads.
32. African Fulani Braid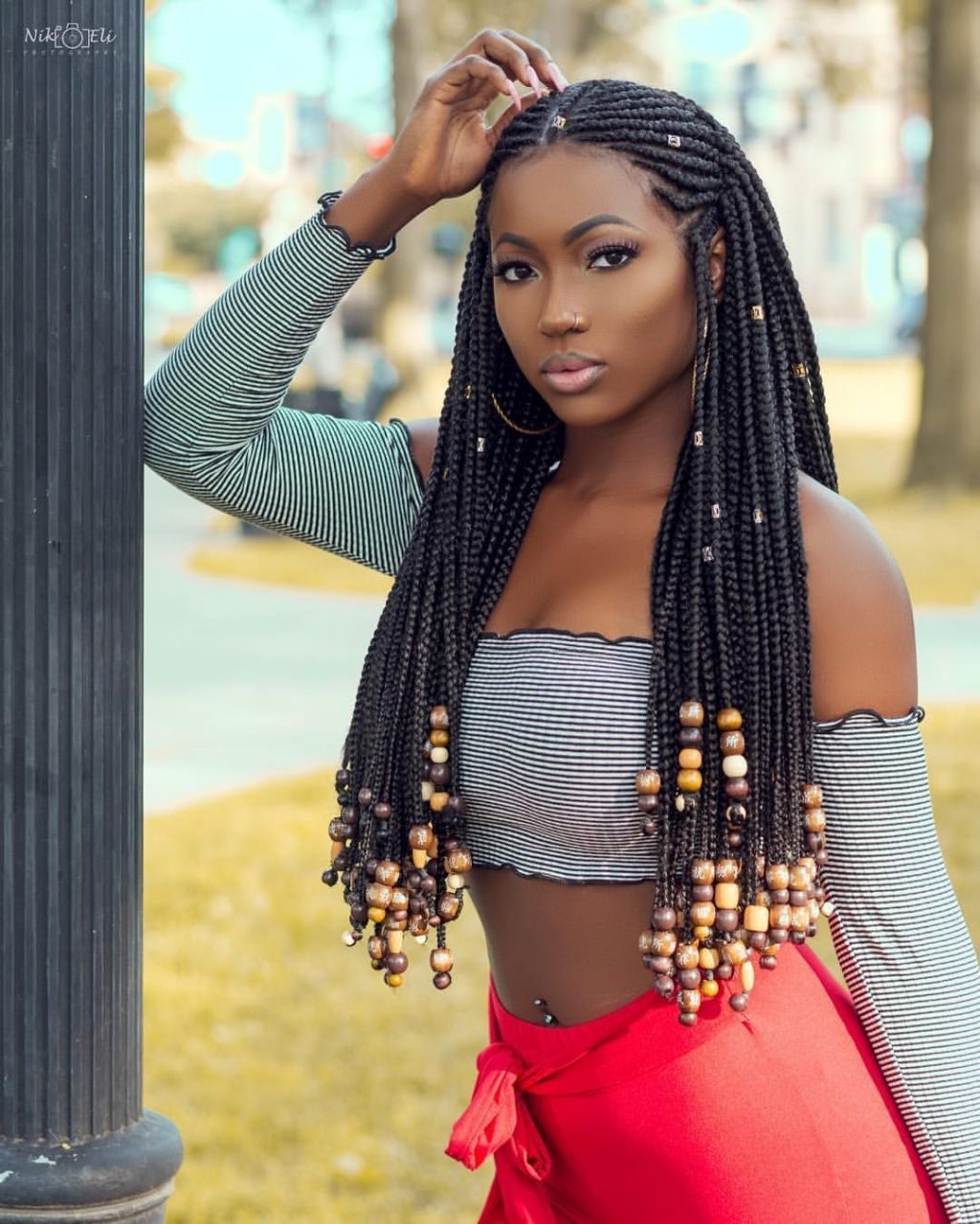 Nothing can go wrong with an African braid, this can be worn short or long dep[ending on how you want it, it shows off your stunning features and compliments any kinds of outfits.
33. Simple Summer Fulani Braid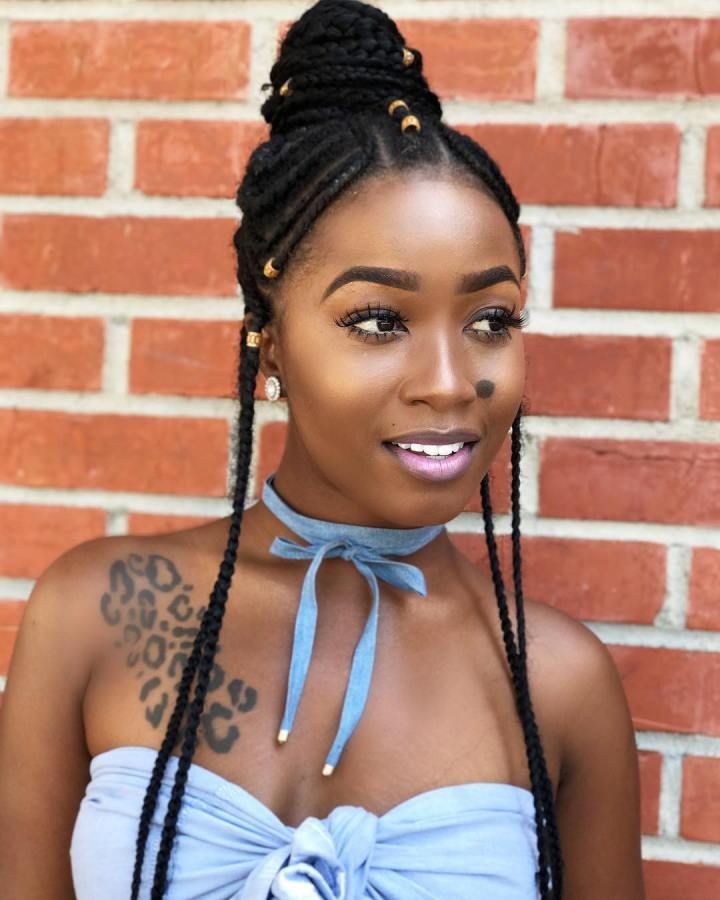 When the temperature is hot, you need a hairstyle that gives you a calm cool look while you have fun outdoor and above is a suiting style, this is not too elaborate which makes it perfect as a summer hairstyle.
34. Simple High Bun Fulani Braid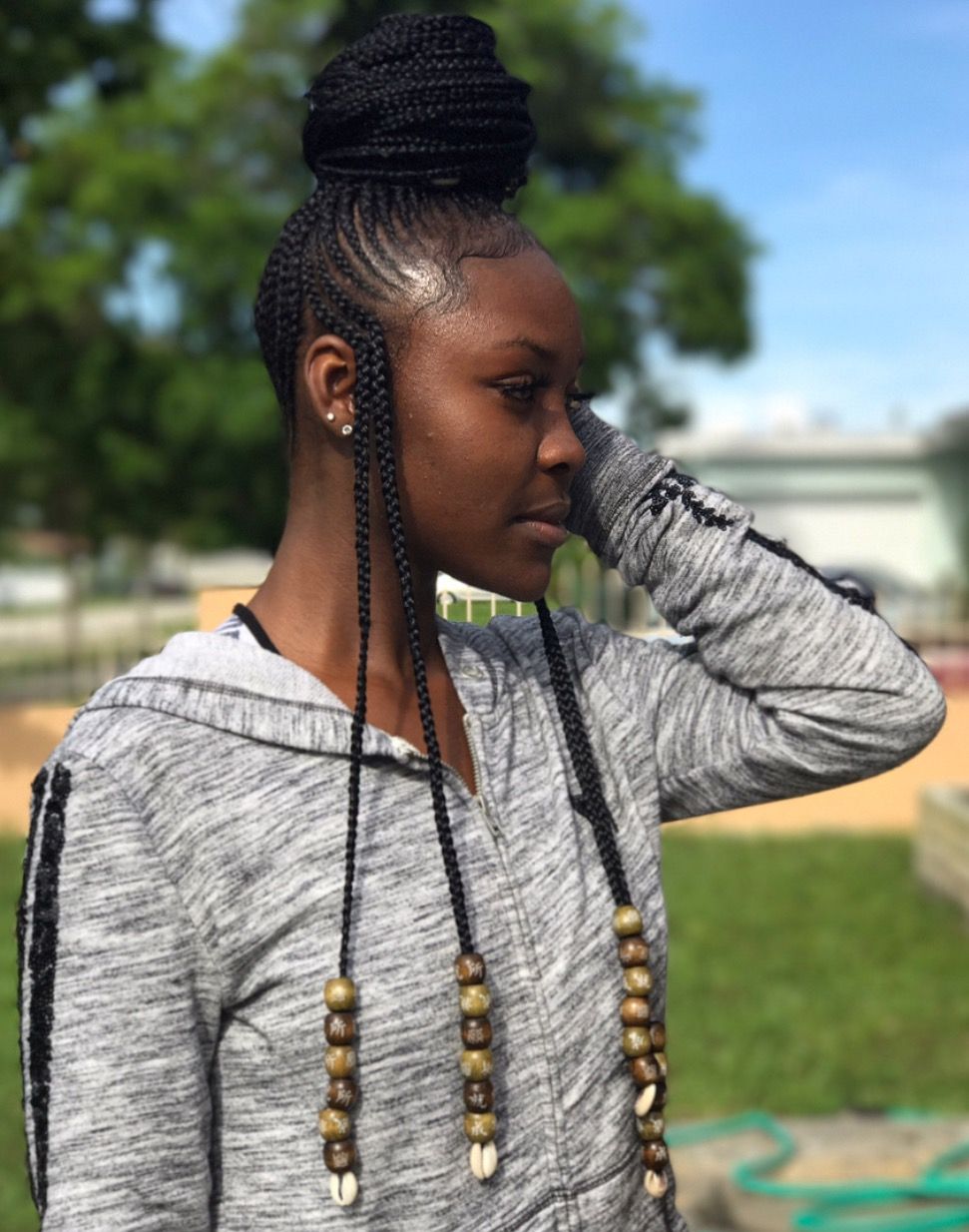 If you are seasoned braider who likes to feel comfortable with it then this is the best hairstyle to get this season.
35. Medium Ponytail Braid
Medium ponytail braids are just as fun as the high ponytail braid and you can have this styled into a bun for formal occasions.
36. S-Shaped Pattern Two-Step Braid With Blue Highlight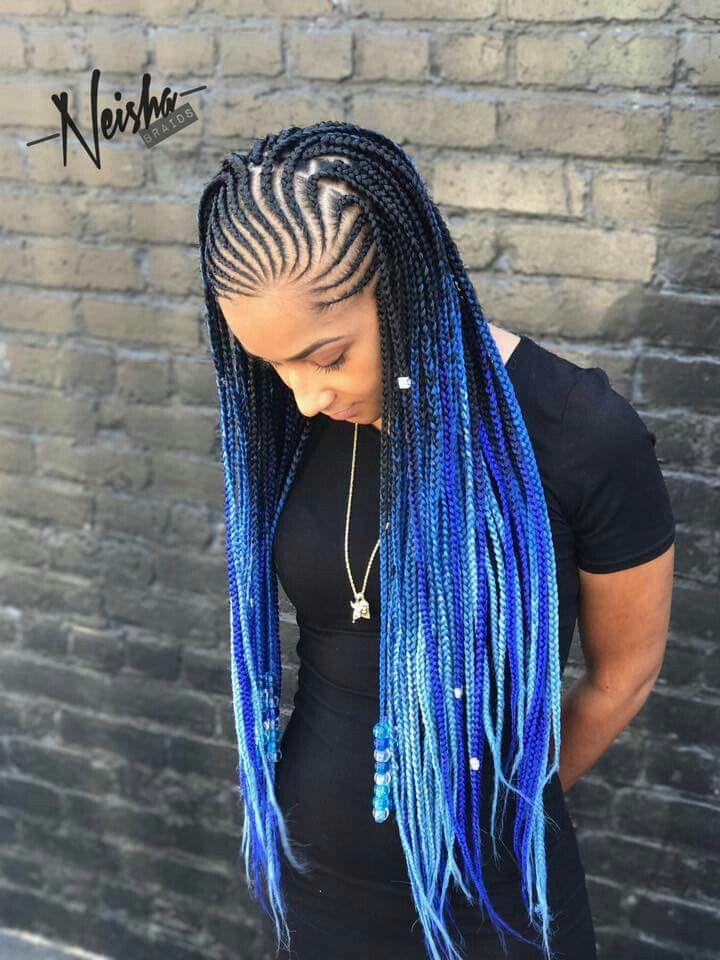 Straight and triangle patterns are the most common braid hairstyles but S-shaped pattern are becoming quite trendy and found to be beautiful just as much s any other pattern.
37. Casual Fulani Braid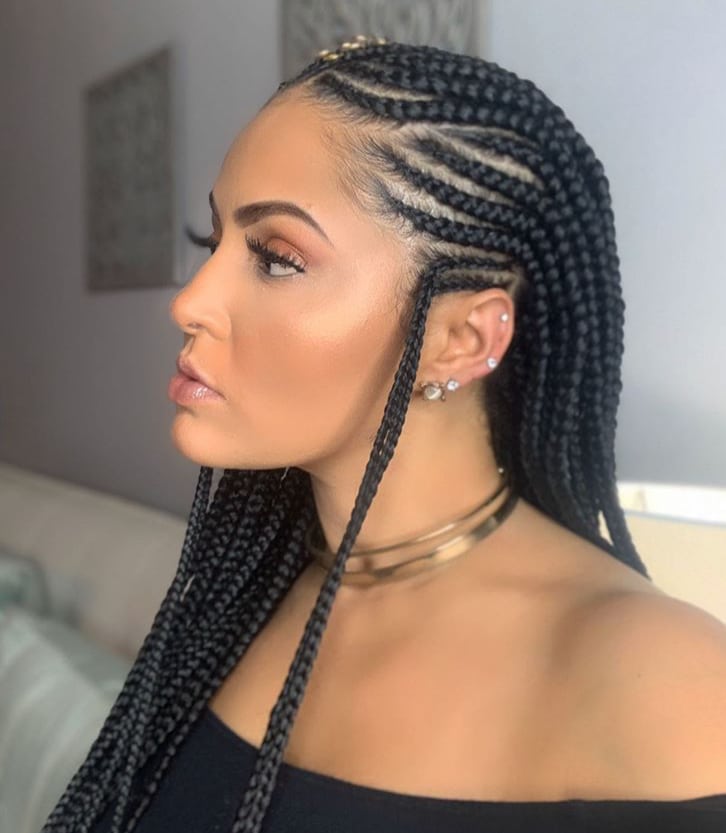 Keep it casual and you will be glad you did as this allows less manipulation on your hair and scalp especially for fragile natural hair.
38. Tight Fulani Braid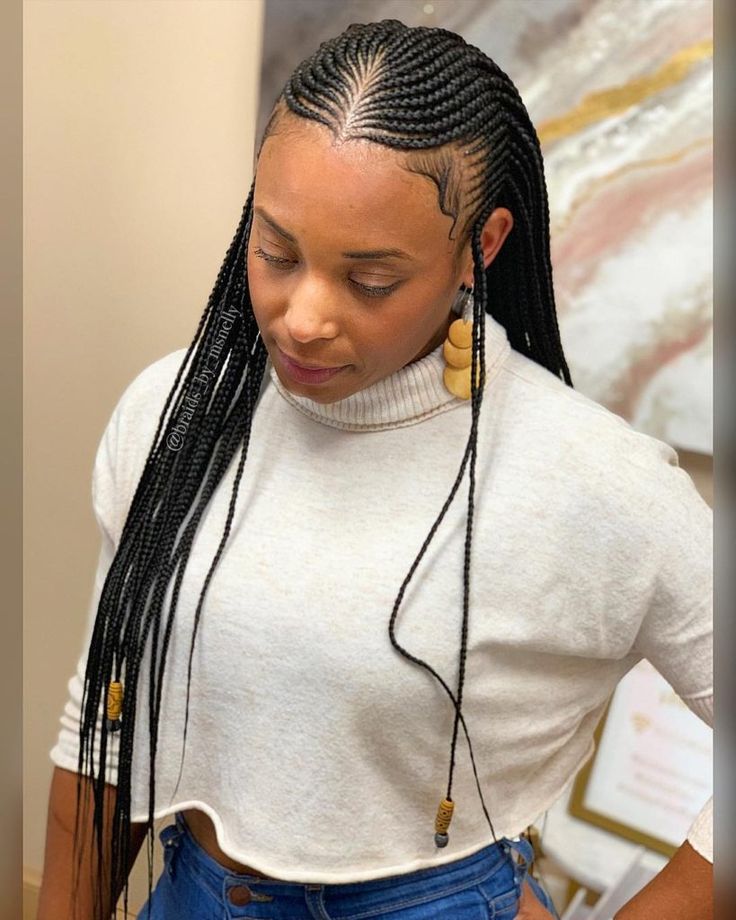 These are not micro Fulani braids but are small and gorgeous, this can be styled with no extension depending on the length of your hair but for a longer and more fancy look, you should add an extension.
39. Simple Double Bun Braid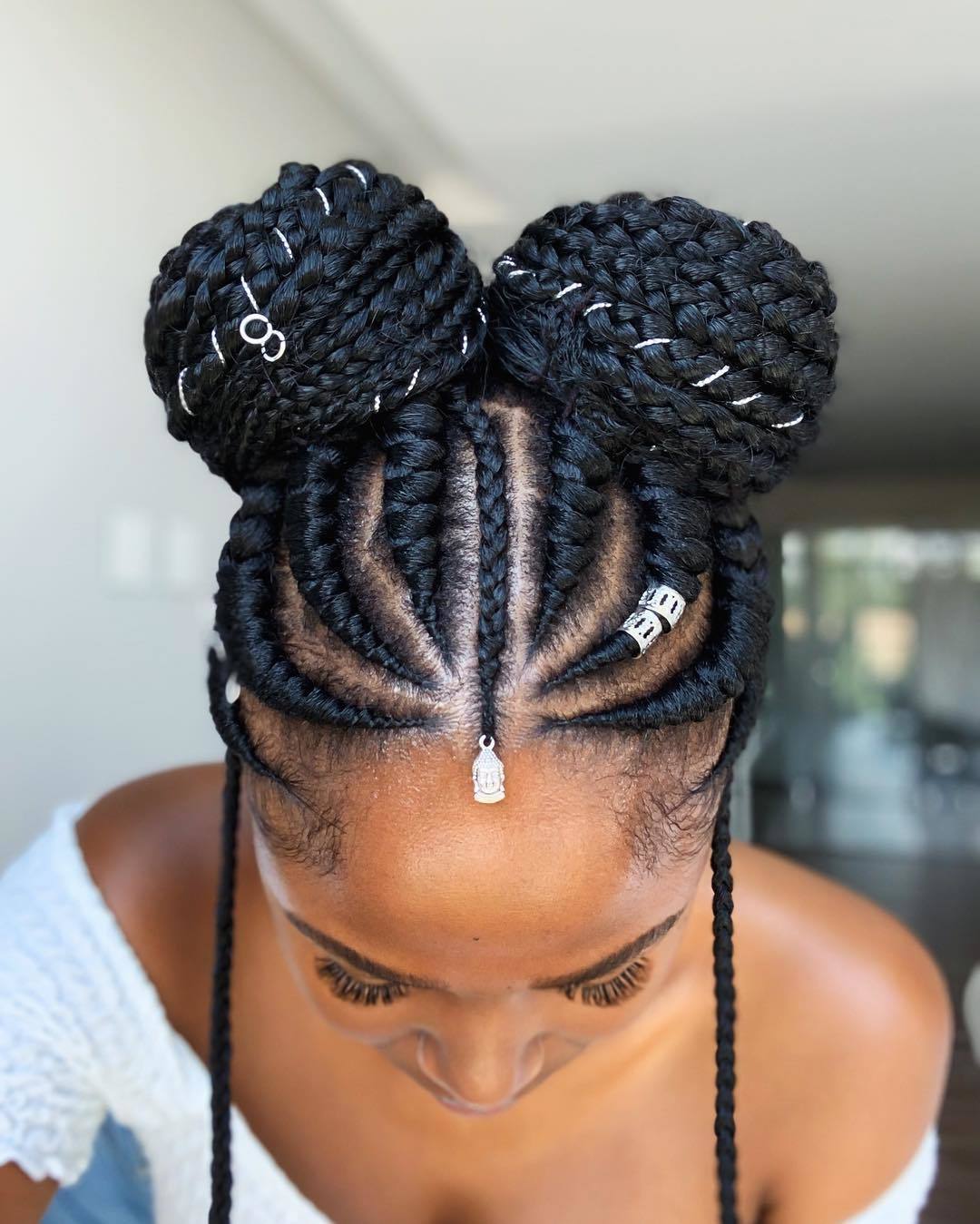 A double bun braid is a common form of Fulani braids and just like every other hairstyle, it is fancy and compliments any look, be sure to care for your edges to prevent breakages.
40. Loose Summer Fulani Braid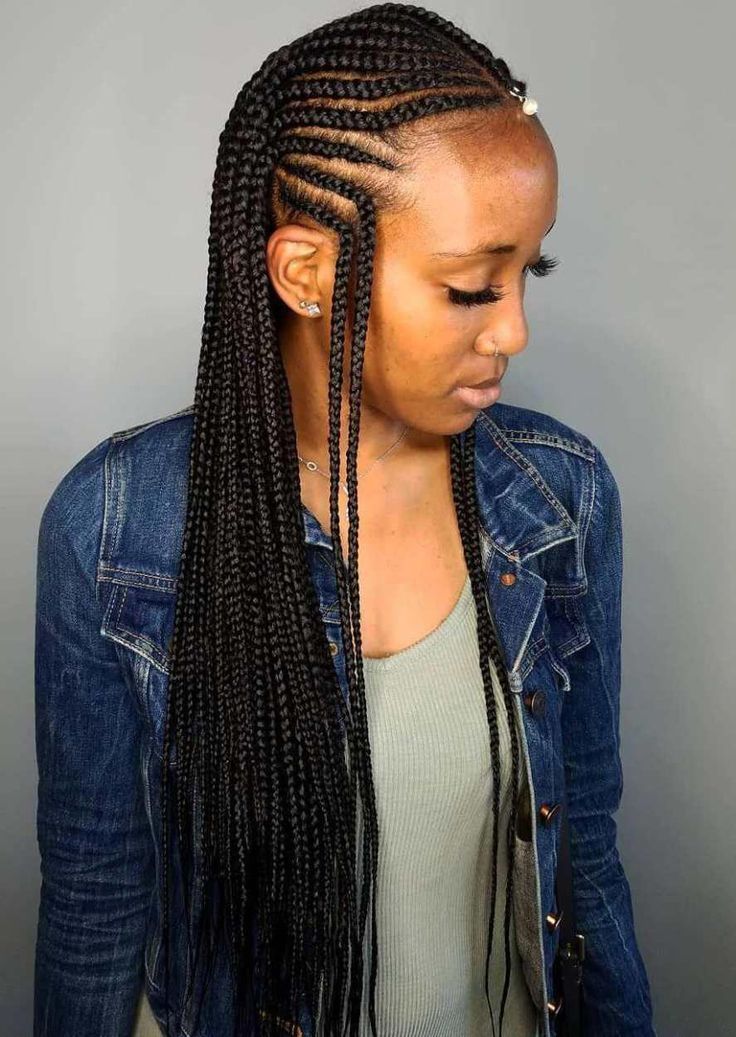 A loose pattern is also a very exciting choice of hairstyle, fancy and with less fuss on your scalp, you can easily clean your scalp with this type of Fulani braid, this is also a protective hairstyle but you need to keep your edges and scalp healthy with castor oil or aloe vera gel.
---
You can have any type of Fulani braid installed and any colour added for a more unique look, this braids offer you to protect your coils and frame your face with any of the exotic styles. Fulani braids are protective hairstyles and should be kept for 3-4 weeks provided you keep your scalp clean at all times. Fulani braids can symbolise origin, social status, religion, wealth or even marital status which is why it's a common hairstyle for lots of African countries who makes it more unique by decorating with bead, hair accessories and cowrie shell.
Read more on African braids and protective hairstyles;