Tribal braids have been around for quite some time and it still happens to be the most popular type of braid. Tribal braid is a colloquial term for all kinds of braids seen around Africa and it is believed most of the tribal braid hairstyle was inspired by the Fulani tribal braid but this is just one hairstyle that falls into that category.
Tribal braids are protective hairstyles that can be done by practically any hair type and if they are maintained properly, they do last for a very long time.
Braids have been the go-to hairstyle for women for thousands of years and it is a versatile hairstyle for anyone.
The easiest way to switch up your look is to go for a tribal braid hairstyle. To protect your mane and still get a classy hairstyle for all occasions, we have rounded up 28 simple tribal braid ideas for 2021 to inspire you.
28 Simple Tribal Braids Ideas For 2021
Tribal braids are designed and shaped with different hair and color which ranges from bun to ponytail and updo. Tribal braids are considered faster to install compared to box braids and they are relatively easy to care for and maintain. Keep scrolling to discover the amazing tribal braids in trend now.
1. Tribal Top Bun Braid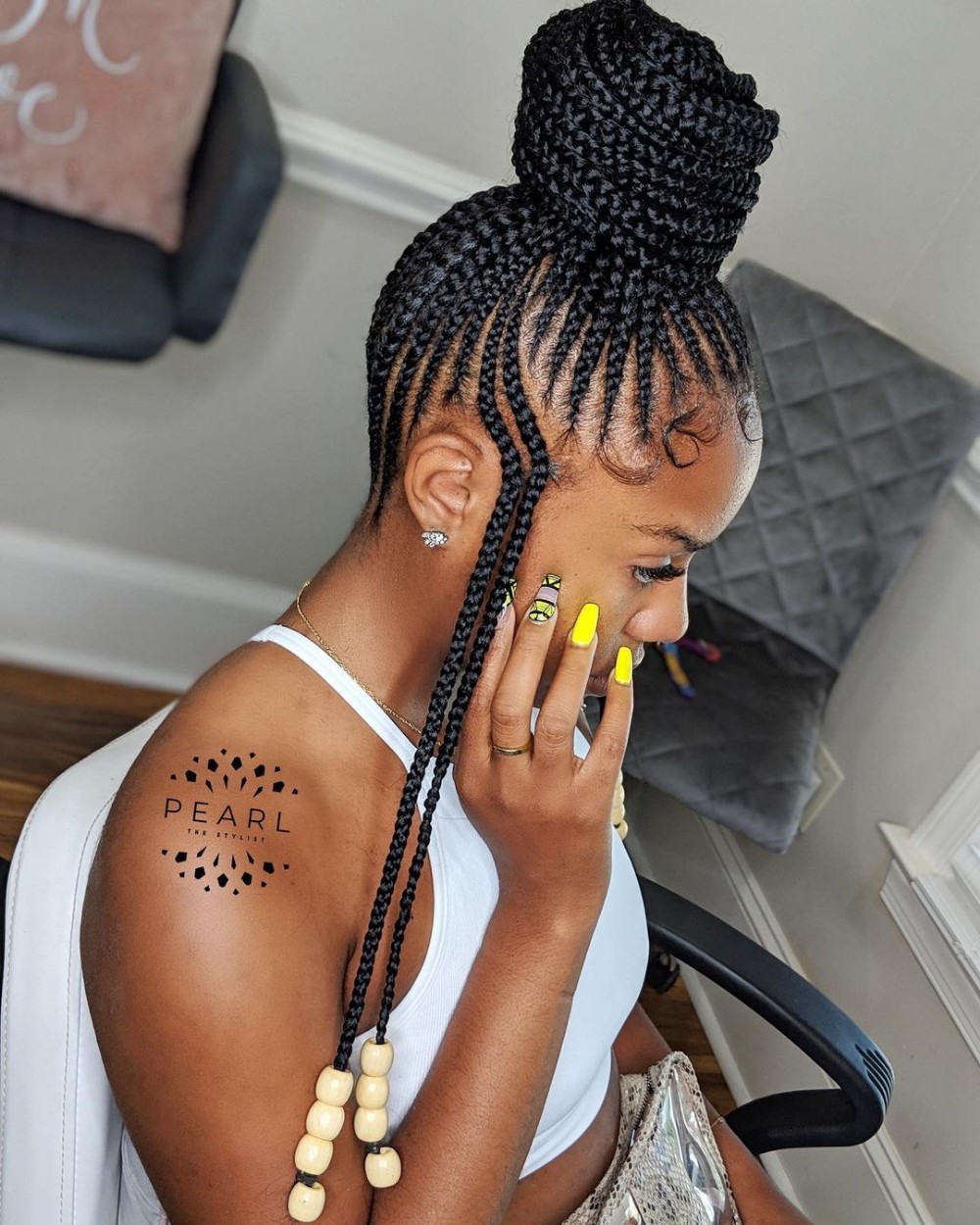 This is known to be one of the classiest African braids. This hairstyle seems to look good on any face shape hence why it's pretty popular. It is a cool hairstyle and it is known as the Fulani ponytail braid. All the rows are plaited with extension.
2. Two Step Tribal Cornrow Braid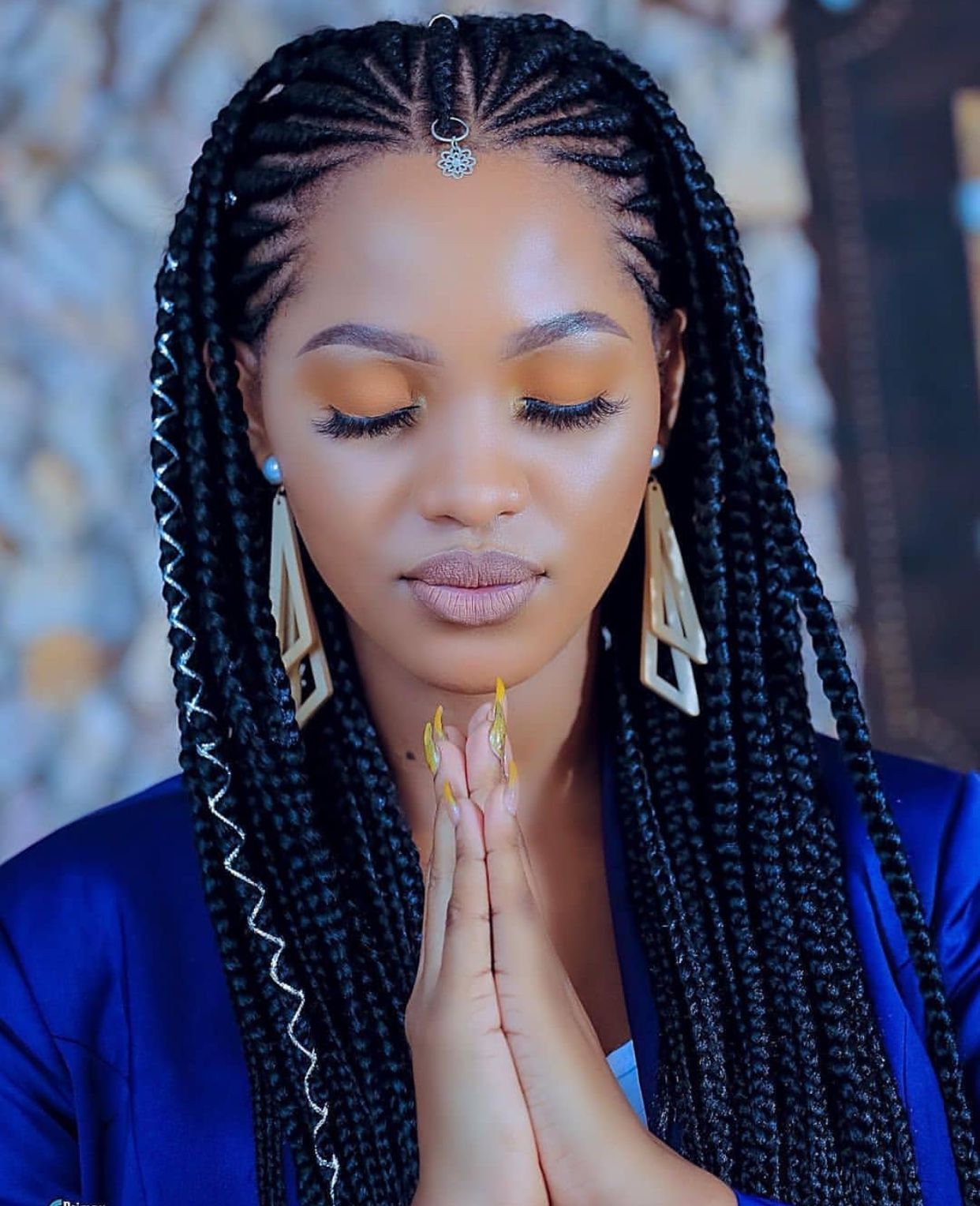 Two-step tribal braid is one hairstyle that has been around for a very long time. It's a simple hairstyle but tends to take time except you are going for the jumbo one. It tends to highlight any face features making it look more adorable.
3. Front Base Tribal Braid With Gold Ring
Here is another tribal braid to go for if you do not mind your braids in the front. It is the ideal hairstyle for a round face and you can achieve any length you want with it. The finishing look is considered classy and fancy.
4. Tribal Braid Witch Curls
To create a charming look, here is the tribal braid you need to try. This hairstyle is a favorite for many Africans who want to keep it simple but big at the same time.
5. High And Low Ghana Tribal Braid
There are lots of tribal braids that are specifically created to suit any face and here is the perfect one. This is suitable for anyone nad you can work with color and length to suit your preference.
6. Side Braid With Bead
Keep it simple if you do have a very tender scalp. This tribal braid style is called lots of names and one of them is lemonade braid. It can be styled to the left or right.
7. Stitch Tribal Ponytail Braid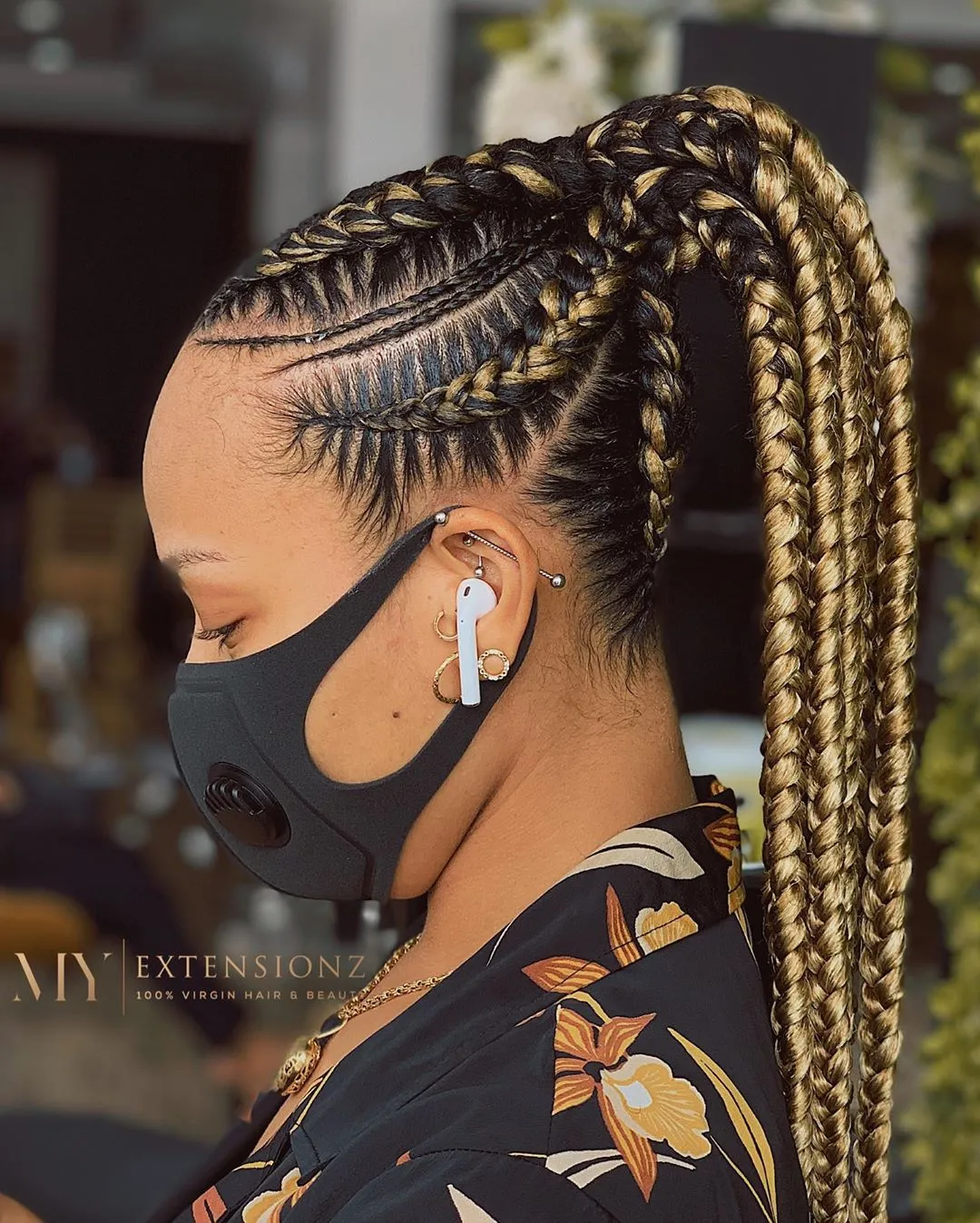 Stitch tribal braid has recently been introduced and we love it. This is not braided directly into your scalp and crochet is being used too. It is perfect for natural hair girls.
8. Half Knot And Down Tribal Braid
This is great for those who want braid but can't be bothered with styling it. It is easier to manage compared to box braids.
9. Two Layers Pattern Braid With Beads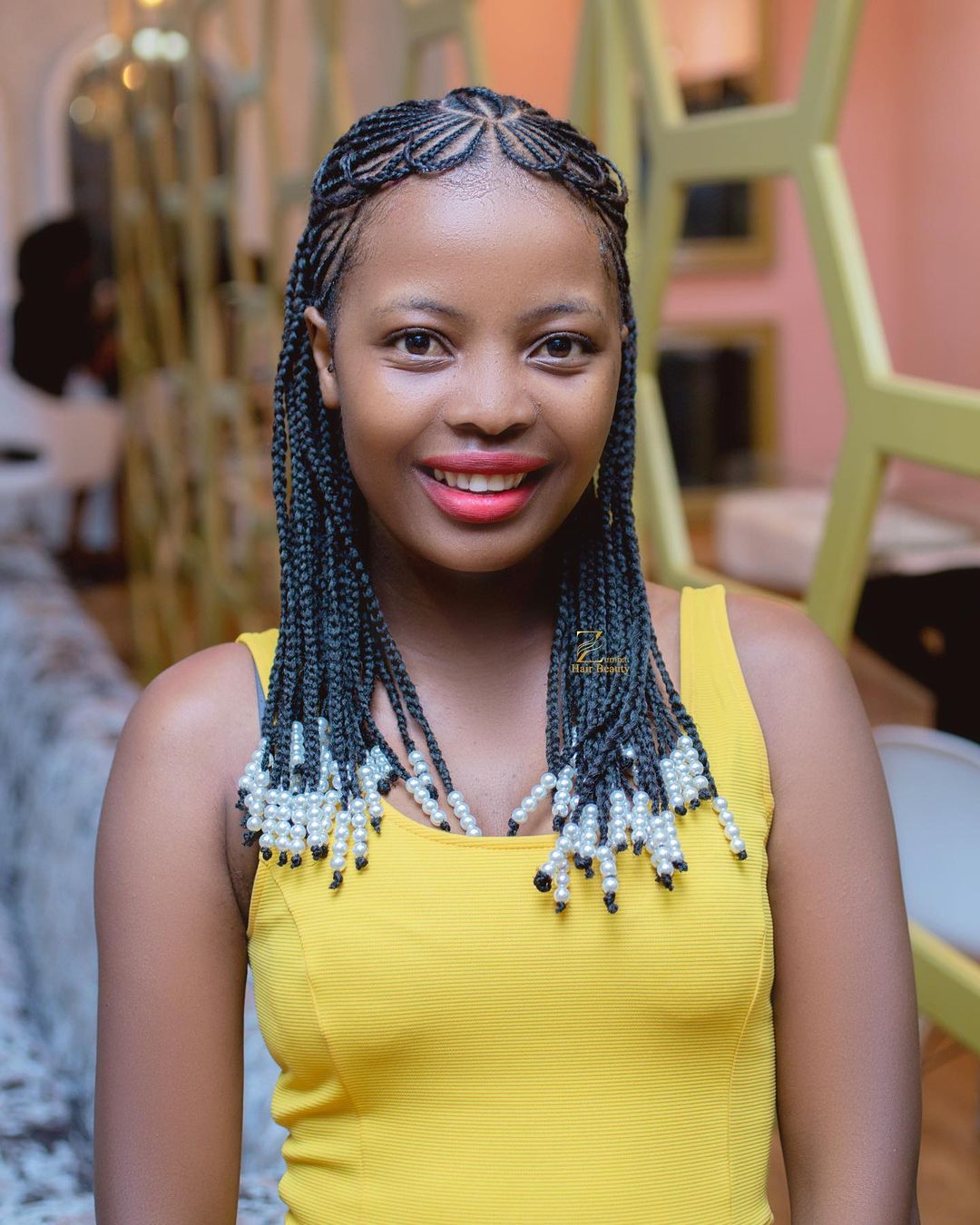 Two layers braid is one of the most common tribal braid hairstyles and there are so many creative ways to make the front cornrow. The design is simple enough for any hairstylist.
10. Criss Cross Tribal Braid
Cris crosses tribal braid help you put a balance on simple hairstyles and class ones. This hairstyle is simple enough to recreate and takes less time as well.
11. Center Parting Tribal Braid
This is suited for anyone who wants something simple but makes their face bold. It's one fascinating hairstyle you can't say no to.
12. Cute Tribal Braid Hairstyle
The color pink really can't go out of trend when it comes to anything fashionable. If you want some colors in your hair then here you have the perfect one to inspire you.
13. Ombre African Braid Hairstyle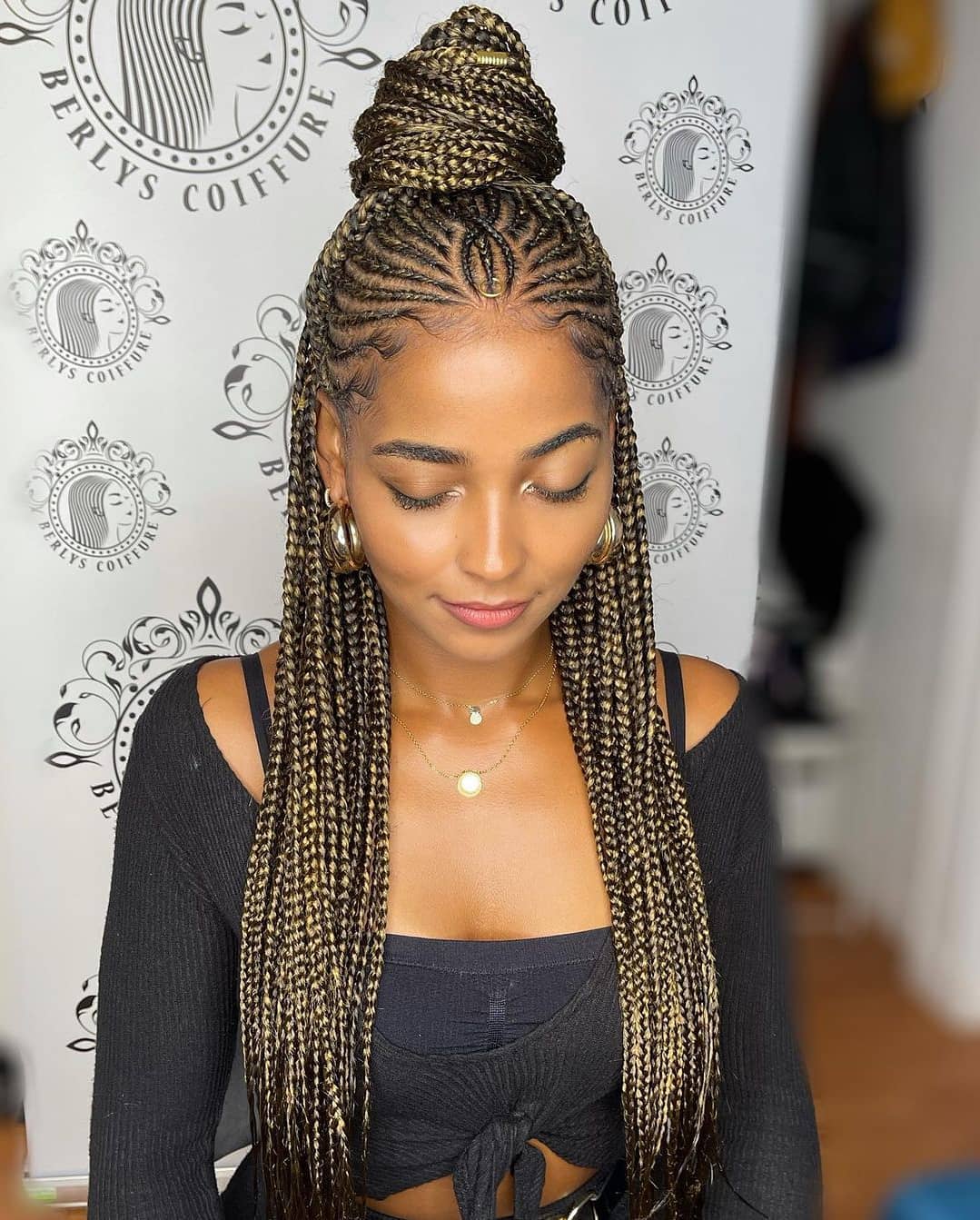 This is a cool hairstyle and you are into keeping it cool then you can't say no to an ombre tribal braid. It is braided with an ombre extension and you can go for any length you find comfortable.
14. Jumbo Tribal Braid
Jumbo tribal braid is just as gorgeous as the jumbo box braid and we must say this is even more simple and classy.
15. Simple Goddess Tribal Braid
Goddess tribal braids help you put a wrap on the whole braid thing. You can keep it simple and you can go with as much feed in braids as you want.
16. Feed In Tribal Braids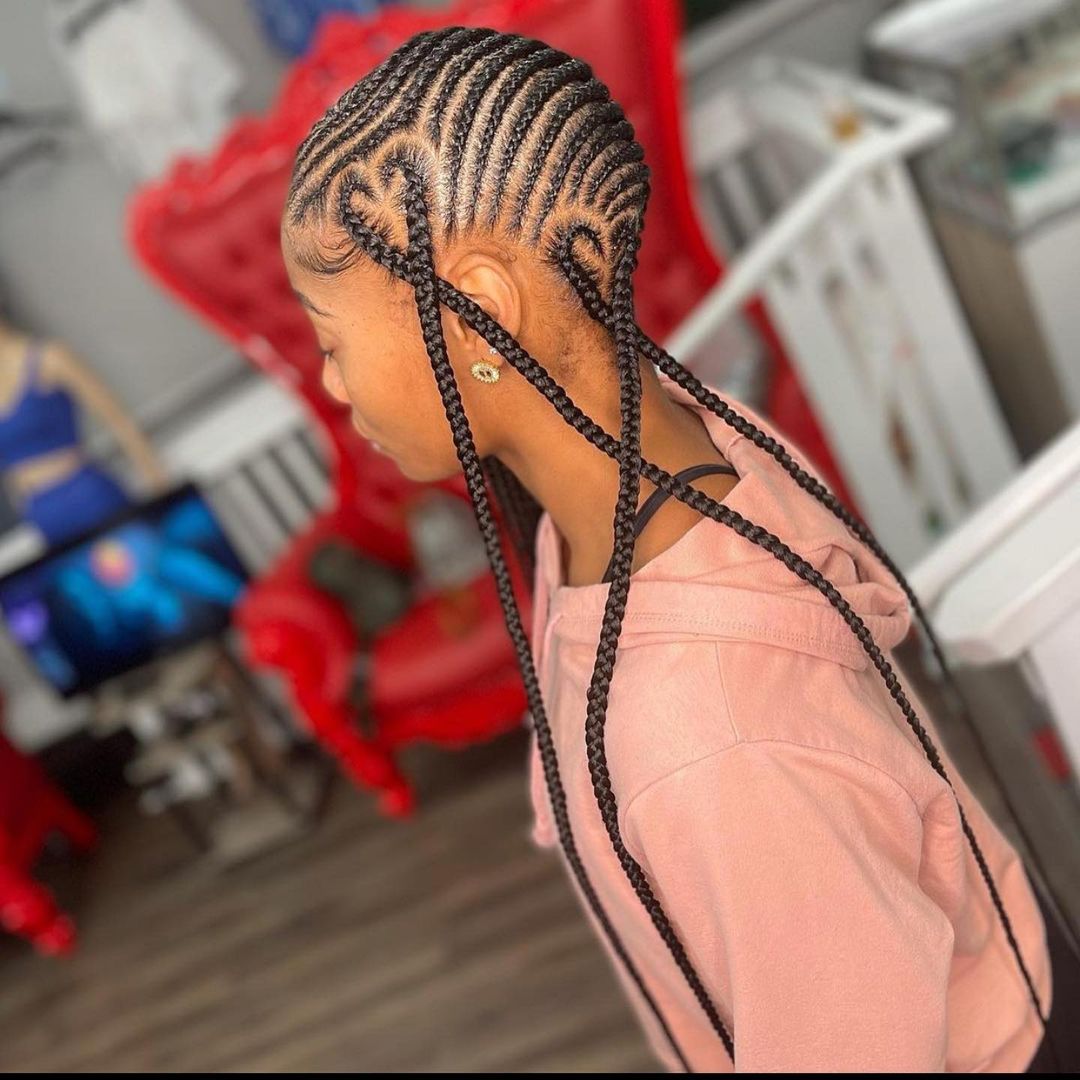 Feed-in trial braid is another common trial braid but to make it stand out, this is an intricate love design pattern to try.
17. Burgundy And Blonde Two Layer Braid
Elegant tribal braid hairstyle just like this can't be ignored.
18. Summer All Back Cornrow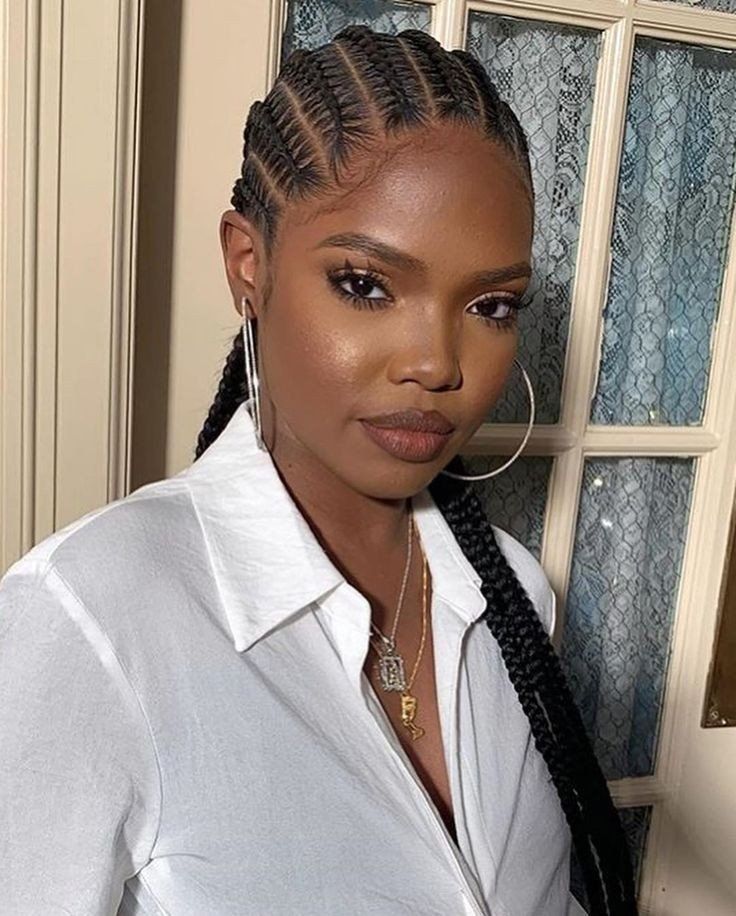 Here is a suitable hairstyle to keep you comfortable in the hot summer season.
19. Short Two Step Braid With Beads
Two-step layers really won't be going out of trends since there are so many ways they can be styled. Here is another interesting one you shouldn't miss out on.
20. Straight And ZigZag Tribal Braid
Straight and zigzag is another combination you can get.
21. Side Part Lemonade Tribal Braid
This is another lemonade tribal braid that is in trend.
22. Straight Up Bun Tribal Braid
This is another less dramatic hairstyle you can get if you have a fragile hair strand.
23. Tribal Braid With Intricate Patterns
If you are still wondering what hairstyle to get for the summer month then here is another one to inspire you.
24. Goddess Tribal Ponytail Braid
This hairstyle defines the whole tribal hairstyle. It is one hairstyle you can get for a glamorous touch-up.
25. Fulani Mid Bun Braid
The Fulani hairstyle happens to be the most popular type of braid hairstyle to get and this one suits any face.
26. Tribal Three Step Braid
If you want your tribal braids as elaborate as they can get then here is one that works with length and it's pretty tiny too.
27. Tribal Condrows Braid
This is another design to take a look at if you still can't make up your mind. It's a common design for tribal braids and it's cute too.
28. Two Step Tribal Braid Hairstyle With Bead
This is a combination of cornrow braids and goddess braids and it's shot to keep it comfortable. This is a great protective hairstyle for any hair type.
In Conclusion
Tribal braids are becoming more interesting and keep in mind that it's a term used for all kinds of African braids.
Tribal braids are considered the next popular choice of hairstyle next to ox braids. One of the best parts about tribal braids is you can do anything you want with the hair length, you can go for short, long, and even average.
You can wear tribal braids with any hair accessories too. There are also ancient tribal braids that have been recreated and all you need to do is have fun with your hair and not to forget adding some colors too.
Read more on braid hairstyles: